It is not a coincidence that the world's largest air show team flies Van's Aircraft RVs.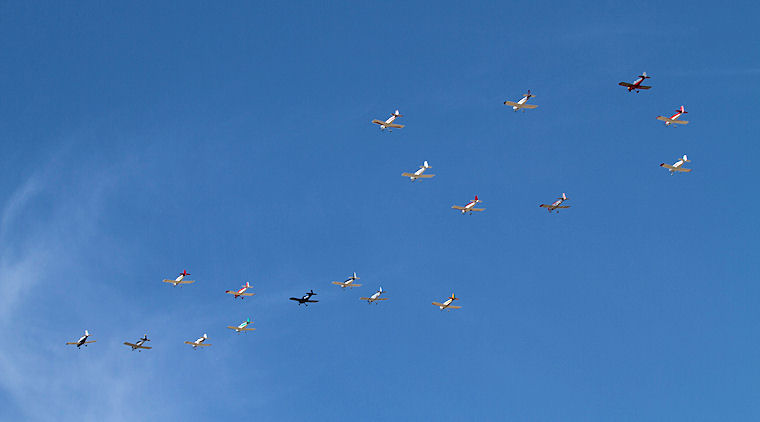 "The RV is affordable," said founder and flight lead Mike "Kahuna" Stewart. "You couldn't find 12 T-6 guys ... to travel 100 miles to go practice three times a week and then travel cross-country to fly every weekend." The pilots flew in Sunday as part of the mass Van's RV arrival. The team includes retired fighter pilots and airline captains, to financial advisers and project engineers from Georgia, South Carolina, and North Carolina.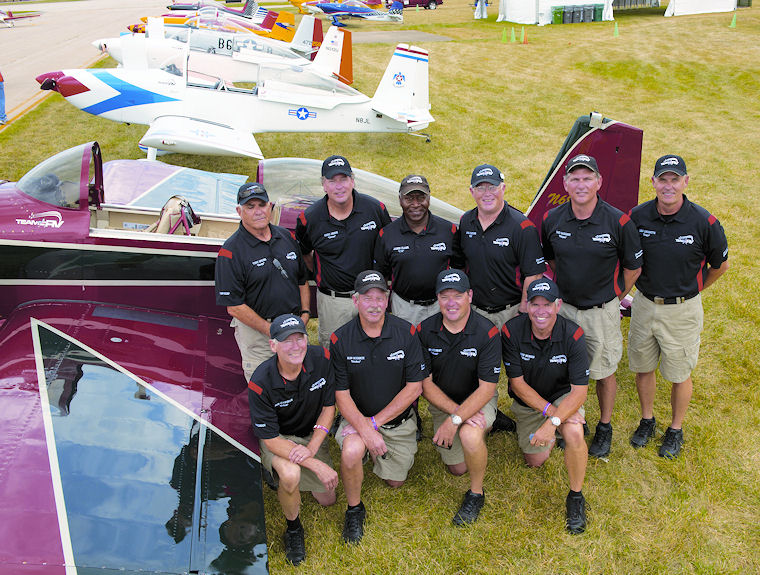 To say that the team is excited to perform at Oshkosh is an understatement. "It's every pilot's dream to fly into Oshkosh," said wingman Len "Leggs" Legette. "But it's the ultimate to perform in its air show." "It's the best of the best," Stewart said. "Each of us has our own personal attachment to Oshkosh because we have been coming here forever. Throughout the years, we've always said, 'Look at them.' Now we're finally them. This is the Carnegie Hall of aviation and we know we have one shot to make a great first impression." And they will make an impression, if for no other reason than sheer size. They will be flying with 11 pilots and airplanes during their performance on Wednesday.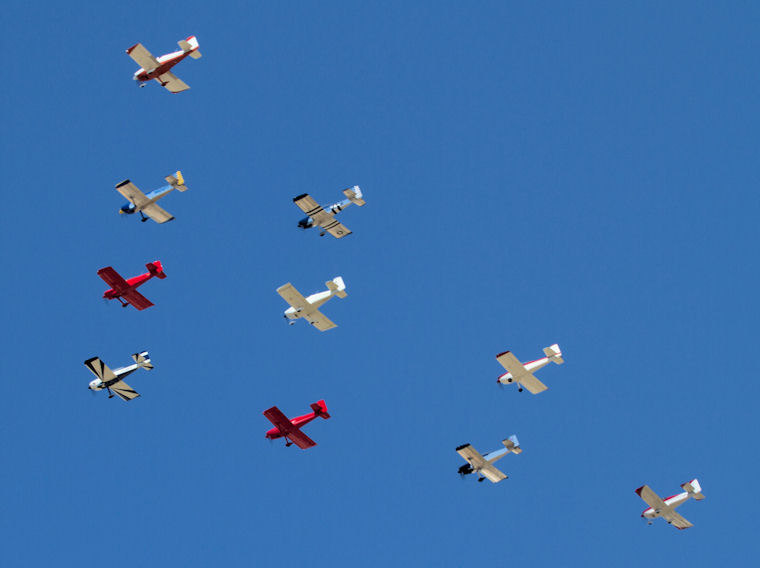 Pilots in the team have favorite parts about their show. For Stewart, it's that one magic moment when he's in the middle of a barrel roll. "I'm rolling very slow and am upside down when I look over my shoulder and catch eight airplanes underneath me with all their smoke on and I also get to see the crowd."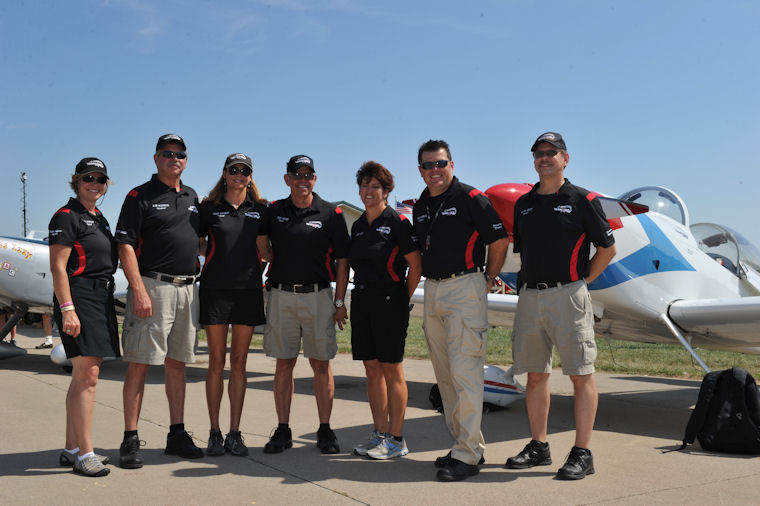 Legette's favorite part, however, is the high-intensity moves. "For a pilot, I like the pull-ups and hard turns. ... But without a doubt, from the crowd's perspective, it's the large formations." James "Chatterbox" Clark said his favorite part of the show takes place on the ground. "Once we land, we walk the line, meet the kids, and give out cards and pictures that we sign. Once we see the smile on the little kids' faces, even if the kids are 70 or 80 years old, it is so rewarding. Yes, we enjoy flying. But there is something special after the performance knowing we've touched someone." That's where the size of the team is really beneficial, Legette said. "A one-person show is only going to be able to spend so much time and reach so many people. But when you can spread 12 people down the line, you can reach a lot of people." Twelve pilots also means that 12 families are involved in the business. "Everyone has skills that they bring to the team," Stewart said. Some have business background, others marketing or public relations skills. "They get to utilize their skills and be a part of the team. The size of the team allows for some economies of scale."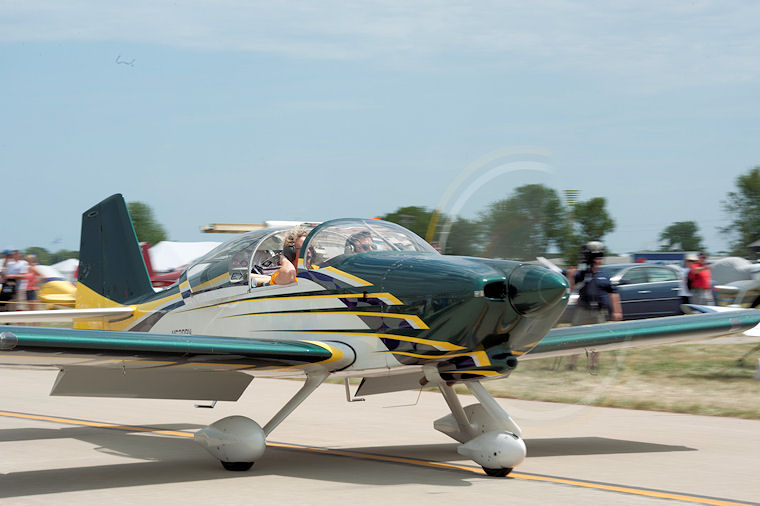 The act didn't start out with 12 airplanes, however; it just evolved to that, team members said. "We do formation clinics, and we're always looking for the next person who has the potential, who is ready to move up," said Legette. "It just happened that as we got serious, this is the team that came together and it just happened to be 12." Realizing that at times not all 12 pilots can fly because of health or family issues, Team RV also practices and performs flying with 11 or 10 planes.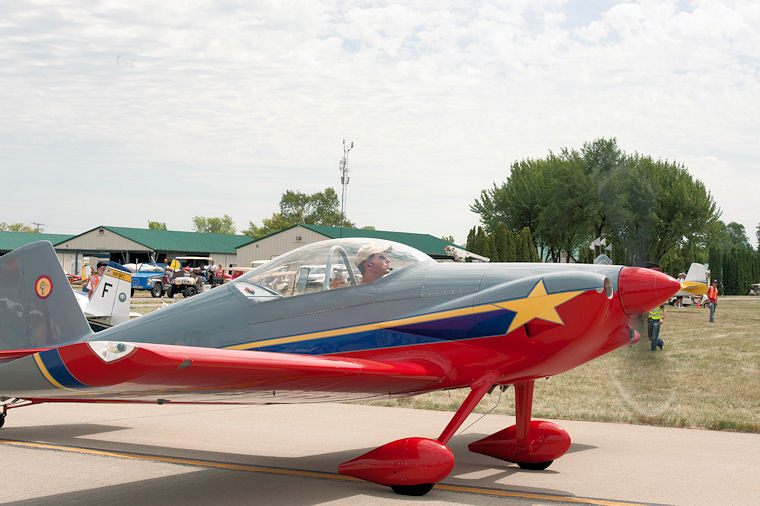 The group takes safety seriously, and they manage it in three pieces, Stewart said. "We really are three flights of four, and the entire program is managed by those three flights, and we know where every flight is supposed to be at every given time." It is also designed for safety at the beginning, Clark said. "Some of the things that look the most dangerous from the ground are actually the safest." There are lots of other things they do to build safety into the program, Stewart said. That includes proper training and communicating during a flight to acknowledge each other's location.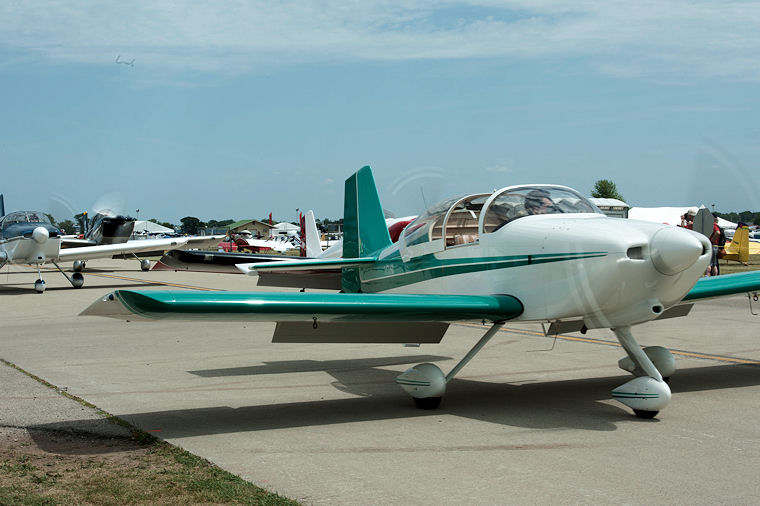 Legette said they have even started to inspect each other's planes, as part of their safety procedures. But safety also centers on discipline of each of the members, Clark said. "As a solo performer, you might think I'll throw in a humpty bump, but we can't do that." Stewart said team members are responsible for each other. "If one person isn't mentally ready for a flight that day, it's self preservation for me to make sure he doesn't get in the air," he said. "But we're like family. We travel to air shows together every week, and when we have a weekend off, we take vacations together. This is like my family and we really look out for each other. That's an advantage a solo performer doesn't have. They don't have that person to keep an eye on them, and to make sure they're ready."