With over 150,000 flying hours across the P-750 XSTOL fleet, Pacific Aerospace has achieved certification for its P-750 XSTOL against ICAO Annex 6 for Single Engine IFR Commercial Passenger Transport Operations.
A major achievement for the company, the process involved the approval of a number of new modifications; the main one being a dual, independent electrical generation system.
The new certification broadens the market for the P-750 into public transport operations for carriers operating in and out of smaller airstrips and airports, while allowing P-750 operators to maintain the highest safety standards.
Island Hoppers, based in Nadi, Fiji, was the first to bring the P-750 XSTOL to Fiji in July 2011 and now have two in service. Previously using mainly helicopters for scheduled passenger and freight services to the various Fiji Island resorts, Island Hoppers will be the first operator to provide commercial passenger services with the P-750.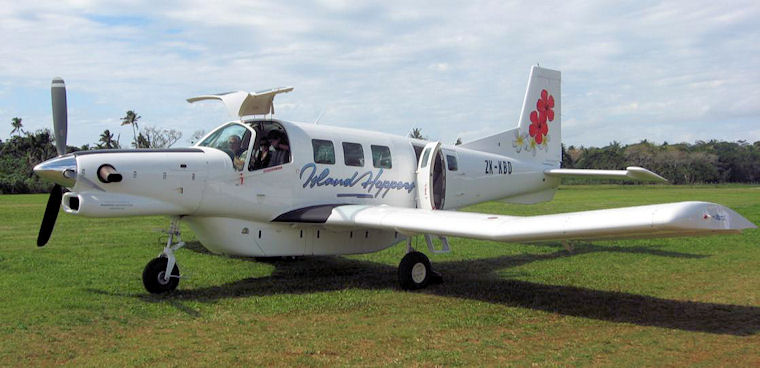 "We are very pleased to have a quality operator like Island Hoppers as our launch customer in Fiji and to have them as the first Commercial Passenger Transport Operator of the P-750 in the world is very exciting." said Damian Camp, CEO of Pacific Aerospace.
The ten-seater, FAR 23, turbo prop aircraft is known worldwide for its unique extremely short take-off and landing ability and providing operators with the highest levels of aircraft utilisation and maximum profit. These attributes combined with the P-750's ability to be changed between passenger and cargo roles within 30 minutes makes it the perfect choice of aircraft for Island Hoppers.
Fiji joins recent additions Mexico and Colombia on the growing list of countries in which the P-750 XSTOL is certified. With Brazil, Malaysia and China to be added in 2012 Pacific Aerospace will then hold Type Certification in 15 countries.
The P-750 XSTOL is in use in many configurations around the world. From sky diving in Italy to freight operations in the jungles of Papua New Guinea, carrying tourists in Nepal to aerial survey and topdressing in Australia the P-750 XSTOL is consistently proving itself as a high performance, low maintenance work horse.
For further information & high-resolution photographs please contact:
Steve Peters, General Manager Commercial: aircraft@aerospace.co.nz