A Flight Simulator for everyone!

IKARUS presents a brand new Flight Simulator for Windows and Mac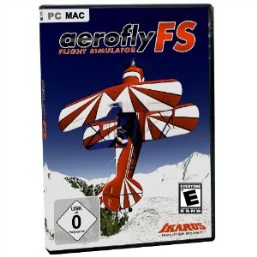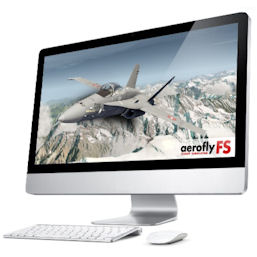 The experts of flight simulators presents their brand new
aeroflyFS,
a sensational flight simulator ("FS" for both
F
light
S
imulator and
F
ull
S
cale), because the makers of the world's most recognized model simulators have made with years of development a completely brand new flight simulator with full-size aircraft.
In developing the
aeroflyFS
special emphasis was placed on the real flight characteristics of aircraft in combination with the simple operation of the simulator. So it has become possible to operate without prior knowledge of the individual types of aircraft and their cockpit's and start to focus completely on flying. In
aeroflyFS
you can fly in a real environment.
The very charming and sometimes aeronautically challenging topography is modeled completely and comes with a photo-realistic representation of a resolution of up to 3 ft.
The
aeroflyFS
at a glance
• All aircraft full-scaled with original flight characteristics
• Fly in a real landscape
• Wind, viewing conditions, clouds and thermals freely adjustable
• Control with any joystick, Gamepad or GameCommander
• Extremely molded aircraft with great sound effects
• Fully functionally cockpit instruments with real flight data
• Many special features: retractable landing gear, flaps and more
• Moving map in the cockpit and in a separate window
• Autopilot
• Start winch for gliders
• Many airfields with runways, hangars and buildings
• Perfectly simulated flight physics
• Connection to TrackIR (Viewing direction to head movement and zoom!)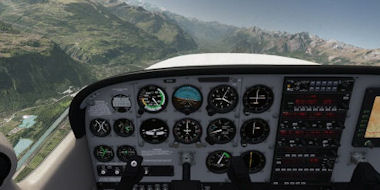 F
ly with fantastically detailed full-size aircraft in the extremely realistic mountain-landscape. Sit in a cockpit or follow the aircraft in follow mode. All instruments are fully functional. Whether altimeter, airspeed indicator, compass, heading indicator, artificial horizon, turn indicator, tachometer, vario show all real flight data. Fly in the real world by visual flight or by instruments. Fly over mountains and through valleys. Orient yourself with displayed names of towns and mountains or even with the moving map. Choose your starting position at any place you want or start flying on a runway at one of the many airfields. Choosing a glider, a winch start is even possible.

E
njoy the fantastic geography with all its charm in high resolution. Set up wind speed, wind direction, or even thermals, clouds and viewing conditions yourself. All aircrafts have absolutely realistic flight characteristics with many special features i.e. flaps, afterburner, retractable landing gear, spoilers and much, much more.
In the cockpit the control stick, throttle or spoiler lever are moving in sync with your control commands. The sounds of the engines are also perfectly animated as is the sound of the wind in the cockpit.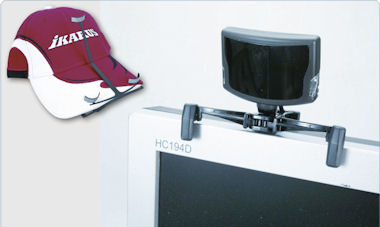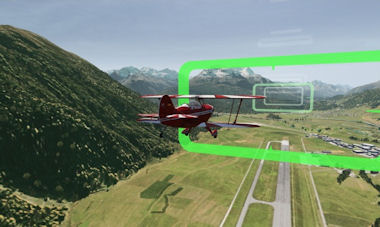 Compatible with the TrackIR`s head tracking system, it is even possible to control the camera-view by moving your head.
U
sing the software is very easy. All adjustments for the joystick or graphics settings are carried out with easy-to-use menus directly from the program. All commercially available joysticks or gamepads will be recognized and automatically calibrated.
And in addition it is possible to fly with your mouse and keyboard combination.

A
nother highlight of
aeroflyFS
is the interactive missions. Set yourself the challenges and capture the bronze, silver or gold trophies in many different contests. From start and climb to landing, orientation flights or aerobatics your computer will control your flying skills and forgive points. Anyone who has flown all gold trophies may rightly be called a professional pilot!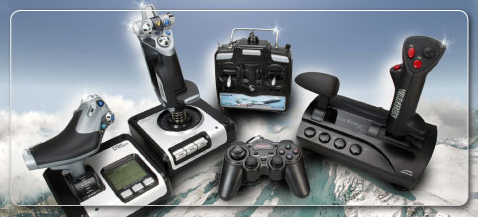 Control
In terms of controlling the
aeroflyFS
is as diverse as any other flight simulator. After installing the software you can either control via mouse and keyboard or connect any standard joystick or USB gamepad. RC-Modellers who already have a GameCommander or a USB interface from one of the IKARUS model flight simulators are ready to go as you are.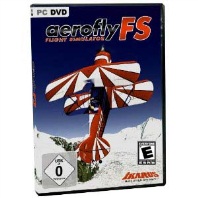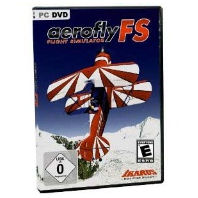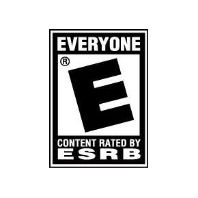 Minimum system requirements:

Windows:
Intel Core 2 Duo or AMD Athlon64 X2 , 2 GB RAM, 24 GB free hard disk space, 3D graphics card with at least 512 MB, Windows XP / Windows Vista / Windows 7,
Mac:
OS X 10.6.8, Mac OS X 10.7.3 or higher, Graphic card: ATI Radeon HD 4850, NVIDIA GeForce 9600 or faster with at least 512 MB
www.ikarus-usa.us