First flown on the 4th July 1959 the JT1 Taylor Monoplane was the brainchild of John F Taylor, a draftsman, pilot and pioneer of the British homebuilt movement. John's aim was simple, his design had to cost less than $250, require the minimum of tools and be small enough to build in the upstairs lounge of his double storey terrace house in Illford, Greater London. It took a mere 17 months to complete the diminutive Monoplane, the wings and fuselage were lowered by ropes from the 4.5 meter high second storey lounge window to the street below where his family and neighbours waited with bated breath while a crew of British Pathe News recorded the occasion for prosterity.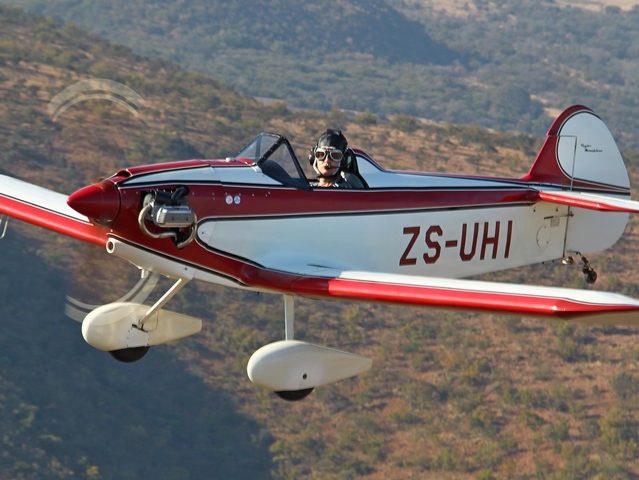 True to his aim of a simple design the Taylor is of conventional monocoque wood construction with thin birch plywood skinning to the simple box like flat bottomed fuselage. The wings of which the outer sections, just before the landing gear, can be removed for transportation are of similar construction with twin laminated plank spars whilst the control surfaces are fabric covered. The telescopic main gear legs, fitted with drum brakes, have rubber blocks for compression with few other moving parts. The tail wheel is directly steerable. The prototype (G-APRT) was powered by a JAP engine which because of poor performance, was soon replaced by a 1600 cc VW engine that is quite economical sipping on average 10 litres per hour and gives the Taylor an acceptable cruise speed of 90 - 100 mph at 3,050RPM.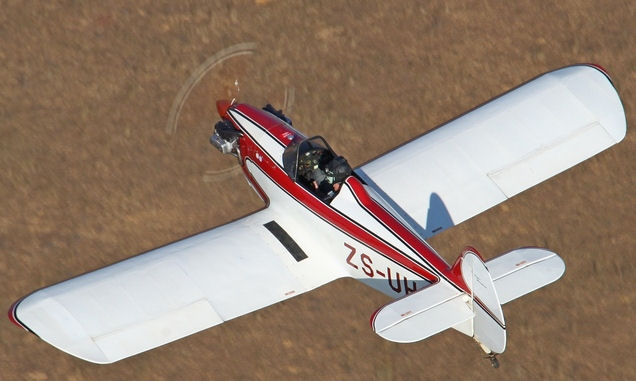 The VW engine is a simple bolt on installation with the propeller bolted on to where the cooling fan once was. Conventional driven magnetos and a POSA throttle-body underneath the engine completes the conversion. To start the engine you need a second pair of hands and whilst you prime the fuel pump your friendly assistant turns the engine via the prop for a half a dozen blades to suck the enriched mixture into the cylinders. Switching on the magnetos you indicate that she is ready and your friend give the propeller a brisk two-handed flick and the VW should spring to life.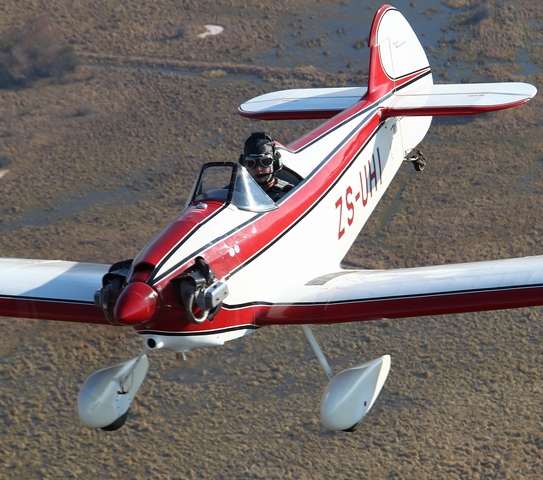 One doesn't climb into the Taylor's 18 inch wide cockpit, you step down in to it and then snuggle your shoulders into the airframe as you would when putting on your favourite flying jacket. The cockpit, though snug, is big enough to fit a six footer and the basic seat is comfortable and has a four point harness. Thanks to its positive tail wheel and good brakes the Taylor is an easy plane to taxi and though its forward canted undercarriage makes it a bit heavier on the tail than most other tail dragger singles. It is almost impossible to tip on it's nose, turning tightly though can be a bit difficult. The little Taylor needs less than 350 feet to get airborne, one only need to gently open the throttle and apply some sensible left rudder to say goodbye to terra firma. Climbing away at 950 feet per minute with the wind in your face, the Taylor, because of its short fuselage, needs quite a lot of rudder input during the flight as well as during take-off or landing and care must be taken when applying too much power too quickly as she might go into a torque roll during slow speeds.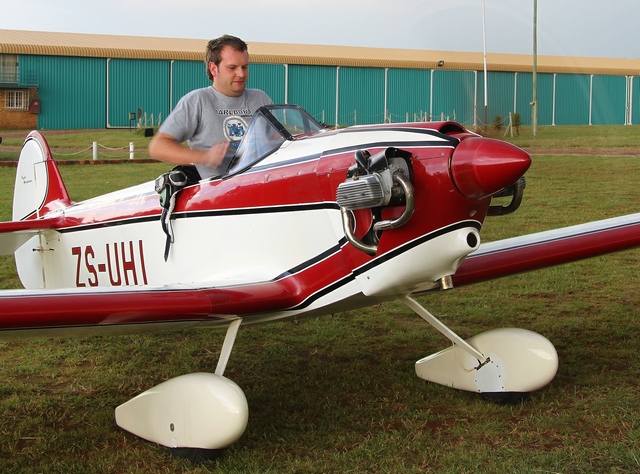 The little Taylor is a responsive rugged little plane, semi-aerobatic and stressed to +/- 4.5 G, the controls are light and feel like they belong to a proper aerobatic machine. It stalls at a low 40 mph, needs a landing roll of about 750 feet and because of it's size and low weight (700lbs gross) is susceptible to crosswinds.
ZS-UHI, twenty seven year old Muntie Basson's 60hp Revmaster powered Taylor was built by a Mr. D L Hocking of Pietermaritzburg and registered at the CAA in January 1974. Muntie grew up around aircraft. His grandfather was a co-founder of Zeerust Flying Club and the love for flying was passed on to his father who was involved at AFB Waterkloof in development work on Mirages and Cheetahs. When Muntie was in High School, his Dad purchased a Rans R10 whilst Muntie build and flew radio controlled planes. After school he spent 2 years in England working for Marshall Aerospace and saved enough money to complete his PPL in 2005 at Blue Chip at Wonderboom, qualifying in a Cessna 172. He currently has 173 hours and has the C172, Taylor Monoplane, Laser 230 and J3 Cub in his license.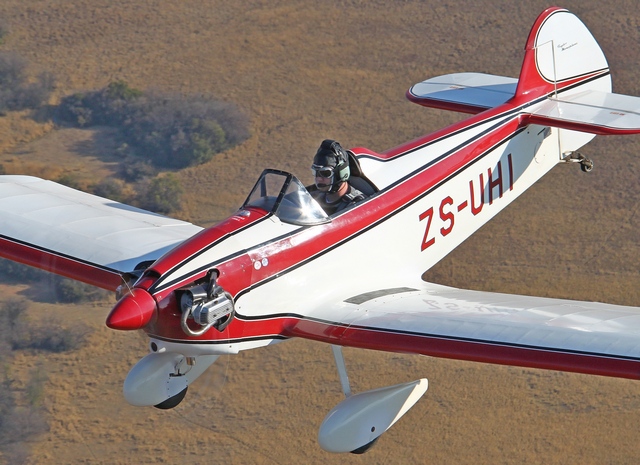 UHI's start to life was not incident free as she ended up on her back during her first take-off attempt and it was only in June 1989 that she, after six and a half years, was again test flown. In 1993 and with only 56 hours on the Hobbs she was sold to a Mr. H van den Berg in Brits who sold her with 110 hours to a Mr. S Kotze of Wonderboom. Muntie liked her looks and the fact that she is a taildragger reminded him of Britain's World War II fighters and he bought her in July 2009. She still had by then logged only 116 hours and he spent the next six months returning her to pristine condition and arranging with the CAA to do his conversion onto the single seater.
"To prove to the CAA and my Instructor that I was capable of flying the Taylor I had to pass a written technical exam and complete three circuits and landings. With my instructor watching from the control tower I took off and decided before doing the circuits to circle the airfield to get a feel of her low speed handling. The landings that followed were rather interesting and must have resembled the first attempts by the Wright brothers. Until recently I must admit that I was a bit wary of her but now find her absolute pleasure to fly." Muntie recalled.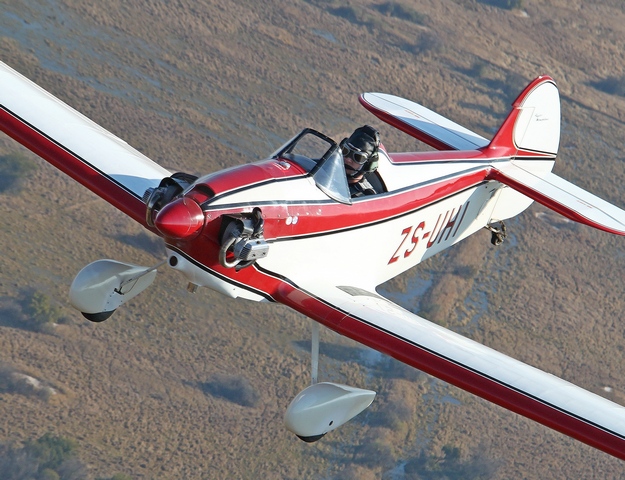 The little Taylor has now become a welcome visitor at fly-ins and always attracts a lot of attention and as was the case at the Taildraggers fly-in recently held at Nylstroom where we did the photo shoot with Hans de Beer flying his lovely Kitfox 7 as the chase plane whilst Muntie formatted on us.