In Midweek Update we will be looking ahead to what's happening on the weekend and report on international and local news. Feel free to let us know if you or your club has got anything planned and we will gladly publish the details here. News snippets are also most welcome. E-mail all material to: willieb@pilotspost.com. The only condition is that it must be aviation related. (Obviously we reserve the right to decide what to publish).
What's happening this weekend?


6 April. Time Trials at Parys. All aircraft types above 120 knots.
E-mail: flyboys@global.co.za
6 & 7 April. Sports Aerobatics KZN Regionals-Ladysmith. E-mail: chunge@mweb.co.za
Events to diarise

13 April Breakfast at Robertson Saturday Contact: Alwyn 083 270 5888
13 April MISASA "Let it Shine" Breakfast Fly in at Kitty Hawk
12-14 April. SAA Pilot's Association Zebula Airshow. E-mail:
pdweich@mweb.co.za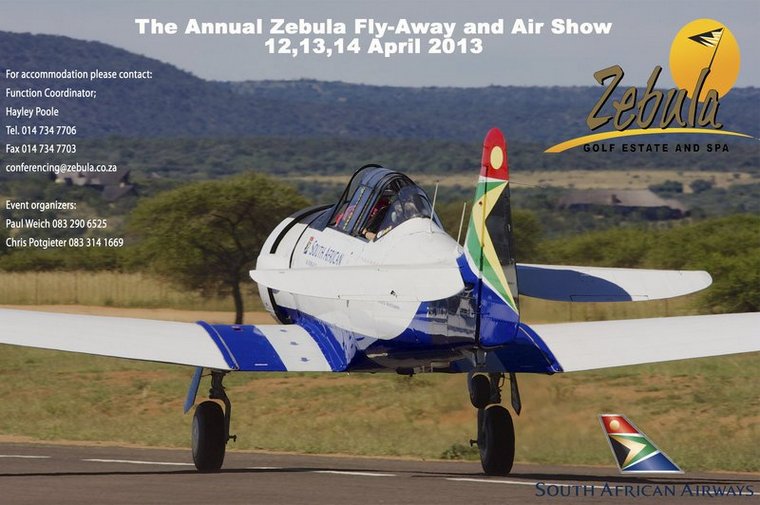 Fly in style to Zebula in the Iconic DC3

Jail time for pointing Laser at pilots

A 19-year-old man who pointed a powerful laser at a Netjets Cessna Citation and then at a police helicopter that responded to the pilot's complaints in Burbank, Calif., was sentenced on Monday to 30 months in prison. Adam Gardenhire pleaded guilty to the charge, which was made a federal crime last year. At sentencing, "Gardenhire basically argued that it wasn't dangerous, that he couldn't have known it was dangerous -- that basically he was just bored and entertaining himself," said Asst. U.S. Atty. Melissa Mills. "The judge found the facts didn't bear that out and his behavior was reckless and very dangerous."
Gardenhire was in his back yard, about a half-mile south of the airport, when he pointed the commercial-grade laser at the Citation on approach to land. The pilot was temporarily blinded and his vision was impaired for several hours, prosecutors said. Gardenhire's case was the second to be prosecuted under the new federal law; the other case, also in California, is still in court. Gardenhire remains free pending an appeal.
USA Federal Government override Beechcraft appeal of LAS Super Tucano contract

The Pentagon invoked a rarely used power in overriding a congressional review of Beechcraft's second appeal of the loss of a contract to the U.S. Air Force. Citing "unusual and compelling circumstances," the Pentagon told Embraer to get going on supplying 20 Super Tucano light air support aircraft to the Afghanistan Air Force and ignore Beechcraft's appeal. The Air Force picked the Super Tucano for a second time over the Beechcraft AT6B in January after the former Hawker Beechcraft successfully appealed the first contract award. Beechcraft protested the latest contract award to the Government Accountability Office but the Pentagon action stopped that process cold. Beechcraft says it's considering its options and has issued a statement critical of the Pentagon's action, calling it "misguided."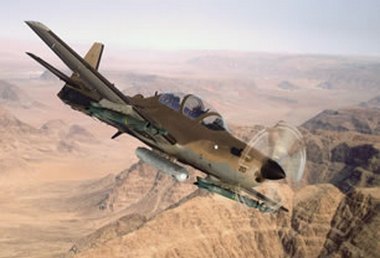 Meanwhile, Embraer has signed a 10-year lease on a 40,000-square-foot building in Jacksonville to finish the aircraft as part of its deal with the primary contractor; Sierra Nevada Corp. Embraer said the facility will create up to 1,400 new jobs. The Jacksonville facility will assemble the aircraft and install the military hardware. While Kansas politicians are decrying the decision, Florida officials are naturally pleased with the way things worked out. "A great team came together to make a solid case for building this plane in Northeast Florida, resulting in a 'win - win' for the First Coast economy and our national defense," said Congressman Ander Crenshaw, R-Fla., who represents Florida's 4th congressional district.
Body of man who fell from plane found in US

Chattanooga - Authorities in Tennessee have found the body of a man who was thrown from an experimental aircraft while an instructor was teaching him to fly. Bradley County Interim Fire Chief Troy Spence says search crews located the deceased student pilot at about 11:45 on Saturday. He declined to release the man's name.
Collegedale Municipal Airport employee Lowell Sterchi told the Chattanooga Times Free Press that the man was being trained by an instructor in his Zodiac 601 aircraft on Friday when the canopy came off. The instructor also was not identified. The man's seat belt was not fastened and he was thrown out of the plane.
Sterchi said the instructor landed the plane and was not physically hurt. He says the Federal Aviation Administration and the National Transportation Safety Board have been notified.
Panthera rollout and first engine start

On March 28th 2013, the prototype of Panthera (which debuted in 2012) rolled out of the Pipistrel's factory in Ajdovscina, Slovenia. The Pipistrel engineers and technicians performed a successful first engine start and ground runs of the 210 HP Lycoming engine, verifying design parameters and engine operation.
Ivo Boscarol, Pipistrel's CEO says: "It is very exciting to witness the tests and see the aeroplane come to life for the very first time. This is definitely a very important milestone in the development of Panthera. We look forward to the continuation of tests and the first flight soon!"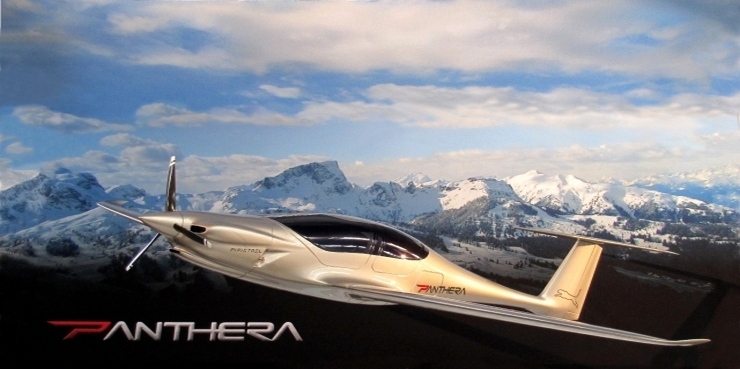 The work will continue on functional ground tests and preparation for first flight, followed by a complete flight test programme.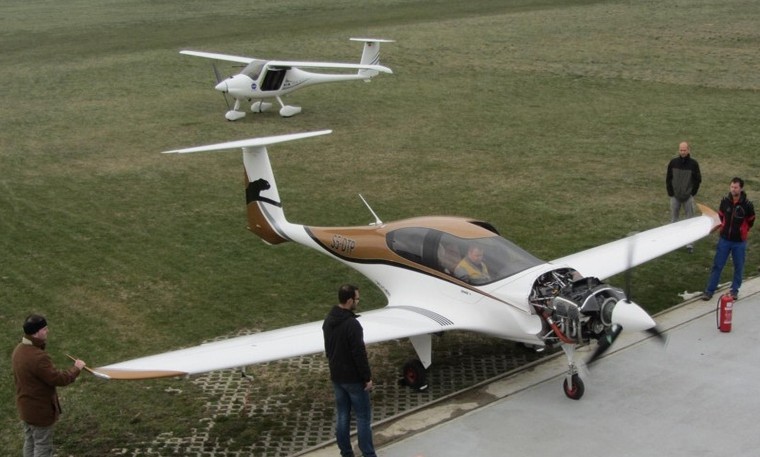 Panthera is a revolutionary 4-seat General Aviation aeroplane, capable of flying 4 people for 1000 NM, cruising at 200 kts, burning only 10 gallons of fuel per hour. With full composite construction with titanium retractable undercarriage, enhanced comfort and parachute rescue system standard, Panthera can be equipped with the conventional, hybrid, or all electric propulsion system.
Solar Impulse to fly from U.S. this Spring

The Solar Impulse team Thursday announced plans for a multi-stop flight of its solar-powered aircraft, HB-SIA, departing the San Francisco area's Moffett Field in early May and concluding the trip in early July at New York's JFK. Planned stops include Sky Harbor Airport, Ariz.; Dallas/Ft. Worth, Texas; and Washington, D.C. One stop prior to D.C. has yet to be announced. Organizers hope the U.S. flight will be the last before the team embarks on a "zero-fuel round-the-world flight in 2015" with a new larger airplane. Structural failure during testing is among the team's previous setbacks.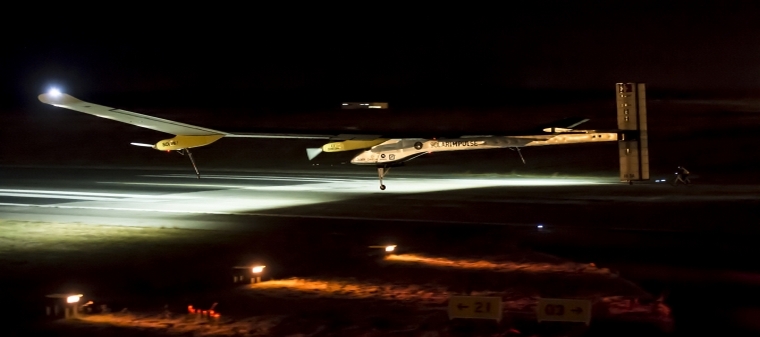 Last July, the larger aircraft being built to undertake the world flights suffered a cracked spar during structural tests. The failure delayed the team's plans, but the U.S. flight may raise additional awareness about the European project. Solar Impulse chairman Bertrand Piccard and CEO Andre Borschberg are both Swiss and their efforts have so far included a 1,500-mile flight from Switzerland to Morocco that reached 27,000 feet and averaged 30 mph. The current aircraft's wing spans more than 205 feet and is covered with nearly 12,000 photovoltaic cells that run four 10-horsepower electric motors. The cells also charge the aircraft's lithium-polymer battery packs. In flight, the 3,527-pound plane cruises at less than 50 mph. The HB-SIA has demonstrated a duration in flight of 26 hours, 10 minutes, 19 seconds, flying overnight on power collected from the sun and stored in batteries. It has also reached an altitude of 30,000 feet and covered a distance of more than 690 miles along a course.

Solar Impulse is a Swiss long-range solar powered aircraft project being undertaken at the École Polytechnique Fédérale de Lausanne.
Wingspan: 63 m
First flight: December 3, 2009
Length: 22 m
Cruise speed: 70 km/h
Introduced: June 26, 2009