Regular readers will have noticed that we now have eight articles on our homepage instead of the four that we used to publish. The reason for that is twofold; if for some reason you have missed the previous weeks articles they are there for easy reading and it furthermore allow us the publish more than four articles every Sunday, ready for you to read on Monday. If you have missed an article simply click on 'more articles.' All articles are archived.
To keep our news as fresh as possible and to remind you of forthcoming events we have introduced our 'Midweek Update' published on Tuesday evenings so be sure to visit on Wednesday mornings. Feel free to let us know if you or your club has got anything planned and we will gladly publish the details here. News snippets are also most welcome. E-mail all material to: willieb@pilotspost.com . The only condition is that it must be aviation related. (Obviously we reserve the right to decide what to publish).
Pilot's Post now average 1,000 hits per day and with advertising packages of R500, R1,000, R1,500 and R2,000 per month and classified adverts at R350 makes it the most cost effective way to reach your target market. For more information phone Willie on 082 442 8815 or E-mail
willieb@pilotspost.com
Fastjet teams up with local company

In an attempt to speed up its entrance into the South African domestic market, pan-African low cost carrier, Fastjet has ditched its original strategy and has opted to team up with a local company in the acquisition of 1time.
1time's provisional liquidator, Aviwe Ndyamara of Tshwane Trust, told TNW that the Fastjet executive team had confirmed it had reached an agreement with a credible South African partner to facilitate the financial transaction, resulting in the application to the Department of Transport for an exemption being withdrawn.
Fastjet's hope to bail out 1Time were delayed by the South African Air Services Licensing Act, which states that foreign ownership of a local airline is capped at 25%. Fastjet applied for an exemption from the Minister of Transport, Ben Martins in December last year but has yet to receive a response.
As usual, Fastjet remained tight-lipped about the deal, confirming only that it would own up to 25% of 1Ttime should the deal go ahead. A spokesperson for the airline refused to confirm whether or not the South African company was already a player in the aviation industry. She said: "As we have said, we will provide an update on the status of our plans in South Africa as and when is appropriate."
NEW HELICOPTER MAINTENANCE CENTRE STRENGTHENS DENEL'S ORDER BOOK

Africa's first centre of excellence for the repair and servicing of products of Russian Helicopters, the Rostec subsidiary, was opened in Kempton Park today following an historic agreement between the state-owned defense and aerospace company, Denel, and the Russian manufacturer of rotary wing aircraft.
The state-of-the-art maintenance facility, next to O R Tambo International will cater for the rapidly growing number of Russian Helicopters products flying on the continent of Africa, requiring high-level maintenance, repair and overhaul (MRO) work. Denel Aviation is the only company accredited to perform these services and is also able to deploy technical field teams to any destination in Africa to do local repairs and maintenance.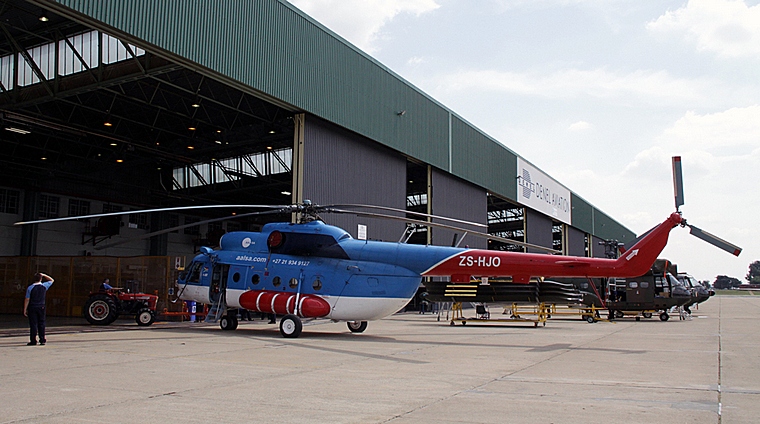 The importance of this centre for future aerospace cooperation between the two counties was underlined when President Jacob Zuma and Russian President, Vladimir Putin, participated in the opening ceremony through a video link-up from the Brics Summit in Durban.
The Chairman of the Denel Board, N R Zoli Kunene says the establishment of the centre is a practical example of the type of partnerships that will emerge from the Summit. "Through the Brics alliance we see the prospects of new market opportunities opening up for Denel to confirm our position as a proudly African defense company that can also be a significant player on the global stage," he said.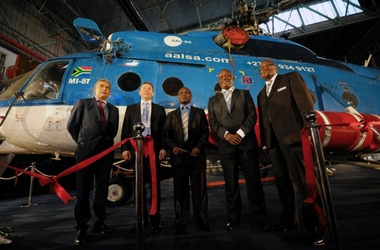 "This is an important stage of implementation the strategy for the development of global system of Russian rotary wing equipment after-sale maintenance," Dmitri Shugaev, Deputy CEO of Rostec State Corporation, underlined. "There is a great demand for Russian helicopters both in Africa and on other markets traditional for us. That is why it is important to provide maintenance services on the spot. It will encourage the business efficiency of our partners in the region southward of Sahara and provide a well-timed certified after-sale maintenance of the civil helicopter fleet. Our equipment becomes more attractive since we offer world-class quality services in our maintenance centres."
Today Russian-made helicopter fleet in Africa comprises approximately 600 rotary wing aircrafts of Mi-8/17 and Ka-32 models.
"Such fleet maintenance requires the organization of a state-of-the-art service support system in the region", Dmitri Petrov, CEO of the Russian Helicopters holding said. "The MRO facility establishment by Denel Aviation became a big step in this direction. A large regional centre is to be based on the venture's facilities and to subsequently perform after-sale and service maintenance of all the Russian Helicopters products in the sub-Saharan.
Russian Helicopters holding provided a maintenance center in Johannesburg with the equipment and documentation required, prepared the facility for work, and arranged training for Denel Aviation staff at one of its ventures, Novosibirsk Aircraft Repairing Plant.
The decision about the establishment of the service centre was taken with the signing of a partnership agreement between Denel Aviation and Oboronprom in September, 2012 at the seventh Africa Aerospace and Defense show in Tshwane. Denel Aviation plans to perform service maintenance of Russian Helicopters civil rotorcrafts within the cooperation.
The South African company looks to gradually expand the service range after-sale maintenance and overhaul of Russian-made civil and military rotorcrafts and aggregative equipment. The Group Chief Executive of Denel SOC, Riaz Saloojee, says these aircraft require a reputable and accredited facility within easy range of its users in Africa to perform MRO services. Both operator and original equipment manufacturer must have full confidence in the quality and experience of the engineers and technical crews who are performing this work. "This is the quality of service that Denel Aviation has become known for in the broader aviation industry and which it has already demonstrated through the work done in support of Russian Helicopters' products over the past three years," said Mr Saloojee.
The facility is the only one of its kind in Africa and is expected to take over responsibility for the maintenance of most of the estimated 350 helicopters manufactured by RH, flying on the continent. The two companies have already conducted joint road shows to market their collective capabilities and received positive feedback from operators in countries such as Kenya, Ghana, Nigeria and Uganda who will most likely send their helicopters to Kempton Park for MRO services in the future. Mr Saloojee says he expects the partnership to grow and expand into other areas which might include the joint marketing of products and services on the continent. Mr Saloojee says as an African defense and industrial company Denel intends to expand its footprint on the continent, including the establishment of regional offices in a number of key countries.
Africa currently constitutes 27% of Denel total export sales of R1.33 billion but it foresees strong future growth - especially in the fields of MRO work, humanitarian demining and unmanned aerial vehicle systems. "Denel's approach is to create partnerships with our clients in Africa. It is not a question of selling services and systems and walking away from the deals," says Mr Saloojee. "Our African partners know that we continue to support our services through training programmes, maintenance agreements, the provision of spares and equipment, upgrades and technical advice."
The new MRO centre will also fit into Denel's initiatives for the training of skilled aviation engineers, artisans and technicians. The Denel Technical Academy trains about 250 students a year in aviation-related courses including from countries such as Botswana, Angola, Zambia, Namibia and Nigeria.
Russian Helicopters to showcase new models in South-East Asia

Malaysia / 25 March 2013 - Russian Helicopters, part of state defence holding Oboronprom and a leading global designer and manufacturer of helicopters, will bring a line-up including some of its latest helicopters to the Langkawi International Maritime and Aerospace Exhibition (LIMA 2013), taking place in Malaysia on 26-30 March. The Company can be found at booth A209 in hall A.
ASEAN countries including Malaysia, Vietnam, Indonesia, Cambodia, Laos, Myanmar, Singapore, Thailand and the Philippines are fast-growing markets for Russian helicopter manufacturers. At LIMA 2013, Russian Helicopters will showcase models including the multi-role Mi-171A1 and the updated Mi-171A2. Also on display at the exhibition will be the coaxial-rotor Ka-32A11BC, the new multi-role Ka-62 and the light Ansat.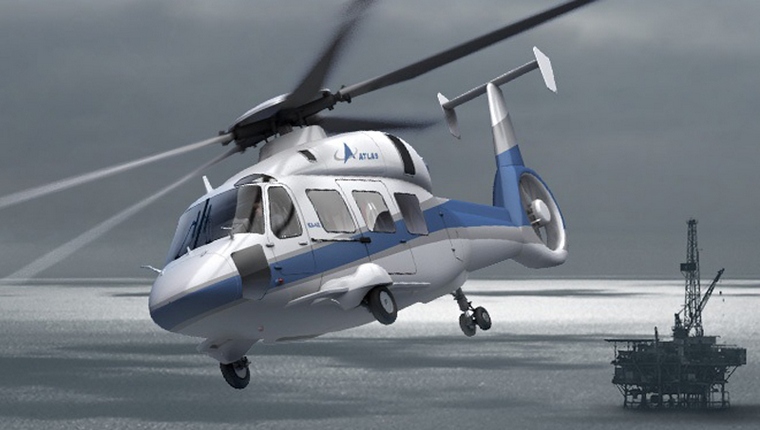 At business meetings during the exhibition, Russian Helicopters will set out a roadmap for how the Mi-171A2 and Ka-62 can be used for search-and-rescue missions by ASEAN nations as well as Japan, Canada and China.
The Mi-8/17 series of helicopters is renowned across the planet. The Mi-171A1 is a civilian multi-role cargo and passenger helicopter that meets US FAR-29 airworthiness standards and is used in more than 110 countries. The new multi-role Mi-171A2 is a new version of the Mi-8/17 that has been updated throughout using the rich operating experience of these models around the world. The Mi-171A2 uses advanced materials and is designed using the latest aviation technologies. Russian Helicopters sees the Mi-171A2 as the highest-performance version of this illustrious series to date.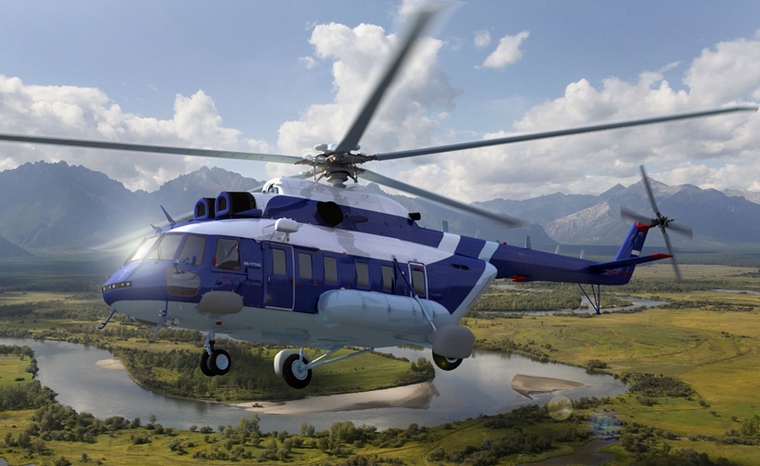 The medium multi-role coaxial Ka-32A11BC is also well known among helicopter operators. This helicopter's unique flight abilities make it ideally suited to a wide range of missions from fire-fighting and cargo transport to emergency evacuation and rescue and border patrols. The new Ka-62 is built based on the highest standards of fuel efficiency, operational economy and safety. The helicopter's first flight is planned for 2013, with certification expected in 2014. The advanced Ka-62 is seeing high levels of interest from corporate clients, such as the Brazilian company Atlas Táxi Aéreo, which has already ordered seven helicopters.
The light multi-role Ansat falls into the highly in-demand class of helicopters with lift capacity of up to 1.5 tons. The Ansat has the most spacious cabin in its class, and can be configured to carry passengers (including VIP service) and cargo, as well as for search-and rescue and medevac missions.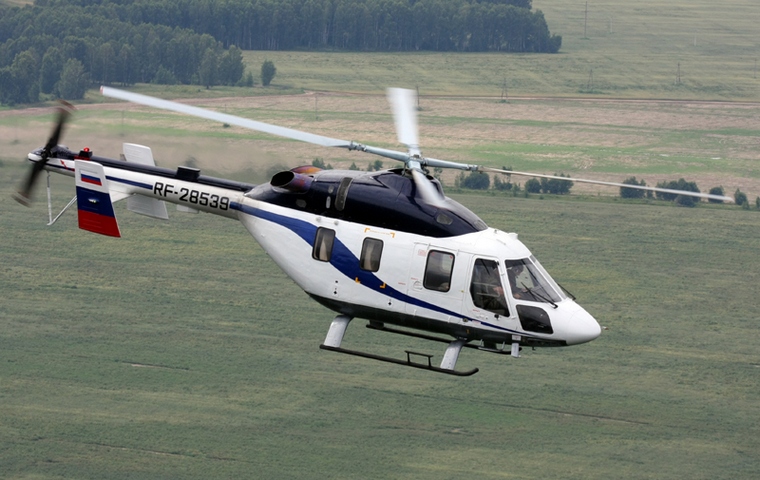 LIMA is one of the largest aerospace exhibitions in the Asia-Pacific region, and is held every two years on the Malaysian island of Langkawi under the auspices of the Malaysian defence ministry.
Russian Helicopters, JSC is a subsidiary of UIC Oboronprom, which in turn is a part of the Rostec State Corporation. It is one of the global leaders in helicopter production and the only helicopter design and production powerhouse in Russia. Russian Helicopters is headquartered in Moscow. The company comprises five helicopter production facilities, two design bureaus, a spare parts production and repair facility, as well as an aftersale service branch responsible for maintenance and repair in Russia and all over the world. Its helicopters are popular among Russian ministries and state authorities (Ministry of Defence, Ministry of Internal Affairs, Emergency Control Ministry), operators (Gazpromavia, UTair), major Russian corporations. Over 8000 helicopters of Soviet/Russian make are operated in 110 countries worldwide. Traditionally the demand is highest in the Middle East, Africa, Asia-Pacific, Latin America, Russia, and CIS countries. Russian Helicopters was established in 2007. In 2011 its IFRS revenues increased 27.8% to RUB 103.9 billion. Deliveries reached 262 helicopters.
UIC Oboronprom, JSC is a multi-profile industrial and investment group established in 2002. It is a part of the Rostec State Corporation. Its main tasks include: helicopter engineering (Russian Helicopters, JSC) and engine-building (United Engine Industry Corporation managing company).
The Russian Technologies State Corporation (Rostec) was established in 2007 to support Russian industry in developing, producing and exporting high-tech industrial products for civil and military use. The Corporation includes 663 companies, currently organised into 12 defence holdings and five holdings for civil industries. The Corporation has a presence in 60 of Russia's regions, and exports its products to 70 countries. Russian Technologies State Corporation is headed by Sergei Chemezov. In 2011 the Corporation had net income of RUB 1.55 billion, and paid RUB 100 billion into budgets of all levels.