GAC UPDATE Issue 24 - April 2013


Vivienne Sandercock


Contents
1. Editor's Message
2. New study examines aircraft fire hazards from lithium batteries
3. Hazard, Incident and Accident Statistics
4. Henley/Global Training
5.
The approaching rainy season will introduce new challenges as the weather deteriorates
6. ICAO code changes for airports in Africa
7. DGCA safety audit uncovers scary truths (India)
8. ERP/AEMS
9. Which is the safest seat on an aircraft?
10. News from Jo'burg Airports
11. Commercial Airlines/Airports Information
12. Security/Safety Tip of the Month
13. Advertisements
14. Finale



Welcome to this our 24th Issue of GAC UPDATE. It is difficult for us all to believe that this Safety Bulletin started 2 years ago. As a result we have had a look at the month of April in History and have come up with what we think is "Quite Interesting" information noting that all of the events mentioned could be the subject of a Risk Assessment, Risk Mitigation or Safety Case Investigation!
April 5, 1986 -
A bomb exploded at a West Berlin discotheque popular with US military personnel killing 2 US soldiers and a Turkish woman. US intelligence analysts attributed the attack to Muammar Qaddafi. 9 days later President Ronald Reagan ordered a retaliatory air strike against Libya see April 14th below.
April 11, 1970 -
Apollo 13 was launched from Cape Kennedy at 14.13. 56 hours into the flight an oxygen tank exploded in the service module. Astronaut John L. Swigert saw a warning light that accompanied the bang and said "Houston, we've had a problem here then he, James A. Lovell and Fred W. Haise transferred into the lunar module and began a perilous return trip to earth, splashing down safely on April 17th.
April 12, 1961
- Russian cosmonaut Yuri Gagarin became the first human in space. He travelled aboard the Soviet spacecraft Vostok I to an altitude of 187 miles (301 kms) above the earth and completed a single orbit in a flight lasting 108 minutes.
April 12, 1981
- The first space shuttle flight occurred with the
launching
of Columbia with astronauts John Young and Robert Crippen aboard. Columbia spent 54 hours in space, making 36 orbits, and then
landed
at Edwards Air Force Base in California.
April 14, 1986 -
On the order of President Ronald Reagan US warplanes bombed the Libyan cities of Tripoli and Benghazi in retaliation for the terrorist bombing on April 5th as above. Among the 37 people killed in the air raid was the infant daughter of Muammar Qaddafi, Libya's head of state.
April 15, 1912 -
At 02.27 in the icy waters off Newfoundland, the luxury liner Titanic with 2,224 persons on board, sank having struck an iceberg just before midnight. Over 1,500 persons drowned and 700 were rescued by the liner Carpathia.
April 16th 1867 -
American aviation pioneer Wilbur Wright (1867-1912) was born in Millville, Indiana. On 17th December 1903 he and his brother Orville made the first successful motor driven aircraft flight flying for 12 seconds travelling 120 feet. Wilbur died of Typhoid Fever in May 1912.
April 18, 1942 -
The first air raid on mainland Japan during World War II occurred as Gen. James Doolittle led a squadron of B-25 bombers taking off from the carrier Hornet to bomb Tokyo and three other cities.
April 21, 1918 -
During World War I the Red Baron (Manfred von Richthofen) was shot down and killed during the Battle of the Somme. He was credited with 80 kills in less than two years, flying a red Fokker triplane. British pilots recovered his body and buried him with full military honours
April 27, 1865 -
The worst steamship disaster in US history occurred on the Mississippi River when there was an explosion aboard the "Sultana" which killed nearly 2,000 passengers.
Vivienne Sandercock



2. NEW STUDY EXAMINES AIRCRAFT FIRE HAZARDS FROM LITHIUM BATTERIES



A prominent air-safety advocacy group has released a report highlighting fire hazards lithium-ion batteries pose for airliners, and calling for stepped-up crew training to counter those potential dangers. Released earlier this week by Britain's Royal Aeronautical Society, the report emphasizes the importance of raising awareness among ground personnel, pilots, cabin attendants and even passengers that "lithium batteries pose a risk to flight operations."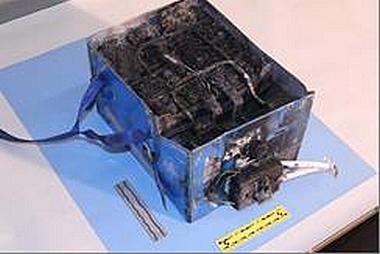 The document doesn't deal with the specific battery issues affecting Boeing Co.'s BA +0.01%grounded 787 jet. Rather, the study's focus is on smoke or fire events caused by overheating lithium power packs carried as cargo, or installed in personal electronic devices used in cockpits or cabins.
The society's conclusions and recommendations, among other things, emphasize the "cascading effects" of some fires, which "can spread and affect numerous independent systems," ending in potentially catastrophic events.
Boeing has said that over the years, batteries installed as part of commercial-aircraft electrical systems have experienced thousands of failures resulting in many instances of fire or smoke.
Statistics cited by the Royal Aeronautical Society don't break out such events, or suggest that those types of onboard batteries are experiencing smoke or fire problems that frequently. But the 70-page report does indicate that by some historical measures, airlines around the world may experience more than two "smoke events each day" from a variety of sources. Past industry analyses revealed an average of roughly one "unscheduled or precautionary landing" by an airliner per day world-wide, according to the latest report, with Boeing and Airbus aircraft affected roughly equally.
By ANDY PASZTOR



http://online.wsj.com/article/SB10001424127887323419104578373292916615324.html
3. HAZARD, INCIDENT AND ACCIDENT REPORTS


FIXED WING ACCIDENTS IN AFRICA - 2013



DATE TYPE FATALITIES LOCATION
01 Jan Aeroprakt A-22 FoxBat 2 Phalaborwa Airport, Limpopo, RSA
10 Jan Windlass Aquilla 2 R304, outside of Klipheuwel, WC, RSA
17 Jan CASA 212 0 AFB Bloemfontein, Tempe Airfield, RSA
03 Feb Jabiru SPT 0 N4 Motorway, South of Witbank, MP, RSA
05 Feb Cessna 0 East African Aviation Academy, Soroti, Uganda
05 Feb Light Aircraft 3 Niamey Airport, Niger
11 Feb Military 3 crew/6 pax Monrovia, Liberia
23 Feb B733 0 RWY26L, Muscat, Oman
24 Feb Aeroprakt A-22 FoxBat 2 Initial climb out from Nanyuki Civil Airstrip, Kenya
28 Feb A321 0 Hurghada, Egypt
18 Mar MIL 1 500km N of Nouakchott, near Aoujeft, Mauritania
Source, amongst others, PlaneCrash info.com; News24, Aviation Herald, Flight Safety Information



ROTOR WING ACCIDENTS IN AFRICA - 2013



DATE TYPE FATAL-ITIES LOCATION
18 Jan Bell 47G 3B.1 0 Hibberdene, KZN, RSA
07 Feb RH44 0 S 25° 49' 40" E 028° 13' 15, Kestell, FS, RSA
30 Mae Agusta A109 5 South Africa's Kruger Park
ACCIDENTS/INCIDENTS REPORTED TO THE SA CAA - FEBRUARY 2013
REF DATE TYPE LOCATION FATALITIES CIRCUMSTANCES TYPE OF OP
0960
02 Feb
RH22 Vaal River, NC, RSA 0 During a scenic flight along the Vaal river, the helicopter collided with power lines, pilot landed safely, limited damage to a/c PVT
9141
07 Feb
RH44 S 25° 49' 40" E 028° 13' 15" 0 Pilot allowed the main rotor rpm to decay on take-off and helicopter crashed on a farm in the Kestell district. PVT
961
16 Feb
RH44 II Near FAGC, GP, RSA 0 Bird strike during training flight. Bird penetrated the left main plexiglass windscreen and struck the instrument panel TRNG
9136
02 Feb
Bantam B22J Hoedspruit Aerodrome, Limpopo, RSA 0 A/C stalled, hard landed on RWY, nosed over & rested next to the RWY. TRNG
9137
02 Feb
Jabiru SPT Between Witbank & Middleburg, MP, RSA 0 A/C collided with power lines in the Witbank area and crashed next to the N4 highway. PVT
9139
02 Feb
Mooney M20J Benoni-Brakpan Aerodrome, GP, RSA 0 Prop struck the RWY surface during landing PVT
9140
02 Feb
Cessna 172 Waterkloof Air Base, GP, RSA 0 During a touch & go on RWY01 crew omitted to lower the landing gear prop & lower fuselage made contact with the RWY surface. TRNG
9142
07 Feb
Lambada UFM 13 Brits Aerodrome, NW, RSA 0 Canopy was not secured prior to take-off. Pilot tried keeping the canopy closed & land the a/c. Veered off the RWY on landing PVT
9143
08 Feb
Cosmos Chronos East London Aero, EC, RSA 0 Engine failure after take-off, forced landing followed damaging the micro-light a/c. PVT
9144
12 Feb
Extra 300 R304, Klipheuwel Rd 0 Engine failure after take off, forced landing followed, malfunction with the fuel tank selector switch resulted in fuel starvation to the engine PVT
9145
15 Feb
Aveko VL3C-3 Groutville Pvt Airstrip, KZN, RSA 0 A/C landed with the nose landing gear missing, the gear assy had departed the A/C at the previous departure station. PVT
9146
16 Feb
Paraglider Burgersdorp, EC, RSA 1 In flight wing deflation due to sudden strong wind that picked up. Paraglider crashed and the pilot succumbed to his injuries PVT
9147
16 Feb
Cessna 404 Mozambique 0 On landing RH main brake system failed. A/C veered off the RWY to the left & nose gear collapsed PVT
0962
16 Feb
Cessna S550 Lanseria Airport, GP, RSA 0 Failure to pressurise the power brakes. Power brake & anti-skid INOP annunciator illuminated, fault cleared itself prior to landing. PVT
9148
19 Feb
Jabiru SP 120 Rhino Park, GP, RSA 0 Pilot had to vacate the RWY due to landing a/c. Whilst try to taxi back the prop struck a foreign object in the grass PVT
FIXED WING INCIDENTS AND HAZARDS REPORTED TO GAC - MARCH 2013






ACC INC HAZ DATE A/C TYPE LOCATION FATALITIES CIRCUMSTANCES TYPE OF OP



INC 16 Mar B737-800 En route GRJ/JNB 0 Crew had to shut down #1 engine (CFM56) COM
INC 20 Mar B777-300ER Ramp at KKIA, Lusaka, Zambia 0 Refuelling truck caused severe damage to an engine. A/C AOG. COM
ACC 21 Mar TBA Port Alfred Airport, EC, RSA 0 A/C landed short with 7 sob. TRNG
INC 26 Mar AB321 Initial climb out from Algiers en-route Paris, CDG, France 0 A/C was in initial climb out when the crew needed to shut one of the CFM56 engines down. A/C returned to Algiers safely. COM
INC 28 Mar B737-800 Murtala Mohammed International Airport Lagos, Nigeria 0 Crew requested a return to MMIA with an emergency landing due to an engine Bird Strike. COM
ROTOR INCIDENTS AND HAZARDS REPORTED TO GAC - MARCH 2013






ACC INC HAZ DATE AIR CRAFT TYPE LOCATION FATALITIES CIRCUMSTANCES TYPE OF OP



ACC 9 Mar MIL 35km from Bukavu, S Kivu Province, DRC 2 Helicopter crashed into a hill in bad weather MIL
ACC 12 Mar Z9 Lusaka City Airport, Lusaka, Zambia 1 Helicopter spun out of control and crashed on landing MIL
ACC 23 Mar Bell 206B Mayors Walk, Pietermaritzburg, KZN, RSA 0 Loss of tail rotor effectiveness on approach to land. COM
AERODROME HAZARDS, INCIDENTS AND ACCIDENTS







TYPE DATE AERODROME HAZARD, INCIDENT OR ACCIDENT DESCRIPTION
HAZ Jan Goma Aerodrome, DRC VOR is unserviceable so operators are treating it as a VFR approach. Bird hazard prevalent Feb-May
HAZ All Bunia, DRC Bunia's runway surface is in bad condition and is a major safety hazard for fixed-wing operations
HAZ Feb-May Dungu, DRC Bird hazard prevalent
HAZ Feb-May Beni, DRC Bird hazard prevalent
HAZ Feb-May Bukavu, DRC Bird hazard prevalent
HAZ Feb-May Kindu, DRC Bird hazard prevalent
HAZ Jan-Jun Accra Aerodrome, Ghana Apron extension in progress at the international airport, possible delays on arrival and departure.
HAZ Jan-Jun Accra Aerodrome, Ghana Increased bird activity in the area
HAZ Jan-Dec Sunyani Aerodrome, Ghana Broken surfaces and pebbles on RWY 25/07. Pilots are advised to exercise caution during landing and take-off.
INC 19 Feb Rand Aerodrome, (FAGM), RSA Lightning strike hit a pipe near to the helipad 3 opposite H6 causing explosive relocation of a conduit pipe which travelled under the helipad and came out about 20 feet away. See photo below.
HAZ Feb Grand Central Aerodrome, (FAGC) RSA A nearby quarry where some parts of pilot training takes place has become the breeding ground for European Storks. A NOTAM has been issued on this.
HAZZ Mar Robertsfield Airport, Monrovia, Liberia Bird hazard prevalent


FOUR POLICEMEN INJURED AS ROBBERS ATTACK LAGOS AIRPORT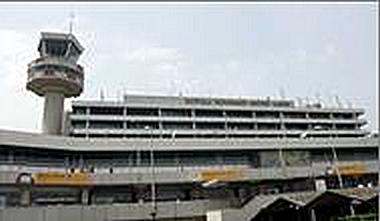 13 Mar 2013 - One man was killed and four policemen injured yesterday when armed robbers attacked a Bureau de Change located at the international wing of the Murtala Muhammed Airport, Lagos. Eye witness account said the robbers targeted the foreign currency unit at the bureau de change and at about 8p.m. sneaked into the airport through Ajao Road and as they besieged the area and saw policemen they started shooting and policemen were able to kill one of them while about four policemen were injured.
Before the robbers, whose number was not ascertained, escaped, they snatched money in different currencies worth about N8 million from one of the bureau de change operators.
THISDAY made efforts to contact the new Commissioner of Police, Airport Command, Bayo Ajileye, but the calls were not answered. However, the General Manager, Corporate Affairs of the Federal Airports Authority of Nigeria (FAAN), Yakubu Dati, explained in a statement that men of Nigerian police foiled attempted robbery attack at the airport. "There was an exchange of gunfire which resulted in the death of one of the robbers. The level of casualty is being ascertained. The situation has been brought under control by the swift intervention of the security force." Dati said the robbers were apparently attempted to rob a bureau de change near the airport, adding that normal operations and flights were not affected by the incident.
14 Mar 2013 -THIS DAY, MMIA, Lagos - Chinedu Ezeâ


4. HENLEY/GLOBAL AVIATION TRAINING
Should you wish to make a booking for any of these courses please contact Candice on 011 024 5446 or by email to
candice@gaconsultants.net



DATES COURSE LECTURER COST PER DELEGATE EXCL. VAT
04 Apr 2013 CRM - Recurrent Verity Wallace R 950=00
04 Apr 2013 Dangerous Goods - Recurrent Verity Wallace R 750=00
08 to 12 Apr 2013 Integrated Safety Management Course Various R 5,130=00
08 & 09 Apr 2013 Safety Management Systems (SMS) Dan Drew R 2,100=00
15 & 16 Apr 2013 Crew Resource Management / Human Factors - Initial Dr. Joel Hughes R 1,650=00
22 & 23 Apr 2013 Quality Assurance Auditor Course (2 day) Dan Drew R 2,100=00
08 May 2013 CRM - Recurrent Verity Wallace R 950=00
08 May 2013 Dangerous Goods - Recurrent Verity Wallace R 750=00
13 & 14 May 2013 Human Factors for AMEs Dr. Joel Hughes R 2,100=00
20 & 21 May 2013 Quality Assurance Auditor Course Dan Drew R 2,100=00
Note: Cost per delegate includes all training materials, refreshments, lunch and parking
Note: Attendees paying in cash on the day are eligible for a 10% discount
Note: Both Recurrent CRM and Dangerous Goods Training Courses are available upon request - even at short notice.
5. THE APPROACHING RAINY SEASON WILL INTRODUCE NEW CHALLENGES AS THE WEATHER DETERIORATES.



This information circular is provided for awareness and to assist in all preparing for the challenging or the rainy season in Sudan and others in the ITCZ. Between April and September Sudan will be subject to the rainy season as the Inter Tropical Convergence Zone (ITCZ) moves slowly north over the continent. The ITCZ will produce thunderstorms, Haboobs and other aviation weather hazards. Alternate requirements, instrument approaches and Visual Meteorological Conditions, visibility and other weather will become common place and important factors in flight planning and decision making.
ITCZ

The ITCZ is an area of low pressure that forms where the Northeast Trade Winds meet the Southeast Trade Winds near the earth's equator. As these winds converge, moist air is forced upward. This causes water vapour to condense, or be "squeezed" out, as the air cools and rises, resulting in a band of heavy precipitation around the globe. It is also the time when thunderstorms and Haboobs will commence. The Sudanese Aviation Forecasting Office reports that the ITCZ is located just north of Juba. It will move north as the season progresses. It is expected near Kadugli in May and Khartoum in June/July.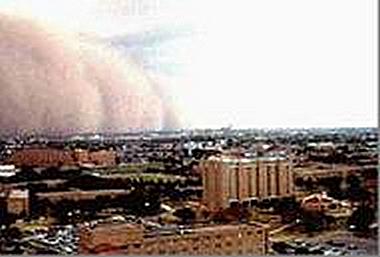 HABOOB

The name Haboob is rooted from the Arabic word "phenomena". This form of monsoon occurs mainly from May until September. It's a dust storm moving at a maximum speed of 80kph (50mph), the average speed is 50kph (30mph). The storm can reach up to heights of 3000 feet. They last about three hours, in which they change the desert landscape. The Haboob wind is caused by thunderstorms in the final phase. Downdrafts in a thunderstorm cause gust fronts, descending air hitting the ground and picking up large amounts of dust. The force moves the dust from above.
THUNDERSTORMS

A thunderstorm packs just about every weather hazard known to aviation into one vicious bundle. The most hazardous is a narrow band of active thunderstorms known as the squall line. Often a squall line develops on or ahead of a cold front in moist, unstable air, but it may develop in unstable air far from any front. The line may be too long to detour around easily and too wide and severe to penetrate. It often contains steady-state thunderstorms and presents the single most intense weather hazard to aircraft. It usually forms rapidly, generally reaching maximum intensity during the late afternoon and the first few hours of darkness.
The most violent thunderstorms draw air into their cloud bases with great vigour. If the incoming air has any initial rotating motion, it often forms an extremely concentrated vortex from the surface well into the cloud. Meteorologists have estimated that wind in such a vortex can exceed 200kts; pressure inside the vortex is quite low. The strong winds gather dust and debris and the low pressure generates a funnel shaped cloud extending downwards from the cumulonimbus base. If the cloud does not reach the surface, it is a "funnel cloud"; if it touches a land surface, it is a "tornado".

Turbulence:
The strongest turbulence within a thunderstorm cloud occurs with shear between updrafts and downdrafts. Outside the cloud, shear turbulence has been encountered several thousand feet above and 20nm laterally from a severe storm.
A low level turbulent area is the shear zone associated with the gust front. Often, a "roll cloud" at the leading edge of a storm marks the top of the eddies in this shear and signifies an extremely turbulence zone.

6.
ICAO CODE CHANGES FOR AIRPORTS IN AFRICA


In January 2013 ORTIA (O R Tambo International Airport) formerly known amongst others as JIA (Johannesburg International Airport) changed its four letter designator from FAJS to FAOR Zambia has now joined in with the "all change" mode and we understand that the following will apply from the 4th of April 2013. As you can see FLSK moves from Siankaba to Ndola and FLKK moves from Kakumbi to KKIA Lusaka which could make for some interesting flight plans for those who have not read the NOTAMs.
Kenneth Kaunda International Airport, Lusaka changes from FLLS to FLKK
Ndola Airport changes from FLND to FLSK
Livingstone Airport changes from FLLI to FLHN
Kakumbi Airstrip changes from FLKK to FLAB
Siankaba Airstrip changes from FLSK to FLSY

7. DGCA SAFETY AUDIT UNCOVERS SCARY TRUTHS (INDIA)
(Whilst this article is about aviation in India some of the situations can also be found here in Africa)
Three year findings reveal facts on loose screws, fuel seepage and 83 drunken pilots on duty. The Aviation regulator could only complete safety inspections of 6 out of 10 scheduled airline operators. Explosive findings of air safety audits conducted by the Directorate General of Civil Aviation (DGCA) have exposed major chinks in the aviation sector - planes with screws missing, a flight that took off without the essential explosive certification for refuelling and routine inspections that were not carried out because of lack of trained manpower. In response to an RTI filed by Mail Today, the DGCA conceded that there were safety gaps in air operations.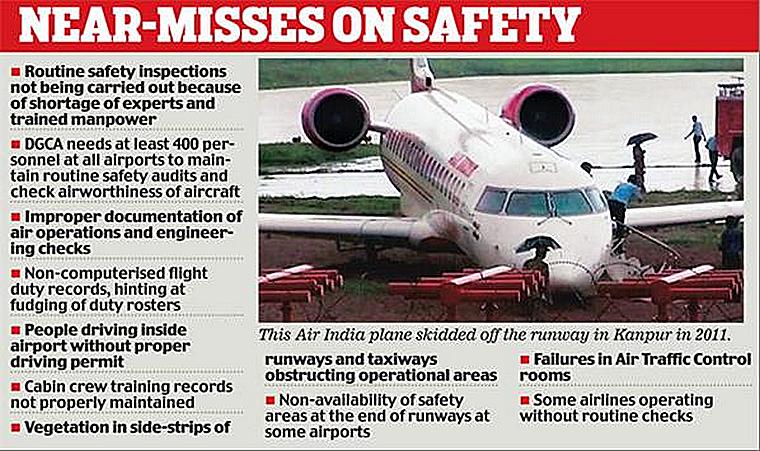 Sources said most safety inspections found improper documentation of air operations and engineering checks done on the ground, indicating your safety on flight may have been compromised.
In fact, DGCA itself is so staff crunched that it cannot complete safety inspections of all the airline operators in one year as per regulation. As a result, it outsources the primary obligation of conducting the safety audits to airline companies most of the time. This undermines the system of impartial safety inspection, said former DGCA Kanu Gohain. "How much sincerity can you expect after delegating the safety audit responsibilities to the airlines themselves?'' Gohain asked. Last year, the aviation regulator could only complete safety inspections of six out of 10 scheduled airline operators. "The last air safety audit done by DGCA was of SpiceJet in October 2012 and there were total 38 findings listed to the operator," says DGCA in an RTI reply. The audit was particular about gaps in documentation of flight operations and engineering tests.
Slip-ups on flight safety are not the only hazard that the Indian flyers face. There have been frequent tripping of radars at the Air Traffic Control (ATC) rooms. Five such incidents have been reported since January this year - two each in Delhi and Kolkata and one in Bhubaneswar. A fortnight ago, on March 12, the Chennai airport was closed for operations from 2.30 am to 7 am following a fire in the equipment room and control centre of the local ATC. This highlighted the absence of routine maintenance at critical facilities. Faced with the frequency of such incidents, DGCA is proposing random fire safety drills at major airports across the country and have sought detailed reports on ATC failures from the Airports Authority of India (AAI).
DGCA Arun Mishra played down safety fears saying, "There are layers of safety personnel involved in the aviation sector and human errors can happen anywhere. However Mishra conceded that while there was an expansion in the aviation sector, there was no commensurate improvement in expertise on the ground. "We were not geared up to match the demands and are trying to catch up. This is a highly technical profession requiring experts but their salaries cannot be matched within the government set-up. Hence, we find it difficult to get the manpower.''
Delhi, Mumbai and Kolkata manage over 70 per cent of the daily air traffic. Some like Mumbai, Kolkata, Ahmedabad, Bhubaneswar and a few in the north-east sector are designated as prone to safety hazards, admits a senior DGCA official. There are over 4,000 commercial pilots operating 1,000-odd planes in 10 scheduled operators. The RTI showed on the basis of three-year findings that 83 pilots had tested positive for alcohol and there were 72 near air-misses over the same period. Eleven accidents, including five fatal ones, were also reported last year. According to the RTI reply given by the DGCA the pilots found drunk were suspended for three months. Giving details about the 72 air misses, the DGCA said that there were "22 air misses in 2010, 29 in 2011 and 18 reported last year". Three have been reported to date this year. DGCA Mishra said that he is taking stringent action against the errant operators and has passed "zero-tolerance'' directives against drunk pilots.
Highlighting the urgency to ensure air safety, Kapil Kaul of the Centre for Asia Pacific Aviation (CAPA) said, "The aviation sector is in urgent need of an overhaul as we have been seriously short of key resources since 2009. The safety oversight remains a challenge due to the shortage of trained manpower in DGCA." True, DGCA itself is short of at least 400 trained personnel to carry out routine operations, including air safety audits and inspections of the airports. "The posts were sanctioned in 2009, but the process is yet to begin and even if it starts now, it will take at least 2-3 years to complete,'' said Gohain adding: "Maybe by that time there will be other demands confronting the aviation sector.'' Former Air India executive director Jitendra Bhargava endorses Kaul. "Even if safety levels fall by one per cent, it is not fair. Safety needs investment and training of personnel needs time," said Bhargava.
Source Curt Lewis - Flight Safety Information



Editor - if this situation had developed in Africa the world's press and media would have been all over the story due to the number of countries and their airlines being on the EASA Blacklist.



8. EMERGENCY RESPONSE PLANNING



Don't forget that the 2011 Civil Aviation Regulation 139.02.24 (b) (iii) states that aerodromes must have 3 monthly table top exercises so there is plenty of scope for you to offer to join in and practice what you have in your plan. It will also help you to identify missing information and/or procedures - Gap Analysis.
You should test your ERP regularly so the question we ask you is when did you last test your ERP? Should you need any assistance with testing and amending and/or updating your ERP please contact us on 011 024 5446 and speak with Rethea.
Blake Emergency Services is the International Crisis Management and Contingency Planning Consultancy who, although based in the UK, have serious experience in Africa having handled accidents, incidents, counselling, repatriation, DNA sampling and confirmation, in amongst others Lagos, Nigeria; Fez, Morocco; Pointe Noire, Congo; Moroni, Comores; Maputo, Mozambique. Please go to
www.blakeemergency.com
or contact
rethea@blakeemergency.com
Blake Emergency Services Clients' and Members' Training Day was held on the 16th March at the Old Edwardians Club in Johannesburg.
9. WHICH IS THE SAFEST SEAT ON AN AIRCRAFT?



Although some claim that seats over the wing of an aircraft are best (because the plane is "strongest" there), popular opinion has it that, in the event of a plane crash, the rear of an aircraft is the safest place to be. This theory is supported by several studies, including a recent one featured on a Channel 4 documentary. The producers of the documentary, The Crash, arranged for a Boeing 727 carrying cameras, sensors and crash test dummies with breakable "bones" to be deliberately crashed into the Sonoran Desert in Mexico.
After hitting the ground, the front of the plane and the first 11 rows of seats - usually reserved for first-class, business-class or premium-economy passengers - were ripped off. A force of 12G was recorded in this section of the aircraft. Further back, the force fell to around 6G. Experts concluded that none of the plane's first-class passengers would have survived, but 78 per cent of the other passengers would have, with the chance of survival increasing the closer they were sitting to the rear of the aircraft. According to a survey by sunshine.co.uk, the results of the study led to a sharp fall in the number of enquiries for first-class seats.
Though an analysis of a single crash is hardly decisive, its findings did support a study by Popular Mechanics, carried out in 2007. The magazine analysed all crashes since 1971 and found that those in rear seats (behind the wing's trailing edge) were safest - survival rates were 69 per cent as opposed to 56 per cent over the wing and 49 per cent for those at the front of the plane.
Despite such research, the world's two biggest aircraft manufacturers insist that no conclusive evidence is available.
"One seat is as safe as another," said a spokesman for Boeing. "Especially if you stay buckled up" That is an important point. Last year's study in Mexico also saw three dummies placed in the same row, but in different positions, one in the brace position and wearing a seatbelt, one buckled up but sat normally, and one sat normally but minus the belt. The unfastened traveller would have been the only one to perish, experts claimed. And as we pointed out in this column last week, the most common cause of injury on an aircraft is when a plane is jolted by turbulence and passengers are wandering around the cabin, or not wearing a seatbelt. To avoid injuries from falling luggage or out-of-control dining carts, then surely a window seat is best?
Airbus said much the same as its rival, adding dryly that: "the safest aircraft is one that doesn't crash and is well maintained". Quite. It cited certification processes and evacuation testing - adding that the world's biggest aircraft, the A380, can be emptied of 850 passengers, in pitch darkness with half the doors closed, in under 90 seconds.
This evacuation issue is also key. Contrary to popular belief, the majority of plane crashes are survivable. One US government analysis of all 568 plane crashes in the US between 1993 and 2000, involving 53,487 passengers and crew, found that 51,207 - or over 90 per cent - survived. Even on the 26 crashes deemed the worst, more than half walked away. So surely a seat close to an exit would be safest? That theory is supported by a University of Greenwich study, commissioned by the CAA. Researchers checked the accounts of 2,000 survivors in 105 accidents around the world. Those sat more than six rows from an exit were found to be far less likely to survive, though the difference between window and aisle seat was "marginal".
Conclusion
Flying is very safe. The odds of being killed on a single flight are 1 in 4.7 million, according to the website planecrashinfo.com. But you might raise that figure slightly by sitting in economy class, with your seat belt fastened, by the window, within a few rows of an emergency exit.
http://www.telegraph.co.uk/travel/travelnews/9957319/Which-is-the-safest-seat-on-an-aircraft.html

10. NEWS FROM THE JOHANNESBURG AIRPORTS



FAGM - RAND AIRPORT, GERMISTON



Q Mr. Christo Ebersohn joined Rand Airport as the new Managing Director on the 1st of March. Those of us who were present met him at the Safety Meeting on the 5th of March.
Q Certain operators are in the habit of requesting and performing very low level turn outs after take-off. It is of concern that less experienced pilots may well come to grief while attempting to emulate other pilots. As a result ATNS will continue to advise pilots that no early turn outs be made lower than 200ft thus minimising this practice.
Q Hangar owners are asked to be proactive in ensuring that their hangars are secured when they are unoccupied in order to reduce the risk of break-ins.
Q The Rand Airport Rescue and Fire Fighting Services Staff Members are qualified and available to administer first aid in the event of accidents and injuries.
Q ATNS ask that all operators request permission from the Tower before towing any aircraft on a taxiway in order to avoid possible conflict with other aircraft under power.
Q Pilots of aeroplanes parking on the main apron are to ensure that the aircraft nose wheel is on the numbered parking block in order to ensure that sufficient clearance exists for other aeroplanes to pass safely behind.
Q All operators must escort their delivery vehicle(s) on the airside. Airport management reserves the right to bar or remove from the airside any such unescorted vehicle.
Q A serious concern of fixed wing aircraft performing aerobatics in the Helicopter General Flying area was raised. Unfortunately Rand Airport ATC has no control or jurisdiction over the helicopter general flying area
Q
The April Safety Meeting which was to be held at 09.00 on Tuesday 2nd April has been cancelled. The next meeting will be held on Tuesday 7th May.



FAGC - GRAND CENTRAL AIRPORT, MIDRAND




Q Helicopter Pilots must only call for lift once they are fully ready to depart.
Q Children must not be permitted to wander about on airside unescorted whether they are passengers on aircraft or not.
Q High visibility jackets/tabards/waistcoats are mandatory on airside.
Q All Operators should remember to report Hazards and Incidents to gcaopssup@grandcentral.co,za
Q Windsocks will all be replaced on new windsock poles and all the circles will be repainted.
Q All maintenance affecting the runways and taxiways will be NOTAMed 24 hours prior to being carried out.
Q The new SA CARs 2011 compliant Aerodrome Operations Manual is still not available as it is with the SACAA awaiting approval.



The April Safety Meeting is to be held at 12.00 on Tuesday 2nd April.



FALA - LANSERIA AIRPORT




The main apron adjacent to the terminal building is reaching capacity, mainly due to the parking of large business jets for extended periods as well as the increasing size of aircraft using the airport. To alleviate the congestion on the main apron the parking of aircraft for periods longer than four hours will be discouraged and alternative parking will be provided. This alternative parking will be the freight apron at the old SAAF base.
In order for the airport to provide alternative parking the freight apron will be under the control of Apron Services with effect from 4 March 2013. All aircraft that wish to make use of the freight apron can contact Apron Services on 011 659 2220 or on frequency 122.85 and parking allocation will be provided as well as any required services.
All rules and regulations of the main apron will apply to the freight apron. All owners who do not pre arrange parking of aircraft on the apron will be liable to a fee three times the normal published parking fee for the duration of the use of the apron.
The new runway construction project at Lanseria International Airport is on schedule. Flight operations are planned to be associated with the new runway from the beginning of October 2013 and the entire project completed by the end of this year. The instrument flight procedures have been contracted for design and will include runway 06 direction, VOR (straight in and racecourse pattern), BARO V-NAV and an NDB approach. Runway 24 will be served by an advanced RNP approach, which is great news from an overall accessibility perspective, irrespective of the surface wind and runway in use.
Presently the localiser for RWY 06L is still operational with the glide slope having been removed some months ago and within the next three weeks the ILS will be removed. Access to the future runway will be through new generation and current / conventional procedures catering for a wide range of aircraft and IMC capability in both directions.
For those of you using the perimeter road I would urge you to stick to the absolute maximum 40km speed limit and drive to the limitations of the road which is very unstable with potholes and surface break ups due to the heavy lorries using it. The road is also covered with mud and water from the earth works and the lorries servicing the works. Those of you who use this road and exceed this limit are exceedingly selfish and display the me, myself and I mentality so prevalent in this part of the world. Check out the clouds of dust that you kick up blinding those of us following you.
The April Safety Meeting which was to be held at 12.00 on Tuesday 9th April has been cancelled. The next meeting will be held on Tuesday.14th May



11. COMMERCIAL AIRLINE/AIRPORT INFORMATION



Virgin Atlantic reveals Little Red sub brand - Virgin Atlantic is to call its soon to launch domestic airline services Little Red as it looks to take on BA in the region.




It will fly 26 daily flights between London Heathrow, Manchester, Edinburgh and Aberdeen. Virgin announced it was to launch flights between Scotland, Manchester and Edinburgh in December.
Little Red will be Virgin's first ever domestic flights in the UK and aims to deliver Virgin Atlantic's "rock and roll spirit," the airline said. Little Red will offer free check in luggage up to 23kg, pre-assigned seats and complementary food and drinks including snacks and hot breakfasts on early morning flights. It has also partnered with a number of brands to offer exclusive products on board including Irn Bru on Scottish flights, plane shaped Tyrells crisps and Bacardi Martini miniatures. It will later offer Krispy Kreme doughnuts, yoghurts from The Collective Dairy and Rude Health granola.
Sir Richard Branson says the new service will challenge BA's "monopoly" of UK flights from Heathrow since its acquisition of bmi by parent company IAG. It also aims to offer passengers more flexibility to connect with Virgin Atlantic's international flights. Sir Richard adds: "Virgin Atlantic has been on an incredible journey since we started with a single plane 29 years ago. Little Red represents the next step on that journey as we go head to head with British Airways to provide domestic flights that deliver Virgin Atlantic's rock and roll spirit as well as real value for money."?
The launch will be the supported by press, social, outdoor, and digital and radio activity.
12. SAFETY/SECURITY TIPS OF THE MONTH



South African Civil Aviation Authority


Each month we shall share one of the SACAA CARS/CATS with you, which is relevant to a report or incident or discussion that has occurred during the month. The following is taken from the new 2011 Civil Aviation Regulations and covers the requirements for aerodrome and heliport environmental management programmes.
Establishment of aerodrome environment management programme



139.02.11
(1) The applicant shall, in the area within its authority and where any foreign object debris (FOD), oil and fuel spillages, bird and wildlife presents or are likely to present a hazard to aircraft operating to or from the aerodrome, establish an aerodrome environment management programme to minimise the effects of such hazard or potential hazard, taking due cognisance of the provisions of the Environment Conservation Act, 1989 (Act No. 73 of 1989), and the regulations made thereunder.
(2) The aerodrome operator shall ensure that an Environmental Management Meeting is conducted with interval not exceeding three months and that -
(a) the minutes of the meetings must be kept and must clearly indicate all identified environmental issues that may affect the operations;
(b) the meetings must address all environmental issues within the boundaries of the aerodrome and in the immediate vicinity up to a radius of 10 kilometre that might affect the aerodrome operations negatively.
(c) mitigating measures to rectify all identified environmental issues must be recorded for audit purposes. This includes communication with external parties.
Establishment of heliport environment management programme



139.03.8
(1) The applicant shall, in the area within its authority and where any bird and wildlife presents or is likely to present a hazard to helicopters operating to or from the heliport, establish a heliport environment management programme to minimise the effects of such hazard or potential hazard, taking due cognisance of the provisions of the Environment Conservation Act, 1989 (Act No. 73 of 1989), and the regulations made thereunder.
(2) The heliport operator shall ensure that an environmental management meeting is conducted with intervals not exceeding three months, and -
(a) during such meetings, minutes must be kept and should clearly indicate all identified environmental issues that may affect the operations;
(b) the meeting must address all environmental issues within the boundaries of the heliport and in the immediate vicinity up to a radius of 10 kilometre that might affect the heliport operation negatively; and
(c) the mitigating measures to rectify all identified environmental issues must be recorded for audit purposes. This includes communication with external parties.
13. ADVERTISEMENTS


HENLEY AIR, HANGAR 6, RAND AIRPORT - FAGM



Henley Air proudly offers fully accredited AIETB and CAA approved helicopter training on piston and turbine type aircraft. It is the aim of HENLEY AIR to make your flight training experience an enjoyable one where personal attention by instructors ensures sound grounding in all aspects relating to helicopter flight. License courses offered are: Private Pilot License and Commercial Pilot License. Our rating courses include: Instructor, Instrument, Mountain, Night, Radio and Sling.
See
www.henleyair.co.za
for further information
CAN YOU AFFORD TO BE WITHOUT A LIFE SAVING AED



If someone collapses with a sudden cardiac arrest on your aircraft or in your office or in your hanger what can you do? The truth is that if you do not respond within 10 minutes the person will probably die. Sere-med provides a very affordable, portable and LIFE SAVING AED. Can you afford to be without one? Contact
global@gaconsultants.net
or the Editor for more information.
14. FINALE
Boeing offers to conduct safety audit on Nigerian planes
Boeing has offered to carry out airworthiness assessments on all Nigerian registered Boeing aircraft in the fleets of the domestic airlines. It is not carrying out a re-certification process contrary to recent media reports.
LOOKING FOR STAFF?


We have recently been asked to look for seriously experienced staff to fill the following positions. If you have the required skills and expertise please send your CV in confidence to us
Administrator/Ops Manager -
Part 127/141 - Person to fill this position will ideally be a mature person having excellent, solid administrative skills with serious attention to detail. He/she will have a reasonable knowledge of this type of aviation and be capable of running this operation in Gauteng
CFI -
Part 127/141 - Older person with in excess of 2,500 hrs who is amenable to not only taking on this job but who will actually really enjoy running this training establishment. He/she needs to have excellent administrative skills, has not been involved in any serious accidents, has a level III Instructors rating and has a serious attention to detail and must obviously be acceptable to the SACAA. Gauteng based.

Global Aviation Consultants accepts no liability for the content of this safety editorial, or for the consequences of any actions taken on the basis of the information provided, unless that information is subsequently confirmed in writing. If you are not the intended recipient you are notified that disclosing, copying, distributing or taking any action in reliance on the contents of this information is strictly prohibited.

Global Aviation Consultants, Hanger 6, Spitfire Avenue, Rand Airport, Johannesburg, RSA

www.gaconsultants.net
Tel: 011 024 5446 e-mail global@gaconsultants.net