Contents

1. Editor's Message
2. RSA AD NO 2013-001 has been issued re R44 bladder fuel tanks
3. FAA concerned about potential safety impact of carrying and restraining heavy vehicle special cargo loads
4. Hazard, Incident and Accident Statistics
5. Henley/Global Training
6. Runway incursions - a threat to aviation safety
7. Ramp Safety
8. ERP/AEMS
9. Branson shoots for Christmas space flight
10. IATA says Africa's April passenger traffic grew by 4.7% on 2012 as it was buoyed by strong economic growth
11. News from Jo'burg Airports
12. Commercial Airlines/Airports Information
13. Security/Safety Tip of the Month
14. Advertisements
15. Finale



1. EDITOR'S MESSAGE



Welcome to this our 26th Issue of GAC UPDATE. The article under section 5 on Runway Incursions originates in Canada but is worth a read as we suffer, here in Africa, from a massive Runway Incursion problem. Runway Incursions on this continent can be caused by curious African schoolchildren cutting through an airport fence to sit on the side of the runway and count the number of wheels a B747 has or by a donkey on one end of a runway and a cow on the other at an airport in North Sudan. Whilst neither of these Safety Hazards actually caused damage to either an aircraft or crew they do prove, however, that Security Patrols in one case could have stopped the children gaining access in the other proper and effective Security Patrols could have stopped the continual theft of any fencing that is erected. The responsibility for Aviation Safety does not lie with the Air Safety Officer alone. It belongs to all of us so when you are driving or walking (on your way to or from work) around the landside perimeter fence keep an eye open for holes or slack areas in the fencing and for open or unlocked gates ……. and then REPORT them via the most expedient means.
Touching on the subject of reporting it is very interesting to note that; despite what all the statistics say; Africa is the safest continent in the world - in terms of aviation that is. Why do I say this - visit
and have a look at our continent - as I write this there are only 2 reported incidents, Europe is showing 13 and North America in excess of 30. So why is this one wonders? - the answer is very simple the incidents that occur on this continent are rarely reported. The question is why? If you have any ideas on the subject please drop me a line.
Vivienne Sandercock


2. RSA AD NO 2013-001 HAS BEEN ISSUED RE R44 BLADDER FUEL TANKS



This airworthiness Directive requires all R44 helicopters fitted with all aluminium fuel tanks to be retrofitted with bladder type tanks, to improve the R44 fuel system's resistance to post accident fuel leak. Recent post-accident fires have prompted the SACAA to mandate compliance with the manufacturer's service bulletin to reduce the risk of further post-accident fires and increase survivability of such an event.
Aircraft which are maintained in accordance with the Manufacturer's Maintenance Schedule are already required to comply with all Robinson Service Bulletins by SACAR Part 43.02.8.
Please go to
www.caa.co.za
to read the full AD.
3. FAA CONCERNED ABOUT POTENTIAL SAFETY IMPACT OF CARRYING AND RESTRAINING HEAVY VEHICLE SPECIAL CARGO LOADS



The FAA have released a
Safety Alert for Operators (SAFO)
reminding operators of "the potential safety impact of carrying and restraining heavy vehicle special cargo loads. The purpose is to re-emphasize current policy and guidance concerning: weight and balance control procedures, cargo loading procedures, loading schedules and loading instructions."
The SAFO came about 3 weeks after a crash in Bagram (Afghanistan) in which a load shift may have contributed to the accident sequence. The FAA especially annotated after re-iterating procedures to tie down heavy loads properly: "Unsymmetrical tie-downs permit load distributions that may ultimately result in tie-down failure. Such a failure would result from the different load-deflection rates of dissimilar materials or of identical materials of different length. Any material subjected to a tension load will stretch. A longer length tie-down has more stretch potential than a shorter length tie-down. If two tie-downs of the same type and capacity are used to restrain a load in a given direction and one is longer than the other, the longer tie-down, with its greater stretch potential, will permit the shorter tie-down to assume the majority of any load that may develop. If the shorter tie-down becomes overstressed and fails, the longer tie-down would then be subjected to the full load and it, too, would likely fail. Therefore, symmetrical tie-downs should be as close to the same length as possible."
4. HAZARD, INCIDENT AND ACCIDENT REPORTS


FIXED WING ACCIDENTS IN AFRICA - 2013



DATE TYPE FATALITIES LOCATION
01 Jan Aeroprakt A-22 FoxBat 2 Phalaborwa Airport, Limpopo, RSA
10 Jan Windlass Aquilla 2 R304, near Klipheuwel, WC, RSA
17 Jan CASA 212 0 AFB Bloemfontein, Tempe Airfield, RSA
03 Feb Jabiru SPT 0 N4 Motorway, South of Witbank, MP, RSA
05 Feb Cessna 0 East African Aviation Academy, Soroti, Uganda
05 Feb Light Aircraft 3 Niamey Airport, Niger
11 Feb Military 3 crew/6 pax Monrovia, Liberia
23 Feb B733 0 RWY26L, Muscat, Oman
24 Feb Aeroprakt A-22 FoxBat 2 Initial climb out from Nanyuki Civil Airstrip, Kenya
28 Feb A321 0 Hurghada, Egypt
03 Mar Rally 2 Remote part of Namibia
04 Mar Fokker 50 5 Goma, Democratic Republic of Congo
18 Mar MIL 1 500km N of Nouakchott, near Aoujeft, Mauritania
07 Apr B1900 1 In the area of the Gulf of Guinea
16 Apr Tiger Moth 2 Modimola Dam in Mmabatho, NW, RSA
13 Apr MT7 1 200 metres short of the runway at Arusha, Tanzania
27 Apr Cessna 152 1 Worcester, WC, RSA
6 May Alpha Jet 2 Dargol Village, 60km west of Niamey, Niger
9 May Military TBA UNK but confirmed Port Harcourt, Nigeria

Source, amongst others, PlaneCrash info.com; News24, Aviation Herald, Flight Safety Information



ROTOR WING ACCIDENTS IN AFRICA - 2013




DATE TYPE FATALITIES LOCATION
18 Jan Bell 47G 3B.1 0 Hibberdene, KZN, RSA
07 Feb RH44 0 S 25° 49' 40" E 028° 13' 15, Kestell, FS, RSA
9 Mar MIL 2 35km from Bukavu, S Kivu Province, DRC
12 Mar Z9 1 Lusaka City Airport, Lusaka, Zambia
23 Mar Bell 206B 0 Mayors Walk, Pietermaritzburg, KZN, RSA
30 Mar Agusta A109 5 Kruger Park, South Africa (on rhino protection)
04 Apr RH44 1 Alongside N1 Nylstroom, Limpopo, RSA
05 Apr MIL 0 Nr US Embassy, Tunis, Tunisia
12 Apr MIL 5 Nr Ouro Modi, 56km southeast of Sevare, Mali
23 Apr RH44 4 Sondagskraal, nr Schoemanskloof near Nelspruit MP, RSA
ACCIDENTS/INCIDENTS REPORTED TO THE SA CAA - MARCH 2013
REF DATE TYPE LOCATION FATALITIES CIRCUMSTANCES TYPE OF OP
9159 02 Apr Enstrom 280FX Brandford District, FS, RSA 0 Engine stoppage in-flight, pilot executed an auto-rotation and put it down hard, tail boom broke off. Pilot indicated that he was low on fuel PVT
9160 03 Apr R44 II Modimolle Limp 1 Helicopter collided with terrain on a private flight from Bela Bela to Roedtan in the Limpopo province. VFR into IMC could not be excluded. PVT
9166 23 Apr R44 II Buffelskloof, Dullstroom, MP, RSA 4 Helicopter collided with terrain on a flight from White River to Grand Central (FAGC), RSA. VFR into IMC could not be excluded PVT
975 30 Apr Bell 212 Marion Island 0 Unintentional release of the cargo sling load (generator), COM
9161 07 Apr Cessna 182 Pietersburg Civil Aerodrome, Limpopo, RSA 0 Aircraft bounced on landing, nose landing gear collapsed aircraft nosed over coming to rest in an inverted attitude. PVT
9163 07-Apr Beech 1900C Outbound missing 1 Aircraft missing on a flight from Ondangwa in Namibia to Sao Tome Island (West Africa). COM
9162 12-Apr Van's RV-8 Kimberly Airfield, NC, RSA 0 On landing Runway 28 at FAKM the pilot allowed a/c to ground loop and the left main undercarriage collapsed. PVT
0972 12-Apr Auto Gyro MT 03 NC, RSA 0 Pilot experienced a rough running engine in-flight executed a precautionary landing rectify the problem and took-off again. PVT
0973 15-Apr Yak 55 FAVV, GP, RSA 0 L/h main gear got stuck, a/c ground loop and the propeller struck the ground. PVT
9164 15-Apr Gyro MTO Sport Onseekans, Upington, NC, RSA 0 Pilot experienced a down draught near Augrabies and collided with terrain, resulting in substantial damage to the gyrocopter. PVT
9165 16-Apr De Havilland DH-82A Modimolle Dam, NW, RSA 2 Aircraft crashed into the Modimolle dam near Mafikeng aerodrome. PVT
9167 25-Apr Cessna 172 Grand Central, (FAGC) GP, RSA 0 Pilot lost directional control on landing runway 35, veered off the runway and collided with aerodrome perimeter fence TRNG
0974 21-Apr Boeing 737-300 King Shaka Airport, (FALE) Durban, KZN, RSA 0 Cabin crew member fell out of the aft door L2 while the a/c was in the parking bay A8 at FALE. COM
9168 27-Apr Jabiru SP120 Eastern Cape, RSA 0 Nose wheel entered a hole/ditch on the grass covered runway and a/c nosed over ended up in an inverted attitude. PVT
9169 27-Apr Cessna 152 Worcester, WC, RSA 1 Aircraft impacted with terrain in a spin attitude, left rudder cable was found to have failed. PVT
FIXED WING INCIDENTS AND HAZARDS REPORTED TO GAC - APRIL AND MAY 2013
TYPE DATE A/C TYPE LOCATION FATAL ITIES CIRCUMSTANCES OP TYPE



ACC 05 Apr BE36 Grand Central (FAGC), GP, RSA 0 Undercarriage problem - massive fuel spill on landing AR&FFS involved. TRNG
INC 16 Apr PA30 FAGC, GP, RSA 0 Undercarriage problem TRNG
INC 23 Apr C210 FAGC, GP, RSA 0 Undercarriage problem TRNG
INC 25 Apr C172 FAGC, GP, RSA 0 A/C veered off the runway TRNG
INC 26 Apr FAGC, GP, RSA 0 Bird Strike TRNG
HAZ 28 Apr C172 FAGC, GP, RSA 0 During flight a/c engine began to run roughly. AR&FFS called for landing TRNG
INC 28 Apr C172 FAGC, GP, RSA 0 Aircraft veered off the runway TRNG
INC 01 May A320 Kisangani, DRC 0 Whilst accelerating for take-off an engine ingested a bird so the crew rejected take-off at high speed and braked hard, resulting in all 4 main gear tyres deflating. COM
INC 04 May C172 Rand Airport (FAGM), GP, RSA 0 Pilot heard a loud noise from the engine compartment. AR&FFS attended arrival TRNG
HAZ 07 May SR22 FAGM, GP, RSA 0 CTR PVT
HAZ 12 May C210 FAGM, GP, RSA 0 Aircraft taxied too quickly PVT
INC 16 May A330-200 Entebbe, Uganda 0 20 minutes out of Entebbe (Uganda) en-route to Brussels (Belgium), the right hand engine (PW4168) suffered an engine compressor stall prompted the crew to shut the engine down and return to Entebbe COM
INC 15 May CR2 En-route Port Elizabeth to Durban, RSA 0 The crew made an emergency landing after the windscreen cracked. COM
INC 20 May A340-600 En-route ORTIA to Lagos 0 On climb out of Johannesburg, the crew stopped the climb at FL210 due to a sparking kettle in one of the galleys. Galley power was disconnected stopping the sparks, the aircraft dumped fuel and returned to Johannesburg. COM
HAZ 26 May PA28 FAGM, GP, RSA 0 CTR PVT
HAZ 26 May PA 28 RT201T FAGM, GP, RSA 0 CTR PVT
HAZ 26 May C 210 FAGM, GP, RSA 0 CTR PVT
HAZ 27 May Vehicle FAGM, GP, RSA 0 Driver exceeded speed limit on the ramp -
HAZ 31 May PIPER ARCHER FAGM, GP, RSA 0 4 X CTRs PVT
HAZ 31 May ULAC FAGM, GP, RSA 0 CTR PVT
HAZ 31 May MX FAGM, GP, RSA 0 No communication with ATC whilst taxiing
INC 31 May A330-300 En route Tunis (Tunisia to Doha, (Qatar) 0 Climbing through FL190 about 70nm ESE of Tunis the crew declared emergency reporting left hand engine (CF6) problems. Returned to Tunis landing safely. COM
ROTOR INCIDENTS AND HAZARDS REPORTED TO GAC - APRIL AND MAY 2013




ACC INC HAZ DATE A/C TYPE LOCATION FATALITIES CIRCUMSTANCES TYPE OF OP



NIL REPORTED
AERODROME HAZARDS, INCIDENTS AND ACCIDENTS
TYPE DATE AERODROME HAZARD, INCIDENT OR ACCIDENT DESCRIPTION



HAZ 30 Apr Grand Central, FAGC, GP, RSA Dead bird found on airport
HAZ 08 May Goma, Democratic Republic of Congo Runway incursion caused by people running across the active RWY ahead of an aircraft at V1
HAZ May Goma, Democratic Republic of Congo Bird hazard giving rise to a threat of bird strikes
HAZ May Cape Town Heliport, RSA Bird hazard giving rise to a threat of bird strikes
HAZ May Abidjan, Cote d'Ivoire Bird Hazard (Hawk/Kyte) on threshold of RWY 21 giving rise to a threat of bird strikes.
HAZ All Rand Airport GF, RSA Fixed wing a/c doing acrobatics in the Helicopter GF area.
HAZ May Cape Town, FACT, RSA ILS out of commission as it is being relocated during RWY upgrade project


5. HENLEY/GLOBAL AVIATION TRAINING


Should you wish to make a booking for any of these courses please contact Candice on 011 024 5446 or by email to
candice@gaconsultants.net



DATES COURSE LECTURER COST PER DELEGATE EXCL. VAT
04 Jun 2013 Recurrent Crew Resource Management Verity Wallace R 950=00
04 Jun 2013 Recurrent Dangerous Goods Verity Wallace R 750=00
10 & 11 Jun 2013 Human Factors (MRM) / Initial CRM Dr. Joel Hughes R 2,100=00
24 & 25 Jun 2013 Quality Assurance Auditor Course Dan Drew R 2,100=00
08 Jul 2013 Recurrent Crew Resource Management Verity Wallace R 950=00
08 Jul 2013 Recurrent Dangerous Goods Verity Wallace R 750=00
08-12 Jul 2013 Integrated Safety Officer Course Various R 5,130=00
22-23 Jul 2013 Human Factors / Initial CRM Dr. Joel Hughes R 2,100=00
29-30 Jul 2013 Quality Assurance Auditor Course Dan Drew R 2,100=00
Note: Cost per delegate includes all training materials, refreshments, lunch and parking
Note: Attendees paying in cash on the day are eligible for a 10% discount
Note: Both Recurrent CRM and Dangerous Goods Training Courses are available upon request - even at short notice.



6. RUNWAY INCURSIONS - A THREAT TO AVIATION SAFETY


With incursions happening almost once a day, Pearson near-collision highlights risk of a jet colliding with another plane or vehicle on the runway
.
One of the biggest threats to aviation safety today are runway incursions. A Star analysis of Transport Canada data counted 5,677 incursions by aircraft, vehicles and pedestrians since 1999, averaging almost 400 a year.
OTTAWA-The radar screen Toronto's Pearson airport told the heart-stopping tale of a looming disaster. A radar scope in the control tower showed two targets - one of them an Air Canada Embraer jet about to land - on a collision course. The Controller, perched high above the runways and taxiways, could see the landing lights of the approaching jet. But the identity of the other target was hidden in the late-evening darkness. Unfolding in the darkness at Canada's busiest airport was a runway incursion, one of the biggest threats to aviation safety today. A Star analysis of Transport Canada data counted 5,677 incursions by aircraft, vehicles and pedestrians since 1999, averaging almost 400 a year. The controller issued urgent orders to the Air Canada crew to abort their landing to avoid the mystery target - instructions that were ignored. On the radar screen, the two targets merged - a nightmare scenario for any air traffic controller. The Air Canada aircraft touched down safely, its crew oblivious to their near-brush - their flight had passed less than 50 feet over a van that had driven into their path.
The March 11 incident was "very close," an investigator said later. Just over a week later, pilots of a Boeing 727 cargo jet at Hamilton airport are told to abort their take-off roll. The jet slows to a stop halfway down the runway - ahead are two snowploughs. And in April, a controller at Pearson twice orders the crew of a commuter jet to stop on a taxiway. Yet they continue and intrude on an adjacent runway just as a Sunwing Boeing 737 jet is taking off.
While aviation has been getting safer, runway incursions - when aircraft or vehicles blunder on to an active runway or even taxiway by mistake - remain a weak spot. The Transportation Safety Board of Canada has warned about "potentially catastrophic outcomes" of incursions. The worst aviation accident ever was a runway incursion at the Los Rodeos Airport on Tenerife in the Canary Islands, when a departing Boeing 747 collided with another jumbo jet on the runway, killing 583 people.
"It's a concern worldwide," said Mark Clitsome, director of air investigations for the safety board, the independent agency that probes transportation occurrences. "We've been watching those numbers for last few years and they're not going down. So we're concerned," he told the Star in an interview. The safety board has put runway incursions on its watch-list of transportation problems that pose the greatest risk to travellers.
There are many reasons for an incursion. In the case of the Air Canada near-miss, the van had been left in gear when parked at a nearby gate and had rolled across the runway without its driver. More often, inattention and confusion are to blame. Pilots can lose their way in the maze of taxiways or in a moment's inattention neglect to hear a controller's instructions. Radio communications can get mixed up. Airport signs identifying runways and taxiways can be confusing. Vehicle drivers get lost. "A lot of these airports have multiple taxiways and multiple turn-offs from runways. At night, in poor weather or if (pilots) get busy, they could wind up turning onto the wrong taxiway or crossing a live runway," Clitsome said.
Statistics prepared by a working group to curb incursions counted 1,078 incidents between Jan. 1, 2010 and Dec. 31, 2012. Of those, 126 were blamed on air traffic control, 651 were because of pilot errors and 301 were blamed on pedestrians or vehicles. "This is an industry that involves a lot of humans and therefore we always have to be conscious of the human error element," said Rob Thurgur, assistant vice-president, operational support for Nav Canada, the agency that operates the country's air traffic control system. "That's why we have the procedures and the vigilance that is trying to mitigate the human error out of the aviation system," he said in an interview. Thurgur also stressed that incursion statistics need to be viewed in context, noting that in most incidents there's no risk of a collision. Indeed, of the 1,078 incursions in the last two years, only four were classed as "extreme risk." Another 16 were deemed "high risk," 437 had "some risk" and the rest - 621 - had little or no risk, according to numbers compiled by the working group. The safety board concedes that the chance of an incursion leading to a crash remains "relatively rare." But it still warns that the "consequences can be catastrophic" because of the chance for a high-speed collision.
The Air Line Pilots Association International has warned that the "risk of a runway incursion event that could kill hundreds of people in a single accident is real and growing larger" because of increasing air traffic. Nav Canada is heading a working group that includes airline pilots, airport operators, the safety board and Transport Canada to look at curbing incursions. "We work collaboratively together to come up with the best phraseology, the best signage, the best documentation and the best technology and the best operation and procedures so we can minimize the risk," Thurgur said
http://www.thestar.com/news/canada/2013/05/06/runway_incursions_a_threat_to_aviation_safety.html

and on 21st May this article was released


DOT WILL AUDIT FAA ON RUNWAY INCURSIONS



The Department of Transportation's Office of Inspector General (OIG) is to examine the FAA's Runway Safety Program in the light of a steadily increasing number of runway incursions and evaluate the agency's progress in implementing initiatives to prevent further incursions.
Prevention of runway incursions and ground collisions has been on the NTSB's "Most Wanted Transportation Safety Improvements List" since 1990.
"The number of serious runway incursions has tripled over the past three years from six to 18, while total runway incursions also rose from 954 to 1,150 in that same period," said the OIG in its initial report. "More concerning is that this increase occurred during a period when total air traffic operations declined slightly. In addition, the FAA has recently reorganized its Runway Safety Office, and has changed the way that the agency reports and evaluates runway incursions."
The audit is scheduled to begin this week.
http://www.ainonline.com/aviation-news/ainsafety/2013-05-20/dot-will-audit-faa-runway-incursions
7. RAMP SAFETY
Food for Thought
A safety specialist from the United Kingdom Flight Safety Committee stated the loss in terms almost everyone can understand: "Worldwide, the dollar equivalent of fifteen Boeing 747-400s is lost each year to equipment damage during ramp operations."
It's a problem that airports across the nation are taking more seriously. Industry-wide, experts estimate that the airlines lose more than $5 billion a year to ramp damage, typically collisions between ground service vehicles and parked aircraft or airbridges. Because accidents also result in cancelled flights, lost ticket revenue, added costs for passenger lodging, and overtime for repairs, even minor ramp incidents can cost airlines and aircraft operators a great deal of money.
Indeed, the Flight Safety Foundation estimates that for every dollar of aircraft damage, the actual cost to airlines is five times that amount, or more. One airline reported that $77 million in aircraft damage from ramp operations resulted in about $540 million in actual lost revenue.
Even worse, say experts, are the number of ramp workers injured every year. At 14 in 100, the rate of injuries to ramp workers is far higher than for many other industries. Human error is the primary cause of ramp accidents, says the International Air Transport Association, where about 92% of incidents can be traced to failure to follow procedures, lack of adequate training, and airfield congestion.
So what can we do to improve the situation? There are reams and reams of legislation and regulations out there for everyone to read, albeit selectively, but the problem is that there seems to be an attitude of "what does it really matter". The breaking of the following most basic regulations seems to have become the "norm" these days;
1. Not wearing high visibility jackets or waistcoats in the manoeuvring areas
2. Not stopping at stop signs on ramp roads
3. Exceeding speed limits on the ramp
4. Towing more than the permissible number of dollies
5. Not loading dollies correctly and allowing trailing ropes and plastic to drag on the ramp
6. Not parking behind the restraint lines whilst the a/c taxies onto the stand
7. Approaching the a/c in a vehicle or with an airbridge before the anti-collision lights have been switched off
8. Making contact with the a/c skin with a ground servicing vehicle and not reporting it
9. Using wrong size chocks or pieces of wood or bricks and leaving them on the stand when the a/c departs
10. Not bonding refuelling equipment during fuelling of an a/c or helicopter or using plastic containers to supply the fuel to the aircraft/helicopter
11. Not picking up FOD from the ramp and parking stands - yes it is everyone's responsibility not just those who dropped the item
12.
Attendance of Airport Safety Meetings is mandatory for the airlines or a/c operators (rotor and fixed wing) and Flight Training Schools' Air Safety Officers with in most cases the attendance register being submitted to the relevant CAA. However, the level of attendance at smaller aerodromes is woeful and this is indicative of the main reason for poor safety attitudes on the ramp.
8. EMERGENCY RESPONSE PLANNING



Don't forget that the 2011 Civil Aviation Regulation 139.02.24 (b) (iii) states that aerodromes must have 3 monthly table top exercises so there is plenty of scope for you to offer to join in and practice what you have in your plan. It will also help you to identify missing information and/or procedures - Gap Analysis. Grand Central Airport (FAGC) will be holding their full scale emergency exercise at the end of July 2013, Lanseria International Airport (FALA) in November 2013.
You should test your ERP regularly so the question we ask you is when did you last test your ERP? Should you need any assistance with testing and amending and/or updating your ERP please contact us on 011 024 5446 and speak to Rethea.
Blake Emergency Services is the International Crisis Management and Contingency Planning Consultancy who, although based in the UK, have serious experience in Africa having handled accidents, incidents, counselling, repatriation, DNA sampling and confirmation, in amongst others Lagos, Nigeria; Fez, Morocco; Pointe Noire, Congo; Moroni, Comores; Maputo, Mozambique. Please go to
www.blakeemergency.com
or contact
rethea@blakeemergency.com
9.
BRANSON SHOOTS FOR CHRISTMAS SPACE FLIGHT


ALBUQUERQUE (KRQE) - Sir Richard Branson now has a target date for the first manned flight to space from New Mexico's Spaceport America. The Virgin Galactic founder said he hopes to rocket into space late this year while most of the rest of us are gathering around the Christmas tree. For years the question has been when will it happen?
Two weeks after watching the first powered flight of Virgin Galactic's Spaceship Two high over California, Branson gave radio listeners in Abu Dhabi a pretty good clue.
"I will be going up on the first flight, which I hope will be about Dec. 25th of this year," Branson told a radio interviewer. "So maybe I'll dress up as father Christmas."
Whether that will actually happen is still up in the air.
More test flights have to take place before Virgin Galactic can start flying into space.
A spokesperson for the New Mexico spaceport told News 13 Virgin Galactic has not yet notified spaceport officials of any plans to launch in December.
Regardless it is clear Branson's confidence about the program is growing. "We're going to be ramping up the building of rockets," Branson said. "It's going to be the start of a whole new era of space travel. It's going to be tremendously exciting."
A Virgin Galactic spokesman cautioned that safety will dictate the space flight timeline.
While Branson hopes to fly into space on Christmas Day, the company does not expect to start flying passengers until sometime next year. Regardless of the timing, Spaceport officials say they will be ready. Construction of the runway at the port in south-eastern Sierra County will be finished by the end of June.
http://www.krqe.com/dpp/news/business/branson-shoots-for-christmas-space-flight

10. IATA SAYS AFRICA'S APRIL PASSENGER TRAFFIC GREW BY 4.7% ON 2012 AS IT WAS BUOYED BY STRONG ECONOMIC GROWTH



The International Air Transport Association (IATA) has announced global passenger traffic results for April showing a 3.2% increase in demand over April 2012. On the back of strong economic growth, the emerging markets, Africa in particular, are continuing to lead air travel growth, with all regions reporting year-over-year gains.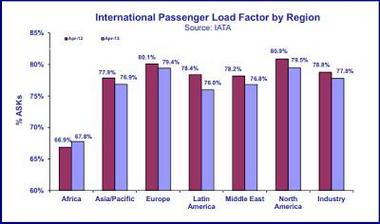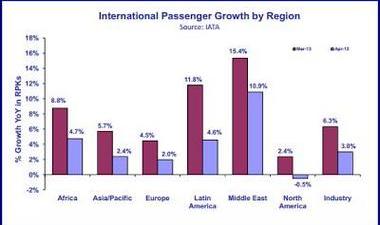 IATA Passenger Growth Data April 2013 (IATA)


The timing of the Easter holiday (which occurred in March 2013 and in April 2012) is largely responsible for the apparent decline from March performance (when year-on-year demand showed a 6.2% increase). The seasonally adjusted rate for April showed demand up almost 5%, which is in line with the long term historical trend.
"Passenger demand continued to grow in April, extending the positive trend that has been developing since late 2012. The increase, however, is concentrated in emerging markets. Airlines in Europe and North America reported a modest expansion compared to the strong growth seen in Africa, the Middle East and Asia. While economic developments in Europe and the US certainly bear watching, most indicators continue to signal further expansion in air travel," said Tony Tyler, IATA Director General and CEO. Overall global capacity rose 4.4% on the previous April which was slightly ahead of demand. This pushed the industry load factor downwards by 0.9 percentage points to 78.1%. If we adjust for the impacts of seasonality, the load factor remained near record highs of 80%.
African airlines' traffic climbed 4.7% compared to April 2012, second best among the regions, while capacity rose 3.3%, causing load factor to rise 0.9 percentage points to 67.8%. Africa was the only region to experience a rise in load factor compared to 2012. As with their counterparts in the Middle East, African airlines have seen solid growth in air travel as a result of a sustained increase in trade and rapid economic expansion in some local economies.
According to the IMF,
-
Sub-Saharan Africa is now the second fastestgrowing region in the world
, trailing only emerging Asia. The financial institution's
Regional Economic Outlook
for sub-Saharan Africa projects regional economic growth of 5 ½ percent in 2013-2014, compared with 5 percent in 2012.
11. NEWS FROM THE JOHANNESBURG AIRPORTS



FAGM - RAND AIRPORT, GERMISTON -
www.randairport.co.za
FAGM welcomed its new (to the position) Airport Manager Stuart Coetzee at the May Safety Meeting.
Q Drivers on airside are reminded that there are stop signs on the ramp which MUST be obeyed.
Q All vehicles must give way to aircraft (both rotor and fixed wing) which are on the move either under their own power or under tow.
Q Aircraft owners, Operators, Pilots and Students are asked to ensure that they do NOT cause a CTR.
The next Safety Meeting will be held at 09.00 on Tuesday 4th June.


FAGC - GRAND CENTRAL AIRPORT, MIDRAND -
www.grandcentral.co.za
Q Helicopter Pilots must only call for lift once they are fully ready to depart.
Q High visibility jackets/tabards/waistcoats are mandatory on airside.
Q All Operators should remember to report Hazards and Incidents to gcaopssup@grandcentral.co,za
Q The new SA CARs 2011 compliant Aerodrome Operations Manual is still not available as it is with the SACAA awaiting approval.
The next Safety Meeting is to be held at 12.00 on Tuesday 4th June.


FALA - LANSERIA AIRPORT -
www.lanseriaairport.co.za
South Africa's Competition Tribunal has approved
the proposed acquisition of Johannesburg's Lanseria International Airport
near Johannesburg by Black Economic Empowerment Company Holdco though conditions have been imposed on the deal. During a hearing on May 29, the South African Competition Commission stated that it had concerns over one of the shareholders in Holdco, the Public Investment Corporation (PIC), who also has interests in Airports Company South Africa, owners of the competing OR Tambo International Airport.
Holdco is constituted by the Public Investment Corporation (PIC), the Pan African Infrastructure Development Fund, Harith, and a Black Economic Empowerment consortium which includes the women's empowerment company Nozala; and the Government Employee Pension Fund (GEPF). According to BusinessDay, Holdco intends to buy 50% of the airport and 100% of Execujet Airline Investments. After the deal is implemented, Execujet is to hold the remaining 50% of the airport, where it provides management and aviation services. During the hearing, the Competition Tribunal's biggest concerns about the deal were the possibility that Holdco would default on its loan used to acquire shares at Execujet, which would give the PIC de facto control over Lanseria, and the possible sharing of sensitive information between Lanseria and OR Tambo airports.
The Commission recommended that the tribunal approve the transaction with conditions aimed at preventing the anticompetitive exchange of information. These conditions include a provision that the PIC should not appoint any common directors to the boards of Lanseria Airport and ACSA and should any scenarios arise in which the PIC would be able to gain total control of Holdco; the PIC would necessarily have to consult the Competition Commission. The tribunal also recommended that information provided to shareholders with ties to Holdco be less detailed and disaggregated.
Source [
BusinessDay
]
The next Safety Meeting will be held at 12.00 on Tuesday.11th June


12. COMMERCIAL AIRLINE/AIRPORT INFORMATION


Fastjet launched its second tranche of domestic routes linking Kilimanjaro to both Mwanza, Tanzania, and Zanzibar
in May with an
intention to launch regional services to Entebbe in Uganda and Mombasa and Nairobi in Kenya, It has delayed its South African launch from May to July.
Proflight Zambia has embarked on its first regional operation with the launch of 3 x weekly Ndola, Zambia -Lubumbashi (DRC) and Lusaka - Lilongwe (Malawi) flights.
Air Algérie (AH), has planned a new route of Algiers - Johannesburg from December 2013 on an A330-200 aircraft.
Jubba Airways (6J) recently launched flights to Adado, Kismayo and Baidoa, Somalia and says it intends to launch direct Mogadishu - Dubai flights with effect from late June or early July.
Rwandair (WB), will begin operations to South Sudan, with a 3 x weekly Kigali, Rwanda - Juba, Sudan service, from 01 Jul 2013 on a CRJ900.
On the island of Madagascar the first phase of renovation works at Nosy Be's Fascene Airport, has been completed. Following regulatory approvals, the airport, in addition with its newly lengthened runway, can accommodate A340 or B777 aircraft. Further work will be carried out in order for the airport to be able to accept A380 aircraft.
Mthatha Airport's new runway is now active



Following extensive works, an SA Airlink flight from Johannesburg OR Tambo International Airport became the first aircraft to land on the new 2'700 x 60m runway 14/32 at Mthatha (formerly Umtata) Airport in the Eastern Cape. Both the Mthatha Airport runway and Terminal building upgrade projects form part of the wider
King Sabata Dalindyebo Presidential Intervention Project
led by the National Department of Transport and implemented by the Eastern Cape Department of Transport.
Via a three phase programme, the Eastern Cape Department of Transport is positioning Mthatha Airport to be a passenger and freight hub linking road, rail and air transportation thereby turning the city into a gateway to the province. The new Terminal Building, which forms part of the Mthatha Airport Upgrade Phase One, is expected to be completed during the current financial year. "We appreciate the USD46million (ZAR465 million) allocation for this upgrade project from the National Department of Transport, which is in line with the commitment by national government to help the us through the new '
South Eastern Node and Corridor
' that is planned for the Eastern Cape through the Presidential Infrastructure Coordinating Commission to bolster the province's industrial and agricultural development and export capacity. This intervention cannot be successful if we cannot have an anchor logistical hub in the centre of the corridor," said MEC Marawu. This logistical hub will not only serve transportation and trade for the eastern region of the province, but on a local level becomes the next urban centre that complements the development of the first of four nodes for the City of Mthatha.
The department will develop a comprehensive aviation strategy for the province, which will form the basis for engagement with relevant stakeholders in the aviation industry in an effort to identify the best model for the development of Phase 2. This upgrade project is expected to improve the airport's capacity as the department continues to lobby and negotiate with more airlines to service the route between Mthatha and Johannesburg (currently only SA Airlink services the route) as well as between Mthatha and Durban. In line with its vision of developing Mthatha Airport as a gateway to the region, the Eastern Cape government hopes to secure service between Cape Town and Mthatha, via Port Elizabeth and Bhisho.
13. SAFETY/SECURITY TIPS OF THE MONTH



This month's extract from the 2011 SA-CATS is from Part 140 - Safety Management System.
140.01.3 REQUIREMENTS OF A SAFETY MANAGEMENT SYSTEM


(d) Safety promotion
(i) Training and education
(aa) The approved organisation or operator concerned shall develop and maintain a safety training programme that ensures that personnel responsible for the associated functions as contained in the SMS are trained and competent to perform the SMS duties.
(bb) The scope of the safety training shall be appropriate to each individual's involvement in the SMS.
(ii) Safety communication
The approved organisation or operator concerned shall develop and maintain formal means for safety communication, which ensures that all personnel are fully aware of the SMS, conveys safety critical information, and explains why particular safety actions are taken and why safety procedures are introduced or changed.
(e) Safety reporting requirements
(i) The approved organisation or operator concerned shall report any significant safety concern identified through its SMS to the Director within 7 days of it being verified.
(ii) The approved organisation or operator concerned shall report the following safety information to the Director on an annual basis, as per a schedule agreed to with the Director
(aa) The top 20 hazards identified by the operator;
(bb) The mitigation strategies implemented to address the risk.
SPRINGBOK CLASSIC AIR'S DC-3 (ZS-NTE) WILL BE ATTENDING THE FOLLOWING AIRSHOWS:
Saturday 31 August, Bethelehem

Return flight R1 500.00 per person (excluding accommodation)
There will be a display flight with the DC-3 and we will also offer 10 minute fun-flips on the DC-3 at R350.00pp. More information on this airshow will be available closer to the time.
Shorter Flights

29 June 2013 10:00 - 20 minute scenic flights over Johannesburg
:
We depart from Hangar 5 at Rand Airport, take off and fly in a westerly direction, passing to the south of Johannesburg CBD. We then turn above Gold Reef City and head in a northerly direction with Soccer City on our left. We cross over Northcliff Ridge and then turn east, to the south of North Gate Dome, and pass to the south of Monte Casino. Then we turn south, opposite Megawatt Park, passing east of Sandton City and across Wanderers and Ellis Park before returning to Rand Airport.
For more information call 011 8214 2142 or send an email to
info@springbokclassicair.co.za
CAN YOU AFFORD TO BE WITHOUT A LIFE SAVING AED
If someone collapses with a sudden cardiac arrest on your aircraft or in your office or in your hanger what can you do? The truth is that if you do not respond within 10 minutes the person will probably die. Sere-med provides a very affordable, portable and LIFE SAVING AED. Can you afford to be without one? Contact
global@gaconsultants.net
or the Editor for more information.
15. FINALE

GAC UPDATE can also be read on the Pilots Post website which was visited by over 40,000 people last month.

Quote of the month which is appropriate to the following article. "An airplane might disappoint any pilot but it'll never surprise a good one."- Len Morgan




Incident: British Airways A319 near London on May 24th 2013, problems with both engines, doors on both engines missing
A British Airways Airbus A319-100, registration G-EUOE operating flight BA-762 from London Heathrow, (UK) to Oslo (Norway) with 75 passengers and 5 crew, was climbing out of Heathrow's runway 27L when a loud bang from the left hand engine was heard and the left hand engine's (V2522) cowling doors went missing. The crew levelled off at 6000 feet reassuring passengers. While positioning for a return to Heathrow another loud bang was heard, this time from the right hand engine, and the right hand engine's cowling doors went missing, and the right hand engine was trailing smoke. The aircraft landed safely on Heathrow's runway 27R about 26 minutes after departure, stopped on the runway and was evacuated via slides while emergency services doused the right hand engine and extinguished the engine fire. No injuries occurred.
By Simon Hradecky

GLOBAL AVIATION CONSULTANTS (PTY) LTD


Can we help you with your aviation safety
and/or quality requirements?


Under SA CAR 140.01.2 if you and your organisation hold one of the following
Q
a category 4 or higher aerodrome licence;
Q an ATO approval;
Q an aircraft maintenance organisation approval;
Q
a manufacturing organisation approval ;
Q an ATSU approval;
Q a design organisation approval;
Q an AOC issued in terms of Part 121, 127, 135, 138, 141;
Q a procedure design organisation approval; and
Q an electronic services organisation approval,
then you shall establish a Safety Management System for the control and supervision of the services rendered or to be rendered by that organisation.
If you do not already have an approved Air Safety Officer and an approved Safety Management System then please contact us for assistance.
We, at global aviation consultants, deliver the following SA CAA Approved training courses for Air Safety Officers at Rand Airport;
Q Safety Management Systems
Q Integrated Safety Officer Course
Q Quality Assurance Auditor
Q Crew Resource Management (Initial and Recurrent)
Q Dangerous Goods
Q Human Factors for AME's
Q
Should your operation be of a size whereby the full time employment of an Air Safety Officer and/or Quality Assurance Officer is not financially viable then we can provide you with Consultants who have previously held Air Services Licensing Council approval. We can also provide you with a tailor made SA CAA approved Safety Management System.
For further information on how we can help you please contact Rethea or Candice in Hanger 6, Rand Airport, Germiston on 011-024--5446/7 or e-mail global@gaconsultants.net

Global Aviation Consultants accepts no liability for the content of this safety editorial, or for the consequences of any actions taken on the basis of the information provided, unless that information is subsequently confirmed in writing. If you are not the intended recipient you are notified that disclosing, copying, distributing or taking any action in reliance on the contents of this information is strictly prohibited.



Global Aviation Consultants, Hanger 6, Spitfire Avenue, Rand Airport, Johannesburg, RSA

www.gaconsultants.net
Tel: 011 024 5446 e-mail
global@gaconsultants.net