Tower: Roger. Please reduce to 35 now. We have other traffic above you.
DC4: Hang on. We have hit something. Boy! Something has hit us...hang on...something in the air...do you know what it was?
Tower: Well there is traffic above at 4000. That is why we asked you down to 35.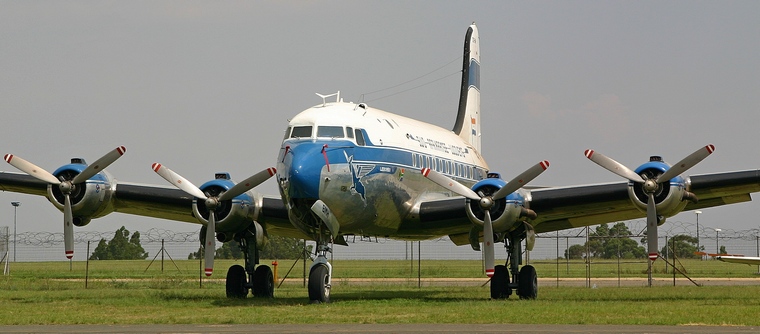 Lebombo is no ordinary DC-4; delivered to SAA on the 9 August 1947 she was the last of the type produced and is one of only a few that still, despite a mid-air collision on the 30 June 1962, survives in flying condition. She was on her way to Durban and on final approach when a Harvard sliced through her tail causing substantial damage to the rudder and elevators. Captain Archie Nasmith who was at the controls landed her safely and none of with fifty-one souls on board were injured. The occupants of the Harvard, which crashed near the Bluff, parachuted to safety.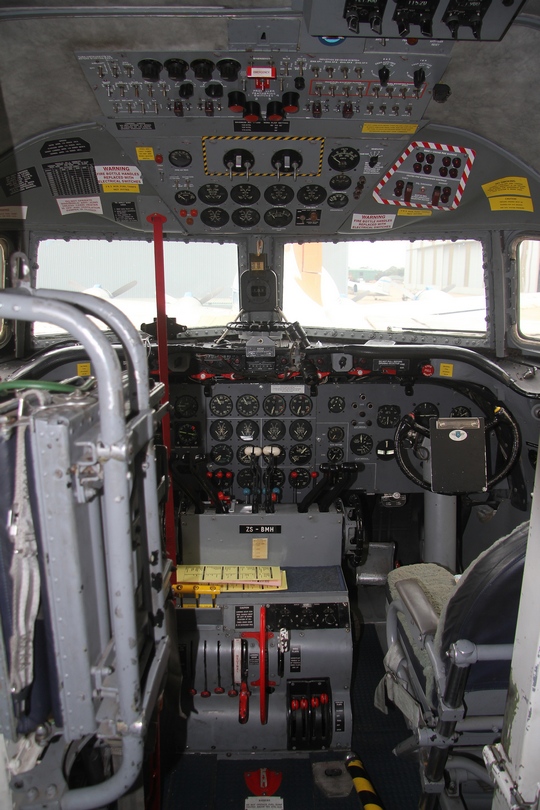 On the 9 August 1947 she left Los Angeles for her new home in South Africa arriving at Palmietfontein on the 18 August. Her 50 hours and 35 minutes flight included stops in Chicago, Gander in New Foundland, London, Amsterdam, Khartoum and Nairobi. The crew of three, the three Williams, were Captain G.D.B Williams. Captain G. W. Williams and Captain William J. Morrisey.
Lebombo, like her sister ships, were deployed between Palmietfontein and London on the Springbok Service, as South African Airways international routes were then named. Flights lasted 36 hours with stops at Nairobi, Khartoum and Tripoli with the final stop being at Hurne, near Bournemouth. In 1950 SAA introduced the Lockheed Constellations on this route and the Skymasters were relegated to the domestic service from which they were ultimately withdrawn in mid 1960. Several, including Lebombo, were sold to the South African Air Force in January of 1966 and Lebombo was allocated tail number 6904 and operated by 44 Squadron.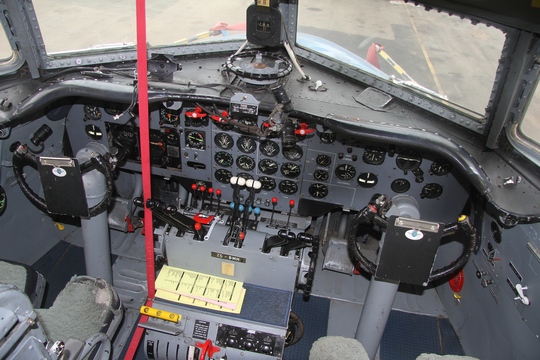 In her new military camouflage her service as a Warbird was spend flying mostly VIPs, a role which the DC4 was not unaccustomed to as they were used by President Roosevelt and Winston Churchill during World War II. Many an entertainer also made the trip up north in her. One of her sister ships however had a more active role, doing duty in the reconnaissance and electronic warfare role as well as gathering ELINT information and acting as a airborne command post. In 1977 she briefly left the military on lease to Safair and was used to transport mineworkers recruited from neighbouring states to South Africa.
In 1992 she was bought back from the SAAF and on the 8 April 1993, forty-six years after having rolled of the production line in 1947 she re-entered service with SAA again being registered as ZS-BMH. It was then at the grand old age of forty-six that her globe trotting career started.
In July 1994 with Captain Flippie Vermeulen at the controls and John Travolta as one of the passengers she returned to the land of her birth to visit the annual EAA Fly held at Oshkosh in Wisconsin setting a new world record for a prop liner for the longest flight with a unchanged group of passengers in one direction. Not resting on her laurels she also won the award for the best transport aircraft at this prestigious aviation event. In June 1996, herself now almost half a century old, she attended the 50th anniversary celebrations at Heathrow Airport in the UK. Two years later she again made the long flight up North to Zurich Airport, Germany, for the 50th anniversary celebration of the Berlin Airlift.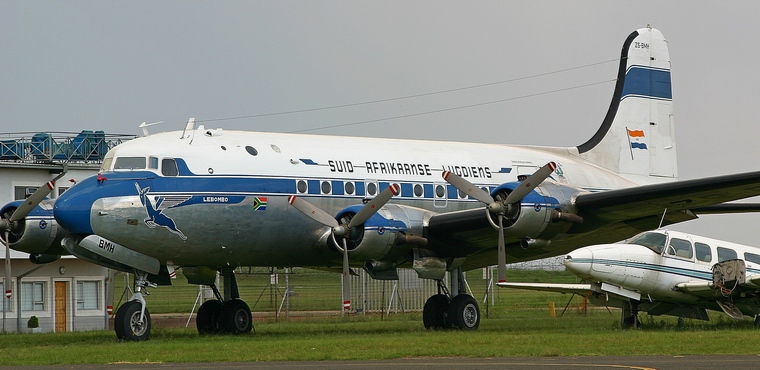 In 2001 Lebombo retired from SAA when she was transferred to the Transnet Heritage Foundation and initially she was been based at Rand Airport but now are a resident of O.R. Tambo International. Retirement fortunately did not mean that she stopped flying and today this grand old lady, one of only a handful worldwide that still flies is operated by Skyclass Aviation who lease her from the South African Airways Museum Society
Seating fifty in a Business Class configuration that ensure comfort on leisurely trips that brings back memories of days long gone she flies groups of tourist and aviation aficionados to the Island of Mozambique, Central and East Africa, the magnificent Victoria Falls and the tropical islands of the Indian Ocean as well as game lodges.