This week in Midweek Update



1 Weekend events.
2 Forthcoming events.
3 Bell Helicopter to re-enter the Short Light Single Market
4 Rare PV-2D Harpoon Set to Arrive in Oshkosh on July 28
5 Vintage aircraft invited to round-engine rodeo at EAA AirVenture
6 Russian ??-52 combat helicopter creates a sensation at Le Bourget.
7 Upcoming Springbok Classic Air scenic flights
8 ExecuJet Africa celebrates African Aviation award win


1

What's happening this weekend?


29 June, KZN Winter Tour, Pietermaritzburg. For more information email info@kznwinterairtour.co.za or visit ww.kznwinterairtour.co.za
2

Save the dates.

3-7 July. Sports Aerobatics National, Tzaneen. E-mail:
change@mweb.co.za
19-21 July: Nylstroom Vliegklub/EAA Taildraggers Fly-in with Fun & Precision Rally, Nylstroom: Richard Nicholson 082 490 6227
rgn@pcwireless.co.za
27 July. Pylon Time Trials, Parys. E-mail:
flyboys@global.co.za
27 July. 9th annual fly in, Hippo Pools Resort, Hoedspruit. Airstrip. For more:
27 July East Rand Flying Club will be hosting its annual free fly-in breakfast from 08h00 onwards. Contact Paul Sabatier 082 413 4614 e-mail:
paulsabatier@gmail.com
29 July to 4 August EAA's annual AirVenture to be held in Oshkosh USA. Camping on the airfield contact Neil Bowden. E-mail:
neil1@telkomsa.net
9 & 10 August EAA of South Africa National Convention at Brits airfield. Contact Paul Lastrucci: 082 822 7018 E-mail:
paul@airpowersa.co.za
9 to 11 August SAPFA Precision Team training at Brits airfield:
www.sapfa
.org.zaContact Mary de Klerk e-mail:
maryd@expandingbranding.co.za
10 & 11 August Sport Aerobatics NW Regionals - Klerksdorp. Contact Annie Boon e-mail:
chunge@mweb.co.za
9 to 11 August Race of Champions - Ulundi airport KZN. Contact Chris Briers 082 568 7988 or Mariska 082 253 5823 at AirTeam. Entry details and conditions on the website:
www.airrace.co.za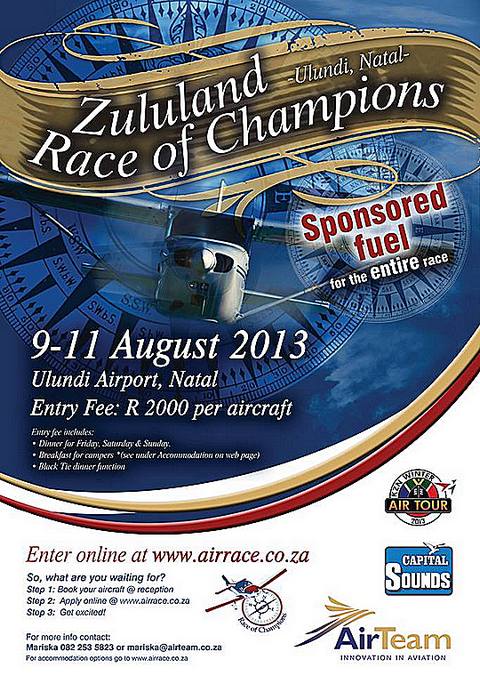 24 August. Bela-Bela (Warmbaths) Breakfast Fly in. Contact Pieter 083 233 5295
For the full 2013 calendar go to events.

See below for the KZN Winter Tour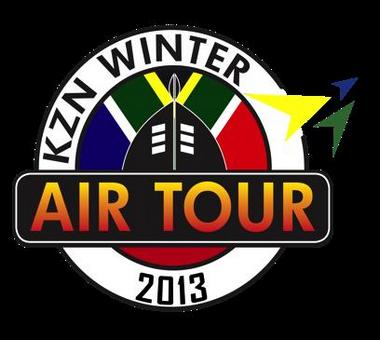 KZN Winter Air Tour.

Margate - 6 July 2013 Durban - 13 July 2013
Don't miss out on the action. Tickets will be available at
www.kznwinterairtour
.co.za or can be purchased on the day. For more information email info@kznwinterairtour.co.za or visit ww.kznwinterairtour.co.za
3
Bell Helicopter to re-enter the Short Light Single Market



Today at the 2013 Paris Air Show, Bell Helicopter, a Textron Inc. company (NYSE: TXT), announced its return to the short light single (SLS) engine helicopter market with a new product designed to specifications based on the input of a customer advisory council. Bell Helicopter's new, five-seat entry-level aircraft is expected to complete its first flight in 2014 with certification to follow as quickly as possible.
"Bell Helicopter is no stranger to the short light single market. We developed it nearly 50 years ago with the introduction of the Bell 206 JetRanger and are proud to have produced nearly 7,400 Bell 206 series aircraft since 1967 with over 4,400 remaining in service today," said John Garrison, president and CEO of Bell Helicopter. "However, we needed to create a new, modernized aircraft to meet requirements of five-seat utility, training, private, and law enforcement operators."
Bell Helicopter's new short light single engine helicopter will feature a high visibility, fully flat cabin floor with five forward-facing seats. It is designed to meet performance targets recommended by the customer advisory council, including a speed of 125 knots (232 km), a range of 360 to 420 nautical miles (667 km) and a useful load of 1,500 pounds (608 kg).

4



Oshkosh Preview


Rare PV-2D Harpoon Set to Arrive in Oshkosh on July 28

June 19, 2013 - One of the world's three remaining airworthy Lockheed PV-2 aircraft is coming to AirVenture Oshkosh 2013.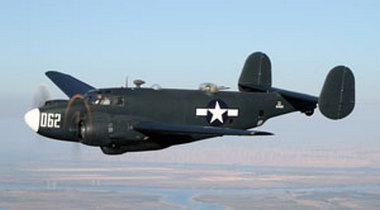 Visitors have the opportunity to see another extremely rare aircraft, a Lockheed PV-2D Harpoon, at Oshkosh this year. (Photo courtesy of Roger Cain)

It's the only PV-2D Harpoon variant left out of 35 built, rescued from demolition about three years ago by Vintage Aircraft and Stockton Field Aviation Museum in Stockton, California (SCK). A group of volunteers and staff restored the aircraft to mint condition, according to Vintage Aircraft's Taigh Ramey.
The PV-2D Harpoon (Bureau No. 84062/N6657D) is a long-range patrol bomber with eight nose-mounted .50-caliber guns. It was to be used in the Allied invasion of Japan in 1945 but never saw combat because the atomic bombs hastened war's end in August that year. It eventually was sold as surplus and converted into a fire bomber. In fact, before its acquisition, all but seven of its logged flight hours were for fighting fires or in support of firefighting.
The museum acquired the Harpoon in 2010 and crews have worked diligently over the past three years to restore the plane to original condition - as if it had just rolled off the line at the Lockheed plant in Burbank in 1944. "You should have seen it before we started," Ramey said. "Our goal has always been to have a veteran who flew them say, 'It's just like it was back then.'" Indeed, the interior and exterior before-and-after shots appear to indicate they've succeeded.
The plane's original deep blue paint scheme is in accordance with the period specs from the Navy SR-2, which calls for horizontal surfaces of the wings and horizontal stabilizer to be semigloss and the other surfaces to be painted o-pilots or flat. The scheme also includes the original "062" on the nose from the bureau number. Inside, the original paint looked "pretty good" according to Ramey, but rebuilding the various crew stations required a lot of painstaking work. The pilot and o-pilot, radio operator, navigator, and radar operator as well as top turret gunner are now restored and mostly operational. Eventually the museum aims to acquire original wing-mounted drop tanks and rockets.
The airplane has remarkably low operational hours. The airframe has about 800 total hours to date, while the two 2,000-hp Pratt and Whitney R-2800 31 Double Wasp engines, manufactured under license by Ford Motor Company, only have about 40 hours on them.
The airplane is scheduled to arrive in Oshkosh on Sunday, July 28, and stay through August 2. On Friday, August 1, the PV-2D will be featured in a Warbirds in Review presentation at 10 a.m., and Ramey is asking any PV-2 veterans to participate.
"We would like to find anyone who may have built, flew, or maintained the PV-2 that might want to share their experiences or just simply come out and visit the old gal," he said. "We have restored our Harpoon with almost all of its original crew positions and equipment just like it had at the factory. We hope to have as many veterans as possible to come and see their old patrol bomber."
5



Vintage aircraft invited to round-engine rodeo at EAA AirVenture


EAA AVIATION CENTER, OSHKOSH, Wis. - (June 24, 2013) - Vintage aircraft with radial engines will have a special focus as the Vintage Aircraft Association (VAA) is hosting the Round-Engine Rodeo on Monday, July 29 through Saturday, Aug. 2, during EAA AirVenture 2013. Vintage aircraft owners are invited to the gathering of radial-powered antique aircraft located in the Vintage area on the EAA AirVenture grounds.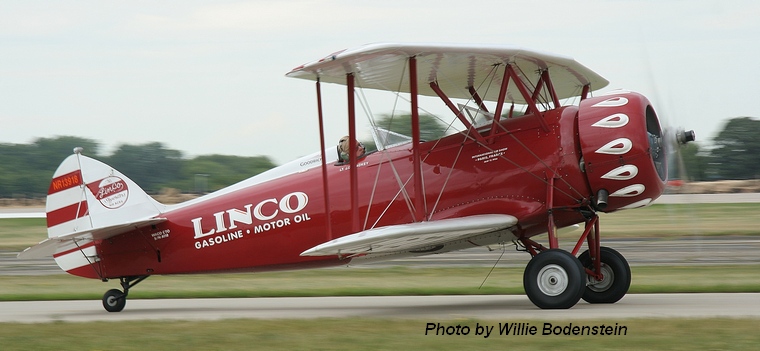 Twice daily, vintage aircraft expert Ray Johnson will be interviewing hand-picked vintage aircraft owners and pilots in the VAA "Star Circle". A select few antique airplanes and their pilots will be also be giving interviews at the air show center stage on Phillips 66 Plaza throughout the week. In addition, every evening vintage aviation enthusiasts can swap stories around a campfire in the vintage area.
"We are looking forward to a good turnout of beautiful aircraft powered by radial engines," said Steve Krog, Vintage Director for VAA. "We'll also recognize their significant role in aviation history."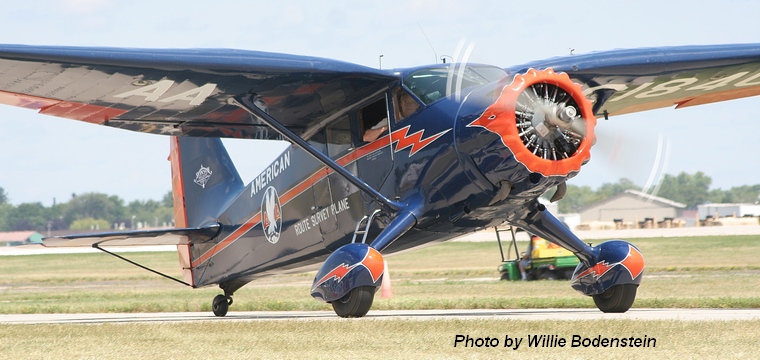 Krog describes last year's turnout of vintage aircraft at AirVenture as having rows upon rows of Piiper J3 Cub aircraft lined up so that they could be seen off the main flight line, which helped inspire this year's Round-Engine Rodeo. Guided tours through this aircraft parking area will be given daily.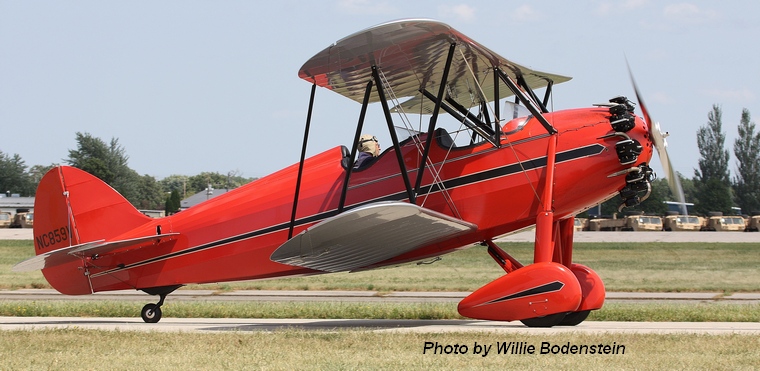 Vintage pilots on their way to Oshkosh are welcome to stop at Hartford Municipal Airport in Hartford, Wis., Friday, July 26 through Sunday, July 28 for a grill out and refreshments with other vintage enthusiasts.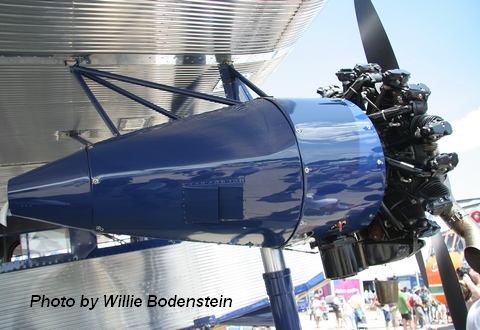 Additional information about this year's Round-Engine Rodeo can be found on VAA's website.
6



Russian ??-52 Alligator combat helicopter creates a sensation at Le Bourget




Paris / 19 June 2013 - Russian Helicopters, a subsidiary of Oboronprom, part of State Corporation Rostec and a leading global designer and manufacturer of helicopters, and Rosoboronexport showcased the latest Ka-52 Alligator combat helicopter at the Paris Air Show on June 17.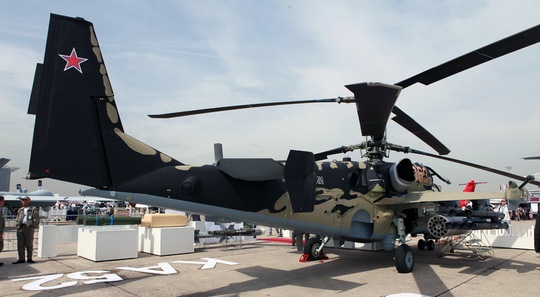 The helicopter made its international debut on the first day of Le Bourget with a spectacular program full of aerobatic manoeuvres that was one of the highlights of the 50th Paris Air Show. The display, in front of Russian Defence Minister Sergei Shoigu and Rostec CEO Sergei Chemezov, was the talk of the show and created new export opportunities for this advanced helicopter, highlighting the competitiveness of Russian military technologies in the global market place.
Russian Helicopters created the Ka-52 Alligator using cutting-edge Russian aviation technologies, state-of-the-art avionics and weaponry, and composite materials, while ensuring a high degree of flight safety. The helicopter has successfully passed all of its state tests and entered serial production, and is in service with the Russian Air Force.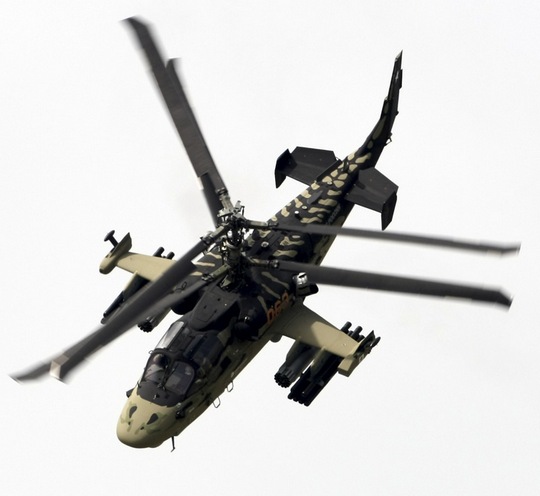 The Ka-52 Alligator is an all-weather, day-night combat helicopter. It is designed to destroy armoured and unarmoured ground targets, low-speed aerial targets and enemy front-line and tactical reserve troops, and to undertake reconnaissance missions and co-ordination of groups of military helicopters. The Alligator is equipped with stealth technologies and active IR and electronic jammers, and is designed to Russian and international standards for combat helicopters and their operation.
The Alligator has a twin-seat cockpit and can be controlled by either pilot. Its coaxial rotors provide advanced flight abilities and allow it to manoeuvre rapidly in tight airspace to secure a favourable attacking position.
Two VK-2500 gas turbine engines enable the helicopter to fly above 5,000 metres. It has a static ceiling of 4,000 metres, and can take off and land in hot environments and high altitudes. The ??-52 Alligator can also be deployed in cold climates and icy conditions.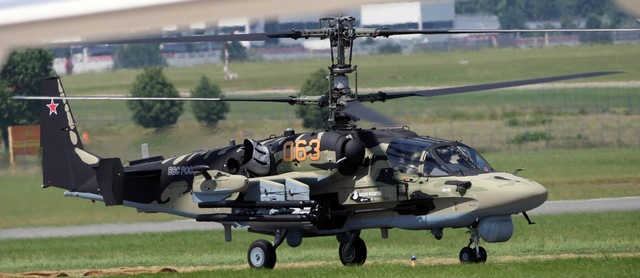 The Ka-52 Alligator is equipped with state-of-the-art avionics developed mainly by Concern Radioelectronic Technologies, also a Rostec company. The Crossbow (Russian: Arbalet) radar system can overcome military challenges at any time of day or night and in any weather conditions, including deliberate or natural radio electronic interference. Crossbow gives Ka-52 pilots a radar facility map of the local terrain, making it possible to identify and avoid hazardous wet and turbulent zones, and also to rapidly locate targets. Radioelectronic Technologies also supplies the Alligator with Hunter (Russian: Okhotnik) series systems for laser-guided weapons and video imaging processing for missile guidance. Thanks to these systems, the helicopter can rapidly identify and simultaneously engage two targets, guiding Attack (Russian: Ataka) and Whirlwind (Russian: Vikhr) missiles with high accuracy. The SAU-800 autopilot system allows for manual and automatic piloting.
The Ka-52 is equipped with powerful offensive weapons that can be configured for different military missions. The rapid-fire unit NPPU-80 with 2A42 30mm gun is located on the helicopter's starboard. The large number of weapons options is supported by six mounting points for aircraft guns, missiles and rockets and various aerial bombs, as well as additional fuel tanks. The total weight of the payload is 2,000kg.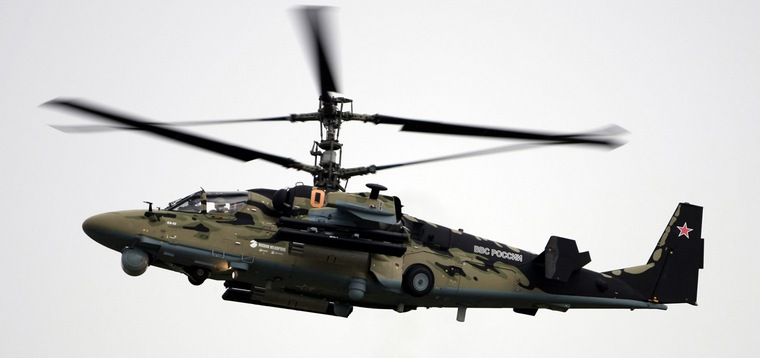 The Alligator's other advantages include a high degree of protection for the crew, state-of-the-art automated systems that make piloting easier, and ease of ground maintenance. Powerful armoured protection and ejection seats unique fort its class make the Ka-52 Alligator one of the safest helicopters for crew, while the helmet-mounted target designation system means the helicopter can fly military missions around the clock and at any time of year, significantly reducing pilots' workload. The helicopter is equipped with satellite navigation, with colour displays in the cockpit conveying a wide range of information, including a digital map of the terrain.
Like the Mi-24 and Mi-35M, the Alligator has been designed for outside storage.
The Ka-52 Alligator combat helicopter is without doubt one of the most advanced military helicopters in its class. It combines cutting-edge developments from Rostec companies with the traditional virtues of Russian-built helicopters. The ?i-8/17, ?i-24, ?i-35? and ?a-32 helicopters are in high demand around the world, particularly in regions with complex weather conditions, where helicopters are becoming essential.

7



Upcoming Springbok Classic Air scenic flights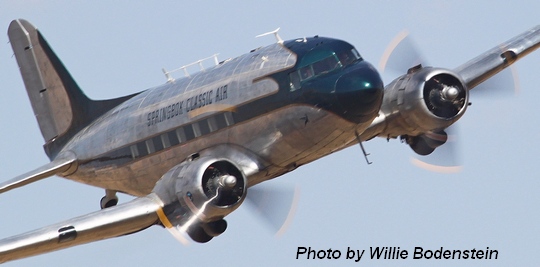 29 June 2013 10:00 - 20 minute scenic flights over Johannesburg
Route:
We depart from Hangar 5 at Rand Airport, take off and fly in a westerly direction, passing to the south of Johannesburg CBD. We then turn above Gold Reef City and head in a northerly direction with Soccer City on our left. We cross over Northcliff Ridge and then turn east, to the south of North Gate Dome, and pass to the south of Monte Casino. Then we turn south, opposite Megawatt Park, passing east of Sandton City and across Wanderers and Ellis Park before returning to Rand Airport.
Book your seat for the flight with Ronéll Myburgh:
Tel: Landline +27 11 824 2142; Mobile +27 82 779 9421 or E-mail:
info@springbokclassicair.co.za

8


ExecuJet Africa celebrates African Aviation award win

ExecuJet Africa, the continent's leading business aviation company, has been recognised for its 'Outstanding Services to African Aviation Development' at the African Aviation awards in Nairobi.
The company was praised for its expansion into Africa and for increasing the overall aviation services in the region by the awards organiser African Aviation journal, at the ceremony held during the African Business Aviation Conference & Exhibition from 27-29 May.
Ettore Poggi, Managing Director of ExecuJet Africa, says: "We are committed to supporting Africa's economic development and are honoured to be recognised with this award. We have worked hard to build our facilities and services as business aviation develops in the region. We are extremely pleased that our FBO and maintenance facility in Lagos, which has been operational for just over a year, is being recognised by international and local operators for its exceptional service. Our managed fleet has grown to over 60 aircraft and we are pleased to be seen as the supplier of choice for aircraft management services in Africa."
ExecuJet Africa plans to continue its growth on the African continent to assist in developing an aviation industry for Africa that can rival any in the world.
ExecuJet Africa also enjoyed a busy period of aircraft movements during the 23rd World Economic Forum on Africa, held from 8-10 May in Cape Town. The event was attended by more than 1,000 business and government leaders from around 80 countries.
The company's fixed-based operations (FBO) handled large numbers of business aircraft movements at Cape Town International Airport, reporting an increase of 15% on last year's event. The company had numerous types of aircraft parked on the apron at any one time, including a BBJ, Global 6000s, Gulfstream 550s and Falcon 7Xs.
During the event, ExecuJet Cape Town was able to provide maintenance to the BBJ which was AOG (aircraft on ground). ExecuJet Cape Town has been making a name for itself as the maintenance centre of choice for deep level maintenance and refurbishment on Dash 8 - 300s.
ExecuJet Africa has award-winning FBO and maintenance, repair and overhaul facilities in Cape Town, Johannesburg and Lagos.
Pilot's Post now average more than 1,000 hits per day and with advertising packages of R500, R1,000, R1,500 and R2,000 per month and classified adverts at R350 makes it the most cost effective way to reach your target market. For more information phone Willie on 082 442 8815 or E-mail
willieb@pilotspost.com