THIS WEEK IN MIDWEEK UPDATE

1 Weekend events.
2 Forthcoming events.
3 Secunda announces Airshow
4 Winter Family Boogie hosted by Skydive Parys and Stonehenge in Africa
5 Cirrus Aircraft Leading General Aviation Rebound
6 Beechcraft Secures Largest General Aviation Propeller Aircraft Order in History
1
WHAT'S HAPPENING THIS WEEKEND?


9 & 10 August EAA of South Africa National Convention at Brits airfield. Contact Paul Lastrucci: 082 822 7018 E-mail: paul@airpowersa.co.za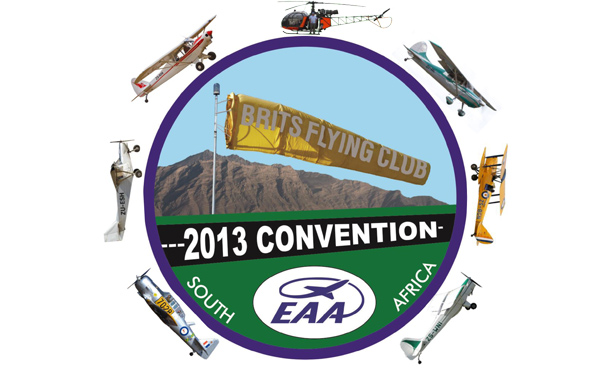 9 to 11 August SAPFA Precision Team training at Brits airfield: Contact Mary de Klerk E-mail: maryd@expandingbranding.co.za or visit: www.sapfa.org.za
10 & 11 August Sport Aerobatics NW Regionals - Klerksdorp. Contact Annie Boon E-mail: chunge@mweb.co.za
9 to 11 August Race of Champions - Ulundi airport KZN. Contact Chris Briers 082 568 7988 or Mariska 082 253 5823 at AirTeam. Entry details and conditions on the website: www.airrace.co.za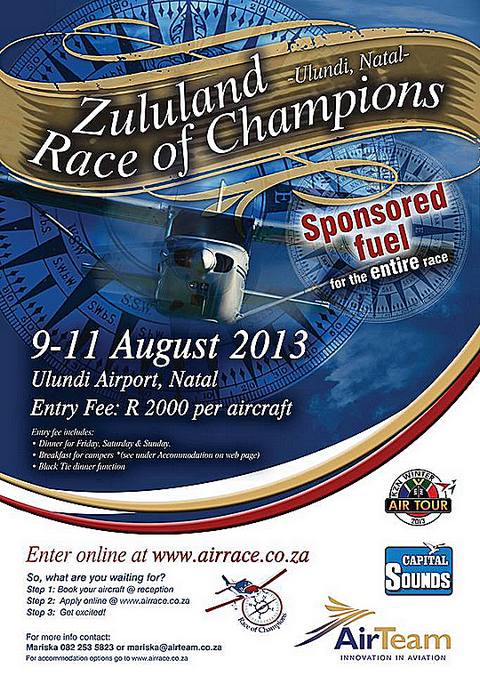 2



SAVE THE DATES
16- 18 August Winter Family Boogie hosted by Skydive Parys and Stonehenge in Africa. Contact: Contact Steven Taylor 072 303 9140
Email: skydiveparys@gmail.com

17 August Krugersdorp Fly in and Spotlanding Competition. For more information E-mail kfc@iafrica.com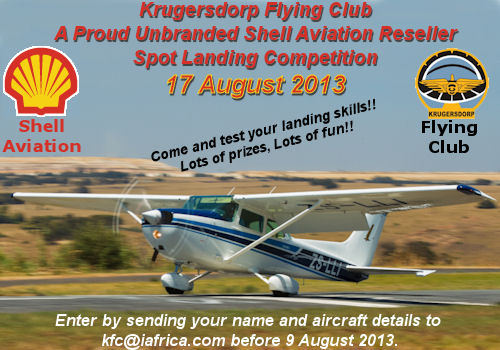 17 August SAPFA Gyrocopter Fun Rally at Kitty Hawk: Contact Mary de Klerk E-mail:
maryd@expandingbranding.co.za
or visit: www.sapfa.co.za
24 August Bela-Bela Falcons Flying Club - Neil Armstrong memorial fly in breakfast. Contact Pieter Roux 083 377 5227 or E-mail Info@justforfun.co.za
30 & 31 August Bethlehem Airshow. For more information contact Derek O'Connor 083 629 5242 derek@malutiskies.co.za
2 to 15 September World Precision Championships - Germany: Contact Mary de Klerk e-mail:
maryd@expandingbranding.co.za
or got to:
www.sapfa.org.za

7 September Zandspruit Bush and Aero Estate airshow - Hoedspruit . Contact Martin den Dunnen 015 793 1192 info@zandspruit.co.za
Sunday 29 September Grand Rand airshow. Contact Carolyn Naude 011 827 8884 e-mail: carolyn@randairport.co.za
28 & 29 September Sport Aerobatics Cape Regionals - Mossel Bay Contact Annie Boon e-mail: chunge@mweb.co.za

For the full 2013 calendar go to events calendar.

3
Secunda Flying Club is pleased to announce that the Secunda Airshow will take place on Saturday the 12th of October 2013.

The Secunda Flying Club is pleased to announce that the Secunda Airshow will take place on Saturday the 12th of October 2013. In celebration of the refurbishing of our runway and facilities and to show appreciation to our sponsors, we will showcase an A grade airshow with unrivalled entertainment to dazzle the aviation enthusiast and public alike. Besides securing the top display acts, a huge variety of food stalls and craft market to support our charities, we will sustain the standard by presenting a top class live rock show to entertain during and well after the air display in our suitably matched beer garden"
Overnight fly in visitors are most welcome, from Friday till Sunday, either to camp under the wing or make use of local accommodation. Security will be provided and details of participating vendors to provide discounted rates and shuttle services will be announced shortly.
Fly in visitors on the Saturday need to ensure that they arrive by 9h00 not to disrupt the display and not rely on departure slots for the duration of the show.
Ample opportunity exists for corporate sponsorship and advertising, limited static displays and intro / pleasure flips on the Sunday.
For further details view us on Facebook/ Secunda Airshow or contact Hannes
at 082 577 6581, Leon le Roux 083 629 1119 or e.mail
dalenevheerden@gmail.com.

4
Winter Family Boogie hosted by Skydive Parys and Stonehenge in Africa, will be held from the 16th to the 18th of August 2013

Winter Family Boogie hosted by Skydive Parys and Stonehenge in Africa, will be held from the 16th to the 18th of August 2013. The event will take place at Stonehenge in Africa, a magnificent lodge on the banks of the Vaal River in Parys(Freestate).
Accommodation at the lodge will be available as well as camping facilities at a special rate, just for the Boogie. Stonehenge will also be catering for the whole event and there will be Braai Packs available for purchase, for the evening of the 17th August for all to come and enjoy the warm hospitality of the Drop Zone. (Included in the Braai Pack is 3 meats, salads and bread) Skydive Parys will be offering people the opportunity to experience a Tandem Skydive over the famous Vredefort Dome World Heritage site and the thrill of landing on the banks of the Vaal River @ a discounted rate. Sports Skydivers will be given the chance to experience a Skydive from a Hot Air Balloon or an Atlas Angel turbine aircraft and Night jumps on the 16 th August 2013 @ the Parys airfield.
Scenic Flights down the Vaal River will be offered for those who would like to get an aerial view of the magnificent Vredefort Dome. Other activities such as Abseiling, quad biking and horse trails will also be available during the Festival. Visit the charming little town of Parys, transport from Stonehenge to Parys and back during the day time will be free of charge, for the Boogie.
Entertainment will be provided throughout the weekend; music, competitions, prize give a ways, jumping castles, water slide, cocktail and drink specials and a whole lot more.
Contact Steven Taylor 072 303 9140 Email:
skydiveparys@gmail.com
Website: www.skydiveparys.co.za
5
Cirrus Aircraft Leading General Aviation Rebound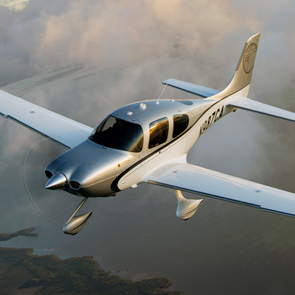 DULUTH, Minn., (August 6, 2013) - Cirrus Aircraft today announced impressive airplane delivery results for the second quarter of 2013 with 79 Cirrus aircraft delivered to customers worldwide, up 32 percent over the same period in 2012. The total 2013 first half shipments of 130 Cirrus aircraft marks the best half-year delivery performance since 2008. The latest industry shipment and billing figures were released today by the General Aviation Manufacturers Association, the international trade organization representing over 80 of the world's leading producers of general aviation airplanes, rotorcraft, engines, avionics, components and related services.
"Momentum at Cirrus, specifically around the Generation 5 SR22 and SR22T, is driving demand for new piston aircraft that is starting to feel closer to pre-recession levels," reports Todd Simmons, Executive Vice President of Sales, Marketing & Customer Support at Cirrus Aircraft. "These latest performance results confirm strong preference by both individuals and institutions alike for design innovation unique to Cirrus Aircraft."
Generation 5 is Class-Leading
Beyond simply a 200 pound increase in useful load - meaning an extra adult can now be on board - Generation 5 aircraft are a culmination of all the best features an aircraft in this class can offer. "Our aircraft are designed with systems and features that make flying easier, safer and more accessible to a new generation of pilots, owners and operators," Simmons added. "Our customers are demanding better performance, more capability and simpler entry into aircraft ownership and with Generation 5 we are offering the most sophisticated airplane in its class."
New Solutions and New Market Segments
Two recent company announcements highlight the diversity of markets Cirrus is serving. First, Cirrus On DemandSM was introduced earlier this year as the unique Cirrus approach to personal or small business aircraft ownership that allows an owner to purchase a package that includes a pilot to fly and manage his or her aircraft. This means a new Cirrus owner can immediately use the airplane for convenient travel with the benefit of a highly qualified Cirrus On Demand pilot in the left seat. Because this pilot is also a Certified Flight Instructor (CFI), new owners can use this time to also learn to fly, with their own personal flight instructor at their service. Second, last week Cirrus Aircraft announced its most recent order for advanced training aircraft by the Royal Saudi Air Force. This is now the third recent order by a national air force for Cirrus aircraft, the previous two orders coming from the United States Air Force Academy and the French Air Force.
"These are just two of the latest solutions from Cirrus that are fuelling growth. Add these to Generation 5 and the accelerated pace of the Vision Jet program and it's easy to see why customers are excited. We share that enthusiasm and the outlook is even brighter for the remainder of 2013 and into 2014," concluded Simmons.
About Cirrus Aircraft
Cirrus Aircraft is a recognized leader in general aviation. Its all-composite line of personal aircraft - the SR20, SR22 and the turbocharged SR22T - incorporate innovative and advanced performance, electronic and safety technologies, including Cirrus Perspective™ by Garmin® avionics and the unique Cirrus Airframe Parachute System™ (CAPS). To date, total time on the worldwide Cirrus Aircraft SR-series fleet surpassed five million flight hours with 76 lives saved as a direct result of CAPS being a standard safety feature on all Cirrus aircraft. The Cirrus Vision SF50 jet, with over 500 production positions reserved, will provide a new personal and regional business transportation solution: the personal jet. All Cirrus aircraft are made in the U.S. with a direct sales force in North America and authorized sales centers covering export markets in 60 countries around the world.
6
Beechcraft Secures Largest General Aviation Propeller Aircraft Order in History, Valued at $1.4 Billion

Deal includes up to 105 King Air 350i aircraft and associated maintenance services for Wheels Up, a new private aviation membership company, formed by Marquis Jet founder
WICHITA, Kan. (Aug. 1, 2013) - Beechcraft Corporation today announced it has secured an order for up to a total of 105 King Air 350i aircraft, valued at $788 million, from Wheels Up, representing the largest general aviation propeller driven aircraft order in history. Wheels Up is a membership-based private aviation program that eliminates fixed costs and provides unparalleled flexibility established by Kenny Dichter and the team that founded Marquis Jet, which redefined private air travel with the first 25-hour fractional jet card program. Beechcraft has been named the aircraft and comprehensive maintenance provider for Wheels Up in North America and Western Europe, with the entire value of the deal totaling up to $1.4 billion.
The first 35 Beechcraft King Airs will be delivered to Wheels Up between now and mid-2015 with the first nine deliveries to be made in 2013. Wheels Up will initially focus on the Northeastern United States. The deal includes options for 70 additional aircraft as Wheels Up expands nationally over the next two to three years.
Bill Boisture, Beechcraft Chief Executive Officer, said, "The Beechcraft King Air 350i is the perfect aircraft for Wheels Up due to its proven track record of tremendous flexibility and efficiency for regional travel. The pairing of the 350i and support from our world-class maintenance organization with the innovative founders and management team of Wheels Up is a winning combination."
Kenny Dichter, Wheels Up Founder and Chief Executive Officer, said, "We are excited to offer the King Air 350i for the first time on an exclusive basis in a national fleet format as Wheels Up redefines private aviation's entry point."
The Wheels Up King Air 350i aircraft will have several special enhancements for Wheels Up members including state-of-the-art interiors, Wi-Fi connectivity and a luxury lavatory vanity. The Wheels Up deal also includes a comprehensive maintenance program from Beechcraft valued at more than $600 million. This includes service for airframe, engines, avionics and propellers; scheduled and unscheduled maintenance, labor, parts and consumables. From its Hawker Beechcraft Services Wilmington, Del., hub, which is strategically located for this program, the maintenance program will also include mobile AOG support.
With class-leading capabilities and efficiency, the next-generation King Air 350i is the responsible, sustainable alternative that private aviation has been waiting for. As its segment's greenest aircraft, the King Air 350i can take more passengers farther on less fuel for consistent savings. State-of-the-art design and performance options represent new heights of power and durability. The King Air 350i's new interior is the most comfortable and capable cabin ever offered in its class. Whether traveling to major airports or unimproved airstrips, the versatility and comfort of the King Air 350i demonstrates why pilots, families, companies and governments in 105 countries have trusted more than 7,000 King Airs over the years - more than any other aircraft
Pilot's Post now average more than 1,000 hits per day and with advertising packages of R500, R1,000, R1,500 and R2,000 per month and classified adverts at R290 makes it the most cost effective way to reach your target market. For more information phone Willie on 082 442 8815 or E-mail willieb@pilotspost.com