THIS WEEK IN MIDWEEK UPDATE

1 Weekend events.
2 Forthcoming events.
3 CSIR and Denel join forces for cutting edge research
4 The Skycraft SD-1 Minisport
5 Ka-62, Russian helicopter to be presented at MAKS 2013
6 Chinese military aircraft, the H-5 Hongzha
1
WHAT'S HAPPENING THIS WEEKEND?


30 & 31 August: Bethlehem Airshow. For more information contact Derek O'Connor 083 629 5242 derek@malutiskies.co.za
2
SAVE THE DATES

2 to 15 September: World Precision Championships - Germany: Contact Mary de Klerk e-mail:
maryd@expandingbranding.co.za
or got to:
www.sapfa.org.za

7 September: Zandspruit Bush and Aero Estate airshow - Hoedspruit . Contact Martin den Dunnen 015 793 1192
info@zandspruit.co.za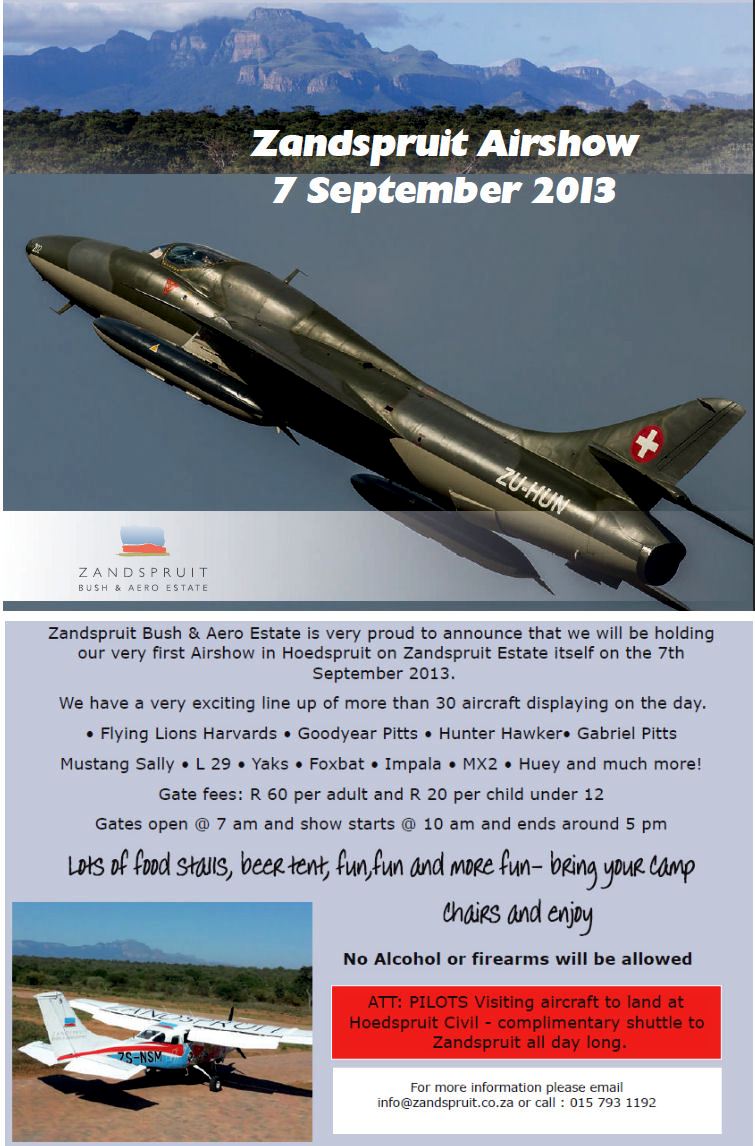 28 & 29 September: Sport Aerobatics Cape Regionals - Mossel Bay Contact Annie Boon e-mail: chunge@mweb.co.za
29 September (Sunday): Grand Rand airshow - One of the finest on the annual calendar. Contact Carolyn Naude 011 827 8884 e-mail:
carolyn@randairport.co.za

28 & 29 September: Sport Aerobatics Cape Regionals - Mossel Bay
Contact Annie Boon e-mail:
chunge@mweb.co.za
5 October: Fun Rally, Grand Central. Mary de Klerk. For more information go to: www.sapfa.org.za or contact Mary de Klerk e-mail: maryd@expandingbranding.co.za
12 October: Secunda Airshow. Contact Leon le Roux 017 634 4925
12 October: TMG (Touring Motor Glider) Fly in Parys. Contact Marietjie van Niekerk 082 765 6670
2 November: Aero Club of South Africa annual awards ceremony at the Wanderers Club. Contact Sandra Strydom 011 082 1100 e-mail: membership@aeroclub.org.za
9 November: SAPFA Fun Rally Brits airfield: For more information go to:
www.sapfa.org.za
or contact Mary de Klerk e-mail: maryd@expandingbranding.co.za
8 to 10 November: EAA Sun 'n Fun Chapter 1503 Tempe Airfield Bloemfontein
Contact: Jack Onderstall 082 770 5505 e-mail: jack@cp.bftn.co.za
15 to 17 November: Mafikeng fly-in and hangar dance. For more information
E-mail: info@mafikeng-flyingclub.co.za or contact Connie Conradie 082 449 1546
30 November to 1 December: Sport Aerobatics ACE of Base - Baragwanath airfield. Contact Annie Boon e-mail: chunge@mweb.co.za
7 & 8 December: Wings and Wheels airshow at AFB Ysterplaat - Cape Town Contact Chris Teale e-mail:
chris@ysterplaat.org.za
UPCOMING FLIGHTS ON SPRINGBOK CLASSIC AIR'S DC-3 (ZS-NTE)
Saturday 31 August 2013, Bethelehem Airshow - Return Flight
Depart from Rand 07:00, depart Bethlehem, 16:00
Return flight R1 500.00 per person
At the airshow we will offer 10 minute fun-flips on the DC-3; R350.00pp as well as a flight over Clarens R550.00pp.
20 Minute Scenic Flights over Johannesburg
24 September - flights from 10:00. ZS-NTE is turning 70 on this day.
28 September 10:00 (the day before the Rand Airshow)
26 October 2013 at 10:00
Route:
We depart from Hangar 5 at Rand Airport, take off and fly in a westerly direction, passing to the south of Johannesburg CBD. We then turn above Gold Reef City and head in a northerly direction with Soccer City on our left. We cross over Northcliff Ridge and then turn east, to the south of North Gate Dome, and pass to the south of Monte Casino. Then we turn south, opposite Megawatt Park, passing east of Sandton City and across Wanderers and Ellis Park before returning to Rand Airport.
R450.00 per person
The flight will only take place provided ALL seats are sold.
For more information call 011 824 2142 or send an email to info@springbokclassicair.co.za


For the full 2013 calendar go to events calendar.



3
CSIR AND DENEL JOIN FORCES FOR CUTTING EDGE RESEARCH

The Denel Group CEO, Mr Riaz Saloojee, says the agreement provides a framework for deeper collaboration on research and development which should benefit the development of future advanced manufacturing technologies.
"The CSIR is the leading technology research organisation in Africa with a global reputation for the quality of its R&D," says Mr Saloojee. "By joining forces we will ensure that the South African defence and aerospace industry remains at the leading edge of international trends and developments."
The partnership also fits into Denel's strategic intention to be a driver of innovation in technology and to partner with other companies and organisations to build these capabilities within South Africa.
Dr Sibusiso Sibisi, the CEO of the CSIR, says Denel's role as a designer and manufacturer of world-class aerospace defence and security products makes it a natural technology partner for the CSIR.
"We are delighted to extend our long-term relationship with Denel and to jointly move into exciting new areas that will contribute to South Africa's broader objectives regarding innovation, skills development and technology transfer," he says.
The CSIR's multidisciplinary R&D expertise enables it to combine a diverse range of skills to provide comprehensive innovation solutions. "Ultimately, our work promotes scientific development and stimulates industrial growth for the betterment of our society and economy. We pursue these goals in partnership with other public and private sector institutions," Dr Sibisi says.
In terms of the agreement, the two organisations will work together on a wide range of projects including exploring further collaboration in advanced manufacturing, systems engineering, modelling and simulation, unmanned systems, space engineering and protected landward mobility and firepower.
Bilateral committees will be established to execute the projects whilst a joint steering group will oversee issues relating to market intelligence and intellectual property. One of the intentions of the partnership is to collaborate in international markets through the joint marketing of skills and products.
Mr Saloojee says the partnership will involve all of Denel's divisions in the aerospace, landward defence, missile and unmanned aerial vehicle sectors. In the last financial year, total R&D funding in Denel amounted to R528m and the group intends to increase R&D spend significantly through its innovation drive. "Working together with the CSIR we will be pooling our resources and sharing existing information and the vast experience that already exists within these two organisations. This is a great opportunity to unlock this value to the greater benefit of South African industry," he says.
Although Denel specialises in defence and aerospace products and solutions many of its research projects are benefitting broader society and South Africa's developmental objectives in terms of job creation and skills development.
Spin-off technology from defence industry research is contributing to efforts to combat rhino poaching and drug smuggling; to support border control and nature conservation projects; to improve efficiencies in the mining industry, nuclear energy, electric vehicle design and South Africa's emerging space industry.
Mr Saloojee says the new partnership should also lead to a surge of interest amongst young scientists and engineers in the aerospace and defence sectors. "We want to attract the best and brightest of South Africa's young minds into this industry and provide them with exciting opportunities to conduct state-of-the-art research," he says.
4
THE SKYCRAFT SD-1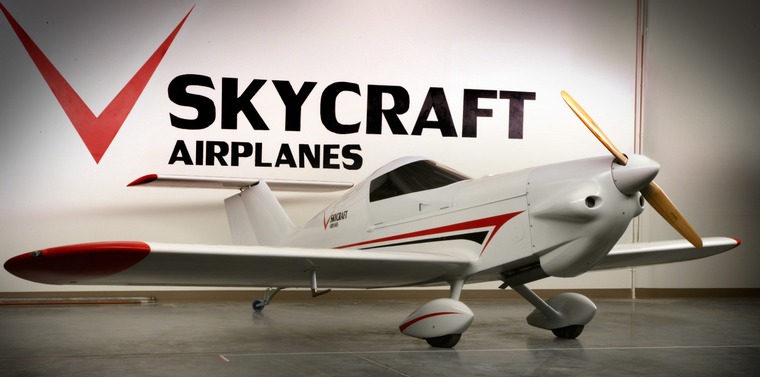 The SD-1 Minisport is the product of 7 years of design in the Czech Republic. The airframe uses simple, time-tested design principles that maximize strength while minimizing weight. The primary materials used in the construction of the airframe are wood and carbon fibre. Together these create an efficient, lightweight aircraft capable of 60 mpg at an impressive cruise speed of 120 mph.
With the design and materials imported from the Czech Republic, our airplanes are then factory-built to ASTM standards on location in Orem, UT. Each plane then undergoes rigorous flight testing beyond what is required by the FAA and ASTM until the plane is ensured to be 100% safe for many years of flight.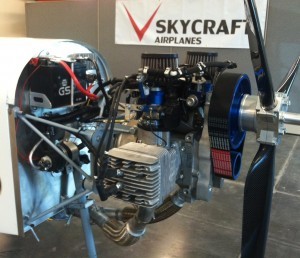 Powerplant

Dual Ignition, Fuel Injected Hirth F-23 (50 HP)
Dual Ignition, Fuel Injected Hirth F-23 (50 HP)
The SD-1is powered by the German-engineered Hirth F-23 Engine. This powerplant offers 50 horsepower along with dual ignition and fuel injection for added reliability and performance. Fuel injection has been shown to drastically reduce the possibility of engine icing, which is the leading cause of engine failure in General Aviation. It is designed to handle high elevation and extreme temperatures. The Hirth F-23 has a 1,000 TBO, making its operational engine overhaul costs just $4 an hour. This, combined with the 1.8 gph fuel burn of the engine, makes the airplane's total hourly operational cost just $12 an hour. The tri-blade propeller is built by the Czech company Sandera. It is composed of carbon fibre and has a ground adjustable pitch.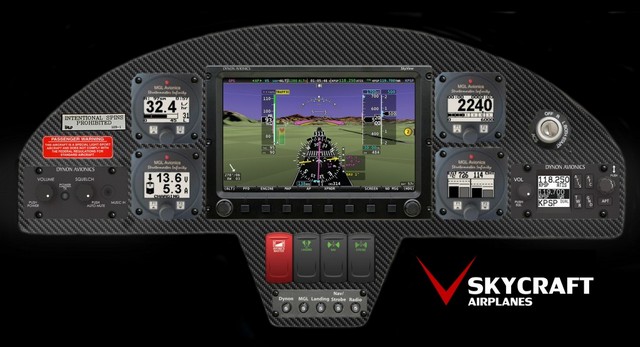 Avionics
The instrument panel on SkyCraft's SD-1 Minisport is fully equipped with top-of-the-line technology. The panel's 7? Dynon SkyView Glass Display provides GPS, Synthetic Flight, and Collision Avoidance. The fuel management system uses electronic sensors that measure fuel flow into the engine, ensuring a precise reading which cannot be achieved with conventional float gauges. A Dynon COM Radio is standard in each aircraft with 2 channel monitoring and GPS-based frequency that automatically dials into the nearest airport's frequency. An auxiliary port is included so you can listen to your iPod without interfering with radio communications. The tachometer, heat gauges, and power management systems are all equipped with audio warnings whenever operation levels are unsafe. All of the instruments are lighted for night-time flying.
Safety
The safety features on the SD-1 make it reasonable choice for pilots of all experience levels. The fuel injected engine drastically reduces the possibility of engine icing, which is the leading cause of engine failure in general aviation. The dihedral wings provide positive stability control, making for a forgiving flight experience suitable for beginner pilots. Our Dynon system is backed up with a two hour power supply, ensuring the availability of instruments in the event of an electrical failure. An Emergency Locator Transmitter is hard-mounted inside of the plane, and will automatically relay your location along with a distress signal in the event of an accident. The optional ballistic parachute can be pulled anywhere above an altitude of 500 feet, and will gently drop the airplane level with the ground at 7 feet/second.
Features

Removable Wings | 10 minute wing attachment process.
Integrated Dynon COM Radio | 2 channel monitoring, GPS-based frequency, auxiliary outlet.
All-Digital Panel | Audible warnings on tachometer and heat gauges when aircraft reaches unsafe operation.
Fuel and Power Management Systems | Precise fuel measurements with range and time to bingo. Audible warning on Power Management System.
Emergency Locator Transmitter | Hard-mounted to fuselage.
Navigation and Landing Lights | Night-VFR Approved.
Genuine Leather Interior | For supreme comfort.
Customizable Features:


Tailwheel or Tri-gear Configurations | Whichever fits your preference.
Optional Mode S Transponder | Needed for operation in Class B or C airspace.
Optional Ballistic Parachute | For additional safety.
Optional Custom Aircraft Trailer | For easy aircraft storage and transportation.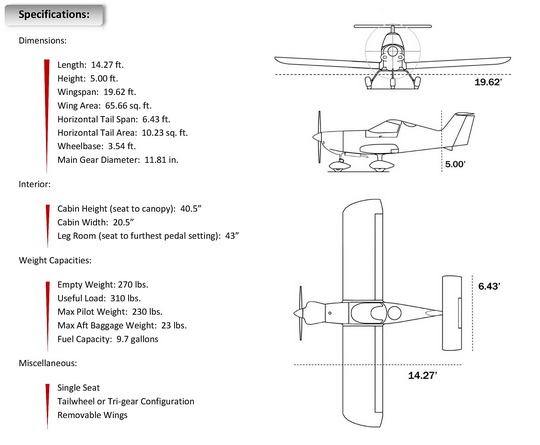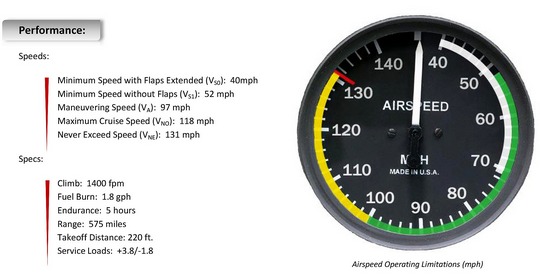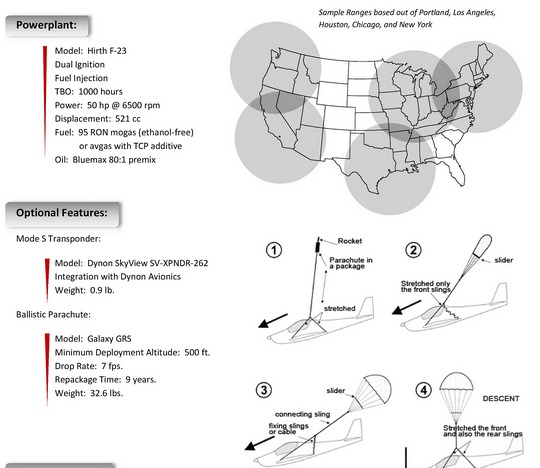 5
Ka-62, first Russian helicopter created as international collaboration, to be presented at MAKS 2013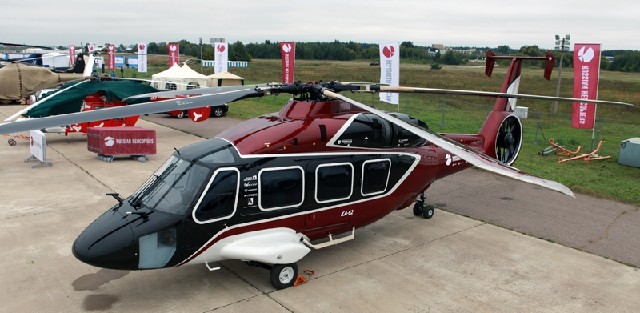 Moscow / 26 August 2013 - Russian Helicopters, a subsidiary of Oboronprom, part of State Corporation Rostec and a leading global designer and manufacturer of helicopters, will present the first prototype of the new medium multirole Ka-62 at the MAKS International Aviation & Space Salon, which gets underway on August 27 in the Moscow Region town of Zhukovsky. The helicopter was built at the Company's manufacturing plant in the town of Arsenyev in Russia's Far East, and has already arrived at the Gromov Flight Research and Development Institute aerodrome, where it will be based before taking part in the exhibition as part of Russian Helicopters' static display.
The Ka-62 is the first helicopter that Russian Helicopters has created in international co-operation with European partners who worked on individual components. The Ka-62 is fitted with the latest Ardiden 3G engines made by France's Turbomeca, which meet the highest environmental and fuel-efficiency standards. The engines' dual-channel FADEC system ensures reliability and ease of operation.
Another French company, Zodiac Aerospace, a global leader in aviation systems, has supplied the helicopter's fuel system. In addition, the transmission has been made by Austrian firm Zoerkler, which has many years' experience and the advanced technologies necessary to engineer high-precision drives and gears.
The Ka-62 is equipped with the latest avionics system including a glass cockpit developed by Russian company Transas and a navigation system that supports GPS and GLONASS. In future it may also add support for Galileo, the satellite navigation system being developed by the EU and European Space Agency in collaboration with China, Israel, South Korea, Ukraine and Russia.
The first customer for the Ka-62 is Brazilian company Atlas Taxi Aereo, which has placed an order for seven of the helicopters. The first consignment is planned to be used in offshore work for Brazilian national oil company Petrobras.
6



CHINESE MILITARY AIRCRAFT, THE H-5 HONGZHA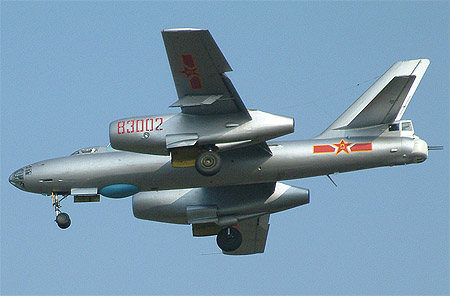 The H-5 (Hongzha-5, or Hong-5) is a Chinese copy of the Soviet Union/Russian IL-28 (NATO codename: Beagle) twin-engine jet bomber aircraft first introduced in the Soviet Air Force in the late 1940s. China obtained several hundred examples of the IL-28 in the 1950s during the honeymoon period of the Sino-Soviet ally. A licensed production of the aircraft in China was scheduled but the project could not be materialised due to the breaking up of the Sino-Soviet relation in 1960. As a result, Harbin Aircraft Factory (now Harbin Aircraft Manufacturing Company, HAMC) was ordered to produce a Chinese version of the IL-28 by reverse-engineering.
The development of the Chinese copy of the IL-28 began in 1963 and the aircraft received a Chinese designation H-5. The aircraft first flew on 25 September 1966 and the batch production began in April 1967. By the time the H-5 production finally stopped in 1984, a total of several hundred examples were produced in a range of variants, including H-5 bomber, H-5 naval (torpedo) bomber, HJ-5 bomber-trainer, H-5A nuclear weapon carrier, HZ-5 photo reconnaissance aircraft, HD-5 electronic warfare aircraft, and 'Eagle' anti-ship missile test bed.
The PLA Air Force (PLAAF) and PLA Naval Aviation retired most their H-5 bombers in the late 1990s, though a small number remained flying after 2000 for few years before being completely withdrawn from service. As well as serving with the PLA, 14 examples in the H-5 bomber, HJ-5 bomber-trainer and HZ-5 reconnaissance variants were also exported to Romania, making it the only country apart from China to be operating both IL-28 and H-5.
The H-5 has high-mounted wings with a straight leading edge and forward-tapered trailing edge with blunt tips. Two turbojets are mounted beneath the wings in pods. Pods extend beyond wings leading and trailing edges. The fuselage is tubular and cigar-shaped tapering to the rear with a rounded, glassed-in nose and bubble canopy. The tail fin is swept-back and tapered with a blunt tip. Flats are low-mounted on the fin, swept-back, and tapered with blunt tips. A glassed-in tail gunner compartment is to the rear of the tail.
The aircraft's fixed weapons include two single-barrel 23mm cannons in the nose and a twin-barrel 23mm cannon mounted in the tail turret, with a total of 650 rounds. The fuselage weapon bay can carry up to 3,000kg (4 X 500kg or 12 X 250kg) free-fall bombs or torpedoes. Additional weapon payload (bombs or rocket launchers) can be carried on the eight under-wing stations. Avionics includes an autopilot, bombing radar, IFF, and radio communication and navigation equipment.
The basic bomber variant has a crew of three: pilot, navigator, and radio operator seated in the main cockpit, the front glass-in nose compartment, and the tail compartment respectively. The bomber-trainer variant HJ-5 has two pilot cockpits but with the nose and tail compartments removed. In the electronic warfare variant, the radio operator in the tail compartment was replaced by an equipment operator. The aircraft is powered by two Wopen-5A turbojets, each rated at 26.48kN (2,700kg).
Pilot's Post now average more than 1,000 hits per day and with advertising packages of R500, R1,000, R1,500 and R2,000 per month and classified adverts at R290 makes it the most cost effective way to reach your target market. For more information phone Willie on 082 442 8815 or E-mail willieb@pilotspost.com