EAA to Sud Aviation


On Thursday afternoon, 22 August, Aerosud's Rob Jonkers invited EAA to join the Aeronautical Society at their premises adjacent to SAAF Waterkloof for a presentation by Nigel Hopkins on his personal approach to aerobatics. Nigel was delayed at SAA due to a selection board he was running and arrived a little later than the advertised starting time. This was a bonus as the audience was treated to the latest developments in the Aerosud AHRLAC project.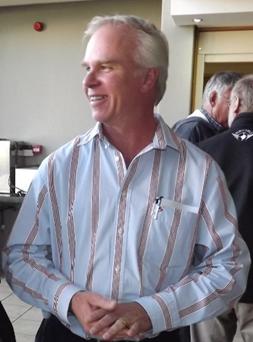 Rob Jonkers

The presentation was led by Paul Potgieter and the Aerosud aerodynamicist Gus Brown. The AHRLAC prototype wing has now been tested to 4.5G and the major airframe components have been removed from the jigs. The incredible accuracy of the build resulted in a difference in wing bend over 12.5m of 0.3mm. We were treated to a close-up inspection of the aircraft, but photos were not permitted. Aerosud is a centre of excellence that all South Africans can justly be proud of.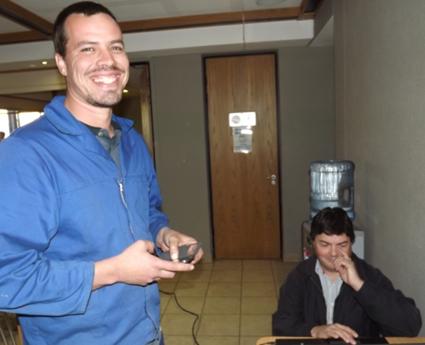 Paul Potgieter and Gus Brown (seated)

When Nigel Hopkins arrived, he showed a personal inflight video of advanced formation aerobatics in a pair of MX2's and explained to an awestruck audience the physiology of an aerobatic pilot during manoeuvres that change from -5 to +10G's in a heartbeat. The explanation of the design of aerobatic sequences and the safety margins is scientific with entry gates that are never exceeded. Nigel is A320/319 Chief Training Captain in SAA and has an inside track which he shared with us on the Airbus Industry view and adaptation of altered standard operating procedures to try and prevent loss of control in unusual attitudes that might result from upsets such as thunderstorm and inadvertent severe turbulence penetration.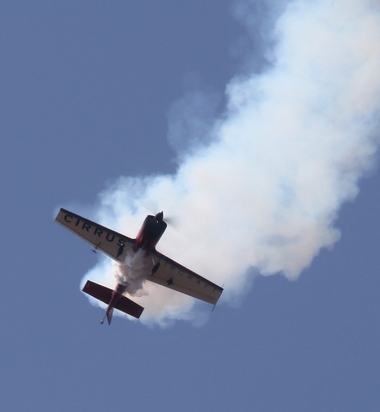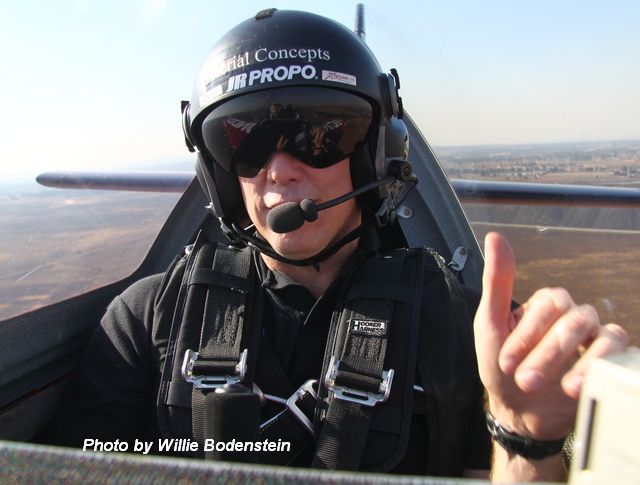 Nigel in his MX2

Simuflight Mandela Day EAA Young Eagles


To honour the Nelson Mandela Day pledges made by so many around the world on July 18, the SIMUFLIGHT Company in Centurion approached EAA to gather a dozen young people with an interest in aviation to experience a flight in certified flight simulators of a Beech 1900 and a Cessna 208 Caravan. 4 of the recruits were brought from the Twilight Shelter in Hillbrow. Others included 2 Grade 10 young ladies from Phagameng High in Modimole whose teacher Victoria Letoaba, personally drove them from Nylstroom for the afternoon and returned them home the same day - now that's dedication!

Simuflight's Chief Instructor, SAA A340 Captain, Hayden Tunmer and SIMUFLIGHT's Ruan van Zyl manned the simulators. Within 30 minutes Hayden had some of the lucky youngsters able to carry out a take-off, a flight around Table Mountain in Cape Town and a semblance of a survivable landing in the Caravan simulator. Joey Shulz, wife of SIMUFLIGHT's owner, provided a braai for everybody present. An investment in youth is an investment in the future - well done to all at Simuflight.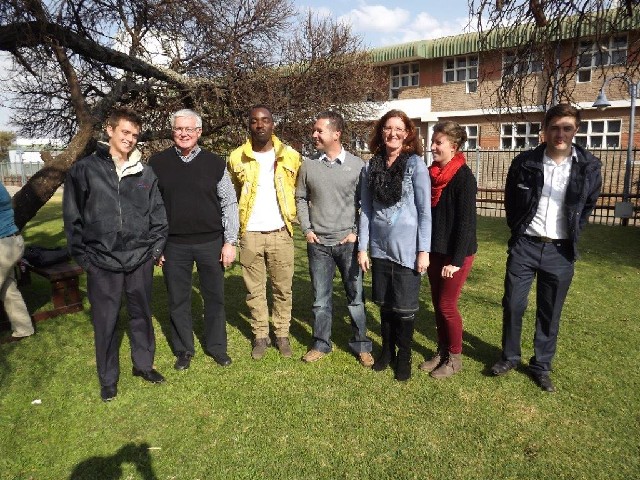 Ruaan van Zyl, EAA Young Eagle co-ordinator Dr Mike Brown, SAA F/O Moses Tashabalinganda, Capt Hayden Tunmer, Joey Shulz, Clair Schulz and Raymond Zambon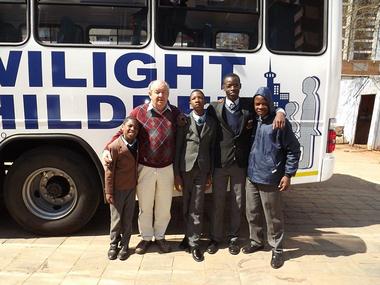 Karl Jensen and aspirant pilots from the Hillbrow Twilight Shelter………….. Natrinias Masinga & Xolane Sebiya In the Beech 1900 simulator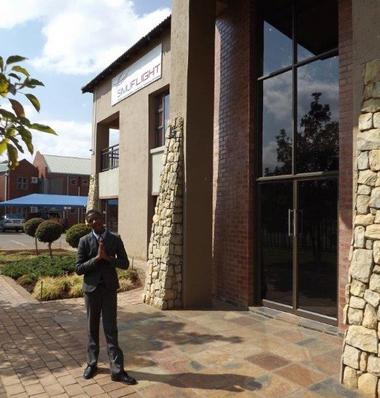 Karabo Phakedi at SIMUFLIGHT's entrance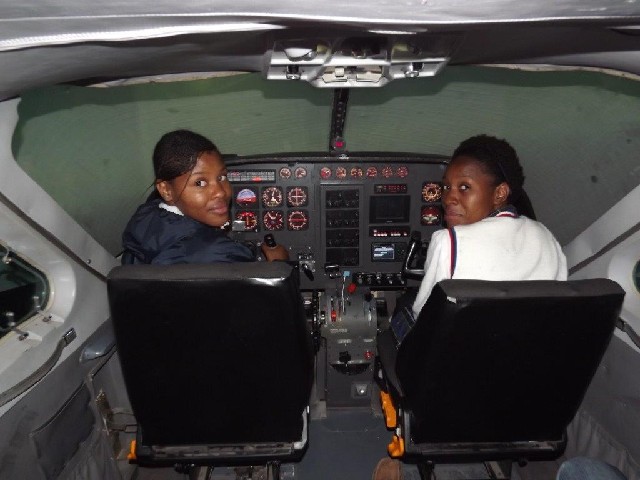 Paulina Sebopelo and Lebogang Maphosa from Modimole in SIMUFLIGHT's Caravan simulator

Warmbaths Falcons Flying Club Neil Armstrong Memorial Breakfast Fly-in


On Saturday 24, the Falcons Flying Club at Warmbaths held their 2nd annual Neil Armstrong Memorial Breakfast Fly-in to honour this aerospace engineer, naval aviator, test pilot, university professor, astronaut and first man to set foot on the moon in July 1969, who passed away on 25 August last year. Unfortunately the weather was appalling over Gauteng in the morning and this prevented many aviators from attending. Last year 68 aircraft attended compared to this year's disappointingly low 19 visiting aircraft. None the less, a delicious breakfast was served at this airfield that is so beautifully maintained by the enthusiastic handful of friendly and hospitable members.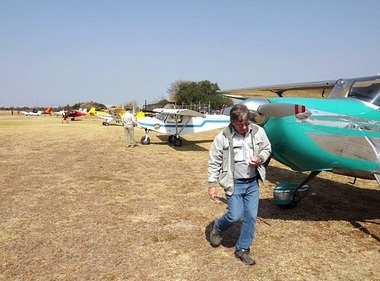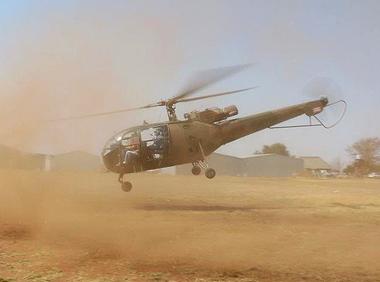 Visiting aircraft at Warmbaths……….. Hugo Visser from Petit's Alouette III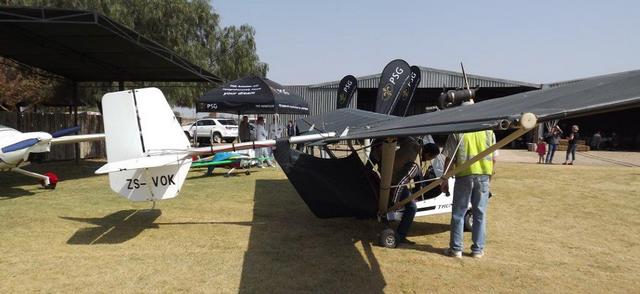 A local Thunderbird with a strange registration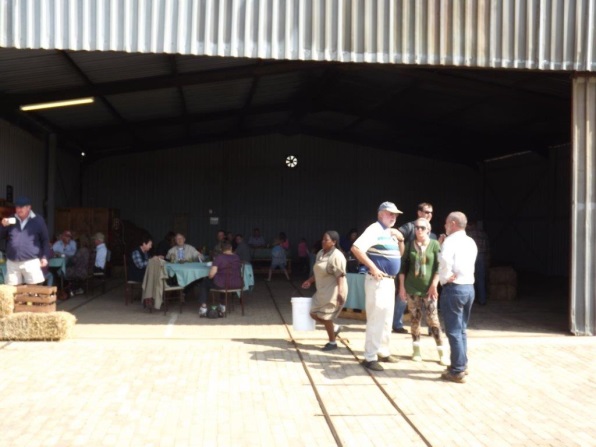 The Warmbaths airfield eating area

Warmbaths also known as Bela Bela is in flat countryside and this event is really worth attending. I will be back again next year.