THIS WEEK IN MIDWEEK UPDATE

1 Weekend events.
2 Forthcoming events.
3 Captain's Log, a review of the month that was.
4 JetCraft corporation to acquire ExecuJet Aircraft Trading
5 Russian Helicopters announces certification of commercial Ansat
6 Chinese military aircraft, the Shenyang J-11
7 Bethlem Flying Club save the rhino project
1
WHAT'S HAPPENING THIS WEEKEND?


2 to 15 September: World Precision Championships - Germany: Contact Mary de Klerk e-mail: maryd@expandingbranding.co.za or got to: www.sapfa.org.za
7 September: Zandspruit Bush and Aero Estate airshow - Hoedspruit . Contact Martin den Dunnen 015 793 1192 info@zandspruit.co.za
07 Sept 2013: Rustenburg (FARG) Breakfast Fly In. All types of aircraft are welcome. There will be a surprise for visiting aircraft on the day:
8 September: The Vryheid Wings Club invites aviators to a free fly-in breakfast.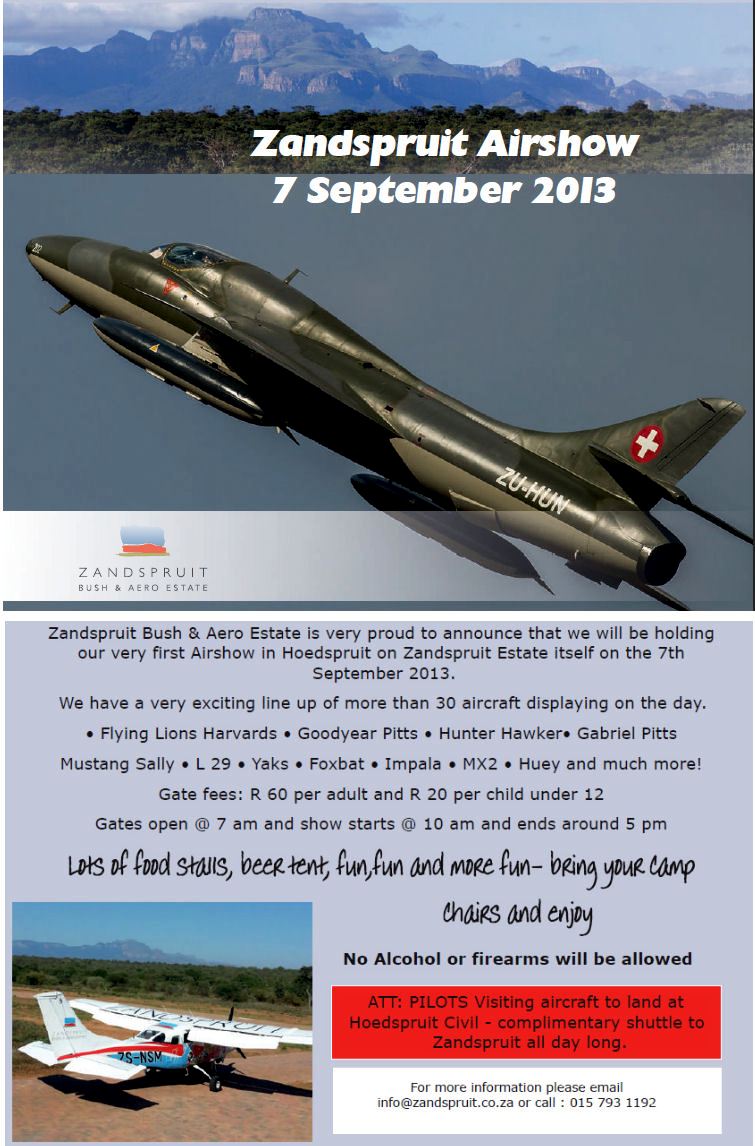 2
SAVE THE DATES


14 September: The Coves - George Brink Memorial Fly In. Frequency: 125.80
Coordinates: S25 46.6 E027 47.6
28 & 29 September: Sport Aerobatics Cape Regionals - Mossel Bay Contact Annie Boon e-mail: chunge@mweb.co.za
29 September (Sunday): Grand Rand airshow - One of the finest on the annual calendar. Contact Carolyn Naude 011 827 8884 e-mail:
carolyn@randairport.co.za
5 October: Fun Rally, Grand Central. Mary de Klerk. For more information go to: www.sapfa.org.za or contact Mary de Klerk e-mail: maryd@expandingbranding.co.za
12 October: Secunda Airshow. Contact Leon le Roux 017 634 4925
12 October: TMG (Touring Motor Glider) Fly in Parys. Contact Marietjie van Niekerk 082 765 6670
2 November: Aero Club of South Africa annual awards ceremony at the Wanderers Club. Contact Sandra Strydom 011 082 1100 e-mail:
membership@aeroclub.org.za
26 October: Ladysmith Flying Club is looking at hosting a breakfast at the Ladysmith Airport. Contact Shane 071 190 9149
9 November: SAPFA Fun Rally Brits airfield: For more information go to:
www.sapfa.org.za
or contact Mary de Klerk e-mail: maryd@expandingbranding.co.za
8 to 10 November: EAA Sun 'n Fun Chapter 1503 Tempe Airfield Bloemfontein
Contact: Jack Onderstall 082 770 5505 e-mail: jack@cp.bftn.co.za
15 to 17 November: Mafikeng fly-in and hangar dance. For more information
E-mail: info@mafikeng-flyingclub.co.za or contact Connie Conradie 082 449 1546
30 November to 1 December: Sport Aerobatics ACE of Base - Baragwanath airfield. Contact Annie Boon e-mail: chunge@mweb.co.za
7 & 8 December: Wings and Wheels airshow at AFB Ysterplaat - Cape Town Contact Chris Teale e-mail:
chris@ysterplaat.org.za
UPCOMING FLIGHTS ON SPRINGBOK CLASSIC AIR'S DC-3 (ZS-NTE)
20 Minute Scenic Flights over Johannesburg

24 September - flights from 10:00. ZS-NTE is turning 70 on this day.
28 September 10:00 (the day before the Rand Airshow)
26 October 2013 at 10:00
Route:
We depart from Hangar 5 at Rand Airport, take off and fly in a westerly direction, passing to the south of Johannesburg CBD. We then turn above Gold Reef City and head in a northerly direction with Soccer City on our left. We cross over Northcliff Ridge and then turn east, to the south of North Gate Dome, and pass to the south of Monte Casino. Then we turn south, opposite Megawatt Park, passing east of Sandton City and across Wanderers and Ellis Park before returning to Rand Airport.
R450.00 per person
The flight will only take place provided ALL seats are sold.

For more information call 011 824 2142 or send an email to
info@springbokclassicair.co.za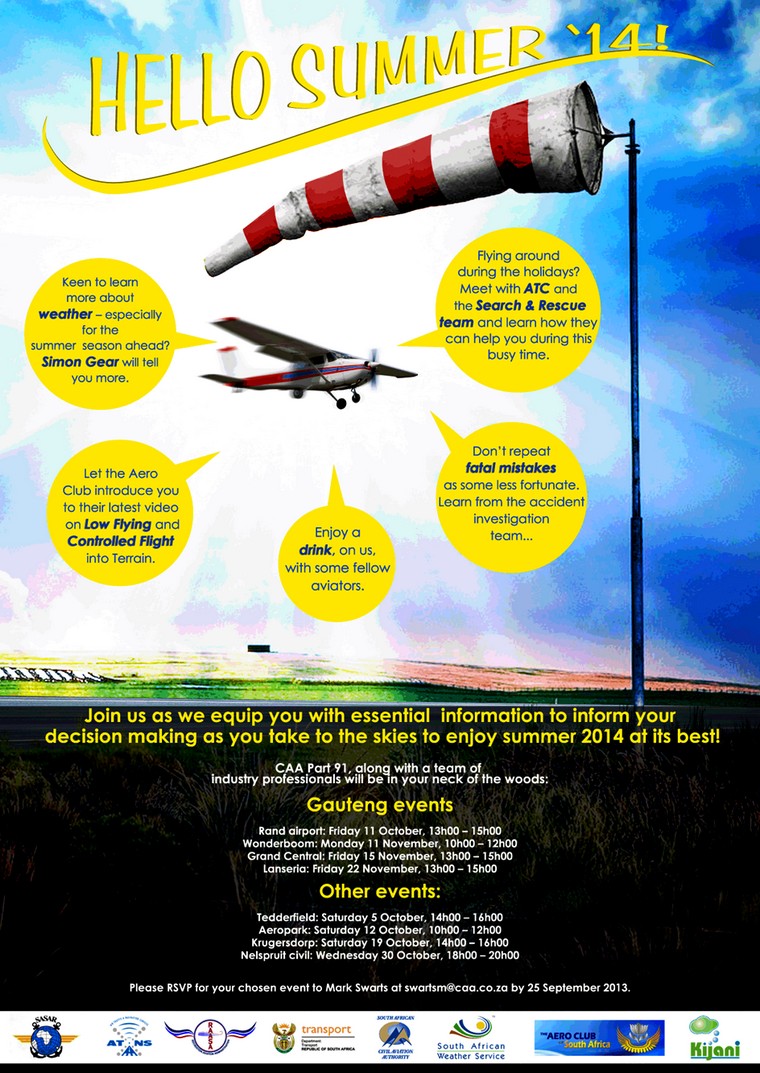 For the full 2013 calendar go to events calendar.
3


Willie Bodenstein
After an absence of some months our monthly Captain's Log is back and will from now on be a regular feature in the first midweek update of each month.
In August Pilot's Post reached its 18th month of continues publication and now average more than 40,000 views per month. During August a total of 40,776 visited our website. In the last six months we have introduced our Midweek Update to present up to date local as well as international news and this month redesigned our home page to give our E-magazine a fresher and more user friendly look. We would love to hear what you think of our new look. We will soon, where possible also bring you a video report on a featured airshow or event.
Our most popular articles during August were our daily reports from the world's biggest aviation event, the annual EAA of America's Convention and Fly in at Oshkosh. Chris Kyle's Training Track and Johan Lotterings articles on flight safety have built up a loyal following as has the EAA of SA's monthly newsletter, Contact. Global Aviation Consultants monthly newsletter is filled with information on aviation in Africa and reports on safety issues that will interest all aviators. It also carries a full report on incidents and accidents from all over the continent.
We thank you our readers for your loyalty and our advertisers for their support without which the publication of Pilot's Post would not be possible. Our advertising packages of R500, R1, 000, R1, 500 and R2, 000 per month and classified adverts at R290 makes it the most cost effective way to reach your target market.
Oshkosh 2013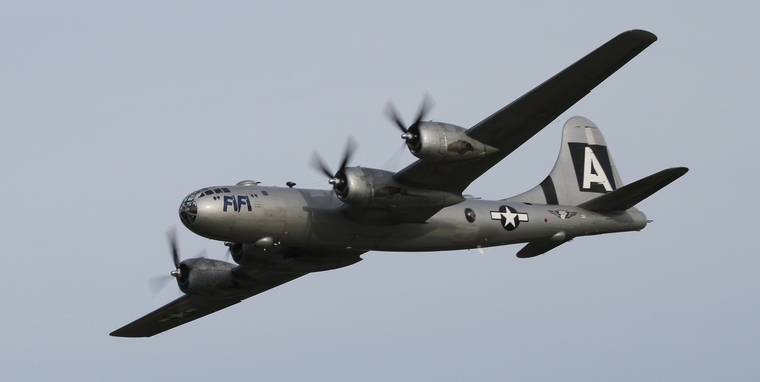 4
JETCRAFT CORPORATION TO ACQUIRE EXECUJET AIRCRAFT TRADING


Absorption by Jetcraft, effective immediately, creates world's largest business aircraft brokerage company
Jetcraft Corporation, an international leader in new and pre-owned business aircraft sales, acquisitions and trades, today announced the acquisition of the aircraft brokerage activities of ExecuJet Aviation Group of Zurich Switzerland, the business aircraft sales division of ExecuJet Aviation Group.
The coming together of two of the industry's best sales teams will immediately benefit Jetcraft and ExecuJet clients by offering the largest selection of quality new and pre-owned business aircraft from around the globe. The new, combined Jetcraft sales force includes 20 senior sales executives plus another nearly 20 sales, technical and marketing support staff located in offices worldwide. Chad Anderson will remain President of Jetcraft and Andrew Hoy, formerly Managing Director, ExecuJet Aircraft Trading, will oversee sales in Europe, Africa and the Middle East. The rest of each company's sales team will remain in-place to create an unmatched sales network, serving clients globally. Aircraft sales listings of both companies will be immediately co-marketed with full administrative integration to be completed within six months.
"We are proud to announce that we are joining forces with EAT, which now makes us the largest business aviation brokerage company in the world," says Chad Anderson, President, Jetcraft Corporation. "With our new and bigger sales force, expanded global reach, and collective wealth of experience, we will be able to serve an even greater number of clients while still offering an unmatched transaction creativity and capability globally. This expansion is a natural evolution for us. These two successful companies fit together exceptionally well due, in large part, to our shared corporate cultures focused on customer service, integrity and teamwork. By uniting our sales teams, we will approximately double the marketing power we offer our clients."
"On behalf of ExecuJet, I would like to thank Andrew Hoy and his sales team for their dedicated years of service and exceptional sales success," continues Niall Olver, CEO, ExecuJet Aviation Group. "This deal is a win-win for all involved, most importantly - the client. ExecuJet's roots are in aircraft sales and our experience told us that this was an exceptional fit of exceptional sales professionals. The new team will offer unprecedented service to business aircraft buyers and sellers worldwide. ExecuJet now looks positively forward to concentrating on being the world leader in offering aircraft owners and operators a diverse range of value added services including FBO, MRO, completions and aircraft management."
"We are pleased to be joining forces with the Jetcraft team," adds Andrew Hoy, Managing Director, ExecuJet Aircraft Trading "We both share long and successful industry track records and, more importantly, we are united by the core values of customer service, a team approach to sales, and a complete commitment to integrity. Together, we will be able to offer a truly unique level of service to our existing and prospective clients with greater resources and access to a considerably larger inventory of business aircraft. Our current clients will immediately benefit from integration with Jetcraft, and we will ensure the transition is seamless."
5
RUSSIAN HELICOPTERS ANNOUNCES CERTIFICATION OF COMMERCIAL ANSAT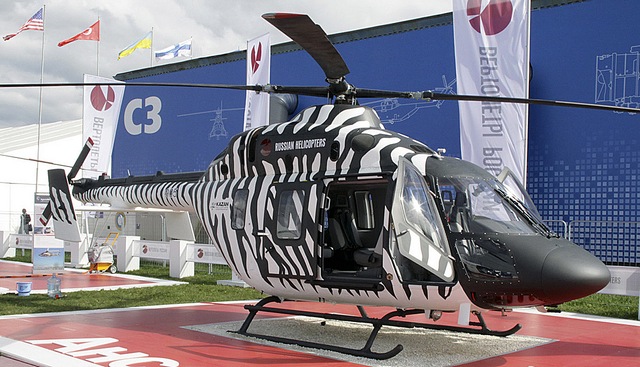 Moscow / 28 August 2013 - Russian Helicopters, a subsidiary of Oboronprom, part of State Corporation Rostec, announces that the light multirole commercial Ansat with hydro-mechanical controls produced by Kazan Helicopters has obtained type certification from the Aviation Register of the Interstate Aviation Committee (AR IAC).
The certificate was presented at an official ceremony at the MAKS 2013 International Aviation and Space Salon, and was attended by officials from the Russian Industry and Trade Ministry, the IAC, Russian Helicopters and Kazan Helicopters. The certificate confirms that the Ansat meets aviation regulations and can enter commercial operation.
Kazan Helicopters, the Russian Helicopters company that designed and produces the Ansat, began work on certification of the commercial hydro-mechanical version of the helicopter in 2011. Previously Kazan Helicopters produced a fly-by-wire version of the Ansat; however, no commercial fly-by-wire helicopter had obtained certification anywhere in the world, and there were no established requirements for such a helicopter. To bring the helicopter to market more quickly it was decided to adjust the Ansat programme accordingly by switching to a traditional hydro-mechanical system. The helicopter retains the same take-off weight and technical parameters with the new controls.
"We decided to bring a helicopter with a traditional control system to the global market so as to avoid being dependent on certification of the fly-by-wire Ansat," said Kazan Helicopters CEO Vadim Ligai. "Certification of the hydro-mechanical Ansat is an important achievement for Russian industry as a whole and for the helicopter sector in particular."
Experts say that the modernized Ansat has a number of important competitive advantages over other models in its class. It is reliable and easy to operate, can tolerate a wide range of climates and temperatures, and is suitable for outdoor storage. Russian Helicopters has already demonstrated the new Ansat in key markets including the CIS, South-East Asia, Africa and Latin America.
The fly-by-wire Ansat programme continues to make successful progress in the military sector. The Russian Defence Ministry is buying the Ansat-U training model for its flight-training schools. Institutes of the Russian Air Force's Military Training Centre will also receive a consignment of Ansat-Us in November 2013 under the current contract.
6



CHINESE MILITARY AIRCRAFT THE SHENYANG J-11 (JIANJI-11 OR JIAN-11)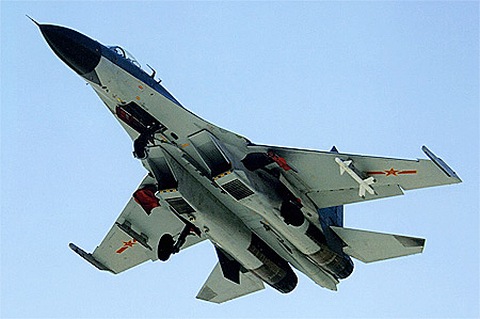 The Shenyang J-11 (Jianji-11 or Jian-11) is the Chinese copy of the Sukhoi Su-27 (NATo reporting name: Flanker) air-superiority fighter built by the Shenyang Aircraft Corporation (SAC). The basic variant J-11, built using Russian-supplied kits, is identical to the Su-27SK. The "indigenised" multirole variant J-11B was based on the Su-27SK/J-11 airframe, but fitted with Chinese-built avionics and weapon suite. Future productions of the J-11 will also be powered by the indigenous FWS-10A 'Taihang' turbofan jet engine.
In 1992, China became the first non-CIS country to operate the Sukhoi Su-27 fighter. In 1995, Russian agreed in principle to allow the PRC to build the Su-27SK single-seat fighter locally under license. In 1996, Sukhoi Company (JSC) and SAC entered into a contract worth US$2.5 billion for the co-production of 200 Su-27SK fighters as the J-11. Under the terms of the agreement, Sukhoi/KnAAPO would supply the aircraft in kit form to be assembled in SAC. It was reported that Russia also agreed to help the PRC gradually increase the portion of Chinese-made content on the J-11, so that SAC could eventually produce the aircraft independently.
The first kit-built J-11 rolled out in December 1998, but the full-scale production did not commence until 2000 due to technical problems. Russian sources confirmed that 48 aircraft had been produced by 2002, and another 48 between 2002 and 2003. However, SAC hinted as early as 2000 that not all 200 J-11s would be built. In November 2004, Russian media reported that the J-11 production had stopped after about 100 examples were built. According to the report, the Chinese side had requested Sukhoi Company to stop deliveries of the assembly kits. The report citing a source within the PLAAF suggested that the basic variant Su-27SK/J-11 no longer met the PLAAF requirements.
A number of reasons may have contributed to the stop of the J-11 production. Firstly, the co-production agreement did not include the transfer of avionics and engine technologies, and the Chinese-built J-11 would have to continue relying on the Russian supply of these systems. Secondly, the Russian-made fire-control system on the J-11 is not compatible with the Chinese missiles. As a result, the PLAAF had to import additional R-27 (AA-10) MRAAM and R-73 (AA-11) SRAAM from Russia to support the operations of its J-11s. Thirdly, as a single mission air superiority fighter, the Su-27SK/J-11 could only perform secondary attack missions, and only with "dumb" munitions that include a range of free-fall bombs and unguided rockets.
Sukhoi Company JSC actively marketed its Su-27SKM to the PRC in 2003. The Su-27SKM was a modernised multi-role variant derived from the Su-27SK, but with an improved Zhuk-27 (or N001VEP on the later variant) fire-control radar, and an upgraded cockpit featuring multifunctional displays similar to that of the Su-30MK. However, the aircraft was rejected by the PLAAF in favour of an 'indigenised' variant of the J-11.
7



BETHLEM FLYING CLUB SAVE THE RHINO PROJECT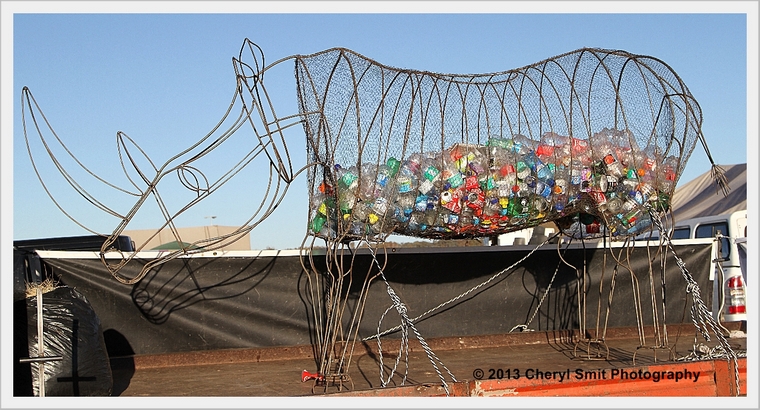 The Bethlehem Flying Club invited schools in the Bethlehem area to participate in building projects for the "Save the Rhino" and also for "4 Paws". Primary schools were invited to build out of any material a life size, any one of the cat family, and the Secondary schools were asked to build out of any material a life size rhino. The projects were exhibited during the Club's Airshow that was held on the 31 August 2013.
Schools participate for prize money of R 5 000-00 and an additional R 5 000-00 prize for the project making the most money at the auction.
The project pictured is the work of pupils at Voortrekker High School in Bethlehem and will be kept at the participating school until the date is finalized and the auction is finished.
We would like to take our project now nationally to make more money for the organization "Safe the Rhino". Any person who would like to have more information on the project can contact Hennie Labuschagne on 0845811890.
Pilot's Post now average more than 1,000 hits per day and with advertising packages of R500, R1,000, R1,500 and R2,000 per month and classified adverts at R290 makes it the most cost effective way to reach your target market. For more information phone Willie on 082 442 8815 or E-mail willieb@pilotspost.com