THIS WEEK IN MIDWEEK UPDATE

1 Weekend events.
2 Forthcoming events.
3 PSG Aviation
4 DENEL poised to grow its role in the aerospace industry
5 DENEL launches new space engineering unit
6 Aeronav Academy
7 Chinese military aircraft, the
H-6 (Hongzha-6 or Hong-6)
8
The SACAA records historical transformation success
9 Advertising Rate card
1
WHAT'S HAPPENING THIS WEEKEND?

29 September (Sunday): Grand Rand airshow - One of the finest on the annual calendar. Contact Carolyn Naude 011 827 8884 e-mail:
carolyn@randairport.co.za
28 & 29 September: Sport Aerobatics Cape Regionals - Mossel Bay Contact Annie Boon e-mail: chunge@mweb.co.za
2
SAVE THE DATES

5 October: Fun Rally, Grand Central. Mary de Klerk. For more information go to: www.sapfa.org.za or contact Mary de Klerk e-mail: maryd@expandingbranding.co.za
12 October: Secunda Airshow. Contact Leon le Roux 017 634 4925
12 October: TMG (Touring Motor Glider) Fly in Parys. Contact Marietjie van Niekerk 082 765 6670
11 & 12 October: Lichtenburg Fly In. Contact Danie van Heerden on 082 509 9705
13 October. Aerobatic Fun Fly in.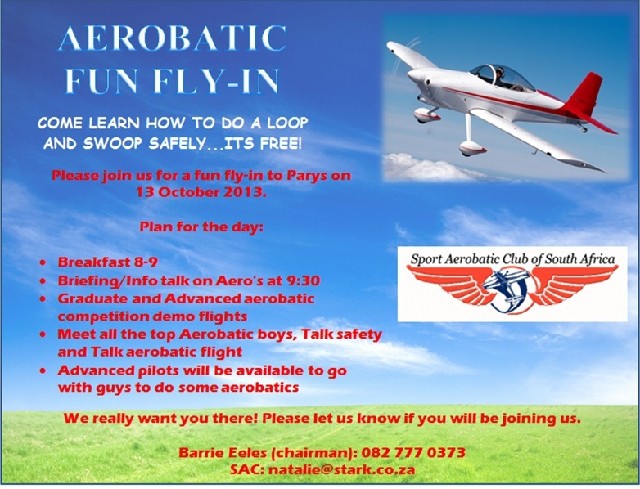 13 October: Cub day at Baragwanath. Owners of Cubs, Supercubs, Cubbies and similar vintage aircraft are all invited. Entries open online to Cub-types until 28 September (thereafter entries open to other aircraft types)
. For further details, please contact cwatson@stithian.com
26th October: We are planning a RV/Warbird/Radial fly-in for the at Stellenbosch! We are busy coming up with some ideas to make sure it will be a good turn out that could include some judging with prizes up for grabs. It could very well spin off into a mini air show too. I will keep you in the loop but everyone can defiantly save the date in the meanwhile!
2 November: Aero Club of South Africa annual awards ceremony at the Wanderers Club. Contact Sandra Strydom 011 082 1100 e-mail:
membership@aeroclub.org.za
9 November: EAA Chapter 322 Peter Hengst Memorial and Breakfast Fly-in to Brits. Contact Doug Norval douglas@the-it-guy.co.za
26 October: Ladysmith Flying Club is looking at hosting a breakfast at the Ladysmith Airport. Contact Shane 071 190 9149
9 November: SAPFA Fun Rally Brits airfield: For more information go to:
www.sapfa.org.za
or contact Mary de Klerk e-mail: maryd@expandingbranding.co.za
8 to 10 November: EAA Sun 'n Fun Chapter 1503 Tempe Airfield Bloemfontein
Contact: Jack Onderstall 082 770 5505 e-mail: jack@cp.bftn.co.za
15 to 17 November: Mafikeng fly-in and hangar dance. For more information
E-mail: info@mafikeng-flyingclub.co.za or contact Connie Conradie 082 449 1546
30 November to 1 December: Sport Aerobatics ACE of Base - Baragwanath airfield. Contact Annie Boon e-mail: chunge@mweb.co.za
7 & 8 December: Wings and Wheels airshow at AFB Ysterplaat - Cape Town Contact Chris Teale e-mail:
chris@ysterplaat.org.za
UPCOMING FLIGHTS ON SPRINGBOK CLASSIC AIR'S DC-3 (ZS-NTE)
20 Minute Scenic Flights over Johannesburg

28 September 10:00 (the day before the Rand Airshow)
26 October 2013 at 10:00
Route:
We depart from Hangar 5 at Rand Airport, take off and fly in a westerly direction, passing to the south of Johannesburg CBD. We then turn above Gold Reef City and head in a northerly direction with Soccer City on our left. We cross over Northcliff Ridge and then turn east, to the south of North Gate Dome, and pass to the south of Monte Casino. Then we turn south, opposite Megawatt Park, passing east of Sandton City and across Wanderers and Ellis Park before returning to Rand Airport.
R450.00 per person
The flight will only take place provided ALL seats are sold.

For more information call 011 824 2142 or send an email to
info@springbokclassicair.co.za

For the full 2013 calendar go to events calendar.

3



PSG AVIATION





For the past couple of years, PSG has been closely involved with the aviation industry. Currently, a team of specialised aviation insurance brokers, with more than 50 years combined insurance experience, provides aviation insurance services to more than 480 aircraft owners. Our office works closely with various insurers in the local underwriters market that specialise in aviation insurance, as well as with Lloyds of London. Our client base stretches from South Africa to Botswana and Zambia to the DRC.
In addition to your aviation insurance needs, our company can also accommodate your other insurance needs, both locally and internationally and we will ensure that you enjoy the most comprehensive cover at the most competitive price. We are also committed to the effective settlements of claims.
Tjaart van der Walt, who is qualified to deal with matters relating to Aviation, will assist you with your Aviation insurance needs. Another member of our team, Reon Wiese, is also a pilot who clearly understands Aviation needs.
PSG Aviation is under new management, with Riana Wiese as the Chief Executive Officer. PSG Aviation forms part of the PSG Konsult Group - a listed company with more than 200 branches nationwide.
PSG has actively been supporting aviation events and has had a presence at the Bultfontein, All Days and Warmbaths Fly ins as well as at Nylstroom Taildraggers where they sponsored the pilot's breakfast and was also at the Zebula Airshow and the Krugersdorp Spotlandings.
Please feel free to discuss your insurance needs with us at any time, by contacting us.


4
DENEL POISED TO GROW ITS ROLE IN THE AEROSPACE INDUSTRY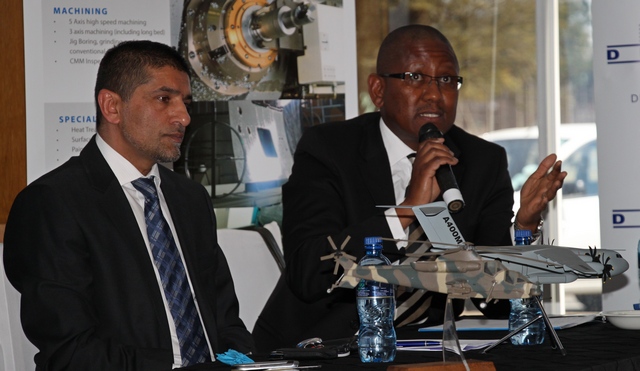 Government's commitment to grow this sector in terms of its industrial priorities will open new opportunities for the Denel Group as a defence and technology powerhouse to expand its reach.
Ismail Dockrat, the CEO of Denel Aerostructures, says the local aerospace sector is on the threshold of an exciting period of sustained growth. "Denel has proven capabilities developed over decades in the fields of aerospace design, industrialisation and manufacturing," he says. "Our Kempton Park campus can form the core of a future aerospace hub for Africa."
Mr Michael Kgobe, the CEO of Denel Aviation, says the development of an Aerotropolis - or airport city -- as envisaged by the Ekurhuleni Metro and the Gauteng provincial government will further stimulate growth in the aerospace industry. "Aerospace and aviation have strong multiplier effects on the surrounding economies. Each job in the industry creates at least four others downstream in the economy. It also generates growth in niche industries in the manufacturing sectors - many of them small and medium-sized enterprises - and strengthens the country's advanced technology capacity and human capital base," says Mr. Kgobe.
Mr. Dockrat says "targeted investment in the aerospace industry will inevitably lead to a surge in the advanced manufacturing sector of the country. This has immense potential to stimulate innovation, create employment and become a force for wealth creation.
Denel Aerostructures intends to be at the forefront of this new and exciting phase of South Africa's industrialisation process. Already the company is part of the global trend to use composite materials for high-tech manufacturing, moving away from metallic structures towards advanced materials which offer superior properties such as durability, hardness, elasticity and high strength-to-weight ratios. "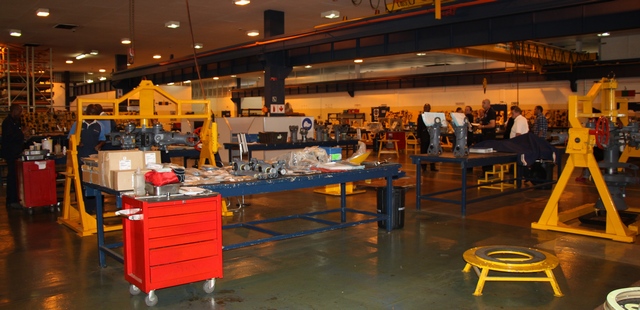 "As a proudly South African company we are committed to make a meaningful contribution to meet the country's national developmental priorities. Among these are skills and supplier development, growing the strategic technology base and creating skilled jobs that bring downstream benefits to broader society," he says.
Mr Kgobe says current trends indicate that the African aviation industry is going to grow in leaps and bounds over the next two decades. The expected increase in both the passenger and air freight sectors will be accompanied by a similar demand for world-class maintenance and repair services.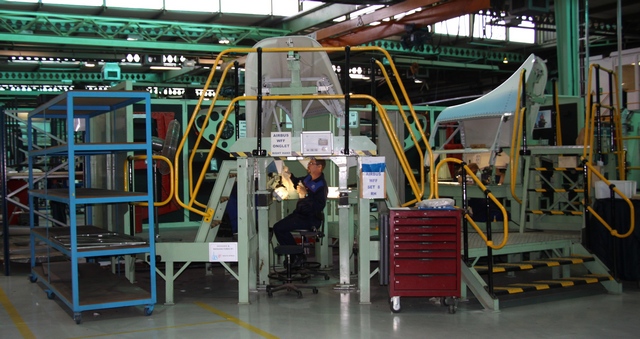 Denel Aviation - the company which designed and manufactured the Rooivalk combat support helicopter - is well-placed to provide maintenance, repair and overhaul (MRO) services to a wide range of helicopters and fixed wing aircraft flying in Africa.
"We have the skills, the know-how and the capacity to meet the aviation engineering needs of any country in Africa. We offer potential clients the benefits of distance, reduced costs, knowledge of local conditions and products that have been thoroughly tested in operational circumstances," says Mr Kgobe.
5
DENEL LAUNCHES NEW SPACE ENGINEERING UNIT

Riaz Saloojee, the Group Chief Executive Officer of Denel says Spaceteq will strengthen the group's position as a leader in innovative and advanced aerospace systems and technology.
Space has been identified as one of South Africa's "five grand challenges." The Departments of Science and Technology (DST) and Trade and Industry (DTI) have identified satellite production as a high-technology manufacturing niche that South Africa should be pursuing.
"Denel Spaceteq is well positioned to play a central role in this national strategy," says Mr. Saloojee.
The new company forms part of Denel Dynamics which has been exploring opportunities in satellite and space engineering in collaboration with the South African National Space Agency (SANSA) and the DST since 2011.
Berthold Alheit, General Manager of Denel Spaceteq says its first project is to develop a multispectral, high-resolution, earth observation satellite called EO-Sat1 for operation by SANSA by 2017. This satellite will be used in the areas of food security, urban planning and development, safety and security and support for disaster management.
Denel Spaceteq will represent South Africa at the 64th International Astronautical Congress (IAC) held in Beijing, China from 23 - 27 September 2013. The annual IAC's 2013 theme is: promoting space development for the benefit of mankind.
"While the space domain is a new frontier for the African continent and for Denel Spaceteq, the time is right to market South Africa's strong engineering capability and our culture of cooperation internationally," says Mr Alheit. "Spaceteq's capabilities can be applied to the advancement of solving difficult and large engineering problems in the space arena."
Denel Dynamics attended its first IAC in Cape Town in 2011 after teaming up with the Aerospace Industry Support Initiative (AISI) supported by the dti, and was involved in previous space programmes until 1996. It has a latent space capability, including key staff working for Denel on various programmes, as well as the Houwteq satellite test facility near Grabouw.
The high-end engineers and scientists absorbed by Denel from SunSpace brought with them capabilities of their own including the SunSat and Sumbandilasat programmes. EO-Sat1 will be based on the strong legacy inherited from the development of SumbandilaSat.
The benefit of a local Space industry will be far reaching. South Africa's access to, and control over, its own satellites will ensure advanced surveillance and reconnaissance capabilities. Retaining and developing technology and engineering skills within the country's borders will have a much broader national technological benefit and inspire young talent in the much needed fields of maths and science.
6



AERONAV ACADEMY



Aeronav Academy was established 35 years ago as an Aviation Training Academy providing ground school lectures to aspiring commercial pilots and was accredited by the South African Civil Aviation Authority as a Flight Training School in 2005. We operate a varied fleet of aircraft including Diamond DA20, Cessna 182's and a Diamond Twinstar Multi-engine. This allows us to accommodate training from the private pilot licence (PPL) through to the airline transport pilot licence (ATPL).
Over the years we have established ourselves as a reputable, highly skilled training academy and have recently branched out into a Flight Training School using modern, glass cockpit, composite aircraft.
Our aim is to provide our clients with safe, quality training in modern aircraft and a ground school staffed with highly qualified lecturers and specialists in their field. Whether you choose to fly just for pleasure as a Private Pilot or whether you wish to make aviation your career, we can provide you with an approved course tailored to your needs.
Aeronav offers flying and ground school training for the Private Pilot's Licence, Commercial Pilot Licence, Airline Transport Pilot Licence, Instructor Ratings, Twin Conversions, and Multi-engine Instrument Ratings in our new Diamond D42 Twinstar.
We can also offer hour building flying at extremely competitive prices on our fleet of aircraft.
Our team of flying instructors is dedicated to offering you exceptional standards of instruction and management will ensure that an excellent rapport between you and your instructor is established.
Our school is based at Lanseria International Airport, North of Johannesburg and in beautiful country surroundings. The airport has 4 runways and is equipped for precision and non-precision approaches plus approach lighting which is excellent for professional flight training. The airport and its environment are perfect for training from ab-initio through to commercial licence training. A controlled airspace provides the student with an excellent grounding in procedures and enables them to cope in any situation and not be intimidated by heavy traffic. The general flying area (flight training area) is in close proximity to the airport which saves the student time and money.

7
CHINESE MILITARY AIRCRAFT THE H-6 (Hongzha-6 or Hong-6)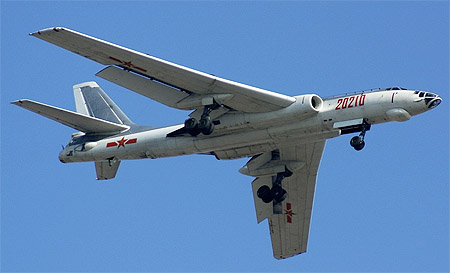 The H-6 (Hongzha-6 or Hong-6) is the Chinese copy of the Russian Tupolev Tu-16 (NATO codename: Badger) medium-range bomber. For more than three decades, the bomber has remained the backbone of the PLA's long-range strike fleet. Today, the PRC is the only country in the world that still deploys the Tu-16/H-6 in operational service, serving in a wide range of roles from nuclear and tactical bomber, to naval missile bomber, tanker, reconnaissance/electronic warfare, engine test bed, and cruise missile platform. The service life of this 40-year-old design in the PLA is expected to continue beyond the year 2015.
The PRC obtained the Tu-16 blueprint from the Soviet Union in 1959 and the Chinese-assembled Tu-16 using Soviet-supplied kits made its first flight in 1959. However, the indigenised version designated H-6A using Chinese-made engines and parts did not fly until 1968 due to the Sino-Soviet split. The H-6A bomber entered the PLAAF service in 1969 and has been used for both strategic and tactical roles. The aircraft was also exported to Iraq and Egypt but it is no longer operational in these countries. The production of the H-6 continued at low pace throughout the 1980s and 1990s, with new variants being introduced after 2000.
Like the Tu-16, the H-6 was originally designed to carry high-drag, free-fall general-purpose bombs inside its internal weapon bay to perform WWII-style level bombing missions. In order to perform such a mission, the bomber must be able to penetrate the enemy air defence composed of fighter aircraft and surface-to-air missiles. With its obsolete aerodynamic design and lacklustre performance, the H-6 would have a very low survivability in such an operation. Later variants of the H-6, however, are equipped with precision-guided, standoff weapon (SOW), which can be launched tens or even hundreds of kilometres away and find its target with the assistance of various guidance systems, while the carrier aircraft can leave the theatre shortly after the launch to avoid enemy air defence firepower.
Nuclear Weapon Bomber Project
In June 1963, Xi'an Aircraft Factory was ordered to convert one of the first two Tu-16 bombers assembled using Soviet-supplied kits into a nuclear weapon carrier under a highly secret programme codenamed "21-511". The bomber (PLAAF serial 50671) was fitted with an air-conditioned weapon bay and special bomb mountings to carry a nuclear bomb. The conversation was completed in 1964. On 14 May 1965, this bomber flown by PLAAF officer LI Yuanyi and his crew dropped a 25kT yield enhanced atomic bomb with thermal nuclear material (lithium 6) at Lop Nor nuclear test site. On 17 June 1967, the same bomber flown by XU Kejiang dropped China's first thermal nuclear bomb with a yield of 3,000kT. The formal production variant H-6A was designed for both nuclear and conventional strike missions, though some reports suggested that the PLAAF no longer operated any H-6 for the nuclear strike role after the mid-1990s.
8


THE SACAA RECORDS HISTORICAL TRANSFORMATION SUCCESS




On 16 September 2013, the ZS-CAR Citation took off from Lanseria Airport on a historical first ever flight inspection mission conducted together by two fully qualified South African black pilots. Captain T.C. Tolo and First Officer Romeo Sease have met the requirements and are qualified to fly as a crew to carry out flight inspection for the Flight Inspection Unit of the SACAA.
Fully qualified black pilots for flight inspection missions have always been hard to find for the South African Civil Aviation Authority (SACAA). Reiterating her words at the recent inaugural Aviation Industry Transformation Conference in Boksburg on 8 August, Deputy Transport Minister Sindisiwe Chikunga said that transformation of the civil aviation industry remains a major challenge, and is happening too slowly. She said that the vision of a balanced society could never be attained if the country's interventions continued to entrench inequality, and that the equitable empowerment of women and blacks in aviation and aerospace is paramount.
The SACAA, after years of recruiting suitably qualified black calibration pilots, took a proactive step by deciding to train black pilots to enable them to do this specialised task. The flight inspection training involved various aspects of flight inspection such as conducting inspection profiles for different types of navigational aids, being ahead of the aircraft at all times, situational awareness, missed approach procedures and so forth.
The result has been a success story, as Captain Tolo and First Officer Sease flew in their first ever flight inspection mission with the flight inspection aircraft ZS-CAR on 16 September 2013. The mission commenced from Lanseria airport and the team is accompanied by one new recruit and two experienced flight inspectors. The first calibration was conducted in Durban and lasted for two days after which the team flew to East London where they continued with the flight inspection exercise for two more days. The team will be landing back at Lanseria airport on Friday, 20 September 2013 around 11am.
Captain T.C. Tolo hails from the South African Air Force, where he flew the Pilatus P.C. as an instructor. He currently holds a Grade II instructor's rating and an ATP licence., He passed the Flight Safety Course at the Le Bourget Airport in Paris with flying colours.
First Officer Sease successfully completed his initial BE200 and BE1900 King Air courses as a co-pilot at the Flight Training Academy in Mafikeng and a flight safety course in the USA, and is equipped to fly with all the other pilots of the Flight Inspection Unit of the SACAA.
This training has equipped Captain Tolo and First Officer Sease to follow a career path that could potentially lead to the positions as Grade 1 instructors and ultimately as SACAA Designated Examiners.
The SACAA has not stopped there, as two more candidates; Gugu Mnguni and Molaola Motlhaola, are also currently being trained in this field as flight inspectors.
The flight inspection of navigational aids is an essential and regular service being rendered to airports and relates to the testing of the electronic equipment that directs pilots in their flights between airports and assists air traffic controllers in providing safety separation between aircraft. This is especially important at night or during bad weather, when instrument landing systems (ILS) direct the pilots to the airports by means of localiser and glide slope beams. VHF omnidirectional radio range instruments (VORs) emit radio signals which guide pilots regarding their position relative to the VOR.
The flight inspection aircraft checks the accuracy of these navigational aids at the airports and air routes. It is naturally of great significance that this electronic equipment should be in perfect working order at airports with instrument runways. The failure of this equipment to function properly may result in pilots not having accurate information to land aircraft safely on the ground and it goes without saying therefore that the lives of passengers would be in jeopardy. Flight inspection is therefore critical for ensuring safe flights and landings.
'These exemplary black pilots who have completed the flight inspection training are paving the way for all young men and women from disadvantaged backgrounds to aspire for a career in aviation', said the Acting Director of the SACAA, Poppy Khoza. She added that the SACAA commends Captain Tolo and First Officer Sease on their achievements, and that the SACAA encourages the youth to follow their dreams of a career in aviation.
"The South African Civil Aviation Authority is very excited to record this historical achievement and vows to do more over the years to improve the very devastating statistics which indicate that only 4% of pilots belong to the previously disadvantaged groups, as per audited aviation personnel licence statistics for the year ending March 2013" concluded Ms Khoza.

9