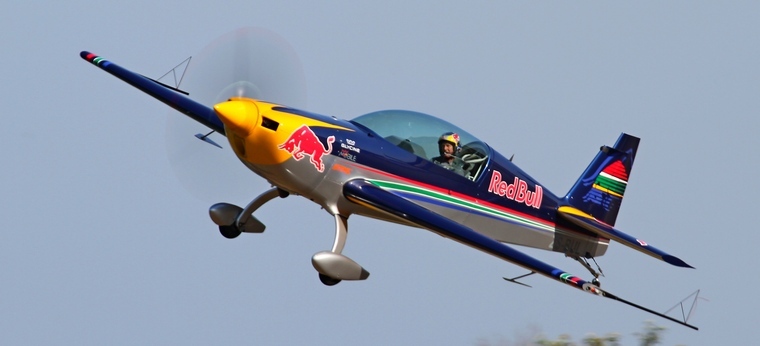 Glen Dell was born to a father, who was a World War II pilot in 1962. He attended Queens College in Queenstown, South Africa and started official flight training on a Cessna 150 in 1978 at the age of 16 and completed his licence the following year. In 1980 and then joined the South African Air Force and completed his training on various aircraft, including the Harvard and received SAAF wings in 1981. For the next 6 years Glen flew helicopters (the French built Alouette and Puma) in the operational area flying mostly low-level close air support and casualty evacuation.
Glen started his career in competitive aerobatics in 1985 and he won the National Aerobatic Championships in various categories 12 times. He first competed in the World Aerobatic Championships in 1994 and became Advanced World Aerobatic Champion in 2004. Apart from winning the gold medal for first place, he also won a further gold, silver and bronze in various programmes that were flown throughout the event.
Glen was also the only African chosen to participate in the Red Bull series of Air Races.
Glen was the holder of an Airline Transport Pilots Licence with a Grade 1 Instructors Rating on both aeroplanes and helicopters. He was also a SACAA-designated examiner on aeroplanes and helicopters, a Display Authorisation examiner and part of the five-man Display Authorisation Council of South Africa and also held a zero foot aerobatic display waiver.
In 1988 Glen joined South African Airways and flew Boeing 747 and 767's for a number of years and thereafter moved on to the Boeing 737 fleet as training captain. Glen recently did an Airbus aircraft series conversion and currently flies the Airbus A340.
In 2003 Glen started an aerobatic aircraft manufacturing project. Seeing the gap that aircraft manufacturers such as Sukhoi, Cap and others left in the market after ceasing aerobatic aircraft production, inspired Glen to design, create and develop the Slick 360 and 540 series of aerobatic aircraft. The properties that he concentrated on most were strength, performance and the assurance that the aircraft would be precisely and easily controllable throughout the full spectrum of aerobatic manoeuvres. The Slick 360 has performed beyond expectation.
On 12 October 2013 Glen performed at the Secunda Airshow and was involved in an accident in his Red Bull sponsored Extra. He sadly passed away a few hours later. RIP Glen, you will be missed by all.