Chuck Yeager is probably the most well known in aviation today and on 17 October 2013 he became undoubtedly the most famous person ever to visit the SAAF Museum.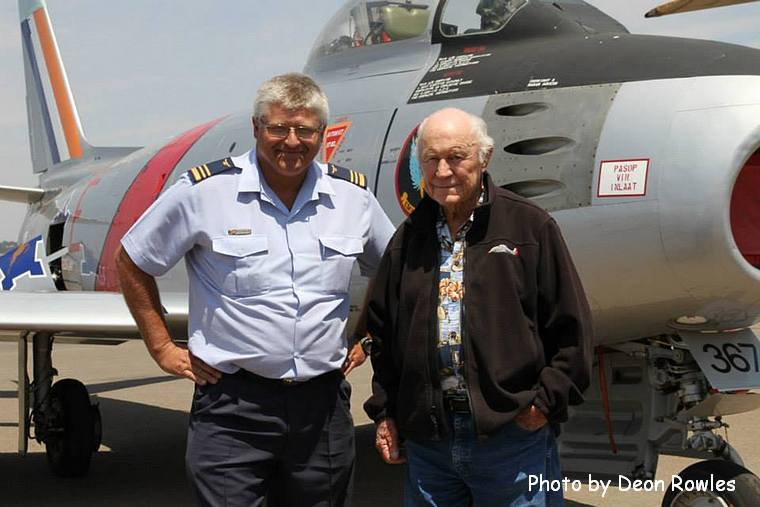 Brig. Gen (Retired) Chuck Yeager and Colonel Mike O'Conner

A sprightly 90 years old, the retired USAF Brigadier General, who is a honorary member of the Museum, took time off his busy schedule and with wife Victoria some spend time in the Kruger National Park which they had to leave at five in the morning to be on time for their museum visit and lunch arranged by Honorary Colonel Tokyo Sexwale.
The private function was attended by invited guests that included past commanding officers of the SAAF, current museum staff and Friends of the Museum.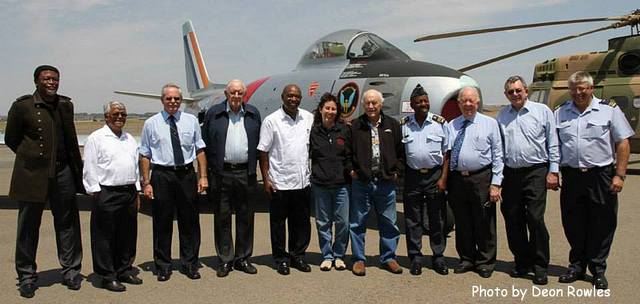 Invited guests and Brig. Gen. Yeager

Chuck Yeager was born in Myra, West Virginia in the USA on 13 February 1923 and served in the USAAF from 1941 to 1975. He original enlisted as private and because of his age was not accepted for pilot training. However the US upon entering the war the recruiting criteria was altered and Chuck was accepted. He received his wings in March 1943 and was promoted to Flight Officer and assigned to the 357th Fighter Group before being sent to the UK and the 363rd Fighter Squadron flying P-51 Mustangs.
Chuck had one victory before being shot down over France but with the help of the resistance managed to escape capture and eventually returned to the UK where he resumed his flying duties. He became the first American to become a "Ace in a Day" when he shot down five enemy aircraft in a single mission and at the end of the war had 11.5 officially recognised victories.
Now a captain Chuck returned to the USA in February 1945 and was based at Wright Field that was under the command of Colonel Albert Boyd, head of the Aeronautical Systems Flight Test Division. Chuck's high number of flight hours and his maintenance experience made him the ideal test pilot and on 14 October 1947 he now stationed at Muroc Army Air Field (later to become Edwards Air Force Base) he became the first man to break the sound barrier in the rocket powered Bell XS-1 when at 13,700 meters he reached Mach 1.07and Chucks name was immortalised in the annals of aviation history.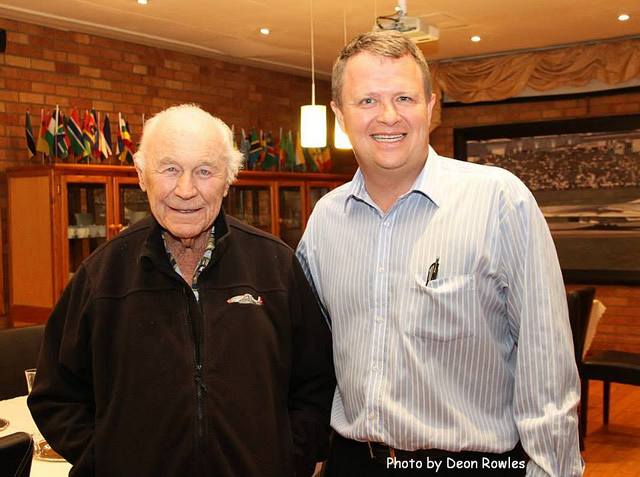 Brig Gen Yeager and Menno Parsons

In March 2012 in celebration of his 65 year old ground breaking flight Chuck at 89 years of age again flew in an aircraft faster than the speed of sound.
"What an honour it was to be able to welcome and entertain a legend such as Chuck Yeager" Colonel Mike O'Conner officer commanding of the SAF Museum said.
For more information on the SAAF Museum go to:
www.saafmuseum.org.za
or
www.facebook.com/groups/109171246235/
and the Facebook page: www.facebook.com/SaafMuseum?ref=hl