INTRODUCTION
For those that do not know me I was born in the magical year of February 1979 in the great republic of Nelspruit. I started my flying career in 1994 at the tender age of 14. I was an airfield kid, making a nuisance of myself at Nelspruit every weekend until the Lowveld Flying Club eventually had pity on me and made me offer I could not refuse. In return for washing their aircraft my mate, Zak du Plessis and I will be rewarded with one flying hour per month. I actually think it was some sort of conspiracy by the club members as it would get us out of their hair and leave them free from the two annoying kids that pestered them every weekend. If it was, it worked; we almost washed the paint of the Club's aircraft and were there before the crack of dawn for our hours' worth of training.
I obtained my PPL in 1996, with Leoair flight academy and matriculated in 1997. To every one's surprise I passed my driver's license test in 1997 and got my Commercial license in 1999 after which I started work with Leoair Flight Academy a charter pilot flying Bonanzas and Cessna's 310. I obtained my instructors rating in 2001 and then joined Nelair Charters where I flew Pipers, Cessnas, Learjet 25s, Let 410s, Kingairs and DC3s. I passed my ATPL in 2003 and got married to Sonica in 2007 and our son Jeandre, a future ATPL, was born in 2007. Jeandre has already promised me that he would employ me as a pilot once he had started his own airline so at least I know that my future is secured.
During 2007/2008 I spend time with Airquarius flying Fokker F28s in Iraq. It was good for experience and building hours but not recommended for the faint hearted! I then was fortunate enough to be accepted by BA/Comair and am still with them today as a first officer on the Boeing 737-300, 400 and 800. I currently have just over 10500 hours and have flown and instructed on types such as RVs, Cubs, de Haviland series, Harvards, DC3s and Taildraggers and others. I am rather active in the Airshow and Fly in world as well as the Harvard Club where I am the Operational Officer and have accumulated 200 hours on these legendary Warbirds that we fly to various events around the country offering flips to raise funds to keep these icons airworthy.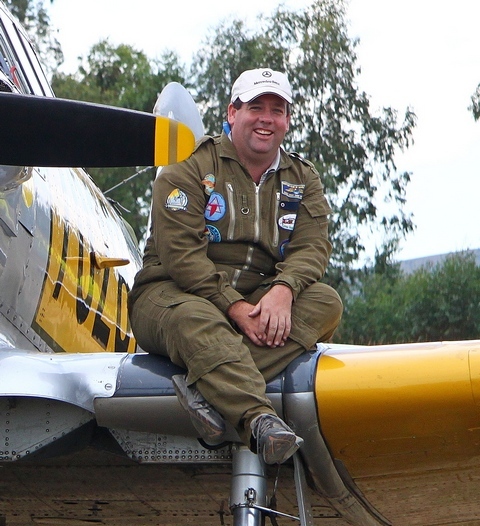 In 2012 Sonica and I bought a collection of parts that we are slowly transforming into what we hope will soon be a fully functional and flying Boeing Stearman and most weekends we can be found labouring away in the company of friends and advisors at Petit Airfield on the East Rand.
That, I think is more than enough of me. If I don't start with what I was asked to do I will never meet my deadline and if I miss it I will be …….dead.
Each month we are going to look at different aspects of various subjects, most will have been drilled into us by our instructors but some that we might over the years have disregarded as being so mundane that we just might not be doing it any more. So each month we will be looking at what we are supposed to do before during and after each flight. I know, we all know exactly what to but perhaps there is something that you or I have forgotten. If it's me that have forgotten to mention something in this series please let me know on our Facebook page (www.facebook.com/groups/568025666555680/) and I will include it in a future article and give you full credit for it!
The first subject is going to be the pre-flight and it will be published during December. I am going to break it up in chapters and we are going to be discussing each part there-off as we go along. Please do bear in mind that this is purely a discussion on what I deem as good airmanship and my personal observations from spending quite some time at various airports. This discussion is not aircraft type specific but general on guide lines so please do consult your aircraft operating handbook for type specific pre-flights.
Until then be a safety first aviator.