THIS WEEK IN MIDWEEK UPDATE

1 Weekend events.
2 Forthcoming events.
3 EAA AirVenture 2014 advance purchase ticketing now available online
4 Chapter 322 Pietenpol Project
5 The South African Air Force Association
6 Tecnam P2008JC achieves EASA certification
7 Entries open for SA's Race of Champions 2014
8 Advertising Rate Card
1
WHATS HAPPENING THIS WEEKEND


2 November Parys time trials 'all comers' from slow to super-fast. Briefing starts at 09h00. Contact Scully Levine 083 500 8387 e-mail: flyboys@global.co.za
2 November: Aero Club of South Africa annual awards ceremony at the Wanderers Club. Contact Sandra Strydom 011 082 1100 e-mail: membership@aeroclub.org.za
2
SAVE THE DATES


8 to 10 November EAA Sun 'n Fun Chapter 1503 Tempe Airfield Bloemfontein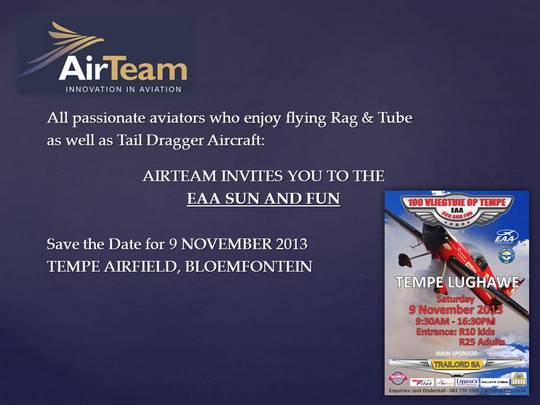 Jack Onderstall 082 770 5505 e-mail: jack@cp.bftn.co.za is inviting you to Sun & Fun Fly-Inn at Tempe. Main Sponsor: www.trailordsa.co.za
No landing fees sponsored by airport manager Charlie Marais. Avgas and Jet A1 are available on the airfield at competitive prices. Capital Sounds in attendance. Come and meet the legendary Brian Emmenis of Capital Sounds your PA man for the day.
Accommodation:
Camping on the airfield at the sky diving club - fee is R20/night per person. Please contact: Skydive Central manifest by calling 072 6916193
Nearby: Korhaan Lodge: 051 451 1733
korhaanlodge@iburst.co.za
www.korhaanlodge.co.za

Bains Game Lodge: Luxury self-catering log cabins for two or five people and hotel rooms single or double. Tel 051 4511 761 or
www.bainsgamelodge.co.za
9 November: EAA Chapter 322 Peter Hengst Memorial and Breakfast Fly-in to Brits. Contact Doug Norval
douglas@the-it-guy.co.za
9 November: SAPFA Fun Rally Brits airfield: For more information go to:
www.sapfa.org.za
or contact Mary de Klerk e-mail: maryd@expandingbranding.co.za
9 November: Kunkuru Fly in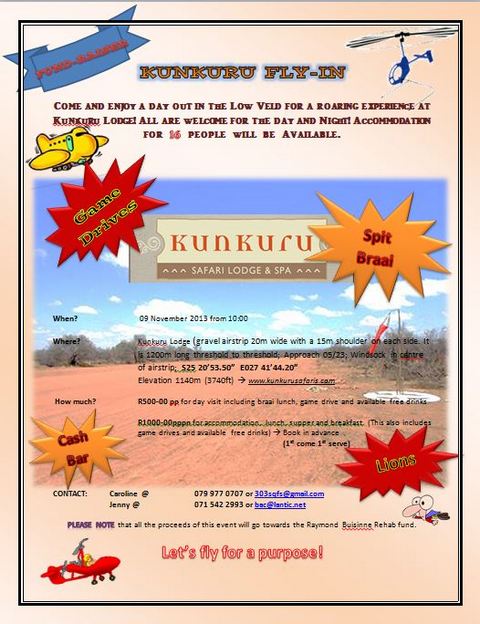 15 to 17 November: Mafikeng fly-in and hangar dance. For more information
E-mail: info@mafikeng-flyingclub.co.za or contact Connie Conradie 082 449 1546
30 November to 1 December: Sport Aerobatics ACE of Base - Baragwanath airfield. Contact Annie Boon e-mail:
hange@mweb.co.za

7 & 8 December: Wings and Wheels airshow at AFB Ysterplaat - Cape Town Contact Chris Teale e-mail:
chris@ysterplaat.org.za



For the full 2013 calendar go to events calendar.
3




EAA AIRVENTURE 2014 ADVANCE PURCHASE TICKETING NOW AVAILABLE ONLINE

Camping credentials, auto parking, flight experiences and merchandise also available

Advance purchase admission tickets and camping are now available for the 62nd annual edition of EAA AirVenture Oshkosh, providing greater convenience for those travelling to "The World's Greatest Aviation Celebration." The week-long 2014 event will be held July 28-August 3 at Wittman Regional Airport in Oshkosh.
EAA members and non-members can purchase tickets in advance via a secure website, allowing them to speed through the admissions process on-site. Daily and weekly admissions are available, as is the ability to join EAA and immediately receive the best possible admission prices available only to EAA members. Discounts are available to those who pre-purchase AirVenture tickets online before June 15, 2014, including $2 on daily adult admissions and $5 on weekly adult admissions.
"With its variety of attractions and entertainment options, EAA AirVenture remains one of the great family-friendly destinations at an affordable price," said Rick Larsen, EAA vice president of marketing. "This advance purchase system is the best way to be fully ready for this summer and an unforgettable experience at Oshkosh, while saving money at the same time."
All advance online purchases prior to June 30, 2014, are eligible for the "Oh My Oshkosh!" sweepstakes, which includes the ultimate AirVenture experience and other great prizes.
Additionally, a variety of limited-edition AirVenture 2014 merchandise is available through the advance purchase website. This merchandise is a wonderful addition to add to EAA AirVenture admissions given as Christmas or holiday gifts to relatives and friends who are aviation enthusiasts. Also, the EAA AirVenture 2014 commemorative program can be pre-ordered at a 20 present discount.
Advance admission ticketing is again made possible through support from Jeppesen, which for more than 75 years has offered pilots an array of innovative navigation products, services, and software.
"We support this program because AirVenture is the place to be for all of aviation every summer," said Mark Van Tine, Jeppesen CEO. "Even during the holiday season, aviators are thinking of Oshkosh. By supporting EAA's advance ticket system, we are proud to help make it possible for those who love flying to prepare for their experience at The World's Greatest Aviation Celebration."
To access the advance ticketing area, visit www.airventure.org/tickets. Simply make your selections, pay by credit card, and print your tickets at home. Full instructions and answers to frequently asked questions are available at that site. Advance purchase AirVenture tickets are scanned and exchanged for an appropriate wristband at all AirVenture gates in a quick and easy process.
About EAA AirVenture Oshkosh
EAA AirVenture Oshkosh is "The World's Greatest Aviation Celebration" and EAA's yearly membership convention. Additional EAA AirVenture information, including advance ticket and camping purchase, is available online at www.airventure.org. EAA members receive lowest prices on admission rates.
For more information on EAA and its programs, call 1-800-JOIN-EAA (1-800-564-6322) or visit www.eaa.org. Immediate news is available at www.twitter.com/EAAupdate.

4
CHAPTER 322 PIETENPOL PROJECT


For all those that is willing and able to get involved with this fun project and possibly even learn new skills. Please join us at Kevin Hopper's hangar at Krugersdorp Airfield (Jack Taylor Airfield). Although this project will certainly not be glamorous, getting this Pietenpol into the air will be a group achievement. Plans to work are as follows and may be changed as we proceed. Any changes will be clearly communicated.
DATE START END TASKS & NOTED EAA ACTIVITY
Sat 2 Nov 08h00 14h00 * Tasks to be identified based on progress
Sat 23 Nov 08h00 14h00 * Tasks to be identified based on progress
Sat 30 Nov 08h00 14h00 * Tasks to be identified based on progress
Sat 7 Dec 08h00 14h00 * Tasks to be identified based on progress.
We are aware of the 322 B/Fast fly-in Welgelegen Balfour planned
We do appreciate that not everyone can be involved with this work, however, if there are other areas where you are able to help, please let us know and we will be happy to have as many people participating as possible. For those that will be doing the physical work, we do not expect anyone to commit to every weekend, however 1-2 Saturday's a month will be a great contribution, if it is possible. We encourage you to come along understanding that this will be slow at first and the work will be laborious. Please feel free to bring along a few cold ones and some boerie to enjoy after a "hard morning's work".
Thanks to :
322 Committee for budget approval to enable the completion of the project.
Peter Lastrucci, who will be stripping the Lycoming engine he presented and taking measurements to make the engine airworthy.
Kevin Hopper for the use of his facilities and his guidance on the overall project
Sid Bottom for the fabulous job he did with the wings
All those people who have made it possible to get this project off the ground
In order for us to co-ordinate this project, please email or sms Marie Reddy on eaa322pietenpol@gmail.com / 0832597691 to confirm you are able to make it.


5


THE SOUTH AFRICAN AIR FORCE ASSOCIATION


The SOUTH AFRICAN AIR FORCE ASSOCIATION is an all-ranks meeting place, founded in 1945. This eminently worthy cause not only recreates in a light-hearted atmosphere of togetherness of its aviation-minded members, but also enjoins them to share responsibility for the needs of less fortunate ex-SAAF types and their spouses. Furthermore, the SAAFA actively promotes the image of the SAAF and its members. Indeed, the two-fold activity of having fun while raising funds continues to produce excellent results over the years. Funds raised thus are distributed via the Association's Care of the Aged programme.
All persons who serve in, or once served in the SAAF (PF or CF), or in any other Allied Air Force, are eligible to join this unique fraternity.
SAAFA branches are active all over Southern Africa: Bloemfontein, Cape Town, Durban, East Rand (Benoni), Johannesburg, Kimberley, Lower South Coast (Margate), Laeveld (Hoedspruit), Namibia (Windhoek), Outeniqua (George/Knysna), Pietermaritzburg, Port Alfred, Port Elizabeth, Pretoria, Stilfontein, Soutpansberg (Machado/Louis Trichardt) and Weskus (Langebaan/Vredenburg). The SA Korean War Veterans Association also has branch status with the SAAFA.
Membership brings participation in many activities, enjoying life wining and dining, raffles, sport events, special outings, regular luncheons at which distinguished persons from industry and commerce address the gathering and chat afterwards. How about golf, horse racing, bowls and "Fly-in-Braai" days and many more interesting events?!
Members are entitled to wear the distinctive SAAFA tie, blazer badge and other insignia, and to participate in all SAAFA activities at Branch level. They are also encouraged to participate in the on-going worthwhile projects of the Association.
Less fortunate SAAFA members and their dependents are being assisted in their well being. An ever-increasing percentage of funds raised are being channeled towards the Care of the Aged programme.
A national newsletter is distributed via email regularly free-of-charge, while several branches send out their own newsletters.
For more information go to:
or contact SAAFA on
Tel: 012 651 5921 or 012 351 2116

6
TECNAM P2008JC ACHIEVES EASA CERTIFICATION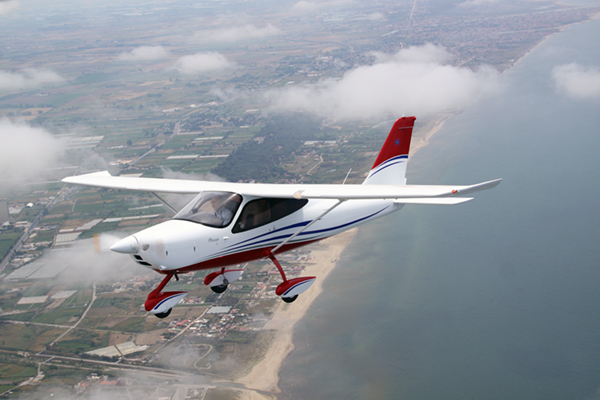 Tecnam will now begin immediate delivery of P2008JC's to the Czech Republic, France, Germany, Poland and Switzerland, who had already pre-ordered what will undoubtedly be yet another bestselling Tecnam aeroplane.
The single-engined Tecnam P2008's versatility and ease of use has established it as both the aircraft of choice for Flight Training Organisations worldwide as well as recreational flyers.
The Tecnam P2008JC is the best in its class, assuring pilots and passengers of a
very comfortable environment and the smoothest of flight experiences.
A state-of-the-art Flight Trainer, the Tecnam P2008 JC is equipped with full electronic
flight display screens rather than the traditional knobs and dials seen on typical
aircraft instrument panels
With fuselage and vertical fin made of the latest technology carbon fiber prepeg, its metals wings and stabilator, the Tecnam P2008JC has a vast number of advantages over traditional aircraft. This combination of both composite material and metal has resulted in a more fuel efficient and much quieter aircraft.
One significant launch order for the Tecnam P2008JC is from Aero-Club Air France. Their first 12 Tecnam P2008JC's will be distributed amongst 5 of Aero-Club Air France's affiliated groups.
"It's been an extraordinarily successful and exciting time for the Tecnam design and flight-test teams" said Paolo Pascale, Tecnam's Managing Director. "I am especially proud of the efforts of the Tecnam technical team in particular who worked on the Tecnam P2008JC certification programme. May I also extend my personal thanks to our industry colleagues at EASA too".
Pilots worldwide are choosing the P2008JC CS/VLA, Tecnam's most cost effective and environmentally friendly aircraft.


7



ENTRIES OPEN FOR SA'S RACE OF CHAMPIONS 2014





After an extremely successful fourth Race of Champions held this year, organisers have confirmed that the fifth edition of the Race of Champions will happen and will once again be hosted at the impressive Prince Mangosuthu Buthelezi Airport in Ulundi from the 7th - 10th August, 2014.
Brian Emmenis, head of Capital Sounds and hosts of the event, reflects on this year's event, "It was a well organised air race that not only saw the cream of SA Aviation take part but also showcased the beauty of KZN to so many television viewers through the events coverage on SuperSport." Heading up the team tasked with bringing the 2014 event to aviation enthusiasts Emmenis is confident that 2014 can only be bigger and better.
Race Organiser and aviation veteran, Chris Briers, is delighted about being able to announce the return of the fifth edition of the Race of Champions. "The 2013 Zululand Race of Champions was a great event in spite of a few challenges, such as the weather, that we had to deal with. I believe the success was due to the incredible teamwork and commitment from the whole team and we are certain we can build on 2013 to make the 2014 event even better." Briers said.
Botswana entrant, Guillaume Knipe, was delighted with this year's race. "The Race of Champions was THE BEST race I have ever entered. We went down to Ulundi to have fun and that we definitely did. From the personal greeting on arriving to the Zulu dancers and the TV interview plus everything else made us feel very special during the ROC. The racing itself was over one of the most spectacular landscapes you can fly over and the low level fly over the Durban beach front was stuff memories are made of. One thing is for sure, we will defiantly be back in 2014 with a hand full of aircraft joining us!" comments Knipe.
Dr Clive Coetzee, General Manager: Infrastructure Management and Economic Services, who have invested in bringing aviation to the people of KZN adds "What a great event. KZN again delivered on its vision and took aviation to the people of Zululand. It was an inspirational event that embraced the Zulu culture and integrated it into the event and it was enjoyed by all. The people of Zululand were great hosts in opening up their exceptional airport to the race so that we could host and event of this calibre. The race has found a new home in Ulundi and the people of Zululand are the races' new ambassadors. We are now looking forward to 2014 and making the Zululand Race of Champions a must on the aviation calendar." Coetzee has also been working with all role players ensure the race returns in 2014 and shares the enthusiasm of Emmenis and Briers in bring the event back. "Zululand is looking forward to welcoming the event back and Treasury is proud to be working on taking it back to the area. The organizing team is working around the clock to make the 2014 edition an even greater Race of Champions."
Entries are now officially open for the 2014 event! The Race of Champions will take place between 7th and 10th August 2013. Entry costs R 2500 and all entrants will receive the following;
∑ Dinner will be provided to competitors on Thursday, Friday and Saturday
∑ Race fuel will be sponsored
∑ Saturday night will be the traditional "black tie" function
∑ Only 100 entries will be allowed on a first come basis
For more information on the race please visit www.airrace.co.za , or contact Mariska at mariska@airteam.co.za or 082 253 5823

8