FULFILLING THE NEEDS OF THE AVIATION INDUSTRY

South Africa faces a critical shortage of skills-one which is crippling both the economy and the development potential of the country. It is also impacting significantly on the performance of key industries, amongst them aviation and aerospace.
Denel Technical Academy's history dates back 47 years with the formation of the then Atlas Aircraft Corporation. Atlas was established primarily to manufacture aircraft for the South Africa Air Force (SAAF). In those early years Atlas ran a very successful training scheme aimed solely to satisfying its needs for technical staff in all spheres of its operations. However changing times brought new challenges and today the Academy acts as a technical training institution that not only caters to the needs of the parent company but also for the needs of the burgeoning aviation sector.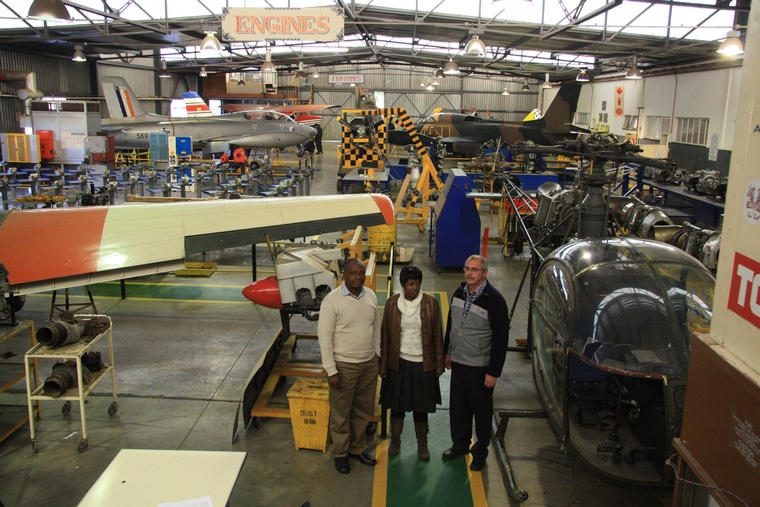 Whilst there are many organizations that have attempted to address this problem by providing bursaries and scholarships, most of these interventions, well meaning as they may be, did not address the root causes of learner difficulties in technical subjects.
"To ensure that we channel students into specialist sectors like those of aviation and aerospace, far more is required. The starting point for this exercise has to be educating learners about careers in these industries while they are still at school, and showing them how math's and science will help them get there, As such they need to be exposed to the sector and the various job opportunities available." Dr. Eric Khoza, General Manager of the Denel Technical Academy said.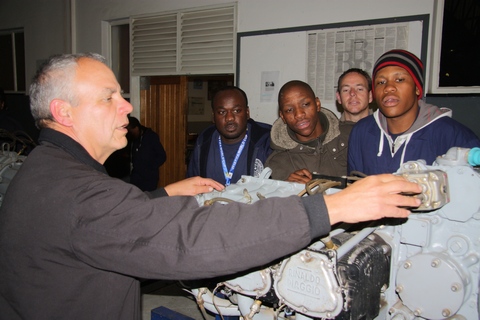 To reach this goal the Denel Training Academy (DTA) participates in various career fairs where students are shown that aviation is not just about pilots and air hostesses but offers a myriad of other careers in the technical field. Learners that excel in mathematics and science and that show an interest in aviation are targeted.
According to Dr Khoza the most critical aspect of the Denel Aviation/DTA partnership is that it enables learners to access the industry directly. In the aviation industry work experience is critical. The DTA's collaboration with Denel means that students can complete their theoretical training at the DTA and then gain practical experience through an internship at Denel. They can thus be employed as soon as their training is complete and the DTA will assist them in this regard and 99% are placed in their fields of specialty.
During the early 1990s there was a need to open the academy to provide training for private students and the academy has since then trained a large number of learners not only form South Africa but from other African States for and on behalf of organization not allied to Denel. The Academy based in Bonaero Park, Kempton Park has the capacity to train 300 students per cycle of which approximately 65% are self funded whilst the balance if funded by the foundation. Surprisingly 30% of intakes currently consist of females a figure Dr Khoza would like to see this number increasing significantly.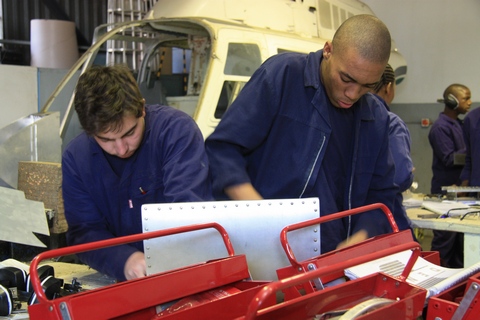 The Academy is approved by the South African Civil Aviation Authority and its training staff possesses critical experience in military and commercial aircraft and its courses are accredited to the Aerospace Chamber. Ten aviation related courses are currently being taught to apprentices in the DTA's fully equipped classrooms and workshops. The duration of apprentice training for all trades is 95 weeks minimum and 208 weeks maximum. Apprentices that have completed all the tasks as laid down may perform a trade test after the minimum period and qualify as an artisan.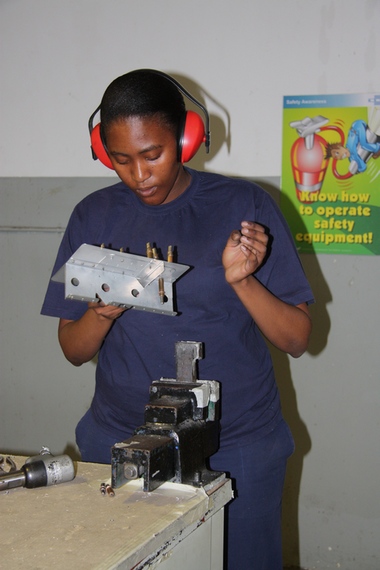 The minimum entrance qualifications and conditions for apprenticeship for those wishing to follow a career as Aircraft Mechanic, Aircraft Structures Worker, Fitter and Turner, Turner and Machinist, Tool and Jig Maker and Welder is Grade 10 (N1) with mathematics, Science and applicants must be able to communicate fluently in English. Entrance qualifications for those that wish to qualify as Aircraft Radiotricians, Aircraft Instrument Mechanics, Aircraft Electricians, Aircraft Avionician, Electricians and machine Tool Millwrights are Grade 11 (N2) again with Mathematics, Science and fluency in English.
The DTA may be contacted at: +27 11 927 2811 or E-mail: info@deneltraining.com or by visiting: www.deneltraining.com