Shipped all the way from Australia by Dr. Roy Fox and displayed at Oshkosh 2009 was one of only three original airworthy Comper Swifts.

Nicholas Comper an ex RAF Flight Lieutenant in 1929 formed the Comper Aircraft Company to build an aircraft of his own design. The first flight of the Swift, a small single seat spruce and fabric monoplane powered by a 40hp ABC Scorpion piston engine took place in January 1930. During the year seven more examples were produced powered by the 50hp Salmon A.D.9 engine. Trials with the Pobjoy P radial designed for racing proofed so successful that all further examples, except for the last three that were fitted with de Havilland Gipsy engines, were fitted with this engine. Such was the success of the little Swift that they continued to compete in air races in the UK well into the 1950's.
Roy's Swift, Construction number GS.32/2, first flew on the 22 June 1931 and in May 1932 was sold to an Ian Charles MacGilchrist Heston and a month later, now registered as G-ABWH was fitted with the 120 hp de Havilland Gipsy III engine. Three months later, in September it finished 11th in the Kings Cup races at an average speed of 147.25mph. In July of 1933 and now belonging to an S. A. Sadler it was eliminated in the second round of the Kings Cup although it had made the fastest time in the first round. In September 1933 she was purchased by Roger Wolfe Kahn, leader of an American Big Band for 250 Pounds and shipped to the USA where she was allegedly used in racing. Two years later in 1935 she returned to the land of her birth and in 1936, now fitted with a hood and spats she again finished 11th again in the Kings Cup but bettering her average speed to 151.5 mph. In 1937 she was again entered in the Kings Cup but made a forced landing on Cumberland Beach, one of three incidents in her illustrious and globe trotting career.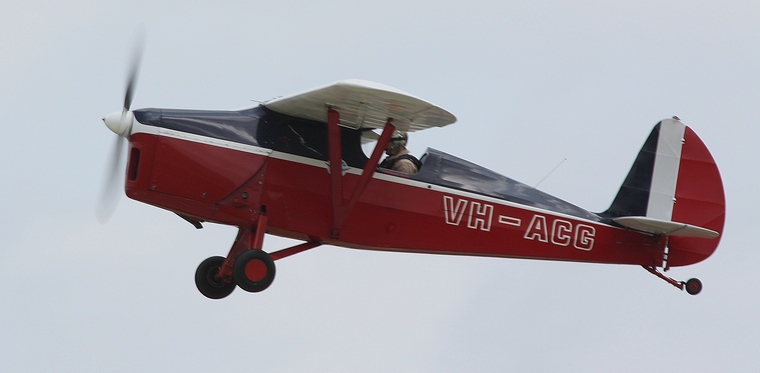 In 1937 she again left England, this time for Australia purchased by Brigadier Mac Arthur-Onslow where she was registered as VH-ACG and stored for the duration of the Second World War. In 1950 and now belonging to Eric Morris she suffered engine failure on take-off and crashed at the Lakes Entrance Golf Course, her owner, fortunately was not injured. She changed hands quite frequently in her new adopted country and in 1964 and 33 years old with only 231 hours she was entered into the Ansett Air Race. A year later en route from Perth to Kalgoorlie due to engine problems she force- landed in Goldfields, WA. She was dismantled and stored at Kalgoorlie until 1983 when she was rebuilt with a Gipsy Major I engine. The rebuilt was completed in 1987 and she flew again in 1988. In 1993 she received the original Gipsy III engine.
She again changed hands quite a few times until 2005 when bought by her present owner, Dr. Roy Fox of Sydney NSW who after a three-year restoration flew her during September of 2008 and in 2009 took her back to America for display at Oshkosh 2009.