Embraer Executive Jets' newest aircraft, the Legacy 450, made a successful first on the 28th December 2013. Embraer test pilots Eduardo Camelier and Eugênio Cará, supported by flight test engineer Carlos Kobayashi, flew the aircraft for one hour and thirty-five minutes, conducting the evaluation of handling and performance characteristics.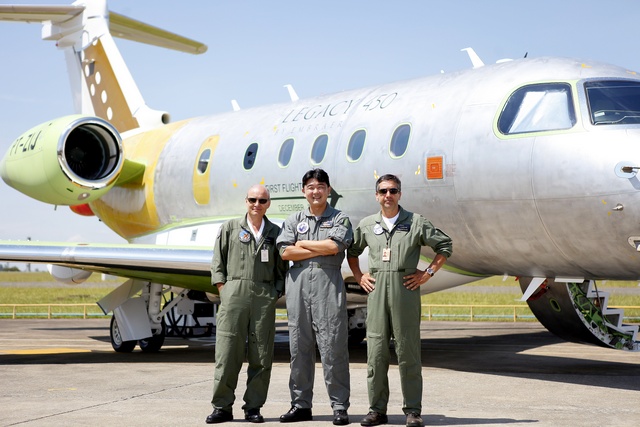 "Besides setting a new standard in business aviation, delivering innovations that reflect our vision, our commitment to customers, and our passion for excellence, I congratulate all Embraer people for achieving this important Legacy 450 program milestone on the scheduled date" said Frederico Fleury Curado, Embraer President and CEO.
"The Legacy 450 will be the best-in-class mid-light business jet, responding to the needs and wishes of customers worldwide," said Marco Túlio Pellegrini, Senior Vice President Operations and COO, Embraer Executive Jets. "With full fly-by-wire technology and the roomiest cabin in its category, this aircraft will deliver unique features and amenities."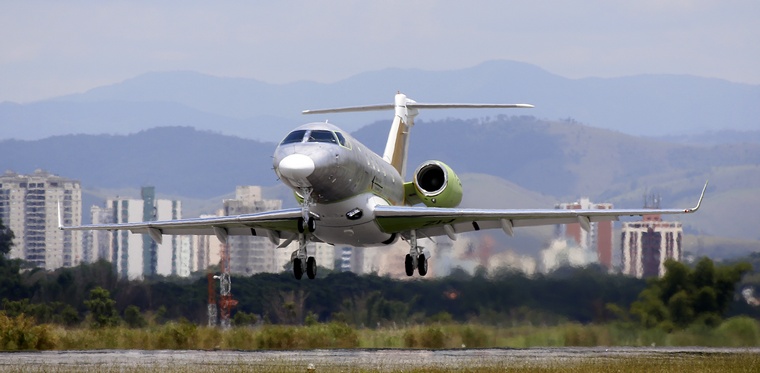 The maiden flight covered a significant range of the flight envelope and allowed for a variety of inflight systems tests, benefiting from an advanced campaign of flight simulations and extensive ground tests. "The flight was a success," said Capt. Camelier. "The full fly-by-wire system, with side stick flight controls, made the flight very smooth. With the advanced avionics suite, the aircraft operation was very easy and intuitive."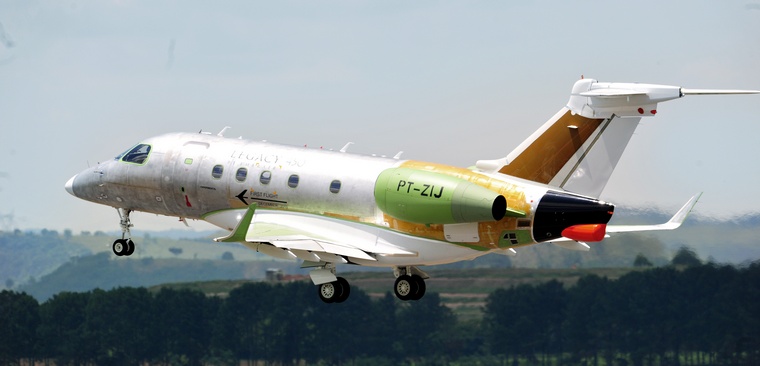 About the Legacy 450
The Legacy 450 is a mid-light business jet with a best-in-class six-foot flat-floor cabin. Four fully reclining club seats may be berthed into two beds for complete rest in a maximum cabin altitude of 6,000ft. The in-flight entertainment system consists of a high definition video system, surround sound, and multiple audio and video input options. Voice and data communications options are also available. The cabin includes a refreshment center at the entrance, a rear private lavatory, and a carry-on stowage area. The total baggage space is the largest in the aircraft's category.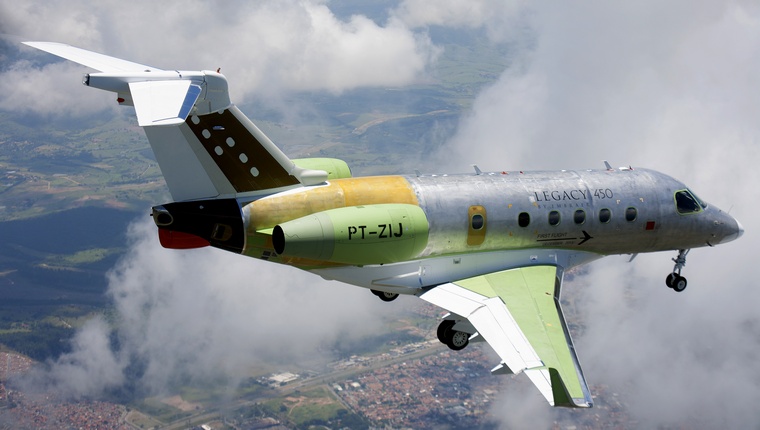 The Legacy 450 is the first business aircraft in its segment with Full Fly-By-Wire technology, featuring side stick flight controls, the state-of-the-art Rockwell Collins Pro Line Fusion avionics suite with four 15.1-inch high resolution LCD displays, graphical flight planning, Jeppesen charts and maps, and the Synthetic Vision System (SVS). The optional Embraer Enhanced Vision System (E2VS) encompasses the latest Rockwell Collins Compact Head-Up Display (HUD) and Enhanced Vision System (EVS).
The Legacy 450 is powered by two advanced, fuel-efficient Honeywell HTF 7500E turbofan engines. With four passengers and NBAA IFR Reserves, the Legacy 450 is capable of flying non-stop from Los Angeles to Boston, or Moscow to New Delhi.
Legacy 450 Specifications:

Range (NBAA reserves, 200 nm alternate, LRC, 4 pax) 2,500 nautical miles
High-Speed Cruise: Mach 0.82
Takeoff Field Length: (MTOW, ISA, SL) 4,000 feet
Maximum Operating: Altitude 45,000 feet
Seating Configuration: 2 + 6/9
Cabin Dimensions: Max Height 6 feet
Cabin Dimensions: Max Width 6 feet, 10 inches
Cabin Dimensions: Length 24 feet
Total Baggage Capacity: 50 cubic feet