In 1971 school teacher John Monnett was building not one but two aircraft in the garage of the house that he and his wife was renting in Elgin, Illinois in the USA. It was no ordinary aircraft but one of his own design. There were no plans either, only sketches that he had made at his kitchen table and wire models. Plans were not drawn up until later and then were reversed engineered from the aircraft itself.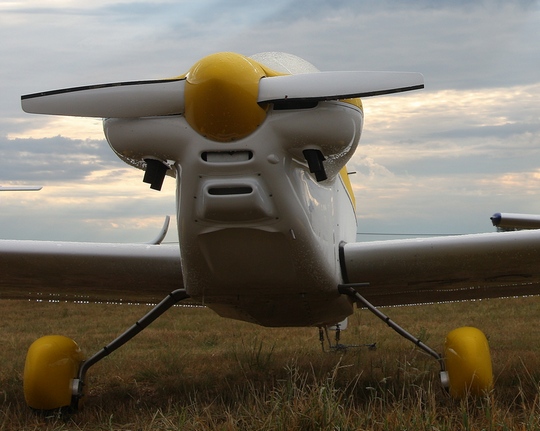 One of John Monnett's Sonerais' would eventually end up in Kroonstad in the Free State far away from its birthplace where it was lovingly restored by Niel Terblance an active EAA member and the President of Chapter 870. Niel is also a Class 2 Test Pilot and Approved Person for non type certified aircraft. Niel grew up amongst aircraft, for as long as he can remember his father flew and he also had an uncle that was a pilot in the SAAF. Niel's father had an obsession with gyrocopters and in 1959 became one of the first person's in South Africa to build and fly a Benson B7. Finding a suitable power plant for the Benson proved to be a problem and it was eventually fitted with a VW 1200 cc engine that barely developed enough power to keep the Gyro in the air. In those carefree days of mostly unregulated flying a plan was made and towing it behind a car to get it airborne they flew it overhead the roads and in later years he designed and built two more Gyros.
In 1982 Niel joined the SAAF, not to fly but for the opportunity to be able to work on aircraft and it was in the SAAF that he qualified as a Radio Avionics Technician. In the same year he started flying gliders at the Kroonstad Flying Club where he later qualified as an instructor. In 1994 he joined the Defence Force Flying Club and started his PPL which due to operational duties and financial constraints, only completed in July of 1985. Today Niel has logged more than 1700 hours on 25 types which include three Gyros', a number of Cessnas' and Pipers', a Citabria, Druine Turbulent, RF4 Fornier and of course the Sonerai.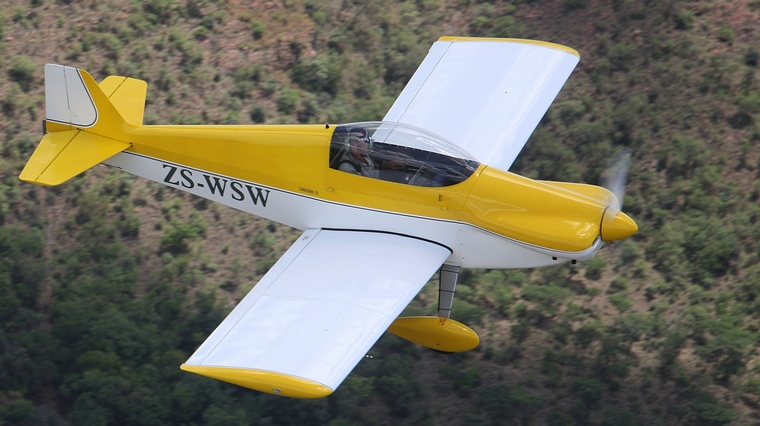 In 1985, soon after having obtained his PPL he acquired his first aircraft, a Druine Turbulent which he restored and spent 485 memorable hours flying it before in 1994 swapping it for a Silhouette into which he installed a VW 1834 cc engine. "It was a rather complex restoration and modification but none the less a successful one. The Silhouette was one the nicest planes I have ever flown and I regret ever selling it." Niel fondly remembers.
Once, flying in the Turbulent to Thabazimbi and landing at Rustenburg he saw ZS-WSW. The Sonerai then belonged to Steff Papendorff. Owning a Sonerai never crossed his mind but he admits that he always had a soft spot for tandem aircraft. A number of years were to pass before his path and that of John Monnett's creation would again cross. "In 2004 Nantes van der Merwe phoned me and told me about this aircraft he had bought. It was minus its engine and he asked for my advice on what to install. During our conversation I jokingly said that I never seem to get to hear of any bargains and left it at that. Two weeks later Nantes phoned and asked if I wanted the plane and the rest is history." Niel recalled. ZS-WSW in turn belonged to Steff Papendorff, then Richard Nicholson of Nylstroom before being sold to Conraad Underhay of Secunda who removed the engine to install it in the Nieuport Replica he was building. He subsequently sold it to Nantes van der Merwe. It took Niel about nine months and 500 hours to restore the it and to date he has flown 221 unforgettable hours in his pride and joy, the always immaculate pretty yellow and white Sonerai.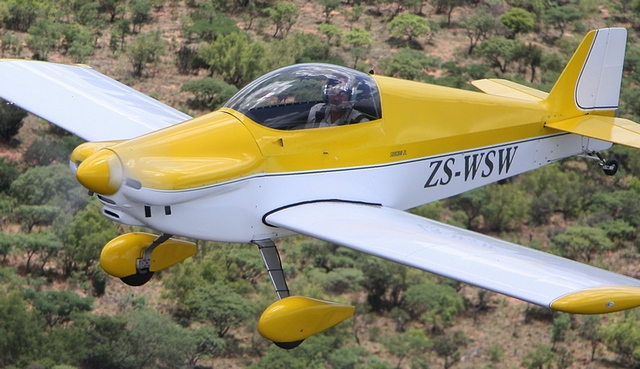 John's Monett's Sonerai, the name is a combination of the words sonic and ray is a fairly small VW powered mid-wing single seat aircraft that soon began to compete in the Formula-V racer class formed in 1972. The original before long evolved into a two seat model the Sonerai II. Later versions were the low wing IIL, the tricycle gear IILT and the stretched IILS and IILST. The IIL version is especially popular with 1.9m plus pilots as the pilot's legs go over the main spar carry through structure.
Unlike today's modern Kitplanes where the builder assembles the aircraft the Sonerai is a true homebuilt. It is not available in kit form and can only be built from plans. Fuselage construction is of 4130 steel tubing with fabric covering whilst the wings are made out of 2024-T3 aluminium. The IIL has a span of 18' 8" stands 5' 5'' high, seats two in tandem and has a take off run of 900', stalls at 45 mph, lands at 58 mph with a Vne of 200mph. Designed to take the VW engine of between 1700 to 2180 cc it cruises at 140 mph at 75% power and climbs at 500' fpm.
True to its racing heritage the Sonerai is no slouch and when fitted with the Great Plains 2180cc VW aero engine it will do 170 mph and with the "S" wing installed it is stressed to +/- 6G's. In 1989 Brian Dempsey in a Sonerai I established a new world record in the C-1a/0 class (Landplanes with a take off weight of less than 300 kg) over a straight 15/25 km course at 292 15 km/h. In Australia Robin Austin built a much modified IIL with a 100hp Rotax engine and in 1989 set a new world record for speed over a recognised course in the same class averaging 404.3 km/h. In July of the same year he broke his own record, this time with an average speed of 440.0 km/h, not bad for an aircraft designed at a kitchen table.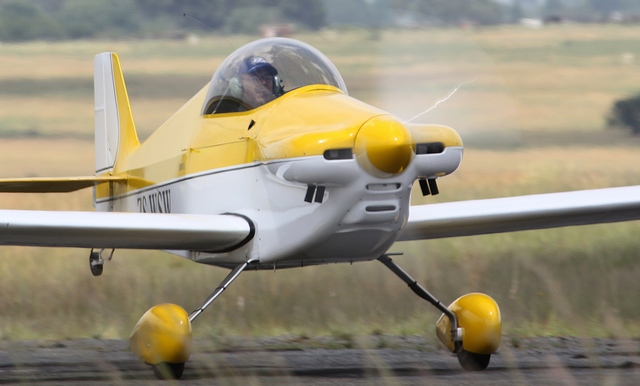 True to John Monnett's saying that a Sonerai is not a Sonerai unless fitted with a VW engine Neil's pocket rocket is powered by a 2263 cc VW engine modified by him at Micro Engineering the company he owns in Kroonstad. It is fitted with an electronic ignition system and fuel injection and has a bore of 94mm and stroke of 82mm and develops about 85 Hp at 3600rpm. It consumes on average 16l per hour at 115kts. The little yellow and white Sonerai is a regular visitor at EAA and other events and even though designed almost fourty years ago its sleek racing looks makes it stand out amongst more modern designs, proof of the genius of John Monnett.
Neil has since sold the Sonerai and now proudly flies a RV4 that he has built and that has won numerous prices at EAA events.