My first visit to AirVenture at Oshkosh for me was dream come true but never in my wildest imagination did I ever think that one day I would fly in a WWII legend, the Boeing B17 Flying Fortress.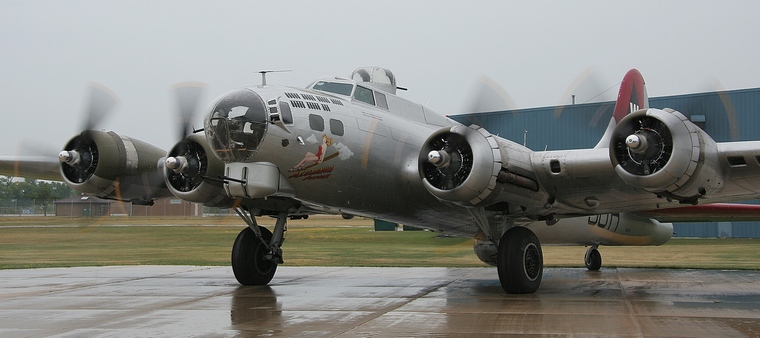 The B-17 Flying Fortress was developed in the 1930's by Boeing who competed against Douglas and Martin for a contract to build 200 heavy bombers for the United States Army Air Corps. Boeing however suffered a setback when the prototype crashed but such was the interest in the aircraft that 13 were none the less ordered and full scale production followed with the type being introduced into service April 1938. The B17 is still considered the first truly mass-produced large aircraft. A total of 12,731 B17's at a intial cost of $ 238,329 per aircraft were eventually built in a production run that ran from 1936 to 1945.
With a service ceiling greater than any other Allied Aircraft the Flying Fortress was a potent long-range weapon of mass destruction dropping more bombs than any other US Aircraft during WWII. It was aptly named as it armanent consisted of no less than thirteen 12.7 mm machine guns and its ability to return home despite extensive battle damage is legendary.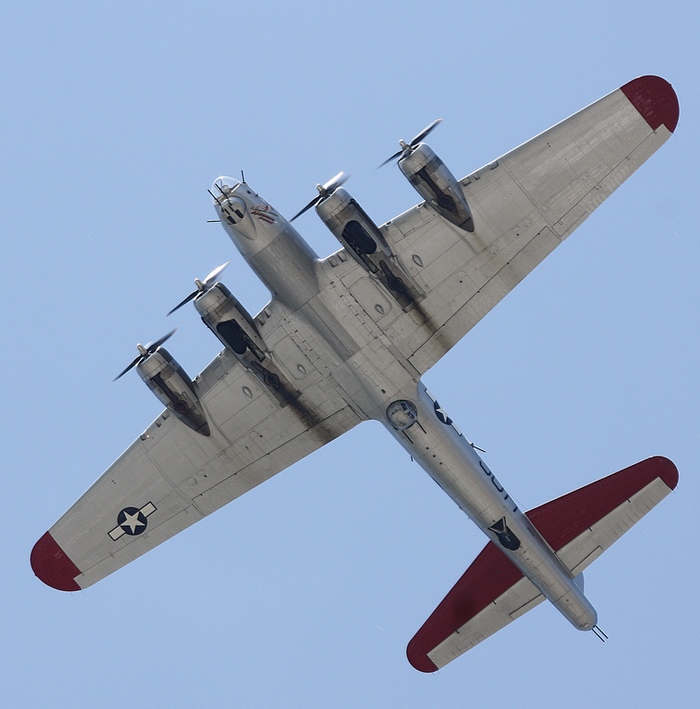 Sadly thought the B17 was of little value after the war as more modern aircraft became available and the advent jet age was the final nail in the coffin in one of the legends of the last Great War. Some however soldiered on and the Brazilian Airforce only retired its last B17 in 1969. Other B17's found a new lease of life in other fields that the designers possible never dreamed off and it was one of these fortunate few that today still thrill the crowds and grace the skies.
Aluminium Overcast , B-17G-VE, serial number 44-85740 was delivered to the U.S. Army Air Corps on May 18, 1945 and never saw action in World War II. In 1946 she was declared as surplus to military requirements and sold for a mere $750. Her new owners fortunately did not buy her to be, like countless other, broken up to be turned into pots and pans but used her as a cargo hauler. During her civilian years she flew more than 1 million miles and served as an aerial mapping platform and in pest control and forest dusting applications.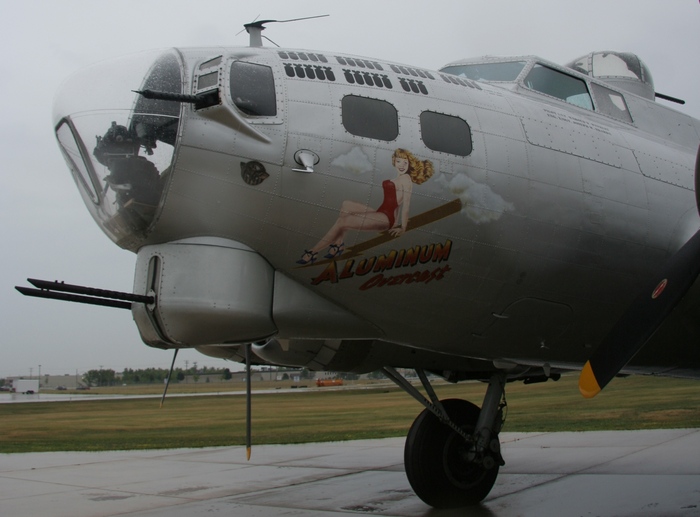 In 1978 she was purchased by a group of farsighted investors. Headed by Dr. Bill Harrison their aim was to preserve this iconic aircraft for future generations and to return her to her original state. However, the reality of maintaining a vintage four-engine bomber the size of the Flying Fortress, let alone the cost of restoration, proofed beyond their means. Unlike other restorers that abandoned partly restored aircraft altogether to decay or simply sold them for scrap to recoup some losses the group in 1983 donated 44-85740 to the Experimental Aircraft Association.
After a 10-year restoration by staff and volunteers at the EAA AirVenture Museum in Oshkosh during which most of the original parts were located and fitted she was moved to the Kermit Week Flight Research Center in preparation for her first national tour scheduled to take place in 1994. Today she is a regular at shows when aviation enthusiasts are afforded the opportunity not only to walk through her but also to experience the thrill of a half hour flight in this magnificent machine.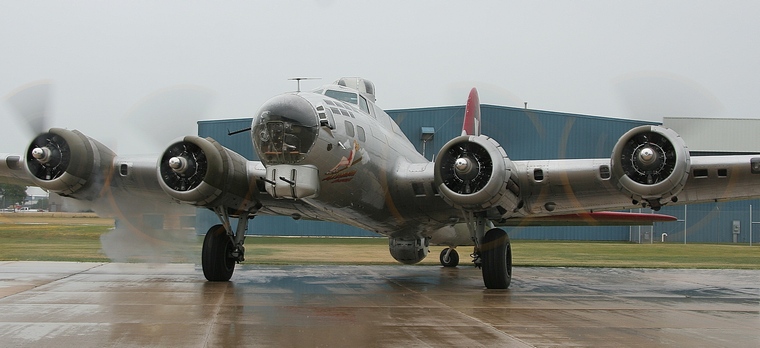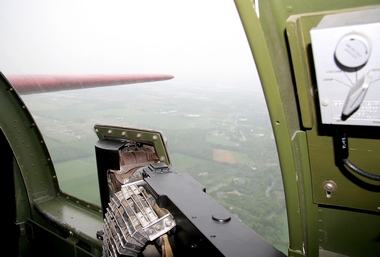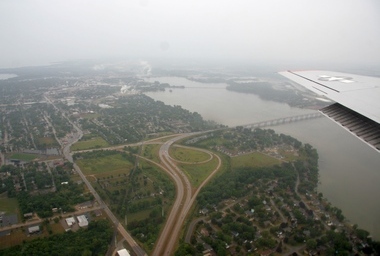 And so, after having spent a full morning in drizzling rain admiring her as she stood majestically on the apron at Appleton Airport and envying those that boarded her for the all too brief experience, I too stepped up the ladder into her almost hallowed interior. The B17 has not been converted to a luxury passenger carrier but is till as she was when in USAF service. Strapped in onto the bench seats that would have carried some of the ten crew members we were in silent as we thought of all those young men that many years ago took to skies as we were about to, never to return.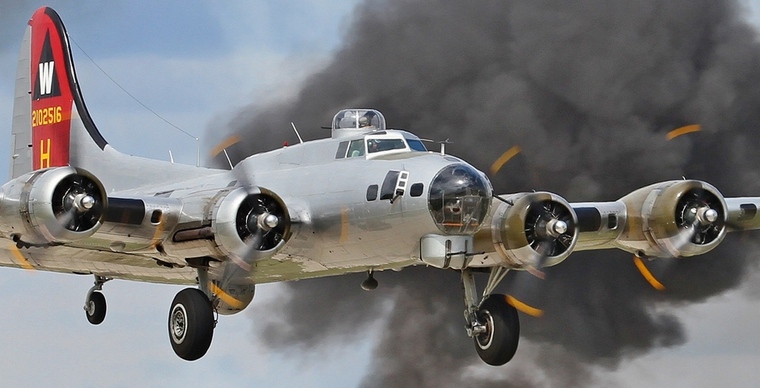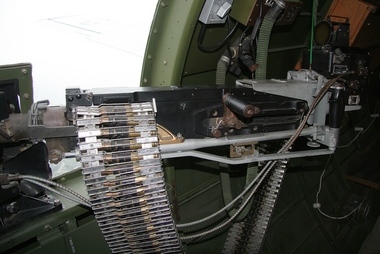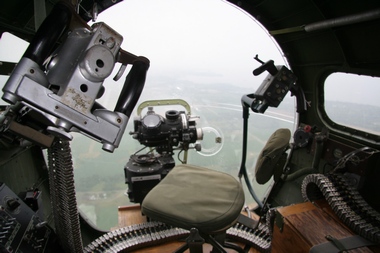 The takeoff run was smooth, the spray from the rain almost making it impossible to see the blur of the buildings outside as we powered down the runway. The the four of 4 Wright R-1820-97 "Cyclone" turbo supercharged radial engines each developing 1,200 hp (895 kW) roaring in unison as we left mother earth and flew into the overcast sky. Once airborne one is allow to unbuckle and explored the basic cramped interior at leisure and it's difficult to imagine how crews survived flights of 1,738 nautical miles (3,219 km) with 2,700 kg (6,000 lb) of bombs aboard whilst dodging flack and enemy fighters.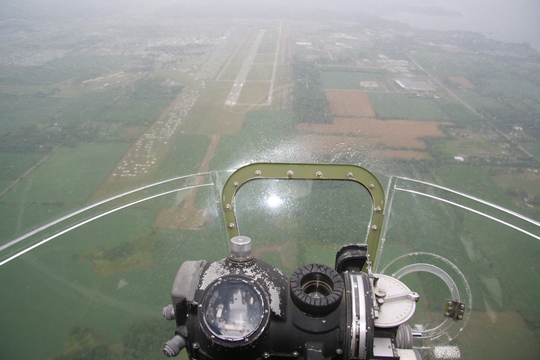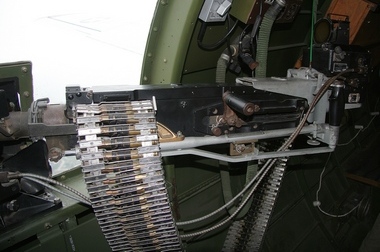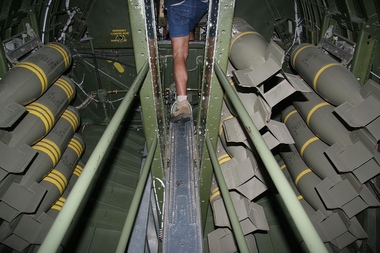 Only two areas are of limits, the Tail-gunners position at the rear under the empennage and the Sperry ball turret under the belly. Because of its breathtaking 180 plus degree views and cramped space only one person at a time is allowed in the nose turret and visits are restricted to two minutes. To get to the cockpit one step down onto a narrow gangplank above the bomb bay doors and flanked by row upon row of bombs make your way forward to another set of steps that leads up to the B 17's office. Except for a new radio and two glass screens the layout shows it 1940's vintage.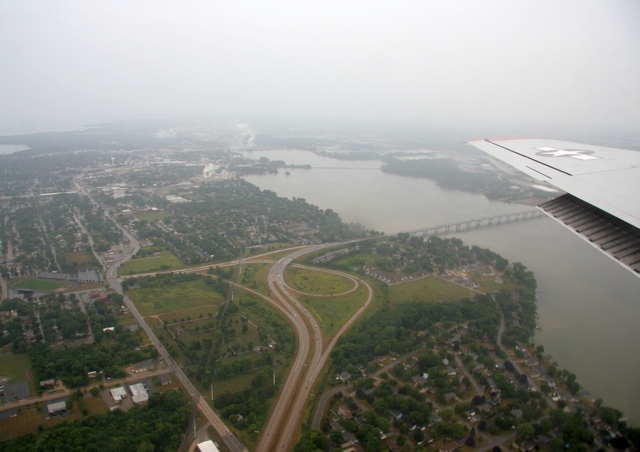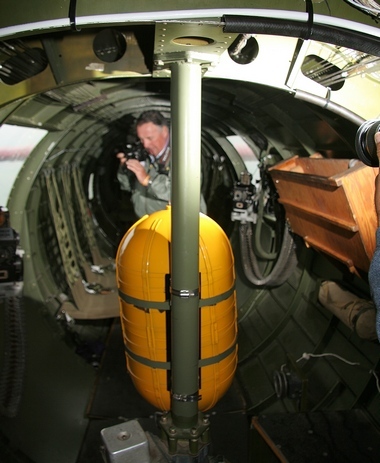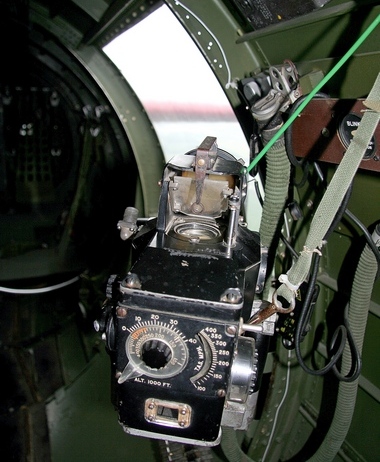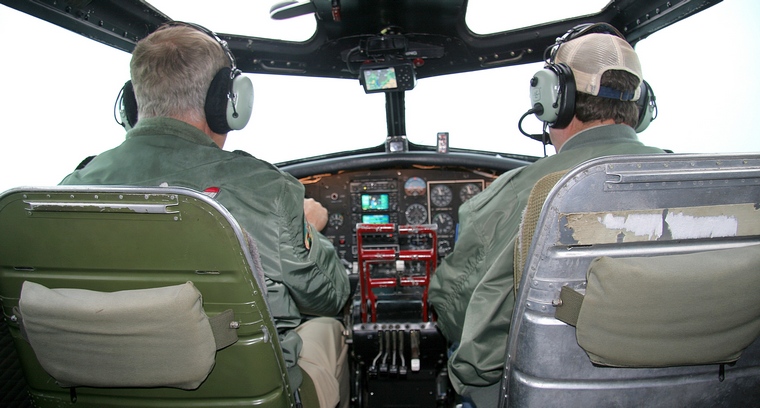 The flight takes one over Oshkosh and the surrounding area before returning to Appleton and is over much too quickly. It was however the experience of a lifetime and another legend to check of my bucket list.
General characteristics
Crew: 10: Pilot, co-pilot, navigator, bombardier/nose gunner,top turret gunner, radio operator, waist gunners (2), ball turret gunner, tail gunner[194]
Length: 74 ft 4 in (22.66 m)
Wingspan: 103 ft 9 in (31.62 m)
Height: 19 ft 1 in (5.82 m)
Wing area: 1,420 sq ft (131.92 m2)
Airfoil: NACA 0018 / NACA 0010
Aspect ratio: 7.57
Empty weight: 36,135 lb (16,391 kg)
Loaded weight: 54,000 lb (24,500 kg)
Max. takeoff weight: 65,500 lb (29,700 kg)
Powerplant: 4 ◊ Wright R-1820-97 "Cyclone" turbosupercharged radial engines, 1,200 hp (895 kW) each
Performance
Maximum speed: 287 mph (249 kn, 462 km/h)
Cruise speed: 182 mph (158 kn, 293 km/h)
Range: 2,000 mi (
Service ceiling: 35,600 ft (10,850 m)
Rate of climb: 900 ft/min (4.6 m/s)
Wing loading: 38.0 lb/sq ft (185.7 kg/m2)
Power/mass: 0.089 hp/lb (150 W/kg)
Armament
Guns: 13 ◊ .50 in (12.7 mm) M2 Browning machine guns in 8 positions (2 in the Bendix chin turret, 2 on nose cheeks, two staggered waist guns, 2 in upper Sperry turret, 2 in Sperry ball turret in belly, 2 in the tail and one in the nose)
Bombs:
Short range missions (<400 mi): 8,000 lb (3,600 kg)
Long range missions (ė800 mi): 4,500 lb (2,000 kg)
Overload: 17,600 lb (7,800 kg)