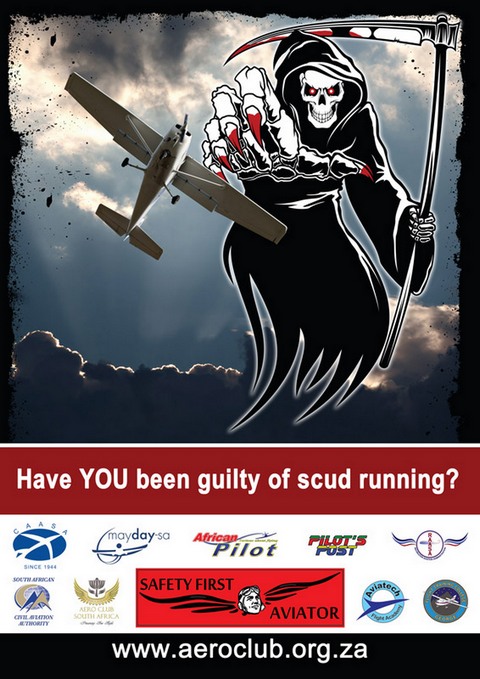 THIS WEEK IN MIDWEEK UPDATE

1 Plan your weekend
2 Forthcoming events
3 Africa Aerospace and Defence, AFB Waterkloof 17 to 21 September 2014
4 Great plans in 2014 for the ever growing RV Fraternity in SA
5 Embraer Meets Aircraft Delivery Guidance for 2013
6 US Air Force Receives 1st B-1 Equipped with Boeing Integrated Battle Station
7 Vintage RC Aircraft Pilot's News Letter January 2014
8 EEA Chapter 322 visit Wayne Giles's Bearhawk Build
9 Advertising Rate Card

1


PLAN YOUR WEEKEND



31 January to 01 February: SAC Western Cape regionals / AWAC finals at Mossel Bay. Contact Annie Boon e-mail: change@mweb.co.za
31 January to 02 February: Dias Festival airshow - Mossel Bay.
Contact Hans Potgieter e-mail: airshowevents@gmail.com 082 768 1754
1 February: SAPFA Rand Airport challenge rally: www.sapfa.org.za Contact Mary de Klerk mary@expandingbranding.co.za
1 February: SAAF Museum flying training and open day. Contact Capt. Kobus Kapp 012 351 2342. E-mail: webmaster@saafmuseum.org
2
2014 FORTHCOMING EVENTS

8 February: MISASA Shootout 2014 to be held at Kitty Hawk. Contact Donald Hicks e-mail: wendonair@wendon.co.za or John Boucher e-mail: comms@misasa.org Tel: 082 553 1105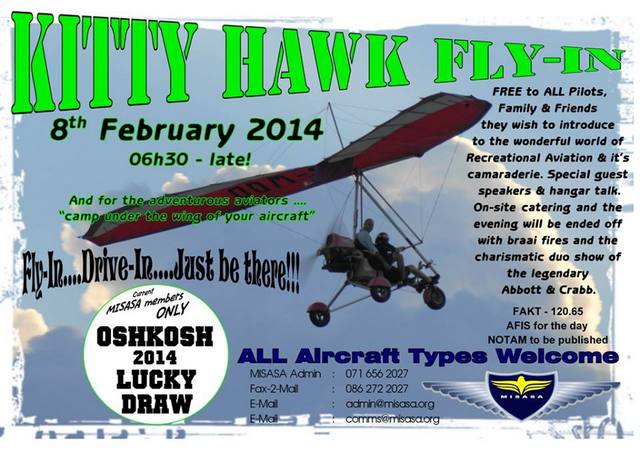 1 March: Swellendam fly-in. Contact Pieter Venter 083 250 9504
pventer@vgv.co.za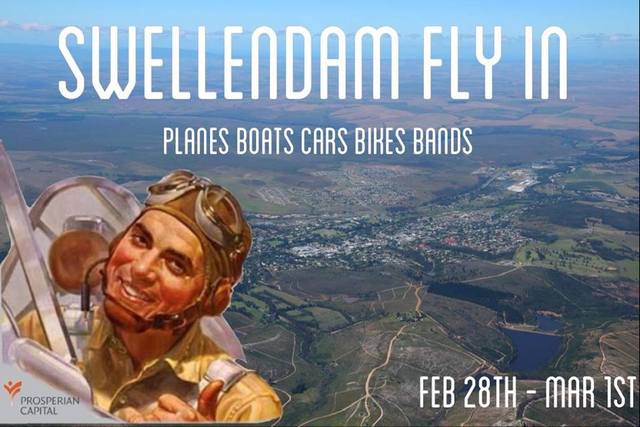 1 March: SAAF Museum open day. Contact Capt. Kobus Kapp 012 351 2342
webmaster@saafmuseum.org



1 March: Parys Pylon Time Trials - VANS RV REVOLUTION, Parys, Free State, South Africa. Contact Scully Levin 083 500 8387 email:flyboys@global.co.za
8 March: Bultfontein Wings and Wheels. Contact Piet Vermaak 082 571 3422
bultfontein@laeveld.co.za

13-15 March: SA Navy Festival. Contact Navy PRO 021 787 5684
21-23 March: Durban Sky Grand Prix, Durban. Contact Gerna Fraser 031 563 9165
22 March: PASASA TMG fly-in, Kittyhawk. Contact Marietjie van Niekerk 082 765 6670
23 March: SAPFA Rally -Virginia Airport. Contact Mary de Klerk
email:maryd@expandingbranding.co.za
28-39 March: Wings and Wheels festival, Uitenhage. Contact Lourens Kruger 082 320 2615
imk@telkomsa.net
29-30 March: DAC North-West regionals. Contact Annie Boon change@mweb.co.za
3
AFRICA AEROSPACE AND DEFENCE, AFB WATERKLOOF 17 TO 21 SEPTEMBER 2014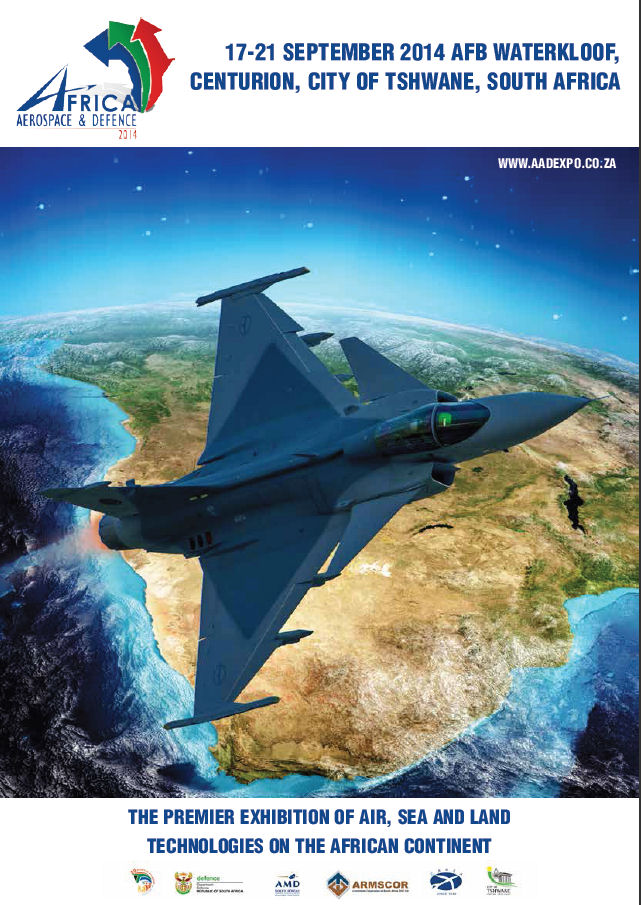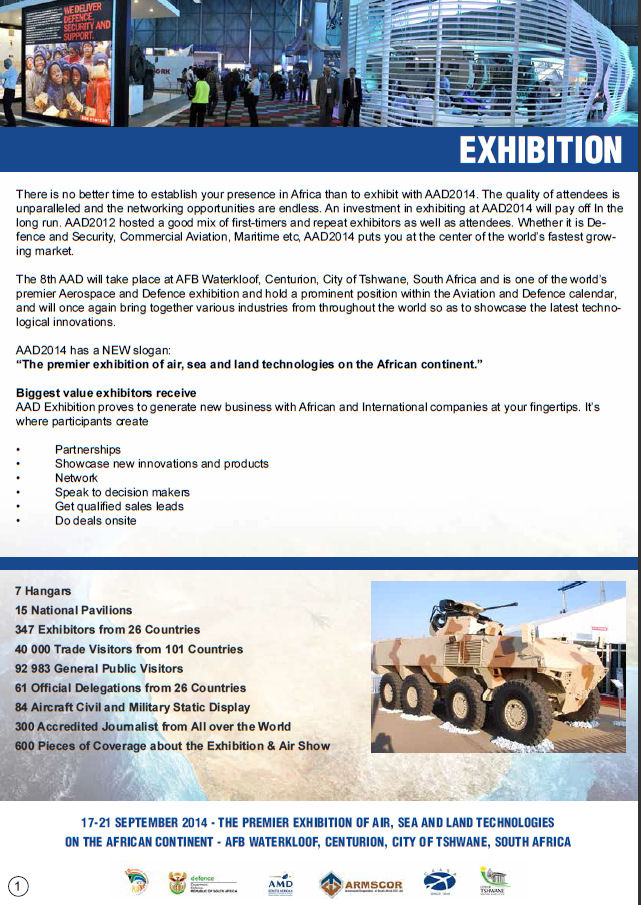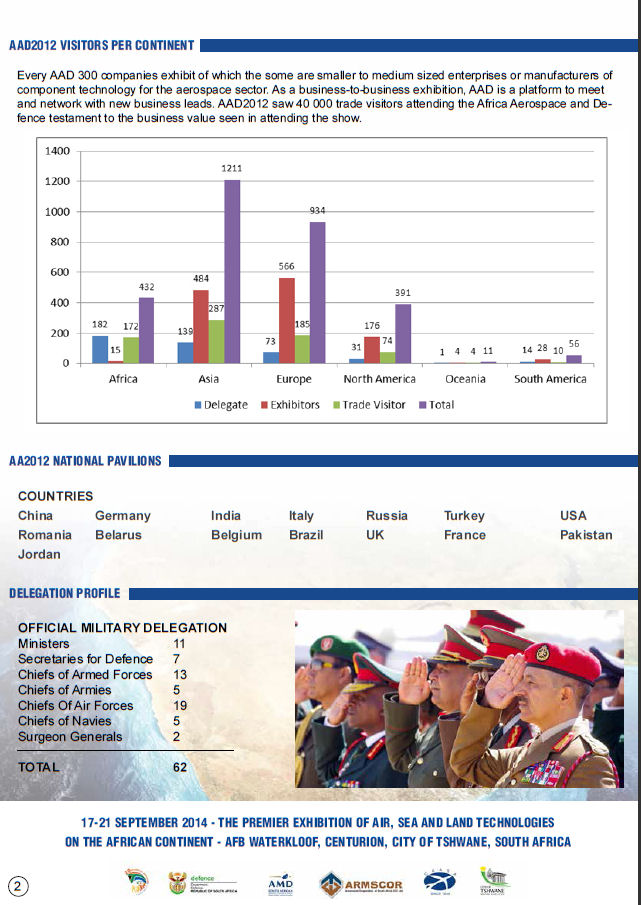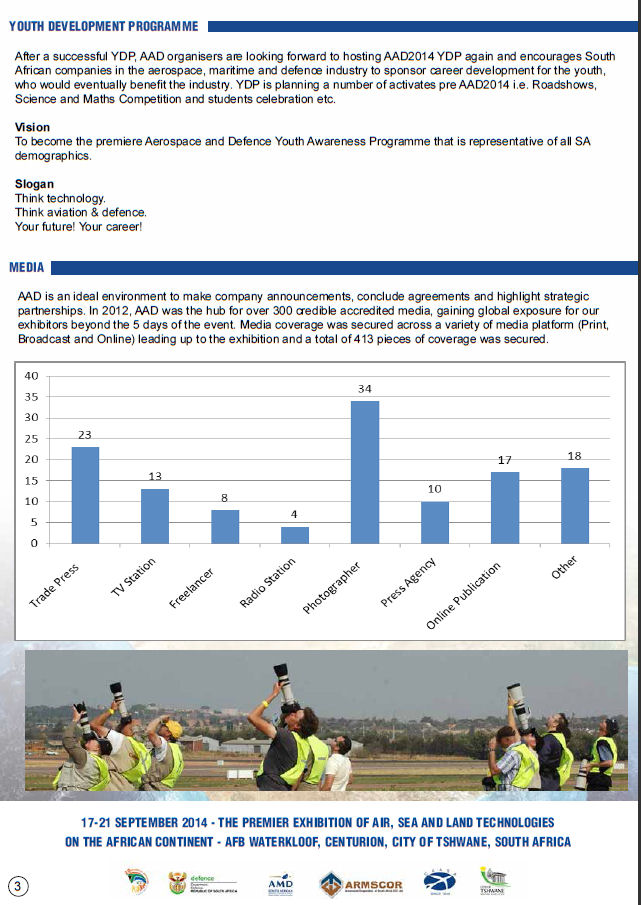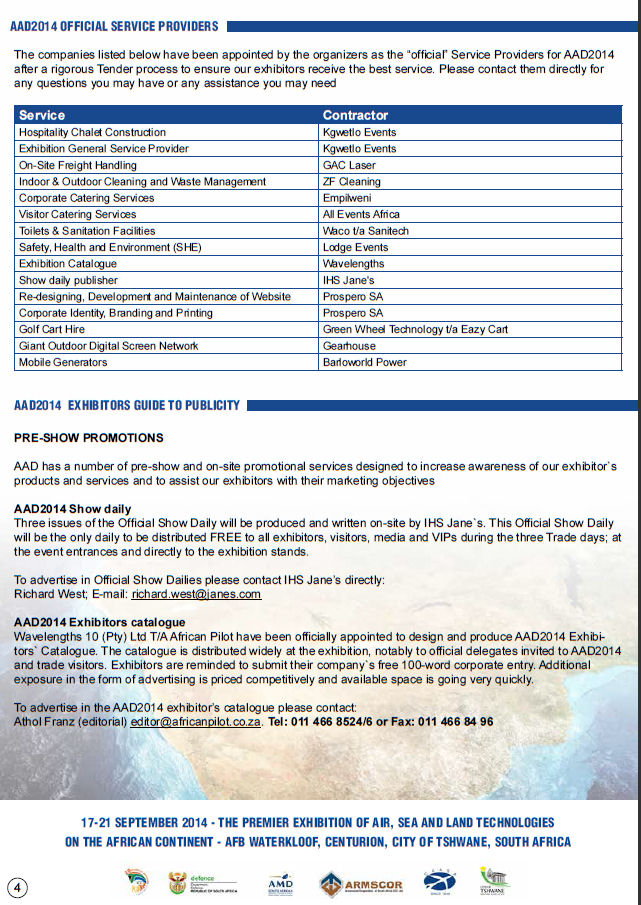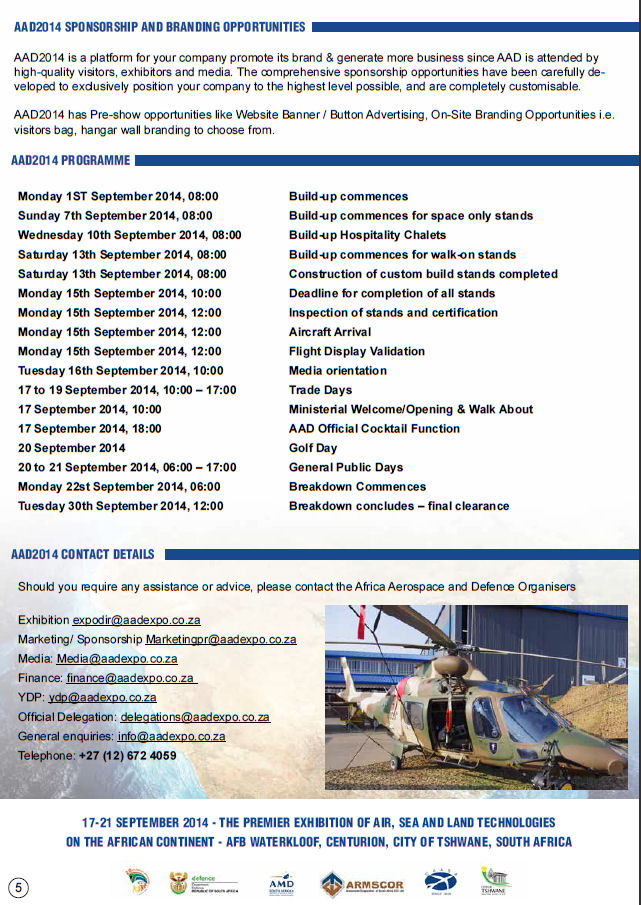 4


GREAT PLANS IN 2014 FOR THE EVER GROWING RV FRATERNITY IN SA

Again the legendary Scully Levin has invited us all to join in on a weekend that will prove to be nothing short of extraordinary down at Parys on the 1st and 2nd of March. The greater the turnout, the more extraordinary it will be…..
There are 3 "prongs" to this year's event. Firstly the Pylon Time Trialing…..Secondly a Two Ship Formation Contest….. and finally a Mass RV Formation.
In order for us to get the most of the day the thinking is for as many as possible to make a weekend of it. There are plenty of good B+B's in Parys (list attached), hangar space has been offered for up to about 15 RV's and as most of you know there is a breakfast that "Skriks vir Niks" at Fanie's before you venture home again. The mass formo will be just prior to sunset on the Saturday so those wanting to be a part of that will need to stay over. Then of course these events are as much about the camaraderie as the flying so it will be great to enjoy a cold beer or two and tell some "War Stories".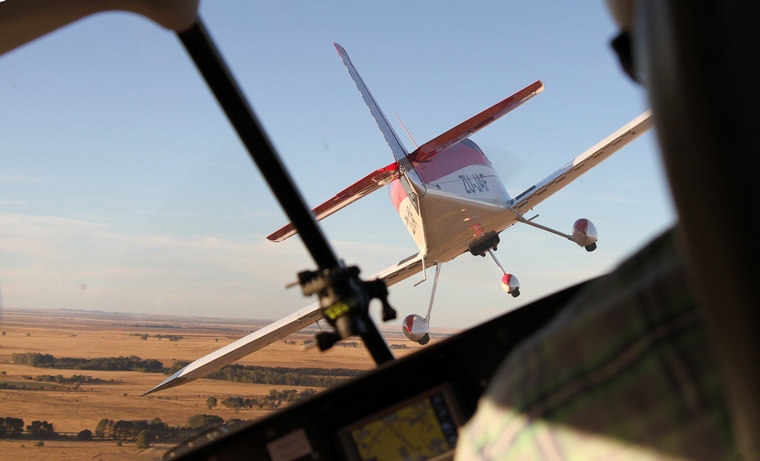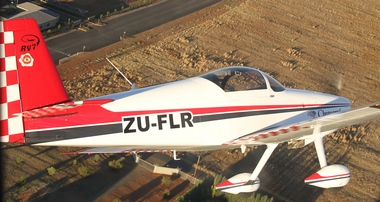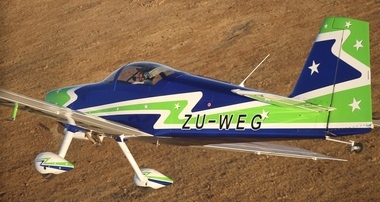 Here is how the weekend is envisaged:
Sat 1st March will commence with the Pylon Time Trailing which has now become well established and with the experience base will easily be completed during the morning.
The afternoon will commence with a formation briefing by one of the formation Guru's after which all RV pilots will be invited to complete in a Two Ship Flat Formation competition.
The exact format of the competition is yet to be finalized but will be something along the following lines…..
You will take off in a pair downhill on Runway 24 towards the township on the hill. You then return in a VIC formation up Runway 06. Once you have crossed the upwind threshold of the runway you turn right through 270 degrees so as to come back down the grass runway heading Westwards. As the turn is commenced you adopt the "line astern" formation. Your flypast down the runway heading Westwards is thus done in line astern. Having crossed the main road, you turn left, still in line astern, onto a left hand downwind for Runway 06. The number two then moves into a right hand VIC. You turn left through 180 degrees so as to come back up Runway 06. You then descend in a shallow dive to 500 feet a.g.l. and perform a "break" onto a left hand downwind for landing onto Runway 06.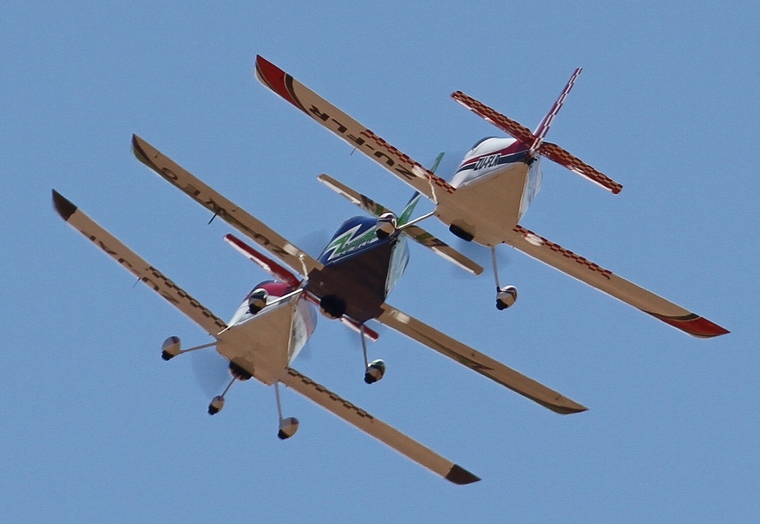 You will be judged by a panel of judges seated at the clubhouse. This panel will be headed by Jeff Earle, who will discuss the criteria on which you will be judged.
These are likely to be: Positioning, Compactness of the presentation, Station keeping, Positioning of the planes in the formation, Formation integrity, Tightness and Smoothness.
So the objective between now and the 1st March is find a formation partner, find a willing mentor who has some formation experience and get practicing. We will finalise the format in the next week or two and let you have that as soon as possible.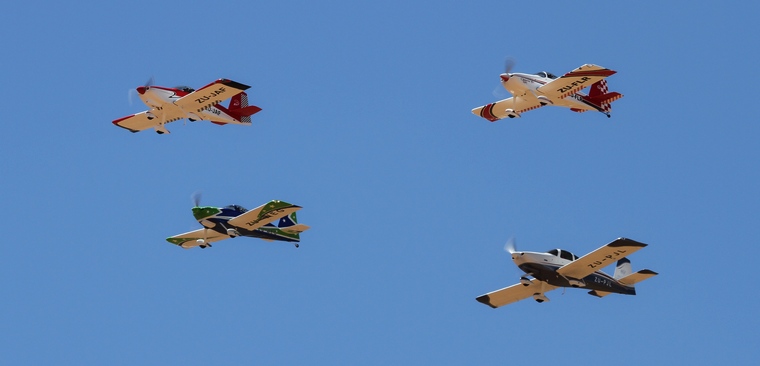 The mass formation at the end of the day will be briefed and flown down the Vaal River into the setting sun. We believe that without too much sweat, we can get 30 RV's into a mass formation. On the 16th Oct 2013 the Americans managed to get 49 RV's into a mass formation. With a little push I think we could come close…. http://www.eaa.org/news/2013/2013-10-16_49-RVs-set-new-formation-flight-record.asp.
Thereafter a cold beer watching a late summer Freestate sunset….
In summary:
The weekend is about camaraderie more than anything, there are many guys out there who will be more than willing to help with some advice with regard to the Pylon event if you have never flown that as well as the formation event. So if you are unsure; the correct course of action is to phone someone you know to get some help. Then sign up and be there….
See you all on the 1st March….
There will be more info to follow over the next few weeks so watch this space…
5


EMBRAER MEETS AIRCRAFT DELIVERY GUIDANCE FOR 2013, WITH 90
COMMERCIAL AND 119 EXECUTIVE JETS

Embraer S.A. delivered 32 commercial and 53 business jets during the fourth quarter of 2013 (4Q13), thus closing out the year with 90 airplanes delivered to the airline market and 119 to executive aviation, that is, 90 light and 29 large jets.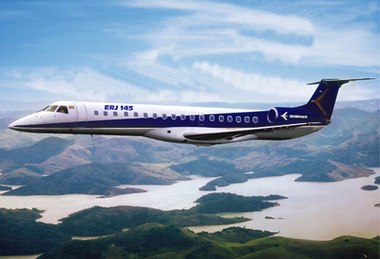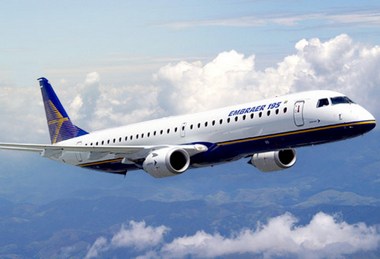 Therefore, Embraer met the estimated aircraft delivery guidance proposed for 2013, for both commercial jets and executive jets from the light and large categories. At the end of the year, the firm order backlog stood at USD 18.2 billion.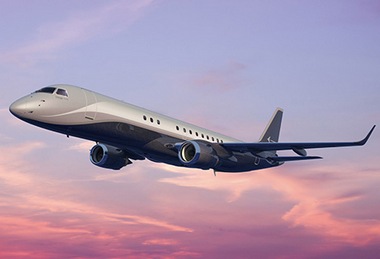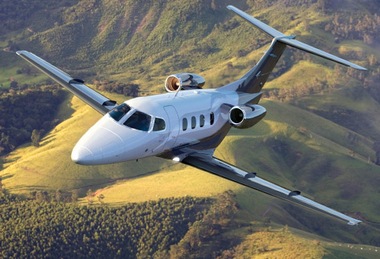 The main highlight of the quarter was the signing of a contract with American Airlines, Inc. for 60 E175 jets, with options to buy an additional 90 jets of the same model.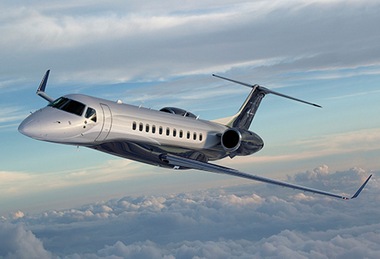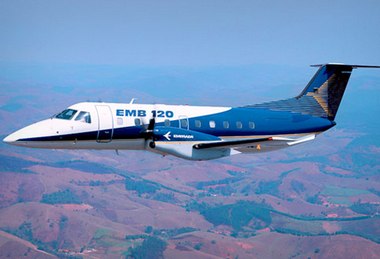 6
US AIR FORCE RECEIVES 1ST B-1 EQUIPPED WITH BOEING INTEGRATED BATTLE STATION

The U.S. Air Force on Jan. 21 received the first B-1 bomber upgraded with the Boeing [NYSE: BA] Integrated Battle Station, which essentially turns the B-1 into a new aircraft with the addition of full colour displays, moving maps and a new diagnostics system.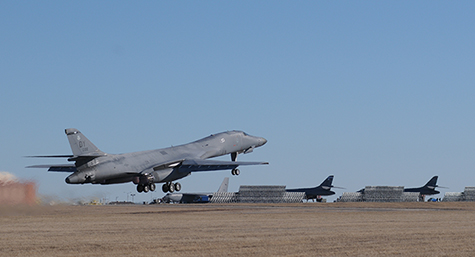 In this photo, the B-1 takes off from Tinker Air Force Base, Okla., where Air Force maintenance technicians installed the upgrade. It was delivered to Dyess Air Force Base, Texas.

The upgrade, the most extensive modification program in B-1 history, enhances the bomber by giving crews greater situational awareness of what is happening in the battle space around them, in addition to faster and more secure communication capabilities that improve crews' ability to engage enemy targets.

7


VINTAGE RC AIRCRAFT PILOT'S NEWS LETTER JANUARY 2014

CHAPTER OF VINTAGE AIRCRAFT PILOTS

Your committee wish you everything of the best for 2014 and may all your landings be gentle.
It is with sadness that I have to report the passing away of Brian White. I believe Brian passed away some time in November 2013. His family chose not to inform us, hence we could not attend his service. Never the less we will add his name to our Role of Honour. May he rest he peace.
The silly season has passed without any of us having any car accidents. Well done all of you.
Report Back Barnstormers 22nd of December 2013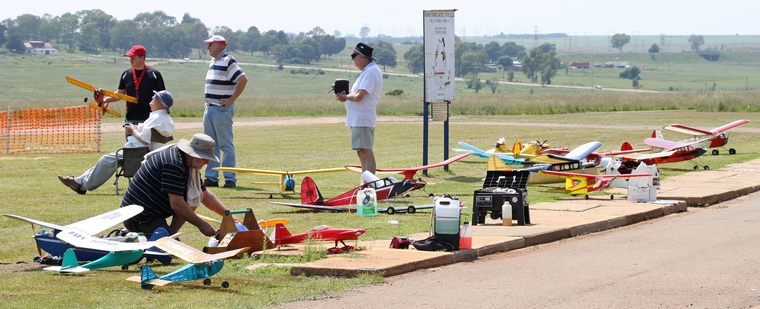 As always Barnstormers Committee had the club and facilities spick and span for us. Also thanks to Keith Nicolls for the braai.
We welcomed back Chris Freeman after his horrible experience of seeing his house burn down. He has in this short time already built three new models. It's great to have you back Chris. From the entire club we wish you and Jolene everything of the best for the future. Also welcome to Sybrand Strachan and Davie to Old Timers. Also welcome to Keith Renicel with his electric control line aircraft. Nice seeing you out again.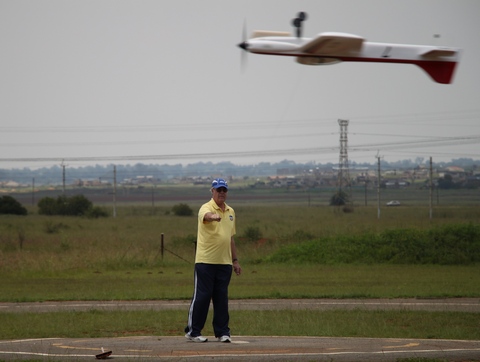 The technical count for the day was: 5 Diesels, 2 Cox 049 and a Super Cyclone sparky. We also had 31 aircraft in attendance. And did I mention that we had no wind. Must be a first for some time now.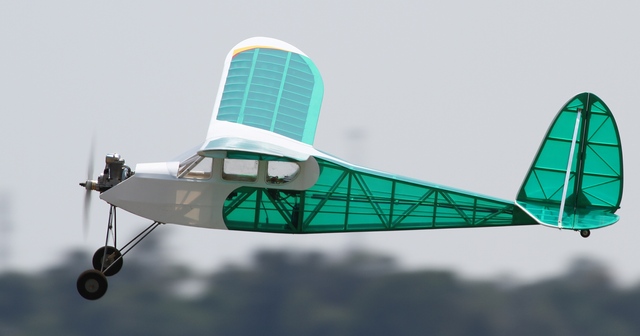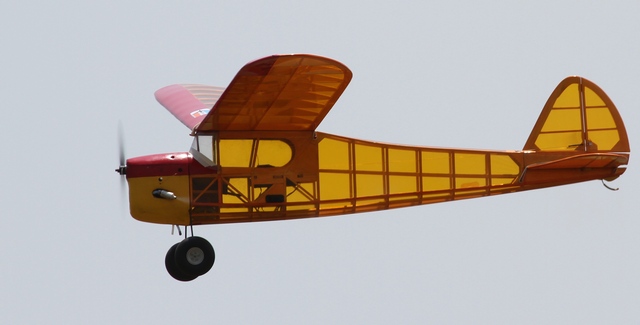 FUN TROPHY

To Jaunita and Alan Smith. It is so nice seeing a married couple having so much fun flying Old Timer aircraft. These two people have such a busy schedule flying other disciplines, It's great that they make time for Old Timers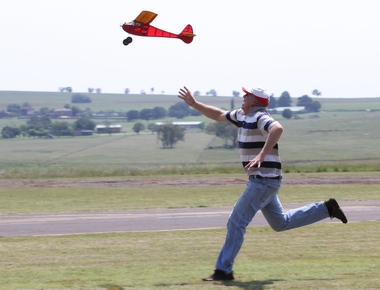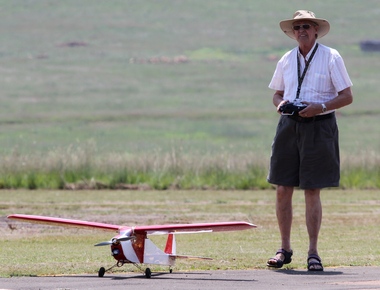 FIDDLER IN THE PITS TROPHY

Sadly Ted Daubney could not make it. We could not find a replacement.
MAIDEN TROPHY

To Johan Herbst for his beautiful Quaker Flash. One must wonder how many of these models have been built over the years??
CLIMB AND GLIDE TROPHY

Must be Jaunita and Alan Smith towing up a Vintage Raven glider with a Falcon old timer and a vintage Super Tiger 46 bull ring motor. What a beautiful sight to see.
BEST GLIDER FLIGHT

Roland with his beautiful Bird Of Time. Roland gave us some lessons in the art of sending up a glider on a high start. He must have pulled that elastic about 400 meters before releasing the plane. Thanks Roland it was great watching how it should be done.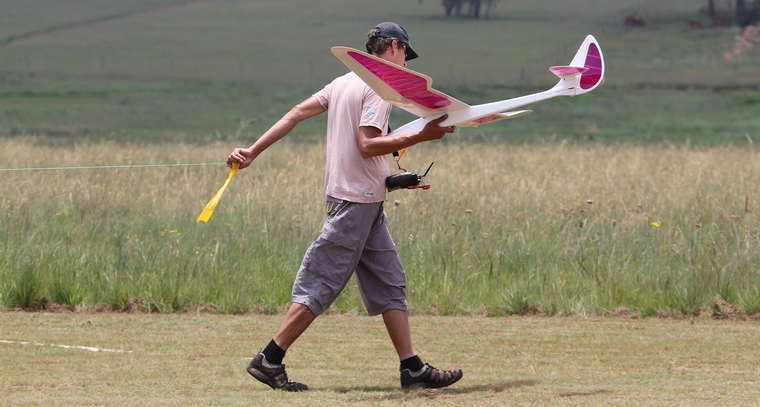 OOPS TROPHY

Alex Jones sending his Sandow off without extending the transmitter aerial. Fairly good free flight, only broke the propeller.
Trevor Wilkinson was a close second with not enough epoxy on the fire wall. So the motor escaped. Not much damage though.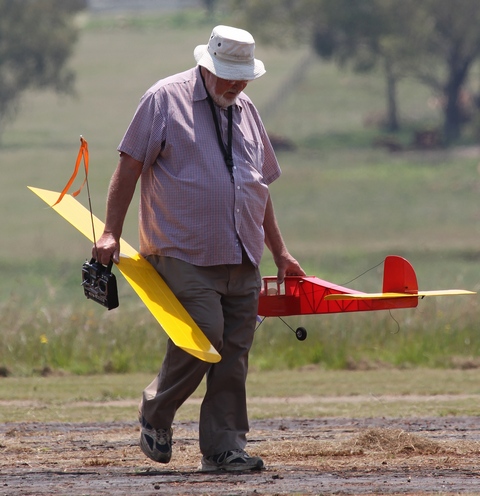 So ended another wonderful day out with the Old Timers. Our thanks to Keith for the braai and to Barnstormers for allowing us to host our fly-in at their club.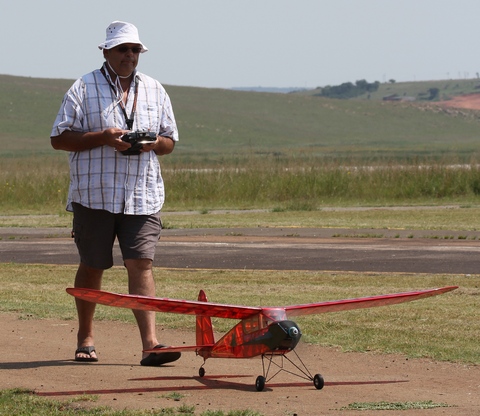 Best regards,
Colin.
General News:

We will bring the remainder of Stan's things. There are still three boxes of goodies which are filled with lots of useful accessories, spares, etc. One or two old motors are left, but all in all, a BIG THANKS to everyone who contributed, and who bought engines/wood and any other bits and pieces. Aunty Merle is extremely grateful, and it helped her immensely in creating space whilst preparing to move to New Zealand.
On a personal note, I would like to thank Uncle Colin for all his help these past few weeks. I have been at times a little preoccupied with other things which have needed my attention. He has written the newsletter whilst Roland has taken photos for us. Thanks to both of you! I will be back on track from January, and look forward to this year!
See you at the next fly in!
Colin, Tyron, Jolene, Schalk, and Roland..

8

EEA CHAPTER 322 VISIT WAYNE GILES'S BEARHAWK BUILD


Last Saturday almost 40 Chapter 322 members visited Fly Inn Estates to view the progress of Wayne Giles's Bearhawk.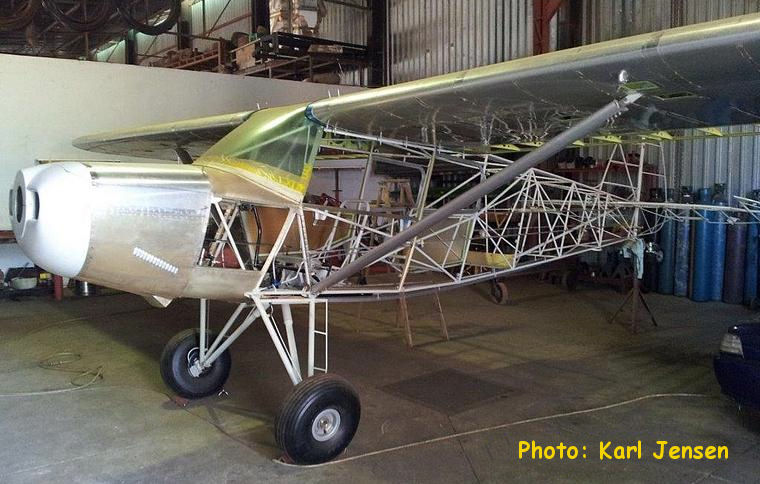 Wayne started the build in November 2012 and is confident that the Superior IO 360 powered 185 hp Bearhawk will take to the air in June.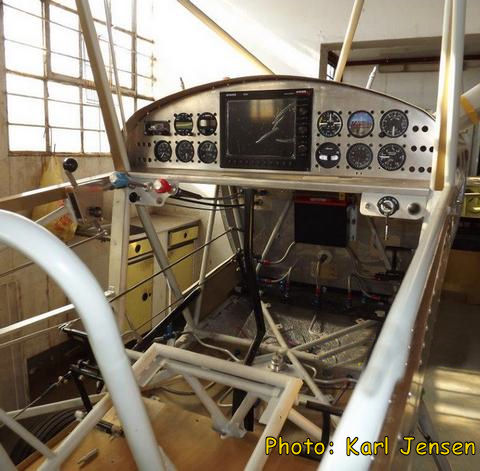 The Bearhawk is the first aircraft build by Wayne who is a resident of Fly Inn Estates and also the owner of a Cessna 180.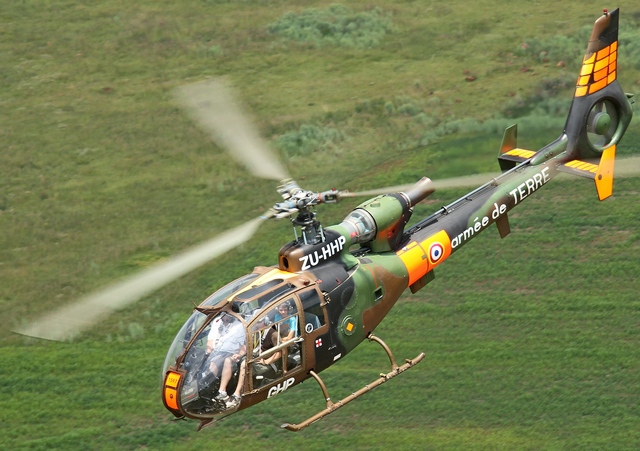 Eugene Couzyn who after heaps off paper finally got his Westland Gazelle registered and arrived amidst much excitement. The Gazelle looks fabulous in its original French markings. Captain Karl Jensen kindly offered to fly me in the Pixie Plane for a photo shoot.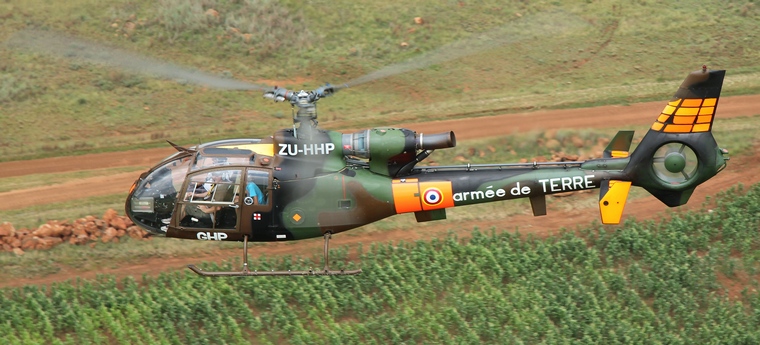 9