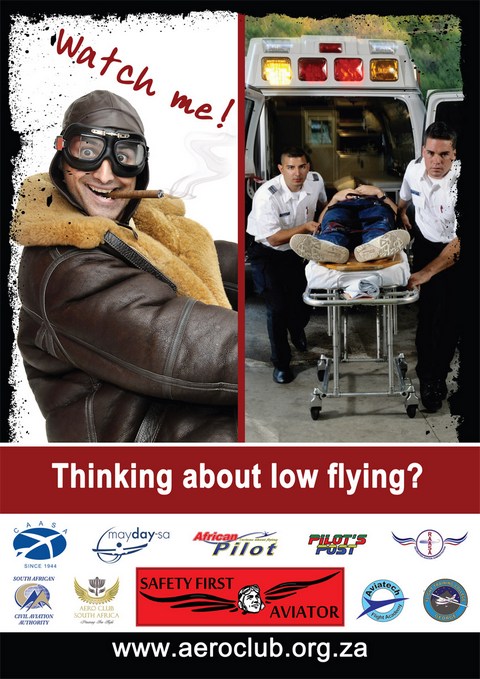 THIS WEEK IN MIDWEEK UPDATE


1 Plan your weekend
2 Forthcoming events
3 Cirrus Aircraft earns 2014 Flieger Award for Best 4-5 Seat Airplane
4 Great War Flying Museum to bring four replica WWI planes to Oshkosh
5 World's only flying Lockheed Vega coming to Oshkosh
6 Valdez STOL Pilot Spotlight: Mike Olson
7 Eurofighter Typhoon - 20 years strong
8 Russian Helicopters deliver Ka-32A11BC to Shanghai
9 Rate Card


1


PLAN YOUR WEEKEND


10 May: SAAF Museum Annual Airshow, AFB Zwartkops. Contact: Lt. Col. O'Connor 012 351 2290 E-mail: oc@saafmuseum.org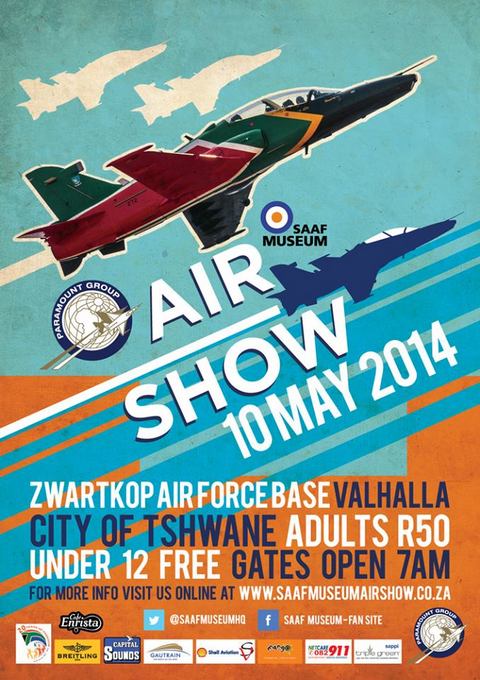 2
2014 FORTHCOMING EVENTS

17 May: SAPFA Fun Rally, Krugersdorp. E-mail:
mary@expandingbranding.co.za
7 - 11 May: Vulintaba National Hot Air Balloon Championship in Newcastle KZN. Members of the public can book rides by sending an e-mail with detail to info@champ.co.za confirmation of the price per person will be confirmed by e-mail.
9 to 11 May: Battlefields Fly-in. Contact 034 218 1641 E-mail stay@battlefieldslodge.co.za
17 May: Dundee Airshow. Contact: Johan Pieters E-mail: johan@champ.co.za
082 923 0078
17 May: SAAF Association Johannesburg branch. Race day 2014. Come and join us for a FUN DAY! Venue: Bold Cherry Room, Turffontein Race Course, Johannesburg, Cost per person R250. This includes a great buffet lunch and free race card. Private Tote in the Room.
To book, please phone : Carol van Rensburg at SAAFA JHB Office
(011) 616 7406 OR E-Mail: info@jhb.saafa.co.za .
closing date for bookings: 7th May 2013.
all proceeds go towards SAAFA Benevolence Fund
18 May: Parys Pylon Time Trials - All comers. Contact Scully Levin
E-mail:
flyboys@global.co.za
24 May: Ladysmith Airshow. Contact: John Neilon E-mail: john@eastcoastsa.net 082 485 5514
24 May: Lowveld Airshow (Nelspruit) Contact: Kerry Palermo 071 686 5996 E-mail: periperi@mweb.co.za
29 to 31 May: President's Trophy Air Race. Contact: Robbie Myburgh E-mail: website www.sapfa.org.za.
31 May: New Castle Airshow. Contact: E-mail:
johan@champ.co.za
Marketing, Johan 082 923 0078 or Christo 083 375 5883
1 June: Baragwanath Airfield celebrates its 95th anniversary. The original airfield was created in 1919, with the Johannesburg Light Plane Club being formed in 1926. The club is still in operation today at the 'new' Baragwanath south of Lenasia and we are planning a good old fashioned fly-in to celebrate South Africa's aviation heritage and its future with a wide variety of aircraft present at the airfield on the day (old rubbing shoulders with new) and some great entertainment in the form of live music, vintage cars and motorcycles and period dress competition.
Please RSVP to Courtney Watson with your name, names of your guests, your aircraft type and Registration e-mail: cwatson@stithian.com 083 642-3565. Information will be available on the Johannesburg Light Plane Club website and updates and notices will be sent via E-mail Courtney.
7 June: Pietermaritzburg airshow. Contact: John Neilon e-mail: john@eastcoastsa.net 082 485 5514 or Gerna Fraser 031 563 9165 e-mail: gerna@kznairevents.co.za
7 June: SAAF Museum flying training and open days. Contact: Capt. Kobus Kapp 012 351 2342 e-mail: webmaster@saafmuseum.org
14 June: Margate airshow. Contact: John Neilon e-mail: john@eastcoastsa.net 082 485 5514 or Gerna Fraser 031 563 9165 e-mail: gerna@kznairevents.co.za
21 June: Richards Bay airshow. Contact: John Neilon e-mail: john@eastcoastsa.net 082 485 5514 or Gerna Fraser 031 563 9165 e-mail: gerna@kznairevents.co.za
20 & 21 June: Mafikeng Memorial War Fly-In. Contact Connie: Conradie 018 387 1425 or e-mail: info@mafikeng-flyingclub.co.za
28 June: Mkuze airshow. Contact: John Neilon e-mail: john@eastcoastsa.net 082 485 5514 or Gerna Fraser 031 563 9165 e-mail:
3
CIRRUS AIRCRAFT EARNS 2014 FLIEGER AWARD FOR BEST 4-5 SEAT AIRPLANE

We are honored to have received, at this year's AERO Friedrichshafen, the 2014 Flieger Award for our SR22 G5, as the best 4-5 seat airplane. The Generation 5 embodies everything that makes a Cirrus a Cirrus…and then some.
The most noteworthy difference in the Generation 5 is the dramatic increase in the load carrying capacity of the SR-series. The Generation 5 SR22 and SR22T can carry 200 lbs more than previous generation Cirrus aircraft.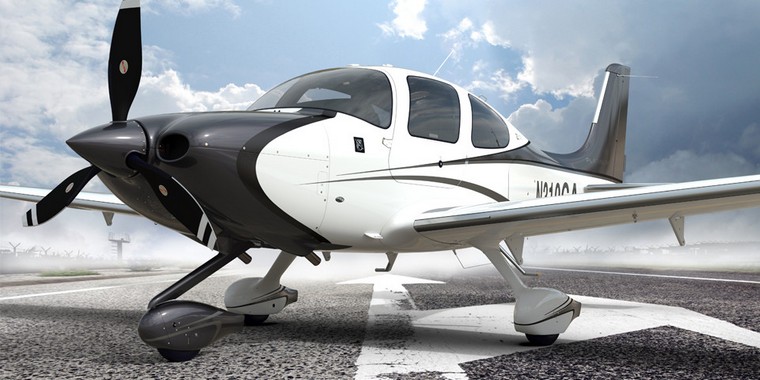 The re-designed Generation 5 is complete with the unparalleled safety, innovation and luxury that Cirrus owners have come to expect

In addition, the 2014 models of Cirrus aircraft are improved with striking new features that will be noticed immediately on the ramp. With a new palette of exterior paint colors and the redesigned Carbon and Platinum aircraft paint schemes, 2014 Cirrus Aircraft are set apart for new owners. Less noticeable but equally important are the new Beringer performance brakes, which enhance braking performance and safety.

4




GREAT WAR FLYING MUSEUM TO BRING FOUR REPLICA WWI PLANES TO OSHKOSH

Four outstanding replica aircraft from the Great War Flying Museum, of Caledon, Ontario, Canada, will participate in EAA's World War I aviation centennial activities at EAA AirVenture Oshkosh 2014. The aircraft include the museum's Sopwith 1-1/2 Strutter, Royal Aircraft Factory S.E.5a, Nieuport 28, and Fokker Dr.I.
GWFM's Kees Van Berkel said the entire crew at the museum is looking forward to July. "We truly appreciate what Oshkosh is and felt it was a must to be there this year," he said. "Oshkosh is Oshkosh - there is no other.
"On behalf of the museum members and the board of directors, we're thrilled at the honour and privilege of taking part in the World War I aviation centennial. It's something that you can only do once, so it's a great opportunity."
The GWFM was founded in 1970 by members of the Brampton Flying Club. The museum's mission is "to provide the finest local presentation of World War I aviation history by acquiring, building, maintaining, and flying representations of period aircraft as well as displaying period artefacts for the education, entertainment and benefit of our members and the visiting public."
Fokker


This aircraft was completed and first flew in 1982, with major rebuilds in 1993 and 2005. It's painted to represent an all-red triplane flown by German pilot Manfred von Richthofen, better known as The Red Baron. Built from the Sands/Redfern plans, the airplane is powered by a 165 hp Warner Super Scarab engine.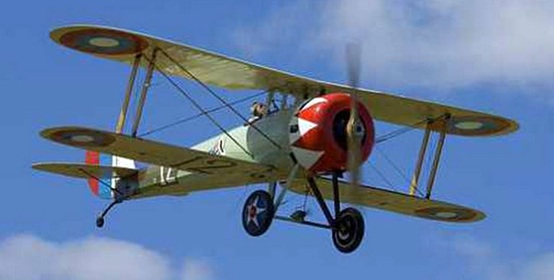 Nieu

This airplane represents the American Air Service with "Hat in the Ring" markings based on serial No. 6159 as flown by American Ace Eddie Rickenbacker and the 94th Aero Squadron. The airplane was acquired by the museum as an unfinished project, completed in 1995, with a major rebuild in 1996.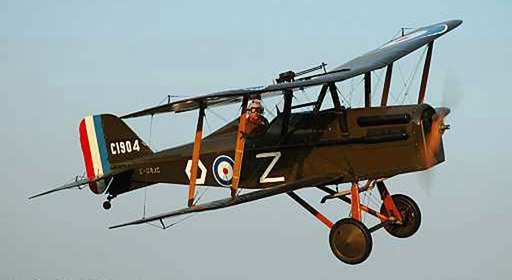 RAF

GWFM's full-scale S.E.5a was completed in 1991 and carries the scheme C1904 of Canadian Ace Billy Bishop of the Royal Flying Corps. Built with original RAF plans for wings and external dimensions of fuselage, the aircraft has an adapted Starduster Too steel structure for its fuselage. Originally powered by a Ford V-6 engine, it was replaced with a Ranger 6-440-C5 in 1996 during a major rebuild. Another rebuild took place in 2006.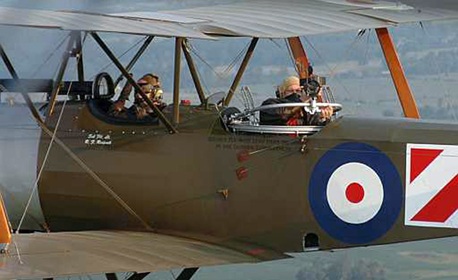 Sop

This aircraft completed in 2004 based on the Replicraft Plans with a modified steel fuselage. It's considered a rarity among WWI replicas because of its two-seat fighter/observation configuration. Colours represent those of Canadian Sub-Lt. R.F. Redpath of the Royal Naval Air Service, and power comes from a Continental W670 9A. C-FSOP is popular for film work due to its second seat, significantly increasing its ability to replicate scenes from the war.
Further details and schedules of the World War I centennial commemoration activities will be announced as they are finalized.
5


WORLD'S ONLY FLYING LOCKHEED VEGA COMING TO OSHKOSH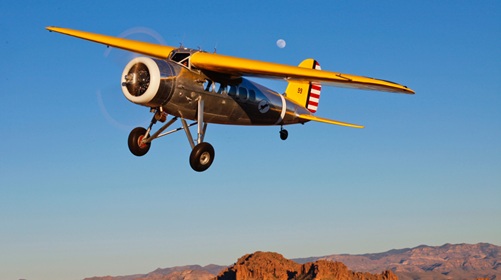 The 1933 Lockheed Vega DL-1B carries the paint scheme that its sister ship (c/n 158) wore when it served with the 35th Pursuit Squadron out of Langley Field, Virginia, in 1932. Photo by Scott Germain/Images of Light and Lift


Those who revel in rare aircraft are in for a real treat at EAA AirVenture Oshkosh 2014 as the world's only flying example of the Lockheed's history-making Vega, made famous by such aviation legends as Amelia Earhart and Wiley Post, flies to Wittman Regional Airport for the 62nd annual gathering scheduled for July 28-August 3.
John Magoffin, EAA 1003773, of Tucson, Arizona, will show his beautifully restored 1933 Lockheed Vega DL-1B to aviation enthusiasts from around the world who will truly appreciate its historical significance. Magoffin has put about 10 flying hours on NC12288 since its maiden post-restorative flight on December 17, 2013. That was the first time in more than two decades since a Vega had flown.
The six-passenger monoplane, serial number 161, is currently hangared at the Commemorative Air Force's Air Base Arizona in Mesa.
"It's a long way from Arizona to Wisconsin, but I'm really looking forward to it," Magoffin said. Like the airplane, this will be his first visit to EAA's annual summer gathering, and attendees can see the airplane prominently parked in front of the Vintage Red Barn just south of the EAA Plaza.
A total of 630 Vegas were built, and Magoffin's is the only surviving example with an aluminium fuselage, built by the Detroit Aircraft Corporation (hence the DL model number for "Detroit Lockheed"). All other existing examples - including the one in which Amelia Earhart made the first trans-Atlantic solo flight by a woman, and the one Wiley Post flew around the world twice - are of wood construction. Those two aircraft are permanent fixtures at the Smithsonian Air & Space Museum.
Other surviving airframes include one owned by Kermit Weeks, one in the Henry Ford Museum, and one owned by John Desmond in Philadelphia that's reportedly under restoration.
According to Magoffin, the airplane is 90 percent original, with a rebuilt wing and tail that was "in splinters." It's powered by a 450-hp Pratt & Whitney R-985 Wasp Junior engine turning a Hamilton Standard 2D3 twin-blade prop. The restoration was done by Arizona Airframe Service, Marana, Arizona.
Airplane history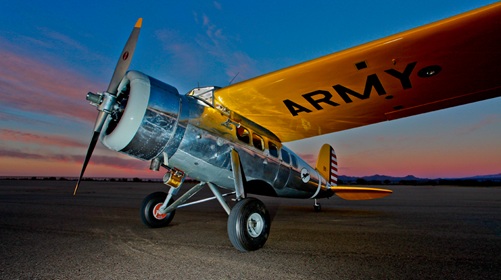 Magoffin's airplane is painted in the colours that its sister ship (c/n 158) wore when it served with the 35th Pursuit Squadron out of Langley Field, Virginia, in 1932. Photo copyright EAA AirVenture

The airplane was built in 1933 from spare parts, assembled by Lockheed's chief engineer Richard Van Hake. Originally buyer was the Morrell Meat Packing Company of Ottumwa, Iowa, and the aircraft saw several other ownership changes over the years, including Braniff Airways, the Green Construction Co. of Sioux City, Iowa; Texas & Northern Airways; Northern Air Services of Fairbanks, Alaska; and Alaska Coastal Airlines. After a crash at Ruby, Alaska, NC12288 sat derelict for a number of years.
It wound up back in Ottumwa after being acquired by Robert Taylor, who got it airworthy again in 1969. It was sold to Mid-America Air Group and then was wrecked again in Frederick, Oklahoma. Magoffin bought the airplane in 1995 as "a basket case," he said, with the three-year restoration project starting 15 years later, in 2010.
Magoffin's airplane is painted in the colors that its sister ship (c/n 158) wore when it served with the 35th Pursuit Squadron out of Langley Field, Virginia, in 1932. This outfit is still serves as the 35th Fighter Squadron flying F-16s out of Kunsan, South Korea. Their squadron patch features the Black Panther as used in 1932.
That aircraft was the first Lockheed product acquired by the U. S. military (U.S. Army Air Corps.) A second Vega (c/n 159) was later acquired by the U. S. Army Air Corps, and fitted with a wire-braced landing gear for speed. Flown by Capt. Ira Eaker, it set an unprecedented speed record during an attempt to fly coast-to-coast. When Eaker was forced to make an emergency landing in Tolu, Kentucky, it was noted at the time that no aircraft had ever flown so far, so fast.
Magoffin flew as a bush pilot in Alaska in the Fairchild Pilgrim 100B, de Havilland Otters, and Stinsons, and later DC-3s and C-46s. He would like to have the airplane put to work for advertising, movies, and television promotions.
6


VALDEZ STOL PILOT SPOTLIGHT: MIKE OLSON

Mike Olson won't be attending the Valdez STOL competition in 2014, but he'll bring Cuzoom - his modified Super Cub that's won three Valdez contests - to Oshkosh for the first Valdez STOL demonstration at EAA AirVenture 2014.
Olson built the airplane in 2007 and has never quit working on it. "Everything is custom built," he said. "I didn't change the flying surfaces other than vortex generators and extended ailerons. Two years ago I installed an electronic fuel injection system (on the Lycoming 0360 engine) and it's just now starting to work right." He's gone through 20 different props, too, settling (for now) on a three-blade Catto prop.
Best competitive performance by Cuzoom came in the 2010 Valdez STOL competition when Ed Doyle, EAA 474018, of Manhattan, Kansas, made a 43-foot takeoff and landed in 35 feet.
Among Cuzoom's other special features are a custom tuned exhaust, custom cam, custom rocker arms, adjustable push rods, polished/ported oil sump, and a B&C alternator. The custom landing gear is 6 inches forward by 12 inches longer. Weight savings (Cuzoom empty weight is 897 pounds) come from billet aluminum wheels, light 35-inch bush tires, and lighter weight panel, floor boards, windows and seats, wings, Matco tail wheel, and cowl.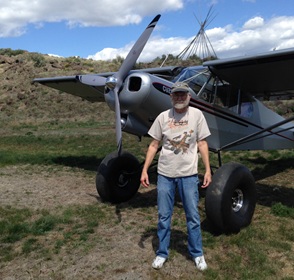 Olson built the airplane in 2007 and has never quit working on it

Other features include a flap dump control, drilled brake rotors, nitrous oxide boost, brake boosters, fuel mixture meter, square wing tips, Keller flaps, slats, VGs, flying stabilizer, and more.
One of his most effective performance tips? Waxing the prop's leading edge.
7


EUROFIGHTER TYPHOON - 20 YEARS STRONG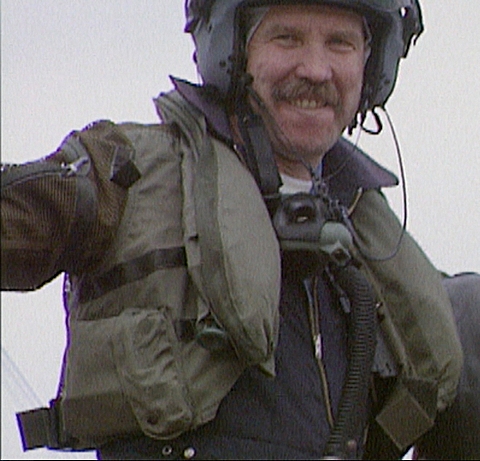 Peter Weger makes his Maiden Flight in Eurofighter Typhoon DA 1. Photo copyright Eurofighter

Europe's biggest defence programme marks a 20 year anniversary as it celebrates the first flight of the Eurofighter Typhoon on 27th March 1994.

Since that day in Manching, Germany, when Development Aircraft 1 (DA1) was flown by Test Pilot Peter Weger, over 400 Eurofighter Typhoons have been delivered with six international customers operating the aircraft and a seventh signed up.
The milestone was marked this week at Eurofighter's main European offices close to Munich where Test Pilots from all the four nations that make up the Eurofighter programme came together to re-live the maiden flights made in Germany, the UK, Italy and Spain. They were joined by the General Manager of NETMA, Air Vice-Marshal Graham Farnell, the Chief Executive Officer of Eurofighter, Alberto Gutierrez, Board Members of both organisations and Eurofighter employees.
Alberto Gutierrez, said: "This is an historic day for the European defence industry. We have built up a fantastic legacy in this aircraft and established the foundation of today's defence industry in Europe through unprecedented co-operation and a determined focus to build and deliver a world-class product.
"Twenty years ago, none of us could know how the world would change and few, if any of us, could have anticpated the challenges that this would bring. Now more than ever it is vital that we maintain and develop our European capabilities both in the commercial and military domains. It is in all our interests to do this."
The Spanish-born CEO added: "The Eurofighter Typhoon that Peter Weger first flew 20 years ago is very different to the one that flies today. From the outset, the aircraft was built with capability enhancement in mind and the process of enhancement is what delivers a long-term return on investment. The Eurofighter is now the backbone of a number of air forces and will be in service for decades to come. It is a significant European asset and one which showcases to the world the very best in technology and innovation."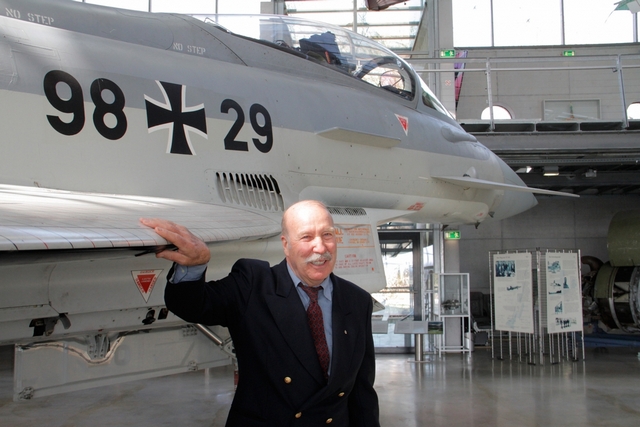 Peter Weger with Eurofighter Typhoon DA1 as it is today. Photo copyright Eurofighter

NETMA's General Manager, Graham Farnell said: "The dream of our predecessors, some 30 years ago, of a world-class European Fighter Aircraft, became a reality on 27th March 1994. This success could not have been reached without a huge amount of hard work and dedication from so many people in so many organisations across Europe."
"The aircraft they built is now fully operational in the air forces of Germany, Spain, Italy, the United Kingdom and with our partners in Austria and the Kingdom of Saudi Arabia. Soon it will also be delivered to Oman. It is defending skies and providing a 24/7 watch over Europe, the Middle East - and around the Antartic region. The challenges we face today are no less demanding than those which our predecessors had when they set out to develop this aircraft. We now need to show the same resolve, determination and vision that they had."
While it was DA1 that first flew in Germany in 1994, it was the British who next took to the air with DA2 a few days later on 6th April. Italy followed in June 1995 and Spain in August 1996. Today, Eurofighter Typhoon aircraft are built at Final Assembly Plants in all four countries.
In total more than 225,000 flying hours have been accumulated with unprecedented levels of reliability. The aircraft has also seen active service in Libya, has been used on Baltic patrol exercises and has recently been showcased at one of the world's leading air-to-air combat training events, Red Flag, at Nellis Air Force Base in Nevada.
Peter Weger, who flew that first flight said: "I had little idea when I made that maiden flight from Manching what an amazing story this would become. I knew I was piloting an incredible aircraft and we had something special. It is certainly one of those days that lives with you for the rest of your life."
Background information: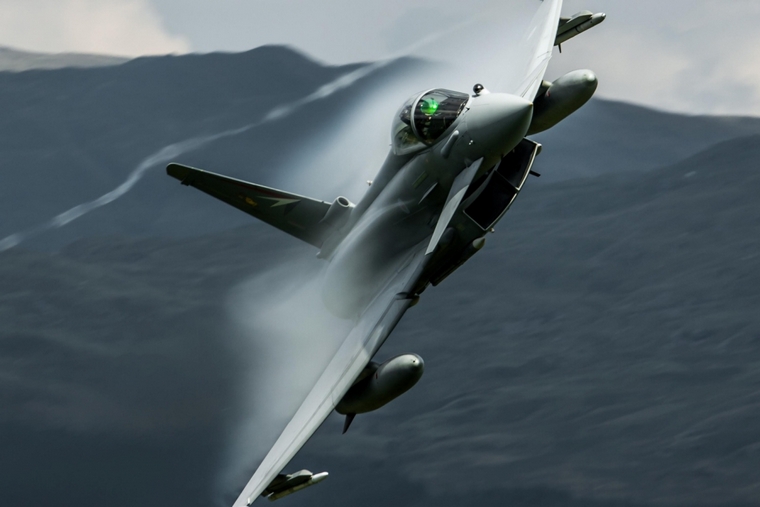 Euro Fighter. Photo by Dan Kemsley. Copyright Eurofighter

Eurofighter Typhoon is the most advanced new generation multi-role/swing-role combat aircraft currently available on the world market. Seven nations (Germany, the United Kingdom, Italy, Spain, Austria, Saudi Arabia and Oman) have already ordered the Eurofighter Typhoon. With 719 aircraft under contract and 571 on order, Eurofighter Typhoon is currently the largest military procurement programme in Europe. Its high technology strengthens the position of European aerospace industry in the international market. The programme secures more than 100,000 jobs in 400 companies. Eurofighter Jagdflugzeug GmbH manages the programme on behalf of the Eurofighter Partner Companies Alenia Aermacchi/Finmeccanica, BAE Systems and Airbus Defence and Space in Germany and Spain, which are the most important aviation and aerospace companies in Europe with a turnover of about 126 billion euro (2012).
Since delivery of the first Eurofighter Typhoon to the Royal Air Force in the United Kingdom end of 2003, a total of 400 aircraft have been delivered to six nations. The 100th Eurofighter was delivered to the Royal Air Force in September 2006. The 200th aircraft was handed over in November 2009 to the German Air Force. The 300th aircraft was delivered to the Spanish Air Force in November 2011 and the German Air Force received the 400th Eurofighter in December 2013.
In the past 10 years, the Eurofighter fleet has demonstrated its high operational effectiveness in international missions and training exercises and has accumulated more than 225,000 flying hours. Several developments such as the Phase 1 Enhancement, the integration of the METEOR air-to-air missile, the new electronic radar (E-Scan) and additional weaponry will further increase the capabilities of the Eurofighter Typhoon and secure the future of this modern combat aircraft.
NETMA (NATO Eurofighter and Tornado Management Agency) was formed on 1 January 1996 by the merger of two previously separate NATO Agencies which had been established to manage Tornado and Eurofighter aircraft development, production and in-service support. The people it employs are seconded there by the four national governments participating in the projects: Germany, Italy, Spain and the United Kingdom.
8
RUSSIAN HELICOPTERS DELIVER KA-32A11BC TO SHANGHAI

Russian Helicopters, a subsidiary of Oboronprom, part of State Corporation Rostec, has delivered its civilian multirole Ka-32A11BC helicopter to the Shanghai Public Security Directorate in China. The helicopter is produced at Kumertau Aviation Production Enterprise and the contract for this helicopter was concluded in 2012.
The Ka-32A11BC is certified in China and boasts a wide array of potential uses on the regional market, where demand for helicopters boasting broad, universal application, is constantly on the rise.
The helicopter is excellently suited to China's mountainous regions and modern cities, thanks to its unique coaxial rotor design, enabling it to take off and land in small, unequipped, locations, and to manoeuvre in mountainous or built-up urban environments.
The Ka-32A11BC is designed for special search and rescue operations, firefighting missions, and medevac flights. These helicopters are also widely used in construction work on tall structures, transporting cargo internally and on an external sling, and logging.
The Ka-3211BC is ideally suited for firefighting and rescue operations in China's high-rise urban centres. It can operate for prolonged periods in very smoky and dusty environments. The firefighting Ka-322A11BC boasts an impressive array of additional specialised firefighting equipment, including water cannon for horizontal firefighting, the Bambi-Bucket and Simplex systems.
Thanks to this wide spectrum of technical features, the multirole Ka-32A11BC boasts a breadth of operation unparalleled by any other multirole helicopter world over.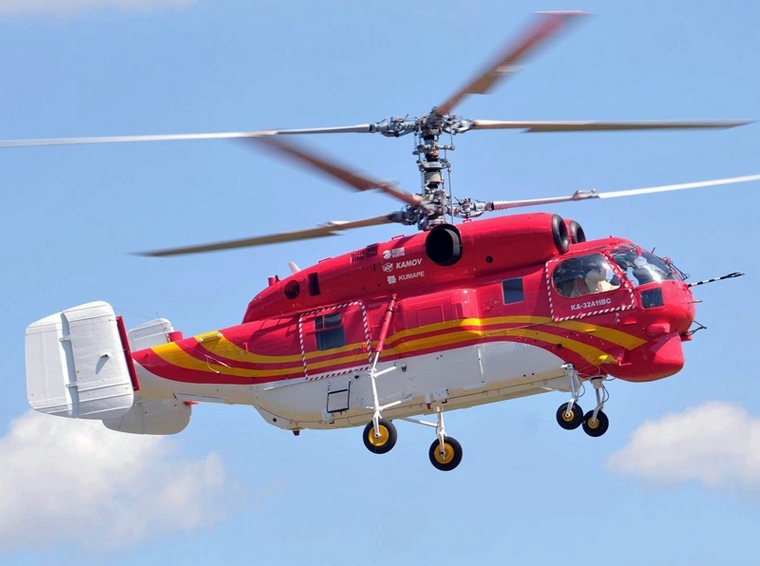 The Ka-32A11BC is designed for special search and rescue operations, firefighting missions, and medevac flights. Photo copyright Russian Helicopters

China's fleet of Ka-32A11BC helicopters is growing rapidly to meet rising demand.
A Ka-32A11BC operated by China's State Oceanographic Directorate recently found itself at the centre of the world's media attention. In early January 2014, it played a key role in rescuing passengers on the Academician Shokalskiy vessel, which had become trapped in Antarctic ice.
In addition to China, the Ka-32A11BC is certified in EU countries, Chile, Mexico, South Korea, Canada, Australia and several others.
Various versions of Ka-32 type helicopter are operated successfully in Spain, Portugal, Colombia, Switzerland, Canada, South Korea, Japan, Brazil, Chile and China. Today, over 140 have been produced, half of which are operated internationally.
Kumertau Aviation Production Enterprise, part of Russian Helicopters, produces high-tech specialised helicopter technology and is one of the largest industrial enterprises in Russia. Kumertau Aviation Production Enterprise specialises in producing coaxial helicopters, and produces all types of helicopter for the Russian Navy including the Ka-27 and Ka-31, the Ka-32A11BC civilian multirole helicopter, and the latest Ka-226 and Ka-226T helicopters.
Russian Helicopters, JSC is a subsidiary of UIC Oboronprom, which in turn is a part of State Corporation Rostec. It is one of the global leaders in helicopter production and the only helicopter design and production powerhouse in Russia. Russian Helicopters is headquartered in Moscow. The company comprises five helicopter production facilities, two design bureaus, a spare parts production and repair facility, as well as an aftersales service branch responsible for maintenance and repair in Russia and all over the world. Its helicopters are popular among Russian ministries and state authorities (Ministry of Defence, Ministry of Internal Affairs, Emergency Control Ministry), operators (Gazpromavia, UTair), major Russian corporations. Over 8000 helicopters of Soviet/Russian make are operated in 110 countries worldwide. Traditionally the demand is highest in the Middle East, Africa, Asia-Pacific, Latin America, Russia, and CIS countries. Russian Helicopters was established in 2007. In 2013 its IFRS revenues increased 10% to RUB 138.3 billion. Deliveries reached 275 helicopters.
9