Claude T. Ryan had an interest in several other companies all of which bore his name. One of those companies was Ryan Air founded in 1925 in America and funded by Benjamin Franklin Mahoney, a friend of Ryan's. Mahoney came up with the idea that Ryan should start an airline. Mahoney offered to finance the operation for a share in the profits and Ryan agreed. The airline operating under the name 'Ryan Airlines' was the first to offer an all year round regular schedule and Mahoney soon afterwards bought half a share in the operation.

In 1926, the company built its first airplane based on a design by Ryan. The M-1 (M for monoplane and 1 for the first of the series) was followed by the M-2, a faster version of the M-1. The next model was the Whirlwind engine Bluebird which closely resembled the Spirit of St. Louis and was essentially a closed cockpit version of the M-2. Only one was ever built.

In September 1926, Ryan Airlines discontinued its scheduled service because of falling passenger numbers and Mahoney bought out Ryan and continued to operate the company under the name Ryan Airlines. Ryan now found himself working as temporary general manager in his old company. Charles Lindbergh was then planning his record attempt and was looking for a suitable aircraft. Lindbergh, during his stint as an airmail pilot, had become familiar with the M-1 and approached Ryan Airlines. His request was simple; he wanted a Whirlwind powered aircraft capable of flying non-stop between New York and Paris and he wanted it delivered in less than three months. Mahoney was away and Ryan who was then still the temporary general manager replied that the company could meet the specifications, but that delivery would take three months or more. Lindbergh remained firm citing time constraints and the fact that as other competitors were planning an assault on the record, he needed the airplane delivered in less than three months. This was not negotiable.


Benjamin Mahoney returned and promptly agreed that the aircraft would be delivered in two months. In February 1927 a price of USD10, 580 was agreed upon. The factory worked solely on the Whirlwind powered aircraft that had a wingspan 10 feet longer than that of the M-1 and could carry 425 gallons of fuel. Lindbergh took delivery in May and on the 20th of that month, Mahoney, Ryan and friends watched as their sixty day wonder took off on its long non-stop crossing of the Atlantic.
In July 1927, Mahoney discontinued the Ryan Airlines' name and formed the B.F. Mahoney Aircraft Corporation, two months too late to have his name on the rudder of the Spirit of St. Louis.
In 1934, Ryan founded the Ryan Aeronautical Company. The new company's first aircraft was the Ryan ST (Sport Trainer) followed in 1936 by the more powerful STA and the STA Special powered by a Menasco 150 hp super charged engine. The US Military then showed an interest in the ST series and the STM followed. It was fitted with the Kinner Radial engine, a more rounded fuselage and had a wider cockpit to allow for pilots wearing parachutes.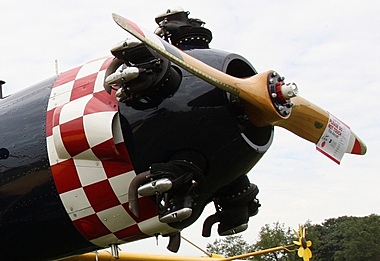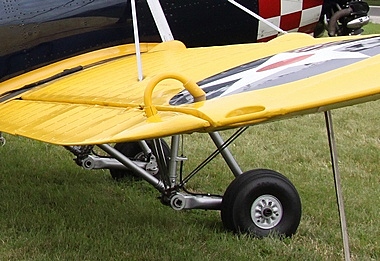 Initial production of the now renamed PT-16 started, but orders were slow and only 15 were built. The PT-20 followed with orders for 15 and then orders increased as the threat of war escalated. Two hundred PT-21s were delivered. 100 each to the United States Army Air Force (USAAF) and the United States Navy (USN)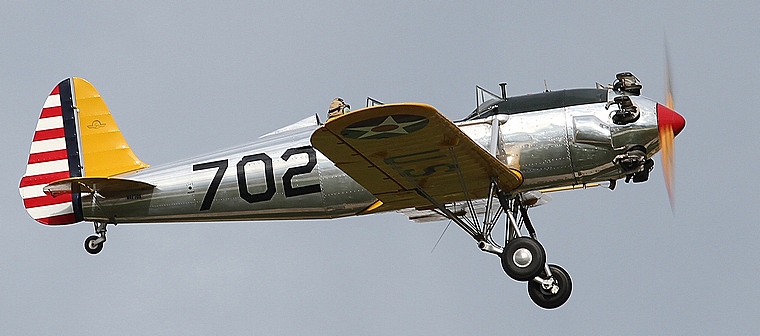 The PT-22 better known as the Recruit was the definitive version and with war now imminent, pilot training was expanded. During 1941 orders streamed in and more than 1,000 PT-22s were built. Another 1568 other military versions were built during the war years and the PT-22 saw extensive service in the Allied Air Forces.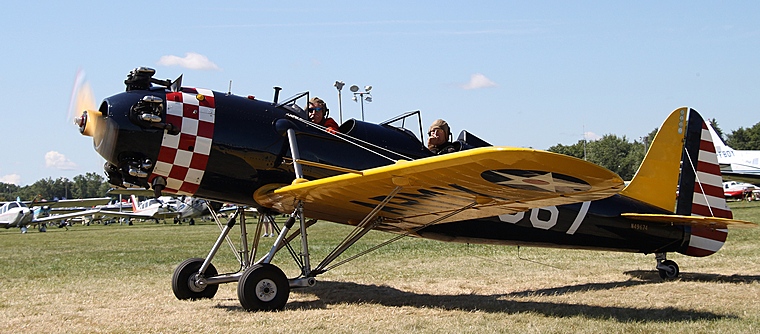 Ryan PT-22 Recruit: Specifications
Crew: one, pilot
Capacity: 1 passenger
Length: 21 feet 5 in (6.53 m)
Wingspan: 30 feet 0 in (9.15 m)
Height: 9 feet 2 in (2.79 m)
Wing area: 124 feet≤ (11.5 m≤)
Empty weight: 1,081 lbs (490 kg)
Loaded weight: 1,600 lbs (726 kg)
Powerplant: 1 ◊ Menasco C4, 125 hp (93 kW)
Performance:
Maximum speed: 126 mph (203 km/h)
Range: 366 miles (589 km)
Service ceiling: 17,200 feet (5,243 m)
Rate of climb: 800 feet/min (244 m/min)
Wing loading: 13 lbs/feet≤ (63 kg/m≤)
Power/mass: 0.08 hp/lbs(0.13 kW/kg)
After World War ll ended, the Ryan Aeronautical Company continued and diversified. At one stage it even resorted to manufacturing coffins which it sold to both the military and civilian population. It became a pioneer in Jet V/STOL aircraft design and development and was responsible for the revolutionary delta wing tail sitting Ryan Vertijet.
In 1968, Teledyne acquired the company for USD128 million and Claude Ryan retired as chairman of the new company named Teledyne Ryan. In 1999 Teledyne Ryan became part of the Northrop Grumman group, Ryan's unmanned vehicles forming a core part of the business.