THIS WEEK IN MIDWEEK UPDATE


1 Plan your weekend
2 Forthcoming events
3 F-35 Lightning II to fly at Farnborough Airshow
4 Bombardier Showcases Q400 NextGen Aircraft in Astana, Kazakhstan
5 Blackshape increases its European Network
6 Boeing, U.S. Navy Expand P-8A Maritime Patrol Fleet with 14th Delivery
7 Another C-5M Goes West
8 Boeing delivers CH-147F Chinooks to Canada
9 Major Russian military helicopter producer celebrates 75th anniversary
10 Rate Card


1


PLAN YOUR WEEKEND



11-12 July. Brits Flying Club 60th birthday celebrations. For bookings please contact Johan Booyens at info@britsflyingclub.co.za or 071 444 0928.
2
2014 FORTHCOMING EVENTS

17 to 20 July: SAC Nationals - venue TBA. Contact Annie Boon e-mail: chunge@mweb.co.za
18 to 20 July: Taildraggers to Nylstroom fly-in. Contact Richard Nicholson Nylstroom Flying Club 082 490 6227
19 & 20 July: Parys Time Trials and flour bombing competition - Golden Oldies & Microlights. Contact Scully Levin E-mail:
flyboys@global.co.za



26 July: Botswana International Airshow. Contact: E-mail: gknipe@work.co.bw
+267 71300646


26 July: Breakfast Fly-In. 29 Zandfontein in Brits, North West. Contact admin@atsheli.co.za for co-ordinates


28 July-3 Aug: EAA's annual AirVenture to be held in Oshkosh USA. Camping on the airfield contact Neil Bowden e-mail: neil1@telkomsa.net


2 August: SAAF Museum flying training and open days. Contact Capt. Kobus Kapp 012 351 2342 E-mail: webmaster@saafmuseum.org


6 -10 August: Race of Champions - Ulundi airfield. Contact Mariska at AirTeam e-mail: Mariska@airteam.co.za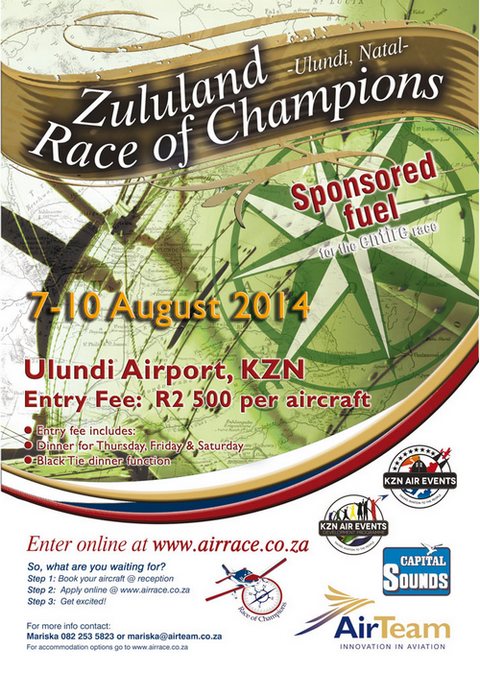 8 - 9 August: EAA Convention at Wings Air Park East London. E-mail Mike Wright AA East London. E-mail
mjswright@me.com
17 August: Grand Rand airshow. Contact Stuart Coetzee 011 827 8884 E-mail:
Carolyn@randairport.co.za
23 August: Klerksdorp Airshow. Contact Cliff Lotter E-mail: exodus@telkomsa.net or 082 855 5550
12 -14 September: EAA Chapter 322 Sun 'n Fun at Brits airfield. E-mail
karlpix@icon.co.za
or phone Karl at 082 331 4652
13 - 14 September: SAC Gauteng regionals and Judges Trophy - Vereeniging. Contact Annie Boon E-mail: change@mweb.co.za
17 -21 September: Africa Aerospace and Defence (AAD2014) AFB Waterkloof South Africa. E-mail: info@aadexpo.co.za
25 - 28 September: Cirrus Migration to Namibia CDC Aviation. Contact Deon Wentzel 011 701 3835 or E-mail: sales@cdcaviation.co.za
27 September: PASASA TMG fly-in Parys airfield. Contact Marietjie van Niekerk Cell: 082 765 66
4 October: Petit Pilots Post Classic Aircraft Fly In. Contact Ivan 082 375 9180 or John 079 192 5866
3

F-35 LIGHTNING II TO FLY AT FARNBOROUGH AIRSHOW


Airshow organisers, Farnborough International Ltd, can finally confirm that the F-35 Lighting II will be appearing at the Farnborough Airshow as part of the aircraft's international debut, after weeks of speculation. Social media channels went wild with the news last night with many enthusiasts excited to see the much-anticipated vertical thrust fighter aircraft fly at the show.
The F-35 Lighting II's presence at the Farnborough Airshow also mark's a unique aviation first with the aircraft's VTOL (Vertical Take Off and Landing) predecessor, the Sea Harrier, also being present at the show. Speaking about the occasion, Shaun Ormrod said, "The Harrier has played a distinct role in modern aviation history, a hero of the Falklands War and a superb example of aviation technology. The opportunity to see the last and next generation of vertical thrust aircraft at the same venue marks a milestone in aviation history and possibly one that will never be seen again."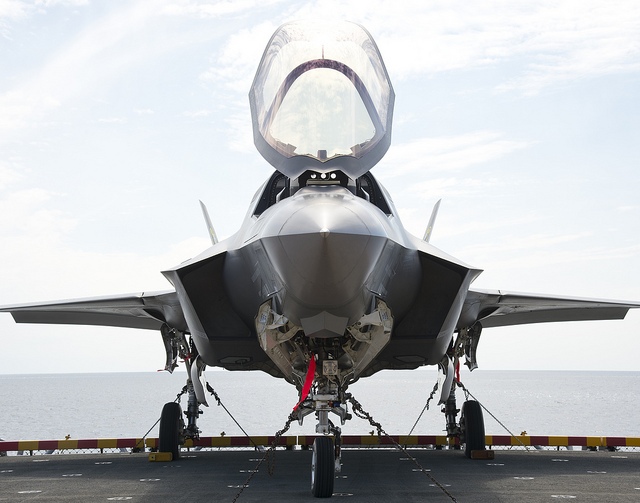 Farnborough Airshow in 2014 will blow the socks off its visitors. Photo Copyright Farnborough

The theme for the flying display at this year's Farnbrough Airshow is 100 years of aviation and will see a variety of historic aircraft at the show from the Great War Display Team and the BBMF (Battle of Britain Memorial Flight) to modern day favourites the Red Arrows and the RAF Typhoon Display Team. The exciting news of the F-35 will be an exciting addition to the line-up.
Speaking about the flying display, Trevor Barratt, heading up the weekend spectacular said, "Farnborough Airshow in 2014 will blow the socks off its visitors. We have a jam-packed, 5 hour programme and we are very excited by the line-up".
The World famous Farnborough Airshow opens its doors on Saturday 19th and Sunday 20th July offering a whole host of family entertainment. 2014 sees a completely new type of show with a themed flying and static aircraft display, the launch of FA Live hosted by television celebrities Angelica Bell and Michael Underwood, a new automotive zone, General Aviation Park and other interactive features.
4



BOMBARDIER SHOWCASES Q400 NEXTGEN AIRCRAFT IN ASTANA, KAZAKHSTAN

Bombardier Aerospace has announced that it showcased a Q400 NextGen aircraft in Astana, Kazakhstan today. Activities included a demonstration flight for Air Kazakhstan and representatives of the media.
"The Q400 NextGen turboprop is ideally suited for the geographically diverse regions in Central Asia," said Ray Jones, Senior Vice President, Sales, Marketing and Asset Management, Bombardier Commercial Aircraft. "The Q400 NextGen aircraft is the most advanced turboprop on the market and has the speed and range required to service the Kazakh market with the highest standards of safety, reliability and passenger comfort. Importantly too, the Q400 NextGen aircraft has proven its capability in very hot, as well as extreme cold weather conditions - having been certified for operations in temperatures as low as -54o C.
"With operating costs that are significantly lower than other in-production, 70-seat aircraft, the Q400 NextGen aircraft offers airlines a distinct advantage," added Mr. Jones.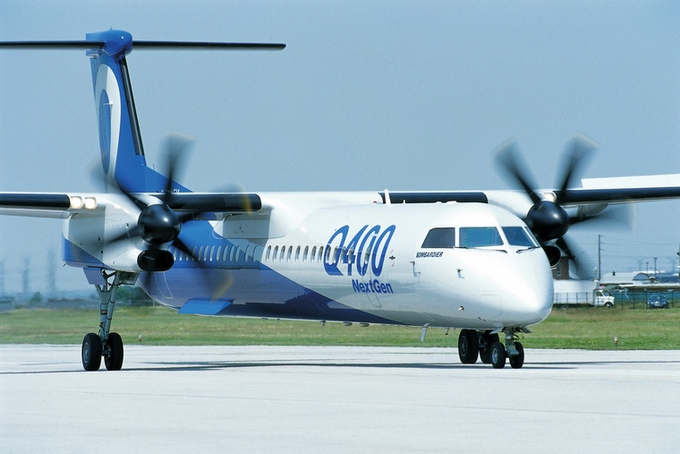 Worldwide, Q400 and Q400 NextGen aircraft have transported more than 295 million passengers and have logged over 4.7 million flight hours. Photo copyright Bombardier

The Central Asia region is experiencing a demand for modern aircraft as older, less efficient designs present ongoing challenges to airlines given high fuel costs and heightened environmental concerns.
About Q400 NextGen aircraft
With the introduction of the Q400 NextGen aircraft, Bombardier invented the modern turboprop. Optimized for short-haul operations and seating up to 86 passengers, the aircraft is a large, fast, quiet and fuel-efficient turboprop that provides the perfect balance of passenger comfort, performance and operational flexibility with the lowest seat-mile costs in the short-haul regional market. With the flexibility to fly at both turboprop and jet-like speeds, the Q400 NextGen aircraft can be profitably deployed over short-range turboprop missions and in medium-haul jet markets. Now available in optional dual class, extra capacity and passenger-cargo combi configurations, the Q400 NextGen aircraft's versatility positions it to again reshape the turboprop market through profitable growth.
The Q400 NextGen aircraft features an enhanced cabin environment with the introduction of LED lighting, new ceiling panels, dished window sidewalls and larger overhead luggage bins. These features, combined with the aircraft's Active Noise and Vibration Suppression (ANVS) system, provide an excellent cabin experience for passengers.
Bombardier has recorded firm orders for a total of 498 Q400 and Q400 NextGen aircraft. Worldwide, Q400 and Q400 NextGen aircraft have transported more than 295 million passengers and have logged over 4.7 million flight hours and more than 5 million take-offs and landings. The Q400 and Q400 NextGen aircraft program includes over 50 customers and operators in over 30 countries on five continents. Long recognized as a high-value asset by operators, the Q400 aircraft is now also attracting growing interest from the leasing community.
5


BLACKSHAPE INCREASES ITS EUROPEAN NETWORK.

Kairos Aviation is the new dealer in the UK for the Blackshape BS115 CS-VLA

Blackshape continues to increase its European commercial network. Today an agreement was signed with Kairos Aviation Limited, the UK based aviation network of Flight, Distribution and Maintenance Centres.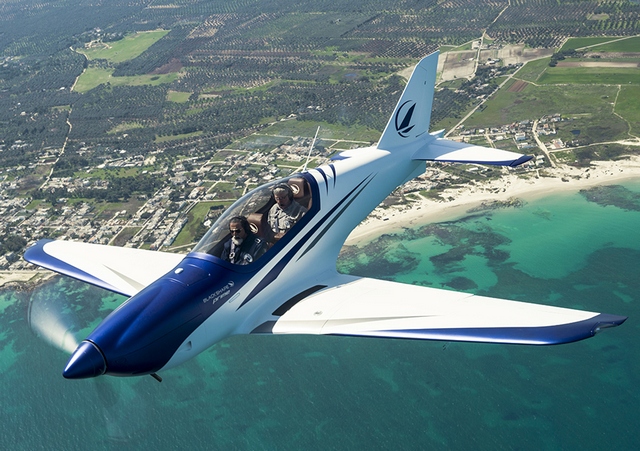 The Prime combines sportiness with versatility and creates a flying experience unlike any other. Photo copyright Blackshape

"The UK is an important market for Blackshape", stated Mr Angelo Petrosillo, Managing Director Sales and Marketing of Blackshape SpA. " The UK has over 30,000 private pilots and an historic interest in aviation and it is no surprise that there has already been significant interest in the BS115 CS-VLA and we are confident that Kairos Aviation is the ideal partner for us to work with. Kairos Aviation is committed to the same standards of quality, service and safety as ourselves at Blackshape."
Peter Foggin, Managing Director of Kairos Aviation, commented "We are delighted and very proud to be working with such a professional organization as Blackshape", " In my opinion, The BS115 CS-VLA is the most exciting aircraft in the Light Aviation Industry and will be the premium niche market leader for experienced PPLs and for flight training schools who are looking to offer performance training. We have had significant interest in the UK and are now offering secured production options ready for delivery in early 2016"
The Prime is a revolutionary two-seats aircraft featuring a full carbon fiber frame, which makes for an extremely strong and low weight aircraft. The unparalleled, standard safety features and specially designed 4 spar cockpit ensure you will fully enjoy the high speed and agility that the Prime was built for.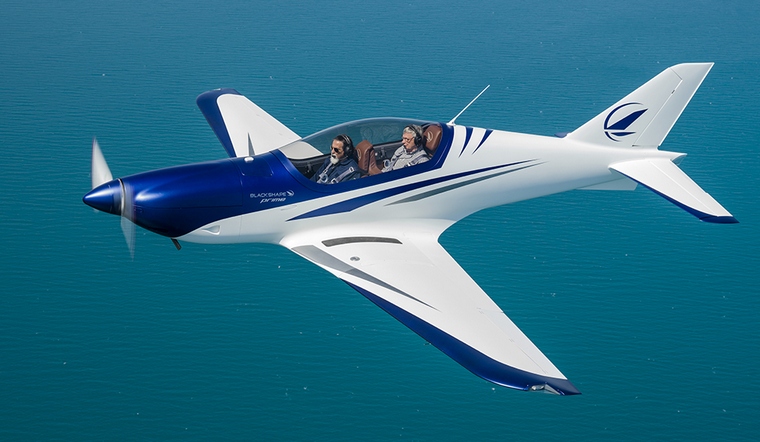 The BS115 CS-VLA is the most exciting aircraft in the Light Aviation Industry and will be the premium niche market leader for experienced PPLs. Photo copyright Blackshape

The Prime combines sportiness with versatility and creates a flying experience unlike any other. Focused on power, speed, control, luxury and freedom, the Prime is the perfect aircraft for those looking to pilot innovation and excellent craftsmanship.
Whether it be a sport aircraft enthusiast who lives life to the fullest, or the experienced pilot who seeks unparalleled control and power in a light sport aircraft, or the executive looking to harness productivity through increased mobility and reduced travel time, the Prime is the plane of choice.
The Blackshape Prime is designed to offer operational flexibility, comfortable crew accommodation and outstanding visibility, modern cockpit environment with dual controls, excellent performance and flight qualities.
Carbon fiber composite construction and aerodynamic smoothness combined with low fuselage cross section allow wide flight envelope and a high level of performance.
6



BOEING, U.S. NAVY EXPAND P-8A MARITIME PATROL FLEET WITH 14TH DELIVERY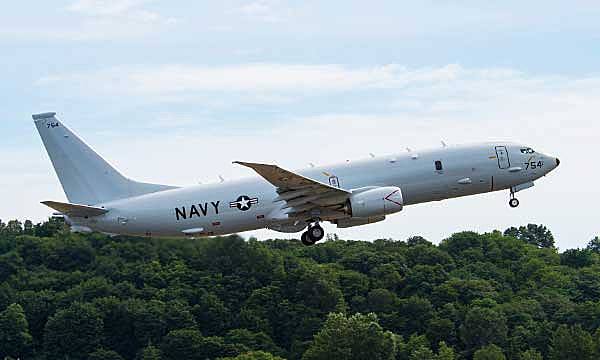 The P-8A, delivered on schedule, is now with its squadron at Naval Air Station Jacksonville, Fla. Photo © Boeing


Boeing recently helped expand the U.S. Navy's maritime patrol capabilities with delivery of the 14th P-8A Poseidon aircraft.
The P-8A, delivered on schedule, is now with its squadron at Naval Air Station Jacksonville, Fla. Boeing will deliver seven more of the maritime patrol aircraft this year.
"We're putting P-8A aircraft through their paces out in the field and appreciate all the reliability, capabilities and improvements the Poseidon brings to the table," said U.S. Navy Commander Tony Rossi, P-8A deputy program manager. "The next squadron is trained, ready to go and will begin conducting missions in the near future."
The first P-8A squadron deployed to Kadena, Japan, in December and has been conducting operational missions ever since. The second squadron will deploy this summer.
"Our team appreciates the Navy's urgency to induct additional P-8As into the fleet," said Rick Heerdt, Boeing Mobility, Surveillance & Engagement vice president and program manager. "The positive feedback we've received about the aircraft currently in service is a great motivator."
Based on the Boeing Next-Generation 737-800 commercial airplane, the P-8A provides anti-submarine warfare, anti-surface warfare, and intelligence, surveillance and reconnaissance capabilities.
The Navy plans to purchase the versatile multi-mission aircraft to replace its P-3 Orion fleet. Boeing is currently under contract for 53 P-8As. The most recent delivery is the first from the third low-rate initial production contract awarded in 2012.
7


ANOTHER C-5M GOES WEST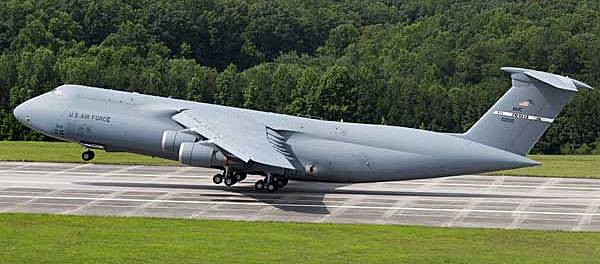 A total of 52 Super Galaxy aircraft are scheduled to be delivered to the Air Force. Photo © Lockheed Martin


A U.S. Air Force crew ferried the 20th C-5M Super Galaxy to Travis Air Force Base, California, from the Lockheed Martin facilities here on June 30.
Travis' second Super Galaxy, Aircraft 85-0010 was delivered 28 days ahead of the contracted schedule. A total of 52 Super Galaxy aircraft are scheduled to be delivered to the Air Force.
Headquartered in Bethesda, Maryland, Lockheed Martin is a global security and aerospace company that employs approximately 113,000 people worldwide and is principally engaged in the research, design, development, manufacture, integration and sustainment of advanced technology systems, products and services. The Corporation's net sales for 2013 were $45.4 billion.
8


BOEING DELIVERS CH-147F CHINOOKS TO CANADA

Boeing and the Royal Canadian Air Force today celebrated the delivery of the 15th CH-147F Medium-to-Heavy-Lift Helicopter, ensuring advanced operational capability for the Canadian Chinook fleet.
"The Medium-to-Heavy-Lift Helicopter project is making an exemplary contribution to the Canada First Defence Strategy," said Col. Andrew Fleming, program manager for the Medium Heavy Lift Helicopter Project Management Office. "The combined efforts of the Government of Canada, Boeing and all partners involved in delivering this new capability, on time and an on budget, serve as a model for future Canadian Defence acquisitions."
The Canadian CH-147F is an advanced, multi-mission helicopter that features a modernized airframe with a long-range fuel system allowing it to fly twice as far as standard range models. An upgraded electrical system provides additional power and redundancy, while a fully integrated Common Avionics Architecture System cockpit and Digital Automatic Flight Control System reduce pilot workload and provide greater situational awareness.
"This was a complex aircraft program, yet the partnership and collaboration between Boeing, the Canadian customer and our industry partners enabled us to deliver all 15 aircraft on or ahead of schedule," said Steve Parker, Boeing vice president Cargo Helicopters & H-47 program manager. "And the advanced technology in the Canadian Chinook will meet the operational needs of the Royal Canadian Air Force well into the future, allowing them to move troops and equipment, and provide support to humanitarian relief efforts, anywhere in the world."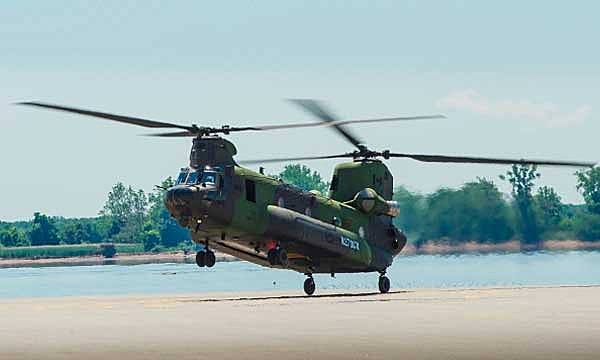 Canada is among the 18 countries around the world operating Chinooks. Photo© Boeing

The aircraft also has an advanced Aircraft Survivability Equipment suite that includes a Directional Infrared Countermeasures system that increases crew safety while allowing operations to be conducted in a wider range of threat environments.
Boeing is providing in-service support to the CH-147F fleet over the next 20 years under a Performance-Based Logistics contract, with Canadian industry playing a key role.
The final CH-147F will join the Royal Canadian Air Force's 450 Tactical Helicopter Squadron, under command of 1 Wing Kingston, Ontario, and will be based at CFB Petawawa.
Canada is among the 18 countries around the world operating Chinooks. H-47s also have performed humanitarian support, disaster relief, rescue, fire-fighting and nation-building missions on six continents in all climates and conditions.
9
MAJOR RUSSIAN MILITARY HELICOPTER PRODUCER CELEBRATES 75TH ANNIVERSARY

Russian Helicopters (a subsidiary of Oboronprom, part of State Corporation Rostec) congratulates the staff of Rostvertol on the 75th anniversary of its founding.

"75 years is a significant milestone and an important celebration for the company. The success and achievements of which we are rightfully proud today are a credit to the company's staff," Russian Helicopters CEO Alexander Mikheev said. "Rostvertol's place, and significance, in Russia's helicopter industry, its role in its rich and complex history, and in the success we see today cannot be overstated. From everyone at Russian Helicopters, I congratulate Rostvertol on this anniversary, and wish everyone there good health, optimism, unending energy and future successes."
Rostvertol's history started in 1939, with the Ryazan plant producing wooden aircraft propellers. The plant initially started producing gliders, light aircraft and the Polikarpov Po-2 biplane. It later moved into a new area - producing helicopters such as the legendary, ground-breaking Mi-1 and Mi-6 heavy transport helicopter, the Mi-24 and Mi-35M military helicopters, the Mi-26 heavy helicopter, and the latest Mi-28N(E) Night Hunter. Over the years, Rostvertol has trained generations of elite specialists in this sector, and of the 8,500 employees it boasts today - almost half are young specialists. They enjoy a unique opportunity to learn from the older generations, and dutifully maintain the plant's great traditions.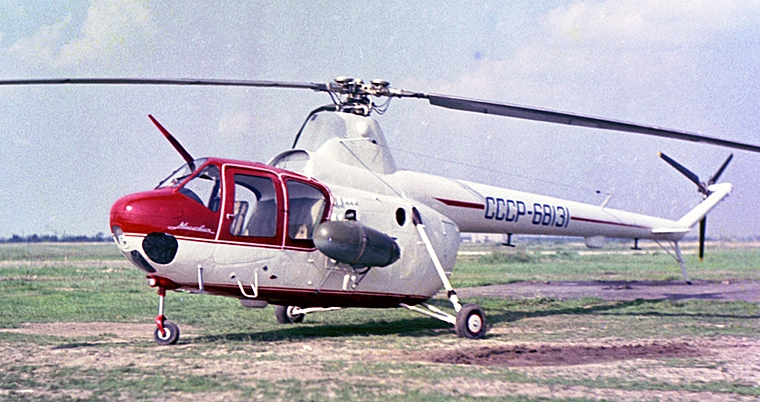 The legendary, ground-breaking Mi-1. Photo copyright Russian Helicopters.

Rostvertol is a Russian Helicopters company, and is a modern, high-tech enterprise. It plays a significant role in Russian Helicopters' broader successes, and in several areas remains the unrivalled leader. Over the past three years, 60 percent of Russian Helicopters produced came from Rostvertol. It completes the State Defence order in a timely fashion, delivering batches of helicopters for export and has orders for many years ahead. Over the past 5 years Rostvertol has improved its production and financial performance indicators.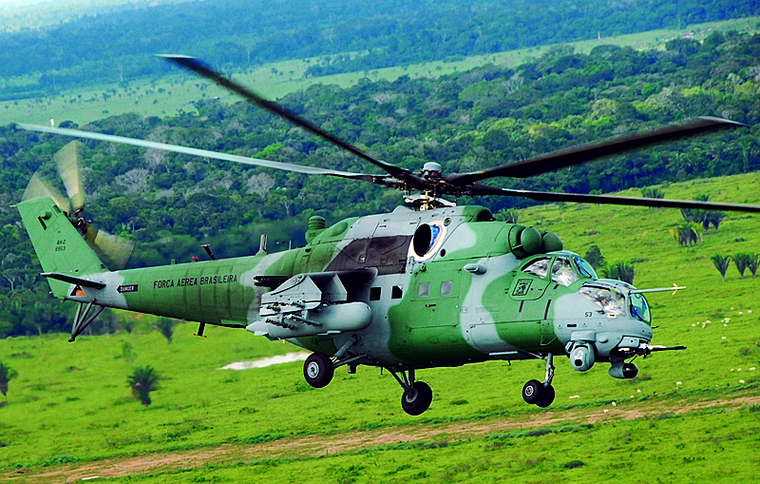 The latest Mi-35M. Photo copyright Russian Helicopters.

In recent years, the plant has seen major retooling and modernisation work: new machinery has been installed, new galvanizing technology introduced and new anodizing facilities launched. This sweeping modernisation and reorganisation of production capacity at the plant delivered an increase in production volume and efficiency.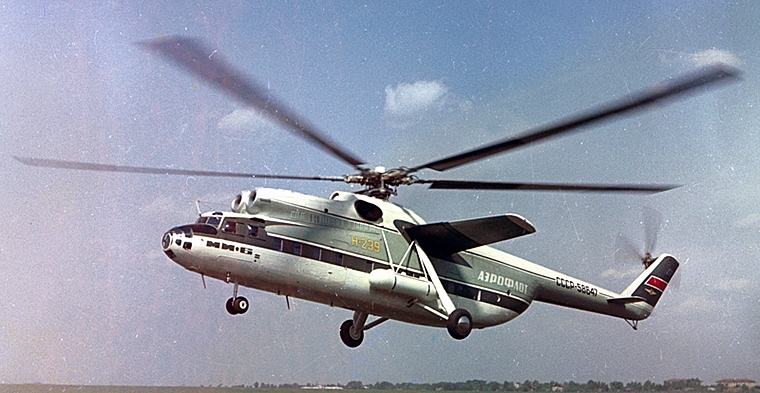 Mi-6 heavy transport helicopter. Photo copyright Russian Helicopters.


This anniversary year also sees the opening of a new chapter in the history of Rostvertol's integration with Russian Helicopters, as it takes a fuller role in building a new image of the sector, optimising organisational systems and management structures. One of the most important strategic tasks facing Russian Helicopters today is achieving a 20 percent share of the global market by 2020. Rostvertol will play a key role in achieving this. The company is set to become the "main rotor" of the new helicopter cluster that the country, regional authorities, and Russian Helicopters are building up in the Rostov region.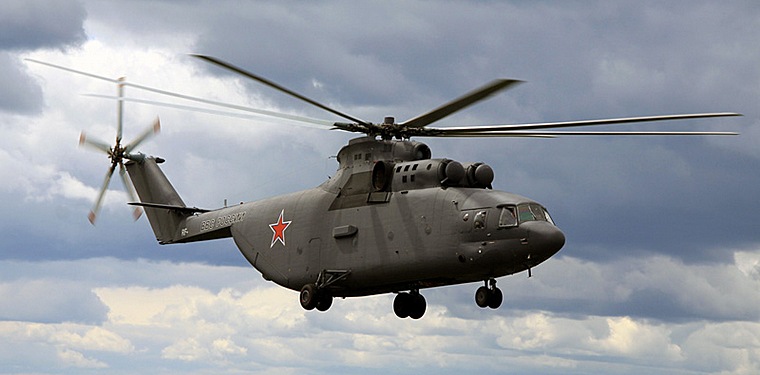 Mi-26 heavy helicopter. Photo copyright Russian Helicopters.

This year not only marks 75 years since the founding of Rostvertol, it is also the 50th anniversary of the first export orders. The plant has been producing helicopters for export for half a century, making one of the most significant contributions to the strengthening of the Russian helicopter industry's position on the international market. Rostvertol's products are renowned world over: the unique heavy lift Mi-26, the new generation Mi-28N(E) Night Hunter combat helicopter, the multirole Mi-24 helicopters, including the latest Mi-35M. The launch of series production on the new training and combat Mi-28N(E) helicopter with dual controls and the modernised Mi-26T2 opens up new opportunities for further expanding the exports of Russian aircraft.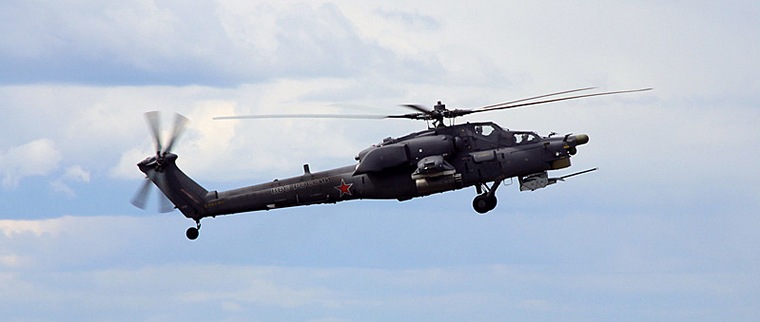 New generation Mi-28N(E) Night Hunter combat helicopter. Photo copyright Russian Helicopters.

The professionalism of Rostvertol's employees, their competence and unique experience forms the backbone of the Russian helicopter industry. In celebrating these anniversaries, the company cherishes and builds on these great traditions, and will continue to develop successfully, making a significant contribution to the development of a modern and dynamic helicopter industry in Russia.
10