THIS WEEK IN MIDWEEK UPDATE


1 Plan your weekend
2 Forthcoming events
3 AirVenture offers exclusive helicopter flight experiences
4 Royal International Air Tattoo (RIAT) Preview
5 MC-27J ITAF test results
6 Cessna Citation X+ makes first Trans-Atlantic trip
7 Rate Card


1


PLAN YOUR WEEKEND

26 July: Botswana International Airshow. Contact: E-mail: gknipe@work.co.bw +267 71300646
26 July: Breakfast Fly-In. 29 Zandfontein in Brits, North West. Contact admin@atsheli.co.za for co-ordinates
28 July-3 Aug: EAA's annual AirVenture to be held in Oshkosh USA. Camping on the airfield contact Neil Bowden e-mail: neil1@telkomsa.net
2
2014 FORTHCOMING EVENTS

2 August: Springs Airfield. East Rand Flying Club invites aviators to a free breakfast fly-in. Breakfast will be served from 08:00 till 10:30 in the tent to the North of runway 14/32. Parking will be along the taxiway in front of the hangars to the North of 14/32. FASI frequency is 122.4. Call crossing N12 to North & N17 to the South. Join overhead @ 6800' for light aircraft & 6300' for microlights. Runway 03/21 is tar. Runways 14/32 & 04/22 are grass. All circuits to the NORTH for 32. Takeoff from 14 NOT PERMITTED. All circuits to the WEST for 03/21. Contact Paul Sabatier,
paulsabatier@gmail.com

2 August: SAAF Museum flying training and open days. Contact Capt. Kobus Kapp 012 351 2342 E-mail: webmaster@saafmuseum.org
6 -10 August: Race of Champions - Ulundi airfield. Contact Mariska at AirTeam e-mail: Mariska@airteam.co.za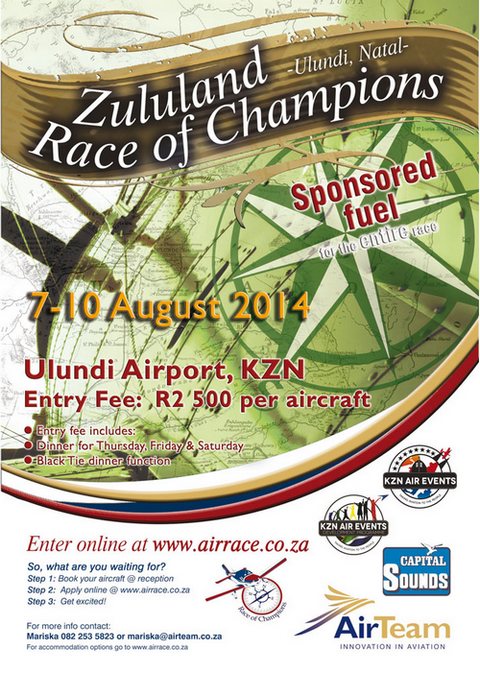 8 - 9 August: EAA Convention at Wings Air Park East London. E-mail Mike Wright AA East London. E-mail
mjswright@me.com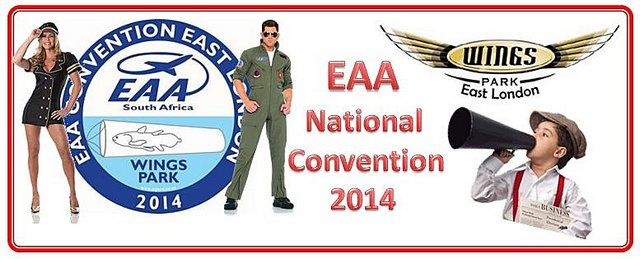 17 August: Grand Rand airshow. Contact Stuart Coetzee 011 827 8884 E-mail:
Carolyn@randairport.co.za
23 August: Klerksdorp Airshow. Contact Cliff Lotter E-mail: exodus@telkomsa.net or 082 855 5550
12 -14 September: EAA Chapter 322 Sun 'n Fun at Brits airfield. E-mail
karlpix@icon.co.za
or phone Karl at 082 331 4652
13 - 14 September: SAC Gauteng regionals and Judges Trophy - Vereeniging. Contact Annie Boon E-mail: change@mweb.co.za
17 -21 September: Africa Aerospace and Defence (AAD2014) AFB Waterkloof South Africa. E-mail: info@aadexpo.co.za
25 - 28 September: Cirrus Migration to Namibia CDC Aviation. Contact Deon Wentzel 011 701 3835 or E-mail: sales@cdcaviation.co.za
27 September: PASASA TMG fly-in Parys airfield. Contact Marietjie van Niekerk Cell: 082 765 66
4 October: Petit Pilots Post Classic Aircraft Fly In. Contact Ivan 082 375 9180 or John 079 192 5866
3
AIRVENTURE OFFERS EXCLUSIVE HELICOPTER FLIGHT EXPERIENCES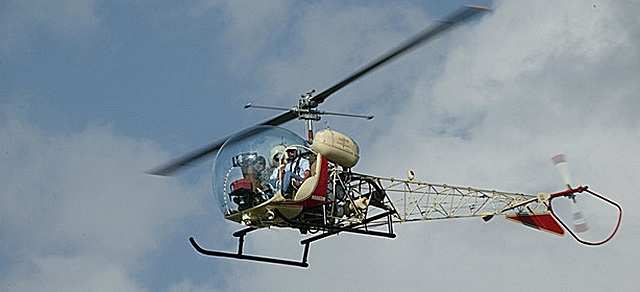 Bell 47 helicopters were made famous by the legendary TV show M*A*S*H*. Photo by Dennis Biela

Throughout the convention visitors will have an opportunity to reserve a seat aboard a helicopter and get grand aerial views of the World's Greatest Aviation Celebration. Flights over the convention grounds are available in Bell 47 helicopters, and extended premium flights are available in a Schweizer turbine helicopter.
The Bell 47 flight experience features flights over the convention grounds in the aircraft that's well known as the type featured in M*A*S*H. Flight times are Sunday, July 27, from 10 a.m.-5 p.m.; Monday, July 28-Thursday, July 31, 8 a.m-6 p.m.; Friday and Saturday, August 1-2, 8 a.m.-5 p.m.; and Sunday, August 3, noon-3 p.m.
The cost is $49 per person and flight tickets are available for purchase (walk-ups only) at Pioneer Airport's Pitcairn Hangar, located behind the EAA AirVenture Museum. Shuttles to the museum run from the Bus Park frequently.
Our premium helicopter flight experience provides two passengers with a 30-minute, private aerial tour of everything surrounding AirVenture aboard the Schweizer 333 turbine helicopter, offered by Aero Optics, Inc. Included is a flight over the AirVenture Seaplane Base, and up the shoreline of Lake Winnebago. To top off the experience, passengers can have a high-quality colour photo taken in front of the helicopter.
Flights are based on the Pioneer Airport grass runway and run 9 a.m. through 3:20 p.m. daily, Monday, July 28, through Sunday, August 3. (Premium passengers are asked to check in at the EAA AirVenture Museum 30 minutes prior to their scheduled flight time.)
Book now-Cost is $740 for two passengers (no single reservations accepted). While on the convention grounds, reserve your flight at the EAA Welcome Center or the Main Gate kiosk.
4


ROYAL INTERNATIONAL AIR TATTOO (RIAT) PREVIEW

SWISS AIR FORCE'S PATROUILLE SUISSE CELEBRATE HALF CENTURY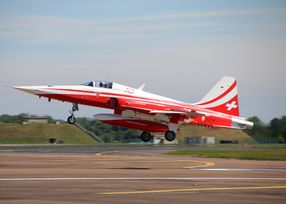 The Swiss Air Force's Patrouille Suisse are marking their 50th birthday in 2014, having flown their first display on August 6, 1964

While the Red Arrows are the centre of attention as they celebrate their 50th display season, they aren't the only national display team commemorating a half century at the Royal International Air Tattoo this year.
The Swiss Air Force's Patrouille Suisse are also marking their 50th birthday in 2014, having flown their first display on August 6, 1964.
The team was initially equipped with the venerable Hawker Hunter Mk58. They flew that aircraft until 1994, when they swapped the Hunter for the faster and more manoeuvrable Northrop F-5E Tiger II, and they have been displaying the Tiger ever since.
The Patrouille Suisse performs with six aircraft which split during their colourful and thrilling display into a formation of four, along with two solo / synchro jets.
The team's home base is Emmen Air Base, just northwest of Lucerne, and Patrouille Suisse's display typically lasts approximately 18 minutes. All the aircraft are equipped with white smoke generators.
As part of their 50th birthday celebrations, the Patrouille Suisse are performing a mixed formation flypast with a Hunter Mk58 in their display routine. The flypast is the first time the Patrouille Suisse has flown in formation with a Swiss Hunter at a UK airshow.
AVIATRIX TRACEY RETURNS TO RIAT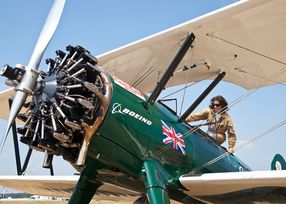 Returning to the Vintage Village this year is Tracey Curtis-Taylor with her beautiful vintage Boeing Stearman - the 'Spirit of Artemis'

Last year Tracey was here as she prepared for an epic journey flying from Cape Town to Cairo and she's back again, having now completed her record-breaking flight, which was inspired by a 1928 trip undertaken by glamorous adventurer Lady Mary Heath.
A film crew captured Tracey's epic and sometimes dangerous journey, and the result is a documentary entitled 'The Aviatrix' which the pilot is hoping will be broadcast later this year.
Tracey said: "It's amazing to be back here at RIAT because in many ways this is where some hugely important parts of the adventure began, notably meeting Boeing who became my first sponsor!
"This time last year I had literally just got the aircraft and flown it back across Europe. We applied all the branding and I flew in to Fairford, so it was incredible to be here at RIAT and then to receive the Concours d'elegance award for the best-presented civilian aircraft. It was one of the best weekends of my life."
She added: "It's wonderful to be back and there seems to be so much interest in the project and the aircraft: I am looking forward to meeting everyone this weekend. Hopefully the project will inspire more people to go flying and to retain some of that spirit of adventure."
REDS RELISH FAIRFORD FIFTIETH AT RIAT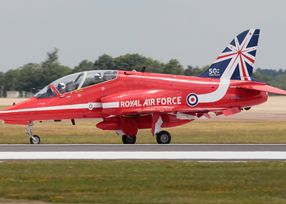 The Red Arrows will be joined by the team leaders of the other display teams scheduled to appear at RIAT for a very special birthday flypast

Squadron Leader Jim Turner, Red 1 and the leader of the Royal Air Force Aerobatic Team, the Red Arrows, is excited to be at RAF Fairford this weekend.
He says: "RIAT is always very busy for us, with lots of people and plenty of interest in the team, so we're delighted to be here, as ever."
Leading the Red Arrows in the team's 50th display season is a massive privilege and one that Jim is quick to acknowledge.
"I was incredibly proud to be chosen to lead the team, but to be doing so in the 50th season is absolutely fantastic," he explains. "There is so much love for the team and everywhere go we see that and we get mobbed and, if anything, this year has been even crazier than normal."
But surely that level of adoration isn't a surprise for the Reds any more?
Jim laughs: "Well, I even get recognised on street from time to time and people come up to me and say 'Are you in the Red Arrows, you're the leader aren't you!' That certainly didn't happen the first time I was in the team."
Celebrating a 50th season means that the Red Arrows' schedule is busier than ever, and Jim notes just how hectic the team has been.
"We've flown 25 displays in the past three weeks," he says, "and this remains a very busy time for us, especially with RIAT, although we soon get ten days off which gives everyone on the team the chance to recharge and get ready for the second half of the season."
Today (Friday) will see the Red Arrows joined by the team leaders of the other display teams scheduled to appear at RIAT for a very special birthday flypast, including the Patrouille Suisse which is celebrating its own 50th in 2014.
Jim adds: "I'm very glad that we are going to the airshow in Payerne later this year to help mark the 100th anniversary of the Swiss Air Force and I am delighted to see the Patrouille Suisse here at RIAT, joining us as we celebrate our birthday, as well as their own. We love all the European display teams and are most grateful to all those that are here this weekend."
5



MC-27J ITAF TEST RESULTS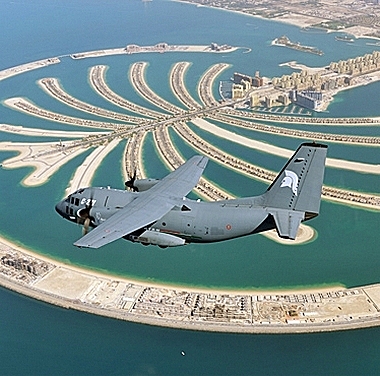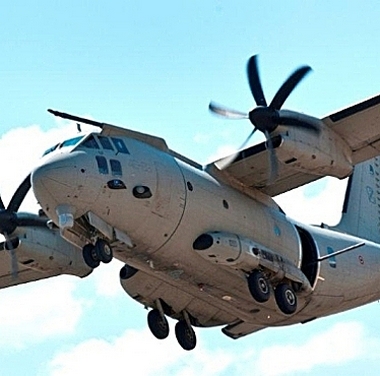 ATK and Alenia Aermacchi Successfully Complete Testing on Italian Air Force C-27J with Roll-On/Roll-Off Palletized Gun Systems

ATK announced that the ATK and Finmeccanica-Alenia Aermacchi have successfully completed the first phase of ground and flight testing of the fully configured multi-mission MC-27J tactical transport aircraft with the support of the Italian Air Force (ITAF). The series of tests exceeded all test objectives and demonstrated the accuracy of ATK's side-mounted GAU-23 30mm cannon.
The ITAF MC-27J aircraft was modified with an L-3 Wescam MX-15Di Electro-Optical and Infrared Turret mounted under the nose of the aircraft to support multi-mission applications such as a Gunship, Intelligence, Surveillance and Reconnaissance(ISR) and Search and Rescue (SAR) missions; various radio and data links and ATK's Roll-On/Roll-Off (RORO) palletized gun and mission control systems.
ATK and Alenia Aermacchi believe that: "The completion of successful testing with the Italian Air Force further validates the capabilities of the RORO gun and mission systems and demonstrates that the program is ready for fielding. This testing builds on previous gun accuracy flight tests done with the MC-27J at Eglin AFB in 2013 and will provide the aircraft with a vital capability and a greater mission flexibility at an affordable cost."
The MC-27J is an advanced multi mission system jointly developed by ATK and Alenia Aermacchi, based on the C-27J, the most state-of-the-art twin-engine turboprop tactical transport aircraft currently available on the market that provides unequalled performance.
ATK and Alenia Aermacchi announced their intent to jointly develop and market the MC-27J multi-mission aircraft at the 2012 Farnborough Air Show. The internally funded test and development program successfully completed its first phase in the spring of 2013.
6


CESSNA CITATION X+ MAKES FIRST TRANS-ATLANTIC TRIP



Following closely behind its recent FAA certification, the Cessna Citation X+, the world's fastest business jet, completed its first trans-Atlantic crossing in a normal business flight profile in 5 hours, 33 minutes for an average ground speed of 502 knots. Cessna is a subsidiary of Textron Aviation, a Textron Inc. company.
"We filed a fairly standard flight plan to demonstrate the capability a customer can expect in normal operations, and it was very impressive," said Kriya Shortt, senior vice president, Sales and Marketing for Textron Aviation. "While the operator will realize a huge benefit from the Citation X+ during shorter cross-country flights, long flights like this is where it really shines."
The Citation X+ flew from the Cessna factory in Wichita, KS to Presque Isle, Maine, then 2,788 nautical miles non-stop to Cessna's facility at Paris Le Bourget for an event. The Citation X+ then completed its journey at TAG Farnborough Airport. For the trans-Atlantic leg, the aircraft made a direct climb to 45,000 feet, accelerating to an initial cruise speed of .86 Mach, then to .88 Mach for much of the flight to Paris.
"Just as impressive as the speed of the aircraft - and the time saved - is the large cabin, the comfort, and the smart cabin technology that really make this the jet for business," Shortt said.
The new Citation X+ has seating for up to 12 passengers, a maximum altitude of 51,000 feet, an unmatched maximum speed of Mach 0.935 (617 mph, 536 ktas) and an increased max range of 3,408 nautical miles.
The most distinct outward difference with the evolved Citation X+ is the addition of winglets, allowing the aircraft to cruise efficiently at higher altitudes and to consume less fuel, as well as improving take-off and landing performance at higher elevations or on hot days. Powered by two FADEC-controlled Rolls-Royce AE3007C2 turbofan engines, the Citation X+ can fly above commercial traffic and some adverse weather at a maximum altitude of 51,000 feet.
The cockpit of the Citation X+ features ergonomic seats designed for transcontinental flights, and a dual-zone temperature control system keeps pilots and passengers comfortable. The flight deck is centred on the Garmin G5000 avionics package with four intuitive, full-colour touch-screen LCD control panels and three 14-inch high-resolution displays, as well as fully integrated auto throttles to reduce pilot workload. Standard Garmin Synthetic Vision Technology on the primary flight displays gives the crew a virtual reality view of runways, terrain, traffic and obstacles.
"The pilots were thrilled by the ease of fuel management with the fully integrated auto throttle system used throughout the mission," Shortt said. "Combined with improved aerodynamics and the addition of winglets, the Citation X+ auto throttle is the key to getting the most efficient use of fuel given the prevailing environmental conditions, and that means you save money."
Autothrottle is integrated with the Flight Management System and Automatic Flight Control System for computer control of engine thrust, set to maximize either thrust or speed. The system can be engaged prior to take-off roll to control fuel flow throughout a flight, from take-off to touchdown, or disengaged for manual throttle operation.
"Under the normal flight profile we flew, air traffic control requires a constant air speed during the crossing and without auto throttle, the pilots must constantly adjust the throttle to maintain that air speed," Shortt said. "With auto throttle, they set the desired speed and the airplane does the rest, greatly reducing pilot workload."
The lengthier cabin is built around a proprietary intelligent cabin management and entertainment technology solution integrated with the aircraft's avionics and electrical systems. Cessna's ClairityTM provides passengers individual touch screens to control cabin lighting, window shades, temperature, and audio and video entertainment (digital media, MP3/iPhone, Blu-Ray). The interior of each new Citation X+ can be tailor-made to the customer's specifications in seating layout, colour choices and entertainment options that can include global, satellite Wifi connectivity.
7


ADVERTISING RATE CARD