THIS WEEK IN MIDWEEK UPDATE


1 Plan your weekend
2 Forthcoming events
3 Sustained revenue growth and strong order book drive Denel's new growth era
4 Jonker Sailplanes dominates 18m and Open Class in the 33rd World Gliding Championships
5 Airbus Group open for business at MSPO
6 Tecnam US Inc. announces several sales and P Twenty-Ten certification at EAA AirVenture, Oshkosh WI.
7 Russian Helicopters delivers first consignment of upgraded Mi-8AMTSh to Defence Ministry
8 WATTsUP, the new 2-seat electric trainer took its maiden flight
9 JAL decides to introduce MRJ as next-generation regional jet
10 Rate Card



PLAN YOUR WEEKEND


There are no events planned that we are aware off.

2
2014 FORTHCOMING EVENTS

12 -14 September: POSPONED EAA Chapter 322 Sun 'n Fun at Brits airfield. E-mail
karlpix@icon.co.za
or phone Karl at 082 331 4652
13 September: Annual RV and Lotus day at Kittyhawk. For more information contact Imarie 012 809 8354
13 - 14 September: SAC Gauteng regionals and Judges Trophy - Vereeniging. Contact Annie Boon E-mail: change@mweb.co.za
17 -21 September: Africa Aerospace and Defence (AAD2014) AFB Waterkloof South Africa. E-mail: info@aadexpo.co.za
25 - 28 September: Cirrus Migration to Namibia CDC Aviation. Contact Deon Wentzel 011 701 3835 or E-mail:
sales@cdcaviation.co.za
27 September: Stellenbosch Fly and Braai. For more info phone 021 880 0294 or E-mail
accounts@stelfly.co.za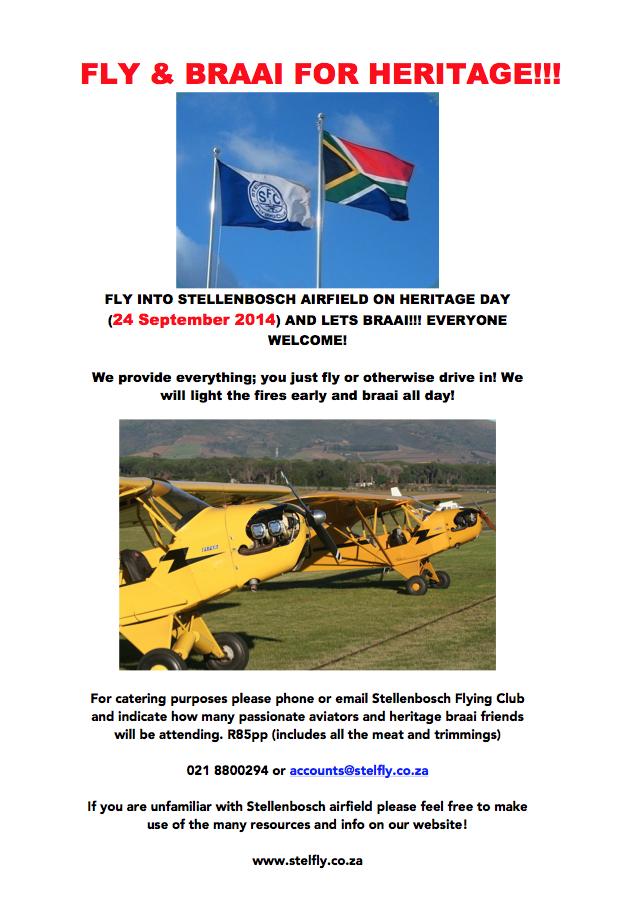 27 September: PASASA TMG fly-in Parys airfield. Contact Marietjie van Niekerk Cell: 082 765 66
3 October: Petit Pilot's Post Classic Aircraft Fly In. Contact Ivan 082 375 9180 or John 079 192 5866
3 - 4 October: Upington airshow CANCELLED Tel: 060 424 5065. Contact Kgomotso Modiragale 083 704 3020 or E-mail: kmodiragale@gmail.com
4 October: SAPFA Grand Central fun rally:
www.sapfa.org.za
. Contact Mary de Klerk mary@expandingbranding.co.za
4 October: SAAF Museum flying training and open days. Contact Capt. Kobus Kapp 012 351 2342 or E-mail: webmaster@saafmuseum.org
18 October: Parys Time Trials warbirds through the ages and formation competition. Contact Scully Levin e-mail: flyboys@global.co.za
24 - 25 October: Port Elizabeth airshow. Contact Dr. Crystal Watson or E-mail: cwatson@mweb.co.za
25 - 26 October: SAC KZN aerobatic regionals - Ladysmith. Contact Annie Boon e-mail: chunge@mweb.co.za
1 November: SAAF Museum flying training and open days. Contact Capt. Kobus Kapp 012 351 2342 or E-mail: webmaster@saafmuseum.org
14 -15 November: Mafikeng fly-in and hangar dance. Contact: Connie Conradie 018 387 1425 or E-mail: info@mafikeng-flyingclub.co.za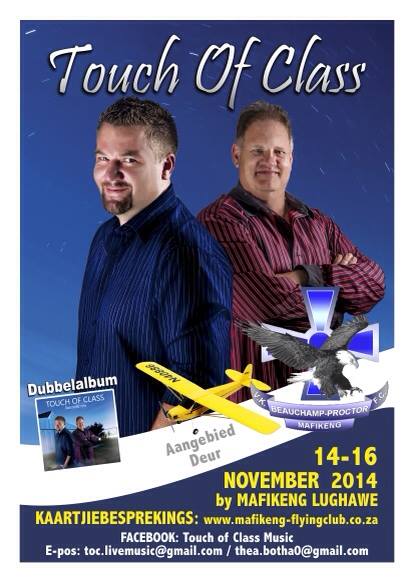 22 November: EEA Sun and Fun, SAPFA Fun Rally and Peter Hengst memorial Brits airfield. Contact Mary de Klerk. E-mail: mary@expandingbranding.co.za www.sapfa.org.za
6 December: SAAF Museum flying training and open days. Contact Capt. Kobus Kapp 012 351 2342 or E-mail: webmaster@saafmuseum.org
6 - 7 December: SAC ACE of Base Aerobatics - Baragwanath airfield. Contact Annie Boon e-mail: chunge@mweb.c
3



SUSTAINED REVENUE GROWTH AND STRONG ORDER BOOK DRIVE DENEL'S NEW GROWTH ERA


Denel has strengthened its reputation as a high-performing technology powerhouse on the African continent, a global player in the defence and aerospace environments and a company with the capacity to expand its role in the broader manufacturing sectors.
The company's financial results for 2013/2014 show revenue growth of 17%, improved profits and the largest multi-year order book in its history --- more than R30-billion to be executed over the next 20 years.
"We can safely state that Denel has now returned to profitability on a sustainable basis," says the Group Chief Executive, Riaz Saloojee. "We have achieved the envisaged turnaround and are well on our way to move the company from being a good to a great company - in the process meeting Shareholder expectations and transforming Denel into a valuable and self-supporting national asset."
"Denel is growing from being a predominantly defence company into a broader technology clearing-house that can use the skills, knowledge and expertise that we have accumulated in the defence arena to add value to high-tech engineering and manufacturing programmes to revitalise the country's infrastructure," says Mr Saloojee.
"Our defence and aerospace businesses are in great shape. We expect that Government will soon commence with the implementation of the recommendations of the 2014 Defence Review," says Mr Saloojee.
The Group's net profit has improved by R123-million to R194-million and the operating profit grew by 91%. Denel's debt to equity ratio has seen a significant improvement over the past two years from a ratio of 2.8:1 in 2012 to 1.1:1 in 2014. Denel is targeting a ratio of 0.5 in the medium term.
Denel's improved financial performance has been recognised by FitchRatings which recently upgrade its rating to an 'AAA' (zaf), confirming its confidence in Denel as a good performing company with a large order book, strong management and governance and solid support from the shareholder.
Prospects for growth:
Denel's robust marketing and business development activities over the past years have resulted in a substantially improved outlook for the company over the next decade. This confirms the wisdom of its initiatives to vigorously market the company's products and services, invest strongly in R&D, make wise decisions on new acquisitions and expand its international partnerships.
"The order book for projects to be executed in the next ten years has grown substantially to R32-billion. This is an exceptional achievement for Denel and represents a six-fold cover of our revenue," says Mr Saloojee.
Denel has diversified into the space domain, and during the year the Spaceteq business unit was set up in the Western Cape and has commenced with its first project, which is an earth observation satellite for commissioning by the SANSA (South African National Space Agency) by 2017. The group also embarked on a process to ensure higher levels of productivity and efficiency in support of broader efforts to reduce operating costs. At the Denel ammunition plant, PMP, this will result in a selected plant renewal process to address operational efficiencies and reduce energy consumption.
Products such as the Rooivalk have focused renewed global attention on the unique capabilities of Denel - and the broader South African defence industry - in a highly competitive technology environment. It has strengthened our reputation as an industry leader in the design, industrialisation and manufacturing of innovative defence and aerospace products and system.
'The essence of our revenue growth strategy is to further increase the order book, build stronger relationships with customers and stakeholders and leverage on our existing local and international partnerships to secure more business."
"I am positive about the future of Denel as we continue on our growth path," says Mr Saloojee. "Although global defence budgets remain fairly static, there is a positive outlook for growth in Africa and emerging markets which have been identified as priorities by Denel."
4
JONKER SAILPLANES DOMINATES 18M AND OPEN CLASS IN THE 33RD WORLD GLIDING CHAMPIONSHIPS

The 33rd World Gliding Championships for the 15m, 18m and Open Class were held in Leszno, Poland from 26 July to 9 August 2014. 133 pilots from all over the world gathered with the latest equipment to determine the best glider pilots.
In the Open Class all eyes were on the 28m wingspan EB29 from Binder, the 23m Quintus from Schempp-Hirth and the agile 21m JS1-C Revelation, from Jonker Sailplanes. In the 18m class Jonker Sailplanes announced the new JS1-18 EVO competing against the well proven ASG18 from Alexander Schleicher and the Ventus 2C-ax from Schempp-Hirth.
During the practice days some awesome weather dominated the task area, with pilots racing at high speeds down the Great Polish Forest north of Poznan. Tasks of well over 500km were common, and speeds touching 150km/h were achieved…. Weather made for the JS1-C 21 with its 59kg/m2 wing loading.
The first couple of days started with good weather, with the tasks under set. Ronald Termaat from the Netherlands won day one in the Open Class. In the 18m Class the strong Polish team of Karol Staryszak in his ASG29 and Lukasz Wojcik flying a JS1-18 dominated the first 3 days. The JS1s were positioned strongly, occupying positions 3 to 6, with the Jonker Brothers creeping up in the top 6.
In the Open Class, Andy Davis from the UK, followed by Killian Walbrou of France lead the Open Class after day 6, proving that the agile JS1-C 21 is formidable in any weather. The Jonker brothers, flying with John Coutts, decided to back up the track towards some turning gaggles, just to land without converting the height they had into precious distance points. John Coutts, the master of storms, observed wind turbines changing direction, and manage to a climb in converging air masses from a low altitude, well off track.
In the Open Class, Uli Schwenk took the overall lead with his second place, while Michael Sommer started his advance towards the podium. In the Open Class the two frontrunners, Andy Davis from Great Britain and Michael Sommer from Germany, were separated by only 11 points. The final day was the decision maker to determine the final placement of the Top10 in each class.
With the day developing too slow to the organiser's liking, the appropriate A tasks were replaced by a shorter B-tasks only to be replaced by a conservative short C task. Uys Jonker kept South Africa's name high by completing the race in first position with his JS1-B in the 18m Class. This moved him up into the Top 5, but was however not enough to secure him a podium position.
The Jonker Sailplanes produced glider, the JS1, achieved fantastic results in the competition. There were 15 JS1 gliders that competed in the WGC, with 5 gliders in the Top10 of both the 18m Class and Open Class.
Congratulations to all JS1 pilots - You made us proud. The positions of the JS1 gliders are:
18m Class:
John Coutts New-Zealand JS1-B 2
Lukasz Wójcik Poland JS1-C 3
Russel Cheetham Great Britain JS1-C 4
Uys Jonker South Africa JS1-B 5
Attie Jonker South Africa JS1-C 8
Open Class:
Andy Davis Great Britain JS1-C 2
Killian Walbrou France JS1-C 3
Peter Harvey Great Britain JS1-C 6
Laurens Goudriaan South Africa JS1-C 8
Ronald Termaat Netherlands JS1-C 9
The Official Closing Ceremony of World Gliding Championships was held on Sunday in Central Market Square in Leszno. Winners were decorated with medals, there were national flags on flagpoles and the national anthems of the Polish, the German, and the British people sounded over the loudspeakers.
The next World Gliding Championships will be held in Australia in 2016.
5


AIRBUS GROUP OPEN FOR BUSINESS AT MSPO

Airbus Group and its Divisions will showcase its portfolio of advanced helicopter, defence and security products at the 22nd MSPO International Defence Industry Exhibition, from 1 to 4 September in Kielce, Poland.
The Group will have a major presence incorporating a static display for real helicopters, a hospitality area, meeting rooms and a large stand to display equipment and welcome government delegations. The Airbus Group stand area will feature a number of important mock-ups including the new locally developed PZL 130 Orlik multi-purpose trainer aircraft, the A330 MRTT (Multi Role Tanker Transport) refuelling aircraft and the maritime patrol variant of the C295 multi-mission transport aircraft.
"Our presence at MSPO demonstrates the importance we attach to Poland and its defence and security modernisation programme. We believe Poland is more than a market to trade with; this is a nation taking its place at the heart of Europe with strategic ambitions to match. Airbus Group wants to be Poland's industrial partner of choice, and building on our existing strong roots, we are offering advanced technology and long-term collaboration for mutual benefit," said Marwan Lahoud, Airbus Group Chief Strategy and Marketing Officer.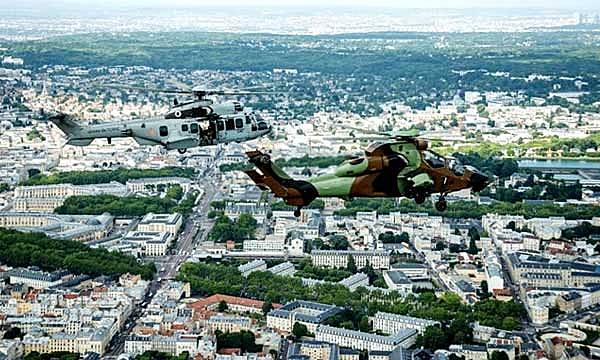 Since its entry into operational service in 2005, the EC725 Caracal has been operational with the military forces of France, Brazil, Mexico, Malaysia, Indonesia and Thailand. Photo© Airbus Helicopters

Marking its premier appearance in Poland, the EC665 Tiger HAD attack helicopter will join the multi-mission EC725 Caracal on display at MSPO. With a proven combat mission record, including side-by-side deployments with the French Army in Afghanistan, Libya and Mali under extreme and challenging conditions, the two aircraft have already demonstrated their unique performance, reliability and interoperability.
"With two modern, combat proven and interoperable rotorcraft, Airbus Helicopters is able to offer a comprehensive solution to meet the full needs of the Polish Armed Forces," said Airbus Helicopters President Guillaume Faury. "We are ready to ramp-up our existing cooperation with Poland's aerospace industry and research institutions in order to provide a consistent, sustainable and structured end-to-end industrial capacity."
Airbus Helicopters' NATO-interoperable EC725 Caracal is proposed for Poland's acquisition of new multi-role helicopters, with the rotorcraft able to perform a wide range of missions. These missions range from special operations to combat search and rescue, tactical transport and medical evacuation as well as a full range of maritime roles. One type of helicopter thus enables Poland to autonomously defend its territory and deploy its forces wherever and whenever needed. Since its entry into operational service in 2005, the EC725 Caracal has been operational with the military forces of France, Brazil, Mexico, Malaysia, Indonesia, Thailand, and in the near future several other undisclosed nations. Its reliability and durability have been endorsed in crisis areas that include Lebanon, Afghanistan and Mali, while also supporting France's role during NATO-led operations in Libya.
6


TECNAM US INC. ANNOUNCES SEVERAL SALES AND P TWENTY-TEN CERTIFICATION AT EAA AIRVENTURE, OSHKOSH WI.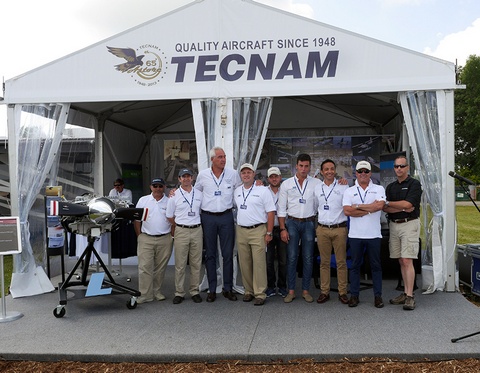 Tecnam team, Oshkosh 2014. From left to right Phil Solomon, Gryphon Mc Arthur, Paolo Pascale (President TECNAM US Inc.), Shannon Yeager, Fabio Russo, Giovanni Pascale, Walter Da Costa, Joe Martinez & Michael J Kraft (Senior Vice President & General Manager Lycoming Engines, a division of Avco Corporation) Photo©Tecnam

Tecnam US Inc. continued it sales success at EAA Airventure with three Twin engine, two P2008 and one G5 Eaglet sales.
Tecnam sales representatives reported high interest throughout the product line and expect several future sales will occur from the contacts made during the Oshkosh Airventure show.
The pending third class medical changes were of interest to many visitors. Tecnam buyers understand the high quality and features of the unique aircraft lineup give them confidence to purchase knowing high value will remain no matter the final outcome of the third class medical or the light sport category.
Tecnam sales representatives noted especially strong interest in the New P Twenty-Ten model and look forward to the announcement of the product rollout for the US market in the near future. The large cabin, front and rear passenger doors and comfortable interior along with Garmin avionic packages will combine to make the P Twenty-Ten the most attractive part 23 certified high wing aircraft on the market.
Tecnam US continues to further refine its sales and service process in the USA to bring customers the highest levels of satisfaction and ownership experience.
Tecnam traces its roots back to 1948 when Professor Luigi and Giovanni Pascale started manufacturing aircraft. Today Tecnam has produced more light sport eligible aircraft than any other manufacturer and is listed as the third largest manufacturer in GAMA (The General Aircraft Manufacturers Association).
7



RUSSIAN HELICOPTERS DELIVERS FIRST CONSIGNMENT OF UPGRADED MI-8AMTSH TO DEFENCE MINISTRY

Russian Helicopters, a subsidiary of Oboronprom, part of State Corporation Rostec, has delivered the first consignment of four upgraded Mi-8AMTSh transport helicopters to Russia's Defence Ministry. The helicopters were built at Ulan-Ude Aviation Plant (UUAP), a Russian Helicopters company, as part of the state defence order, and have successfully completed the flight to their new duty stations.
A long-term state contract for upgraded Mi-8AMTSh helicopters was signed in Ulan-Ude in August 2013. The improvements to the aircraft - the first of their type in serial production - have been designed to reduce maintenance requirements over the life-cycle of the helicopter.

The Mi-8AMTSh has been upgraded with a focus on operational efficiency and ease of maintenance. Photo © Russian Helicopters

"The new helicopters will help strengthen our national defence capabilities," said Russian Helicopters CEO Alexander Mikheev. "Today the Russian Army can call on the latest technologies and equipment. The Defence Ministry is a key customers for Russian Helicopters, and we are committed to producing reliable and failsafe helicopters as one of its priorities under the state defence order."
"Improving the capabilities of our helicopters is a core priority for us," said UUAP Managing Director Leonid Belykh. "In conjunction with Moscow Mil Helicopter Plant, which designs Mi-8/17 helicopters, we are able to offer the Russian Defence Ministry the latest helicopters which combine their unique operating experience with the latest technologies."
The Mi-8AMTSh helicopters delivered to the Defence Ministry are fitted with enhanced VK-2500 engines and an upgraded and strengthened transmission to provide independent control of hours logged in service and improve the aircraft's operational efficiency in mountainous terrain and hot climates. They also come with new TA-14 auxiliary power plants that generate improved thrust and power output, as well as modern weapons systems. Increased lightweight metal cladding protects the crew and essential support systems, while batteries with enhanced capacities mean electrical systems can function autonomously for longer periods. Thanks to the latest navigational equipment, the helicopter can fly a full range of military missions, including at night with the use of night-vision goggles. The aircraft's potential capabilities can be significantly expanded by additional equipment for SAR missions and troop drops, and medical equipment to evacuate wounded personnel.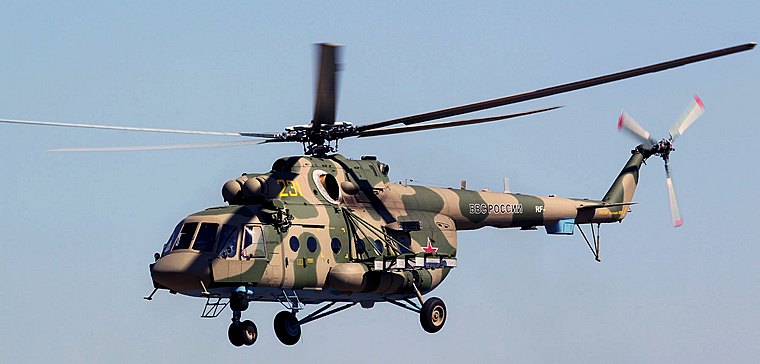 The helicopters were built at Ulan-Ude Aviation Plant (UUAP), a Russian Helicopters company, as part of the state defence order. Photo © Russian Helicopters

The Mi-8AMTSh has been upgraded with a focus on operational efficiency and ease of maintenance. The new helicopter now has a time between overhaul of 2,000 hours (up from 1,500 previously) and a service life of 35 years (up from 25), while operating costs across the life-cycle of the helicopter have been reduced by about 25%-30% compared to the basic model.
The delivery of the first consignment of upgraded Mi-8AMTSh helicopters marks a new page in the long history of collaboration between Russian Helicopters and Russia's Armed Forces.
Ulan-Ude Aviation Plant, is a Russian Helicopters company. In the 70 years of its existence, it has produced over 8,000 units. Today the plant specialises in producing the Mi-8AMT (Mi-171 - export variant) multirole helicopter and the Mi-8AMTSh (Mi-171Sh - export variant), and is also involved in developing and preparing for series production on the latest Mi-171A2 medium helicopter.
8
WATTsUP, THE NEW 2-SEAT ELECTRIC TRAINER TOOK ITS MAIDEN FLIGHT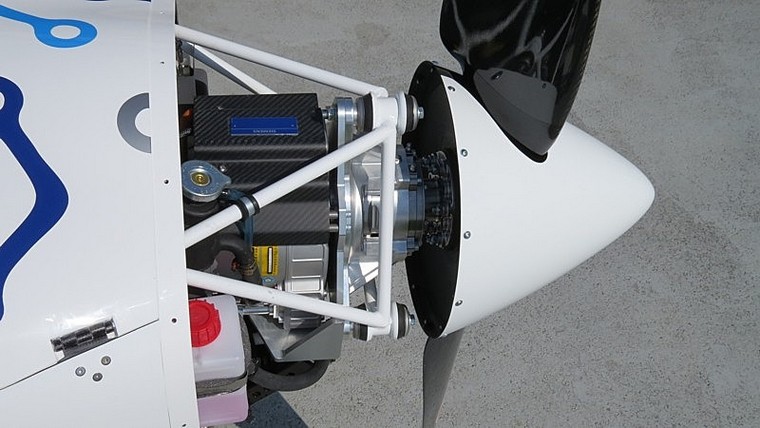 The 85 kW electric motor only weighs 14kg and is more powerful than the popular Rotax 912 series © Pipistrel

Marking its 25th anniversary, Pipistrel is unveiling the proof-of-concept WATTsUP 2-seat electric trainer at Salon de Blois airshow, France, on 30-31 August 2014.
WATTsUP was developed in partnership with Siemens AG, who provided the electric main propulsion components, and represents the next generation of Pipistrel's electric aircraft. Every single element of aircraft has been refined to be lighter, more efficient and more reliable. The 85 kW electric motor only weighs 14kg and is more powerful than the popular Rotax 912 series, typically used on microlights and LSAs. The 17 kWh battery pack is dual-redundant and designed to be either quickly replaceable within minutes or charged in less than one hour, thanks to the next generation of Pipistrel's Battery Management technology. The airframe uses proven features from hundreds of Pipistrel's aircraft flying worldwide.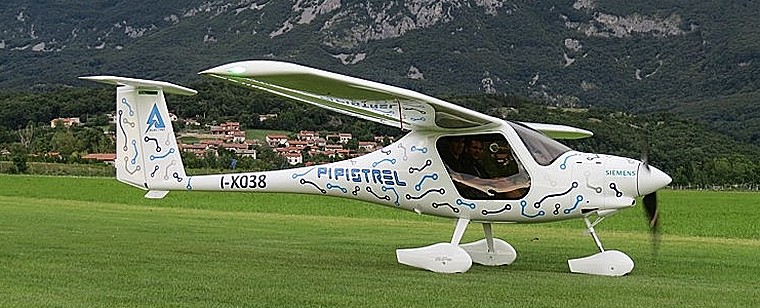 Pipistrel expects to bring the final product to the market in 2015 © Pipistrel

Performance of the WATTsUP 2-seat electric trainer is tailored to the needs of flight schools. Short take-off distance, powerful 1000+ fpm climb, and endurance of one hour plus a 30 minute reserve. The WATTsUP is optimized for traffic-pattern operations, where 13% of energy is recuperated on every approach, increasing endurance and at the same time enabling short-field landings.
Ivo Boscarol, CEO of Pipistrel says: "With the ever growing cost of fuel it is time to rethink pilot training. Our solution is the first practical all-electric trainer! Technologies developed specially for this aircraft cut the cost of ab-initio pilot training by as much as 70%, making flying more affordable than ever before. Being able to conduct training on smaller airfields closer to towns with zero C02 emissions and minimum noise is also a game changer! WATTsUP meets microlight and ASTM LSA criteria, as well as standards for electric propulsion and is already certified in France. More countries will follow soon and we are applying for an exemption with the FAA to allow training operations as an S-LSA. WATTsUP is our 5th electric aircraft project and the second to result in a commercial product."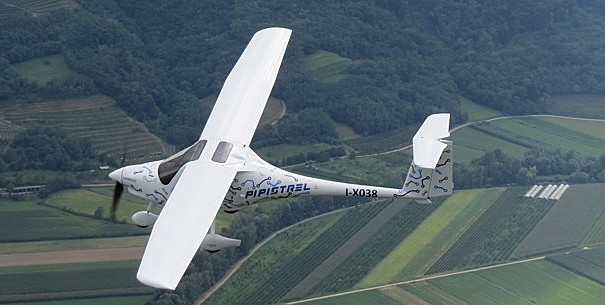 The WATTsUP is optimized for traffic-pattern operations © Pipistrel

Frank Anton, Executive Vice President Traction Drives, Large Drives, Siemens AG: "Siemens is developing electric drive systems with highest power-to-weight ratio for aircraft propulsion. Only with innovation we can solve the problems of rising fuel costs, rising passenger demand and rising environmental regulations," says Frank Anton, the initiator of electric aircraft development at Siemens." Innovations used in the WATTsUP will be instrumental in making aviation more sustainable in the long run. As electric drives are scalable, we can expect, that in the future also larger aircraft will use electric propulsion. The world is becoming electric, whether in the air, on land or at sea."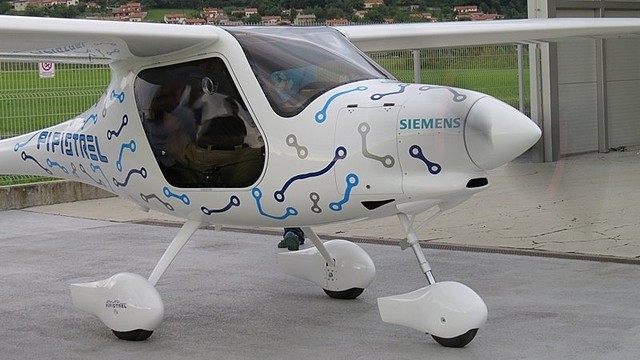 WATTsUP meets microlight and ASTM LSA criteria ©Pipistrel

Pipistrel expects to bring the final product to the market in 2015 with a target price below 100,000 EUR.
9


JAL DECIDES TO INTRODUCE MRJ AS NEXT-GENERATION REGIONAL JET



Equipped with newly-developed Geared Turbofan engine, the MRJ will achieve significantly lower operating costs than current regional jets © Japan Airlines

Japan Airlines Co., Ltd. (JAL) and Mitsubishi Aircraft Corporation signed a Letter of Intent (LOI) to order thirty-two Mitsubishi Regional Jet (MRJ) aircraft, as the next-generation regional jet for the JAL Group. JAL plans to deploy the MRJ on domestic routes from 2021, operated by J-AIR, the group's 100% owned regional airline subsidiary.
Mitsubishi Aircraft has made steady progress on the development of the MRJ, Japan's first passenger jet, which is scheduled first delivery in 2017. As a network carrier that also operates regional jets, the JAL aims to contribute to the birth of this passenger jet that Japan boasts to the world, by not just operating the MRJ, but also providing comprehensive support.
Equipped with newly-developed Geared Turbofan engine, the MRJ will achieve significantly lower operating costs than current regional jets. JAL will operate the MRJ as the core aircraft on its regional routes, and remains committed to improving products and service quality from the passengers' point of view and developing more convenient networks. The MRJ will support JAL explore a new era of air travel.

10