THIS WEEK IN MIDWEEK UPDATE


1 Plan your weekend
2 Forthcoming events
3
Aerobatics World Champs for Mossel Bay
4 Europe's largest military exercise is gearing up
5 Boeing delivers new-build MH-47G special operations Chinook
6 Entebbe and Bujumbura welcome flydubai inaugural flights
7 First German A400M begins final tests
8 Nextant 400XTi Named Barron's "Best Light Jet"
9 HAL carries-out maiden flight of first of the Light Combat Aircraft
10 S-97 RAIDER unveiled by Sikorsky
11 Rate Card
PLAN YOUR WEEKEND


11 October: Cuppa for CANSA Fly-IN. 29 Zandfontein near Hartbeespoort Cell: Christelle +2773 459 1074 e-mail:
29zandfontein@gmail.com <29zandfontein>
29zandfontein>
16 October: EAA Aviation Legends Talk Show. Time: 18h30 for 19h30 (time to order your drinks & Boerewors/ Steak roll). Venue: EAA Auditorium adjacent to TAC and Holding point of Runway 29, Rand Airport, Hurricane Road. Germiston. Take the entrance at Hurricane Road (NOT thru the main gate). Booking: Send an e-mail to book at eaa.talkshow@icon.co.za
Guest: Ivan Pentz - Test Pilot for Denel Aviation. This man's achievements reads like a Who's Who in overachievers. Amongst his exploits he also became the most capped Springbok oarsman during the 1980's and was a member of the Heavyweight Rowing Team at Barcelona Olympics in 1992. From Fighter Controller in 1975 to Chief Test Pilot - Denel Aviation in January 2007. Flying everything from Harvards, Mirages, C130 Hercules to Cheetahs and BAE Hawks. In between all this Ivan attended the International Test Pilot's School at Cranfield, UK and spent 3 years at Marshall Aerospace, in Cambridge UK, on Project Ebb.
2
2014 FORTHCOMING EVENTS


17 - 19 October: Pyramid Air Park Aviators Weekend Contact Brian Young Cell: 082 932 9397 or Peter Lea Cell: 082 553 4908 E-mail: plea1949@mweb.co.za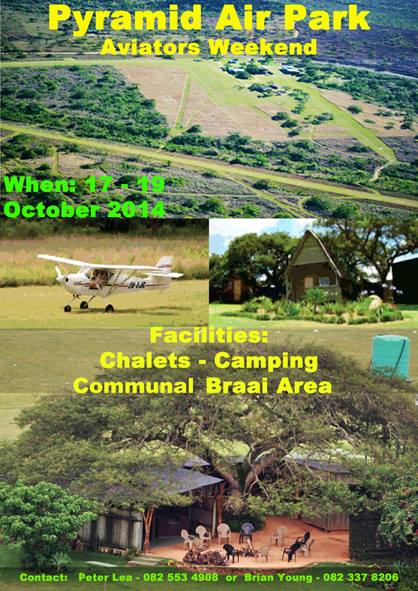 18 October: Parys Time Trials Warbirds through the ages and formation competition. Contact Scully Levin e-mail: flyboys@global.co.za
24 - 25 October: Port Elizabeth airshow. Contact Dr. Crystal Watson or E-mail: cwatson@mweb.co.za
25 - 26 October: SAC KZN aerobatic regionals - Ladysmith. Contact Annie Boon e-mail:
chunge@mweb.co.za

1 November: SAAF Museum flying training and open days. Contact Capt. Kobus Kapp 012 351 2342 or E-mail: webmaster@saafmuseum.org
14 -15 November: Mafikeng fly-in and hangar dance. Contact: Connie Conradie 018 387 1425 or E-mail: info@mafikeng-flyingclub.co.za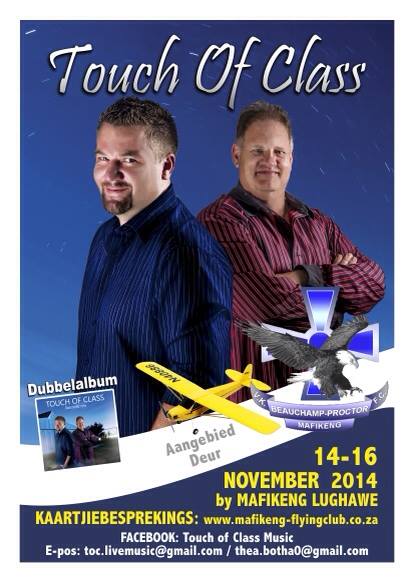 22 November: EAA Sun and Fun, SAPFA Fun Rally and Peter Hengst memorial Brits airfield. Contact Mary de Klerk. E-mail: mary@expandingbranding.co.za
www.sapfa.org.za

26 November to 3 December: Yak-52 and Intermediate Class World Aerobatic Championships, Mosselbay.
6 December: SAAF Museum flying training and open days. Contact Capt. Kobus Kapp 012 351 2342 or E-mail: webmaster@saafmuseum.org
6 - 7 December: SAC ACE of Base Aerobatics - Baragwanath airfield. Contact Annie Boon e-mail:
chunge@mweb.co.za
2015

13 - 14 June: Baragwanath 'Old School' Fly in. Contact Courtney Watson: cwatson@stithian.com
17 -19 July: Taildraggers to Nylstroom fly-in in conjunction with EAA Chapter 322. Contact Richard Nicholson Nylstroom Flying Club Cell: 082 490 6227
3

AEROBATICS WORLD CHAMPS FOR MOSSEL BAY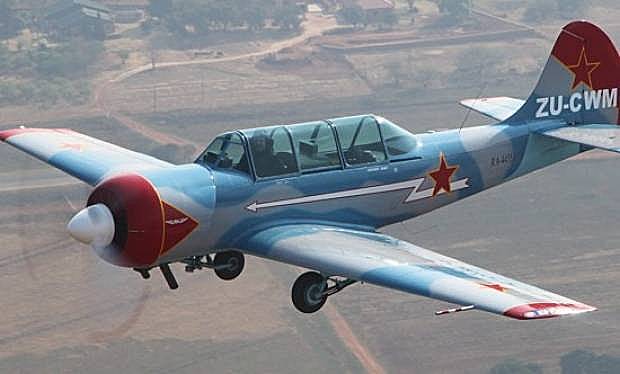 The Yak-52 and Intermediate Class World Aerobatic Championships will take in Mossel Bay from 26 November to 3 December, 2014. Pic courtesy Willie Bodenstein of www.pilotspost.com


A total of sixty pilots from sixteen countries have been confirmed as participants in two world aerobatics championships to be held in Mossel Bay next month. The Yak-52 and Intermediate Class World Aerobatic Championships will take place jointly from 26 November to 3 December under Section 6 Part 1 (2014) of the Sporting Code of the Federation Aeronautique Internationale - the FAI.
Mossel Bay's Mayor, Alderlady Marie Ferreira, thanked the world's Aerobatics family for choosing the town to be the first venue outside of Europe to host the event. "Mossel Bay is a first-rate destination both for sports aviation and pilot training because of its weather, its relatively quiet airspace, and its close proximity to the controlled airspace at the George airport," she said.
"We're proud of our small but growing aviation sector - which includes the largest commercial helicopter pilot training academy in Africa - and we believe that the Yak-52 and Intermediate Class World Championships will provide an exciting and very valuable opportunity to showcase the town, and this part of the Garden Route coast. We're really looking forward to welcoming the pilots and the organisers to our town," she said
Contest director John Gaillard, the vice-president of the International Aerobatics Commission (CIVA), and the vice-president for the Africa region of the FAI, said that this will be the inaugural event for Intermediate level pilots.
Mr. Gaillard usually acts as chief judge at world championships at both the Unlimited and the Advanced levels, but cannot serve in this capacity in his own country. Instead, Slovakia's Palo Kafka will serve as the chief judge, and the judging panel will also include Nick Buckenham (from the United Kingdom), Aldo Marengo (Italy), Jan Maxen (Denmark), Jiri Duras (Czech Republic), Algis Orlickas (Lithuania), and Quintin Hawthorne (South Africa).
"Entries are still open, but so far New Zealand, Canada, Poland, Australia, Sweden, Brazil, Lithuania, Russia, Belgium, the United Kingdom, China, the Czech Republic, Hong Kong, Luxemburg, Portugal and South Africa have confirmed that they will be sending teams of up to eight pilots each," he said.
The pilots will all fly South African-owned planes.
The Yakovlev Yak-52 was first built as a trainer aircraft for the Soviet Union in 1976, and is still produced in Romania. With a cruising speed of 190 km/h, and a top speed of 285 km/h, it's become a popular aircraft for civilian aerobatics around the world. Previous Yak-52 World Championships have been held in Russia (2008 and 2012), and Lithuania (2009).
Event coordinator and secretary of the Mossel Bay Aero Club, John Boucher, said that Mossel Bay offers excellent infrastructure for flying - and great attractions for international visitors. The club is based at the Mossel Bay airport, which boasts a paved, 1,200 metre runway, a club house, hangaring, refueling, and aircraft maintenance facilities. The airfield is also the home of Skydive Mossel Bay, and Starlight Academy - Africa's largest commercial helicopter pilot training school.
"Mossel Bay was chosen as the venue for these competitions because of the quality of the airfield, the selection of local accommodation and attractions, and the enthusiastic support of the Mossel Bay Municipality," he said.
Mossel Bay Tourism's Marcia Holm said that the Championships will provide an important boost to the local tourism economy, and she thanked the Mossel Bay Aero Club for its part in making the town a premier sports tourism destination. "We trust that Mossel Bay will once again deliver the safe and lovely flying conditions for which it's become justifiably famous," she said.
4


EUROPE'S LARGEST MILITARY EXERCISE IS GEARING UP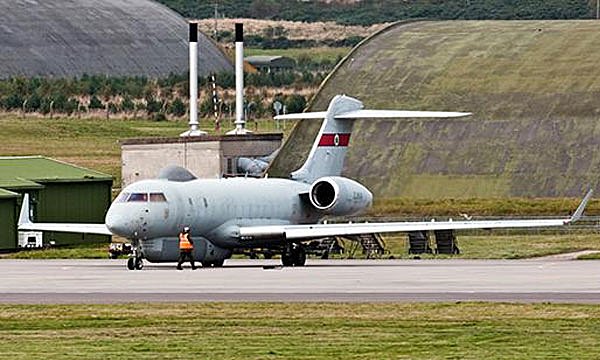 RAF Lossiemouth is hosting the largest part of the air element of the exercise. Photo © RAF

Joint Warrior is a multinational exercise, hosted in the UK and incorporates all three of the Armed Forces - the Royal Navy, Army and Royal Air Force. The exercise will begin on 4 October and will engage more than 22 warships and submarines, 52 fixed wing aircraft, and a total of nearly 3,500 personnel from the various participating nations.
Europe's largest military exercise is gearing up to take place off the coast of Scotland this weekend; with aircraft already arriving at RAF Lossiemouth in preparation. Ships, submarines, aircraft and ground troops from the UK, US and other allies will be taking part, battling each other at sea, in the air and on land in an area which stretches from the Irish Sea, north to Cape Wrath and east to the Moray Firth.
Exercise Joint Warrior represents a valuable opportunity to demonstrate the range of capabilities available for contingency operations and provides excellent training which tests the high readiness capabilities of the Armed Forces. Various visiting aircraft for the Combined Qualified Weapons Instructors course at RAF Lossiemouth. The massive Exercise is planned and co-ordinated through the Joint Tactical Exercise Planning Staff (JTEPS) based at Joint Headquarters Northwood.
Squadron Leader Duncan Laisney, who is the JTEPS fast jet element co-ordinator for Exercise Joint Warrior, said: "JTEPS exists to provide realistic Higher Command simulation and ensure exercise safety. In order to bolster specialist expertise JTEPS is augmented by up to 200 personnel from across the three Services, many of whom are Reservists. This October will see the return of Exercise fast jets to RAF Lossiemouth, and JTEPS staff will command the fast jet element from our temporary base there. Lossiemouth was chosen as it is ideally positioned to support all of the Joint Warrior activity surrounding the north of Scotland and it is capable of handling 24/7 operations by numerous fast jet aircraft and their supporting personnel."
RAF Lossiemouth is hosting the largest part of the air element of the Exercise, accommodating Tornados and Gripens from the German and Swedish Air Forces as well as Sentinel, Shadow and Hercules fixed wing aircraft from other UK bases. RAF Lossiemouth's own XV(Reserve) Squadron, flying Tornados, and Typhoons from 1(Fighter) and 6 Squadrons will also participate in the Exercise. Puma helicopters from RAF Benson will also be based at RAF for a short period of the Exercise. Exercise Joint Warrior will not impact on the provision of QRA(I)N by RAF Lossiemouth's Typhoon squadrons. -
5
BOEING DELIVERS NEW-BUILD MH-47G SPECIAL OPERATIONS CHINOOK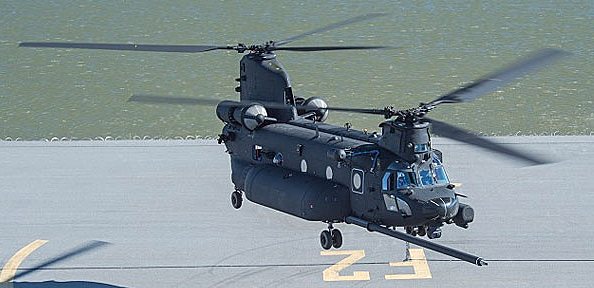 The entire program, valued at approximately $300 million, calls for eight aircraft deliveries through 2015. Photo © Boeing

Boeing completed initial flight and delivery of the first, new-build MH-47G configured Chinook helicopter to the U.S. Army Special Operations Aviation Command on 29 September 2014 - a full month ahead of schedule.
"It is an honour to be trusted to design, produce and deliver this advanced capability for the Army Special Operations customer," said Steve Parker, vice president, cargo helicopters & H-47 program manager. "The advanced technology inherent in the new-build MH-47G ensures that the users and operators will have the superior mission capability that they require. This delivery also begins a new chapter that will carry the Chinook forward for many more decades and is the latest demonstration of Boeing and the wider Team Chinook's commitment to delivering upon promises made."
The new build MH-47G configuration incorporates a number of production improvements to include the digital advanced flight control system, more robust, improved monolithic machined-frames, and improved air transportability. The entire program, valued at approximately $300 million, calls for eight aircraft deliveries through 2015.
6



ENTEBBE AND BUJUMBURA WELCOME FLYDUBAI INAUGURAL FLIGHTS



Flights to Entebbe, Bujumbura and Kigali make up 12 destinations in Africa for flydubai. Photo © flydubai

Dubai-based flydubai's inaugural flights to Entebbe and Bujumbura landed today and were welcomed with traditional water cannon salutes and official delegations.
With the launch of daily direct flights to Entebbe, two onward flights a week to Kigali and three onward flights a week to Bujumbura, coupled with the recent announcement of three new routes in Tanzania, flydubai has doubled its presence in Africa to 12 destinations. In addition, the airline offers Business Class and cargo services on each of these new routes.
Commenting on the launch of the Entebbe route, flydubai CCO Hamad Obaidalla said: "We are delighted to be flying to Entebbe, one of Africa's leading commercial centres. With daily flights offering the choice of economy and business class, we will facilitate the flow of tourism and business between Uganda and the UAE."
At Bujumbura Obaidalla said: "We believe the rich biodiversity of Burundi will attract tourists from around our network and that the more than 80 destinations we operate to offer a great opportunity for this country to strengthen its trade ties."
flydubai becomes the first national carrier from the UAE to fly to Rwanda and Burundi, underlining its commitment to opening up underserved markets. Its first flight to Kigali, Rwanda was on 27 September.
flydubai offers reliable and affordable travel to 83 destinations across 42 countries. From Entebbe, Bujumbura or Kigali, passengers can book convenient connections through Dubai to India, the Gulf countries and various points in Russia, among other destinations. With the airline's strategic base at Dubai International Airport, passengers can also benefit from flydubai's interline agreements with other carriers, providing opportunities for onward travel to more than 200 destinations.
7
FIRST GERMAN A400M BEGINS FINAL TESTS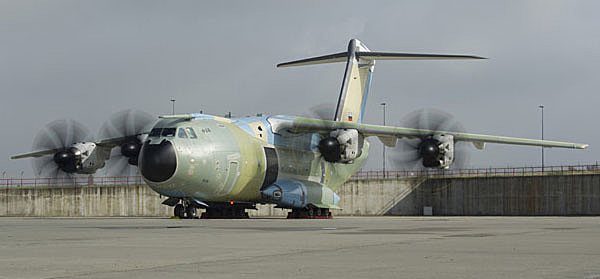 In German Air Force service the A400M will replace the ageing C-160 Transall fleet. Photo © Airbus

The first Airbus A400M new generation airlifter for the German Air Force has begun final tests towards its delivery. The four engines on the aircraft, known as MSN18, were successfully run simultaneously for the first time on 28 September at the Airbus Defence and Space Final Assembly Line in Seville, Spain.
In German Air Force service the A400M will replace the ageing C-160 Transall fleet. The TP400 engines assembled by Europrop International in Munich, give the A400M nearly eight-times as much installed power as the C-160. It can carry twice the load of its predecessor over intercontinental distances at speeds comparable to more expensive jet aircraft, but still land on short or unprepared airstrips close to the scene of military or humanitarian action.
8



NEXTANT 400XTI NAMED BARRON'S "BEST LIGHT JET"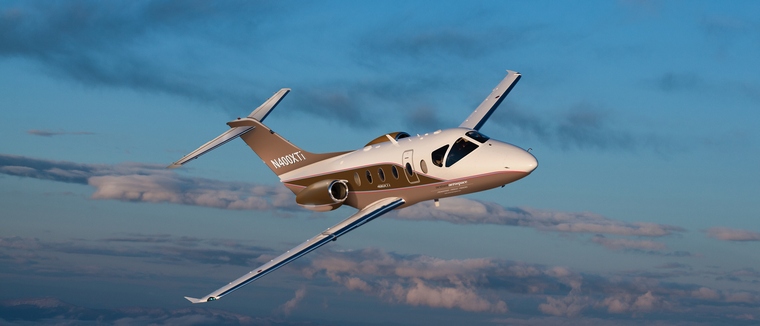 The Nextant 400XTi is the winner in the light jet category with Gulfstream, Dassault Falcon, Cessna and Embraer being featured in other categories. Photo © Nextant

Nextant Aerospace maker of the Nextant 400XTi the world's only remanufactured business jet and the forthcoming Nextant G90XT turboprop, announced today that the Nextant 400XTi has been included in Barron's Finest Five listing of the best light jets on the market.
The prestigious rating highlights the aircraft's superior speed, cabin comfort and operating economics. The expert behind the selection says that with these characteristics "the 400XTi kills everything else in its category" and that it has "standard features normally found only on larger aircraft". Barron's article summarizes the remanufacturing process, which results in "an aircraft that offers stellar performance and reliability" for "half the price of most new offerings by rivals". The quietest-in-class 400XTi cabin, with a flat-floor design, a variety of seating options, an enlarged lavatory, and the latest electronics, is highlighted as the aircraft's "main strength".
The Nextant 400XTi is the winner in the light jet category with Gulfstream, Dassault Falcon, Cessna and Embraer being featured in other categories. "We're proud to be in such great company of OEMs and this is a major endorsement for Nextant Aerospace and the 400XTi", said Nextant President and CEO Sean McGeough. "Based on independent appraisal, this is further evidence of the value delivered from our pioneering remanufacturing process."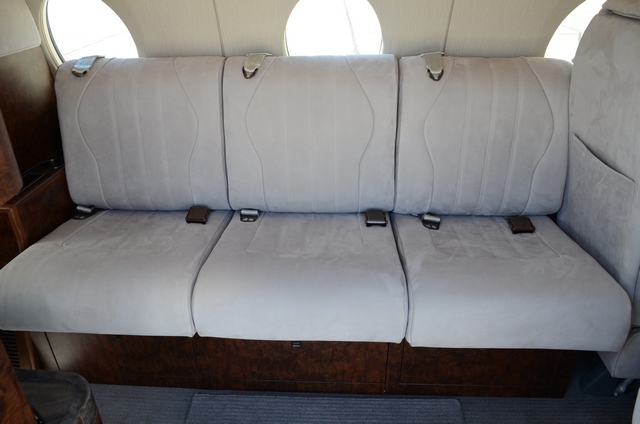 The prestigious rating highlights the aircraft's superior speed, cabin comfort and operating economics. Photo © Nextant

Published weekly by Dow Jones, Barron's is one of the US's most influential financial magazines. Its key reader groups are affluent individual and institutional investors, financial advisors and senior corporate executives. The magazine has an average total paid and verified circulation of over 305,000 copies.
About Nextant Aerospace
Nextant's pioneering process for remanufacturing business jets is now recognized as an established technical and commercial success worldwide with significant sales in every major operator category and class-leading levels of comfort, performance, and reliability at a purchase price half that of comparable aircraft. The revolutionary 400XTi light jet features Williams FJ44-3AP engines and the Rockwell Collins Pro Line 21™ integrated flight deck. The same winning combination of the latest technology in remanufactured airframes is expected to repeat this success with the Nextant G90XT turboprop powered by next-generation GE H75 engines and an enhanced Garmin G1000 integrated flight deck.
9


HAL CARRIES-OUT MAIDEN FLIGHT OF FIRST OF THE LIGHT COMBAT AIRCRAFT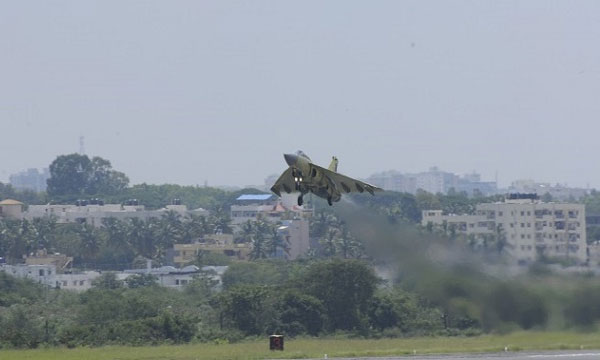 The Contract for delivery of aircraft was signed in 2006. Photo © HAL

Piloted by Air CmdeK.A. Muthana (Retd) Chief of Test Flying HAL successfully carried out the maiden flight of the first of the Light Combat (LCA) Tejas built to series production standard successfully.
"This could be achieved within nine months after receiving the IOC certification in December 2013 and within one year after receiving the build standard documents", said Dr. R.K. Tyagi, Chairman, HAL. "The aircraft is now ready for IAF operations", he added. Dr.Tyagi also congratulated HAL engineers, technicians and other staff involved in this project.
The other series aircraft are in various stages of "build" in the fully equipped production line at HAL factory at Bangalore. The Contract for delivery of aircraft was signed in 2006 for first 20 LCA Tejas aircraft in IOC configuration. The build standard documents for IOC aircraft were finalised in September 2013 and Initial Operational Clearance (IOC) was accorded in December 2013.
HAL faced many technological challenges in the making of LCA that included sanctions on import of carbon fibre, establishing the entire tooling and manufacturing capability by in-house design of tooling and test equipment and incorporation of world class manufacturing standards. Inspection devices such as laser trackers tolerance to the tune of 0.08 mm for inter changeability features and 0.2 mm for contours were used to achieve these standards
10



S-97 RAIDER UNVEILED BY SIKORSKY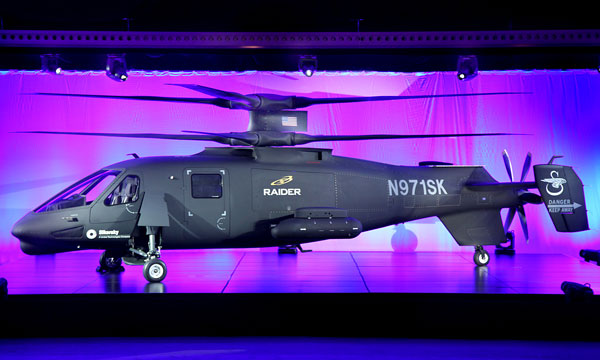 Photo © Sikorsky

Sikorsky Aircraft, a subsidiary of United Technologies Corporation unveiled the first of two S-97 RAIDER™ helicopter prototypes, signalling the start of activities in the program's test flight phase and a major step toward demonstrating the new and first armed reconnaissance rotorcraft featuring X2™ Technology designed for military missions.
"Today, Sikorsky unveiled the next generation of military rotorcraft, with capabilities and performance never seen before in our industry," said Sikorsky President Mick Maurer. "Just four years ago, we announced plans to build the S-97 RAIDER and teamed with some of the best companies in the industry, understanding the need to ensure aircraft development would not falter as government defence budgets shrank in response to economic pressures. Sikorsky is proud of its leadership in this area, and of the leadership the S-97 RAIDER represents among the world's military rotorcraft."
Based on Sikorsky's rigid X2™ rotor coaxial design, the S-97 RAIDER helicopter features next-generation technologies in a multi-mission configuration (armed aerial scout or light assault), capable of carrying six troops and external weapons. The coaxial counter-rotating main rotors and pusher propeller provide cruise speeds up to 220 knots (253 mph), more than double the speed of conventional helicopters. Sikorsky will offer the RAIDER™ aircraft as a replacement for the U.S. Army's OH-58D Kiowa Warrior helicopter fleet based on the Army's future operational and financial priorities, and for the special operations platform.
"Military rotorcraft fleets need maximum performance and increased capabilities to achieve their objectives," Maurer added. "The RAIDER delivers on that with its greatly improved manoeuvrability and speed, significantly improved high/hot hover performance, and greater range and endurance."
The single-engine RAIDER features a composite airframe and a maximum gross weight of slightly more than 11,000 lbs. The aircraft will be capable of carrying an array of weapons and sensors, necessary for the mission. The cockpit will fit two pilots, seated side-by-side. The flexible cabin space will carry up to six combat-equipped troops, or additional fuel and ammunition for extended missions.
"RAIDER marks the first unveiling of a new relevant rotorcraft configuration in 30 years," said Mark Miller, Vice President of Research & Engineering. "With the RAIDER program, Sikorsky has brought innovation to every aspect of the process, rethinking the way we design, build, test and support the product. We've kept a close eye on lowering development, production and support costs while increasing productivity and quality, and we are confident that the RAIDER is the solution for the future war fighter. We are looking forward to getting air under its tires and expanding the envelope in flight test in the coming months."

11