THIS WEEK IN MIDWEEK UPDATE


Plan your weekend
Forthcoming events
Notice Board
This week in aviation history
Aviation News
Advertising rate card

14 -15 November: Mafikeng fly-in and hangar dance. Contact: Connie Conradie 018 387 1425 or E-mail: info@mafikeng-flyingclub.co.za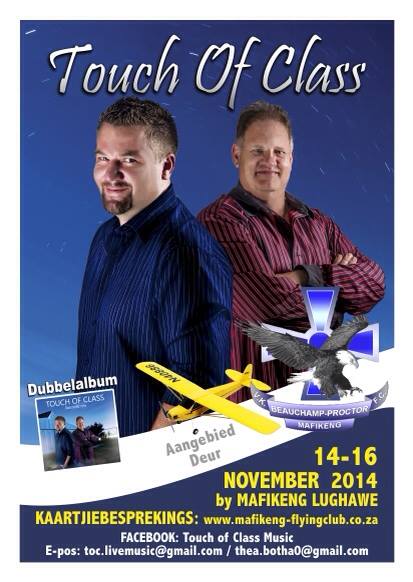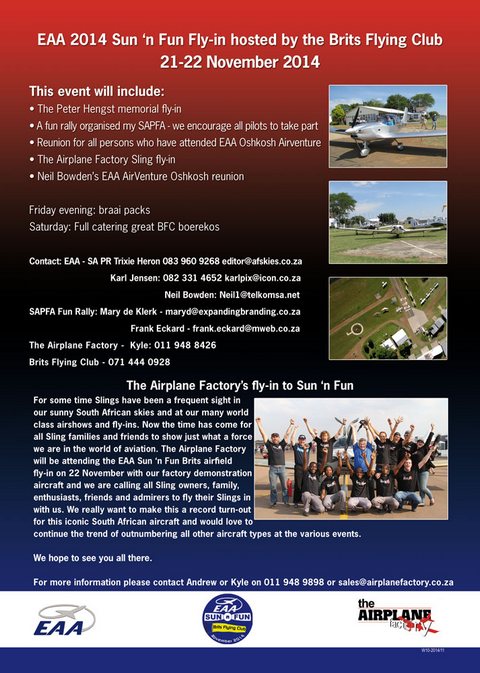 22 November: EAA Sun and Fun and Peter Hengst memorial Brits airfield. Contact : Karl Jensen
karlpix@icon.co.za
. SAPFA Fun Rally Contact: Mary de Klerk. E-mail: mary@expandingbranding.co.za or visit www.sapfa.org.za Oshkosh tours reunion for anyone who has attended Oshkosh and especially those who have been part of Neil Bowden's annual camp and tours. Contact:
neil1@telkomsa.net
. The Airplane Factory fly in to Sun and Fun for Sling owners. Contact Andrew or Kyle 011 948 9898
26 November to 3 December: Yak-52 and Intermediate Class World Aerobatic Championships, Mosselbay. Contact: mbac.committee@gmail.com
29 November: Stellenbosch Flying Club landing competition. For more information go to
www.stelfly.co.za

6 December: SAAF Museum flying training and open days. Contact Capt. Kobus Kapp 012 351 2342 or E-mail: webmaster@saafmuseum.org
6 - 7 December: SAC Ace of Base Aerobatics - Baragwanath airfield. Contact Annie Boon e-mail:
chunge@mweb.co.za


7 December: ICAD (international Civil Aviation Day) Contact: Mark Swarts 082 878 0875
13 December: RV Fly in at Stellenbosch. Contact Alewyn 082 4126 1951 or
alewyn@burger.org.za

28 December: St Francis Field will be holding their annual fly-in and open day on Sunday 28th December. The event will start at approx 07h30 and run till around midday. There will be a wide variety of aircraft and helicopters flying in and on display, and if the weather permits, skydivers will drop in and visitors can go for a tandem skydive. Food and softdrinks will be available. Bring the family and friends for a fun morning.
Visit our website www.stfrancisfield. com or contact Barry Culligan for details 083-6113333
2015 PROVISIONAL CALENDAR



30 January: Dias Festival Mossel Bay airshow. Contact Horace Blok e-mail hab@habac.co.za 083 261 6300
30 January: Sports Aerobatics Club Western Cape regionals - Mossel Bay. Contact Annie Boon chunge@mweb.co.za
7 February: MISASA Best of the Best at Kitty Hawk Wings - Wheels - Water Showcase. Contact: John Boucher e-mail: comms@misasa.org Cell: 082 553 1105 or Alan McKenzie e-mail: nemo@webo.co.za Cell: 082 373 4947
27 February-1 March February: Swellengrebel fly-in. Contact Pieter Venter pventer@vgv.co.za Cell: 083 250 9504
28 February: Bethlehem Aero Club annual Sling, Bushbaby and chopper fly-in. Contact Izak Venter e-mail: izak@motsu.co.za or Francois Marais e-mail: info@stanfra.co.za
27 March: Bethlehem fly-in and Riana Nel show. Contact Jacolene Jacobs 082 854 1003
28 March: Bethlehem Aero Club fun navigation rally. Contact Izak Venter e-mail: izak@motsu.co.za or Francois Marais e-mail: info@stanfra.co.za
28 March: RV Revolution Pylon time trials and formation flying - Parys. Contact Scully Levin e-mail: flyboys@global.co.za
27 - 28 March: Uitenhage Wings & Wheels festival. Contact Lourens Kruger 082 320 2615 Website: www.wingsandwheelsfestivalutenhage.co.za
28 - 29 March: Sports Aerobatics Club North-West regionals - Klerksdorp. Contact Annie Boon chunge@mweb.co.za
11 April: Fashkosh (Stellenbosch) Website: www.stelfly.co.za Contact Alewyn Burger Alewyn@burger.org.za Cell: 082 416 1951
15 to 18 April: AERO Friedrichshafen dedicates itself in offering a significant collection of aviation related products and accessories. Exhibitors will be showing engines, modern ultra-lights, powered aircraft, avionics and related products and services. Over the years, this show has gained huge reputation from all over the world and the positive reaction from the attendees has motivated the exhibitors to improve the existing range and manufacture more such effective spare parts and products. For further information on the tour African Pilot is planning please send an e-mail to Athol Franz: editor@africanpilot.co.za. The idea is to get a package deal together for about 10 to 12 persons wishing to visit AERO Friedrichshafen.
17 & 18 April: Zebula airshow. Contact: Paul Weich 083 290 6525 e-mail:
pdweich@mweb.co.za
or Chris Potgieter 083 314 1669 e-mail: ChrisPotgieter@flysaa.com
18 to 29 April: Sun 'n Fun Tour 2015, Lakeland, Florida, USA. Contact Neil Bowden: e-mail:
neil1@telkomsa.net
.
Neil Bowden will once again be organising a tour to the USA's second largest fly-in, the Sun 'n Fun Fly-in and International Expo. In addition to the airshow, we will be arranging an excursion to the Kennedy Space Centre. A great new feature here is the Space Shuttle Atlantis exhibition building housing the original Atlantis Shuttle. Also planned is a visit to the Kermit Weeks Fantasy of Flight Museum which is home to some very rare aircraft and while we are in the area there are planned visits to the theme parks - Disney and Universal. The price is from R14 750 per person plus airport tax (about R7 400).
29 April-3 May: Aero Club Air week at Parys airfield contact Kev Storie 011 082 1100 Website: www.aeroclub.org.za
1 - 2 May: Lowveld Airshow (Nelspruit) Cell: 079 499 5733 Contact Willemien Hodgkinson e-mail: willemien.hodgkinson@ffa.co.za
8 - 9 May: SAAF Museum Swartkops Airshow, Pretoria Contact Lt. Col Mike O'Connor e-mail: oc@saafmuseum.org Tel: 012 351 2290
8 - 10 May: Battlefields fly-in (Dundee) Lourens Roos 082 875 5419
E-mail: stay@battlefieldslodge.co.za E-mail: nan@battlefieldslodge.co.za Website: www.battlefieldslodge.co.za
10 & 11 May: AVIATION AFRICA - Dubai UAE Contact Mark Brown mark.brown@africanaerospace.aero
15 to 17 May: Bethlehem Aero Club / EAA Chapter 1500 fly-in weekend
Contact Izak Venter e-mail: izak@motsu.co.za or Francois Marais e-mail: info@stanfra.co.za
16 & 17 May: Botswana Airshow Contact Guillaume Knipe e-mail: gknipe@work.co.bw Tel: 00267 7130 0646
23 & 24 May: Sports Aerobatics Club Free State regionals - Parys. Contact Annie Boon chunge@mweb.co.za
25 to 29 May: RAF 2000 Gyroplane service & maintenance course. Contact: Yolande Combrinck e-mail: yolande@rafsa.co.za Tel: 083 282 8792
30 - 31 May: Newcastle Airshow e-mail:
johan@champ.co.za
Contact Champ Marketing Johan 082 923 0078 or Christo 083 375 5883
10 to14 June: Kalahari Bundu Bash. Contact Yolande Combrinck e-mail: Yolande@rafsa.co.za
13 June: Zandspruit airshow - Hoedspruit Contact Yvonne Fourie e-mail: yf@zandspruit.co.za Tel: 015 793 1192
19 to 21 June: Mafikeng fly-in and airshow. Contact Connie Conradie e-mail: info@mafikeng-flyingclub.co.za Cell: 082 449 1546
20 June: Warbirds over the Vaal fly-in and time trials - Parys Airfield. Contact Scully Levin e-mail: flyboys@global.co.za
11 & 12 July: Durban (Virginia) airshow. Contact Gerna Fraser e-mail: gerna@kznwintertour.co.za Cell: 084 783 1953
16 to 19 July: Sports Aerobatics Club Nationals - Klerksdorp. Contact Annie Boon chunge@mweb.co.za
17to 19 July: Nylstroom Taildraggers fly-in - Nylstroom Flying Club. Contact Richard Nicholson e-mail rgn@pcwireless.co.za Cell: 082 490 6227
19 July-3 August: EAA's annual AirVenture to be held in Oshkosh USA. Camping on the airfield contact Neil Bowden e-mail: neil1@telkomsa.net
03 August: Hotels in Appleton contact Calvin Fabig e-mail: calvin@designer.co.za
1 - 2 August: Namibian airshow. Contact Reinhard Gartner e-mail: reinhard@fivestar.co.za
14 - 15 August: Bethlehem airshow. Contact Stephan Fourie e-mail: fouriesj1491@gmail.com Cell: 072 344 9678
20 - 29 August: Sports Aerobatics Club Unlimited World Championships - France Contact Annie Boon chunge@mweb.co.za
23 August: Grand Rand airshow (Sunday) Contact Stuart Coetzee e-mail: manager@randairport.co.za Tel: 011 827 8884
29 August: Bethlehem Aero Club fun navigation rally. Contact Izak Venter e-mail: izak@motsu.co.za or Francois Marais e-mail: info@stanfra.co.za
12 - 13 August: Sports Aerobatics Club Gauteng regionals and Judges Trophy - Vereeniging Contact Annie Boon chunge@mweb.co.za
24 - 25 October: Sports Aerobatic Club KZN regionals - Ladysmith. Contact Annie Boon chunge@mweb.co.za
31 October: Bethlehem Aero Club fly-in and hangar dance. Contact Izak Venter e-mail: izak@motsu.co.za or Francois Marais e-mail: info@stanfra.co.za
13 to 15: November: Mafikeng annual fly-in and hangar dance. Contact Connie Conradie 082 449 1546 e-mail: info@mafikeng-flyingclub.co.za
5 - 6 December: SAC ACE of base - Baragwaneth airfield (Syferfontein) Contact Annie Boon chunge@mweb.co.za
7 December: ICAD (International Civil Aviation Day) Contact Mark Swarts e-mail: SwartsM@caa.co.za Cell: 082 878 0875

Mr Illsley
Let me turn to you with a request. I'm looking for several years, plans for a Aeronca C3. When browsing the internet I came across your article on the reconstruction Aeronca in the magazine Pilot's Post. You've restored Aeronca, which was in poor condition, looking for spare parts etc. I would like to build this type as a new aircraft. However, we lack plans. Some little things I got from EAA. Would it be possible to copy your plans of the Aeronca C3.
Thank you for your willingness.
Yours sincerely
Ladislav Zágiba from Czech Republic l.zagiba@seznam.cz,
Dear sir. I'm trying to find out where I might be able to buy a Helicycle kit in South Africa.
Many thanks
Leonard Taylor lentaylorsafaris@gmail.com

10 November 2005 - The Boeing 777-200LR Worldliner establishes a new world record for nonstop distance by a commercial airplane, flying 11,664 nautical miles in 22 hours and 42 min from Hong Kong to London.
10 November 2003 - The final flight of British Airways Concorde G-BOAD is flown from London Heathrow (LHR) to New York's JFK, to deliver the aircraft to the Intrepid Sea-Air-Space Museum. It was JFK's very last Concorde movement.
10 November 1988 - The US Air Force publicly unveils the F-117 Nighthawk
10 November 1982 - First flight of the Mil Mi-28
10 November 1970 - The first of two Russian, unmanned lunar rovers, Lunokhod 1, was launched. As mission Luna 17, the craft was the first remote-controlled robot to land on another celestial body, sending back images and data to Russia until the following September.
11 November 1937 - The Messerschmidt ME-109 V13 flies a world speed record of 379mph/610kph.
11 November 1935 - Jean Batten becomes the first woman to fly solo across the South Atlantic, taking 2 days 13 hours to cross from Senegal to Brazil in a Percival Gull. She also breaks the speed record for this crossing, by a full day.
11 November 1935 - A. W. Stevens and O. A. Anderson set a new balloon altitude record of 72,395 ft (22,066 m).
12 November 1989 - California Polytechnic State University flies the first human-powered helicopter
12 November 1921 - The first air-to-air refueling was made when Wesley May stepped from the wing of one aircraft to that of another carrying a five-gallon can of gasoline strapped to his back.
12 November 1919 - Keith and Ross Smith set out to fly a Vickers Vimy, G-EAOU, from England to Australia, the first flight between these two places. They arrive in Darwin on December 18.
14 November 1969 - NASA launches Apollo 12, the second manned mission to the surface of the Moon.
15 November 1967 - The only fatality of the X-15 program occurs during the 191st flight when Air Force test pilot Michael J. Adams loses control of his aircraft which is destroyed mid-air over the Mojave Desert.
15 November 1965 - A Boeing 707 makes the first polar circumnavigation of the world.
16 November 2004 - NASA's X-43 reaches a record speed of Mach 10 (7,000 mph, 11,200 km/h)
16 November 1973 - Skylab 4 launches into orbit as the fourth Skylab mission, bringing the third and final crew to the space station.




FLYSAFAIR ANNOUNCES A SECOND BASE AND NEW ROUTES

FlySafair has established itself as South Africa's first true low cost carrier

It has been nothing but full speed ahead for South Africa's first true low cost airline, FlySafair (https://www.flysafair.co.za), in recent weeks.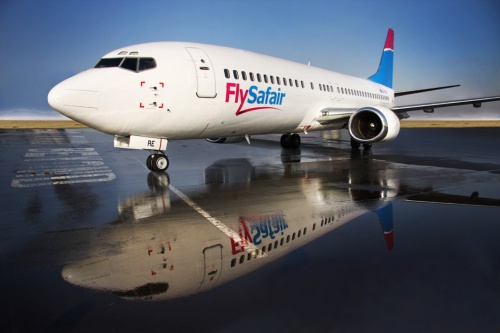 The first flights launched were in mid-October between Cape Town and Johannesburg from just R499* (including taxes), followed swiftly by the launch of the Cape Town to Port Elizabeth route from R399* last week. The Cape Town to George route follows next week on 13th November with equally tempting fares starting at R399*.
From the 3rd of December, FlySafair will launch their second base at Johannesburg O.R. Tambo airport, allowing passengers to fly from Johannesburg to George and Port Elizabeth, from as little as R499* one way.
"Our intention has always been to grow our schedule of operations and it makes most sense for us to open a second base and connect all of our current destinations, therefore offering flights from Johannesburg as well as from Cape Town. Further, we have had overwhelming feedback from our passengers to introduce these routes, we have listened to their suggestions and we have great pleasure in being able to now offer these routes," explains Lorna Terblanche, Vice President of Passenger Services for FlySafair.
Although a new entrant into the commercial market, the airline is backed by nearly 50 years of aviation experience from holding company, Safair. Furthermore, FlySafair has established itself as SA's first true low cost carrier in that they allow passengers to tailor their own tickets.
Based on international best practices, the airline offers passengers a base fare which secures them a seat to their destination, along with two carryon items weighing no more than 7kgs. Any additional checked-in luggage, along with the option to pre-select preferential seats or extra-space seats such as those in the front rows or at emergency exits as well as on board catering, will be charged for according to passengers' specific needs.
"Our aim has always been to not only bring affordable fares to the market, but to also allow new flyers to experience the love of flying. With this announcement of a new base and new routes, we believe that we are opening up the opportunity to fly to many more people - just in time for the December holidays," concludes Terblanche.

For more information on FlySafair or to simply book your ticket, visit www.flysafair.co.za



DREAMS TAKE FLIGHT WITH LOCALLY CONSTRUCTED DIY BUSH-PLANE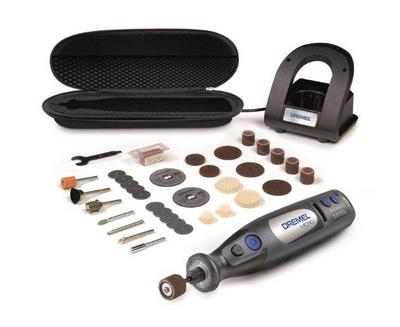 A local DIY and flight enthusiast has undertaken the immense task of building a two man bush-plane using a Dremel multi-tool to complete all cutting, grinding and sanding tasks that the project requires.
Cape Town resident Jan Frylinck is a lawyer, working towards a master's degree in Forensic Medicine. He has undertaken an extraordinary challenge; building a Bush Baby Explorer 2using a Dremel multi-tool. The Bush Baby Explorer 2 is a twin seat aircraft which can hold up to 70 kg of luggage and travel up to 700 km in one stretch. His inspiration for the project came after he learnt to fly a helicopter.
"After learning to fly a helicopter, I decided that I needed to learn to fly a fixed-wing aircraft. Once I had accomplished that, I wanted an aircraft of my own, but I could never afford it. While looking for alternatives, I discovered that it is possible to build your own aircraft," he explains.
Construction on the bush-plane began early in 2014, and is due to be completed in January 2015. Frylinck emphasises that assembly of the various aircraft components requires precise and accurate cutting and placement, for which he uses a Dremel multi-tool.
He states: "I have had the Dremel for some time, it is the only tool I use and it does everything I need. For all cutting, sanding and grinding processes, as well as any small and intricate tasks, the Dremel allows me to complete these with ease. I can solve any problems I encounter because I know the capabilities of the tool."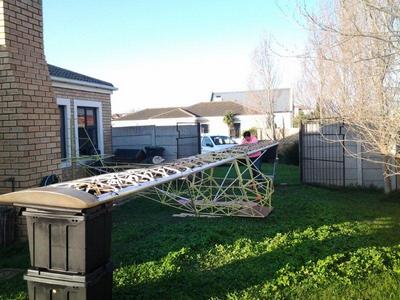 Assembly of the bush-plane requires working with a variety of materials, including; 6061 aircraft grade aluminium, marine plywood, aluminium sheeting, and fibreglass. Frylinck reveals that the Dremel multi-tool can cut through all of these materials quickly and easily, saving time and preventing wastage, as well as damage to the material.
"When working with these materials it is vital that all cutting, sanding and grinding is accurate. If a mistake is made, the material has to be scrapped in order to meet safety regulations. All the Dremel attachments are the perfect size, ensuring that no material is wasted and that the job is precise."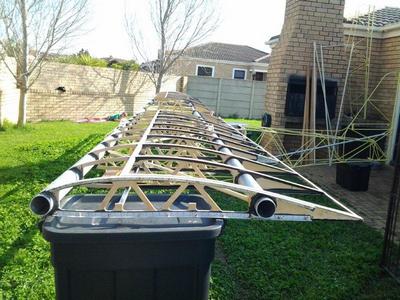 Frylinck observes that building the bush-plane is a family project, with his wife, son and daughter participating and assisting with the various stages of construction. "We are all involved with this project and we love it. This project has given us something we can do as a family, and gives us more quality time together."
According to Frylinck, the most gratifying part of building the plane has been the enthusiasm that the children in the community have shown for the project. "Children come over to the house to see the plane because they cannot believe that we are actually building one. I would love to start a similar project in a school, where all the children can get involved and can learn valuable skills that they can use in other aspects of their lives. It would be a valuable and rewarding experience."
Frylinck points out that this project has been immensely satisfying because of the interest that the community has shown. "When I work on the plane, there's an incredible satisfaction that I get from creating something and doing it well. Men and women driving past the house will stop and come in to look at plane. People are shocked when they see what I am doing, and they want to get involved. It's just a wonderful community project," he concludes.
Dremel tools are marketed by Bosch Power Tools. Contact Jurgen at juergen.lauer@za.bosch.com

The Bush Baby Explorer is marketed by Kit Planes for Africa. Contact Stephan
info@saplanes.co.za


AIRBUS TO ADJUST A330 PRODUCTION RATE TO NINE A MONTH


Transition towards A330neo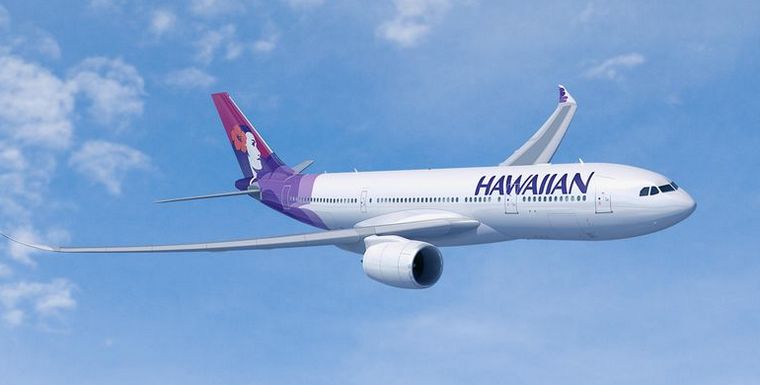 Airbus has decided to adjust the production rate for its A330 Family from the current rate 10 to 9 aircraft a month in Q4 2015 as it transitions towards the A330neo.
Since 2013, Airbus has been building 10 A330 Family aircraft each month, the industry's highest ever production rate for this aircraft size category, reflecting the strong success of Airbus' market leading wide body family.
"Our role as an aircraft manufacturer is to anticipate and adapt our output to ensure we continue to maintain a smooth production flow for Airbus and for our supply chain," said Tom Williams, Airbus' Executive Vice President Programmes. "With the recent commercial success we've seen following the launch of the A330neo, in addition to the new 242 tonne weight variant and the A330 optimised for regional routes, we are confident we will sustain a steady production towards the A330neo ramp up period."
The A330 Family, which spans 250 to 300 seats, and includes Freighter, VIP, and Military Transport/Tanker variants, has now attracted more than 1,300 orders, with over 1,100 aircraft flying with more than 100 operators worldwide. The A330 is one of the world's most efficient aircraft with best in class operating economics. With numerous on-going product enhancements entering service in the coming years, such as the more capable 242 tonne take-off-weight variant, the A330 for regional and domestic routes and the A330neo, the A330 Family remains the most cost-efficient and capable widebody aircraft, averaging operational reliability above 99 percent. The A330 belongs to the successful Airbus Widebody aircraft Family, which comprises the A330, A350 XWB and A380, and uniquely spans the 250 to over 500 seats segment.
SUKHOI SUPERJET 100 LONG RANGE DELIVERED TO TSAGI FOR FATIGUE STRENGTH TESTING
Moscow, November 6. Today the airframe of Sukhoi Superjet 100 long range aircraft was delivered to the Central Aerohydrodynamic Institute named after N.E. Zhukovsky (TsAGI), for fatigue strength testing.
The SSJ100, certified model RRJ-95LR-100, production number 95075, was delivered disassembled by the AN-124 "Ruslan" freighter to the Ramenskoye airfield, in the town of Zhukovsky, near Moscow. Fuselage, wings and tail will soon be put together and special purpose load complex, measuring sensors and structure health monitoring systems will be adjusted to the assembled SSJ100 airframe.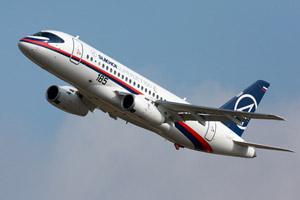 "During the fatigue strength testing, all the primary elements of the aircraft structure will be checked under multiple loading conditions corresponding to all flight stages, including turbulence", - said Sukhoi Civil Aircraft Company Chief Designer Mr Vladimir Lavrov. "The test results will confirm both the stated aircraft service life and the programme of maintenance checks developed for this aircraft type and implemented during Customers' fleet operations".
In 2013, the Aviation Register of the Interstate Aviation Committee (IAC AR) certified the long range version of Sukhoi Superjet 100 aircraft and confirmed its compliance with IAC AR regulations. That allowed Russian airlines to operate the SSJ100 long range version. At the moment, works are undergoing to achieve the European Aviation Safety Agency (EASA) certificate for the long range version of Sukhoi Superjet 100.
The fatigue strength testing should confirm the designed service life of Sukhoi Superjet 100 long range aircraft: 70 000 flight hours and 54 000 cycles.
Sukhoi Civil Aircraft Company and TsAGI have been working closely on the Sukhoi Superjet 100 Project since 2001. One of the largest scientific research center using the SSJ100 prototype with production number 95002 conducted airframe tests of static strength on the airframe in general, and on samples and separate aircraft units as well. The same center also conducted researches on the aircraft aerodynamics in wind tunnels.
Beyond the longer range of flight, the aircraft differs from the basic version of the Sukhoi Superjet 100 in an increased take-off weight - up to 49.45 tons compensated by the strengthened wing. This version of SSJ100 is equipped with a SaM146-1S18 engine with a 5% increased thrust.
INDONESIAN ARMY RECEIVES THE FIRST OF 12 AIRBUS HELICOPTERS LIGHT ATTACK ECUREUIL/FENNEC FAMILY ROTORCRAFT

The Indonesian Army has taken delivery of an Airbus Helicopters lightweight rotorcraft, the first in a fleet of 12 which will provide this military service with advanced capabilities in attack missions. Comprising six single-engine and six twin-engine versions, the helicopters are to be supplied through 2016.
These 12 rotorcraft from the Ecureuil/Fennec family will constitute an Indonesian Army light attack squadron. Based on Airbus Helicopters' strategic industrial agreement with PT Dirgantara Indonesia, the mission equipment for the fleet - including machine guns and rocket launchers - will be installed by PT Dirgantara Indonesia at its in-country facilities in Bandung.
"These deliveries are aligned with our responsibilities from the Indonesian government to develop defence systems locally to augment the country's defence capabilities," said PT Dirgantara Indonesia President Budi Santoso.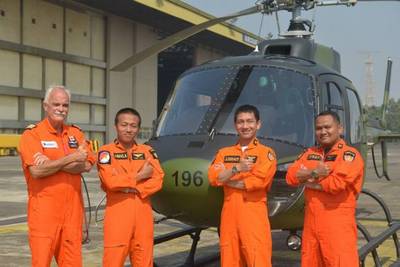 First of 12 Indonesian Army light attack Ecureuil/Fennec Photo © Hilkianus Silitonga
The Fennec helicopter - being the militarized version of Airbus Helicopters' renowned Ecureuil rotorcraft family - has been performing combat, combat support, tracking, escort and training duties around the world, including Asia. This series of adaptable single- and twin-engine helicopters combines powerful light attack capabilities with highly cost-effective airframe and mission system solutions.
"Indonesia's acquisition of the Fennec demonstrates this helicopter family's suitability for operations in a full range of conditions, providing a highly maneuverable and agile platform with low detectability," said Philippe Monteux, Head of Region South East Asia & Pacific at Airbus Helicopters.
The Indonesian Army's Fennec acquisition follows the Indonesian Air Force's purchase of six EC725s in 2012. In the region, the Royal Thai Army also ordered a fleet of eight Fennecs for scouting missions in 2011.
PT Dirgantara Indonesia has a long-standing partnership with Airbus Helicopters for close to 40 years. It is the prime contractor for the Indonesian government in providing end-to-end services from helicopter sales, customization and completion to delivery and after-sales support on the full range of Airbus Helicopters rotorcraft. PT Dirgantara Indonesia is also part of Airbus Helicopters' supply chain, manufacturing the EC225 and EC725 tail booms and airframe assemblies for the worldwide market.
SMBC AVIATION CAPITAL ANNOUNCES ORDER FOR 80 737 MAXS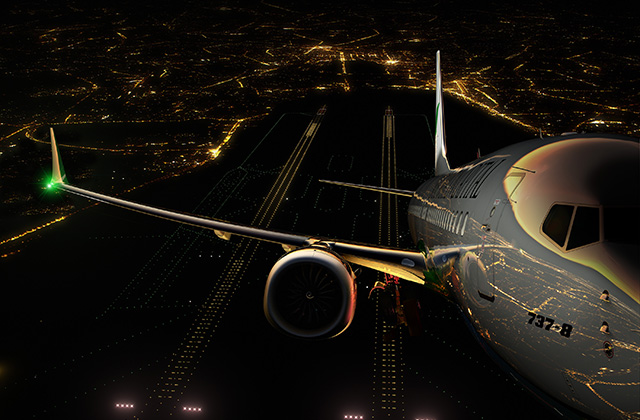 SMBC Aviation Capital announced an order for 80 737 MAX 8s worth more than $8.5 billion at list prices. This is the largest single order for 737 MAXs from a leasing company and will help SMBC Aviation Capital grow its portfolio of high-demand, fuel-efficient airplanes.
With this agreement SMBC Aviation Capital becomes the 50th 737 MAX customer and grows the program's order book to more than 2,400 airplanes.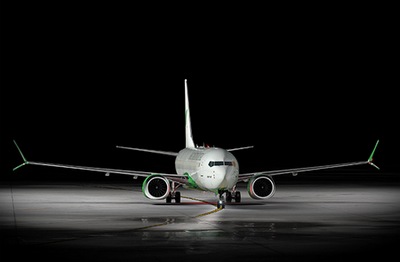 "It is 10 years since our business placed its first order with Boeing and we have enjoyed a decade of successful partnership since then," said Peter Barrett, CEO of SMBC Aviation Capital. "The 737 MAX 8 is one of the most fuel efficient and versatile aircraft available and today's announcement shows our ongoing commitment to the new generation of the popular 737 family, as well as our appetite to keep broadening and deepening our platform in order to service our customers' requirements. Following this order and given the clear commitment of our shareholders and the strength of the global aircraft leasing sector, we remain very confident in our ability to continue to deliver long-term growth."
"This order is another example of our history of partnership with SMBC Aviation Capital and Japan," said Boeing Commercial Airplanes President and CEO Ray Conner. "Today's announcement from a top leasing company is a vote of confidence in our 737 MAX and helps SMBC Aviation Capital capture the strong demand in the single-aisle market."
BOEING PRESENTS ORIGINAL FLIGHT TEST 787 DREAMLINER TO MUSEUM OF FLIGHT


Boeing and its employees joined the Puget Sound community celebrated the donation of one of the original 787-8 Dreamliner flight test airplanes to the Museum of Flight in Seattle. Pictured here are museum visitors waiting to tour ZA003.
"Boeing is committed to supporting and giving back to the communities where our employees work and live," said Boeing Commercial Airplanes President and CEO Ray Conner. "By placing this airplane in the Puget Sound area, members of the Boeing team and their families will see it displayed locally, and it will hopefully inspire a new generation of aviation enthusiasts here in Washington State."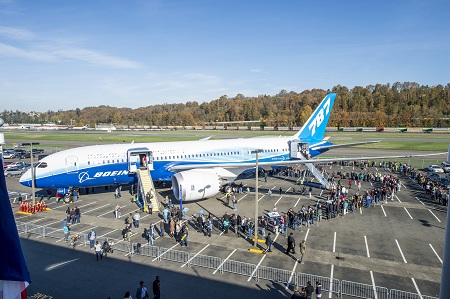 The Dreamliner Boeing donated to the museum is known as ZA003, the third 787-8 produced. The airplane has a unique past, first as part of the 787 flight test and certification program and later circumnavigating the globe several times in 2011 and 2012 during the Dream Tour, which introduced the 787 to more than 68,000 visitors in 23 countries.
"This revolutionary airplane caps the museum's collection of historic commercial airplanes, beginning with our 1932 Boeing 247, which was the first all-metal, modern airliner," said Doug King, president and CEO, Museum of Flight. "It was followed by our 1969 prototype 747, the first jumbo jet, and now with the first composite airliner, the 787. It's an incredible addition to our comprehensive display."
The celebration at the Museum of Flight included several Boeing employees whose work over the years played a role in the design, build and test of the 787 Dreamliner. Each person disembarked the airplane and presented a special artefact tied to the history of the airplane to museum docents and students from local high schools.
The artefacts given by employees ranged from a commemorative cachet carried aboard the 787's first flight, to early artist renderings of the 7E7. Those artefacts will now be housed at the Museum of Flight.
ZA003 is the first of three flight test 787-8s Boeing plans to share with museums around the world, the aviation community and future generations of employees and airplane enthusiasts.
About The Museum of Flight
The independent, non-profit Museum of Flight is one of the largest air and space museums in the world, attracting more than 500,000 visitors annually. The Museum's collection includes more than 160 historically significant air- and spacecraft, the original manufacturing facility of The Boeing Company, and the world's only full-scale NASA Space Shuttle Trainer. The Museum's aviation and space library and archives are the largest on the West Coast. More than 130,000 individuals are served annually by the Museum's on-site and outreach educational programs. The Museum of Flight is accredited by the American Association of Museums, and is an Affiliate of the Smithsonian Institution.
The Museum of Flight is located at 9404 E. Marginal Way S., Seattle, Exit 158 off Interstate 5 on Boeing Field halfway between downtown Seattle and Sea-Tac Airport. The Museum is open daily from 10 a.m. to 5 p.m.