Everyone who served South Africa during the Bush War will remember the Imp pilots waving as they flew inverted over the watchtowers on return after the day's sortie. The Aermacchi or Macchi MB-326, better know as the Impala in South Africa is one of the most successful military airplanes of its type.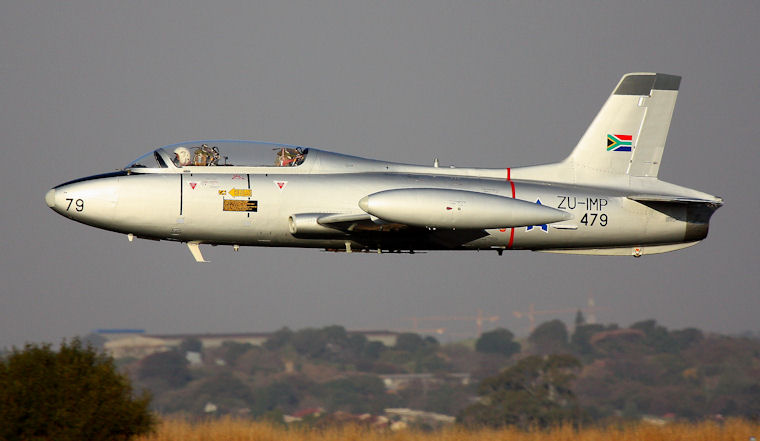 During 1954 in a struggling Italy still recovering from the war, Ermanno Bazzocchi at Aermacchi chose a single-engine light fighter aircraft design as they could not afford the development of a supersonic interceptor or bomber. Powered by a Rolls Royce Armstrong Siddeley Viper turbojet engine, the designed aircraft was robust and light, all-metal, simple and cheap to build and fly.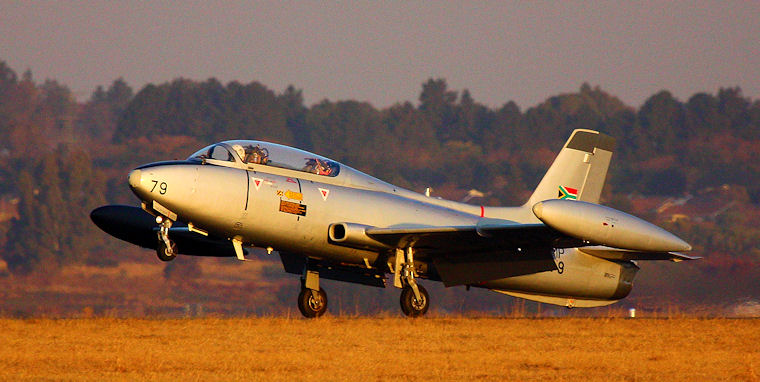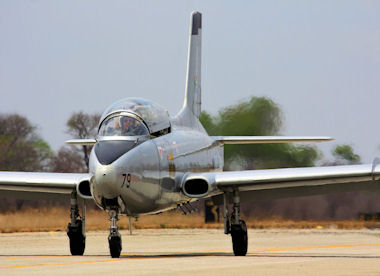 The first prototype, powered by a 1,750 lb (794 kg) static thrust Viper 8 turbojet, made its maiden flight in France on 10 December 1957 with chief test pilot Guido Carestiato behind the controls, was soon followed by a second prototype flying the next year on 22 September 1958, powered by a 2,500 lb (1134 kg) Viper 11. Ground-attack potential was first introduced with the M.B.326A model, with the possibility of carrying six underwing attachments for alternative gun or rocket pods, bombs or other weapons.
Easily stressed to g limits of +8 and -4, with well-equipped, pressurized tandem cockpits for a better aerodynamic fuselage and twin ejection seats with a long, low bubble canopy made the Impala perfect for all stages of flight training, and thus, soon established Aermacchi's supremacy in jet trainers.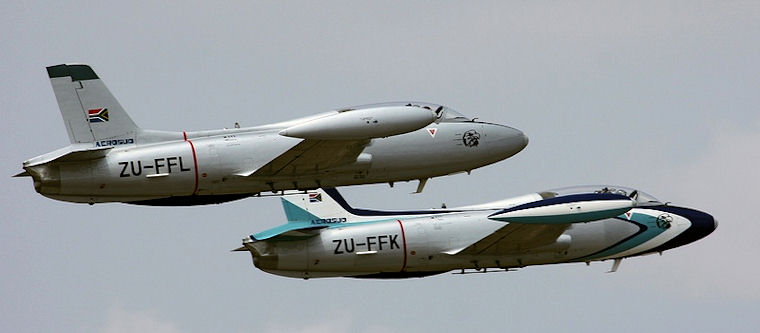 Specifications: The Aermacchi MB-326
Powerplant:
one Rolls-Royce Viper turbojet 2,500-lb (1134 kg) static thrust Viper 11
Performance:
Maximum speed - 501 mph (806 km/h) at 15,000 ft (4,575 m)
Range on internal fuel - 1,035 miles (1,665 km)
Service ceiling - 41,000 ft (12,500 m)
Stall speed - 91 mph (146 km/h) with wheels and flaps lowered
Rate of climb - 4,400 ft/min (22,3 m/s)
Weights:
Empty - 4,930 lb (2,237 kg)
Maximum take-off - 8,300 lb (3,765 kg)
Dimensions:
Wingspan - 34 ft 8 in (10,56 m)
Length - 34 ft 8 in (10,65 m)
Height - 12 ft 2,5 in (3,72 m)
Wing area - 204,5 sq ft (19 sq m)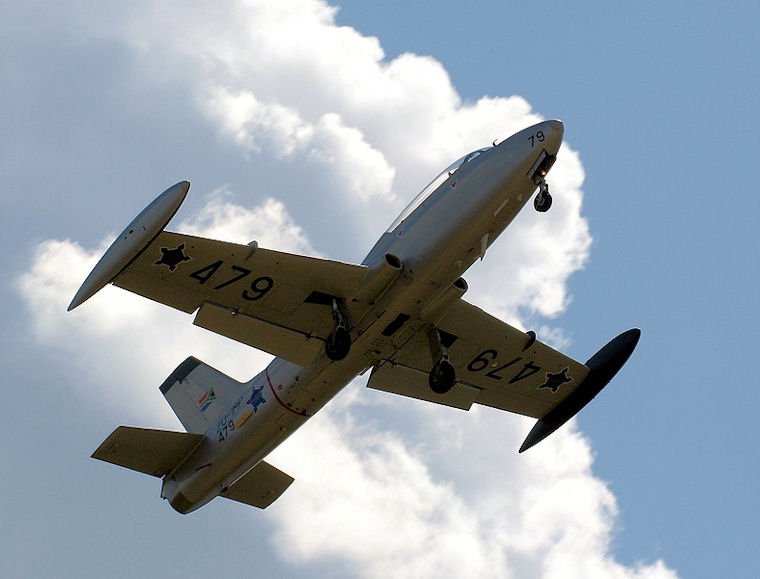 The M.B-326M version was built for the South African Air Force in Italy and 40 unarmed aircraft were shipped to South Africa for training purposes. In 1966 production of the Impala Mk 1 was started and the Atlas Aircraft Corporation built 125 aircraft, with provision for externally-mounted armament. Seven of the M.B-326K versions, powered by a Viper 600 series engine were bought form Aermacchi as light attack aircraft and another 15 assembled form kits locally. A single seat version, the Impala Mk 2 was produced and locally manufactured in South Africa in 1974, completing a total of 78.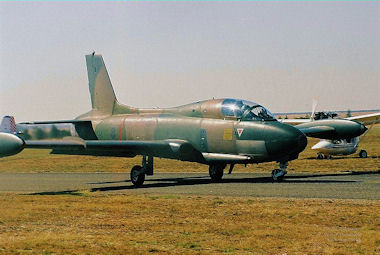 The South African Defense Force
employed Impalas during campaigns against the Armed Forces for the Liberation of Angola (FAPLA) and Cuban expeditionary troops in Angola between 1975 and 1989. Because of the aircraft's ability to take off from relatively primitive airfields in rural areas, the South African Air Force had an edge in the air during conflicts. The South African Air Force used up to six 120 kg or four 250 kg bombs. The main armament consisted of 68 mm SNEB rocket-launchers and two 30 mm autocannons with 300 rounds. The single seat Impala Mk 2s were also sometimes armed with Matra R550 Magic air-to-air missiles for self-defense. The Impala Mk 2 operated at extreme ranges and had to fly very low, climbing only when enemy helicopters were seen at medium altitude. After each attack they had to return to low level to avoid interception by enemy Migs.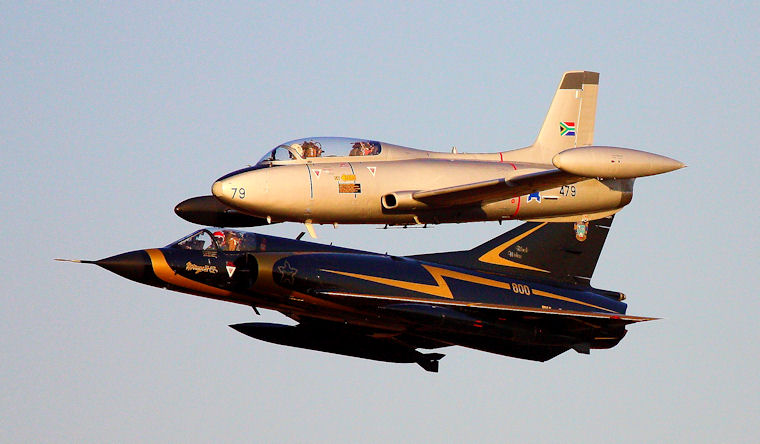 In total, the South African Air Force operated 62 M.B-326s, 125 Impala Mk 1s and 73 Mk 2s in seven SAAF squadrons, the 85 Combat Flying School as well as the Silver Falcons.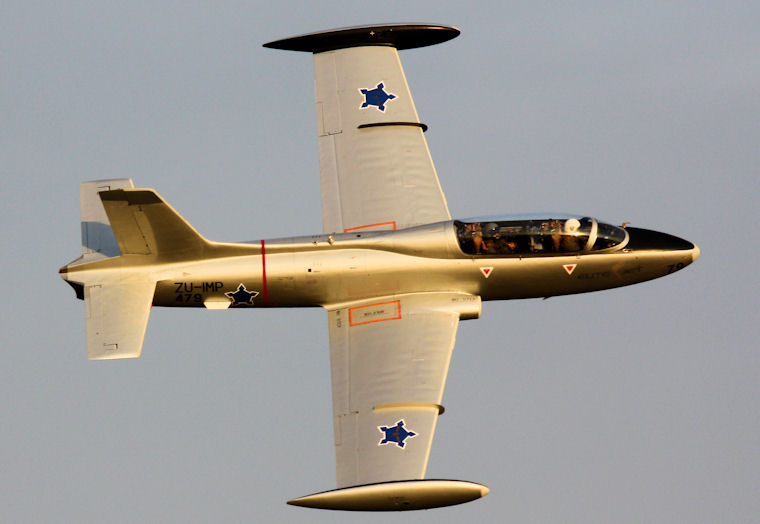 The Silver Falcons, also known as "Die Silwer Valke" started using the Aermacchi Impala in 1967, based at Air Force Base Langebaanweg in the Western Cape, South Africa. Making their debut at the opening of the Atlas Aircraft Corporation in the same year, the team went from strength to strength and in 1986, the team was expanded to a 5 ship. The Impalas were painted to represent the then current South African flag, shining orange, white and blue.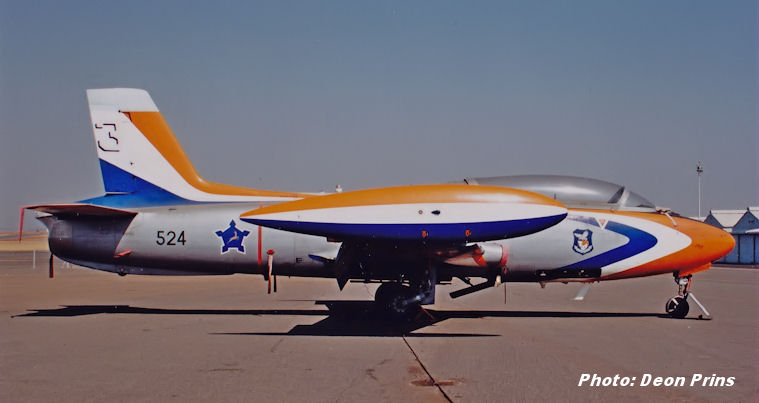 During the early 1990's all Impala training, including the Silver Falcons were relocated to Air Force Base Hoedspruit to form part of 85 Combat Flying School. In 1994 The Silver Falcons were repainted to represent the South African Air Force in the colours of blue, light blue and white.