THIS WEEK IN MIDWEEK UPDATE


Plan your weekend
Forthcoming events
Notice Board
This week in aviation history
Aviation News
Advertising rate card

6 December: SAAF Museum flying training and open days. Contact Capt. Kobus Kapp 012 351 2342 or E-mail: webmaster@saafmuseum.org
7 December: ICAD (international Civil Aviation Day) Contact: Mark Swarts 082 878 0875

13 December: SAC Ace of Base Aerobatics Vereeniging airfield. Contact Annie Boon e-mail: chunge@mweb.co.za
13 December: RV Fly in at Stellenbosch. Contact Alewyn 082 4126 1951 or
alewyn@burger.org.za

28 December: St Francis Field will be holding their annual fly-in and open day on Sunday 28th December. The event will start at approx 07h30 and run till around midday. There will be a wide variety of aircraft and helicopters flying in and on display, and if the weather permits, skydivers will drop in and visitors can go for a tandem skydive. Food and soft drinks will be available.
Bring the family and friends for a fun morning.
Visit our website www.stfrancisfield. com or contact Barry Culligan for details 083-6113333
2015 PROVISIONAL CALENDAR



30 January: Dias Festival Mossel Bay airshow. Contact Horace Blok e-mail hab@habac.co.za 083 261 6300
30 January: Sports Aerobatics Club Western Cape regionals - Mossel Bay. Contact Annie Boon chunge@mweb.co.za
7 February: MISASA Best of the Best at Kitty Hawk Wings - Wheels - Water Showcase. Contact: John Boucher e-mail: comms@misasa.org Cell: 082 553 1105 or Alan McKenzie e-mail: nemo@webo.co.za Cell: 082 373 4947
27 February-1 March February: Swellengrebel fly-in. Contact Pieter Venter pventer@vgv.co.za Cell: 083 250 9504
28 February: Bethlehem Aero Club annual Sling, Bushbaby and chopper fly-in. Contact Izak Venter e-mail: izak@motsu.co.za or Francois Marais e-mail:
info@stanfra.co.za

21-22 March: RV's at Parys. Pylon event, a formation competition, an aerobatics event (competition?) as well as possibly a "best build" competition. Contact Scully Levin e-mail: flyboys@global.co.za
27 March: Bethlehem fly-in and Riana Nel show. Contact Jacolene Jacobs 082 854 1003
28 March: Bethlehem Aero Club fun navigation rally. Contact Izak Venter e-mail: izak@motsu.co.za or Francois Marais e-mail: info@stanfra.co.za
27 - 28 March: Uitenhage Wings & Wheels festival. Contact Lourens Kruger 082 320 2615 Website: www.wingsandwheelsfestivalutenhage.co.za
28 - 29 March: Sports Aerobatics Club North-West regionals - Klerksdorp. Contact Annie Boon chunge@mweb.co.za
11 April: Fashkosh (Stellenbosch) Website: www.stelfly.co.za Contact Alewyn Burger Alewyn@burger.org.za Cell: 082 416 1951
15 to 18 April: AERO Friedrichshafen dedicates itself in offering a significant collection of aviation related products and accessories. Exhibitors will be showing engines, modern ultra-lights, powered aircraft, avionics and related products and services. Over the years, this show has gained huge reputation from all over the world and the positive reaction from the attendees has motivated the exhibitors to improve the existing range and manufacture more such effective spare parts and products. For further information on the tour African Pilot is planning please send an e-mail to Athol Franz: editor@africanpilot.co.za. The idea is to get a package deal together for about 10 to 12 persons wishing to visit AERO Friedrichshafen.
17 & 18 April: Zebula airshow. Contact: Paul Weich 083 290 6525 e-mail:
pdweich@mweb.co.za
or Chris Potgieter 083 314 1669 e-mail: ChrisPotgieter@flysaa.com
18 to 29 April: Sun 'n Fun Tour 2015, Lakeland, Florida, USA. Contact Neil Bowden: e-mail:
neil1@telkomsa.net
.
Neil Bowden will once again be organising a tour to the USA's second largest fly-in, the Sun 'n Fun Fly-in and International Expo. In addition to the airshow, we will be arranging an excursion to the Kennedy Space Centre. A great new feature here is the Space Shuttle Atlantis exhibition building housing the original Atlantis Shuttle. Also planned is a visit to the Kermit Weeks Fantasy of Flight Museum which is home to some very rare aircraft and while we are in the area there are planned visits to the theme parks - Disney and Universal. The price is from R14 750 per person plus airport tax (about R7 400).
29 April-3 May: Aero Club Air week at Parys airfield contact Kev Storie 011 082 1100 Website: www.aeroclub.org.za
1 - 2 May: Lowveld Airshow (Nelspruit) Cell: 079 499 5733 Contact Willemien Hodgkinson e-mail: willemien.hodgkinson@ffa.co.za
8 - 9 May: SAAF Museum Swartkops Airshow, Pretoria Contact Lt. Col Mike O'Connor e-mail: oc@saafmuseum.org Tel: 012 351 2290
8 - 10 May: Battlefields fly-in (Dundee) Lourens Roos 082 875 5419
E-mail: stay@battlefieldslodge.co.za E-mail: nan@battlefieldslodge.co.za Website: www.battlefieldslodge.co.za
10 & 11 May: AVIATION AFRICA - Dubai UAE Contact Mark Brown mark.brown@africanaerospace.aero
15 to 17 May: Bethlehem Aero Club / EAA Chapter 1500 fly-in weekend. Contact Izak Venter e-mail: izak@motsu.co.za or Francois Marais e-mail: info@stanfra.co.za
16 & 17 May: Botswana Airshow Contact Guillaume Knipe e-mail: gknipe@work.co.bw Tel: 00267 7130 0646
23 & 24 May: Sports Aerobatics Club Free State regionals - Parys. Contact Annie Boon chunge@mweb.co.za
25 to 29 May: RAF 2000 Gyroplane service & maintenance course. Contact: Yolande Combrinck e-mail: yolande@rafsa.co.za Tel: 083 282 8792
30 - 31 May: Newcastle Airshow e-mail:
johan@champ.co.za
Contact Champ Marketing Johan 082 923 0078 or Christo 083 375 5883
10 to14 June: Kalahari Bundu Bash. Contact Yolande Combrinck e-mail: Yolande@rafsa.co.za
13 June: Zandspruit Airshow - Hoedspruit. Contact Yvonne Fourie e-mail: yf@zandspruit.co.za Tel: 015 793 1192
19 to 21 June: Mafikeng fly-in and airshow. Contact Connie Conradie e-mail: info@mafikeng-flyingclub.co.za Cell: 082 449 1546
20 June: Warbirds over the Vaal fly-in and time trials - Parys Airfield. Contact Scully Levin e-mail: flyboys@global.co.za
11 & 12 July: Durban (Virginia) airshow. Contact Gerna Fraser e-mail: gerna@kznwintertour.co.za Cell: 084 783 1953
16 to 19 July: Sports Aerobatics Club Nationals - Klerksdorp. Contact Annie Boon chunge@mweb.co.za
17to 19 July: Nylstroom Taildraggers fly-in - Nylstroom Flying Club. Contact Richard Nicholson e-mail rgn@pcwireless.co.za Cell: 082 490 6227
19 July-3 August: EAA's annual AirVenture to be held in Oshkosh USA. Camping on the airfield contact Neil Bowden e-mail:
neil1@telkomsa.net
Hotels in Appleton contact Calvin Fabig e-mail: calvin@designer.co.za
1 - 2 August: Namibian airshow. Contact Reinhard Gartner e-mail: reinhard@fivestar.co.za
14 - 15 August: Bethlehem airshow. Contact Stephan Fourie e-mail: fouriesj1491@gmail.com Cell: 072 344 9678
20 - 29 August: Sports Aerobatics Club Unlimited World Championships - France Contact Annie Boon chunge@mweb.co.za
23 August: Grand Rand airshow (Sunday) Contact Stuart Coetzee e-mail: manager@randairport.co.za Tel: 011 827 8884
29 August: Bethlehem Aero Club fun navigation rally. Contact Izak Venter e-mail: izak@motsu.co.za or Francois Marais e-mail: info@stanfra.co.za
12 - 13 August: Sports Aerobatics Club Gauteng regionals and Judges Trophy - Vereeniging Contact Annie Boon chunge@mweb.co.za
24 - 25 October: Sports Aerobatic Club KZN regionals - Ladysmith. Contact Annie Boon chunge@mweb.co.za
31 October: Bethlehem Aero Club fly-in and hangar dance. Contact Izak Venter e-mail: izak@motsu.co.za or Francois Marais e-mail: info@stanfra.co.za
13 to 15 November: Mafikeng annual fly-in and hangar dance. Contact Connie Conradie 082 449 1546 e-mail: info@mafikeng-flyingclub.co.za
5 - 6 December: SAC ACE of base - Baragwaneth airfield (Syferfontein) Contact Annie Boon chunge@mweb.co.za
7 December: ICAD (International Civil Aviation Day) Contact Mark Swarts e-mail: SwartsM@caa.co.za Cell: 082 878 0875




The Notice Board is empty



December 4 1991 - Pan Am, bankrupt since August 11, is finally dissolved after 63 years of operation
December 4 1984 - Kuwait Airways Flight 221, flying from Kuwait City to Karachi, Pakistan, is hijacked by four Lebanese men and diverted to Tehran. Four hostages are killed and dumped on the tarmac, and the remaining passengers, especially Americans, are tortured every 5 min. Iranians eventually raid the aircraft and rescue all, but the hijackers were later released.
December 4 1967 - The A-7 A Corsair II strike aircraft enters combat for the first time, operating from the aircraft carrier USS Ranger (CVA-61) over Vietnam
December 4 1894 - German meteorologist Arthur Berson climbs up with a balloon to 9,155 metres (30,036 ft).
December 5 1961 - A U. S. Navy McDonnell F4 H-1 Phantom II sets a sustained altitude record of 66,443.8 feet (20,252.1 m).
December 5 1921 - The first regular air services in Australia commence, with West Australian Airways.
December 5 1909 - George Taylor becomes the first person to fly a heavier-than-air craft in Australia, in a glider he designed. On the same day Florence Taylor becomes the first woman in Australia to fly a heavier-than-air craft, in the glider designed by her husband.
December 6 1989 - The prototype of the Boeing MH-47E Chinook special operations helicopter rolls out.
December 6 1975 - The first airmail flight by a supersonic aircraft is made by the Tupolev Tu-144, carrying mail between Moscow and Alma Ata, within the U. S. S. R
December 6 1960 - Brazil commissions its first aircraft carrier, Minas Gerais. She is the second Latin American aircraft carrier to enter service.
December 6 1944 - During the evening, the Japanese mount a paratrooper attack on U. S. airfields on Leyte, employing 39 or 40 aircraft to drop 15 to 20 paratroopers each. The aircraft targeting Tacloban airfield are shot down or driven off by U. S. antiaircraft fire, while the troops targeting Dulag Airfield are killed in crash landings, but troops dropped from 35 aircraft at Burauen airfield resist for two days and three nights until killed by U. S. Army Air Forces ground personnel.
December 7 1995 - The Galileo spacecraft arrives at Jupiter, just more than six years after it was launched by Space Shuttle Atlantis during Mission STS-34.
December 7 1987 - Pacific Southwest Airlines Flight 1771, a BAe 146, is hijacked and deliberately crashed near Cayucos, California, by a disgruntled airline employee. All 43 people on board, including the hijacker, are killed.
December 7 1972 - Apollo 17, the last Apollo moon mission, is launched. The crew take the photograph known as "The Blue Marble" as they leave the Earth
December 7 1944 - Employing a new tactic in which torpedo bombers first drop a torpedo and then conduct a kamikaze suicide attack, Japanese aircraft sink a U. S. destroyer and destroyer-transport in Ormoc Bay. Kamikazes also severely damage two destroyers.
December 7 1941 - The Imperial Japanese Navy makes a devastatingly successful surprise attack on the US Navy fleet at Pearl Harbor. Six aircraft carriers launched a total of nearly 400 warplanes which claimed five US battleships and ten other vessels, and damaged three other battleships. The US declares war on Japan.
December 7 1928 - First flight of the de Havilland Hawk Moth
December 8 1967 - The first African-American NASA astronaut, Maj. Robert Henry Lawrence, Jr., is killed in the crash of a Lockheed F-104D Starfighter, 57-1327, of the 6515th Organizational Maintenance Squadron, while practicing zoom landings with Maj. Harvey Royer at Edwards AFB, California. Lawrence was flying backseat on the mission as the instructor pilot for a flight test trainee learning the steep-descent glide technique intended for the cancelled Boeing X-20 Dyna-Soar program. The pilot of the aircraft successfully ejected and survived the accident, but with major injuries. The F-104 they were flying came in too low and hit the runway. Royer ejected, but Lawrence was killed. He left behind a wife and one son.
December 8 1964 - A United Lines Caravelle makes the first landing in the USA completely controlled by computer (automatic touchdown).
December 8 1963 - Lightning strikes the Pan American World Airways Boeing 707-121 Clipper Tradewind, operating as Pan Am Flight 214, igniting fuel vapor and causing an explosion which blows part of the left wing off the aircraft. The plane crashes near Elkton, Maryland, killing all 81 people on board. As a result of the tragedy, the U. S. Federal Aviation Administration orders the installation of lightning discharge wicks or static dischargers on all commercial jets flying inside U. S. airspace.
December 8 1962 - First flight of the Bell 206 (206)
December 9 1999 - The last Classic 737 is rolled off the Renton, Wash., assembly line, ending a production run of 1,988 airplanes.
December 9 1988 - First flight of the Saab JAS 39 Gripen
December 9 1961 - USAF Major Robert M White takes the X-15 to a height of 30,970 m (101,610 ft).
December 9 1957 - Introduced: Lockheed C-130 Hercules.
December 10 1914 - HMS Ark Royal is completed. She is the first ship with an internal hangar enclosed by her hull, and the first with specially designed internal spaces to accommodate aviation fuel, lubricants, ordnance, and spares and machinery required for aircraft maintenance.




SECOND CONFORMING VISION SF50 JET TAKES FLIGHT IN CERTIFICATION PROGRAM

Cirrus Aircraft announced the successful first flight of their second certification flight test aircraft, 'C-One' (C1), in their Vision SF50 personal jet program. This achievement marks the most recent significant milestone for the program as C1 joins C0 in FAA certification activities and continues to accelerate the Vision SF50 towards entry into service.
C1's first flight took place on Tuesday afternoon, 25 November at approximately 3:30 PM CST from Duluth International Airport. Upon completion of the forty-five minute flight, Experimental Flight Test Pilot Terry LeSage reported, "All systems operated as expected and C1 handled quite nicely, just as we predicted. This latest 'first flight' is a validation of our dedication and commitment to the design goals of this game changing airplane."
"Thanksgiving is a very appropriate week for the first flight of C1 to occur," said Dale Klapmeier, CEO and Co-founder, Cirrus Aircraft. "We can all be thankful for the continued hard work and dedication of the entire Cirrus team and our partners as we continue to change the face of personal aviation. Together we have achieved another major milestone and we can look forward with excitement to our goal of elevating the personal flying experience with this clean-sheet design."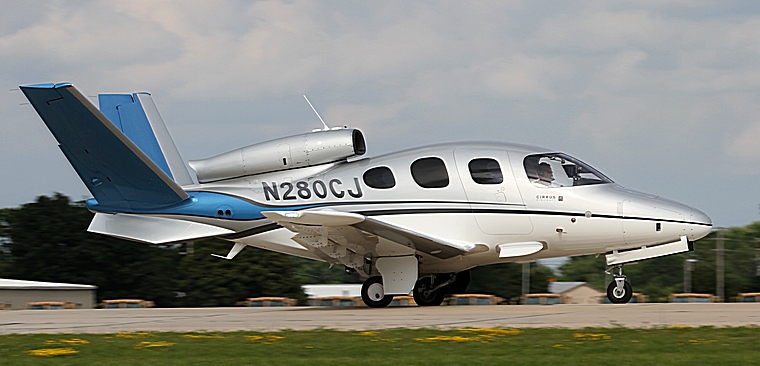 Cirrus Aircraft currently plans to have three aircraft dedicated to certification flight-testing in the Vision SF50 personal jet program. C1 is the second aircraft to join the program and will be used for an array of certification efforts including Flight Into Known Icing (FIKI) testing. C0, the first certification flight test aircraft, joined the program on 24 March 2014 and has accumulated nearly 220 flight hours over 150 flights. This aircraft has primarily been used for aerodynamic performance and handling testing and will continue to expand its flight test regime as the program progresses. The third and final flight test aircraft, 'C-Two' (C2), will be utilized for reliability testing, optional equipment testing and is expected to join the program in the near future.
The Vision SF50 is a revolutionary personal jet designed to fill the significant gap between high performance piston singles and light jets. Simple to fly and easy to own and operate, the Vision is designed to be a straightforward transition for pilots of high-performance aircraft, such as the Cirrus SR22T. It features a high-end cruise speed of 300 KTAS, advanced avionics, the Cirrus Airframe Parachute System (CAPS™) and an all-carbon fiber structure. With a current list price of $1.96 million and seating up to five adults and two smaller passengers in an expansive cabin, Vision Jet sets a new standard in luxury and flexibility for pilots and passengers. First customer deliveries of the aircraft are currently planned for the fourth quarter of 2015.
AFTER ASIA AND EUROPE, THE BREITLING JET TEAM PREPARES TO CONQUER AMERICA

In 2015, the largest professional civilian jet aerobatic team will undertake its first United States tour. This exceptional formation, consisting of seven L-39C Albatros planes flying at nearly 700 km/h (435 mph), has already performed in 36 countries across the world.
The Breitling Jet Team has just completed a major European tour, traveling to Italy, Switzerland, Germany, France, England and Poland. The 2014 program was studded with a number of highlights - such as the first-time participation in the ILA Berlin Air Show (a very rare privilege for a civilian team), a flight with the Italian national Frecce Tricolori aerobatic team (in the framework of the "Fly for Peace" event designed to promote peace and respect for human rights) and another flight in formation with the British Red Arrows aerobatic team, to celebrate its 50th anniversary. In 2012, the Breitling Jet Team had already covered more than 45,000 kilometers (28,000 miles) during an "Asian Tour" that included stops in Russia, China, South East Asia, South Korea and Japan.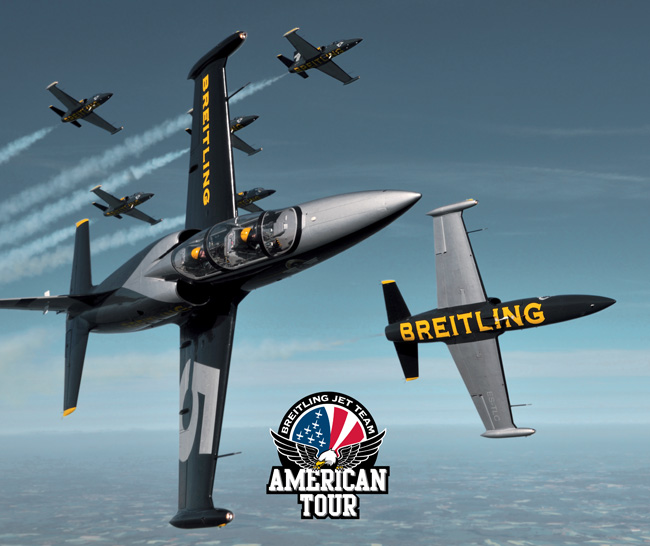 The detailed program for the 2015 American tour will be announced at the International Council of Air Shows (ICAS), which will take place in Las Vegas (Nevada) on December 9th 2014.
The Breitling Jet Team's performance, daring and precision make it the perfect ambassador of the Breitling spirit. Founded in 1884, the brand established itself as a privileged partner of aeronautics, notably through its famous onboard chronographs, which equipped propeller-driven fighter planes in the Second World War. In 1952, Breitling strengthened these authentic ties with the masters of the skies by creating the legendary Navitimer, a chronograph wristwatch equipped with a circular slide rule enabling all calculations relating to aerial navigation. This cult object for pilots and aeronautic enthusiasts has been continuously manufactured for more than 60 years - making it the doyenne of all mechanical chronographs in production worldwide. The brand has also made a name for itself in the forefront of electronics by developing various innovative instruments mainly for aviators' use, which include the Emergency, the first wristwatch in the world equipped with an authentic integrated dual frequency personal locator beacon.
FIRST PAVEWAY IV RELEASE FOR RAF TYPHOONS AT RAF LOSSIEMOUTH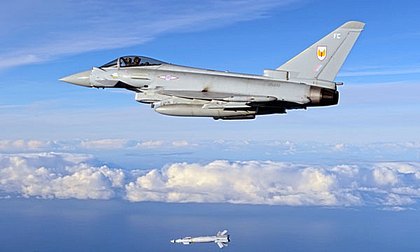 The oldest frontline Royal Air Force squadron in the world achieved another first recently (25 November 2014).
No 1(Fighter) Squadron, based at RAF Lossiemouth, successfully released 2 live Paveway IV weapons at Cape Wrath Training Area as part of the Squadron's task to deliver the latest Typhoon capability upgrade, known as P1Eb.
Officer Commanding 1(Fighter) Squadron, Wing Commander Mike Sutton, said:
"This is another landmark moment for the Typhoon Force, and highlights the aircraft's potent swing role capability. The successful weapon drops are a superb reflection on the dedication and achievement of everyone who has been involved in this capability enhancement.
"The swing role capability of the Typhoon ensures that we are well equipped to respond to the challenges of contingent operations across the globe, while also maintaining the security of UK skies through the delivery of Quick Reaction Alert, 24 hours a day, 365 days a year."
P1Eb is predominantly an air to ground capability upgrade; it provides enhancements to the Litening III Laser Designator Pod (LDP) and Helmet Equipment Assembly (HEA) (helmet mounted sight) integration, as well as with Paveway IV. The LDP can now also be used seamlessly with the HEA to visually identify air tracks at long range, as well as identifying, tracking and targeting points on the ground.
The Paveway IV offers increased precision, stand-off, and flexibility of employment, and the Typhoon can release a number of weapons to different targets in a single pass.
1(Fighter) Squadron has conducted 8 Paveway IV drops this week, with a mix of profiles including GPS and laser guidance; pre-planned and target of opportunity using the HEA; and employing both impact and airburst fusing settings on the weapon.
1(Fighter) Squadron will release a further 20 Paveway IV weapons when they deploy to the USA for Exercise Red Flag in January 2015. The Typhoon aircraft will be conducting full swing role training sorties, day and night, fighting through the hostile air and ground threats, and then conducting the Paveway IV releases as part of the missions. These sorties will also involve full integration with the US Air Force F22 Raptor aircraft, which is a key area for the RAF as it looks to introduce the Lightning II in the coming years.
SUCCESSFUL FIRST FLIGHT OF AIRBUS HELICOPTERS' EC645 T2


Airbus Helicopters' newest lightweight military multi-role helicopter, the EC645 T2 (LUH SOF), has successfully completed its first flight. In the presence of representatives of the German Armed Forces (Bundeswehr), which has ordered the first of this new helicopter type, the EC645 T2 demonstrated its capacities at the company's Donauwörth location in Bavaria.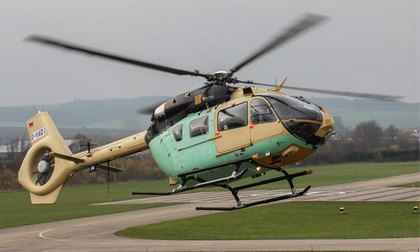 "This first flight is a milestone in the EC645 T2 program and we're thrilled to be able to celebrate this event with our customer," said Ralf Barnscheidt, Head of the German Military Support Center. "We're right on schedule to deliver the first EC645 T2 helicopters in the coming year. This is also a product of the close-knit collaboration between the Airbus Helicopters and Bundeswehr project teams."
The EC645 T2 is the military version of the civil EC145 T2 that entered into service this past summer. With a maximum takeoff weight of 3.7 tons, the EC645 T2 can be used for a wide range of military operations including transportation, reconnaissance, search and rescue, fire support, and evacuations of wounded personnel. The Bundeswehr has ordered 15 of these helicopters for the German Air Force. The EC645 T2 represents a significant addition to the German Air Force's capabilities and offers a host of features that make it particularly well suited to missions carried out by the Special Forces Command (KSK).
Building on the robustness, low operating costs and the especially high operational availability of the EC145 family, the new EC645 T2 is equipped with the Helionix® digital avionics suite, including the 4-axis autopilot developed by Airbus Helicopters. This aircraft has been optimized for day and night missions as well as for those carried out in treacherous weather conditions. Its mission equipment range also includes a fast roping system for troops, cargo hooks, hoists, various weapons and electro-optical sensors. Ballistic protective equipment and an electronic countermeasures system that detects threats help protect the helicopter and crew. Powered by two Turbomeca Arriel 2E engines, the EC645 T2 is equipped with full authority digital engine control (FADEC). What's more, noise emissions significantly below international limits make the EC645 T2 the quietest helicopter in its class.
The military version of the EC145 has proven its worth to customers around the world. For instance, the US Armed Forces operates more than 300 of this helicopter type, which Airbus Helicopters delivered on time and on budget. These aircraft achieve an operational availability of over 90 percent on average. The Royal Thai Armed Forces recently also ordered five EC645 T2 helicopters.
TBM OWNERS AND PILOTS ASSOCIATION 2014 CONVENTION STILL RISING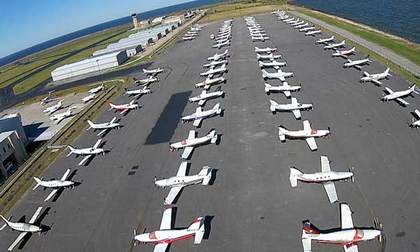 Photo © DAHER-SOCATA / Another record-breaking TBMOPA Convention brings together a total of 107 TBM 700, 850 and 900 aircraft at New Orleans' Lakefront airport. 111 owners, 30 vendors and over 330 attendees were present at the event .
DAHER-SOCATA and the TBM Owners and Pilots Association (TBMOPA) today announced that the 2014 annual TBMOPA convention broke another attendance record with the presence of more than 100 TBM 700s and TBM 850s, along with several brand-new TBM 900s.
Attracting almost a quarter of the entire TBM fleet in North America, this became the largest fly-in convention dedicated to a single-engine turbine aircraft or small private jet - registering an increase in attendance of three percent from last year.
The 2014 TBMOPA Convention was held from October 29 to November 1 in historic New Orleans, Louisiana, with aircraft accommodated at the city's Lakefront Airport. The meeting included three days of dynamic academic sessions customized for the TBM aircraft family, featuring presentations by industry leaders and DAHER-SOCATA, as well as TBM system vendors such as Pratt and Whitney, Canada.
Among the speakers were Jerry Cockrell, whose discussion was entitled: "How to Exercise Poor Judgment and Survive;" Earl F. Weener, a Member of the U.S. National Transportation Safety Board (NTSB), speaking on general aviation safety; and Bill Panarello, addressing characteristics of the TBM radar system. The guest speaker was U.S. Air Force Capt. Brian Udell, who recounted how he bailed out of his F15 fighter aircraft at over 800 mph.
As with the association's previous annual conventions, participation in the technical sessions qualified members for savings on insurance premiums that are exclusive to TBMOPA.
Pilot companions were offered activities at the event as well, including a visit to Oak Alley plantation - a preserved historic mansion of the Old South's golden age - as well as a "pinch hitter" flight training program designed for non-pilot companions.
"The 2014 TBMOPA convention marked our best turnout to date, and enabled the TBMOPA 'family' to take part in much appreciated safety seminars and sessions relating to operational techniques," explained Frank McKee, the Chairman and Director of TBMOPA. "Once again, our annual event offered an excellent way for owners to learn and socialize with each other, to meet with vendors, and talk with personnel from DAHER-SOCATA. The social events encouraged further discussions about flying and offered the means to develop friendships."
McKee expressed his appreciation to vendors who provided support and financial contributions for the TBMOPA's charitable foundation. In 2014, more than $100,000 was raised to provide, among other things, scholarships for disabled veterans to learn to fly through the non-profit Able Flight association.
Stéphane Mayer, DAHER-SOCATA's President and CEO, took the opportunity of a U.S.-bound TBM 900 ferry flight to join the convention. He said the TBM 900's recent introduction as the latest TBM aircraft family member has raised interest throughout the aviation community, which was reflected in the presence of newcomers at this year's event.
"These new attendees share the passion for aviation, and are welcomed to join the TBM community," he added. "Overall, the TBMOPA team's excellent work once again resulted in a series of top-quality events for the organization's annual conventions, which attract increasingly large audiences."
Nicolas Chabbert, Senior Vice President of the DAHER-SOCATA Airplane Business Unit, said the 2014 TBMOPA convention was very well managed by the TBMOPA team, under the direction of Frank McKee, assisted by Bill Alberts and Andrew Knott.
"This 11th TBMOPA Convention continued the event's ascension, and was remarkable by its professional organization and the camaraderie of the owners who attended," Chabbert concluded.
The 2015 TBMOPA Owners Convention is scheduled for October 7-11 in Charleston, South Carolina.
BANGKOK AIRWAYS RECEIVES FIRST OF NINE ATR 72-600S ON ORDER

Bangkok Airways, ATR's long-term and loyal customer, today took delivery of its first ATR 72-600 at a special ceremony in Toulouse, France. The handover marked a key milestone in the carrier's development as it plans to take delivery of nine new ATR aircraft from now until 2017. The new-comer will join Bangkok Airways' existing fleet of ATR 72-500s and will be operated on the airline's expanding network of domestic and regional services.
The introduction of these new 70-seat ATR 72-600s, the most fuel efficient aircraft in their category, will contribute to Bangkok Airways' economic performance in the long run as the airline expands its fleet capacity and widens the scope of its activity. These new generation ATRs are equipped with a new full-glass cockpit and feature a high comfort layout with larger overhead bins. The ATR 72-600s are not only known for their reliability and technology but are also the top-selling turboprop aircraft on the market.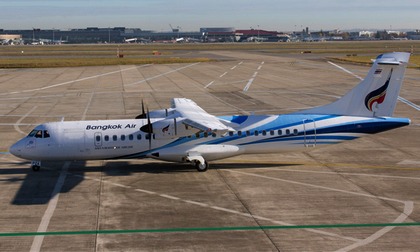 Captain Puttipong Prasarttong-Osoth, President of Bangkok Airways, stated: "Today's delivery is part of Bangkok Airways' strategy of matching our growing network and frequency requirements with the right aircraft. Choosing ATR for our regional operations is a logical step. The ATR aircraft has the lowest seat-mile cost in its class, is ideally suited for regional and domestic operations, and enables us to provide the highest level of comfort and service to our customers. By focusing on quality service and comfort, Bangkok Airways does its utmost to ensure the best passenger experience and these improvements on the new ATR 600s' well in line with this strategy."
Patrick de Castelbajac, Chief Executive Officer of ATR said: "ATR and Bangkok Airways have a very productive and long-term relationship. We are delighted to further contribute to the development of Bangkok Airways, especially in the period of growth for the airline. We are fully confident that the ATR -600s are the best possible aircraft for companies committed to optimizing costs while ensuring a great flight experience for their passengers. These new aircraft will offer superior performance, economics, passenger cabin comfort and in-service reliability".
There are currently more than 300 ATR aircraft in operation in Asia-Pacific, flying the colors of more than 50 airlines. In recent years, ATR has emerged as the preferred choice of Asian airlines when it comes to regional aircraft. ATR has taken orders for 430 aircraft from airlines in Asia-Pacific since 2005, a figure that accounts for two-thirds of total sales of regional aircraft below 90 seats in the region.
SKYWEST CONFIRMS FIRM ORDER FOR SEVEN E175 JETS

Embraer and SkyWest, have confirmed a firm order for seven E175 jets. The aircraft will be flown by SkyWest Airlines under a Capacity Purchase Agreement (CPA) with Alaska Airlines. The value of the firm order, which will be included in Embraer's 2014 fourth-quarter backlog, is estimated at USD 301 million, based on 2014 list prices.
These aircraft are part of SkyWest's previous order for 100 (40 firm and 60 reconfirmable), E175 current generation E-Jets - with an additional 100 options - placed in May 2013, taking the firm order number to a total of 47. The E175s for Alaska Airlines will be configured with 76 seats including 12 First Class seats. Deliveries are schedule to begin in the second semester of 2015.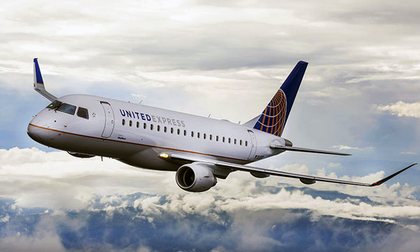 "This order confirmation reinforces the superior economics, performance and passenger appeal of the E175 in the U.S. market," said Paulo Cesar Silva, President & CEO, Embraer Commercial Aviation. "SkyWest's agreement with Alaska Airlines is a wonderful endorsement of the aircraft and adds a prestigious new operator to our list. In addition, the Embraer E-Jet will be introduced to passengers in a new region of the country."
"We're pleased to expand our relationship with Embraer," said SkyWest, Inc. President Russell "Chip" Childs. "With 15 E175s already flying in the SkyWest network, we couldn't be more pleased with the design and performance of these state-of-the-art E-Jets."
SkyWest is the largest regional airline group in the world and is the parent company of SkyWest Airlines and ExpressJet Airlines. Both companies have long histories with Embraer and were early customers for the Embraer EMB 120 Brasilia turboprop aircraft. SkyWest Airlines operates a fleet of approximately 15 E175 and 39 EMB 120 Brasilia aircraft. ExpressJet Airlines operates 226 aircraft of the ERJ 145 family and is the largest ERJ operator in the world.
In a separate deal with Embraer, announced in June of 2013, SkyWest became the launch customer of the E175-E2, ordering 100 aircraft with 100 additional options, for deliveries beginning in 2020. As the leader in the 70 to 130-seat segment, Embraer continues to invest in the E-Jets family, which is flown by some 65 airlines from 45 countries.