THIS WEEK IN MIDWEEK UPDATE


Plan your weekend
Forthcoming events
Notice Board
This week in aviation history
Aviation News
Advertising rate card

13 December: RV Fly in at Stellenbosch. Contact Alewyn 082 4126 1951 or
alewyn@burger.org.za
13 December: Ace of Base Aerobatics at Vereeniging. Contact Annie Boon chunge@mweb.co.za CANCELLED

28 December: St Francis Field will be holding their annual fly-in and open day on Sunday 28th December. The event will start at approx 07h30 and run till around midday. There will be a wide variety of aircraft and helicopters flying in and on display, and if the weather permits, skydivers will drop in and visitors can go for a tandem skydive. Food and soft drinks will be available.
Bring the family and friends for a fun morning.
Visit our website www.stfrancisfield. com or contact Barry Culligan for details 083-6113333
2015 PROVISIONAL CALENDAR



30 January: Dias Festival Mossel Bay airshow. Contact Horace Blok e-mail hab@habac.co.za 083 261 6300
30 January: Sports Aerobatics Club Western Cape regionals - Mossel Bay. Contact Annie Boon chunge@mweb.co.za
7 February: MISASA Best of the Best at Kitty Hawk Wings - Wheels - Water Showcase. Contact: John Boucher e-mail: comms@misasa.org Cell: 082 553 1105 or Alan McKenzie e-mail: nemo@webo.co.za Cell: 082 373 4947
27 February-1 March February: Swellengrebel fly-in. Contact Pieter Venter pventer@vgv.co.za Cell: 083 250 9504
28 February: Bethlehem Aero Club annual Sling, Bushbaby and chopper fly-in. Contact Izak Venter e-mail: izak@motsu.co.za or Francois Marais e-mail:
info@stanfra.co.za

21-22 March: RV's at Parys. Pylon event, a formation competition, an aerobatics event (competition?) as well as possibly a "best build" competition. Contact Scully Levin e-mail: flyboys@global.co.za
27 March: Bethlehem fly-in and Riana Nel show. Contact Jacolene Jacobs 082 854 1003
28 March: Bethlehem Aero Club fun navigation rally. Contact Izak Venter e-mail: izak@motsu.co.za or Francois Marais e-mail: info@stanfra.co.za
27 - 28 March: Uitenhage Wings & Wheels festival. Contact Lourens Kruger 082 320 2615 Website: www.wingsandwheelsfestivalutenhage.co.za
28 - 29 March: Sports Aerobatics Club North-West regionals - Klerksdorp. Contact Annie Boon chunge@mweb.co.za
11 April: Fashkosh (Stellenbosch) Website: www.stelfly.co.za Contact Alewyn Burger Alewyn@burger.org.za Cell: 082 416 1951
15 to 18 April: AERO Friedrichshafen dedicates itself in offering a significant collection of aviation related products and accessories. Exhibitors will be showing engines, modern ultra-lights, powered aircraft, avionics and related products and services. Over the years, this show has gained huge reputation from all over the world and the positive reaction from the attendees has motivated the exhibitors to improve the existing range and manufacture more such effective spare parts and products. For further information on the tour African Pilot is planning please send an e-mail to Athol Franz: editor@africanpilot.co.za. The idea is to get a package deal together for about 10 to 12 persons wishing to visit AERO Friedrichshafen.
17 & 18 April: Zebula airshow. Contact: Paul Weich 083 290 6525 e-mail:
pdweich@mweb.co.za
or Chris Potgieter 083 314 1669 e-mail: ChrisPotgieter@flysaa.com
18 to 29 April: Sun 'n Fun Tour 2015, Lakeland, Florida, USA. Contact Neil Bowden: e-mail:
neil1@telkomsa.net
.
Neil Bowden will once again be organising a tour to the USA's second largest fly-in, the Sun 'n Fun Fly-in and International Expo. In addition to the airshow, we will be arranging an excursion to the Kennedy Space Centre. A great new feature here is the Space Shuttle Atlantis exhibition building housing the original Atlantis Shuttle. Also planned is a visit to the Kermit Weeks Fantasy of Flight Museum which is home to some very rare aircraft and while we are in the area there are planned visits to the theme parks - Disney and Universal. The price is from R14 750 per person plus airport tax (about R7 400).
29 April-3 May: Aero Club Air week at Parys airfield contact Kev Storie 011 082 1100 Website: www.aeroclub.org.za
1 - 2 May: Lowveld Airshow (Nelspruit) Cell: 079 499 5733 Contact Willemien Hodgkinson e-mail: willemien.hodgkinson@ffa.co.za
8 - 9 May: SAAF Museum Swartkops Airshow, Pretoria Contact Lt. Col Mike O'Connor e-mail: oc@saafmuseum.org Tel: 012 351 2290
8 - 10 May: Battlefields fly-in (Dundee) Lourens Roos 082 875 5419
E-mail: stay@battlefieldslodge.co.za E-mail: nan@battlefieldslodge.co.za Website: www.battlefieldslodge.co.za
10 & 11 May: AVIATION AFRICA - Dubai UAE Contact Mark Brown mark.brown@africanaerospace.aero
15 to 17 May: Bethlehem Aero Club / EAA Chapter 1500 fly-in weekend. Contact Izak Venter e-mail: izak@motsu.co.za or Francois Marais e-mail: info@stanfra.co.za
16 & 17 May: Botswana Airshow Contact Guillaume Knipe e-mail: gknipe@work.co.bw Tel: 00267 7130 0646
23 & 24 May: Sports Aerobatics Club Free State regionals - Parys. Contact Annie Boon chunge@mweb.co.za
25 to 29 May: RAF 2000 Gyroplane service & maintenance course. Contact: Yolande Combrinck e-mail: yolande@rafsa.co.za Tel: 083 282 8792
30 - 31 May: Newcastle Airshow e-mail:
johan@champ.co.za
Contact Champ Marketing Johan 082 923 0078 or Christo 083 375 5883
10 to14 June: Kalahari Bundu Bash. Contact Yolande Combrinck e-mail: Yolande@rafsa.co.za
13 June: Zandspruit Airshow - Hoedspruit. Contact Yvonne Fourie e-mail: yf@zandspruit.co.za Tel: 015 793 1192
19 to 21 June: Mafikeng fly-in and airshow. Contact Connie Conradie e-mail: info@mafikeng-flyingclub.co.za Cell: 082 449 1546
20 June: Warbirds over the Vaal fly-in and time trials - Parys Airfield. Contact Scully Levin e-mail: flyboys@global.co.za
11 & 12 July: Durban (Virginia) airshow. Contact Gerna Fraser e-mail: gerna@kznwintertour.co.za Cell: 084 783 1953
16 to 19 July: Sports Aerobatics Club Nationals - Klerksdorp. Contact Annie Boon chunge@mweb.co.za
17to 19 July: Nylstroom Taildraggers fly-in - Nylstroom Flying Club. Contact Richard Nicholson e-mail rgn@pcwireless.co.za Cell: 082 490 6227
19 July-3 August: EAA's annual AirVenture to be held in Oshkosh USA. Camping on the airfield contact Neil Bowden e-mail:
neil1@telkomsa.net
Hotels in Appleton contact Calvin Fabig e-mail: calvin@designer.co.za
1 - 2 August: Namibian airshow. Contact Reinhard Gartner e-mail: reinhard@fivestar.co.za
14 - 15 August: Bethlehem airshow. Contact Stephan Fourie e-mail: fouriesj1491@gmail.com Cell: 072 344 9678
20 - 29 August: Sports Aerobatics Club Unlimited World Championships - France Contact Annie Boon chunge@mweb.co.za
23 August: Grand Rand airshow (Sunday) Contact Stuart Coetzee e-mail: manager@randairport.co.za Tel: 011 827 8884
29 August: Bethlehem Aero Club fun navigation rally. Contact Izak Venter e-mail: izak@motsu.co.za or Francois Marais e-mail: info@stanfra.co.za
12 - 13 August: Sports Aerobatics Club Gauteng regionals and Judges Trophy - Vereeniging Contact Annie Boon chunge@mweb.co.za
24 - 25 October: Sports Aerobatic Club KZN regionals - Ladysmith. Contact Annie Boon chunge@mweb.co.za
31 October: Bethlehem Aero Club fly-in and hangar dance. Contact Izak Venter e-mail: izak@motsu.co.za or Francois Marais e-mail: info@stanfra.co.za
13 to 15 November: Mafikeng annual fly-in and hangar dance. Contact Connie Conradie 082 449 1546 e-mail: info@mafikeng-flyingclub.co.za
5 - 6 December: SAC ACE of base - Baragwaneth airfield (Syferfontein) Contact Annie Boon chunge@mweb.co.za
7 December: ICAD (International Civil Aviation Day) Contact Mark Swarts e-mail: SwartsM@caa.co.za Cell: 082 878 0875
We are deeply saddened by the tragic death of Tony Fuller and Bennie Oppel who lost their lives in an aircraft accident just outside Krugersdorp on the 8th or December. We have known both Tony and Bennie for more than two decades and can honestly say that their positive outlook in life always left an impression wherever they went and will continue to stay with us into the future. We thank them for the impact they had in our lives over the years. We will surely miss them.
The Pilot's Post Team

December 11 1986 - First flight of the McDonnell Douglas F-15E Strike Eagle
December 12 1953 - Mach 2.5 (2 Ĺ times the speed of sound) is achieved for the first time by Major Charles "Chuck" Yeager in the Bell X-1 A. The rocket-propelled experimental aircraft reaches 1,650 mph (2,660 km/h) at 70,000 feet (21,000 m).
December 12 1951 - Alaska Air becomes the first airline to fly over the North Pole
December 13 1951 - Maj George Davis of the 334th Fighter Interceptor Squadron shoots down four MiG-15 s in a single day.
December 13 1955 - The de Havilland Comet 3, the world's first jet airliner, visits an American airport for the first time when it stops at Honolulu International Airport during an around-the-world flight. It then flies to Vancouver, British Columbia, Canada, in 5 hours 39 min.
December 13 1913 - German balloonist Hugo Kaulen stays aloft for 87 hours. This record lasted until 1935.
December 14 1972 - Apollo program: Eugene Cernan is the last person to walk on the moon, after he and Harrison Schmitt complete the third and final Extra-vehicular activity (EVA) of Apollo 17. This was the last manned mission to the moon of the 20th century.
December 14 1965 - A Learjet 23 executive transport shows off its impressive capabilities by climbing to 40,000 feet (12,000 m) in 7 min 21 seconds with seven people aboard
December 14 1962 - Mariner 2 becomes the first spacecraft to fly past Venus.
December 14 1927 - US aircraft carrier USS Lexington is commissioned.
December 14 1903 - Wilbur Wright makes the first and unsuccessful attempt at powered flight at Kill Devil Hills, North Carolina. His aircraft stalls after 3 Ĺ seconds in the air and crash-lands 105 feet (32 m) away.
December 15 2010 - Last operation by a Harrier Jump Jet, from RAF Cottesmore.
December 15 2009 - First flight of the Boeing 787 Dreamliner
December 15 2006 - First flight of the Lockheed Martin F-35 Lightning II
December 15 2005 - Lockheed Martin F-22 Raptor reaches an altitude of 15,000 feet (4,600 m) in less than three minutes
December 15 1996 - The merger of McDonnell Douglas and Boeing is announced
December 15 1978 - Retired: Fairey Gannet
December 15 1965 - Gemini program: Gemini 6A, crewed by Wally Schirra and Thomas P. Stafford, is launched from Cape Canaveral. Four orbits later, it achieved the first space rendezvous with Gemini 7.
December 15 1959 - Maj J W Roberts sets a new airspeed record of 1,526 miles per hour (2,456 km/h) in a F-106 Delta Dart
December 15 1955 - The de Havilland Mosquito flies its final operational sortie with the Royal Air Force
December 16 1979 - The British Airways Concorde lands in London after flying from New York in less than three hours (2 hours 58 min) at an average speed of 1,172 miles per hour (1,886 km/h).
December 16 1960 - The 1960 New York air disaster: United Airlines Flight 826, a Douglas DC-8, and TWA Flight 266, a Lockheed L-1049 Super Constellation, collide in mid-air over Staten Island in New York; all 128 aboard the two planes and six people on the ground are killed. This was the first crash in which a flight recorder was used to provide details in a crash investigation.
December 16 1948 - The Royal Australian Navy commissions its first aircraft carrier, HMAS Sydney (R17).
December 16 1919 - Construction of the Imperial Japanese Navy aircraft carrier Japanese aircraft carrier Hosho begins. She is the second aircraft carrier in the world designed and built as such to be laid down, and will be the first to be completed.
December 17 1947 - First flight of the Boeing B-47 Stratojet
December 17 1935 - The Douglas DC-3, one of the most successful airliners of all time, makes its first flight
December 17 1903 - The Wright Brothers make four flights in their Flyer at Kitty Hawk, North Carolina. After years of dedicated research and development, the brothers Orville and Wilbur Wright fly 120 feet (37 m) in the first practical aeroplane. This may be the first controlled powered heavier-than-air flight and the first photographed powered heavier-than-air flight. On their fourth flight they manage 850 feet (260 m).




UK F-35B ACHIEVES KEY WEAPONS TEST MILESTONE




A UK test team including personnel from BAE Systems, has successfully completed initial aircraft handling trials for ASRAAM and Paveway IV weapons on the F-35B Lightning II aircraft at Patuxent River Naval Air Station in Maryland, United States.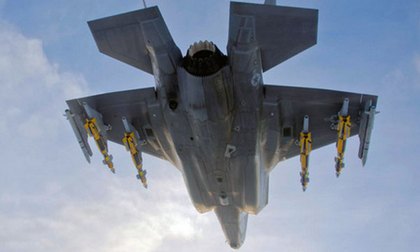 The trial or 'dummy' weapons rounds, which are identical in fit and form to the operational weapons, were tested on the Short Take-off Vertical Landing (STOVL) F-35B for the first time during a series of flights from the US Navy's test facility at Patuxent River Naval Air Station. The initial tests are an important step in integrating weapons onto the F-35B, allowing test pilots to understand how they affect the way the aircraft performs and handles.
The UK's Royal Air Force (RAF) already uses ASRAAM and Paveway IV on its existing combat air fleet. The successful tests are a step towards full interoperability between the current and future fast jets that will be used by the RAF and the UK's Royal Navy from 2018.
Two F-35B STOVL aircraft, flown by Billie Flynn, Lockheed Martin's F-35 test pilot and Squadron Leader Andy Edgell from the RAF, completed 9 flights with MBDA's ASRAAM missiles and Raytheon's Paveway IV laser guided bombs. The flights involved different configurations of both weapons types on the aircraft.
The successful tests will be followed by the next stage of weapons testing due to take place in early 2015. These tests will involve weapon separation and then guided releases of both ASRAAM and Paveway IV from the aircraft.
BAE Systems' lead test pilot for F-35, Pete 'Wizzer' Wilson, said: "The team at Patuxent River has got over two thousand hours of flying under their belts for the F-35B variant and the handling and performance of the aircraft has shone through throughout. These latest trials were no exception and help us to move confidently into the next phase of weapons testing."
J.D. McFarlan, Lockheed Martin's Vice President for F-35 Test & Verification from the Joint Strike Fighter programme added: "These trials show the truly international nature of the F-35 enterprise - being led out of a US Navy facility, involving a joint UK Ministry of Defence and industry team, working alongside the US Department of Defence and Lockheed Martin. And the test results for one partner will benefit all, further demonstrating the versatility and capability of the F-35 as a multi-role platform."


AIR5428 PLATFORM SELECTED FOR UK MILITARY FLYING TRAINING SYSTEM?


Tamworth, Australia: BAE Systems Air5428 pilot training platform, Beechcraft's T-6C military trainer, will be used to train the next generation of United Kingdom military pilots.
On behalf of the UK Ministry of Defence, the Ascent consortium recently selected the Beechcraft T-6C as the aircraft to complement the BAE Systems Hawk T2 in the training pipeline to conduct fixed wing flight training for the Royal Air Force (RAF), Royal Navy (RN) and Army Air Corp pilots.
The Royal Air Force and Royal Navy now join the United States Navy and the Royal Canadian Air Force as operators of the Beechcraft T-6C which will be used to train pilots in readiness for the Joint Strike Fighter (JSF).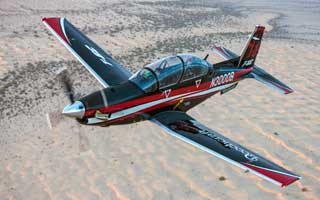 The New Zealand Defence Force (NZDF) recently took delivery of its fleet of T-6C aircraft and has commenced the transition of this platform into training operations. As testament to the pedigree of the T-6C's design, the NZDF has already extended the planned life of type for their fleet beyond the required 20 years out to 30 years.
27 Air Forces globally now depend on the T-6C to graduate in excess of 2,250 pilots each year. In addition, four of the 'Five Eyes' nations (UK, USA, Canada, New Zealand and Australia) are now operating the Beechcraft T-6 military trainer in their undergraduate pilot training systems.
Beechcraft's T-6C has been put forward as the platform of choice for BAE Systems Australia's Air5428 bid to support the Australian Defence Force's future pilot training system.
BAE Systems Director Aerospace, Steve Drury, said: "We believe only one aircraft is an ideal fit for both the basic and advanced training phases, and that is Beechcraft's T6-C. Our confidence in this has been reinforced by the UK's selection of the T-6C as the trainer of choice for their next generation of pilots."

ARJ21-700 SUCCESSFULLY COMPLETES ITS FIRST FLIGHT

A ARJ21-700 AC105 landed succesfully at Shanghai Dachang Airport at 14:38, after a flight of 128 minutes.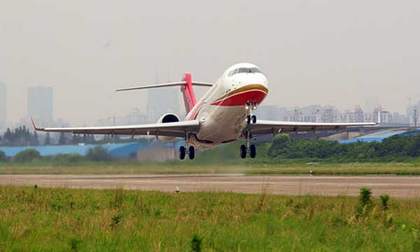 At this point, AC105 has successfully completed its first flight. AC105 is the first aircraft to be delivered to the first customer Chengdu Airlines, and this flight is the first flight test mission independently completed by Flight Test Center of COMAC (FTCC) since its establishment two years ago.
It is reported that AC105 rolled out on December 30th, 2013, and was officially transferred to FTCC on June 10th, 2014.
This aircraft has successively completed multiple tests, such as Auxiliary Power Unit (APU) de-preserving and start-up test, environmental control test, tightness test, onboard functional test of electrical power system, etc., and is installed with seat interiors and coherent systems in accordance with the delivery standard of the first aircraft.
LAURIE ACHIEVES 4000 FLYING HOURS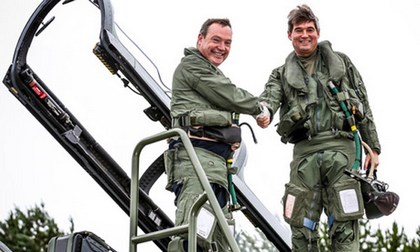 On a recent sortie from RAF Marham, Weapon Systems Operator Laurie Fisher, clocked up 4000 flying hours. Weapon Systems Operator Laurie who is based at RAF Marham has previously worked in the RAF serving on many Squadrons including IX(B) and 31 Squadron, both of which are now stationed at RAF Marham.
The occasion was made even more special by the fact that Laurie was joined in the cockpit by Squadron Leader Ritch Paine who has also achieved 4000 flying hours.
Speaking after the flight Laurie said: "It was a great privilege to fly my 4000th hour in Tornado with Squadron Leader Paine. The sortie also reflects the close working relationship between the RAF Tornado Force and the BAE Systems team."
Squadron Leader Paine added, "It was a real pleasure to fly with my industry colleague Laurie Fisher, particularly memorable as we have both reached our 4000 hours on the Tornado GR4 today."
ROYAL MALAYSIAN AIR FORCE CHIEF VIEWS FIRST AIRBUS A400M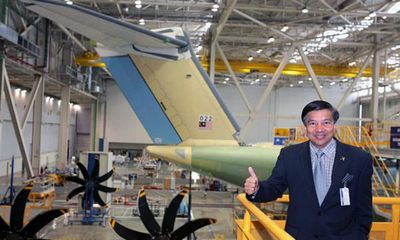 The Chief of the Royal Malaysian Air Force, General Dato' Sri Haji Roslan Bin Saad has visited the Airbus Defence and Space final assembly line in Seville, Spain where the first A400M new generation airlifter for the RMAF is progressing well.
Systems on board have already been successfully tested on the ground. The next stage includes testing performed outdoors for safety reasons - fuel system, communications, and pressurisation - prior to installation of the engines. Then the aircraft, known as MSN22, will be ready for its maiden flight. The aircraft is the first of four Airbus A400M ordered by Malaysia and is due for delivery in the first quarter of 2015.
AIRBUS TO EXHIBIT ACJ319 AT MEBA SHOW


Airbus is exhibiting an ACJ319, operated by MJet, at the Middle East Business Aviation (MEBA) show (1), highlighting the benefits that a top-of the-line aircraft offers in this important market.
The ACJ319 on display features several different lounge-areas at the front, capitalising on the greater space that every Airbus corporate jet delivers, plus a bedroom with ensuite bathroom and shower at the rear. It is certificated to transport 19 passengers in comfort and style.
"Business jets are widely used in the Middle East by companies, individuals and governments, most of which want to carry larger groups and all of which want to give wings to their lifestyles, which is why Airbus corporate jets have done so well in the region," explains Airbus Chief Operating Officer, Customers, John Leahy. "Our wider and taller cabins deliver something that you just cannot get in traditional business jets, and that's a better travel experience," he adds.
Airbus' corporate jets are derived from the world's most modern airliner family. Their airliner heritage means that they deliver the robust reliability demanded by airlines flying many sectors a day, as well as providing access to a network of technical advice, spares and training that supports more than 500 customers and operators worldwide.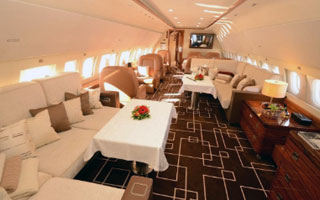 The modernity of the Airbus corporate jet family means that every single one of them being produced today includes features missing from other aircraft, such as industry standard fly-by-wire controls that deliver greater protection, a better ride and simpler maintenance.
Other features that come at no extra charge include Category 3B autoland that enables flights in foggy conditions, an intrinsically modern design that holds its value better than older designs, and an unequalled customer-base that encompasses more than 11,000 A320 Family aircraft.
Airbus corporate jets made their debut in the Middle East in the mid-1980s, and have had a strong presence in the region ever since.
More than 170 corporate jets have been sold to date, and they are flying on every continent, including Antarctica, highlighting their versatility.