THIS WEEK IN MIDWEEK UPDATE


Plan your weekend
Forthcoming events
Notice Board
This week in aviation history
Aviation News
Advertising rate card

28 December: St Francis Field will be holding their annual fly-in and open day on Sunday 28th December. The event will start at approx 07h30 and run till around midday. There will be a wide variety of aircraft and helicopters flying in and on display, and if the weather permits, skydivers will drop in and visitors can go for a tandem skydive. Food and soft drinks will be available.
Bring the family and friends for a fun morning.
Visit our website www.stfrancisfield. com or contact Barry Culligan for details 083-6113333

30 January: Dias Festival Mossel Bay airshow. Contact Horace Blok e-mail hab@habac.co.za 083 261 6300
30 January: Sports Aerobatics Club Western Cape regionals - Mossel Bay. Contact Annie Boon chunge@mweb.co.za
7 February: MISASA Best of the Best at Kitty Hawk Wings - Wheels - Water Showcase. Contact: John Boucher e-mail: comms@misasa.org Cell: 082 553 1105 or Alan McKenzie e-mail: nemo@webo.co.za Cell: 082 373 4947
27 February-1 March February: Swellengrebel fly-in. Contact Pieter Venter pventer@vgv.co.za Cell: 083 250 9504
28 February: Bethlehem Aero Club annual Sling, Bushbaby and chopper fly-in. Contact Izak Venter e-mail: izak@motsu.co.za or Francois Marais e-mail:
info@stanfra.co.za

21-22 March: RV's at Parys. Pylon event, a formation competition, an aerobatics event (competition?) as well as possibly a "best build" competition. Contact Scully Levin e-mail: flyboys@global.co.za
27 March: Bethlehem fly-in and Riana Nel show. Contact Jacolene Jacobs 082 854 1003
28 March: Bethlehem Aero Club fun navigation rally. Contact Izak Venter e-mail: izak@motsu.co.za or Francois Marais e-mail: info@stanfra.co.za
27 - 28 March: Uitenhage Wings & Wheels festival. Contact Lourens Kruger 082 320 2615 Website: www.wingsandwheelsfestivalutenhage.co.za
28 - 29 March: Sports Aerobatics Club North-West regionals - Klerksdorp. Contact Annie Boon chunge@mweb.co.za
11 April: Fashkosh (Stellenbosch) Website: www.stelfly.co.za Contact Alewyn Burger Alewyn@burger.org.za Cell: 082 416 1951
15 to 18 April: AERO Friedrichshafen dedicates itself in offering a significant collection of aviation related products and accessories. Exhibitors will be showing engines, modern ultra-lights, powered aircraft, avionics and related products and services. Over the years, this show has gained huge reputation from all over the world and the positive reaction from the attendees has motivated the exhibitors to improve the existing range and manufacture more such effective spare parts and products. For further information on the tour African Pilot is planning please send an e-mail to Athol Franz: editor@africanpilot.co.za. The idea is to get a package deal together for about 10 to 12 persons wishing to visit AERO Friedrichshafen.
17 & 18 April: Zebula airshow. Contact: Paul Weich 083 290 6525 e-mail:
pdweich@mweb.co.za
or Chris Potgieter 083 314 1669 e-mail: ChrisPotgieter@flysaa.com
18 to 29 April: Sun 'n Fun Tour 2015, Lakeland, Florida, USA. Contact Neil Bowden: e-mail:
neil1@telkomsa.net
.
Neil Bowden will once again be organising a tour to the USA's second largest fly-in, the Sun 'n Fun Fly-in and International Expo. In addition to the airshow, we will be arranging an excursion to the Kennedy Space Centre. A great new feature here is the Space Shuttle Atlantis exhibition building housing the original Atlantis Shuttle. Also planned is a visit to the Kermit Weeks Fantasy of Flight Museum which is home to some very rare aircraft and while we are in the area there are planned visits to the theme parks - Disney and Universal. The price is from R14 750 per person plus airport tax (about R7 400).
29 April-3 May: Aero Club Air week at Parys airfield contact Kev Storie 011 082 1100 Website: www.aeroclub.org.za
1 - 2 May: Lowveld Airshow (Nelspruit) Cell: 079 499 5733 Contact Willemien Hodgkinson e-mail: willemien.hodgkinson@ffa.co.za
8 - 9 May: SAAF Museum Swartkops Airshow, Pretoria Contact Lt. Col Mike O'Connor e-mail: oc@saafmuseum.org Tel: 012 351 2290
8 - 10 May: Battlefields fly-in (Dundee) Lourens Roos 082 875 5419
E-mail: stay@battlefieldslodge.co.za E-mail: nan@battlefieldslodge.co.za Website: www.battlefieldslodge.co.za
10 & 11 May: AVIATION AFRICA - Dubai UAE Contact Mark Brown mark.brown@africanaerospace.aero
15 to 17 May: Bethlehem Aero Club / EAA Chapter 1500 fly-in weekend. Contact Izak Venter e-mail: izak@motsu.co.za or Francois Marais e-mail: info@stanfra.co.za
16 & 17 May: Botswana Airshow Contact Guillaume Knipe e-mail: gknipe@work.co.bw Tel: 00267 7130 0646
23 & 24 May: Sports Aerobatics Club Free State regionals - Parys. Contact Annie Boon chunge@mweb.co.za
25 to 29 May: RAF 2000 Gyroplane service & maintenance course. Contact: Yolande Combrinck e-mail: yolande@rafsa.co.za Tel: 083 282 8792
30 - 31 May: Newcastle Airshow e-mail:
johan@champ.co.za
Contact Champ Marketing Johan 082 923 0078 or Christo 083 375 5883
10 to14 June: Kalahari Bundu Bash. Contact Yolande Combrinck e-mail: Yolande@rafsa.co.za
13 June: Zandspruit Airshow - Hoedspruit. Contact Yvonne Fourie e-mail: yf@zandspruit.co.za Tel: 015 793 1192
19 to 21 June: Mafikeng fly-in and airshow. Contact Connie Conradie e-mail: info@mafikeng-flyingclub.co.za Cell: 082 449 1546
20 June: Warbirds over the Vaal fly-in and time trials - Parys Airfield. Contact Scully Levin e-mail: flyboys@global.co.za
11 & 12 July: Durban (Virginia) airshow. Contact Gerna Fraser e-mail: gerna@kznwintertour.co.za Cell: 084 783 1953
16 to 19 July: Sports Aerobatics Club Nationals - Klerksdorp. Contact Annie Boon chunge@mweb.co.za
17to 19 July: Nylstroom Taildraggers fly-in - Nylstroom Flying Club. Contact Richard Nicholson e-mail rgn@pcwireless.co.za Cell: 082 490 6227
19 July-3 August: EAA's annual AirVenture to be held in Oshkosh USA. Camping on the airfield contact Neil Bowden e-mail:
neil1@telkomsa.net
Hotels in Appleton contact Calvin Fabig e-mail: calvin@designer.co.za
1 - 2 August: Namibian airshow. Contact Reinhard Gartner e-mail: reinhard@fivestar.co.za
14 - 15 August: Bethlehem airshow. Contact Stephan Fourie e-mail: fouriesj1491@gmail.com Cell: 072 344 9678
20 - 29 August: Sports Aerobatics Club Unlimited World Championships - France Contact Annie Boon chunge@mweb.co.za
23 August: Grand Rand airshow (Sunday) Contact Stuart Coetzee e-mail: manager@randairport.co.za Tel: 011 827 8884
29 August: Bethlehem Aero Club fun navigation rally. Contact Izak Venter e-mail: izak@motsu.co.za or Francois Marais e-mail: info@stanfra.co.za
12 - 13 August: Sports Aerobatics Club Gauteng regionals and Judges Trophy - Vereeniging Contact Annie Boon chunge@mweb.co.za
24 - 25 October: Sports Aerobatic Club KZN regionals - Ladysmith. Contact Annie Boon chunge@mweb.co.za
31 October: Bethlehem Aero Club fly-in and hangar dance. Contact Izak Venter e-mail: izak@motsu.co.za or Francois Marais e-mail: info@stanfra.co.za
13 to 15 November: Mafikeng annual fly-in and hangar dance. Contact Connie Conradie 082 449 1546 e-mail: info@mafikeng-flyingclub.co.za
5 - 6 December: SAC ACE of base - Baragwaneth airfield (Syferfontein) Contact Annie Boon chunge@mweb.co.za
7 December: ICAD (International Civil Aviation Day) Contact Mark Swarts e-mail: SwartsM@caa.co.za Cell: 082 878 0875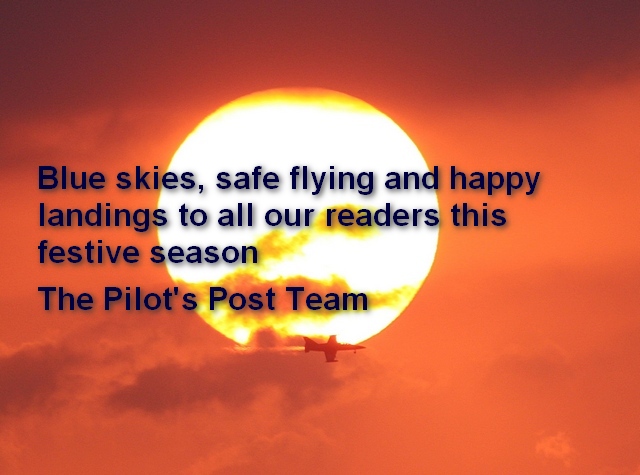 December 18 1933 - First flight of the Northrop XFT, American prototype fighter aircraft, single engined low-winged monoplane, designed and built to meet a United States Navy order for an advanced carrier based fighter.
December 18 1908 - Wilbur Wright at Camp d'Auvours, 11 kilometres (6.8 mi) east of Le Mans. flies 99.8 kilometres (62.0 mi) in 1 h 54 min 2/5 s. rising to 110 m (360 ft) - A new world record.
December 19 1908 - The world's first aerodrome, Port-Aviation, is opened 12 miles (19 km) outside of Paris.
December 20 1969 - The highest-scoring North Vietnamese ace of the Vietnam War, Nguy?n Van C?c, scores his final victory, claimed as over an AQM-34 Firebee unmanned aerial vehicle but possibly over an OV-10 Bronco. The North Vietnamese Air Force credits him with nine victories, while the United States confirms seven.
December 20 1957 - First flight of the Boeing 707 commercial airliner.
December 21 1993 - First flight of the Cessna Citation X
December 21 1990 - Kelly Johnson, creator of the SR-71 and U2 spy planes dies, aged 80.
December 21 1982 - The last V-bomber squadron of Britain's RAF, 44, is disbanded at Waddington, Lincolnshire
December 21 1970 - First flight of the Grumman F-14 Tomcat
December 21 1968 - Apollo 8, the first manned mission to the moon, is launched from the Kennedy Space Center in Florida. At 2 h:50 m:37 s Mission elapsed time (MES), the crew performs the first ever manned Trans Lunar Injection.
December 22 1998 - First flight of the Beechcraft Premier I
December 22 1976 - First flight of the Ilyushin Il-86
December 22 1964 - First flight of the Lockheed SR-71 Blackbird
December 22 1949 - First flight of the North American F-86D Sabre
December 22 1945 - First flight of the Beechcraft Bonanza
December 23 1974 - First flight of the Rockwell B-1 Lancer
December 23 1972 - Andrei Tupolev dies, aged 86
December 23 1966 - First flight of the Dassault Mirage F1
December 24 1968 - Apollo 8 orbits the moon carrying Frank Borman, James Lovell, and William Anders.
December 24 1944 - The people of the Philippines received a surprise when airplanes of 43rd Bombing Group flew over to drop a million Christmas cards; each one contained the words: "Merry Christmas and Happy New Year 1944 - General Douglas MacArthur. "
December 27 1968 - Apollo 8 splashes down in the Pacific Ocean, ending humanity's first manned mission to the Moon.
December 27 1922 - The Hosho, Japan's first aircraft carrier is commissioned.
December 29 1948 - First flight of the Supermarine Swift
December 29 1944 - F/L RJ Audet, flying a Supermarine Spitfire of No. 411 (Fighter) Squadron near Rheine, Germany, destroyed five enemy fighters in his first combat
December 29 1940 - The Luftwaffe makes a devastating attack on London, making extensive use of incendiary weapons.
December 29 1939 - First flight of the Consolidated B-24 Liberator
December 29 1921 - Edward Stinson and Lloyd Bertaud set a world endurance record of 26 hours, 18 min and 35 seconds flying a BMW-engined Junkers-Larsen over Roosevelt Field.
December 30 1968 - The world's first supersonic transport aircraft to fly, the Tupolev Tu-144, took to the air, powered by four Kuznetsov NK-144 turbofans.
December 30 1951 - The year-end tally showed that for the first time, total passenger flying miles exceeded that of railroad miles at 10.6 million
December 31 1989 - First flight of the Sukhoi Su-30
December 31 1908 - Wilbur Wright wins a prize of FF 20,000 from Michelin for the longest flight of the year - 124 kilometres (77 mi) from Camp d'Auvours.




SOUTH AFRICAN AIRWAYS AND ETIHAD AIRWAYS COMMENCE SECOND PHASE OF LANDMARK STRATEGIC COOPERATION

• SAA to operate daily flight between Johannesburg and Abu Dhabi from 29 March 2015
• Number of routes in airlines' codeshare agreement increases from 24 to 49
• Closer integration of Etihad Guest and SAA Voyager frequent flyer programs
• Commercial teams coordination cleared by South African Competition Authorities, allowing the airlines to compete more effectively as a partnership
• Opportunities for coordination of procurement, facilities and airport operations
South African Airways and Etihad Airways have announced a major expansion of their strategic partnership, marking a new era of cooperation between the two national flag carriers.
As part of the extended cooperation, South African Airways will launch a daily service between Johannesburg and Abu Dhabi on 29 March 2015, which will complement Etihad Airways' existing flights between the two cities to offer a combined double-daily frequency on the route.
As a result, business and leisure travellers will benefit from the convenience of multiple options between Johannesburg and Abu Dhabi within the same day. More than 1,000 connections will also be offered each week over Etihad Airways' Abu Dhabi hub to key markets including the GCC region, Middle East, Indian subcontinent, and North and South East Asia.
The airlines have also significantly developed their codeshare agreement to include a total of 49 routes, more than double the previous number. Subject to regulatory approval, Etihad Airways will place its 'EY' code on South African Airways' new Johannesburg-Abu Dhabi flights, in addition to 16 of the airline's other services from Johannesburg to key destinations across the African continent. In return, South African Airways will place its 'SA' code on 32 Etihad Airways routes beyond Abu Dhabi to a range of destinations worldwide.
In addition, the airlines will enhance the alignment of their Etihad Guest and Voyager frequent flyer programs, with even more opportunities for members to earn and redeem miles. Benefits such as priority baggage handling, boarding and check-in, and airport lounge access across the airlines' networks will be provided based on membership tiers.
South African Airways and Etihad Airways continue to explore areas for further cooperation, including joint sales and marketing programs and the coordination of procurement, facilities and airport operations. Together, these initiatives will optimise synergies between the airlines and provide guests with consistently high product and service levels at the most competitive price.
Nico Bezuidenhout, SAA's acting Chief Executive Officer, said: "Our multi-layered partnership with Etihad Airways has been instrumental in allowing South African Airways to establish new connections between the African continent and other markets worldwide for its passengers.
"Under the second phase of our cooperation, we will better serve established regions such as North America, Europe and Australia, while strengthening our presence in fast-growing markets across the Middle East and Asia. In particular, the codeshare expansion will support a planned adjustment of our network to strengthen access into the fast-growing China and India markets."
James Hogan, Etihad Airways' President and Chief Executive Officer, said: "The partnership between Etihad Airways and South African Airways has been a resounding commercial success for both airlines. Since our codeshare flights were first placed on sale in July last year, we have placed more than 20,000 passengers onto each other's flights, and there is huge potential to significantly increase that number as the cooperation is developed in the coming years.
"Importantly, our expanded partnership will enhance the benefits that Etihad Airways and South African Airways offer to business and leisure travellers, such as improved connections, enhanced opportunities to earn and redeem miles, and a more seamless experience."

BOEING, SOUTH AFRICAN AIRWAYS LOOK TO FIRST HARVEST OF ENERGY-RICH TOBACCO TO MAKE SUSTAINABLE AVIATION BIOFUEL


Pioneering project supports South Africa's rural economy, environment, public health



Boeing and South African Airways (SAA) announced today that South African farmers will soon harvest their first crop of energy-rich tobacco plants, an important step towards using the plants to make sustainable aviation biofuel.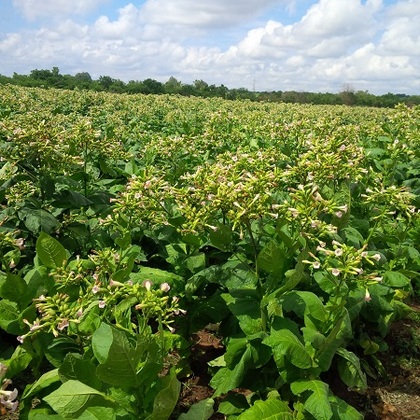 Boeing and SAA, along with partners SkyNRG and Sunchem SA, also officially launched Project Solaris, their collaborative effort to develop an aviation biofuel supply chain with a nicotine-free tobacco plant called Solaris. In Limpopo province, company representatives and industry stakeholders visited commercial and community farms where 123 acres (50 hectares) of Solaris have been planted.
Oil from the plant's seeds may be converted into bio-jet fuel as early as next year, with a test flight by SAA as soon as practicable.
"SAA continues to work towards becoming the most environmentally sustainable airline in the world and is committed to a better way of conducting business," said Ian Cruickshank, Environmental Affairs Specialist, SAA Group. "The impact that the biofuel program will have on South Africans is astounding: thousands of jobs mostly in rural areas, new skills and technology, energy security and stability and macro-economic benefits to South Africa, and of course, a massive reduction in the amount of CO2 that is emitted into our atmosphere."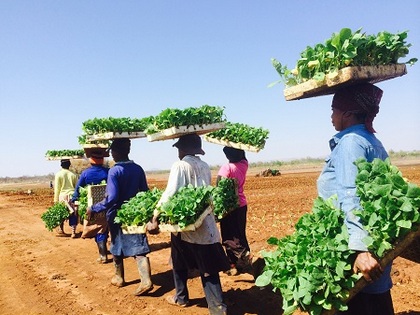 "It is very exciting to see early progress in South Africa towards developing sustainable aviation biofuel from energy-producing tobacco plants," said J. Miguel Santos, managing director for Africa, Boeing International. "Boeing strongly believes that our aviation biofuel collaboration with South African Airways will benefit the environment and public health while providing new economic opportunities for South Africa's small farmers. This project also positions our valued airline customer to gain a long-term, viable domestic fuel supply and improve South Africa's national balance of payments."
The farm visits followed the announcement in August that Boeing, SAA and SkyNRG were collaborating to make aviation biofuel from the Solaris plant, which was developed and patented by Sunchem Holding. If the test farming in Limpopo is successful, the project will be expanded in South Africa and potentially to other countries. In coming years, emerging technologies are expected to increase aviation biofuel production from the plant's leaves and stems.
Sustainable aviation biofuel made from Solaris plants can reduce lifecycle carbon emissions by 50 to 75 percent, ensuring it meets the sustainability threshold set by the Roundtable on Sustainable Biomaterials (RSB). Airlines have conducted more than 1,600 passenger flights using aviation biofuel since the fuel was approved for commercial use in 2011.
Boeing is the industry leader in global efforts to develop and commercialize sustainable aviation biofuel. In addition to its collaboration in Southern Africa, Boeing has active biofuel development projects in the United States, Middle East, Europe, China, Japan, Southeast Asia, Brazil and Australia.

BELL BOEING DEMONSTRATES SUCCESSFUL V-22 OSPREY FORWARD-FIRING CAPABILITY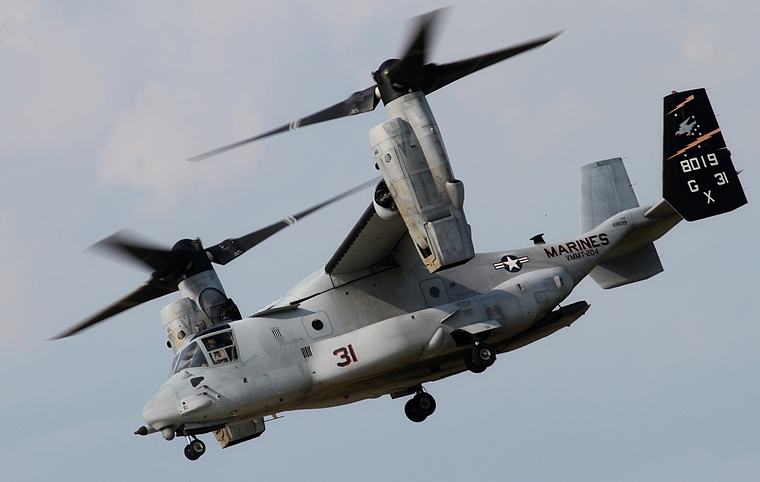 Bell Helicopter, a Textron Inc. company, announced the successful demonstration of forward-firing capability for the Bell Boeing V-22 Osprey. The exercise took place last month at the United States Army Proving Ground in Yuma, Ariz.
"The forward-firing demonstration was a great success," said Vince Tobin, vice president and program manager for the Bell Boeing V-22. "We've shown the V-22 can be armed with a variety of forward-facing munitions, and can hit their targets with a high degree of reliability. Congratulations to the team who has worked from initial design to completion of this demonstration."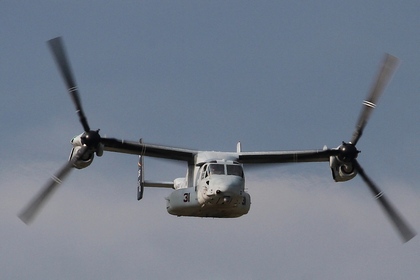 The Bell Boeing V-22 is one of the safest aircraft operated by the Marine Corps. Since its deployment in 2007, the V-22 has achieved outstanding mission success in deployments to Afghanistan, the Persian Gulf and the Mediterranean. The Osprey offers operators a wide range of mission capability including raids, Casualty Evacuation, Tactical Recovery of Aircraft and Personnel, Humanitarian Assistance/Disaster Relief, resupply, VIP transport, and theater security cooperation.
"Integrating a forward firing capability to the Osprey will increase its mission set," Tobin continued. "These weapons, once installed, will provide added firepower and reduce reliance on Forward Arming and Refueling Points (FARPs) which are sometimes necessary to supply short range attack rotorcraft in support of V-22 operations. Without the need for FARPs, V-22s can be launched more frequently, and on shorter notice."
Through the end of the third quarter of 2014, Bell Boeing has delivered 242 MV-22 tiltrotor for the Marine Corps and 44 CV-22 for Air Force Special Operations Command (AFSOC). Bell Helicopter began initial design work on forward fire capability in mid-2013.

EMBRAER AND FLIGHTSAFETY INTERNATIONAL COMPLETE TRAINING OF FIRST CLASS OF PILOTS FOR THE LEGACY 500


Embraer and FlightSafety International completed the training of the first class of pilots for the new Legacy 500 executive jet. These pilots, trained to operate customer jets, benefited from the complete customer support and services structure with advanced training technology. The simulator was qualified as Level C by the FAA (Federal Aviation Administration) and by Brazil's ANAC (Agência Nacional de Aviação Civil).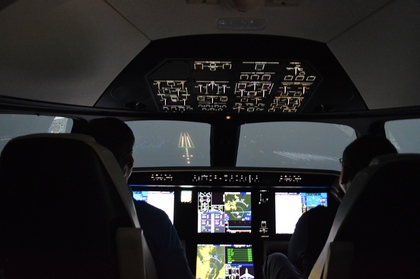 "Well before the entry into service of the Legacy 500, we built out a global support network for our customers," said Edson Carlos Mallaco, Vice President, Customer Support and Services, Embraer Executive Jets. "Our solid partnership with FlightSafety International resulted in the joint development of a complete high-level training solution."
Training is being conducted at FlightSafety International, in St. Louis, Missouri in the U.S. FlightSafety International is also Embraer's training service provider for Legacy and Lineage executive jets, in addition to the E-Jets commercial aircraft.
The Legacy 500 received certification from ANAC in August and from the FAA in October. EASA (European Aviation Safety Agency) certification is imminent. The Legacy 500 is now able to operate in Brazil, United States, and in countries that require FAA certification. The first Legacy 500 was delivered to a Brazilian customer last October 10.
About the Legacy 500
The Legacy 500 has the best-in-class six-foot flat-floor cabin, which is comparable to those of some aircraft in the super midsize category. Eight club seats may be berthed into four beds for complete rest in a cabin altitude of 6,000 feet. The in-flight entertainment system consists of a high definition video system, surround sound, multiple audio and video input options, a cabin management system, and three options for voice communications and connectivity.
The Legacy 500 is the first midsize business jet with digital flight controls, based on Fly-By-Wire technology, featuring side sticks. The state-of-the-art Rockwell Collins Pro Line Fusion avionics suite on four 15-inch high resolution LCD displays allows graphical flight planning, and has options like paperless operations capability, auto brakes, and the E2VS (Embraer Enhanced Vision System), which includes a Head Up Display (HUD) with the Enhanced Vision System (EVS).
The Legacy 500 is capable of flying at 45,000 feet and is powered by two Honeywell HTF7500E engines, the greenest in their class. Taking off from airfields as short as 4,084 ft, the Legacy 500 has a range of 3,125 nautical miles (5,788 kilometers) with four passengers, including NBAA IFR fuel reserves, which enables it to fly nonstop from São Paulo to Caracas, Los Angeles to Honolulu, Teterboro to London, Moscow to New Delhi, Jakarta to Sydney, Dubai to Zurich, and Beijing to New Delhi.

DOUBLE DEUCE: TWO MC-130JS DELIVERED TO U.S. AIR FORCE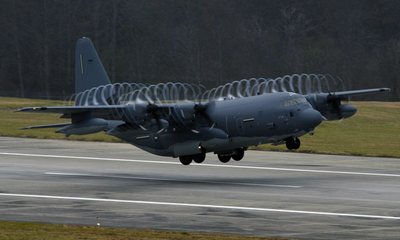 Photo © Lockheed Martin photo by David Key. U.S. Air Force crews ferried two MC-130J Commando II aircraft assigned to Air Force Special Operations Command from the Lockheed Martin Aeronautics facility located here, on Dec. 5. These aircraft will be operated by the 352nd Special Operations Group and will be based at Royal Air Force Mildenhall England.
The Commando II supports such missions as in-flight refueling, infiltration/exfiltration, and aerial delivery and resupply of special operations forces.
FURTHER METEOR FIRING TRIALS BEGIN FOR TYPHOON


Lancashire, United Kingdom: A Typhoon aircraft has successfully completed the first in a series of live firings of the MBDA Meteor Beyond Visual Range Air-to-Air Missile. This continues the series of trials led by BAE Systems to demonstrate integration of the Meteor missile with Typhoon's weapon system.
Following contract signature in 2013 for the full integration of Meteor onto Typhoon, the trials continue to demonstrate that the weapon operates effectively with the aircraft.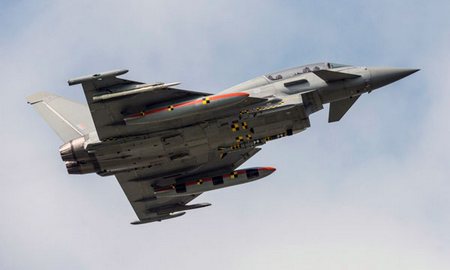 Led by BAE Systems with support from MBDA, Selex, Qinetic and MOD, the trials were conducted in November 2014 at the MOD's Hebrides firing range in the UK and further developed and tested the integration of the missile with the weapon system as well as expanding the jettison envelope by conducting firings at different altitudes and speeds. The trials also tested the interface of the missile with the weapon system for both pre-launch priming and post launch datalink functions between the missile and radar.
Test pilot Nat Makepeace flew the sortie and said: "The aircraft and the weapon performed exactly as expected. It's very easy and intuitive to operate, and the trials demonstrated that we can operate in an expanded envelope safely and accurately. This is a significant step forward for the full integration of the Meteor missile onto the Typhoon aircraft."
Produced by MBDA, Meteor is an active radar guided missile designed to provide a multi-shot capability against long-range manoeuvring targets, such as fast jets, small unmanned aerial vehicles and cruise missiles in a heavy electronic countermeasures environment.
Capable of engaging air targets during day and night, and in all-weather conditions, the Meteor will complement Typhoon's existing missile systems, providing pilots with a greater choice of weapons during combat.
Further firing trials are scheduled to be carried out as part of the Meteor Integration contract to fully expand the launch envelope and weapon system integration which will culminate in the integration being complete in 2017.
These trials take place in a year that has seen progress across a range of programmes for Typhoon. The UK RAF are now operating the most advanced Typhoon to date with the latest Phase 1 Enhancement package now in operation. This upgrade delivers true simultaneous swing-role capability to Typhoon. Progress is also being made across a number of weapons programmes including the award of a full integration contract for the Storm Shadow weapon and the first multiple release of a Paveway IV bomb. A £800m contract to develop and fit the
Captor E-Scan radar was signed in November which will give Typhoon one of the most advanced radar systems in the world, providing a wider field of regard than any other combat aircraft. Typhoon is already regarded as one of the world's leading swing-role combat aircraft and continues to be upgraded to provide decades of effective, relevant effect.
LAN TAKES DELIVERY OF FIRST A321


LAN Airlines, part of LATAM Airlines Group celebrated the arrival of its first A321 today at Santiago's Comodoro Arturo Merino Benítez International Airport. This marks a significant milestone as LATAM Airlines affirms its regional and global presence as the largest A320 operator in Latin America.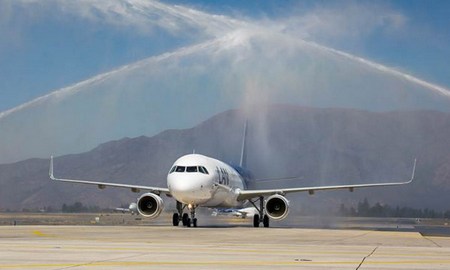 The aircraft, the first of 48 of its kind ordered by the airline, will be operated on domestic routes within Chile and joins LATAM Group's existing fleet of nearly 230 A320 Family aircraft in operation.
The A321 aircraft ordered by LAN have a one-class configuration with 220 seats and feature a new LATAM Airlines Group's cabin, which is a blend of LAN and TAM cabin designs.
The A320 family's largest member offers the lowest fuel burn, emissions and noise footprint in its class, and allows for an extended operating range of up to 3,200 nautical miles while carrying a maximum passenger payload; all of which will enhance the efficiency of LAN's operations within Chile.
The A320 Family is Latin America's and the world's best-selling single aisle product line with nearly 11,000 orders to date and more than 6,200 aircraft delivered to 400 customers and operators worldwide. Today more than 500 A320 Family aircraft are operated by airlines in Latin America.
BOEING BUSINESS JETS, COMLUX ANNOUNCE ORDER FOR TWO BBJ MAX 8S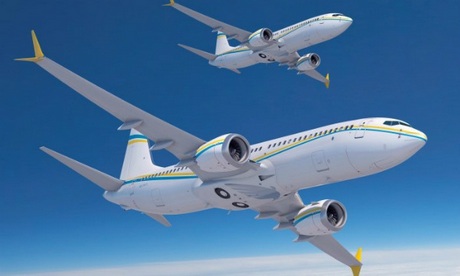 Boeing Business Jets today announced an order for two BBJ MAX 8s to Comlux, a Swiss-based VIP charter operator. This marks Comlux's first BBJ order.
"The two BBJ MAX 8s are a great addition to the Comlux fleet because they give our customers the flexibility to fly farther and more comfortably thanks to the lower cabin altitude," said Richard Gaona, President and CEO, Comlux, The Aviation Group. "The long-range capability of the BBJ MAX 8 is critical to all of our customers, but especially our Middle East customers who often use Comlux aircraft for long-haul flights."
The two BBJ MAX 8s will be outfitted with custom interiors at Comlux America, a certified BBJ completion centre.
"This announcement from a leading charter operator highlights the unmatched range, passenger comfort and baggage capability that BBJ products provide," said Capt. Steve Taylor, president, Boeing Business Jets. "We are pleased to work with Comlux as they position their fleet for the future."
AEROMEXICO RECEIVES 1,100TH EMBRAER E-JET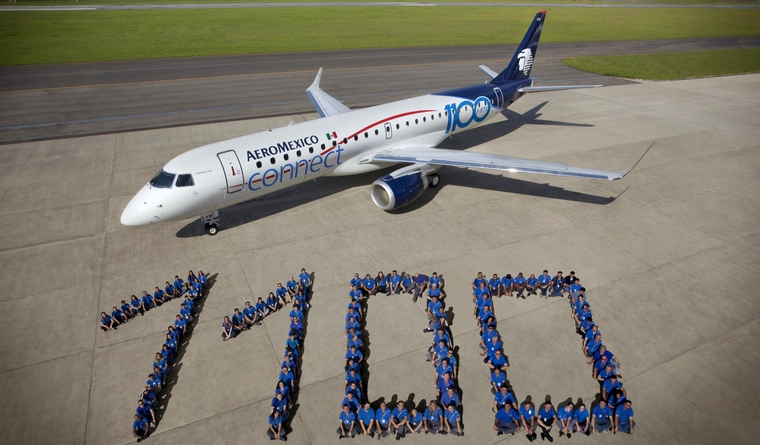 Mexico City, Mexico, December 11, 2014 - Embraer delivered the 1,100th E-Jet production aircraft, yesterday, during a ceremony held in the Aeromexico hangar, at the Benito Juárez International Airport, in Mexico City. The aircraft, an E190 model, is also the 200th aircraft from the E-Jet family flying in Latin America.
"In the same year that we are celebrating the E-Jets' 10th anniversary of operations, worldwide, we are immensely proud to be recognizing yet another milestone that this versatile family of aircraft has now achieved," said Paulo Cesar Silva, President & CEO, Embraer Commercial Aviation. "As one of Embraer's largest operators, it is only fitting that Aeromexico is the recipient of the 200th E-Jet on the Latin American continent, as well as the 1,100th E-Jet worldwide.
"Embraer has been a very important ally for over 10 years; currently, over 50 percent of our fleet is comprised of these Brazilian aircraft," said Andres Conesa, airline's CEO. "In Aeromexico we feel very proud to be the carrier that receives 1,100th Embraer E-Jet and integrate it into our fleet, one of the most modern in the industry."
Aeromexico operates a fleet of 62 Embraer jets through its regional brand, Aeromexico Connect: 27 E190s, six E170s, three E175s, and 26 ERJ 145s.
The first delivery of an E -Jet in Latin America occurred in 2005. Currently, eight airlines, from seven countries, operate the E-Jets in the region, where Embraer is the leader in the segment of jets up to 130 seats, with a 70% market share.
Embraer is the only manufacturer to develop a modern family of four airplanes specifically targeted for the 70 to 130-seat segment. Since their formal launch of the program, in 1999, the E-Jets have redefined the traditional concept of regional aircraft by operating across a range of business applications.
The E-Jets family entered revenue service in 2004. Currently, E-Jets are flying with 65 airlines from 45 countries, holding a 62% market share, based on deliveries, in the segment of jets with capacity up to 130 seats. Today, E-Jets are flying with mainline, low-cost and regional carriers, as well as charter airlines. The E-Jets have a strategically located global network of customer support and services with 37 MRO service centers, worldwide, including 12 Embraer Authorized Service Centers (EASC) and 25 independent centers
In June 2013, Embraer launched the second generation of the E-Jets family - the E-Jets E2 - the first of which is slated to enter service in 2018.
BOEING CST-100 SPACECRAFT MOVES ANOTHER STEP CLOSER TO FLIGHT



Boeing and NASA recently completed the Ground Segment Critical Design Review and set the baseline design for the company's Commercial Crew Transportation System, moving a step closer to the planned early 2017 voyage to the International Space Station.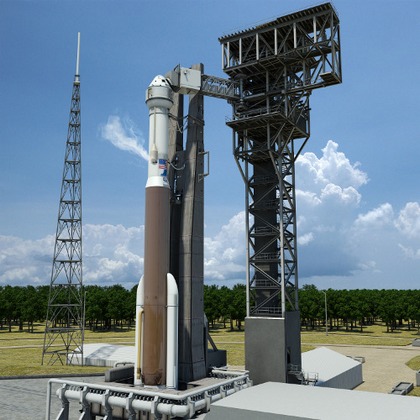 Completion of the Certification Baseline Review allows construction on system hardware, including the spacecraft and United Launch Alliance (ULA) launch vehicle adaptor, to begin. It also keeps the effort on track for achieving human-rated certification of the vehicle and ULA Atlas V rocket.
"This is an important step towards achieving human-rated certification," said Boeing Commercial Crew Program Manager John Mulholland. "This review provided an in-depth assessment of our training, facilities, operations and our flight processes."
Setting the design was the first milestone under the $4.2 billion contract NASA awarded to Boeing in September.
The second milestone in the Commercial Crew Transportation Capability (CCtCap) phase of the Commercial Crew Program, the Ground System Critical Design Review, evaluates all the ground operations and systems, mission operation systems, facilities, training systems, including mock-ups and trainers, and the control center.
The Crew Space Transportation (CST)-100 spacecraft, being developed in partnership with NASA's Commercial Crew Program, will provide a U.S. system for taking astronauts and cargo to low-Earth orbit destinations, such as the space station. It will accommodate up to seven people, or a mix of crew and cargo, and features a weldless structure, wireless Internet, and Boeing LED "Sky Lighting" technology.