THIS WEEK IN MIDWEEK UPDATE


Plan your weekend
Forthcoming events
Notice Board
This week in aviation history
Aviation News
Advertising rate card

There are no events planned for the weekend that we are aware off.


18 January: Graskop Fly in. Contact Jean 081470148
30 January: Dias Festival Mossel Bay airshow. Contact Horace Blok e-mail hab@habac.co.za 083 261 6300
30 January: Sports Aerobatics Club Western Cape regionals - Mossel Bay. Contact Annie Boon chunge@mweb.co.za
7 February: MISASA Best of the Best at Kitty Hawk Wings - Wheels - Water Showcase. Contact: John Boucher e-mail: comms@misasa.org Cell: 082 553 1105 or Alan McKenzie e-mail: nemo@webo.co.za Cell: 082 373 4947
27 February-1 March February: Swellengrebel fly-in. Contact Pieter Venter pventer@vgv.co.za Cell: 083 250 9504
28 February: Bethlehem Aero Club annual Sling, Bushbaby and chopper fly-in. Contact Izak Venter e-mail: izak@motsu.co.za or Francois Marais e-mail:
info@stanfra.co.za

21-22 March: RV's at Parys. Pylon event, a formation competition, an aerobatics event (competition?) as well as possibly a "best build" competition. Contact Scully Levin e-mail: flyboys@global.co.za
27 March: Bethlehem fly-in and Riana Nel show. Contact Jacolene Jacobs 082 854 1003
28 March: Bethlehem Aero Club fun navigation rally. Contact Izak Venter e-mail: izak@motsu.co.za or Francois Marais e-mail: info@stanfra.co.za
27 - 28 March: Uitenhage Wings & Wheels festival. Contact Lourens Kruger 082 320 2615 Website: www.wingsandwheelsfestivalutenhage.co.za
28 - 29 March: Sports Aerobatics Club North-West regionals - Klerksdorp. Contact Annie Boon chunge@mweb.co.za
11 April: Fashkosh (Stellenbosch) Website: www.stelfly.co.za Contact Alewyn Burger Alewyn@burger.org.za Cell: 082 416 1951
15 to 18 April: AERO Friedrichshafen dedicates itself in offering a significant collection of aviation related products and accessories. Exhibitors will be showing engines, modern ultra-lights, powered aircraft, avionics and related products and services. Over the years, this show has gained huge reputation from all over the world and the positive reaction from the attendees has motivated the exhibitors to improve the existing range and manufacture more such effective spare parts and products. For further information on the tour African Pilot is planning please send an e-mail to Athol Franz: editor@africanpilot.co.za. The idea is to get a package deal together for about 10 to 12 persons wishing to visit AERO Friedrichshafen.
17 & 18 April: Zebula airshow. Contact: Paul Weich 083 290 6525 e-mail:
pdweich@mweb.co.za
or Chris Potgieter 083 314 1669 e-mail: ChrisPotgieter@flysaa.com
18 to 29 April: Sun 'n Fun Tour 2015, Lakeland, Florida, USA. Contact Neil Bowden: e-mail:
neil1@telkomsa.net
.
Neil Bowden will once again be organising a tour to the USA's second largest fly-in, the Sun 'n Fun Fly-in and International Expo. In addition to the airshow, we will be arranging an excursion to the Kennedy Space Centre. A great new feature here is the Space Shuttle Atlantis exhibition building housing the original Atlantis Shuttle. Also planned is a visit to the Kermit Weeks Fantasy of Flight Museum which is home to some very rare aircraft and while we are in the area there are planned visits to the theme parks - Disney and Universal. The price is from R14 750 per person plus airport tax (about R7 400).
29 April-3 May: Aero Club Air week at Parys airfield contact Kev Storie 011 082 1100 Website: www.aeroclub.org.za
1 - 2 May: Lowveld Airshow (Nelspruit) Cell: 079 499 5733 Contact Willemien Hodgkinson e-mail: willemien.hodgkinson@ffa.co.za
8 - 9 May: SAAF Museum Swartkops Airshow, Pretoria Contact Lt. Col Mike O'Connor e-mail: oc@saafmuseum.org Tel: 012 351 2290
8 - 10 May: Battlefields fly-in (Dundee) Lourens Roos 082 875 5419
E-mail: stay@battlefieldslodge.co.za E-mail: nan@battlefieldslodge.co.za Website: www.battlefieldslodge.co.za
10 & 11 May: AVIATION AFRICA - Dubai UAE Contact Mark Brown mark.brown@africanaerospace.aero
15 to 17 May: Bethlehem Aero Club / EAA Chapter 1500 fly-in weekend. Contact Izak Venter e-mail: izak@motsu.co.za or Francois Marais e-mail: info@stanfra.co.za
16 & 17 May: Botswana Airshow Contact Guillaume Knipe e-mail: gknipe@work.co.bw Tel: 00267 7130 0646
23 & 24 May: Sports Aerobatics Club Free State regionals - Parys. Contact Annie Boon chunge@mweb.co.za
25 to 29 May: RAF 2000 Gyroplane service & maintenance course. Contact: Yolande Combrinck e-mail: yolande@rafsa.co.za Tel: 083 282 8792
30 - 31 May: Newcastle Airshow e-mail:
johan@champ.co.za
Contact Champ Marketing Johan 082 923 0078 or Christo 083 375 5883
10 to14 June: Kalahari Bundu Bash. Contact Yolande Combrinck e-mail: Yolande@rafsa.co.za
13 June: Zandspruit Airshow - Hoedspruit. Contact Yvonne Fourie e-mail: yf@zandspruit.co.za Tel: 015 793 1192
19 to 21 June: Mafikeng fly-in and airshow. Contact Connie Conradie e-mail: info@mafikeng-flyingclub.co.za Cell: 082 449 1546
20 June: Warbirds over the Vaal fly-in and time trials - Parys Airfield. Contact Scully Levin e-mail: flyboys@global.co.za
11 & 12 July: Durban (Virginia) airshow. Contact Gerna Fraser e-mail: gerna@kznwintertour.co.za Cell: 084 783 1953
16 to 19 July: Sports Aerobatics Club Nationals - Klerksdorp. Contact Annie Boon chunge@mweb.co.za
17to 19 July: Nylstroom Taildraggers fly-in - Nylstroom Flying Club. Contact Richard Nicholson e-mail rgn@pcwireless.co.za Cell: 082 490 6227
19 July-3 August: EAA's annual AirVenture to be held in Oshkosh USA. Camping on the airfield contact Neil Bowden e-mail:
neil1@telkomsa.net
Hotels in Appleton contact Calvin Fabig e-mail: calvin@designer.co.za
1 - 2 August: Namibian airshow. Contact Reinhard Gartner e-mail: reinhard@fivestar.co.za
14 - 15 August: Bethlehem airshow. Contact Stephan Fourie e-mail: fouriesj1491@gmail.com Cell: 072 344 9678
20 - 29 August: Sports Aerobatics Club Unlimited World Championships - France Contact Annie Boon chunge@mweb.co.za
23 August: Grand Rand airshow (Sunday) Contact Stuart Coetzee e-mail: manager@randairport.co.za Tel: 011 827 8884
29 August: Bethlehem Aero Club fun navigation rally. Contact Izak Venter e-mail: izak@motsu.co.za or Francois Marais e-mail: info@stanfra.co.za
12 - 13 August: Sports Aerobatics Club Gauteng regionals and Judges Trophy - Vereeniging Contact Annie Boon chunge@mweb.co.za
24 - 25 October: Sports Aerobatic Club KZN regionals - Ladysmith. Contact Annie Boon chunge@mweb.co.za
31 October: Bethlehem Aero Club fly-in and hangar dance. Contact Izak Venter e-mail: izak@motsu.co.za or Francois Marais e-mail: info@stanfra.co.za
13 to 15 November: Mafikeng annual fly-in and hangar dance. Contact Connie Conradie 082 449 1546 e-mail: info@mafikeng-flyingclub.co.za
5 - 6 December: SAC ACE of base - Baragwaneth airfield (Syferfontein) Contact Annie Boon chunge@mweb.co.za
7 December: ICAD (International Civil Aviation Day) Contact Mark Swarts e-mail: SwartsM@caa.co.za Cell: 082 878 0875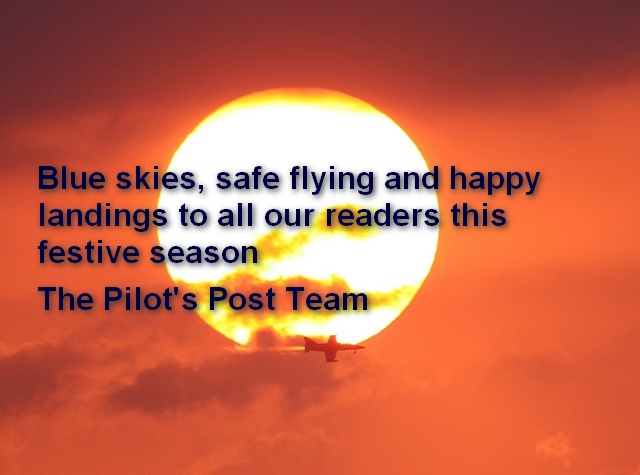 December 24 1968 - Apollo 8 orbits the moon carrying Frank Borman, James Lovell, and William Anders.
December 24 1944 - The people of the Philippines received a surprise when airplanes of 43rd Bombing Group flew over to drop a million Christmas cards; each one contained the words: "Merry Christmas and Happy New Year 1944 - General Douglas MacArthur. "
December 27 1968 - Apollo 8 splashes down in the Pacific Ocean, ending humanity's first manned mission to the Moon.
December 27 1922 - The Hosho, Japan's first aircraft carrier is commissioned.
December 29 1948 - First flight of the Supermarine Swift
December 29 1944 - F/L RJ Audet, flying a Supermarine Spitfire of No. 411 (Fighter) Squadron near Rheine, Germany, destroyed five enemy fighters in his first combat
December 29 1940 - The Luftwaffe makes a devastating attack on London, making extensive use of incendiary weapons.
December 29 1939 - First flight of the Consolidated B-24 Liberator
December 29 1921 - Edward Stinson and Lloyd Bertaud set a world endurance record of 26 hours, 18 min and 35 seconds flying a BMW-engined Junkers-Larsen over Roosevelt Field.
December 30 1968 - The world's first supersonic transport aircraft to fly, the Tupolev Tu-144, took to the air, powered by four Kuznetsov NK-144 turbofans.
December 30 1951 - The year-end tally showed that for the first time, total passenger flying miles exceeded that of railroad miles at 10.6 million
December 31 1989 - First flight of the Sukhoi Su-30
December 31 1908 - Wilbur Wright wins a prize of FF 20,000 from Michelin for the longest flight of the year - 124 kilometres (77 mi) from Camp d'Auvours.





FAA ISSUES SAFETY WARNING FOR HOMEMADE PLANES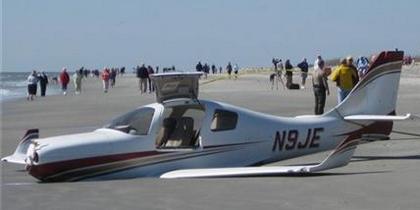 An Experimental Lancair IV-P airplane lies beached on Hilton Head Island, S.C. / AP photo
JOAN LOWY, Associated Press Writer
High-performance homemade planes like the one that killed a beach jogger last week in South Carolina are prone to stall, especially when going slower while waiting to land, and have been involved in a disproportionately large number of fatal accidents, federal officials warned Thursday.
The Federal Aviation Administration said in a safety advisory to pilots that the Lancair, which is built from kits, and others like it have design characteristics that allow the planes to fly much faster than most small planes. However, the agency says, those characteristics can also "expose pilots to additional risk during slowspeed operations while close to the ground and with little time to recover from an unintentional stall."
The agency also cautioned that since the planes are built by amateurs each one "may have unique flight handling characteristics."
An FAA analysis found that the planes have experienced fatal accident rates substantially higher than other small, personal use planes, including other types of planes made from kits, the advisory said.
Lancair kits are made by Lancair International Inc. of Redmond, Ore.
Joseph Bartels, owner of Lancair, said the planes won't stall if they are constructed and operated according to the company's specifications and FAA regulations. The problem, he said, is that pilots sometimes fly the planes at speeds slower than they are designed to fly.
Pilots should know a plane's speed limits since that information is provided, Bartels said.
The company's Web sites says it has sold 1,870 plane kits in 34 countries. The planes include both turbine and piston engine models, some capable of speeds up to 370 mph. A typical small plane is capable of speeds about 150 mph.
Pharmaceutical salesman Robert Gary Jones, 38, was listening to music while jogging on a Hilton Head Island beach when he was struck and killed by a Lancair. The plane took off from Orlando, Fla., and was en route to Virginia when it started leaking oil. The pilot was trying to land on the beach when the craft struck Jones. The pilot and a passenger walked away from the accident.
Eighty-two people in the U.S. were killed in 2008 in accidents involving planes built from kits, according the Aircraft Owners and Pilots Association's safety foundation. Kit-built planes accounted for 18 percent of noncommercial plane accidents that year even though they logged less than 5 percent of the flight time, the foundation said.
The accident rate for kit aircraft, including amateur-built helicopters, is more than seven times higher than for other noncommercial aircraft, the foundation said.
Dick Knapinski, a spokesman for the Experimental Aircraft Association, disagreed with the foundation's calculations, saying there were fewer home-built aircraft accidents than portrayed.

ALLIANCE AIR INTRODUCES ITS FIRST ATR 72-600

Air India's fully-owned regional Subsidiary Airline Allied Services Limited under Brand Name "Alliance Air" today introduced its first newest ATR 72-600 aircraft into its fleet. The aircraft, leased from Singapore-based leasing firm Avation, is the first out of five that the airline will receive until July next year. This brand new ATR 76-600 is configured with 70-seats, and will bring additional capacity to passengers flying on the regional network of the airline across the country. Thanks to their new "Armonia cabin", the ATR 72-600s will also propose to passengers the highest and most modern standards of comfort.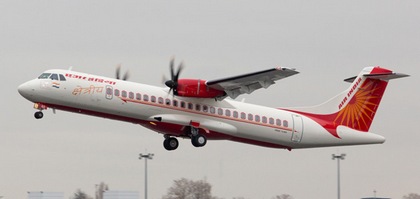 Alliance Air currently has 4 ATR 42-320s among its fleet of regional aircraft. The outstanding performance of the ATR 72-600s make it the only 70-seat aircraft able to operate at each airport currently served by the airline. It also offers the lowest fuel-burn and seat mile cost on its segment. The aircraft is fitted with Pratt & Whitney 127M engines, and features a full-glass cockpit with the most modern navigation aid tools.
Mr. Rohit Nandan, Chairman, Alliance Air stated that "We are pleased to introduce into our fleet an aircraft which has clearly become the new reference among all regional planes. The ATRs have proven for years their reliability and their ability to bring our passengers to every destination of our regional network".
Patrick de Castelbajac, ATR Chief Executive Officer, said that "We have partnered with Alliance Air for more than 10 years, and we are honored by this new proof of confidence in the ATR aircraft family. The new ATR 72-600 perfectly fit with the aim of the airline to progressively renew their fleet with more fuel-efficient aircraft, while adding seat-capacity into their main routes."
As of today, ATR has more than 20 aircraft flying in India. It also has a Bangalore-based customer support center.
AIRCRAFT CRASHES IN CONGAREE RIVER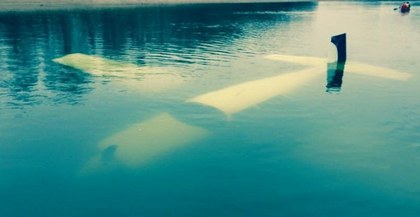 Calhoun County, SC (WLTX) - The Department of Natural Resources says a Mooney 20 aircraft landed in the Congaree River Saturday afternoon.
Authorities say the single engine aircraft crashed at approximately 2:15 p.m. near the Carolina Eastman Facility. According to the Federal Aviation Administration, the aircraft departed from the Jim Hamilton-LB Owens Airport.
The plane is completely submerged in the water. The pilot was taken to the hospital and has been released. He was not injured. The crash remains under investigation by the FAA.
BOEING, MALAYSIA AIRLINES CELEBRATE 100TH 737 DELIVERY

Boeing and Malaysia Airlines celebrated the direct delivery of the airline's 100th 737 aircraft at an event in Seattle. Shown here Aminuddin Zakaria, senior vice president, airline engineering group, Malaysia Airlines; Ahmad Jauhari Yahya, chief executive officer, Malaysia Airlines; Erik Nelson, vice president of 737 field operations and delivery, Boeing Commercial Airplanes; and Suvendoo Ray, Boeing Commercial Airplanes sales director, cut a ceremonial ribbon marking the special delivery.
"The 737 has, and continues to be, an amazing aircraft for our airline with its consistent reliability, unmatched economics and innovation in passenger comfort," said Ahmad Jauhari Yahya, group chief executive officer, Malaysia Airlines. "We used a 737 for our very first flight in 1972 and we are excited to now take delivery of our 100th airplane of its type."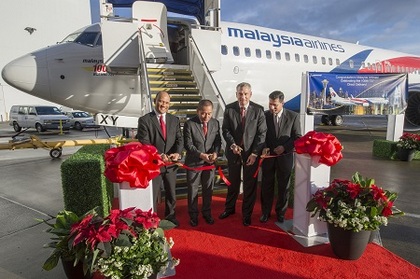 Malaysia took delivery of its first 737, a 737-200, in 1972 and has operated the 737-200, 737-300, 737-400, 737-500 and 737-800 as well as 747-400s and 777-200ERs (Extended Range).
"We are proud of our long running relationship with Malaysia Airlines and honored to be a part of this special centennial delivery," said Dinesh Keskar, senior vice president of Asia Pacific and India Sales, Boeing Commercial Airplanes. "The operating economics and capability of the 737 will continue to play an important role in Malaysia's leading airline."
Malaysia Airlines' new 737-800 features the Boeing Sky Interior, with larger pivoting overhead stowage bins, larger window reveals and LED lighting to enhance the sense of spaciousness. Malaysia was the Asia launch customer for the Boeing Sky Interior. The airline has an additional 10 737-800s on order.
The 737-800 is the best-selling version of the highly successful Next-Generation 737 family, the most technologically advanced airplanes in the single-aisle market. The Next-Generation 737's market success has been confirmed by investors who consistently rank it as the most preferred single-aisle airplane due to its wide market base, superior performance efficiency and lowest operating costs in its class. More than 5,100 Next-Generation 737s have been delivered to date from customers worldwide
AIRBUS DELIVERES FIRST A350 XWB

Airbus has delivered the first A350 XWB, the world's latest generation widebody airliner, to launch customer Qatar Airways. The A350 XWB redefines the way people fly for the coming decades and opens up a new era in comfortable, efficient long-haul air travel when it enters service with Qatar Airways, renowned for leading the industry to new heights in service excellence.
The A350 XWB embodies the most advanced technologies and breakthrough innovations in aerodynamics, light-weight materials and aircraft systems. Powered by ultra-fuel-efficient and very quiet Rolls-Royce Trent XWB engines and an extra-wide, bright and spacious cabin, the A350 XWB promises to be a firm favourite with travellers who will discover a whole new way of flying. Airlines will also benefit from unequalled levels of operating efficiency and cost effectiveness.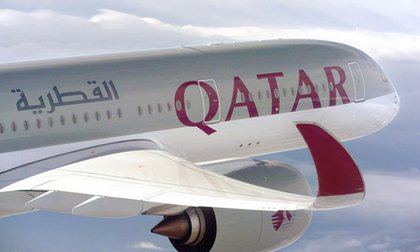 Qatar Airways Group Chief Executive, His Excellency Mr. Akbar Al Baker, said, "Receiving the A350 XWB as global launch customer is a very proud moment for Qatar Airways, and after much anticipation, I am delighted that the day has come when we will welcome this latest generation aircraft into our rapidly expanding fleet.
"In the seven years since we first placed our order for this new aircraft type at the Paris Air Show, investing in a partnership programme with Airbus, there has been significant growth in the airline industry. I am confident that this increase in passenger numbers around the world will only increase further in the years to come, and delighted that Qatar Airways will be leading the way in the aviation sector in offering our passengers the opportunity to travel on board the most modern of airliners in the sky."
John Rishton, Rolls-Royce, Chief Executive Officer said: "We are very proud to have worked with Qatar Airways and Airbus on the A350 XWB, using the latest technology to deliver new standards in customer service. This is a very important day for everyone at Rolls-Royce. It is the culmination of years of hard work and the start of a new chapter for our business."
Fabrice Brégier, Airbus President and CEO said: "Handing over the first A350 XWB represents a significant step in Airbus and aviation history. The A350 XWB becomes the most modern aircraft in service, developed with our excellence established over 45 years in meeting our customers' needs. The A350 XWB is the latest Airbus aircraft to join the skies, revolutionising our industry and redefining the way people fly." He adds: "It is with tremendous pride that we are delivering our first A350 XWB today to our launch customer, Qatar Airways. It's a perfect match, to be handing over the first of an all-new, world class aircraft to a leading, world class airline."
The A350 XWB fits seamlessly alongside Qatar Airways' growing fleet of A380s and A330s, making the carrier the world's first airline to operate each member of Airbus' market leading Widebody Family. Qatar Airways' A350 XWBs, in combination with their A380s and A330s, will offer unprecedented levels of interoperability and comfort on the rapidly expanding Qatar Airways network of excellence.
The A350 XWB is the latest addition to the market-leading Airbus Widebody product line. Offering its customers a game-changing reduction in fuel-burn, the all-new mid-size long-range A350 XWB has carbon fibre fuselage and wings and sets new standards in terms of passenger comfort, operational efficiency and cost-effectiveness. At the end of November 2014, the A350 XWB had won 778 orders from 41 customers worldwide.
IFL GROUP TO ACQUIRE THE FIRST BOMBARDIER CRJ200 SPECIAL FREIGHTER AIRCRAFT

Bombardier Commercial Aircraft announced today that an entity owned by? the IFL Group of Waterford, Michigan has signed a firm purchase agreement to acquire the first Bombardier CRJ200 SF (Special Freighter) aircraft. The aircraft will join IFL Group's fleet flying air freight throughout North, Central and South America, as well as the Caribbean.
"We look forward to adding the Bombardier CRJ200 SF aircraft to our fleet," said Michael Church, President, IFL Group. "The CRJ200 aircraft has a proud history of dependability and reliability in the fast-paced world of regional airline operations and we are confident that its legacy will continue in our busy air freight environment where on-time performance is essential."
Prior to being delivered to the IFL Group, the aircraft will be converted to all-cargo configuration by Aeronautical Engineers, Inc. ("AEI") of Miami, Florida, a Bombardier-licensed Third Party Supplemental Type Certificate (STC) Provider for passenger-to-freighter conversions for CRJ100 and CRJ200 aircraft. The freighters include a large cargo door and are marketed by AEI as CRJ100 and CRJ200 Special Freighter (SF) aircraft.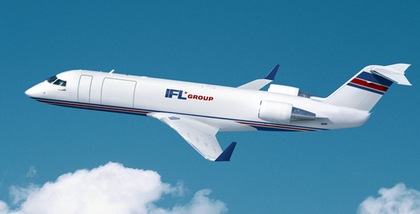 "AEI is offering an outstanding opportunity for additional utilization of CRJ100 and CRJ200 aircraft in the secondary aviation market and we are delighted to welcome our first customer for the CRJ200 SF aircraft," said Ross Mitchell, Vice President, Business Acquisition, Bombardier Commercial Aircraft. "The re-configuration of CRJ100 and CRJ200 aircraft that are being phased out by airlines transitioning to larger regional aircraft provides an opportunity to set new standards for regional large door freighters."
"We are seeing significant interest in the CRJ100 and CRJ200 passenger-to-freighter conversions," said Robert Convey, Vice President of Sales and Marketing, AEI. "The dependability and affordable operating economics of both platforms make them particularly well suited for regional cargo and feed operations."
Features for the CRJ100/CRJ200 SF aircraft include:
- Eight 61.5 in x 88 in (256 cm x 223.5 cm) pallet positions
- Up to 14,840 lbs. (6,731 kg) main deck payload
- Large cargo door 94 in. x 77 in (238.7 x 195.6 cm)
- 10,000 lb. (4, 536 kg) payload can be flown 1,735 nm (3,213 km)
- 15,000 lb. (6 804 kg) payload can be flown 800 nm (1,482 km)
- Dual vent door system
- Rigid 9G barrier
- 28-VDC independent cargo door hydraulic system
- Main deck converted to Class "E" Cargo Compartment
- Cabin windows replaced with lightweight aluminum window plugs
BOEING DELIVERS AZERBAIJAN AIRLINES' FIRST 787 DREAMLINER

Boeing and Azerbaijan Airlines today announced the delivery of the airline's first 787 Dreamliner. With this delivery, Azerbaijan Airlines becomes the first airline in the Commonwealth of Independent States to operate the 787. Pictured here is Azerbaijan Airlines' 787 Dreamliner.
The airplane will play a key role in the Baku-based airline's strategic plan to expand its long-haul fleet.
"We are delighted to receive this revolutionary airplane, which will help Azerbaijan Airlines increase its competitiveness both regionally and internationally," said Azerbaijan Airlines President Jahangir Askerov. "The airplane, with its unique onboard features, will provide an unrivaled passenger experience with an unmatched level of comfort."
The 787 is a family of technologically advanced, super-efficient airplanes with new passenger-pleasing features. In addition to bringing big-jet ranges to midsize airplanes, the 787 will provide Azerbaijan Airlines with unrivaled fuel efficiency and environmental performance, using 20 percent less fuel and with 20 percent fewer emissions than the airplanes it replaces.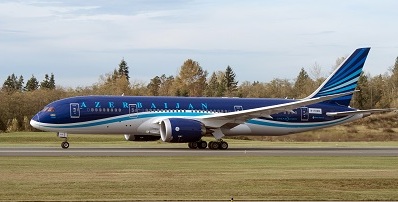 "We are very excited that Azerbaijan Airlines has selected the 787 Dreamliner to lead its route expansion plans and help their business grow," said Marty Bentrott, vice president, Middle East, Russia and Central Asia Sales, Boeing Commercial Airplanes. "We are very proud of our partnership with Azerbaijan Airlines and congratulate them on being the first 787 operator in this region. We look forward to continuing to expand our business relationship for many years to come."
Based at Heydar Aliyev International Airport in Baku, state-owned Azerbaijan Airlines (AZAL) is the national carrier of Azerbaijan. Azerbaijan Airlines currently flies a network of over 20 global destinations across the United States, China, Commonwealth of Independent States, the Middle East and Europe.
In addition to providing airlines with unprecedented fuel economy and low operating costs, the 787 features a host of new features that greatly enhance the passenger experience. Passengers aboard the 787 experience cabin environment improvements such as dynamic LED lighting, the largest windows, bigger overhead bins, a lower cabin altitude, a more humid environment, low interior noise, cleaner air and a smoother ride.
To date, 58 customers from around the world have ordered 1,055 787 Dreamliners.
FIRST U.S. AIRLINE TO ORDER NEW AIRCRAFT TYPE

Following a Memorandum of Understanding (MOU) signed in July of this year, Hawaiian Airlines has finalized an order for six A330-800neo aircraft. The agreement adds yet another name to the growing list of launch customers for the new aircraft type. The new commitment replaces a previous order placed by Hawaiian for six A350-800s.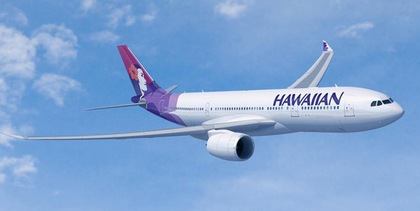 "The A330-800neo is an aircraft which meets all of our needs," said Mark Dunkerley, President and CEO of Hawaiian Airlines. "It is the right size, with the right range and costs, and shares much commonality with our A330-200 fleet. Our customers and crew love the aircraft and we are thrilled that it will continue to be Hawaiian's wide body mainstay for far into the future."
"Working with Hawaiian Airlines is a unique pleasure because their team is truly visionary when it comes to choosing aircraft," said John Leahy, Airbus Chief Operating Officer and Customers. "The A330-800neo is perfectly suited to Hawaiian's unique route structure, offering a great balance of range and capacity that will allow the airline to expand its reach to new audiences."
Hawaiian Airlines currently operates a fleet of 18 A330-200 aircraft, with additional orders for 16 A321neo aircraft on backlog.
The A330-800neo and the A330-900neo are the two newest members of the Airbus Widebody Family. First deliveries are scheduled to start in late 2017.
The A330neo incorporates latest-generation Rolls-Royce Trent 7000 engines, aerodynamic enhancements and new cabin features. Benefitting from the unbeatable economics, versatility and high reliability of the A330, the A330neo will reduce fuel consumption by 14 percent per seat, making it the most cost-efficient, medium-range widebody aircraft on the market.
In addition to greater fuel savings, A330neo operators will also benefit from a range increase of up to 400 nautical miles and all the operational commonality advantages of the Airbus Family.