THIS WEEK IN MIDWEEK UPDATE


Plan your weekend
Forthcoming events
Notice Board
This week in aviation history
Aviation News
Advertising rate card

There are no events planned for the weekend that we are aware off.


30 January: Dias Festival Mossel Bay airshow. Contact Horace Blok e-mail hab@habac.co.za 083 261 6300
30 January: Sports Aerobatics Club Western Cape regionals - Mossel Bay. Contact Annie Boon chunge@mweb.co.za
7 February: MISASA Best of the Best at Kitty Hawk Wings - Wheels - Water Showcase. Contact: John Boucher e-mail: comms@misasa.org Cell: 082 553 1105 or Alan McKenzie e-mail: nemo@webo.co.za Cell: 082 373 4947
27 February-1 March February: Swellengrebel fly-in. Contact Pieter Venter pventer@vgv.co.za Cell: 083 250 9504
28 February: Bethlehem Aero Club annual Sling, Bushbaby and chopper fly-in. Contact Izak Venter e-mail: izak@motsu.co.za or Francois Marais e-mail:
info@stanfra.co.za

21-22 March: RV's at Parys. Pylon event, a formation competition, an aerobatics event (competition?) as well as possibly a "best build" competition. Contact Scully Levin e-mail: flyboys@global.co.za
27 March: Bethlehem fly-in and Riana Nel show. Contact Jacolene Jacobs 082 854 1003
28 March: Bethlehem Aero Club fun navigation rally. Contact Izak Venter e-mail: izak@motsu.co.za or Francois Marais e-mail: info@stanfra.co.za
27 - 28 March: Uitenhage Wings & Wheels festival. Contact Lourens Kruger 082 320 2615 Website: www.wingsandwheelsfestivalutenhage.co.za
28 - 29 March: Sports Aerobatics Club North-West regionals - Klerksdorp. Contact Annie Boon chunge@mweb.co.za
11 April: Fashkosh (Stellenbosch) Website: www.stelfly.co.za Contact Alewyn Burger Alewyn@burger.org.za Cell: 082 416 1951
15 to 18 April: AERO Friedrichshafen dedicates itself in offering a significant collection of aviation related products and accessories. Exhibitors will be showing engines, modern ultra-lights, powered aircraft, avionics and related products and services. Over the years, this show has gained huge reputation from all over the world and the positive reaction from the attendees has motivated the exhibitors to improve the existing range and manufacture more such effective spare parts and products. For further information on the tour African Pilot is planning please send an e-mail to Athol Franz: editor@africanpilot.co.za. The idea is to get a package deal together for about 10 to 12 persons wishing to visit AERO Friedrichshafen.
17 & 18 April: Zebula airshow. Contact: Paul Weich 083 290 6525 e-mail:
pdweich@mweb.co.za
or Chris Potgieter 083 314 1669 e-mail: ChrisPotgieter@flysaa.com
18 to 29 April: Sun 'n Fun Tour 2015, Lakeland, Florida, USA. Contact Neil Bowden: e-mail:
neil1@telkomsa.net
.
Neil Bowden will once again be organising a tour to the USA's second largest fly-in, the Sun 'n Fun Fly-in and International Expo. In addition to the airshow, we will be arranging an excursion to the Kennedy Space Centre. A great new feature here is the Space Shuttle Atlantis exhibition building housing the original Atlantis Shuttle. Also planned is a visit to the Kermit Weeks Fantasy of Flight Museum which is home to some very rare aircraft and while we are in the area there are planned visits to the theme parks - Disney and Universal. The price is from R14 750 per person plus airport tax (about R7 400).
29 April-3 May: Aero Club Air week at Parys airfield contact Kev Storie 011 082 1100 Website: www.aeroclub.org.za
1 - 2 May: Lowveld Airshow (Nelspruit) Cell: 079 499 5733 Contact Willemien Hodgkinson e-mail: willemien.hodgkinson@ffa.co.za
8 - 9 May: SAAF Museum Swartkops Airshow, Pretoria Contact Lt. Col Mike O'Connor e-mail: oc@saafmuseum.org Tel: 012 351 2290
8 - 10 May: Battlefields fly-in (Dundee) Lourens Roos 082 875 5419
E-mail: stay@battlefieldslodge.co.za E-mail: nan@battlefieldslodge.co.za Website: www.battlefieldslodge.co.za
10 & 11 May: AVIATION AFRICA - Dubai UAE Contact Mark Brown mark.brown@africanaerospace.aero
15 to 17 May: Bethlehem Aero Club / EAA Chapter 1500 fly-in weekend. Contact Izak Venter e-mail: izak@motsu.co.za or Francois Marais e-mail: info@stanfra.co.za
16 & 17 May: Botswana Airshow Contact Guillaume Knipe e-mail: gknipe@work.co.bw Tel: 00267 7130 0646
23 & 24 May: Sports Aerobatics Club Free State regionals - Parys. Contact Annie Boon chunge@mweb.co.za
25 to 29 May: RAF 2000 Gyroplane service & maintenance course. Contact: Yolande Combrinck e-mail: yolande@rafsa.co.za Tel: 083 282 8792
30 - 31 May: Newcastle Airshow e-mail:
johan@champ.co.za
Contact Champ Marketing Johan 082 923 0078 or Christo 083 375 5883
10 to14 June: Kalahari Bundu Bash. Contact Yolande Combrinck e-mail: Yolande@rafsa.co.za
13 June: Zandspruit Airshow - Hoedspruit. Contact Yvonne Fourie e-mail: yf@zandspruit.co.za Tel: 015 793 1192
19 to 21 June: Mafikeng fly-in and airshow. Contact Connie Conradie e-mail: info@mafikeng-flyingclub.co.za Cell: 082 449 1546
20 June: Warbirds over the Vaal fly-in and time trials - Parys Airfield. Contact Scully Levin e-mail: flyboys@global.co.za
11 & 12 July: Durban (Virginia) airshow. Contact Gerna Fraser e-mail: gerna@kznwintertour.co.za Cell: 084 783 1953
16 to 19 July: Sports Aerobatics Club Nationals - Klerksdorp. Contact Annie Boon chunge@mweb.co.za
17to 19 July: Nylstroom Taildraggers fly-in - Nylstroom Flying Club. Contact Richard Nicholson e-mail rgn@pcwireless.co.za Cell: 082 490 6227
19 July-3 August: EAA's annual AirVenture to be held in Oshkosh USA. Camping on the airfield contact Neil Bowden e-mail:
neil1@telkomsa.net
Hotels in Appleton contact Calvin Fabig e-mail: calvin@designer.co.za
1 - 2 August: Namibian airshow. Contact Reinhard Gartner e-mail: reinhard@fivestar.co.za
14 - 15 August: Bethlehem airshow. Contact Stephan Fourie e-mail: fouriesj1491@gmail.com Cell: 072 344 9678
20 - 29 August: Sports Aerobatics Club Unlimited World Championships - France Contact Annie Boon chunge@mweb.co.za
23 August: Grand Rand airshow (Sunday) Contact Stuart Coetzee e-mail: manager@randairport.co.za Tel: 011 827 8884
29 August: Bethlehem Aero Club fun navigation rally. Contact Izak Venter e-mail: izak@motsu.co.za or Francois Marais e-mail: info@stanfra.co.za
12 - 13 August: Sports Aerobatics Club Gauteng regionals and Judges Trophy - Vereeniging Contact Annie Boon chunge@mweb.co.za
24 - 25 October: Sports Aerobatic Club KZN regionals - Ladysmith. Contact Annie Boon chunge@mweb.co.za
31 October: Bethlehem Aero Club fly-in and hangar dance. Contact Izak Venter e-mail: izak@motsu.co.za or Francois Marais e-mail: info@stanfra.co.za
13 to 15 November: Mafikeng annual fly-in and hangar dance. Contact Connie Conradie 082 449 1546 e-mail: info@mafikeng-flyingclub.co.za
5 - 6 December: SAC ACE of base - Baragwaneth airfield (Syferfontein) Contact Annie Boon chunge@mweb.co.za
7 December: ICAD (International Civil Aviation Day) Contact Mark Swarts e-mail: SwartsM@caa.co.za Cell: 082 878 0875


The Notice Board is empty


January 7 1983 - Introduction: McDonnell Douglas F/A-18 Hornet
January 7 1967 - Entered Service: SR-71 Blackbird with the US Air Force.
January 7 1942 - First flight of the Supermarine Seafire
January 8 1994 - The Russian Soyuz TM-18 is launched, bringing cosmonaut Valery Polyakov to Mir for a record time of 437 days in space
January 8 1983 - Death of Lieutenant-General Gerhard "Gerd" Barkhorn, 2nd most successful fighter ace of all time after fellow Luftwaffe pilot Erich Hartmann
January 8 1981 - A local farmer reports a UFO sighting in Trans-en-Provence, France, "perhaps the most completely and carefully documented sighting of all time".
January 8 1973 - Launch of Luna 21 (Ye-8 series, also called Lunik 21), Soviet unmanned space mission to explore the moon.
January 9 1956 - The Luftwaffe (Bundeswehr) is re-formed.
January 9 1793 - First balloon flight in North America is made by Frenchman Jean-Pierre Blanchard, ascending from Philadelphia, Pennsylvania and landing in Deptford, Gloucester County, New Jersey.
January 10 1982 - A Gulfstream III, Spirit of America, flies around the world in just 43 hours 39 min and 6 seconds, becoming the fastest business jet to fly around the world.
January 10 1964 - A B-52 H Stratofortress, configured as a testbed to investigate structural failures, has its vertical stabilizer sheared off in severe turbulence. The plane landed safely and was repaired. Directorate of Aerospace Safety, Norton AFB, California
January 10 1962 - A B-52 Stratofortress is flown from Okinawa to Madrid, establishing a new distance record of 12,532 miles (20,168 km)
January 10 1954 - BOAC Flight 781, a de Havilland Comet flying from Rome to London on the last leg of a flight from Singapore, disintegrates in mid-air, when metal fatigue from repeated pressurization cycles compromises the fuselage, killing the 29 passengers and six crew.
January 10 1944 - The RCAF accepted the first of 229 Avro Lancaster bombers
January 10 1941 - German aircraft make their combat debut in the Mediterranean theater. German Junkers Ju 87 Stuka dive bombers and Junkers Ju 88 s of Fliegerkorps X join Italian bombers in attacking the British aircraft carrier HMS Illustrious in the Mediterranean Sea while she is escorting the Gibraltar-to-Malta convoy. The Italian attacks are ineffective, but the German aircraft score six hits, knocking Illustrious out of action until the end of November.
January 11 1911 - First landing by an airplane on a ship: Eugene Ely in a Curtiss pusher on a temporary platform aboard armored cruiser USS Pennsylvania.
January 11 1902 - Inspiration for many an aviator and plane-spotter, Popular Mechanics magazine is published for the first time.
January 12 1991 - U. S. Army/McDonnell Douglas Helicopter Systems AH-64 A Apache combat helicopters fire first shots of Operation Desert Storm in the Persian Gulf War. McDonnell Douglas F-15 Eagles and F/A-18 Hornets claim the first aerial victories of the conflict with ten enemy aircraft downed in the first day.
January 12 1935 - Amelia Earhart becomes the first woman pilot to fly solo between Hawaii and the USA. She took off from Wheeler Field, Oahu, Honolulu, to fly her Lockheed Vega across the eastern Pacific to Oakland, California. Earhart lands after 18 hours 15 min.
January 12 1916 - German aces Max Immelmann (born in OSuth Africa) and Oswald Boelcke, with 8 kills, are the first pilots awarded with Pour le Mérite ("the Blue Max")





TAIWAN PILOTS COULDN'T SEE RUNWAY 21 SECONDS BEFORE CRASH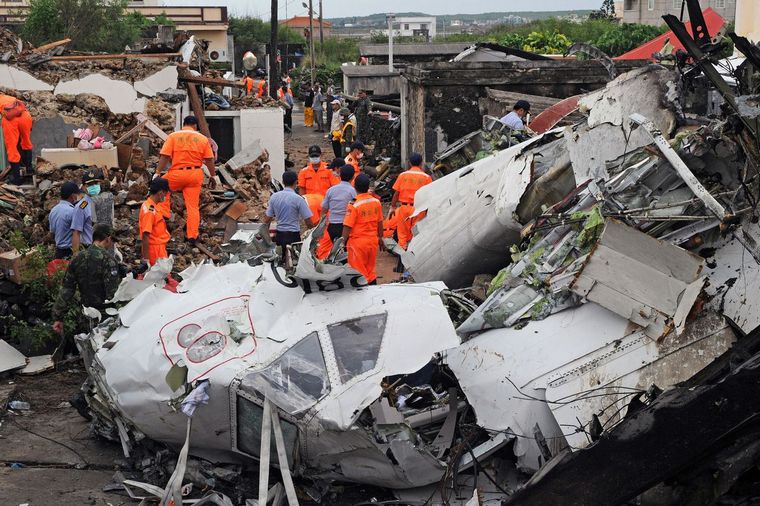 Rescue workers and firefighters search through the wreckage where Transasia Airways
Pilots of a fatal July 23 TransAsia Airways Corp. (6702) flight couldn't find the runway seconds before their aircraft crashed on Taiwan's outlying Penghu islands, killing 48 people, according to an accident report published today.
"Have you seen the runway?" the captain of flight GE222 asked his first officer in Mandarin as their aircraft approached Magong Airport. "No," the first officer responded clearly after nine seconds. The cockpit voice recording ended 12 seconds later, a transcript of the tape shows.
Ten people survived when the domestic flight from Taiwan's southern Kaohsiung Airport hit houses in Penghu's Xixi Village near the runway. The report is a factual account and doesn't draw any conclusion or lay blame for the crash, Aviation Safety Council spokeswoman Sherry Liu said in an interview.
A draft assessment is expected to be completed in June with the final report to be published in October, the council said in a press statement today.
The two pilots of the ATR 72-500 twin-engine turbo-propeller aircraft knew that weather conditions fell below minimum requirements required to land at Magong when they took off from Kaohsiung at 5:45 p.m. on July 23, the council said. The same pilots had flown from Magong to Kaohsiung earlier in the day, it said.
The domestic flight usually takes 35 minutes, according to schedules posted on the Kaohsiung airport Website. Typhoon Matmo passed Taiwan earlier that day and had reached coastal China by early afternoon.
Thunderstorms
About 26 minutes after takeoff, flight GE222 was put in a holding pattern for 34 minutes during which time air traffic control reported wind conditions that would provide a headwind for aircraft landing at south-facing Runway 20, according to today's statement. Aircraft usually takeoff and land into a headwind because it provides more lift at slower speeds.
At 6:21 p.m., while GE222 was flying circles in the skies between Penghu and mainland Taiwan, aircraft were advised that thunderstorms around Magong would likely continue for another hour. The thunderstorm warning was repeated 20 minutes later.
While wind conditions pointed to Runway 20, the pilots twice requested permission to land at the opposing north-facing Runway 02, which would give them a tailwind. Runway 02 has an advanced Instrument Landing System, or ILS, which assists pilots to fly the correct direction, altitude and glide slope. Their requests weren't approved by Taiwan's military, which also operates at the airport.
Runway 02
At 7:03 p.m., one hour and 48 minutes after takeoff and with the pilots established on their final approach path, GE222 was given permission to land at Runway 20 which has more basic navigation systems than Runway 02. That clearance was given six minutes after a similar aircraft operated by UNI Air landed successfully on the same Runway 20, the report shows. The UNI Air flight had also requested Runway 02 and didn't get approval.
At 7:05 and 54 seconds, two minutes after getting landing clearance, GE222 passed below 200 feet and reached a critical moment called Missed Approach Point, at which pilots are required to discontinue the landing and execute a go around if they can't see a prescribed visual reference, usually the runway.
Unseen Runway
Four seconds later Captain Lee Yi-lian, with almost 23,000 hours of flight time, asked his fateful question.
In the seconds it took for the aircraft to climb, bank sharply to the left and then point nose down, first officer Chiang Kuan-hsing replied in the negative.
"No," Captain Lee echoed.
"No, sir," his first officer repeated.
Four seconds later flight GE222, with 58 people on board, had descended to 72 feet, barely above the height of nearby trees.
"Go around," they both called, boosting the engines' throttle just seconds before the cockpit voice recorder captured an unidentified sound. Flight data shows an engine had slowed and the pitot tube, which sits on the outside of the plane and is used to measure airspeed, had been broken.
"Go around, go around," the first officer radioed to the Magong control tower in English. "Roger," came the reply.
Less than a second later, a final unidentified sound was heard before the voice recorder fell silent at 7:06 p.m.

NETJETS ADDS 10 SIGNATURE SERIES PHENOM 300S TO EMBRAER AIRCRAFT ORDER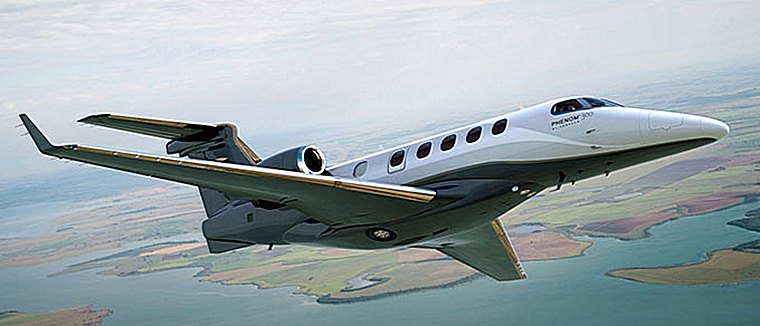 Embraer Executive Jets and NetJets® Inc., a Berkshire Hathaway company and the worldwide leader in private aviation, have signed an agreement to convert 10 Signature Series Phenom 300 purchase options into firm orders. At current list prices, this addition to the contract is worth US$ 89.55 million, which will be included in the backlog of the fourth quarter of 2014. In October 2010, a purchase agreement was signed for 50 firm and 75 options. The total value of the deal may exceed US$ 1 billion, if all options are exercised.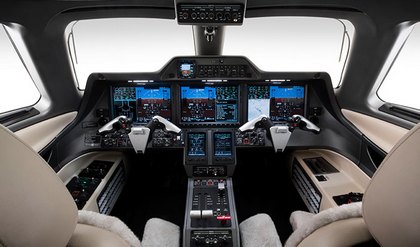 "NetJets' addition of 10 aircraft to their order reaffirms the success of the Signature Series Phenom 300 and of our relationship," said Marco Túlio Pellegrini, President & CEO, Embraer Executive Jets. "The Phenom 300's market acceptance continues to grow in the fractional and corporate markets, having recently become the most delivered business aircraft."
Embraer has now delivered 36 Signature Series Phenom 300s to NetJets. These aircraft operate in the NetJets fleet, with fractional owners in the U.S. and Europe. Deliveries of the 10 additional aircraft will begin as of January 2016.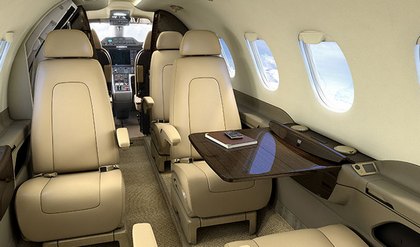 "The Signature Series Phenom 300 is an outstanding light jet and the fastest selling aircraft ever in NetJets fleet," said NetJets Senior Vice President of Global Asset Management Chuck Suma. "The Signature Series Phenom 300s are customized by adding special features, including advanced in-flight entertainment, a custom cabin design including specially selected fabrics and materials, enhanced seating, broad spectrum lighting and spacious storage features, as well as the most advanced avionics and technological features to ensure maximum safety, reliability and operating efficiency."
About NetJets
NetJets® Inc., a Berkshire Hathaway® company, is the worldwide leader in private aviation with the largest and most diverse private jet fleet in the world. NetJets began in 1964 as the first aircraft charter and management company in the world. In 1986, NetJets pioneered the concept of fractional aircraft ownership - offering individuals and businesses all of the benefits of whole aircraft ownership and more, at a fraction of the cost. Today, NetJets offers a full range of private aviation solutions through its programs in North America and Europe, including NetJets Shares™, NetJets Leases™ and the Marquis Jet Card®, which provides access to NetJets through a 25-hour jet card.
The North America program is managed and operated by NetJets' subsidiary NetJets Aviation, Inc., and the European program is managed and operated by NetJets Transportes Aereos, SA, a Portuguese/EU Air Carrier. In the United States, NetJets also offers aircraft management and on-demand charter services through its subsidiary, Executive Jet Management, Inc. Subject to obtaining relevant regulatory approvals, NetJets will also offer aircraft management and charter services in China through NetJets China Business Aviation Limited, a joint venture between NetJets and a consortium of Chinese investors. The NetJets companies offer worldwide flight operations. More information on NetJets, NetJets Europe, the Marquis Jet Card, and Executive Jet Management is available at www.netjets.com.
About the Phenom 300
The Phenom 300 performs among the top light jets, with a high speed cruise of 453 knots and a six-occupant range of 1,971 nautical miles (3,650 km) with NBAA IFR reserves. This range allows nonstop flights from Miami to Telluride, or Los Angeles to Orlando. With the best climb and field performance in its class, the Phenom 300 costs less to operate and maintain than its peers. The aircraft is capable of flying at 45,000 feet (13,716 meters), powered by two Pratt & Whitney Canada PW535E engines with 3,200 pounds of thrust each.
The Phenom 300 offers a spacious cabin, designed in partnership with BMW Designworks USA, and the largest baggage compartment in its category. The largest windows in the class deliver abundant natural lighting in the cabin as well as in the private lavatory in the back of the aircraft. The comfort of the seats, with recline and full movement capability, is enhanced by the best pressurization among light jets (6,600 ft. maximum cabin altitude). The Phenom 300 features distinct temperature zones for pilots and passengers, a wardrobe and refreshment center, voice and data communications options, and an entertainment system.
The pilot-friendly cockpit enables single-pilot operation and offers the advanced Prodigy Touch Flight Deck option. The features it carries from a class above include single-point refueling, externally serviced lavatory, and an air stair.
Jet Airways Flight Makes Emergency Landing At Kathmandu Airport After Bird Hit
A member of the Nepalese army tries to shoot down an eagle before VVIP's arrival flights at the Tribhuvan International Airport in Kathmandu ahead of the 18th South Asian Association for Regional Cooperation (SAARC) summit in Kathmandu on Nov. 25, 2014. Reuters/Navesh Chitrakar
A Jet Airways flight from Mumbai, India, to Tribhuvan International Airport in Kathmandu, Nepal, made an emergency landing Monday after being hit by a bird and catching fire, according to reports. The Boeing 737 reportedly had 125 passengers and six crew members on board.
"Jet Airways flight 9W 268 Mumbai to Kathmandu B737 experienced a bird ingestion on approach and continued the flight with an uneventful and safe landing at Kathmandu," the airline said in a statement, according to the Press Trust of India.
According to the Hindustan Times, a local daily, the plane's rear section caught fire during landing, but the fire was put out and the passengers and crew were evacuated without harm.
"A bird hit the aircraft as it was about to land. But the aircraft landed without any problem at 12:05 Nepal time (11:50 IST) and all passengers are safe," a duty officer at Tribhuvan International Airport told the Hindustan Times.
Tribhuvan International Airport is Nepal's only international airport, and is located at an elevation of about 4,400 feet above sea level.
BOEING, U.S. AIR FORCE ACHIEVE SUCCESSFUL FIRST TEST FLIGHT FOR KC-46 TANKER PROGRAM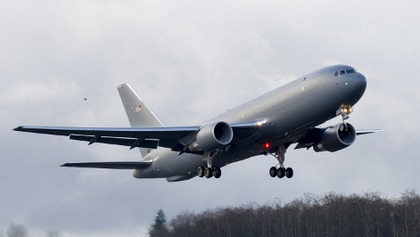 Boeing and the U.S. Air Force successfully completed the first flight of the KC-46 tanker test program today. The plane, a Boeing 767-2C, took off from Paine Field, Wash., at 9:29 a.m. (PST) and landed three hours and 32 minutes later at Boeing Field. The aircraft will receive its military systems following certification.
As part of a contract awarded in 2011 to design and develop the Air Force's next-generation tanker aircraft, Boeing is building four test aircraft - two 767-2Cs and two KC-46A Tankers. The 767-2Cs enter flight test as commercial freighters prior to receiving their aerial refueling systems, while the KC-46s will fly as fully equipped tankers through the FAA and military certification process.
Boeing is on contract to deliver the first 18 of 179 KC-46 aircraft to the Air Force by 2017.
AIR TANZANIA PILOTS LEAVE PASSENGERS TO COMOROS STRANDED


More than 100 passengers are stranded after pilots at Tanzania's main airport failed to report to work following their Christmas break, officials said.
They were due to have flown on 27 December from Dar es Salaam to Comoros and other destinations. Angry passengers accused the carrier, state-owned Air Tanzania, of treating them badly. An Air Tanzania spokeswoman said it did not know why the pilots had failed to turn up for work.
The pilots were off on Christmas Day and the next day and were expected back at work on Saturday. "We feel that there could be a problem because this is not a normal occurrence," said the spokeswoman, Lily Fungamtama. "We apologise to all our passengers for the inconvenience and we have done all we can to book alternative flights so they can go back to their travel schedules," she added.
One passenger told the BBC she is no longer sure she can trust what the airline says, as it had repeatedly broken its promise about when the flight would leave. Passengers flying to the Tanzanian towns of Kigoma in the north-west and Mtwara in the south had been stranded, along with those heading for Comoros, reports the BBC's Tulanana Bohela from Dar es Salaam.
The passengers, who include women and children, are being accommodated in small hotels in and around the city, she says.
APOLLO 13 'SUCCESSFUL FAILURE' TO BE COMMEMORATED AT EAA AIRVENTURE OSHKOSH 2015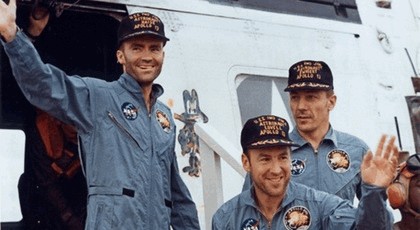 Fred Haise (left), Jim Lovell, and Jack Swigert emerge from the recovery helicopter on board the aircraft carrier Iwo Jima after being retrieved from the Apollo 13 capsule. 17 April 1970.
One of the most harrowing and triumphant adventures in space exploration history will be commemorated at EAA AirVenture Oshkosh 2015, as members of the Apollo 13 crew and team will participate in activities marking the 45th anniversary of what was called the "successful failure" of the aborted moon mission.
Apollo 13 mission commander Jim Lovell and flight director Gene Kranz will lead the members of the mission team participating in activities at Oshkosh. They will recount the preparations for what was planned as the third manned mission to the moon, the circumstances surrounding the malfunction that threatened the crew, and the ingenuity and determination that allowed the astronauts' safe return to Earth.
EAA AirVenture 2015, the 63rd annual EAA fly-in convention, will be held July 20-26 at Wittman Regional Airport in Oshkosh. The final schedule and list of additional Apollo 13 team members are still being established. Exact schedules and activities will be announced as they are confirmed.
Lovell is one of America's most experienced astronauts, with flights on four missions. After flying aboard Gemini 7 and Gemini 12, he was command module pilot for the famed Apollo 8 mission that in December 1968 became the first manned mission to orbit the moon. His flight in Apollo 13 was portrayed by Academy Award-winning actor Tom Hanks in the 1995 movie Apollo 13.
Kranz was one of Apollo's most experienced flight officers during the 1960s, and was a top official in NASA mission operations until his retirement in 1994 with experience stretching from the early Mercury flights through the space shuttle program. Most recognized with his trademark vest that he wore in NASA Mission Control, he was portrayed by actor Ed Harris in Apollo 13, whose performance earned an Academy Award nomination.
Both Lovell and Kranz have visited the EAA fly-in convention on several occasions, most notably in 1994 when the memorable "Salute to Apollo" program recognized the 25th anniversary of the first successful manned moon landing. Both men are also avid aviation enthusiasts with military aviation backgrounds.
WORLD'S OLDEST AIRWORTHY JET RETURNS TO U.S.



A unique F-86A Sabre that has the distinction of being the world's oldest flying jet recently arrived back in the United States after several decades in Europe, and the primary goal of its new owner is to bring it to EAA AirVenture Oshkosh 2015.
The jet (S/N 48-178) was built in February 1948 and was the 50th A model off the line at the North American factory in Inglewood, California. The early pioneer of the jet age is considered an excellent example of a true machine-age icon as it doesn't have a single semiconductor.
The airplane was released to the United States Air Force Materiel Command in February 1949 and entered service with the U.S. Air Force in April that year at March Air Reserve Base, California.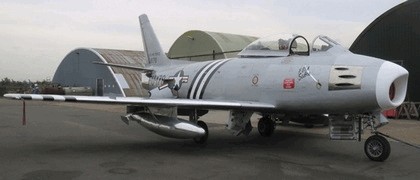 The only surviving "A" model currently flying, its service history includes Strategic Air Command, Air Defense Command, and the California Air National Guard. It flew in defense of the Los Alamos nuclear research facility with the 94th Fighter Squadron of the 1st Fighter Group. The Sabre was later transferred to a technical college in Fresno, California, and then sold to a local scrap dealer where, thankfully, it wasn't scrapped. It and another F-86A in the same scrap yard were purchased by Ben Hall of the Sabre Pilots Association in 1970 and the extra parts helped to restore 48-178 to airworthy condition four years later.
The airplane flew again on May 24, 1974, and continued to fly regularly in North America (one of its pilots included the legendary Bob Hoover). It was sold in October 1983 and operated by John Dilley of Fort Wayne Air Services through 1990 when Robert Horne, founder of the Golden Apple Trust, acquired it and brought it to the UK, and the F-86A has flown on the European air show circuit for the past 22 years operated by Golden Apple Operations Ltd.
Dr. John Swartz, EAA Lifetime 1075948/Warbirds 596506, of Afton, Oklahoma, recently acquired the aircraft, had it disassembled and shipped to Heritage Aero, Rockford, Illinois. That's where the airplane is now, according to Heritage owner Cliff Wilewski, EAA 145720/Warbirds 12444.
"We're going to take a breather for the rest of December and do the reassembly in January and February," Wilewski said. "We plan to have her flying by early March." The goal is to complete assembly and achieve FAA certification in time for EAA AirVenture Oshkosh 2015, which occurs July 20-26.
America's gain is Europe's loss; this was the only flying Sabre jet of any kind on the continent and was based at the Imperial War Museum in Duxford, England. Read the recent feature story by Global Aviation Resource for a retrospective on the F-86A.