THIS WEEK IN MIDWEEK UPDATE


Plan your weekend
Forthcoming events
This week in aviation history
Aviation News
Advertising rate card

30 January: Dias Festival Mossel Bay airshow. Contact Horace Blok e-mail hab@habac.co.za 083 261 6300
30 January: Sports Aerobatics Club Western Cape regionals - Mossel Bay. Contact Annie Boon chunge@mweb.co.za
31 January: SAPFA Fun Rally Rand Airport. Contact Frank Eckard e-mail: frank.eckard@mweb.co.za cell: 083 269 1516

7 February: SAAF Museum flying training and open days. Contact Capt. Kobus Kapp 012 351 2342 or E-mail: webmaster@saafmuseum.org
7 February: MISASA Best of the Best at Kitty Hawk Wings - Wheels - Water Showcase. Contact: John Boucher e-mail: comms@misasa.org Cell: 082 553 1105 or Alan McKenzie e-mail: nemo@webo.co.za Cell: 082 373 4947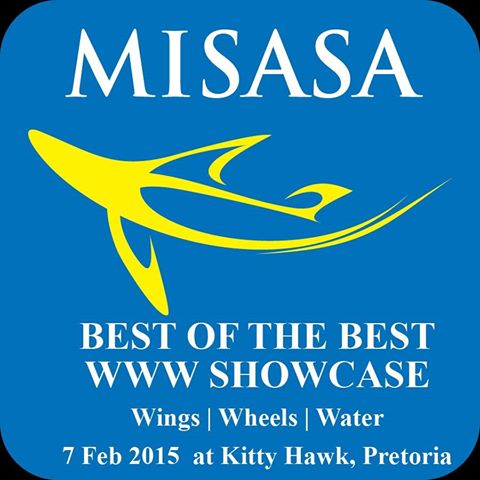 27 February-1 March February: Swellengrebel fly-in. Contact Pieter Venter pventer@vgv.co.za Cell: 083 250 9504
28 February: Bethlehem Aero Club annual Sling, Bushbaby and chopper fly-in. Contact Izak Venter e-mail: izak@motsu.co.za or Francois Marais e-mail:
info@stanfra.co.za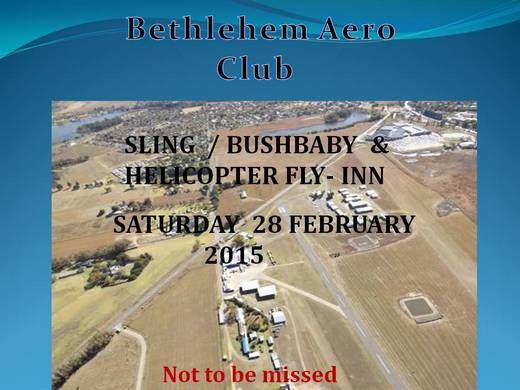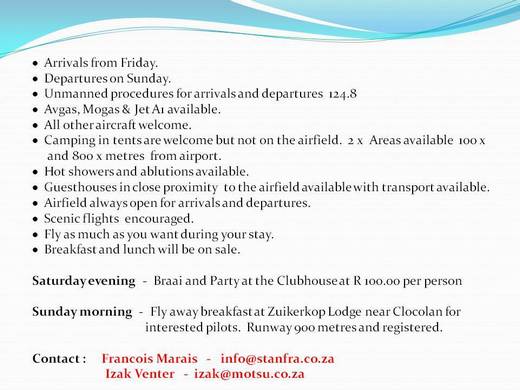 7 March: SAAF Museum flying training and open days. Contact Capt. Kobus Kapp 012 351 2342 or E-mail: webmaster@saafmuseum.org
7 March: SAPFA Fun Rally Stellenbosch. Contact Alewyn Burger email
alewyn@burger.org.za
21 March: SAPFA Fun Rally Virginia Airport. Contact Mary de Klerk e-mail:
maryd@expandingbranding.co.za
21 March; Touring Motor Glider Fly-in Kittyhawk. 2015. Contact Marietjie van Niekerk 0827656670 marietjievn@gmail.com
21-22 March: RV's at Parys. Pylon event, a formation competition, an aerobatics event (competition?) as well as possibly a "best build" competition. Contact Scully Levin e-mail: flyboys@global.co.za
27 March: Bethlehem fly-in and Riana Nel show. Contact Jacolene Jacobs 082 854 1003
28 March: Bethlehem Aero Club fun navigation rally. Contact Izak Venter e-mail: izak@motsu.co.za or Francois Marais e-mail:
info@stanfra.co.za
or
27 - 28 March: Uitenhage Wings & Wheels festival. Contact Lourens Kruger 082 320 2615 Website: www.wingsandwheelsfestivalutenhage.co.za
28 - 29 March: Sports Aerobatics Club North-West regionals - Klerksdorp. Contact Annie Boon
chunge@mweb.co.za
4 April: SAAF Museum flying training and open days. Contact Capt. Kobus Kapp 012 351 2342 or E-mail: webmaster@saafmuseum.org
11 April: Fashkosh (Stellenbosch) Website: www.stelfly.co.za Contact Alewyn Burger Alewyn@burger.org.za Cell: 082 416 1951
15 to 18 April: AERO Friedrichshafen dedicates itself in offering a significant collection of aviation related products and accessories. Exhibitors will be showing engines, modern ultra-lights, powered aircraft, avionics and related products and services. Over the years, this show has gained huge reputation from all over the world and the positive reaction from the attendees has motivated the exhibitors to improve the existing range and manufacture more such effective spare parts and products. For further information on the tour African Pilot is planning please send an e-mail to Athol Franz: editor@africanpilot.co.za. The idea is to get a package deal together for about 10 to 12 persons wishing to visit AERO Friedrichshafen.
17 & 18 April: Zebula airshow. Contact: Paul Weich 083 290 6525 e-mail:
pdweich@mweb.co.za
or Chris Potgieter 083 314 1669 e-mail: ChrisPotgieter@flysaa.com
18 to 29 April: Sun 'n Fun Tour 2015, Lakeland, Florida, USA. Contact Neil Bowden: e-mail:
neil1@telkomsa.net
.
Neil Bowden will once again be organising a tour to the USA's second largest fly-in, the Sun 'n Fun Fly-in and International Expo. In addition to the airshow, we will be arranging an excursion to the Kennedy Space Centre. A great new feature here is the Space Shuttle Atlantis exhibition building housing the original Atlantis Shuttle. Also planned is a visit to the Kermit Weeks Fantasy of Flight Museum which is home to some very rare aircraft and while we are in the area there are planned visits to the theme parks - Disney and Universal. The price is from R14 750 per person plus airport tax (about R7 400).
25 April - 2 May: 8th NAC Fly Away Namibia. Contact Deneys Potgieter 082 891 4354 or deneys.potgieter@nac.co.za
29 April-3 May: Aero Club Air week at Parys airfield contact Kev Storie 011 082 1100 Website: www.aeroclub.org.za

January 29 1959 - The first jet passenger service across the United States is begun by American Airlines using Boeing 707 jet airliners.
January 29 1939 - Carl Bode sets an altitude record of 3427 m with the 2nd prototype helicopter Focke-Wulf Fw 61.
January 29 1918 - First unqualified air combat victory at night against another aeroplane takes place, when two Sopwith Camels of No.44 Squadron shoot down a Gotha bomber during a raid on London.
January 30 1988 - A Boeing 747 sets a new around-the-world record of 36 hours 54 min
January 30 1948 - Orville Wright, generally credited as co-inventor of the airplane, dies at 76
January 30 1943 - Royal Air Force de Havilland Mosquitos make the first daylight air-raid on Berlin
January 30 1934 - Soviet pilots Pavel Fedossenko, Andrey Vasenko, and Ilya Usyskin take the hydrogen-filled high-altitude balloon Osoaviakhim-1 on its maiden flight to a record-setting altitude of 22,000 m (72,160 ft), where it remains for 12 min. The 7 h 14 min flight - during which the balloon travels 470 km (292 miles) from its launch site - Ends in tragedy when the crew loses control of the balloon during its descent and the gondola disintegrates and crashes near the village of Potizh-Ostrov in the Insar district of Mordovia in the Soviet Union, killing the crew.
January 31 1970 - Mikhail Mil dies, aged 61. He was the founder of the Mil Moscow Helicopter Plant, which is responsible for many of the well-known Russian helicopter models, notably the Mil Mi-24 'Hind'.
January 31 1961 - American space mission Mercury-Redstone 2 (MR-2): Ham the Chimp is the first chimpanzee launched into outer space in the American space program. He flew 16 min in Mercury spacecraft No. 5.
January 31 1951 - Captain Charles Blair flies a P-51 Mustang (christened "Excalibur III") piston engine fighter non-stop from New York to London to test the jet stream, traveling 3,478 miles (5,597 km) at an average speed of 446 miles per hour (718 km/h) in 7 hours 48 min.
February 1 1920 - The South African Air Force is established as an independent air arm.
February 2 1970 - An Convair F-106A-100-CO Delta Dart, 58-0787, of the 71st Fighter-Interceptor Squadron, out of Malmstrom AFB, (the Cornfield Bomber), piloted by Capt. Gary Faust, enters a flat spin during air combat maneuvering (ACM) over Montana. Faust follows procedures and ejects from the aircraft. The resulting change of balance causes the aircraft to stabilize, and it lands wheels up in a snow-covered field, suffering almost no damage. The aircraft is then sent back to base by rail, repaired and returned to service. Preserved initially at Griffiss AFB, New York, it is now on display at the National Museum of the United States Air Force.
February 3 1985 - First flight of the Atlas XH-1 Alpha, a South African prototype attack helicopter, used as a concept demonstrator for the then-planned Rooivalk project.
February 3 1966 - Luna 9, an unmanned Soviet spacecraft, makes the first successful landing on the Moon.
February 3 1859 - Birth of Hugo Junkers, innovative German engineer, as his many patents in varied areas (gas engines, aeroplanes) show, pioneering the first great changes in aviation materials and design technology.
February 3 1935 - Hugo Junkers German engineer and aircraft designer, who pioneered the first great changes in aviation materials and design technology died.

SOUTH AFRICAN AEROBATIC CHAMPION NIGEL HOPKINS FLIES WITH BREITLING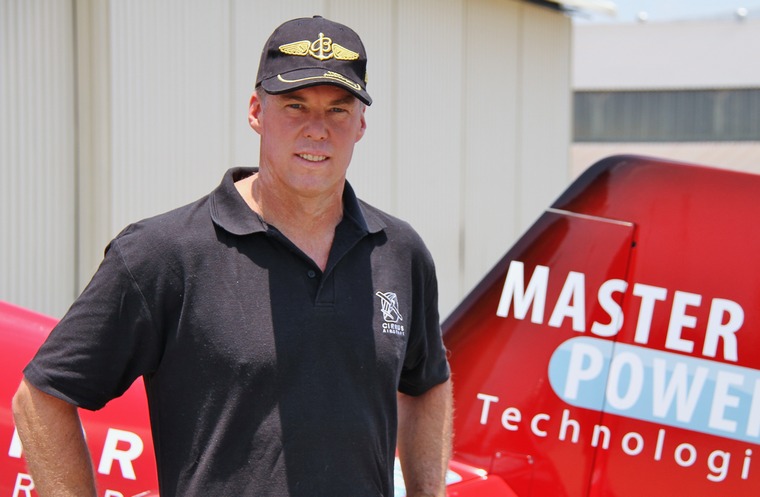 Nigel Hopkins, the well-liked pilot, easily recognisable in his bright red MX2, connects with the brand with the winged B, in a partnership under the banner of passion, style and high performance.
"I am proud to be associated with this legendary brand which has contributed so much to the development of aeronautics and is the representative par excellence of the aviator's watch" enthuses Hopkins.
The 41 year-old South African Aerobatic Champion has 20 years of display flying experience, and 10 years of competitive aerobatic experience. He is South Africa's most decorated FAI Pilot and a top airshow and aerobatic pilot in the country.
Apart from his aerobatic flying, Nigel is the Airbus A319/A320 Chief Training Captain at SAA and has over 17,000 hours flying experience. He is rated on, and has flown 125 different aircraft types, has a CAA test pilot rating, and is a designated flight examiner.
His slew of achievements and awards include seven times SA National Rally Flying Champion; five times SA National Precision Flying Champion; twice SA National Aerobatic Champion, World Rally Flying Champion and a Vice World Advanced Aerobatic Champion.
About Breitling:
A specialist of technical watches, Breitling has played a crucial role in the development of the wrist chronograph and is a leader in this complication. The firm has shared all the finest moments in the conquest of the skies thanks to its sturdy, reliable and high-performance instruments. The world's only major watch brand to equip all its models with chronometer-certified movements, the ultimate token of precision, Breitling is also one of the rare companies to produce its own mechanical chronograph movements, entirely developed and manufactured in its own workshops. This family business is also one of the last remaining independent Swiss watch brands.
SAA CELEBRATES 50 YEARS OF DIRECT FLIGHTS BETWEEN SOUTH AFRICA AND MAURITIUS; FREQUENCY INCREASES DRIVEN BY DEMAND-SIDE GROWTH


South African Airways (SAA) this year celebrates a half-century of direct flights between Johannesburg and Mauritius. The airline presently operates daily flights on the route with a recent 9% increase in frequency resulting in twice daily operations on Thursdays with double flights too on Saturdays and Sundays. The route was one of SAA's first African destinations and has shown sustained growth over the past fifty years.
The airline first introduced flights between Johannesburg and the Indian Ocean Island in 1957 as a refuelling stop on route to Perth with direct end-point flights commencing 8 years later. "Mauritius has remained an important destination for SAA throughout its history," says SAA Acting CEO Nico Bezuidenhout. "Recent frequency additions on several key African routes, including Mauritius, hold strategic commercial value for the business and forms part of the impetus of the LTTS (Long-Term Turnaround Strategy). Mauritius remains one of the fastest growing economies on the continent with consistent demand-side growth in both business and leisure travel."
Load factors on the route continue to perform positively with growing trade and economic development driving business travel outside of traditional seasonal leisure trips. Mauritius has enjoyed consistent real GDP growth at an aggregate of 5,9% since 1995. "There has been a marked increase in inbound directional travel from the island to Johannesburg, too," says Bezuidenhout, "with Johannesburg serving as hub and entry point into other African, American and European destinations." SAA serves as patron to the South African Chamber of Commerce in Mauritius to further advance is business community engagement.
It all started on 25 November 1957 when SAA introduced a fortnightly DC-7B service across the Indian Ocean from Johannesburg to Perth in partnership with Qantas, stopping at Mauritius and the Cocos Islands. This flight took 25 hours and was known as the "Wallaby service". On 7 May 1965, the SAA DC-7B service to Australia via Mauritius was increased to a weekly service. The DC aircraft was retired from the SAA fleet in 1967 and Mauritius became an online station as from 1965.
On 29 March 1967, SAA started operating the B707 to Australia via Mauritius only. The Coco Islands stop was removed and on 17 May 1967 the Boeing 707 aircraft set up a new record for the flight between Mauritius and Perth covering 3,740 miles in just 5 hrs 32 minutes.
The Mauritius route is served by the Airbus A320, the latest arrival in the SAA fleet.
TITAN ACCEPTS DELIVERY OF AFRICA'S FIRST S-76D™ HELICOPTER

Titan Helicopter Group (THG) has accepted delivery of the first S-76D™ helicopter that will operate in Africa. The aircraft is configured for offshore service.
The S-76D helicopter that THG will operate will be on lease from Milestone Aviation Group. Milestone has 86 Sikorsky aircraft in its fleet with 55 S-92® helicopters and 31 S-76® aircraft including four S-76D helicopters.
"The S-76D helicopter has quickly spread to various markets around the world, and Africa is another key region with many potential customers," said Ed Beyer, Vice President, Sikorsky Commercial Systems & Services. "It's always a pleasure to work with Titan as well as Milestone Aviation, and we can't wait to see how the S-76D will elevate their business.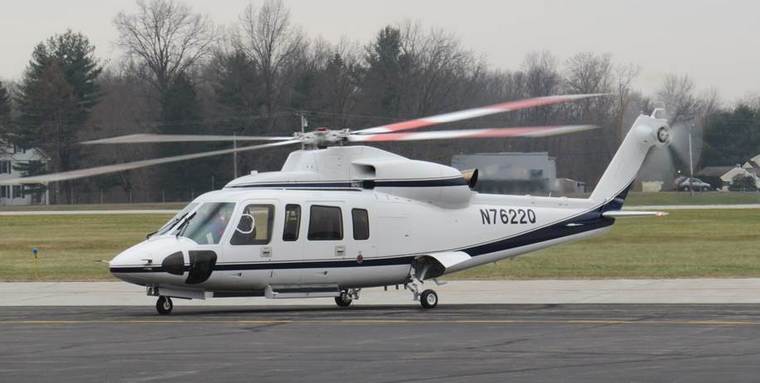 Titan Helicopter Group (THG) was established in 1993 and is headquartered in South Africa. Its fleet currently features Sikorsky S-76 A++™, S-76C™ and S-76C+™ helicopters as well as the S-61N™ aircraft
"The S-76D is the medium-sized aircraft of choice for various offshore customers in Africa, and THG is excited to be the first operator to introduce the aircraft on the continent," said Jide Adebayo, COO of Titan Helicopter Group
"We are proud to commence a partnership with Titan Helicopter Group and help this long-standing S-76 operator expand its fleet and capabilities with the S-76D," said Robert Thor Dranitzke, Managing Director of Milestone Aviation Group. "We believe that Titan and the S-76D will achieve great success on the African continent."
Sikorsky has delivered more than 800 S-76 helicopters to customers globally since 1979, contributing daily to a growing 6.5-million-plus fleet flight hours total.
The new generation S-76D helicopter, through its application of modern technologies, provides a substantial increase in performance, power and authority. The S-76D helicopter's baseline equipment includes powerful and efficient Pratt & Whitney Canada PW210S engines; an advanced THALES TopDeck® integrated avionics system and four-axis autopilot; Health and Usage Monitoring System (HUMS) incorporated into fleet monitoring and analysis; active vibration control; and all-composite, flaw-tolerant main rotor blades.
In addition to the oil and gas sector, the S-76D is in high demand for VIP and executive personal transport. For more than three decades, corporate executives and heads of state have recognized the S-76® helicopter as the standard of excellence for personal transportation. S-76D helicopter VIP options include a customized interior with seating for five to eight passengers. Uniquely, the S-76D helicopter can hold its rotor system still while running an engine to power the on-board air-conditioning system for safe, comfortable loading and unloading into the pre-cooled cabin during the summer season and hot climates. In the future the S-76D helicopter will be certified to fly in icing conditions via optional de-icing capability for the main and tail rotor blades. Sikorsky's exclusive active vibration control and Quiet Zone™ transmission technology provide extraordinarily smooth and quiet cabin conditions allowing normal conversations.
Sikorsky Aircraft Corp., based in Stratford, Connecticut, is a world leader in aircraft design, manufacture and service. United Technologies Corp., based in Hartford, Connecticut, provides high-technology products and support services to the aerospace and building systems industries.
SOUTH AFRICA LEADS SKY-COMMERCE WITH WORLD FIRST AIRCRAFT TRACKING AND REAL-TIME PAYMENT INNOVATION; SAA FIRST AIRLINE TO ACTIVATE GLOBALLY

South African Airways (SAA) this week becomes the first airline globally to install the SatAuth (Satellite Authorisation Systems) solution. The system, first installed on the airline's cabin trainer for testing in May last year, will not only allow secure credit card transactions anywhere in the skies but also provide pin-point accurate aircraft tracking services for operational purposes. South African Airways Technical (SAAT) developed the testing and engineering procedures for airline maintenance facilities around the world.
SAA installed the device on one of its Airbus A340-300 aircraft (Registration: ZS-SXE) at the SAAT maintenance facility in Kempton Park, Johannesburg. "SAAT engineers worked closely with the developers of the solution," says SAAT CEO Musa Zwane, "to ensure certification and engineering procedures, ultimately realising the usability of the product within an aviation environment." The system will allow for secure credit card transactions at any point and real-time positioning of any flight, anywhere, impacting fuel saving interventions in-flight as well as providing full visibility of actual flight paths versus planned routing at any time. SatAuth is the first product of its kind, developed in South Africa.
SAAT will manufacture all major aircraft components required for installation of SatAuth in accordance with the international Aviation Certification standards required for installation. "This provides SAAT with substantial commercial impetus with a new revenue stream," says Zwane. "Today's installation is the first of its kind in the world and marks a new milestone in South African avionics engineering; it's another affirmation of the quality, skill and expertise that SAAT offers in terms of its aircraft maintenance and overhaul facilities."
Installation of the solution can be done during a standard 'A-Check' - a regular overnight maintenance procedure that occurs every 200-400 cycles (take offs and landings). "SatAuth will provide an economical and secure transaction environment. As a truly South African innovation, the solution would not have reached this milestone without the dedicated support of the SAA Avionics engineers who took it upon themselves to assist us in guiding the SatAuth Solution through the numerous certification requirements so endemic to the aviation industry," says Paul Roux founder and CEO of the SatAuth solution.
SAA plans to install SatAuth across its entire long-haul fleet over time.
DRUNK CHINESE TRAVELLER SPARKS MID-AIR SAFETY SCARE BY TRYING TO OPEN DOOR AS AIRCRAFT LANDS


Photo: SCMP Pictures Only last month, a Chinese passenger on board an internal Xiamen Air flight from Hangzhou to Chengdu sparked a safety scare by yanking open an emergency exit just before the plane was due to take off to "get some fresh air", Southern Metropolis Daily reported.
In the latest incident, the man had allegedly started quarrelling with other passengers shortly after the plane took off from Changsha, in Hunan Province. The man, surnamed Feng, reportedly attempted to force open the door of a Hainan Airlines flight after fighting with flight attendants and other passengers. However, air marshals on board the aircraft stopped him opening the door, witnesses told reporters of Beijing's Mirror newspaper.
Witnesses claimed the man smelt of alcohol. As the aircraft began its descent he reportedly refused to fasten his seat belt, and then allegedly began fighting with airline staff and passengers as they tried to stop him leaving his seat.
Police detained the man soon after the aircraft landed in Hohhot, Inner Mongolia. China's public security code states that anyone found guilty of disturbing public order on an aircraft should be detained for between five and 10 days and face a fine of up to 500 yuan (about HK$630).
On the same day, the mainland civil aviation authority vowed to increase controls on badly behaved Chinese airline passengers as part of the National Tourism Administration's plan to set up a database that ranks unruly mainland tourists, which will be shared by mainland airlines, hotels and travel agencies.
Source: © Curt Lewis and Associates.
www.curt-lewis.com
BOMBARDIER PAUSES ITS LEARJET 85 PROGRAM AND REVISES ITS 2014 GUIDANCE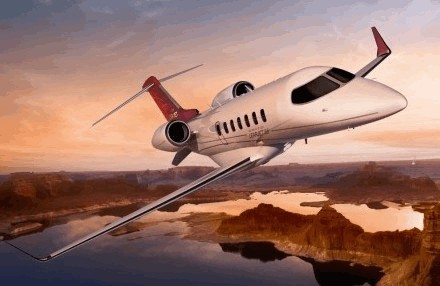 Bombardier Inc. announced the pause of its Learjet 85 business aircraft program. The pause is due to weak demand for the Learjet 85 aircraft and follows a downward revision of Bombardier's business aircraft market forecast. This reflects the continued weakness of the Light aircraft category since the economic downturn. As a result, the Company will record a pre-tax special charge in the fourth quarter of 2014 of approximately $1.4 billion mainly related to the impairment of the Learjet 85 development costs. Additionally, Bombardier will reduce its workforce by approximately 1,000 employees at its sites in Querétaro, Mexico, and Wichita, United States. A severance provision of approximately $25 million will be recorded as a special item during the first quarter of 2015.
"Bombardier constantly monitors its product strategy and development priorities," said Pierre Beaudoin, President and Chief Executive Officer, Bombardier Inc. "Given the weakness of the market, we made the difficult decision to pause the Learjet 85 program at this time. We will focus our resources on our two other clean-sheet aircraft programs under development, CSeries and Global 7000/8000, for which we see tremendous market potential. Both programs are progressing well."
Bombardier's Wichita and Querétaro sites remain critical facilities in key markets. Wichita is a multifaceted facility and is the location of final assembly activities for the Learjet 70 and Learjet 75 aircraft, the Bombardier Flight Test Center as well as a Service Center. In addition to contributing to many of Bombardier's aircraft programs, the Querétaro site recently completed its Global 7000/8000 aft fuselage manufacturing building.
Furthermore, following a review of preliminary results compiled by Bombardier for the fiscal year ended December 31, 2014, it has become clear that certain financial guidance previously provided will not be met. Based on these preliminary results, Bombardier is updating its guidance for 2014.
TWO HAVE MINOR INJURIES IN NATIONAL GUARD HELICOPTER CRASH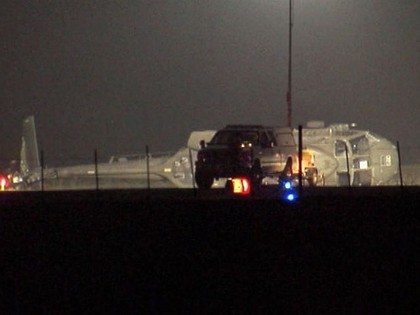 Authorities say a pair of California pilots from the Army National Guard had only minor injuries after a helicopter crash-landed during training at the end of a runway in rural San Diego County.
State fire Capt. Kendal Bortisser says the helicopter came down on its side at Ramona Airport on Tuesday night.
The National Guard said in a statement that the forced landing during a routine training mission caused significant damage to the UH-60 Black Hawk helicopter.
The pilot and co-pilot got out on their own and were treated by paramedics at the scene before being taken to a hospital. Their injuries were not serious.
The cause of the crash is under investigation.
Source: © Curt Lewis and Associates.
www.curt-lewis.com
BOEING MARITIME SURVEILLANCE AIRCRAFT READY FOR DEMONSTRATION FLIGHTS


The Boeing Maritime Surveillance Aircraft (MSA) program is ready for customer demonstration flights, having completed the baseline ground and flight testing of the aircraft mission systems.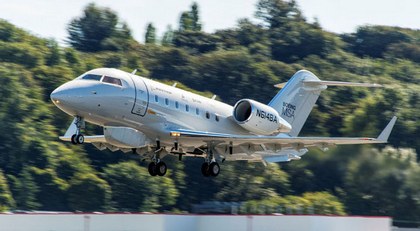 Photo credit: Boeing Flights for prospective customers around the world are scheduled to begin in the coming months. The mission system testing followed last year's airworthiness and certification testing.
"The mission systems flight test program proved the functionality and performance of the on-board sensors and was a huge accomplishment for the MSA team," said David Utz, MSA demonstrator flight test manager.
The testing included hundreds of scenarios to confirm performance of the Automatic Identification System, radar, Electro-Optical Infrared camera, communications radios and data links, Communications Intelligence System and the Electronic Support Measures.
MSA is a multi-intelligence maritime surveillance platform that leverages investments in the P-8A Poseidon and the Airborne Warning and Control System Block 40/45 aircraft mission systems to provide a high capability, low-risk intelligence, surveillance and reconnaissance solution in a mid-size business jet.
The aircraft's potential missions include anti-piracy, immigration patrols, Economic Exclusion Zone enforcement, coastal and border security and long-range search and rescue.