THIS WEEK IN MIDWEEK UPDATE


Plan your weekend
Forthcoming events
Notice Board
This week in aviation history
Aviation News
Advertising rate card

27 February-1 March February: Swellengrebel fly-in. Contact Pieter Venter pventer@vgv.co.za Cell: 083 250 9504
28 February: Bethlehem Aero Club annual Sling, Bushbaby and chopper fly-in. Contact Izak Venter e-mail: izak@motsu.co.za or Francois Marais e-mail:
info@stanfra.co.za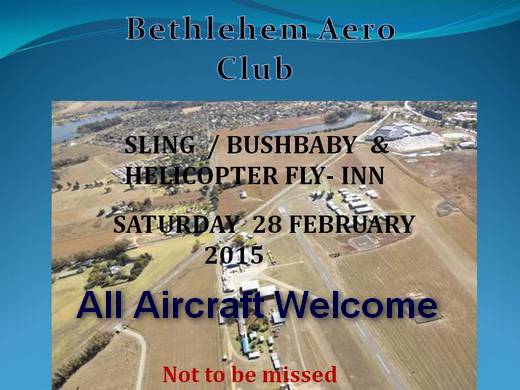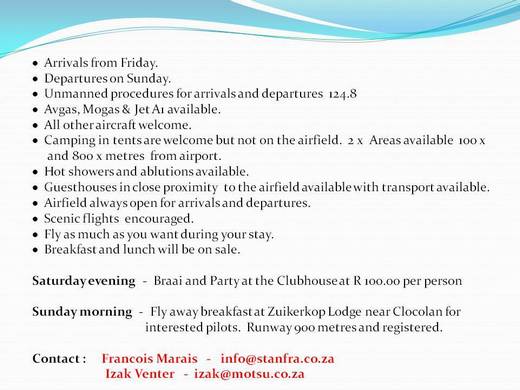 .

7 March: SAAF Museum flying training and open days. Contact Capt. Kobus Kapp 012 351 2342 or E-mail: webmaster@saafmuseum.org
7 March: SAPFA Fun Rally Stellenbosch. Contact Alewyn Burger email
alewyn@burger.org.za
7 March: Coves Breakfast Fly-in. Contact Rudi Geyling 0832459955 or admin@thecoves.co.za
21 March: SAPFA Fun Rally Virginia Airport. Contact Mary de Klerk e-mail:
maryd@expandingbranding.co.za
21 March; Touring Motor Glider Fly-in Kittyhawk. 2015. Contact Marietjie van Niekerk 0827656670
marietjievn@gmail.com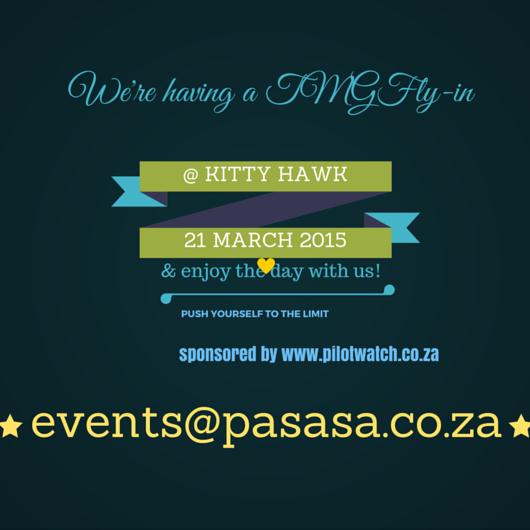 21-22 March: RV's at Parys. Pylon event, a formation competition, an aerobatics event (competition?) as well as possibly a "best build" competition. Contact Scully Levin e-mail: flyboys@global.co.za
27 March: Bethlehem fly-in and Riana Nel show. Contact Jacolene Jacobs 082 854 1003
28 March: Bethlehem Aero Club fun navigation rally. Contact Izak Venter e-mail: izak@motsu.co.za or Francois Marais e-mail:
info@stanfra.co.za
or
27 - 28 March: Uitenhage Wings & Wheels festival. Contact Lourens Kruger 082 320 2615 Website: www.wingsandwheelsfestivalutenhage.co.za
28 - 29 March: Sports Aerobatics Club North-West regionals - Klerksdorp. Contact Annie Boon
chunge@mweb.co.za
4 April: SAAF Museum flying training and open days. Contact Capt. Kobus Kapp 012 351 2342 or E-mail: webmaster@saafmuseum.org
11 April: Fashkosh (Stellenbosch) Website: www.stelfly.co.za Contact Alewyn Burger Alewyn@burger.org.za Cell: 082 416 1951
11 April: Henley Air Annual Skills Day at Rand Airport.
15 to 18 April: AERO Friedrichshafen dedicates itself in offering a significant collection of aviation related products and accessories. Exhibitors will be showing engines, modern ultra-lights, powered aircraft, avionics and related products and services. Over the years, this show has gained huge reputation from all over the world and the positive reaction from the attendees has motivated the exhibitors to improve the existing range and manufacture more such effective spare parts and products. For further information on the tour African Pilot is planning please send an e-mail to Athol Franz: editor@africanpilot.co.za. The idea is to get a package deal together for about 10 to 12 persons wishing to visit AERO Friedrichshafen.
17 & 18 April: Zebula airshow. Contact: Paul Weich 083 290 6525 e-mail:
pdweich@mweb.co.za
or Chris Potgieter 083 314 1669 e-mail: ChrisPotgieter@flysaa.com
18 to 29 April: Sun 'n Fun Tour 2015, Lakeland, Florida, USA. Contact Neil Bowden: e-mail:
neil1@telkomsa.net
.
Neil Bowden will once again be organising a tour to the USA's second largest fly-in, the Sun 'n Fun Fly-in and International Expo. In addition to the airshow, we will be arranging an excursion to the Kennedy Space Centre. A great new feature here is the Space Shuttle Atlantis exhibition building housing the original Atlantis Shuttle. Also planned is a visit to the Kermit Weeks Fantasy of Flight Museum which is home to some very rare aircraft and while we are in the area there are planned visits to the theme parks - Disney and Universal. The price is from R14 750 per person plus airport tax (about R7 400).
25 April - 2 May: 8th NAC Fly Away Namibia. Contact Deneys Potgieter 082 891 4354 or deneys.potgieter@nac.co.za
29 April-3 May: Aero Club Air week at Parys airfield contact Kev Storie 011 082 1100 Website: www.aeroclub.org.za
1 - 2 May: Lowveld Airshow (Nelspruit) Cell: 079 499 5733 Contact Willemien Hodgkinson e-mail: willemien.hodgkinson@ffa.co.za
8 - 9 May: SAAF Museum Swartkop Airshow, Pretoria Contact Lt. Col Mike O'Connor e-mail: oc@saafmuseum.org Tel: 012 351 2290
8 - 10 May: Battlefields fly-in (Dundee) Lourens Roos 082 875 5419
E-mail: stay@battlefieldslodge.co.za E-mail: nan@battlefieldslodge.co.za Website: www.battlefieldslodge.co.za
10 & 11 May: AVIATION AFRICA - Dubai UAE Contact Mark Brown mark.brown@africanaerospace.aero
15 to 17 May: Bethlehem Aero Club / EAA Chapter 1500 fly-in weekend. Contact Izak Venter e-mail: izak@motsu.co.za or Francois Marais e-mail: info@stanfra.co.za
16 May; SAPFA Fun Rally Krugersdorp. Contact Frank Eckard e-mail:
frank.eckard@mweb.co.za









BE OUR MARCH 2015 LUCKY WINNER!!!

At the end of March 2015 one of our readers will be the lucky winner of the book "FACTA NOSTRA VIVENT" by Andrew Embleton so keep sending us your comments and feedback to stand a chance of winning this fabulous part of our South African history.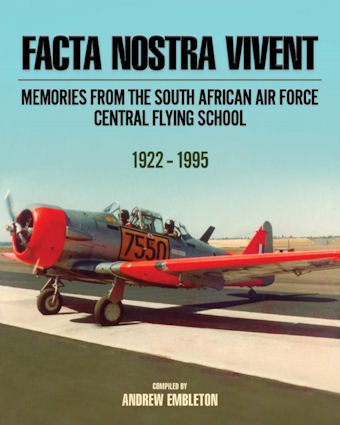 The book covers the early days of flying training in South Africa with interviews with early cadets like Judge Margo and Dr.A.D.Wassennaar. Fritz Johl talks about training in the SAAF from his wealth of knowledge. There is a section on both pupil and instructor training and comments from men who were there.
Flying the Harvard is discussed by various pilots and comparison with the jet Impala Mk I is made. There are descriptions of Zwartkop, Dunnottar and Langebaanweg which was the last location of the CFS.
Over 100 personal contributions were made including some from Commanding Officers like B.J.L. Boyle, Tienie van der Kaay, Ben Vorster and Peter "Crow" Stannard. Well known airmen like Des Barker , Monster Wilkins ,Scully Levin, Karl Jensen, Steyn Venter, Gerrie Radloff, Martin Rutsch, Hobart Houghton, Dave Upfold , Hermann Olmesdahl , Anton Kriegler , Winston Thackwray and historians like Graham du Toit, Steve McClean, Dean Wingrin all helped with memories or answered questions.
Several people who grew up at Dunnottar remember the station as civilians. Two long serving Air Traffic Controllers write about their experiences in handling a very busy airfield with sometimes confused pupils. Memories from some of the Lines book are there and the last days of both Dunnottar and Langebaanweg are recorded. A section of pupes course badges reflects the spirit of the courses in later years. John Austin Williams and Alan Taylor, both highly knowledgeable men assisted in supplying details about the Harvards today.
If you can't wait to be the lucky winner, you can also buy the book by visiting
www.embletonbooks.co.za


February 25 1990 - Smoke-free flights become mandatory throughout North America for all US airlines.
February 25 1975 - Brig. General Chuck Yeager, the first pilot to break the sound barrier, flies his final US Air Force sortie.
February 26 1955 - George F. Smith becomes the first person to survive a supersonic ejection, from a North American F-100 Super Sabre travelling (Mach 1.05).
February 26 1944 - Death of Charles de Lambert, early French aviator, first person in France to be taught to fly by Wilbur Wright and first person to fly around the Eiffel tower.
March 1 1999 - (1-20) The hot-air balloon Breitling Orbiter 3, with pilots Bertrand Piccard and Brian Jones, begins the first non-stop, round-the-world balloon flight. They will complete the flight on March 19, setting a new distance record for any type of aircraft of 40,804 km (25,360 miles). Taking a total time of 19 days, 21 hours and 47 min.
March 2 1981 - Japan Air Lines is the first airline to use a computerized flight simulator to train its crews
March 2 1969 - First flight of the Concorde
March 3 2005 - The late Steve Fossett becomes the first person to fly an airplane around the world solo nonstop without refueling, flying 25,000 miles in 67 hours and 2 min.
March 3 1969 - After a lengthy succession of taxi and runway tests, the first prototype Concorde 001 (F-WTSS) makes its first flight, with Andre Turcat at the controls. The flight lasts 29 min.
March 3 1969 - The United States Navy establishes its Fighter Weapons School at Naval Air Station Miramar, California, to improve its fighter pilots' dogfighting skills. The school will become popularly known as "TOPGUN. "
March 3 1942 - (Overnight) 235 British bombers - The largest number sent against a single target to date - Attack the Renault vehicle factory at Boulogne-Billancourt in Paris in an attempt at night precision bombing. Three-quarters of the bombs hit the factory, but 367 French civilians are killed and 10,000 rendered homeless by errant bombs. The death toll in fact is greater than in any single attack on a German city thus far in the war.

SOUTH AFRICAN DEFENCE GROUP TO BE A PROMINENT PARTICIPANT AT IDEX 2015


South African defence and technology group Denel will showcase the range and quality of its leading projects at the IDEX 2015 in Abu Dhabi later this month.
Riaz Saloojee, the Group Chief Executive of Denel, the premier defence company in Africa, says IDEX is, without a doubt, the most important event to reach defence decision-makers and industry leaders in the Middle East and North African markets.
"We are delighted to be back in the United Arab Emirates and to have a strong presence at IDEX," says Mr Saloojee. "The exhibition is a unique platform for the South African defence industry to strengthen relations with governments, armed forces and businesses in the region and to create awareness about our capabilities."
Denel has a unique connection with the UAE through Tawazun Dynamics, its joint venture with Tawazun Holdings. The company has established the first facility in the Middle East for the development, manufacture and integration of precision-guided weapon systems.
Its flagship project is the Al Tariq, a family of strap-on bomb kit systems for the Mk80 family of bombs. Tawazun Dynamics has a contract to manufacture the Al Tariq for the UAE armed forces.
At IDEX Denel will also display some of the other missiles designed and manufactured by Denel Dynamics, the division in the state-owned group responsible for advanced systems technology in the missile and UAV environments.
The A-Darter is a fifth-generation air-to-air missile jointly developed with the Brazilian defence industry. Designed to meet the challenges of future air combat in a hostile electronic countermeasure environment the A-Darter recently passed critical in-flight guided tests and is being integrated into the Gripen fighter planes used by the SA Air Force.
Tsepo Monaheng, the CEO of Denel Dynamics says its battle-proven Ingwe missile system has been significantly improved with the introduction of a Portable Launch System. The beam-rider missile with a tandem warhead can now also be launched from light vehicles or a tripod - in addition to helicopters and fire-on-the-move land platforms. This makes the Ingwe highly effective in both conventional and urban conflict situations and to protect strategic bases and high-value installations.
Also on display at IDEX 2015 will be the air-to-ground Mokopa with a range of more than 10km and the Umkhonto surface-to-air missile in service with the South African Navy. The Umkhonto has successfully engaged targets at 20km during recent test firings observed by international experts at the Denel Overberg Test Range on the southern tip of Africa.
Denel's Seeker 400 is a versatile unmanned aerial vehicle that brings enhanced situational awareness to tactical reconnaissance operations. The newly developed UAV builds on the successful technology utilised by Denel Dynamics for its Seeker 2 and Seeker 200 which have been operational in the UAE.
Mr Saloojee says Denel will also follow activities at NAVDEX which is held concurrently with IDEX 2015. The South African group recently established an Integrated Systems and Maritime division (DISM) and is looking at opportunities to grow its presence in the naval environment.

THAI AIR FORCE F-16A CRASH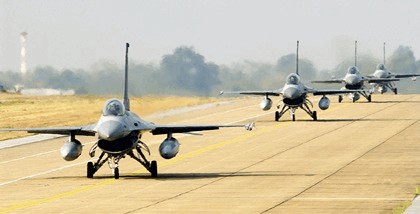 A Thai air force F-16A fighter jet of the Thai Air Force crashed killing the Pilot. The crash happened last Friday during a weapons training exercise at the air force's training ground in Loburi.
Air Vice Marshal Montol Suchookorn said the single seat F-16A had undergone regular maintenance. The wreckage and pilots body was found and the an investigation into the cause of the accident by air force officers were currently underway.
Thailand has acquired a fleet of F-16's of which according to sources approximately fifty are operational.
The Thai Air Force has lost three F-16's in accidents. In 2010 one crashed during a training flight killing the pilot whilst two were lost in 2011 during a joint exercise with the USAF, both pilots ejected and where unhurt.
NEW OWNERSHIP FOR QUEST AIRCRAFT COMPANY

Quest Aircraft Company today signed an agreement for its acquisition by "Setouchi Holdings Inc.", a member of "Tsuneishi Group". "Tsuneishi Group" is a well-established global entity, with solid roots in the shipbuilding, transportation and related industries.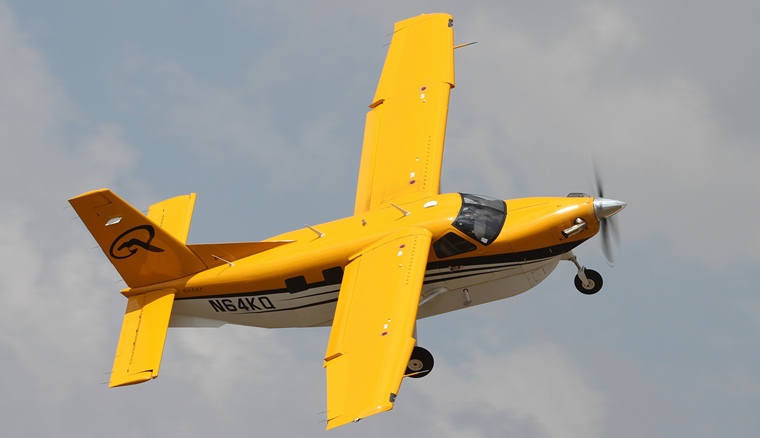 "We are very excited to have a strong organization such as "Tsuneishi Group" believe in Quest, our products and our philosophy and invest its resources in the company," said Sam Hill, Quest Aircraft CEO. "Over the last few years, we have experienced steady growth and with new financial capitalization and a shared understanding of the potential opportunities in the marketplace for expansion, we are looking forward to significant growth for Quest in the years ahead."
"Setouchi Holdings, Inc." is one of the key entities of "Tsuneishi Group" and its involvement in the aviation industry began with its subsidiary company, "Setouchi Trading, Inc.", which is an authorized KODIAK dealer.
Quest will remain headquartered in Sandpoint, Idaho, as will the manufacturing operations. The existing leadership team, led by Sam Hill, will continue to oversee and manage the organization. As production ramps up and growth in other areas of the company increases, plans for both physical and personnel expansion will be developed and implemented.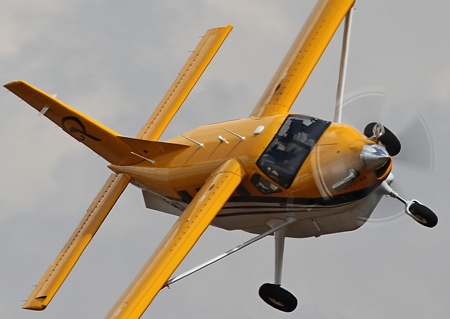 "Quest has positioned itself to be attractive to outside investors to help us grow the company, and we feel we have the perfect fit with "Tsuneishi Group"," continued Hill. "They have extensive experience in manufacturing along with other global capabilities which will benefit us greatly. In addition, their corporate philosophy is similar to ours in how they treat their customers and employees and in how they view their place in the world.
"They also believe strongly in the KODIAK, and want to help us make Quest the leading manufacturer of single-engine turboprops in the world," Hill added. "We are very enthusiastic about the future."
Quest Aircraft Company, headquartered in Sandpoint, Idaho, is the manufacturer of the KODIAK, a 10-place single engine turboprop airplane, designed for STOL use and float capability. It offers proven turbine reliability with the Pratt & Whitney PT6 turbine engine, can take off in under 1,000 feet at full gross takeoff weight of 7,255 lbs and climb at over 1,300 feet per minute. KODIAKs are in operation around the world in key market segments including personal use, Part 135 operations, government, and humanitarian organizations. The KODIAK is certified in 17 countries, with several additional certifications imminent.
SIGNING CEREMONY OF THE SALES CONTRACT FOR RAFALE TO EGYPT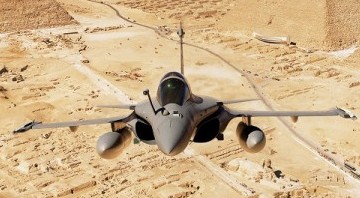 © Rolland Pellegrino / Ministère de la Défense
Mr. Jean-Yves Le Drian, French Defense minister, and Mr. Eric Trappier, Chairman and CEO of Dassault Aviation, went to Cairo for the official signing ceremony of the sales contract for 24 Rafale fighter aircraft.
After the ceremony, Mr. Trappier said: "The Rafale is at the top of the pyramid of fighter aircraft. It is the rendez-vous of history. This is the aircraft of today and tomorrow".
BOMBARDIER DELIVERS A GLOBAL 6000 AIRCRAFT TO FORMULA 1 CHAMPION NIKI LAUDA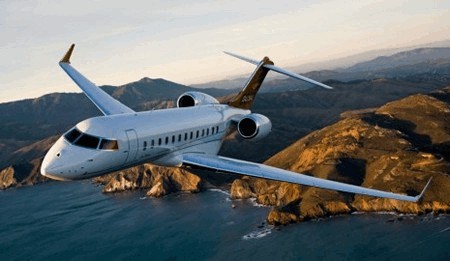 Champion race car driver and his new Global 6000 aircraft to debut worldwide tour for Bombardier Business Aircraft with appearances at Formula 1 Grand Prix stops in 2015
Bombardier delivered a new Global 6000 aircraft to Formula 1 champion, Niki Lauda, today at the aircraft manufacturer's Global Completion Centre, in Dorval, Canada. The company further announced that Mr. Lauda will be a spokesperson for Bombardier Business Aircraft. The partnership between Bombardier and Mr. Lauda will see him fly his new Global 6000 aircraft to Grand Prix races around the world with appearances at Bombardier Business Aircraft events throughout the 2015 Formula 1 season.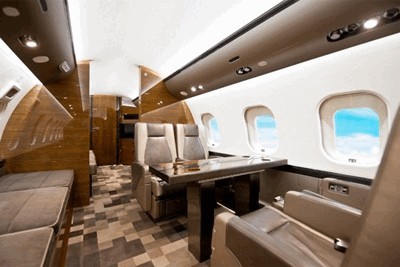 "We're thrilled to deliver our highly successful Global 6000 business jet to Niki Lauda," said Éric Martel, President of Bombardier Business Aircraft. "We are also privileged to be working in close collaboration with Mr. Lauda - like our Global aircraft he set the benchmark for outstanding performance and achievement."
"I had the wonderful opportunity to tour Bombardier's Global manufacturing plant in Toronto, recently, and I am impressed with the expertise, craftsmanship and innovation that go into building every Global aircraft," said Niki Lauda. "From a pilot's perspective, the Global 6000 aircraft is fast and fun to fly - it's a performing business jet that delivers impressive range and reliability."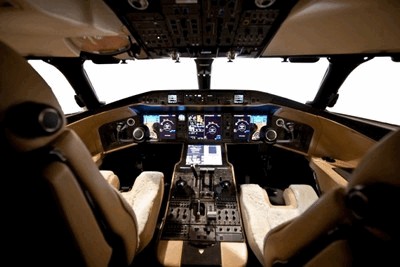 Three-time Formula 1 World Champion Niki Lauda has a long history in aviation. He was the founder of Lauda Air in 1979, and in 2003, he founded NIKI Luftfahrt GmbH, a low-cost airline based in Vienna. The Global 6000 jet is the latest in a series of Bombardier business aircraft that Mr. Lauda has owned and piloted during his career as an aviator. Until recently he operated a Global 5000 and Challenger 300 jet as his private aircraft, which he frequently used to travel to Formula 1 races around the world from his home base in Austria.
As Niki Lauda travels the world, he will be supported by Bombardier's industry-leading services and support teams who are ready to provide on-site assistance to customers at a full range of events worldwide. No matter where our customers travel, experienced and quality care is always nearby.
LATEST DEFENCE TECHNOLOGIES AND INNOVATIONS TO BE DISPLAYED AT IDEX 2015


His Excellency Major General Dr. Obaid Al Ketbi, Chairman of the Organizing Committee for IDEX 2015, Humaid Matar Al Dhaheri, ADNEC Acting Group CEO, Mr. Saleh Al Marzooqi, CEO IDEX and representatives from the UAE Armed Forces GHQ gather today to highlight the latest technologies and products that will be on display at the 12th edition of The International Defence Exhibition and Conferences (IDEX).
About 1,200 companies in this edition will showcase their latest products and offerings in the field of defence and security over an area of 133,000 square meters that will include both indoor and outdoor displays.
There has also been a continual increase in the participation of UAE exhibitors with them occupying about 2,000 square meters of space in 1995 to now showcasing their capabilities in a space spanning to about 18,500 square meters this year.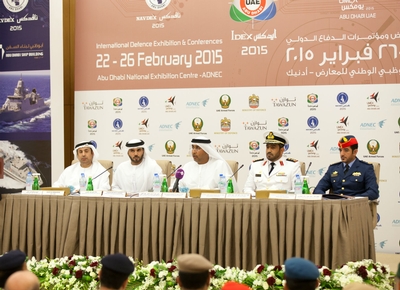 This year NAVDEX will bring together 96 exhibitors from across the globe and will be spread over an area of approximately 5,600 m2 with almost 16 boats on display on the pontoon at ADNEC Marina and along the Zayed Port.
Some of the most distinguished vessels to be showcased in NAVDEX 2015 are the UAE NAVY 'BAYNUNAH' Class corvette, and Al Ganesah, as well USA Navy super carrier USS Vinson, mine hunter of the British Royal Navy HMH Shoreham, and the Pakistan Navy Submarine, BNS Khaled.
In its first year UMEX will also see other leading world class companies such as INSITU/Boeing who are bringing down the 'Integrator', Denel's 'Seeker' will be on display. Shenzen AEE will be participating with its 'F50' and Hobby Club a UAE based company with showcase the 'Small A/C'.
SOUTH AFRICAN AIRWAYS NOMINATED FOR FOUR AWARDS


South African Airways (SAA), Africa's most awarded airline, has been nominated for awards in four categories from two separate organisations.
South African Airways is one of only four international airlines nominated for two World Bio Business Awards for ground-breaking work being done to ensure that aircraft will in the future fly with biofuel extracted from plant matter.
Through Project Solaris, in which SAA is one of four partners, the airline was nominated for an Excellence in Advanced Biofuels award; and is also individually nominated for the Biofuel Industry Champion award. Late last year SAA and partners, Boeing, SunChem and SkyNRG; launched Project Solaris, a biofuels project named after the tobacco plant from which biofuels will be produced in the Limpopo province in South Africa.
The World Bio Business Awards (WBM) will take place at the World Bio Markets Conference in Amsterdam later this year where many of the world's leading airlines and companies working in the field of biotechnology will be present. The WBM Industry awards go to the company, entity, or organisation that has done the most to support, drive, or assist the growth of the biofuel or bio-based chemical industries over the past 12 months.
Aircraft Technology Engineering and Maintenance (ATE&M) Awards
South African Airways Technical (SAAT) has been nominated for the annual Aircraft Technology Engineering & Maintenance Awards (ATE&M Awards) in the categories of Best Airframe MRO Provider and Best Line Maintenance Provider.
The prestigious Aircraft Technology Engineering & Maintenance (ATE&M) Awards, now in their fifth year, are produced by MRO Network and are designed to recognise the achievement of organisations and individuals within the maintenance, repair, and overhaul (MRO) sector of the commercial aerospace aftermarket.
Held annually in May, alongside ap&m Europe, a global MRO procurement expo; where awards are presented in nine categories, including the Aircraft Technology Engineering and Maintenance Editor's Award for Technology and Innovation, and the Lifetime Achievement Award.
SAAT competes for this title in the global sphere and amongst several high-profile industry professionals such Lufthansa Technik, ST Aerospaceas, Jordan Aircraft Maintenance Limited - JorAMCo, SR Technics, and several more.
The next stage in these awards is a public vote, and SAAT customers, suppliers, and associates are able to vote at http://www.atemawards.com/vote. Public voting closes on 31 March 2015
.


WELCOME TO PARAMOUNT AVIATION ACADEMY



Paramount Aviation Academy is an exclusive flying school in the town of Bethlehem, nestled in the foothills of the Maluti and Drakensberg Mountains of South Africa.
Here we believe that personal attention from vastly experienced instructors is the key to producing exceptional pilots who are confident and competent. We have a very high ratio of instructors to students and this enables us to spend a lot of time with each student to resolve any problems that he or she may be having. This is our formula for creating an environment where our high standards of safety, excellence and precision can be achieved while at the same time making your learning experience fun.
Why choose Paramount Aviation?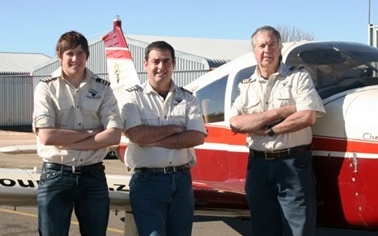 When learning to fly, you do not want anything but the very best instruction available. At Paramount Aviation Academy, our instructors are highlyexperienced, having in total more than 60 years of training under their belts. They are dedicated to teaching people to fly and have a passion for imparting their knowledge and experience to others. Our instructors are by far our greatest asset.
Fantastic Weather
We are located in Bethlehem in the Free State Highlands and have fantastic weather which means that students can fly almost every day of the year. This enables students to obtain theirlicenses much more quickly than in most other places around the world and is important as time is a valuable resource nowadays.
Hot and high training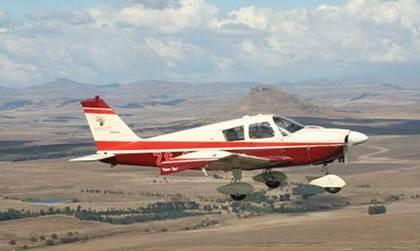 In order for an aircraft to fly it needs adequate lift which is provided by air flow over the wings. On hot days or at higheraltitudes, the atmosphereis less dense and therefore more caution is required when flying as under these circumstances it is very easy to overload an aircraft to the point that it will not fly. Due to our location,our natural training environment is hot and high which means that our students are very aware of its effect on the aircraft's performance and of the importance of ensuring that it is not overloaded. This helps our pilotsto be safer pilots compared to those who have learnt to fly at lower altitudes where they have only seen this in theory and never actually experienced its effects first hand.
No pressure and no wasted time
Bethlehem is a relatively quiet airfield which means that students can concentrate on learning to fly without being rushed by other aircraft or by air traffic control. This is important when one is trying to grasp the basics of flying. This also affords students the advantage that when they are ready to get into the air, they can, as opposed to busy airfields where one often waits for 20 or more expensive minutes to get cleared for take-off. Our airfield is situated right on the edge of our "general flying area" which is where all training, other than take offs and landings, is conducted. This means that less time is spent flying to and from the training area and more time is spent on valuable training.
Beautiful surroundings
Bethlehem is located in the middle of the Maluti tourist route which boasts places such as Clarens, the Golden Gate National Park, Maluti Mountains and the Mountain Kingdom of Lesotho to name but a few. There is even a ski resort less than 2 hours drive from Bethlehem.
Accommodation
Accommodation is available and is within walking distance of the airport.
For more information go to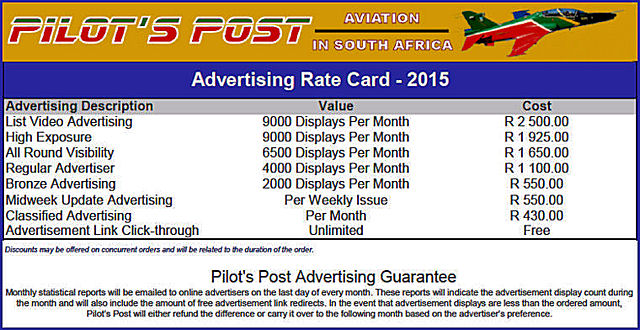 Browse through similar articles

E-mail this page to a friend