THIS WEEK IN MIDWEEK UPDATE


Plan your weekend
Forthcoming events
Notice Board
This week in aviation history
Aviation News
Advertising rate card

7 March: SAAF Museum flying training and open days. Contact Capt. Kobus Kapp 012 351 2342 or E-mail: webmaster@saafmuseum.org
7 March: SAPFA Fun Rally Stellenbosch. Contact Alewyn Burger email alewyn@burger.org.za
7 March: Coves Breakfast Fly-in. Contact Rudi Geyling 0832459955 or admin@thecoves.co.za
.

21 March: SAPFA Fun Rally Virginia Airport. Contact Mary de Klerk e-mail:
maryd@expandingbranding.co.za
21 March; Touring Motor Glider Fly-in Kittyhawk. 2015. Contact Marietjie van Niekerk 0827656670
marietjievn@gmail.com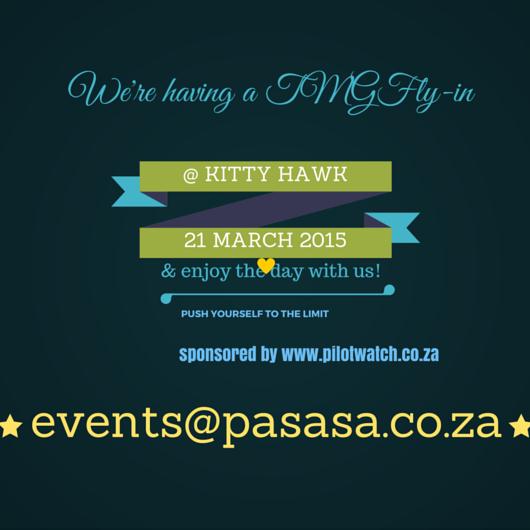 21-22 March: RV's at Parys. Pylon event, a formation competition, an aerobatics event (competition?) as well as possibly a "best build" competition. Contact Scully Levin e-mail: flyboys@global.co.za
27 March: Bethlehem fly-in and Riana Nel show. Contact Jacolene Jacobs 082 854 1003
28 March: Bethlehem Aero Club fun navigation rally. Contact Izak Venter e-mail: izak@motsu.co.za or Francois Marais e-mail:
info@stanfra.co.za
or
27 - 28 March: Uitenhage Wings & Wheels festival. Contact Lourens Kruger 082 320 2615 Website: www.wingsandwheelsfestivalutenhage.co.za
28 - 29 March: Sports Aerobatics Club North-West regionals - Klerksdorp. Contact Annie Boon
chunge@mweb.co.za
4 April: SAAF Museum flying training and open days. Contact Capt. Kobus Kapp 012 351 2342 or E-mail: webmaster@saafmuseum.org
11 April: Fashkosh (Stellenbosch) Website: www.stelfly.co.za Contact Alewyn Burger Alewyn@burger.org.za Cell: 082 416 1951
11 April: Henley Air Annual Skills Day at Rand Airport.
15 to 18 April: AERO Friedrichshafen dedicates itself in offering a significant collection of aviation related products and accessories. Exhibitors will be showing engines, modern ultra-lights, powered aircraft, avionics and related products and services. Over the years, this show has gained huge reputation from all over the world and the positive reaction from the attendees has motivated the exhibitors to improve the existing range and manufacture more such effective spare parts and products. For further information on the tour African Pilot is planning please send an e-mail to Athol Franz: editor@africanpilot.co.za. The idea is to get a package deal together for about 10 to 12 persons wishing to visit AERO Friedrichshafen.
17 & 18 April: Zebula airshow. Contact: Paul Weich 083 290 6525 e-mail:
pdweich@mweb.co.za
or Chris Potgieter 083 314 1669 e-mail: ChrisPotgieter@flysaa.com
18 to 29 April: Sun 'n Fun Tour 2015, Lakeland, Florida, USA. Contact Neil Bowden: e-mail:
neil1@telkomsa.net
.
Neil Bowden will once again be organising a tour to the USA's second largest fly-in, the Sun 'n Fun Fly-in and International Expo. In addition to the airshow, we will be arranging an excursion to the Kennedy Space Centre. A great new feature here is the Space Shuttle Atlantis exhibition building housing the original Atlantis Shuttle. Also planned is a visit to the Kermit Weeks Fantasy of Flight Museum which is home to some very rare aircraft and while we are in the area there are planned visits to the theme parks - Disney and Universal. The price is from R14 750 per person plus airport tax (about R7 400).
25 April - 2 May: 8th NAC Fly Away Namibia. Contact Deneys Potgieter 082 891 4354 or deneys.potgieter@nac.co.za
29 April-3 May: Aero Club Air week at Parys airfield contact Kev Storie 011 082 1100 Website: www.aeroclub.org.za
1 - 2 May: Lowveld Airshow (Nelspruit) Cell: 079 499 5733 Contact Willemien Hodgkinson e-mail: willemien.hodgkinson@ffa.co.za
8 - 9 May: SAAF Museum Swartkop Airshow, Pretoria Contact Lt. Col Mike O'Connor e-mail: oc@saafmuseum.org Tel: 012 351 2290
8 - 10 May: Battlefields fly-in (Dundee) Lourens Roos 082 875 5419
E-mail: stay@battlefieldslodge.co.za E-mail: nan@battlefieldslodge.co.za Website: www.battlefieldslodge.co.za
10 & 11 May: AVIATION AFRICA - Dubai UAE Contact Mark Brown mark.brown@africanaerospace.aero
15 to 17 May: Bethlehem Aero Club / EAA Chapter 1500 fly-in weekend. Contact Izak Venter e-mail: izak@motsu.co.za or Francois Marais e-mail: info@stanfra.co.za
16 May; SAPFA Fun Rally Krugersdorp. Contact Frank Eckard e-mail:
frank.eckard@mweb.co.za










BE OUR MARCH 2015 LUCKY WINNER!!!

At the end of March 2015 one of our readers will be the lucky winner of the book "FACTA NOSTRA VIVENT" by Andrew Embleton so keep sending us your comments and feedback to stand a chance of winning this fabulous part of our South African history.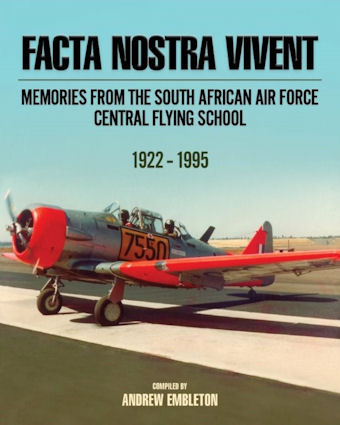 The book covers the early days of flying training in South Africa with interviews with early cadets like Judge Margo and Dr.A.D.Wassennaar. Fritz Johl talks about training in the SAAF from his wealth of knowledge. There is a section on both pupil and instructor training and comments from men who were there.

Flying the Harvard is discussed by various pilots and comparison with the jet Impala Mk I is made. There are descriptions of Zwartkop, Dunnottar and Langebaanweg which was the last location of the CFS.

Over 100 personal contributions were made including some from Commanding Officers like B.J.L. Boyle, Tienie van der Kaay, Ben Vorster and Peter "Crow" Stannard. Well known airmen like Des Barker , Monster Wilkins ,Scully Levin, Karl Jensen, Steyn Venter, Gerrie Radloff, Martin Rutsch, Hobart Houghton, Dave Upfold , Hermann Olmesdahl , Anton Kriegler , Winston Thackwray and historians like Graham du Toit, Steve McClean, Dean Wingrin all helped with memories or answered questions.

Several people who grew up at Dunnottar remember the station as civilians. Two long serving Air Traffic Controllers write about their experiences in handling a very busy airfield with sometimes confused pupils. Memories from some of the Lines book are there and the last days of both Dunnottar and Langebaanweg are recorded. A section of pupes course badges reflects the spirit of the courses in later years. John Austin Williams and Alan Taylor, both highly knowledgeable men assisted in supplying details about the Harvards today.

If you can't wait to be the lucky winner, you can also buy the book by visiting
www.embletonbooks.co.za !



March 5 1936 - First flight of the Supermarine Spitfire. The single-seat fighter would play a major role in World War II, with over 20,300 being built over the following 10 years.
March 6 1986 - Japan Air Lines embarks the world's heaviest man, an 880-lb Austrian flying from Frankfurt, Germany, as a passenger; 16 seats are removed from the cabin to make room for him.
March 6 1961 - The B-52 H made its first flight. The H model is still in service today.
March 7 1961 - The # 2 North America X-15 became the first manned aircraft to exceed Mach 4 when pilot Capt. Robert M. White reached a speed of 2,905 mph which, at the altitude of 77,450 ft, he achieved Mach 4.43.
March 7 1956 - Dan Perkins, engineer at Britain's Royal Aircraft Establishment, makes his first flight in an inflatable airplane in Bedfordshire, England. It takes 25 min to inflate it, using a large domestic vacuum cleaner.
March 8 1942 - (Overnight) Royal Air Force Bomber Command bombs Essen, Germany, on three consecutive nights with 211, 187, and 126 aircraft respectively, losing a combined total of 16 bombers. The raids are the combat debut of the Gee navigation aid, raising British hopes that precision bombing of the Krupp armaments factory will be achieved, but it is not hit, and bombs in fact do far more damage to neighbouring towns than to Essen itself. The third raid includes two Avro Lancasters, the first use of the Lancaster against a German target.
March 10 1956 - The first aircraft to exceed 1,000 mph (1,609 km/h) is an English Fairey Delta 2. It was piloted by Lt. Cdr. Peter Twiss; it reached a speed of 1,132 mph (1,822 km/h).
March 10 1918 - Günther Rall, German ace fighter pilot, was born. Rall is the third most successful fighter ace in history, and the most successful ace still living. He achieved a total of 275 victories: 272 on the Eastern Front, of which 241 were against Soviet fighters. He flew a total of 621 combat missions, was shot down 8 times and was wounded 3 times. He scored his victories in the Messerschmitt Bf 109 'Black 13'





PARAMOUNT SIGNS MOU WITH MOTOR SICH JSC FOR MODERNISATION OF HELICOPTERS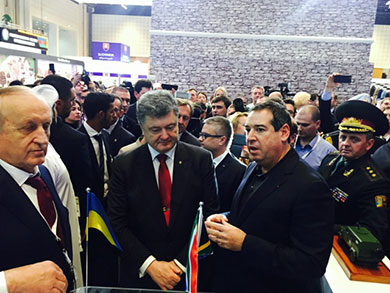 Paramount Group's Advanced Technologies business unit are the producers of the Super Hind advanced helicopter, based on the MI24 platform. Motor Sich JSC are a large Ukrainian Helicopter maintenance and repair organisation who manufacture engines and other major helicopter components.
Ivor Ichikowitz, Executive Chairman of Paramount Group, "We have had a long-standing working relationship over many years with Motor Sich and this agreement takes our collaboration to the next level. We have known for some time that there are areas of unique synergies between our companies, so today's signing marks a commitment to enhancing our level of collaboration."
Paramount Group recently announced a ramping up of the production of its Mi24 and Mi17 composite rotor blades. These are key components of the company's Super Hind program.

BURT RUTAN RETURNING TO OSHKOSH IN 2015

All Rutan designs and canard aircraft invited to Oshkosh for VariEze's 40th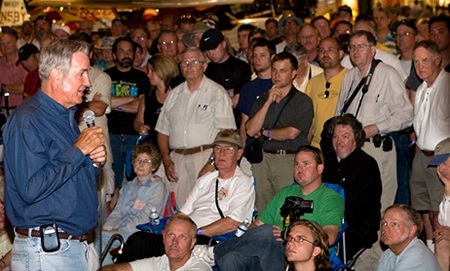 Burt Rutan draws a crowd to a museum presentation during a past AirVenture Oshkosh appearance. Photo credit: EAA
Burt Rutan, the visionary aircraft designer whose innovations made history and changed the aviation world, will be back at EAA AirVenture Oshkosh in 2015 to commemorate the 40th anniversary of his iconic VariEze aircraft. Rutan's designs have been groundbreaking for more than 40 years, beginning with the VariViggen in the early 1970s through the concepts that became the SpaceShipOne and SpaceShipTwo vehicles that are launching the era of space tourism.
His use of canard wings and composite materials changed the look and efficiency of homebuilt aircraft, with more than 1,000 airplanes based on his designs now flying in the United States alone.
"There are few individuals in the history of aviation who can match Burt Rutan's imagination and accomplishments," said Jack Pelton, EAA chairman of the board. "His presentations are eagerly anticipated whenever he is in Oshkosh. Although he officially 'retired' several years ago, his innovative mind continues to push forward with new concepts and ideas that he'll share at EAA AirVenture in 2015."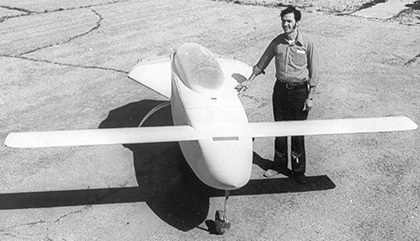 Rutan is perhaps publicly known best for his SpaceShipOne design, which in 2004 won the $10 million Ansari XPRIZE as the first successful private spacecraft. He also designed the Voyager, which in 1986 became the first aircraft to fly around the world nonstop on a single tank of fuel. That accomplishment earned him, along with pilots Dick Rutan and Jeana Yeager, the Presidential Citizen's Medal. Burt Rutan was also named to the National Aviation Hall of Fame in 1995 and EAA Homebuilders Hall of Fame in 1998.
His VariEze aircraft first flew in May 1975, with the prototype causing a sensation at that year's EAA Oshkosh fly-in. That canard design evolved into other Rutan aircraft innovations, such as the Long-EZ, that are still being built today. Rutan's multitude of interests has also led him into successfully exploring space flight and into electric flight.
In honor of the VariEze anniversary, EAA is inviting all Rutan and canard aircraft owners to come to Oshkosh and participate in the festivities. More details on specific dates and events will be released as they are finalized. The 63rd annual Experimental Aircraft Association fly-in convention will be held July 20-26 at Wittman Regional Airport in Oshkosh.
GARMIN ANNOUNCES SPONSORSHIP OF RED BULL AIR RACE WORLD CHAMPIONSHIP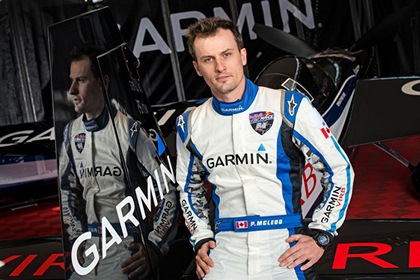 Today we are excited to announce our sponsorship with the Red Bull Air Race World Championship, including serving as the official action camera sponsor and competing in the series as Garmin Racing. The sponsorship kicks-off tomorrow at the championship's inaugural event in Abu Dhabi, United Arab Emirates, where Garmin Racing pilot Pete McLeod will begin his run for the title.
This global initiative with Red Bull, a highly-recognizable brand known for action and adventure, showcases the wide-range of markets Garmin serves as a leader in GPS technology, including aviation, fitness and outdoor pursuits, and particularly highlights the capabilities of the company's VIRB Elite action camera.
As the official action camera sponsor of the Air Race World Championship, VIRB Elites will be used to capture compelling race footage from the cockpit with data overlays including speed, altitude, g-force and GPS location. VIRB's high-definition videos with unique inset data will provide a complete experience of what it's like to fly the series' racetracks, showing the pilots in the Master Class category navigating the advanced aerial challenges at top speed. Consisting of eight races across the globe, including two in the United States, pilots attempt to complete each track in the fastest possible time with as few penalties as possible. Points are awarded at each race and the title is awarded to the pilot that secures the most total points after the last race of the season.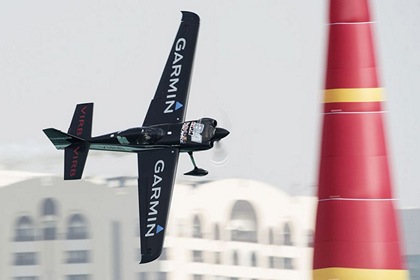 Garmin Racing's Pete McLeod of Red Lake, Ontario grew up flying small float planes and playing hockey. He obtained his pilot's license at age 16, before his driver's license, and started aerobatics that same year, flying competition aerobatics and air show freestyle as the youngest Canadian air show performer. After earning his aerobatics instructor rating at age 18, followed by an economics degree at the University of Western Ontario, he flew air shows and competitions full time - dedicated to qualify for the Red Bull Air Race.
McLeod made history in 2009 by becoming the youngest pilot and first Canadian to compete in the elite Red Bull Air Race World Championship, in which he went on to place 5th overall in the series in both 2010 and 2014.
PIPER DELIVERS ARCHER TRAINERS TO MALAYSIAN FLYING ACADEMY


Piper Aircraft, Inc. recently delivered four new Archer training aircraft equipped with Garmin G500 avionics to the Malaysian Flying Academy, Malaysia.
"Our cadets are eager to begin flying these four new Piper single-engine trainers. The G500 avionics package is ideally suited to the training curriculum offered by our academy," said Captain Stephen Terry, Principal of the Malaysian Flying Academy. Earlier in 2014, the Malaysian Flying Academy took delivery of four Seminoles. The two recent deliveries are part of Malaysian Flying Academy's long-term plan to upgrade their exclusively-Piper fleet.

"The Archer provides the perfect classroom environment for flight students," said Simon Caldecott, President and CEO of Piper Aircraft. "Our fixed-gear, single-engine aircraft provide an important introduction to assessable, apprehensible flight training, paving the way for continuing education and a lifetime of aviation enjoyment. We are honoured Malaysian Flying Academy chooses to use Piper products exclusively to facilitate learning."
AIRBUS A350 XWB MAKES ITS DÉBUT AT MADRID-BARAJAS AIRPORT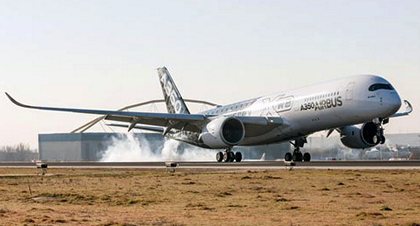 © Airbus. The A350 MSN2, one of Airbus' five A350 XWB test aircraft, has landed today at Adolfo Suárez Madrid-Barajas airport for first time to demonstrate its all new features to Iberia, the Madrid airport authorities and the media. Iberia has eight A350-900s on order.
The A350 XWB is an efficient medium-capacity long-range wide-body aircraft. With a range of up to 8,000 nm / 14,800 km. it is available in 2 basic passenger versions: the A350-900 seating 315 passenger and the A350-1000 for 369 in a typical two-class layout.
The A350 XWB is the latest addition to the market-leading Airbus Widebody product line. Offering its customers a game-changing reduction in fuel-burn, the all-new mid-size long-range A350 XWB has carbon fibre fuselage and wings and sets new standards in terms of passenger comfort, operational efficiency and cost-effectiveness. At the end of January 2015, the A350 XWB had won 780 orders from 40 customers worldwide.
TECNAM P2006T TWIN CERTIFIED FOR PASSENGER TRANSPORTATION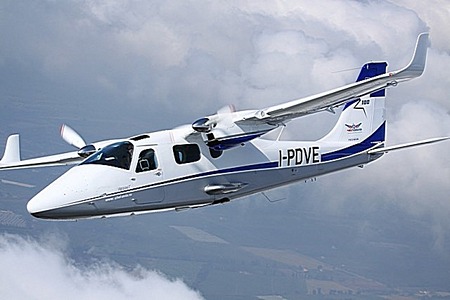 Tecnam announced today that the Tecnam P2006T Twin has successful achieved certification to enable it to carry commercial passengers.
Already firmly established as the multi-engine aircraft of choice bringing affordable multi-engine flying to aero-clubs, flying schools, syndicates and private aircraft owners around the world, Tecnam are aiming to promote the P2006T Twin for charter and air-taxi usage too.
The first Tecnam P2006T Certificate for Passenger Transportation has been achieved by Russian based Chelavia.
Established in 2003, ChelAvia currently operates nearly 100 Tecnam aircraft and is actively engaged in training commercial pilots for many Russian based airlines in particular.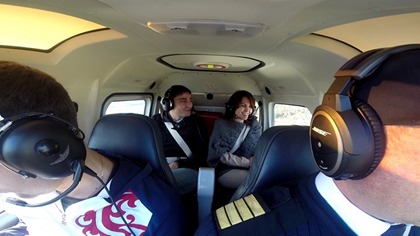 The Ministry of Transport of the Russian Federation issued Chelavia decree d/d 04.02.2003 ? 11 which authorises Chelavia to use its large fleet of Tecnam P2006T Twins' for commercial passenger and freight activity.
This approval completes the "Certification Requirements to individual and legal entities carrying out commercial air transport operations. Certification procedure" and has enabled Chelavia to add the Tecnam P2006T to its Air Operator's Certificate to enable it to offer the aircraft for both passenger and airfreight operations.
Chelavia report that its customers value the P2006T's cabin space and comfort in particular. Coupled with the P2006T's exceptional low cost of operation, speed and range plus its versatility in the delivery small-scale cargo and parcels, the Tecnam P2006T is providing a new a profitable source of revenue generation.
SOUTH AFRICAN AIRWAYS TESTS INITIATIVE AIMED AT REDUCING WEIGHT AND FUEL BURN



South African Airways (SAA) tested an initiative aimed at reducing possible unnecessary weight on its long-haul flights. All items which add to aircraft weight and the resultant fuel burnt such as catering and other on board items, including items in the cockpit, were closely scrutinised as the items were removed from an A340 on landing from Munich, in a hangar at SAAT, the maintenance facility of SAA.
Nico Bezuidenhout, Acting SAA CEO, and members of the Executive team participated in the exercise, which was initiated by the Fuel Forum of the airline's Cost Compression Programme. This forum has been tasked to save fuel by, amongst other initiatives, coming up with innovative weight reductions of items carried on board.
"Large quantities of returned on board product, or catering items will tell a story. It will show us that our customers do not use these items. Reducing weight is critical to fuel burn. For every kilogramme of additional weight you carry on board, you burn approximately 270g additional fuel for a flight of this distance," said Bezuidenhout.
The complete list of items loaded before departure will be scrutinised such as food, drinks, cutlery, crockery, blankets, duvets, pillows, magazines, items in the cockpit, and others.
SAA started looking at creative ways of cost compression in 2012, which has to date resulted in cost savings of R1.8 billion over three years. The airline, which is suffering sustained financial pressures, is set on continually finding ways of reducing cost throughout the airline, without compromising quality of product and service delivery.
"Cost compression remains a key driver of SAA's 90 Day Action Plan with areas under scrutiny such as improving productivity, ensuring efficient governance and procurement processes, doing business differently and driving down cost. SAA will continue to look for ways to find innovative ways such as this one of today to make an impact on our CASK and bottom line results.
"Cost compression needs to become a culture and be ingrained in the way every single one of us do our work at SAA. We have to keep focused and work even harder so that we can combat competitive pressures from our peers whose costs are lower than ours," said Bezuidenhout.
The airline's senior management committed to further cost compression initiatives at a recent strategy workshop which set revised CASK targets (Cost per available seat kilometre) to be incorporated into SAA's next financial year's budget (FY2015/16).
SJ100 DELIVERIES TO VLM IN 3Q 2016: CLARIFICATION OF SUKHOI CIVIL AIRCRAFT COMPANY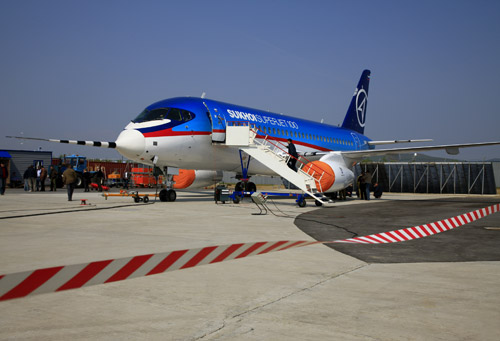 Following consultations between Ilyushin Finance Co, Sukhoi Civil Aircraft Company and Belgian airline VLM Airlines, under the previously signed Letter of Intent, the parties agreed to postpone for the third quarter of 2016 deliveries of Sukhoi Superjet 100 aircraft due to the need of certification of the aircraft additional specifications, expanding its capabilities.
By the end of 2015 Sukhoi Civil Aircraft Company, the designer of the Sukhoi Superjet 100, plans to certify the long range version of the Sukhoi Superjet 100 aircraft, requested by VLM Airlines, in EASA. EASA certification is required for the launch of operations of this SSJ100 modification by the airline with an airworthiness certificate issued by the Belgian aviation authorities.
In addition, the designer of the SSJ100 will continue to work on the implementation and certification of the technical solutions for the aircraft, meeting the customer needs. It is expected that a set of measures to enhance the SSJ100 aircraft can be implemented in 2016.