Plan your weekend
Forthcoming events
Notice Board
This week in aviation history
Aviation News
Advertising rate card

Rhino Park is hosting a fly-in on the morning of the 14th of March in conjunction with Oliver Tambo ATC who would like to mingle with the Trikers, the Jabbies , Savannas, home builders, Choppers , Gyros and warbirds etc.
.

21 March: SAPFA Fun Rally Virginia Airport. Contact Mary de Klerk e-mail:
maryd@expandingbranding.co.za
21 March; Touring Motor Glider Fly-in Kittyhawk. 2015. Contact Marietjie van Niekerk 0827656670
marietjievn@gmail.com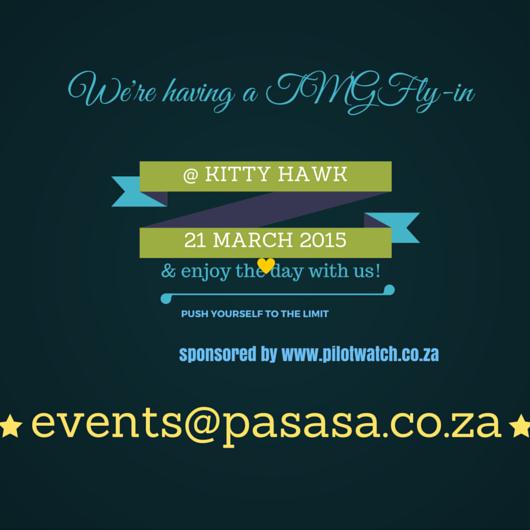 21-22 March: RV's at Parys. Pylon event, a formation competition, an aerobatics event (competition?) as well as possibly a "best build" competition. Contact Scully Levin e-mail: flyboys@global.co.za
27 March: Bethlehem fly-in and Riana Nel show. Contact Jacolene Jacobs 082 854 1003
28 March: Bethlehem Aero Club fun navigation rally. Contact Izak Venter e-mail: izak@motsu.co.za or Francois Marais e-mail:
info@stanfra.co.za
or
27 - 28 March: Uitenhage Wings & Wheels festival. Contact Lourens Kruger 082 320 2615 Website: www.wingsandwheelsfestivalutenhage.co.za
28 - 29 March: Sports Aerobatics Club North-West regionals - Klerksdorp. Contact Annie Boon
chunge@mweb.co.za
4 April: SAAF Museum flying training and open days. Contact Capt. Kobus Kapp 012 351 2342 or E-mail: webmaster@saafmuseum.org
11 April: Fashkosh (Stellenbosch) Website: www.stelfly.co.za Contact Alewyn Burger Alewyn@burger.org.za Cell: 082 416 1951
11 April: Henley Air Annual Skills Day at Rand Airport.
15 to 18 April: AERO Friedrichshafen dedicates itself in offering a significant collection of aviation related products and accessories. Exhibitors will be showing engines, modern ultra-lights, powered aircraft, avionics and related products and services. Over the years, this show has gained huge reputation from all over the world and the positive reaction from the attendees has motivated the exhibitors to improve the existing range and manufacture more such effective spare parts and products. For further information on the tour African Pilot is planning please send an e-mail to Athol Franz: editor@africanpilot.co.za. The idea is to get a package deal together for about 10 to 12 persons wishing to visit AERO Friedrichshafen.
17 & 18 April: Zebula airshow. Contact: Paul Weich 083 290 6525 e-mail:
pdweich@mweb.co.za
or Chris Potgieter 083 314 1669 e-mail: ChrisPotgieter@flysaa.com
18 to 29 April: Sun 'n Fun Tour 2015, Lakeland, Florida, USA. Contact Neil Bowden: e-mail:
neil1@telkomsa.net
.
Neil Bowden will once again be organising a tour to the USA's second largest fly-in, the Sun 'n Fun Fly-in and International Expo. In addition to the airshow, we will be arranging an excursion to the Kennedy Space Centre. A great new feature here is the Space Shuttle Atlantis exhibition building housing the original Atlantis Shuttle. Also planned is a visit to the Kermit Weeks Fantasy of Flight Museum which is home to some very rare aircraft and while we are in the area there are planned visits to the theme parks - Disney and Universal. The price is from R14 750 per person plus airport tax (about R7 400).
25 April - 2 May: 8th NAC Fly Away Namibia. Contact Deneys Potgieter 082 891 4354 or deneys.potgieter@nac.co.za
29 April-3 May: Aero Club Air week at Parys airfield contact Kev Storie 011 082 1100 Website: www.aeroclub.org.za
1 - 2 May: Lowveld Airshow (Nelspruit) Cell: 079 499 5733 Contact Willemien Hodgkinson e-mail: willemien.hodgkinson@ffa.co.za
8 - 9 May: SAAF Museum Swartkop Airshow, Pretoria Contact Lt. Col Mike O'Connor e-mail: oc@saafmuseum.org Tel: 012 351 2290
8 - 10 May: Battlefields fly-in (Dundee) Lourens Roos 082 875 5419
E-mail: stay@battlefieldslodge.co.za E-mail: nan@battlefieldslodge.co.za Website: www.battlefieldslodge.co.za
10 & 11 May: AVIATION AFRICA - Dubai UAE Contact Mark Brown mark.brown@africanaerospace.aero
15 to 17 May: Bethlehem Aero Club / EAA Chapter 1500 fly-in weekend. Contact Izak Venter e-mail: izak@motsu.co.za or Francois Marais e-mail: info@stanfra.co.za
16 May; SAPFA Fun Rally Krugersdorp. Contact Frank Eckard e-mail:
frank.eckard@mweb.co.za


6 June: SAAF Museum flying training and open days. Contact Capt. Kobus Kapp 012 351 2342 or E-mail: webmaster@saafmuseum.org
10 to14 June: Kalahari Bundu Bash. Contact Yolande Combrinck e-mail: Yolande@rafsa.co.za
13 June: Zandspruit Airshow - Hoedspruit. Contact Yvonne Fourie e-mail: yf@zandspruit.co.za Tel: 015 793 1192
19 to 21 June: Mafikeng fly-in and airshow. Contact Connie Conradie e-mail: info@mafikeng-flyingclub.co.za Cell: 082 449 1546
20 June: Warbirds over the Vaal fly-in and time trials - Parys Airfield. Contact Scully Levin e-mail: flyboys@global.co.za



BE OUR MARCH 2015 LUCKY WINNER!!!

At the end of March 2015 one of our readers will be the lucky winner of the book "FACTA NOSTRA VIVENT" by Andrew Embleton so keep sending us your comments and feedback to stand a chance of winning this fabulous part of our South African history.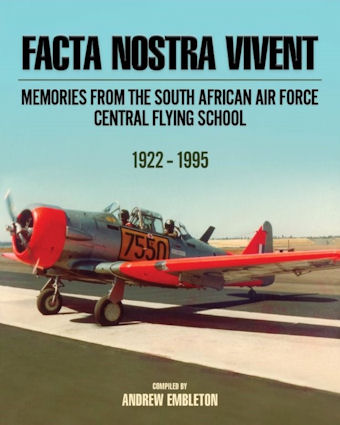 The book covers the early days of flying training in South Africa with interviews with early cadets like Judge Margo and Dr.A.D.Wassennaar. Fritz Johl talks about training in the SAAF from his wealth of knowledge. There is a section on both pupil and instructor training and comments from men who were there.

Flying the Harvard is discussed by various pilots and comparison with the jet Impala Mk I is made. There are descriptions of Zwartkop, Dunnottar and Langebaanweg which was the last location of the CFS.

Over 100 personal contributions were made including some from Commanding Officers like B.J.L. Boyle, Tienie van der Kaay, Ben Vorster and Peter "Crow" Stannard. Well known airmen like Des Barker , Monster Wilkins ,Scully Levin, Karl Jensen, Steyn Venter, Gerrie Radloff, Martin Rutsch, Hobart Houghton, Dave Upfold , Hermann Olmesdahl , Anton Kriegler , Winston Thackwray and historians like Graham du Toit, Steve McClean, Dean Wingrin all helped with memories or answered questions.

Several people who grew up at Dunnottar remember the station as civilians. Two long serving Air Traffic Controllers write about their experiences in handling a very busy airfield with sometimes confused pupils. Memories from some of the Lines book are there and the last days of both Dunnottar and Langebaanweg are recorded. A section of pupes course badges reflects the spirit of the courses in later years. John Austin Williams and Alan Taylor, both highly knowledgeable men assisted in supplying details about the Harvards today.

If you can't wait to be the lucky winner, you can also buy the book by visiting
www.embletonbooks.co.za !



SUPPORT THE SOUTH AFRICAN UNLIMITED AEROBATIC TEAM AS THEY PREPARE FOR THE WORLD AEROBATIC CHAMPS IN FRANCE, 19-29 AUGUST 2015.






Golf day 19 May 2015 at Irene Country Club in Centurion. Join us for a fun day. 30 four balls available. Sponsors and prizes needed and very welcome.

Email chunge@mweb.co.za for details and opportunities to support.



March 12 1980 - 12-14 - Two B-52 Stratofortresses make a non-stop round-the-world flight in 42.5 hours
March 12 1908 - AEA Red Wing, flying from the surface of Keuka Lake near Hammondsport, New York. Flight distance is 97.2 m (319 ft) but ends with the aircraft collapsing to the ground, leaving the pilot slightly bruised. This is the first public demonstration of a powered aircraft flight in the United States.
March 13 1967 - South African Airways Flight 406, a Vickers Viscount 818, crashes into the sea while on approach to East London, South Africa, killing all 25 passengers and crew on board. The pilot of the plane suffered a fatal heart attack while on approach and the co-pilot was unable to regain control of the aircraft.
March 13 1914 - Edward O'Hare, American pilot, is born (d. 1943). O'Hare was a naval aviator of the United States Navy who on 20 February 1942 became the U. S. Navy's first flying ace and Medal of Honor recipient in World War II. On 19 September 1949, the Chicago, Illinois airport was renamed O'Hare International Airport in honor of Edward O'Hare.
March 14 1960 - Within a year of completion of a major expansion program, Chicago's O'Hare International airport has become the busiest terminal in the US, handling 10.2 million passengers in 1959, the Federal Aviation Agency (FAA) reports. In the same year it handled 431,600 take-offs and landings.
March 14 1889 - German Ferdinand von Zeppelin patents his "Navigable Balloon".
March 15 1972 - NASA announces Shuttle program. Since its inception in 1958, NASA has accomplished many great scientific and technological feats in air and space. NASA technology also has been adapted for many nonaerospace uses by the private sector. NASA remains a leading force in scientific research and in stimulating public interest in aerospace exploration, as well as science and technology in general. Perhaps more importantly, our exploration of space has taught us to view Earth, ourselves, and the universe in a new way.
March 15 1940 - During the second world war the British Commonwealth air training plan was Canada's largest contribution to the war effort. On this date, the first trainees were taken on, and within a year the BCATP had 77 training facilities operating across the country. At its peak the program had 97 schools, and was graduating 3000 flyers a month.
March 16 1983 - A Boeing 767 lands at Boeing Field in Washington, after a record breaking non-stop flight from Lisbon, Portugal. The 5,499 miles (8,798 km) flown non-stop constitute a record for twin engined airliners.
March 16 1960 - KLM opens its first intercontinental jet service, by Douglas DC-8 from Amsterdam to New York.
March 16 1926 - Robert Goddard launches the first liquid-fuelled rocket near Auburn, Massachusetts.
March 16 1911 - The first certificate of airworthiness awarded to an airplane in Britain is signed by Mervyn O'Gorman, superintendent of the Balloon Factory at Farnborough, covering the Farman III Type Militaire purchased by the British Army during the second half of 1910.
March 17 1997 - Linda Finch, pilot, aviation historian, and San Antonio, Texas businesswoman, flying a restored and specially equipped 62-year-old Lockheed Electra 10E, recreates the 1937 Amelia Earhart flight to circumnavigate the globe solo. Her attempt was successful, taking 73 days. She touched down in Oakland, California.
March 17 1937 - Amelia Earhart flies a Lockheed Electra from Oakland, California, to Wheeler Field, Territory of Hawaii, on the first leg of an attempted circumnavigation of the world, making the flight in 15 hours 47 min.




SCREAMIN' SASQUATCH TO MAKE OSHKOSH DEBUT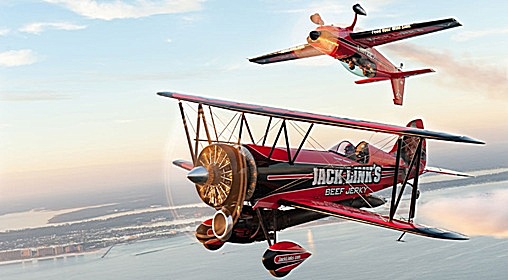 Jeff Boerboon flies John Klatt Airshows' Screamin Sasquatch jet-powered Waco in formation with the Jack Link's Extra 300L. The Waco will appear at EAA AirVenture Oshkosh 2015. Photo credit: Ryan Lambert
The Screamin' Sasquatch jet-powered Waco from John Klatt Airshows will make its EAA AirVenture Oshkosh debut this summer with pilot Jeff Boerboon performing in several of the daily air shows. The airplane, a highly modified 1929 Waco Taperwing, is powered by a Pratt & Whitney 985 Wasp Junior radial engine (450 hp) and a General Electric CJ-610 turbojet that throws out 3,000 pounds of thrust. The airplane sports an aggressive paint scheme based on its sponsor company Jack Link's Beef Jerky and the popular "Messin' With Sasquatch" campaign.
"I certainly feel like the luckiest guy in the air show industry because I get to fly the most unique aircraft in the world," Boerboon said. "I saw Jimmy Franklin fly his (jet-powered Waco) many times and it's just a huge honor to fly this one-of-a-kind airplane."
Fully fueled, the airplane weighs in at about 4,000 pounds, so right away its unique twin-engine configuration provides a more than 1-to-1 thrust-weight ratio (4,500 lbs of thrust). "You bring it to 1,500 feet, engage the jet, and it just goes straight up," Boerboon said.
Jack Link's, headquartered in Minong, Wisconsin, is also looking forward to seeing the airplane perform in its home state. "We are proud to partner with John Klatt Airshows and bring the Screamin' Sasquatch to life for our fans, troops and veterans across the country," said Kevin Papacek, director of marketing for Jack Link's Beef Jerky.
All of Screamin' Sasquatch's control surfaces were specifically engineered to accommodate the unique aerodynamic forces of high-speed flight. Portions of the aircraft's structure were converted from wood and fabric to carbon fiber. And to make room for twin fuel tanks of 100LL and Jet A, the cockpit was moved 3 feet aft.
Speaking of the cockpit, it contains the MGL Avionics Stratomaster Odyssey touch screen system, which integrates all engine monitoring of both powerplants as well as the aircraft's avionics systems all on one screen.
Screamin' Sasquatch is uniquely capable of intensely powerful aerobatic flight, such as extreme vertical climbs, flat-spins, snap rolls, torque rolls, and even a "hover," which the plane can then power itself out of to regain forward flight.
Boerboon's passion for aviation and aerobatics began at a very early age building and flying model airplanes after seeing an Oshkosh air show. He earned an airway science degree from the University of North Dakota, where he had his introduction into the world of aerobatics.
A two-time Advanced National Champion and member of the U.S. Advanced Aerobatic Team from 2003-2008, Boerboon qualified for the U.S. Unlimited Aerobatic Team in 2008. He placed eighth overall in his rookie year and was the top American pilot at the 2009 World Aerobatic Championship in Silverstone, U.K. Boerboon won the U.S. national unlimited title in 2010 and is a current team member of the unlimited aerobatic team.
He's been a team member of John Klatt Airshows, Inc. since 2012, flying both formation and solo performances. Boerboon has attended 28 EAA Oshkosh conventions.
Exact performance times at Oshkosh will be announced as they are confirmed. For more information, including advance purchase for admission, camping and parking, visit our AirVenture section of the website.

SOUTH AFRICA TAKES THE LEAD IN THE DRAFTING OF REGULATIONS FOR RPAS AND WARNS AGAINST ILLEGAL USE OF RPAS (DRONES)



The South African Civil Aviation Authority (SACAA) hereby announces that the process of drafting regulations for Remotely Piloted Aircraft Systems (RPAS) has now been completed and draft regulations have been submitted to the Minister of Transport for consideration and subsequent approval, if the Minister is in agreement. However, until the regulations are approved, the use of RPAS in terms of existing legislation remains illegal. The Civil Aviation Regulations prescribe requirements for operating any aircraft in the South African airspace. To date, no RPAS have been able to comply with these requirements.
The SACAA, as the regulator, in fulfilling its mandate in terms of section 72 of the Civil Aviation Act, 2009 (Act No 13 of 2009), with specific reference to the control and regulation of civil aviation safety and security, is obligated to put regulations in place for dealing with all the regulatory facets applicable to the operation of RPAS.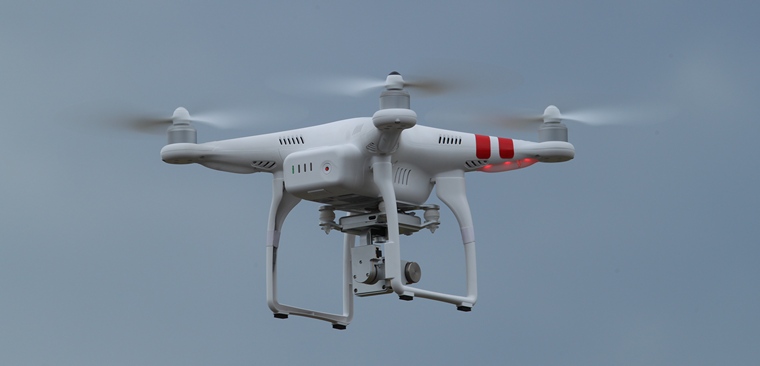 Remotely Piloted Aircraft are aircraft that can fly without a pilot on board. These aircraft come in all sorts of shapes and sizes and can be controlled remotely by an individual on the ground, from another aircraft.
"The SACAA is one of the very first entities globally to make headway in terms of developing comprehensive regulations. This demonstrates the Regulator's ability to respond to an urgent need from the industry, and also shows our commitment in ensuring that the regulations are in place as soon as possible, as this is the only way we can ensure that RPAS operate safely, " said Poppy Khoza, Director of Civil Aviation.
"RPAS represent a relatively new component of the civil aviation framework, one which the SACAA, together with other regulators worldwide and under the guidance of the International Civil Aviation Organisation (ICAO), are working to understand, define and ultimately integrate into the civil aviation sector. As such, the process of developing policies, procedures, regulations and associated standards in order to certify and subsequently authorise the operation of RPAS is moving with speed, but also needs to be handled with care as failure to ensure this will have devastating consequences, including loss of life," Khoza explained.
As an ICAO member state, South Africa is actively involved in the ICAO RPAS Panel which aims to develop standards to guide contracting States in the development of their national regulations. In addition, the SACAA has worked closely with international Working Groups, the national industry and relevant agencies to develop the pending regulations. The draft regulations were published for comment in December 2014/Jan 2015 for a period of 30 days, as dictated by the consultation guidelines.
Many factors were considered in the process of developing the regulations for authorisation. "As much as we are enthusiastic about the integration of RPAS into the civilian airspace, we need to be mindful of various security and safety aspects. Key among these is that the technology installed on RPAS is able to ensure that, amongst others, mid-air collisions and incidents are minimised. There is also the need to make sure that the allocated frequency spectrum is secure, in order to ensure protection from unintentional or unlawful interference with the RPAS," Khoza elaborated.
The SACAA has been receiving reports that there are individuals and/or organisations that are already operating or intending to operate RPAS in the South African civil aviation airspace without approval.
"It is disconcerting to hear that there are individuals or organisations that, for some reason or another, are determined to contravene the applicable civil aviation prescripts on this subject. The fact is that the SACAA has not given any concession or approval to any organisation, individual, institution or government entity to operate RPAS within the civil aviation airspace. Those that are operating any type of RPAS are doing so illegally; and as the regulator we cannot condone nor tolerate any form of blatant disregard of the applicable rules. SACAA is investigating reports received lately and shall pursue those who are illegally operating RPAS without any authorisation. Operating RPAS in an unregulated manner can have devastating consequences and no one can be allowed to operate them until such time the regulations have been approved. If anyone is considering to operate RPAS outside of regulations, they must be warned as this behaviour cannot be tolerated," said the Director.
The approval and subsequent implementation of the new RPAS regulations in South Africa will in no way be a conclusive process. The Authority anticipates rapid changes in the very near future, as this is a new phenomenon in the civilian airspace and as such, as this facet of the industry evolves; we will adjust the regulations as dictated by the prevailing circumstances at any given time. The SACAA will still work in collaboration with ICAO and its member states, towards providing a regulatory framework through Standards and Recommended Practices (SARPs), with supporting Procedures for Air Navigation Services (PANS) and guidance material, to underpin the routine operation of RPAS in a safe, harmonised and seamless manner, comparable to that of manned operations.
The SACAA takes its mandate very seriously and in the process of ensuring that regulations are in place to ensure a safe and secure civil aviation industry, the Regulator will not take lightly its role of enforcing the implementation of these regulations.
MOONEY INTERNATIONAL HELD ITS PRELIMINARY TYPE CERTIFICATION BOARD MEETING WITH THE FAA FOR MODELS M10T AND M10J


Mooney International hosted the Preliminary Type Certification Board (PTCB) meeting for models M10T and M10J in its Chino, California, office. Federal Aviation Administration (FAA) personnel from across the United States gathered to help continue Mooney's momentous milestone to earn the Type Certification of our M10 series models.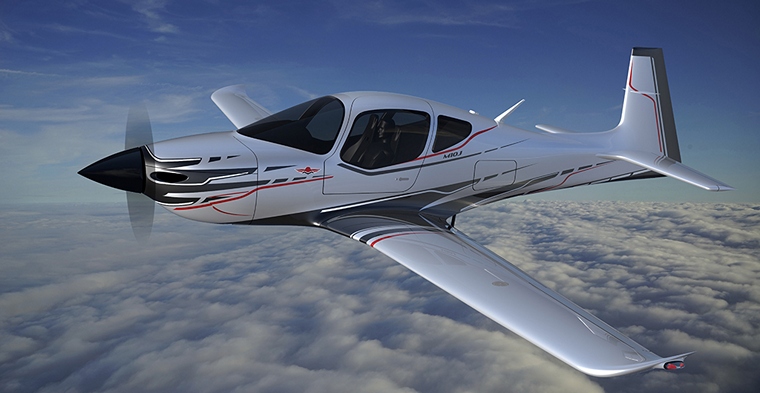 "The PTCB meeting held today completes a major milestone for Mooney International's M10 series program," said Mooney's Vice President of Engineering, Tony Parker. "This initial meeting is the beginning of the process that will lead to FAA certification of the M10."
The PTCB meeting happened only three months after Mooney's official M10 series announcement at Airshow China 2014 in Zhuhai. The pace of the M10 program has progressed quickly and company milestones have been met. The M10 program has made considerable progress to build a proof of concept (POC) model.

THE NEW MOONEY J MODEL

Mooney International has created a new fleet member destined to become equally loved by pilots and passengers alike. Mooney is proud to present the M10J, an all-new composite aircraft. The M10J is the performance model with a 155 horsepower Continental CD-155 diesel engine, retractable landing gear, and optional 3rd rear seat. The M10J also includes Garmin G1000 avionics with auto pilot capability. This integrated system improves safety by providing data access for weather, traffic, and terrain avoidance.
AIRBUS HELICOPTERS UNVEILS ITS ALL-NEW H160 AS THE BENCHMARK FOR MEDIUM-CLASS ROTORCRAFT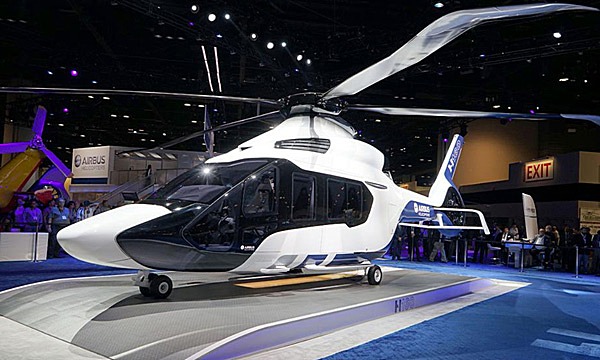 © Airbus Helicopters


In one of the industry's most anticipated events, Airbus Helicopters today presented its all-new H160, raising the standards for performance, cost effectiveness, passenger comfort and environmental impact to create the medium-class rotorcraft benchmark.
As the first product introduced with the Airbus Helicopters corporate identity and its new numbering designation, this 5.5-6-ton-class rotorcraft's nose-to-tail breakthroughs in design and systems exemplify the company's transformation plan that puts customer satisfaction and operational safety first.
Airbus Helicopters unveiled the twin-engine H160 at the Heli-Expo industry show's opening in Orlando, Florida, where a full-scale representative model is being displayed on the company's exhibit stand (Booth #2437).
"The H160 represents Airbus Helicopters' strategy to provide the most efficient solutions for our customers, who serve, protect, save lives and safely carry passengers in the most demanding environments," said President Guillaume Faury. "We are driven by this mission, because what is important to our customers is essential to us.'"
The H160 brings form and function together in a highly stylized rotorcraft, which integrates as many as 68 different Airbus Helicopters-patented technologies. Its payload lift, range and efficiency make this helicopter ideally suited for a wide variety of uses, including oil and gas operations; public services, air medical and coast guard duties; along with commercial transport, private and business aviation.
With a cruise speed of 160 kts., the H160 can carry 12 passengers at distances of up to 120 NM. for oil and gas missions, and a 450-NM range with 20-minute reserve in public service or search and rescue tasks.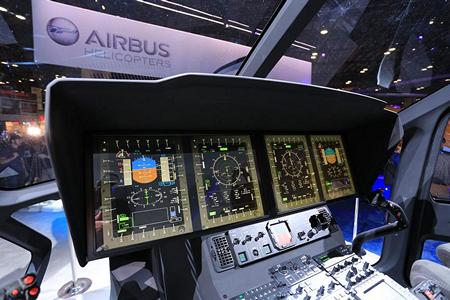 The distinctive design of the H160 includes two Airbus Helicopter firsts, both offering improved performance and flight stability: the largest-ever Fenestron® shrouded tail rotor, which is also double-canted at 12-deg. angles, further enhancing anti-torque control efficiency; and the all-new Biplane Stabilizer™, whose unique design involves a staggered placement of the dual-level, interconnected stabilizers. This feature facilitates pilot maneuvers and significantly reduces aerodynamic penalties in low-speed flight and hover.
An additional H160 technology breakthrough is Airbus Helicopters' initial production use of its Blue Edge® main rotor blades, which reduce exterior noise levels by 50 percent (3 dB) and also allow a payload increase of up to 100 kg. when compared to traditional rotor blades, depending on flight conditions.
The H160 is the first-ever, fully-composite civil helicopter, resulting in an airframe that is lighter in weight, more robust, resistant to corrosion and fatigue, while requiring less maintenance. Airbus Helicopters' proven Spheriflex bearingless main rotor hub is further enhanced with the application of innovative composite thermoplastic technology - which reduces weight and increases damage tolerance.
The H160's integration of Airbus Helicopters' Helionix® avionics marks its latest application of the first digital avionics suite to be fully designed and integrated by a rotorcraft manufacturer. Operators will benefit from the increased safety that Helionix® provides through reduced pilot workload, enhanced situational awareness, improved flight envelope protection and system redundancy. In service today on the EC175 and EC145 T2, Helionix® is an avionics family concept that enables software improvements to be integrated and retrofitted on the H160 as well as other helicopters in the company's current, future and evolved product lines.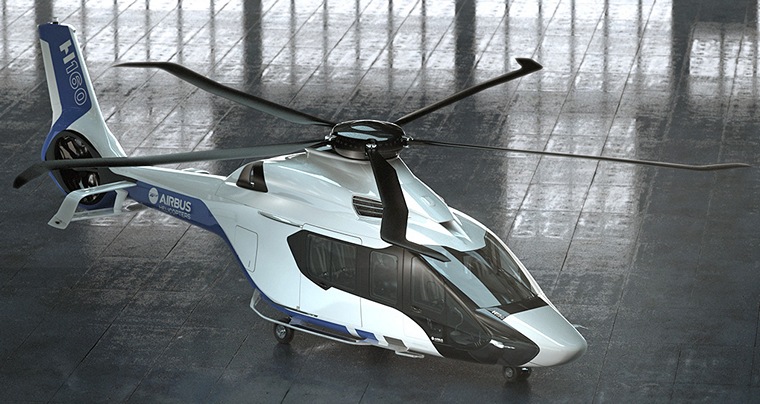 To power its H160, Airbus Helicopters has selected the new Turbomeca 1,100-shp. Arrano engine, which offers significant reductions in fuel consumption for improved range and payload performance, along with a reduced environmental footprint. An optimized maintenance concept designed to significantly decrease the need for on-site servicing will contribute to lower operational costs for the helicopter.
Additional features of the H160 include electric landing gear, requiring less maintenance while also allowing more payload to be carried; easy access to various maintenance areas, which was taken into consideration during the concurrent engineering process; along with flexibility in the maintenance plan to match operators' needs and constraints thanks to the MSG-3 (Maintenance Steering Group-3) inspection methodology.
Airbus Helicopters has invested heavily in the H160 program to ensure efficiency throughout development. Three dedicated prototype aircraft are fully supported by two new ground-based integration test means that enable comprehensive validations of the various system integrations to ensure the highest levels of maturity before the H160's first flight and shorten the entire development process. The Dynamic Helicopter Zero is a test bench fully representative of the rotorcraft's dynamic systems, the main and tail rotor flight controls, along with hydraulic, electrical, avionics and health/usage monitoring systems whereas the System Helicopter Zero integrates the H160's avionics, electrical harnesses, fuel system, hydraulics, flight controls, lighting and all key elements that are connected electrically and involve software.
Development of the H160 began in 2013, with the definition of the final aircraft configuration confirmed this year. The helicopter's first flight will also take place in 2015 and service entry is planned for 2018.
THREE LOUIS BERGER AVIATION PROJECTS IN KENYA, MAURITIUS AND JORDAN HONORED AT 2014 AIRPORT SERVICE QUALITY AWARDS


Airports Council International (ACI) recently recognized three of Louis Berger's aviation projects (http://www.louisberger.com) with six Airport Service Quality (ASQ) awards. Sir Seewoosagur Ramgoolam International Airport, Queen Alia International Airport, and Jomo Kenyatta International Airport were distinguished as best-in-class facilities, according to ACI's ASQ passenger satisfaction survey.
"These are all well-deserved recognitions of the dedication to performance and customer experience that each facility demonstrates, and we are honored to have been a part of their efforts to expand and improve their services to travelers and users in general," said Javier Gonzalez, vice president leading Louis Berger's global aviation practice.
ACI named Sir Seewoosagur Ramgoolam International Airport, located in the Republic of Mauritius, as best and most improved airport in Africa, and as the second-best airport in the world serving two to five million passengers annually. Since 2009, Louis Berger, in collaboration with Ammann & Whitney, a Louis Berger company, has provided technical advisory services for the construction of the airport's new terminal, which opened in May 2013.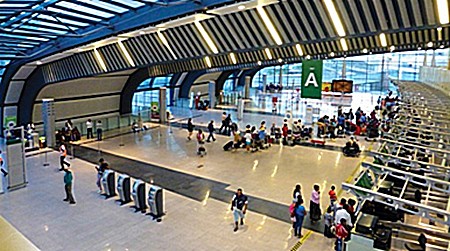 Kenya's principal aviation facility, Jomo Kenyatta International Airport, also was named fifth-best airport in Africa. Louis Berger, in association with Ammann & Whitney and Runji & Partners Ltd., is performing design reviews and construction supervision services for the construction of a greenfield terminal at the airport in Nairobi, which is expected to increase the airport's capacity to 13 million passengers annually.
In the Middle East, Queen Alia International Airport was chosen as the best airport in the region, as well as the most improved. Louis Berger is providing independent engineering services for the rehabilitation and expansion of the facility in Amman, Jordan. Since the project began in 2008, the firm has been working continuously under four contract extensions.
To be eligible for the annual ASQ awards, an airport must have participated in the survey every month of the year. The survey is conducted according to the airport's sample plan, which was developed by ACI and ensures a representative sample of the airport's flights, destinations and passenger groups. The annual awards program represents passengers' views on key service indicators at more than 300 airports worldwide, and is based on the passenger's full experience, from check-in to departure.
MD 500 SERIES HELICOPTERS SELECTED AS BEST CIVIL HELICOPTER OF ALL TIME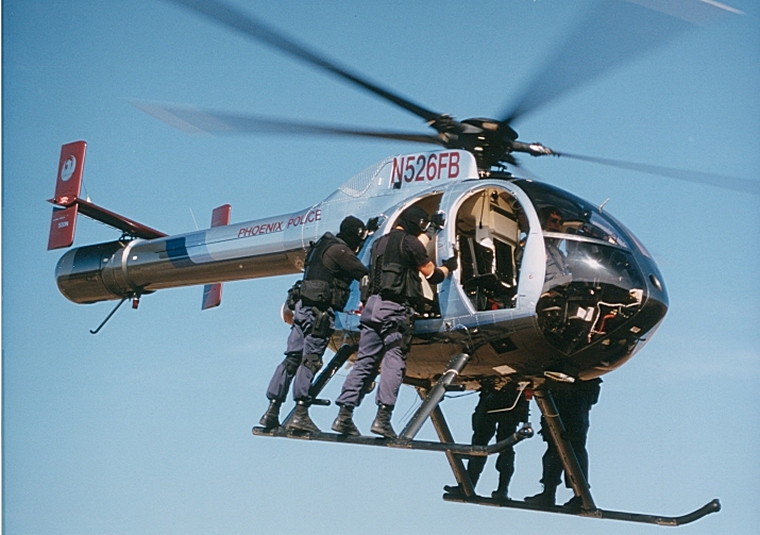 MD Helicopters are proud and honoured that their MD 500 Series helicopters have been selected as the best civil helicopters of all time. With thousands of votes cast over a two week period, the MD 500E tops the list of best civil helicopters of all time, as selected by the global helicopter community Mesa, Ariz., the hands-down winner in a December 2014 survey conducted by Vertical Magazine, the MD 500 Series helicopters sit atop a Top Ten list that includes rotorcraft designs from the earliest days of flight to modern-day innovators.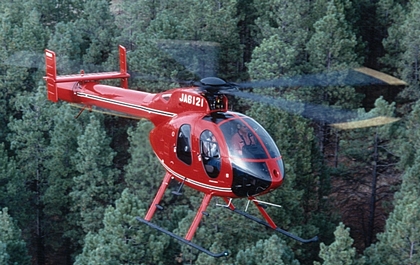 MD Helicopters will feature the MD 520N, a derivative of the award-winning MD 500 Series, at the 2015 Helicopter Association International (HAI) Heli-Expo, March 3-5, at the Orange County Convention Center in Orlando, Florida. Attendees are invited to stop by theMD Helicopters booth, #819, to see and learn more about MDHI's complete civil and military offerings, as well as share their own stories of flying MD helicopters.
For more than 50 years MD Helicopters' products have been recognized worldwide for their ability to serve a wide variety of rotorcraft market segments. The company's class-leading helicopters offer responsive agility, versatility, unparalleled safety and economic value. Operators worldwide turn to MD Helicopters for high-performance rotorcraft backed by a passion for service and support.
CLASSIC JET SOARS SKYWARD AGAIN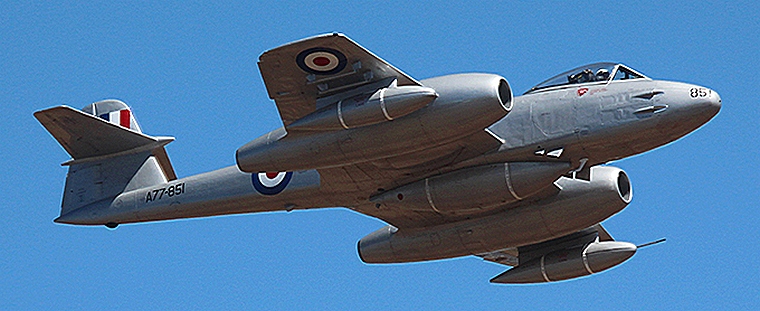 A rare survivor of the pioneer jet age made an encore appearance at this month's Australian International Airshow. The aircraft, a Gloster Meteor F.8, is the last of her kind that's still capable of flight. Meteors occupy a proud place in the history of the Royal Australian Air Force. In 1946 they became the first jet fighters to enter service with the RAAF. Their baptism of fire came during the Korean War when, as part of Number 77 Squadron, they were pitted again the MiG-15. Despite early losses Meteors were highly effective in infantry support and ground attack.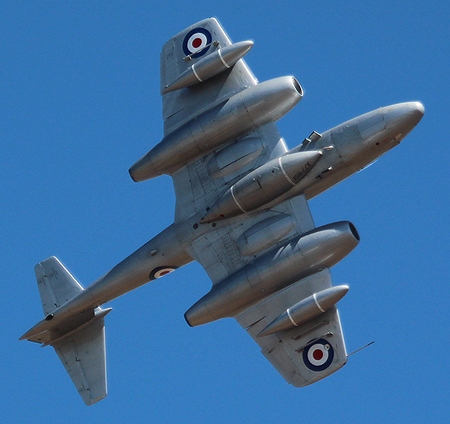 These pioneer jet fighters were developed during the Second World War and first saw service with the Britain's Royal Air Force in 1944. They had their first combat success in August that year against V-1 Flying Bombs. The F.8 was the most built of all the Meteor variants with 1,522 units being produced.They were powered by two Rolls Royce Derwent 8 turbojets and capable of more than 900 kilometres an hour.
The aircraft at Avalon was made in England in 1949 and was used as a target tug until 1982. After being retired from the military it was acquired by a private collector in Britain and purchased by the Temora Aviation Museum in 2001. It carries the Korean War markings of 77 Squadron. The Meteor is one of a number of pioneer warbird jets that took part in the Airshow.
WORLD'S ONLY FLYING PRIVATEER FINALLY HEADING FOR OSHKOSH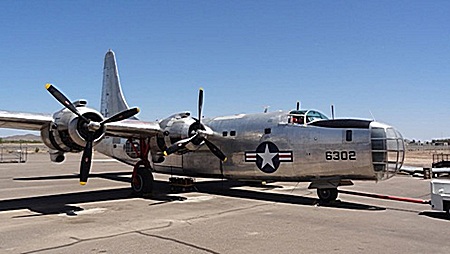 The world's only flying example of a PB4Y-2 Privateer will appear at Oshkosh this year. Photo credit: GossHawk Unlimited
The world's only flying Consolidated Vultee PB4Y-2 "Privateer" is scheduled to appear at EAA AirVenture Oshkosh 2015. Based at Casa Grande Municipal Airport, Arizona, the airplane (N2871G) was being prepared to fly to Oshkosh last year but issues in two of its four Wright R-2600-35 engines ended those hopes. It flew again on February 20, 2015, the first flight in nine months, and now all sights are set on Oshkosh.
This unique aircraft is owned by 4Y-2 LLC and sponsored by SAC Holdings, an affiliate of U-Haul Corp. It was restored to its original navy configuration after serving for years as a fire bomber. Restoration to original Navy configuration was performed by GossHawk Unlimited of Casa Grande, led by its president, Dave Goss.
The Privateer is the Navy version of the Consolidated B-24 that served as patrol bombers in World War II and the Korean War. N2871G came off the line in 1945 and was one of nine PB4Y-2s reassigned to the U.S. Coast Guard. Modifications from the B-24 included a longer nose, as well as an additional top turret and new waist-powered turrets. Perhaps the most obvious modification is its single vertical tail in place of the B-24's twin tails as Navy patrol missions were flown at lower altitudes and the high-altitude capability of the B-24 was not necessary.
After WWII, Privateers were used as hurricane hunters and played a large role in training thousands of Naval Reservists. The type also became the first intelligence-gathering aircraft casualty of the Cold War on April 8, 1950, when an unarmed Privateer was shot down by Soviet La-11s in what would come to be known as the Baltic Sea Incident.
Several PB4Y-2s were recalled to duty in Korea to hunt down and destroy enemy infiltrators along the coasts with their air-to-surface radar. Privateers also flew dangerous nighttime Firefly missions to drop flares over embattled United Nations troops so that air support could continue around the clock.
Many were later converted to fire bombers, including N2871G, which was placed into aerial tanker service. From 1959 to 1969, the now orange and white Privateer flew as tanker No. A20 and later as No. B21 and No. A23 with Avery Aviation, Greybull, Wyoming. In July 1969 Hawkins and Powers Aviation, also of Greybull, purchased the aircraft and flew it until 2006 as tanker No. 121.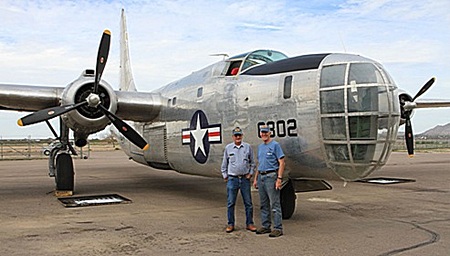 It came to GossHawk Unlimited in 2010 after being purchased at auction, still in orange and white fire bomber configuration. It remained in that livery for about three more years while work proceeded to restore it. "We replaced everything we thought needed replacing," Goss said.
When the engine problems were discovered last year, they were sent to Anderson Aeromotive, Grangeville, Idaho, for thorough inspection, and passed. The plane effectively received a complete firewall forward restoration including the propellers (by Tulare Aircraft Service in Atwater, California) over the ensuing nine months.
"Right now there's not much left to tweak, and it's really purring," Goss said.
Woody Grantham of Arizona Air Response, a legendary fire bomber pilot with more than 6,000 hours PB4Y-2s alone, is N2871G's chief pilot and will be flying the airplane to Oshkosh in July.
Many attendees of the annual Copperstate Fly-In held at Casa Grande will recall seeing the airplane on static display during some recent fly-ins. This year, it's finally Oshkosh's turn to see and experience to world's only flying Privateer as we commemorate the 70th anniversary of the end of World War II.
CANADIAN LANCASTER BOMBER, B-25 RETURNING TO OSHKOSH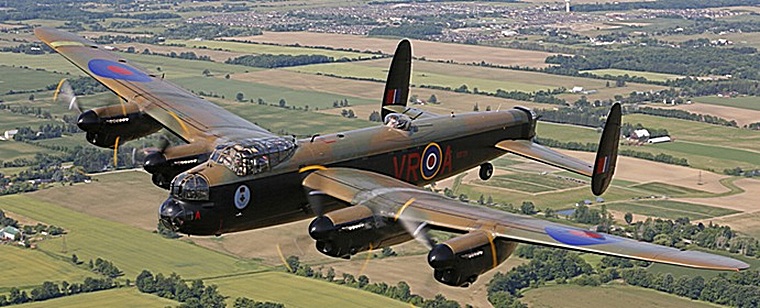 The Canadian Warplane Heritage Museum's Avro Lancaster bomber makes its third appearance in Oshkosh this year.


EAA AirVenture Oshkosh 2015 will feature the return of an iconic Allied aircraft that helped secure liberty in World War II, the Canadian Warplane Heritage Museum's Avro Lancaster bomber. The pride of Canadian EAA members, the aircraft first visited Oshkosh in 2006 and returned in 2009 to help celebrate that year's Canadian centennial of flight. This year the rare RCAF heavy bomber, along with the museum's B-25 Mitchell bomber Hot Gen, will participate in 70th anniversary commemorations of the Allied victory in Europe.
"We're very pleased to be coming back to Oshkosh," said Al Mickeloff, museum retail & marketing manager.
The Lancaster, C-GVRA, was one of the 422 Mk X models built at Victory Aircraft in Canada between 1943 and 1945. It saw service with the No. 107 Rescue Unit at Torbay, Newfoundland, as a maritime patrol/search and rescue aircraft until it was retired by the RCAF in 1964. A total of 7,366 Lancs were built during WWII, and C-GVRA is one of only two remaining airworthy examples in the world today. The other is based in the U.K., owned and operated by the Battle of Britain Memorial Flight, and the two Lancs linked up last summer when C-GVRA flew to the U.K. in August.
The CWHM Lancaster was acquired from the Goderich Legion in 1977, with assistance from the Sully Foundation. Following a lengthy restoration, it flew again on September 24, 1988. The aircraft is painted in the wartime Royal Canadian Air Force (RCAF) markings of the 419 Squadron, unit code VR-A aircraft in which Petty Officer Andrew Mynarski of Winnipeg was posthumously awarded the Victoria Cross for attempting to rescue the trapped rear gunner from his blazing turret.
Powered by four Packard-built Merlin engines, the Lancaster was the only Allied bomber capable of carrying and delivering the 22,000-lb. "Grand Slam" bomb.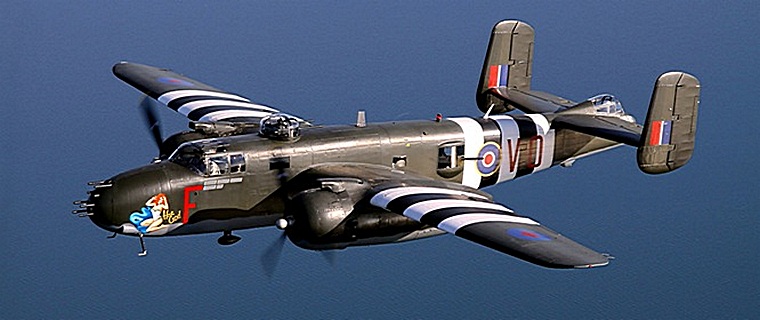 Lancasters measure 69 feet, 6 inches with a 102 foot wingspan. Its four 1640 hp Packard Merlin 224s propel the plane to a maximum speed of 275 mph.
Built in early 1945, the museum's B-25J Mitchell (C-GCWM), was one of the last Mitchells off the line in Kansas City, Missouri, and never saw military service. It was operated as a civilian transport for more than 25 years and was found abandoned at Wilmington Airport, Delaware, in 1975. The airplane was ferried to the Canadian Warplane Heritage Museum in Ontario where it underwent extensive restoration.
The aircraft displays the markings of a B-25J of RAF No. 98 Squadron, which fought over northwest Europe during 1944-45, and is dedicated to the Canadians who flew with 98th. It's been to Oshkosh a number of times, the first after initial refurbishment in the 1970s and most recently accompanying the Lanc in 2009.