THIS WEEK IN MIDWEEK UPDATE



Plan your weekend
Forthcoming events
Notice Board
This week in aviation history
Worldwide incidents and accidents
Aviation News
Advertising rate card

2-12 April: Stars of Sandstone. Contact Andrew Dix, andrew@dix.co.za
3-6 April: SA National Skydiving Championships, Wonderboom. Contact greatfun@mweb.co.za
4 April: SAAF Museum flying training and open days. Contact Capt. Kobus Kapp 012 351 2342 or E-mail: webmaster@saafmuseum.org

11 April: Fashkosh (Stellenbosch) Website: www.stelfly.co.za Contact Alewyn Burger Alewyn@burger.org.za Cell: 082 416 1951
11 April: Henley Air Annual Skills Day at Rand Airport.
15 to 18 April: AERO Friedrichshafen dedicates itself in offering a significant collection of aviation related products and accessories. Exhibitors will be showing engines, modern ultra-lights, powered aircraft, avionics and related products and services. Over the years, this show has gained huge reputation from all over the world and the positive reaction from the attendees has motivated the exhibitors to improve the existing range and manufacture more such effective spare parts and products. For further information on the tour African Pilot is planning please send an e-mail to Athol Franz: editor@africanpilot.co.za. The idea is to get a package deal together for about 10 to 12 persons wishing to visit AERO Friedrichshafen.
17 & 18 April: Zebula airshow. Contact: Paul Weich 083 290 6525 e-mail:
pdweich@mweb.co.za
or Chris Potgieter 083 314 1669 e-mail:
ChrisPotgieter@flysaa.com


18 to 29 April: Sun 'n Fun Tour 2015, Lakeland, Florida, USA. Contact Neil Bowden: e-mail:
neil1@telkomsa.net
.
Neil Bowden will once again be organising a tour to the USA's second largest fly-in, the Sun 'n Fun Fly-in and International Expo. In addition to the airshow, we will be arranging an excursion to the Kennedy Space Centre. A great new feature here is the Space Shuttle Atlantis exhibition building housing the original Atlantis Shuttle. Also planned is a visit to the Kermit Weeks Fantasy of Flight Museum which is home to some very rare aircraft and while we are in the area there are planned visits to the theme parks - Disney and Universal. The price is from R14 750 per person plus airport tax (about R7 400).
25 April - 2 May: 8th NAC Fly Away Namibia. Contact Deneys Potgieter 082 891 4354 or
deneys.potgieter@nac.co.za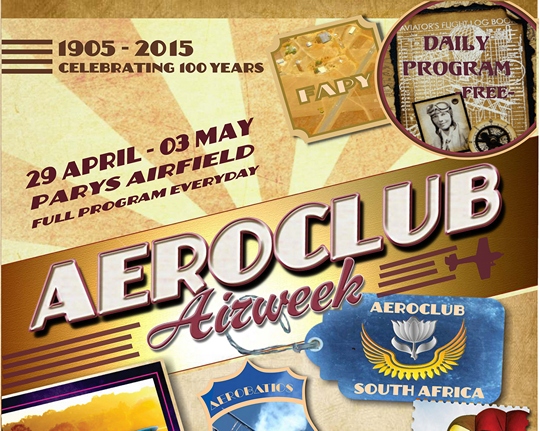 29 April-3 May: Aero Club Air week at Parys airfield contact Kev Storie 011 082 1100 Website: www.aeroclub.org.za
8 - 9 May: SAAF Museum Swartkop Airshow, Pretoria Contact Lt. Col Mike O'Connor e-mail: oc@saafmuseum.org Tel: 012 351 2290
8 - 10 May: Battlefields fly-in (Dundee) Lourens Roos 082 875 5419
E-mail: stay@battlefieldslodge.co.za E-mail: nan@battlefieldslodge.co.za Website: www.battlefieldslodge.co.za
10 & 11 May: AVIATION AFRICA - Dubai UAE Contact Mark Brown mark.brown@africanaerospace.aero
15 to 17 May: Bethlehem Aero Club / EAA Chapter 1500 fly-in weekend. Contact Izak Venter e-mail: izak@motsu.co.za or Francois Marais e-mail: info@stanfra.co.za
16 May: SAPFA Fun Rally Krugersdorp. Contact Frank Eckard e-mail:
frank.eckard@mweb.co.za


16-17 May: Botswana Airshow. Contact: Guillaume
gknipe@work.co.bw
22-23 May: Lowveld Airshow (Nelspruit) Cell: 079 499 5733 Contact Willemien Hodgkinson e-mail:
willemien.hodgkinson@ffa.co.za
23-24 May: Aerobatics Regionals. Parys. Contact Annie Boon
chunge@mweb.co.za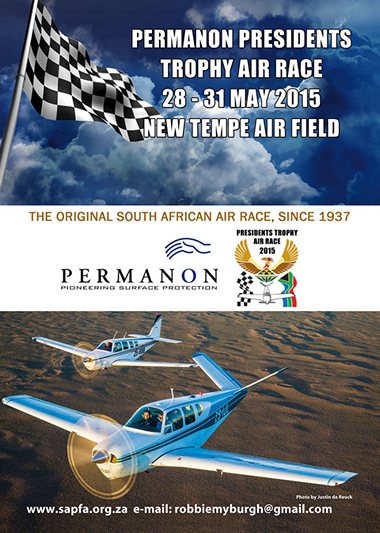 27-31 May: President's Trophy Air Race, Tempe, Bloemfontein. Contact Robbie Myburgh 083 377 0925 roblena@mweb.co.za
6 June: SAAF Museum flying training and open days. Contact Capt. Kobus Kapp 012 351 2342 or E-mail: webmaster@saafmuseum.org
10 to14 June: Kalahari Bundu Bash. Contact Yolande Combrinck e-mail: Yolande@rafsa.co.za
13-16 June: Ok Guys & Girls the 5th Jaunt is set to take place at Carnarvon Airfield and as follows-13 June - Arrival, 14 June- NAV rally & possible Mielie meel exercise, 15 June - Spot landing and 16 June - Public holiday and set for departure. No contact details currently available.
13 June: Zandspruit Airshow - Hoedspruit. Contact Yvonne Fourie e-mail: yf@zandspruit.co.za Tel: 015 793 1192
19 to 21 June: Mafikeng fly-in and airshow. Contact Connie Conradie e-mail: info@mafikeng-flyingclub.co.za Cell: 082 449 1546
20 June: Warbirds over the Vaal fly-in and time trials - Parys Airfield. Contact Scully Levin e-mail: flyboys@global.co.za





We have updated the "Airfields and Weather" section of Pilot's Post to provide pilots with the ability to view wind speed, wind direction and cloud / rain at different altitudes. Most other weather related sources provide surface related weather only and is not always suitable for proper flight planning. Please note that the altitude setting is related to ground level and not mean sea level.

Ckeck it out at:
www.pilotspost.com

We would like to receive your feedback in this regard.



SUPPORT THE SOUTH AFRICAN UNLIMITED AEROBATIC TEAM AS THEY PREPARE FOR THE WORLD AEROBATIC CHAMPS IN FRANCE, 19-29 AUGUST 2015.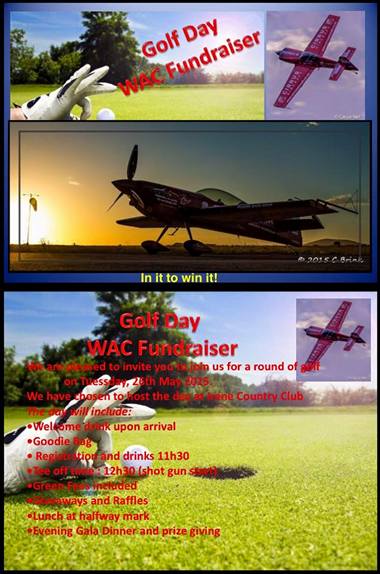 Golf day 19 May 2015 at Irene Country Club in Centurion. Join us for a fun day. 30 four balls available. Sponsors and prizes needed and very welcome.

Email chunge@mweb.co.za for details and opportunities to support.




The Pilot's Post team is pleased to inform that Theo Landman is the lucky winner of our March 2015 reader competition. Theo has won the fabulous book authored, sponsored and signed by Andrew Embleton, "FACTA NOSTRA VIVENT". We are sure that he will enjoy this piece of history perfectly captured in this hardcover version and we thank him for his positive feedback and support.

Once again, congratulations and thank you!!!




April 1 2011 - Introduction: Denel Rooivalk
April 3 1933 - Two British aircraft, the Westland PV-3 and Westland PV-6 make the first flight over Mount Everest
April 4 1957 - First flight of the English Electric Lightning
April 4 1947 - The International Civil Aviation Organization (ICAO) is officially founded in Montreal, Canada. It is an intergovernmental organization, established to regulate air transportation on a worldwide basis, its authority restricted only by the number of signatory nations.
April 5 1968 - To protest the lack of an aerial display to commemorate the 50th anniversary of the founding of the Royal Air Force four days earlier and to demonstrate against the government of Prime Minister Harold Wilson, Flight Lieutenant Alan Pollock of the RAF's No. 1(F) Squadron makes an unauthorized display flight in a Hawker Hunter during which he "beats up" (i. e., buzzes) several RAF airfields and flies low over London, where circles the Houses of Parliament, dips his wings to the Royal Air Force Memorial, and flies under the top span of Tower Bridge, becoming the first person to fly under the bridge's upper span in a jet aircraft. He is arrested upon his return to base.
April 6 1994 - A surface-to-air missile shoots down the presidential jet of Rwanda, a Dassault Falcon 50, as it prepares to land at Kigali International Airport at Kigali, Rwanda, killing all 12 aboard, including President of Rwanda Juvénal Habyarimana and President of Burundi Cyprien Ntaryamira. Their assassination will spark the 1994 Rwandan Genocide.
April 7 1922 - In the first mid-air collision of airliners, a Daimler Hire Ltd.-operated de Havilland DH.18 A, G-EAWO, collides with a Compagnie des Grands Express Aériens (CGEA)-operated Farman F.60 Goliath, F-GEAD, over the Thieulloy-St. Antoine road near Picardie, France, killing all seven people on both aircraft; the pilots of both machines were using the road as a route marker in bad weather and poor visibility
April 8 1959 - The Italian World War I ace and famed seaplane racing pilot Mario de Bernardi is performing aerobatics in a light plane over a Rome airport when he begins to experience a heart attack. He lands the plane safely, but dies minutes later at the age of 65.

United Kingdom: Pilot's DSLR jammed airliner joystick and caused it to plummet. An investigation in the UK has found that a military airliner took a terrifying 4,400 foot nosedive last year after the pilot's DSLR got stuck next to the plane's joystick.
Airlines Adopt Two-in-the-Cockpit Rule After Germanwings Crash. Numerous airlines hastily changed their policies Thursday to require that two crew members be in the cockpit at all times.
An Air Canada jet touched down short of the runway at an airport in Halifax early Sunday, hitting an antenna, severing a power line and losing its landing gear before skidding to a stop.
Mumbai: Passenger jumped out of emergency exit after plane landed and nobody stopped him.
A Jet Airways passenger jumped out of a plane's emergency exit then walked out of the airport without being stopped.
A HISTORY OF CRASHES CAUSED BY PILOTS' INTENTIONAL ACTS


NOVEMBER 2013

Mozambique Airlines: Herminio dos Santos Fernandes, the pilot of Mozambique Airlines Flight TM470 bound for Luanda, Angola, intentionally crashed the plane in a national park in Namibia.
OCTOBER 1999

EgyptAir: EgyptAir Flight 990 plunged into the Atlantic Ocean off Nantucket, Mass., on Oct. 31, 1999, killing all 217 people on board. Investigators concluded that the most likely explanation was that the co-pilot, Gameel al-Batouti, deliberately brought down the plane.
DECEMBER 1997

SilkAir: A Boeing 737 belonging to the Singapore-based airline SilkJet was cruising at 35,000 feet in clear weather when it suddenly dove into a mangrove swamp near Palembang, Indonesia, on Dec. 19, 1997, killing all 104 people on board.
AUGUST 1994

Air Morocco: Moroccan authorities said that Younes Khayati, 32, the pilot of a Royal Air Maroc ATR-42 aircraft, intentionally disconnected the plane's automatic navigation systems.
FEBRUARY 1982

Japan Air Lines: Seiji Katagiri, 35, the pilot of a Japan Air Lines DC-8 sent the plane into Tokyo Bay moments before it was to land on Feb. 9, 1982, killing 24 of the 166 passengers on board.
Source:
www.nytimes.com






AEROCLUB WEEK, PARYS 1 MAY - 3 MAY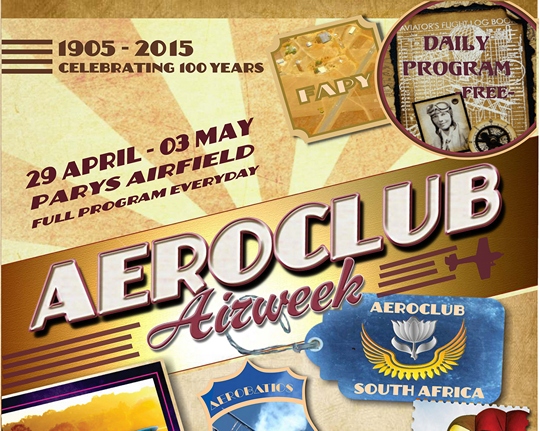 The Aeroclub Week, celebrating 100 years of aviation in South Africa will take place at Parys Airfield from 29 April to 3 May.
Friday is not only the day when the majority of arrivals are expected but also the start of a two day long program filled with a variety of aviation activities. The provisional program for Friday include a spot landing competition, hot air balloon display, a safety seminar including an overview of 2014 Airshow Accidents presented by Gen. Des Barker. James Pittman and Andrew Pittman have a presentation on the Sling world tour whilst Dr. Mike Brown will talk about how to retain your medical. During the daySAAMA and MISASA will hold demonstration in the arena
More arrival is expected for Saturday and the balloon pilot's will again demonstrate their skills. The spot landing quarter finals will take place and EAA safety seminar: Paul Lastrucci TBC will present a EAA safety seminar. Arena action of the day will consists of demonstration by the Airplane Factory, SAAMA and PASA.
More participants are set to be added in the following weeks and interested parties are invited to contact Sarie v/d Berg at
vdberg.sarie@gmail.com


WHAT YOU NEED TO KNOW ABOUT AIR SAFETY AND CRASHES


Planes are considered the safest mode of transport, and for good reason. Statistically, accidents occur at a rate of 0.23 per million flights. Below are 10 important facts about civil aviation.
1. In terms of fatalities, 2014 was the worst year in the history of civil aviation. Some 970 people died in plane crashes.
2. The three accidents with the highest number of fatalities were connected to two airlines based in Malaysia.
3. However, more than 3.3 billion people flew safely in 2014, according to the International Air Transport Association (IATA). That represents 170 million more tickets sold than in 2013.
4. The highest number of civilian aviation fatalities on or over German territory in the last 40 years was in 2002, when 118 people died.
5. The lowest number of fatalities on German territory was in 2004 with 23 deaths.
6. Europe's biggest airplane disaster happened on the ground at Spain's Tenerife airport on March 27, 1977. A KLM flight tried to take off while a Pan Am flight was still on the runway. The collision killed 583 people.
7. Malaysia Airlines Flight MH17 is considered to be one of the most tragic flight disasters in recent memory. The flight from Amsterdam to Kuala Lumpur crashed after supposedly being shot down over a war zone in East Ukraine. Many children were among the 298 dead.
8. Large airlines are seldom involved in fatal accidents. Regional carriers with smaller planes have a higher accident rate. Most of these are based outside of Europe and the Americas.
9. Civil aviation is a growing market. IATA estimates that in 20 years, around 7.3 billion people will travel by plane annually. That's double the number seen in 2014.
10. "If you were to take a flight every day, the odds are that you would fly 14,000 years without an accident." (IATA)
Source
http://www.dw.de/what-you-need-to-know-about-air-safety-and-crashes/a-18336938






ROLLOUT A MAJOR MILESTONE FOR B-29 SUPERFORTRESS DOC


Doc emerges from its hangar on Monday in Wichita

EAA congratulated all the volunteers and supporters of the restored B-29 Superfortress Doc, which was rolled out Monday, March 23, at a special event at Wichita's McConnell Air Force Base - exactly 70 years to the day after its original delivery to the United States Army Air Forces during World War II. The airplane slowly emerged from a former Boeing hangar as the Air Force Song (Wild Blue Yonder) played and assembled volunteers, backers, and supporters cheered.
Over the coming weeks and months, the airplane is scheduled to undergo engine run-up, followed by a first flight and additional test flights. Once airborne, Doc would become the world's second flying B-29 along with the Commemorative Air Force's FIFI.
Doc's Friends, the non-profit organization that owns the aircraft, has stated a goal to fly Doc to Oshkosh for EAA AirVenture 2015 (July 20-26). Since the CAF has confirmed it will bring FIFI to Oshkosh this summer, the prospect of the world's only two flying B-29s appearing together could create a historic event for aviation enthusiasts.

According to the Doc's Friends website, Doc was originally one of eight B-29s in a squadron nicknamed "Snow White and the Seven Dwarfs." It flew in the latter days of WWII as well as the Korean War. It was decommissioned in 1956 and parked in the Mojave Desert where it served as a ballistic target on a China Lake Naval Air Warfare Center Weapons range. Tony Mazzolini, who served as a flight engineer on a B-29 during the Korean War, acquired the airplane in 1987, and restoration began.
Doc was relocated to its Wichita birthplace in 2000, where over the past 15 years hundreds of volunteers have contributed some 300,000 hours to restore it. Volunteers included retirees from Boeing and Spirit AeroSystems, veterans, active duty military, and others wanting to honour those who have served. Other countless individuals and organizations have made financial and in-kind contributions to keep the project going.
EAA Chairman of the Board Jack J. Pelton serves on the Doc's Friends board of directors.
RWANDAIR SELECTS THE A330 FOR FLEET GROWTH AND MODERNISATION


New Airbus operator with commitment for two A330s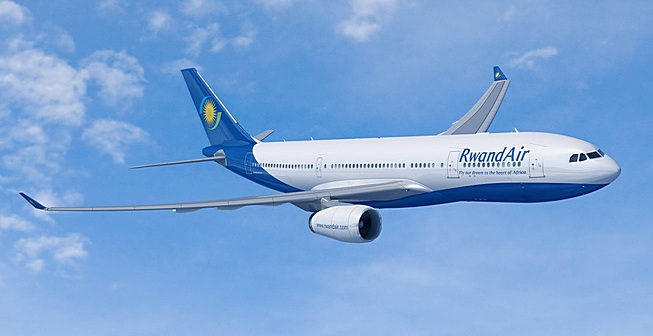 RwandAir, the national flag carrier of the Republic of Rwanda, has signed an MoU (Memorandum of Understanding) for two A330s. The agreement makes RwandAir a new Airbus customer and the first airline in East Africa to order the A330. RwandAir's A330s will be delivered in the second half of 2016 and will be equipped with Rolls Royce Trent 772B engines.
"As we look to introduce wide body aircraft for the first time into our fleet, with its proven economics, reliability and passenger comfort, we have found the A330 to perfectly support our plans to expand into Europe and Asia, to enhance our regional presence, to open up new routes and to grow our market share,'' said John Mirenge, Chief Executive Officer of RwandAir.
"We are delighted that RwandAir has confirmed its confidence in the A330, and are extremely pleased to welcome them as a new A330 customer," said John Leahy, Airbus Chief Operating Officer, Customers. "The A330 Family offers a unique combination of unbeatable economics, versatility and fuel efficiency. Passengers will be able to enjoy a new flying experience with state of the art inflight entertainment systems and best-in-class passenger comfort that only Airbus offers."
Rwanda's flagship carrier will deploy the new A330 aircraft on medium and long haul routes from their Kigali home base to long-haul destinations throughout Europe, the Middle-East and Asia.
The A330 Family, which spans 250 to 300 seats, has now attracted almost 1,500 orders, with over 1,150 aircraft flying with more than 100 operators worldwide. The A330 is one of the world's most efficient aircraft with best in class operating economics, averaging dispatch reliability well above 99 percent.
PHILIPPINES AIR FORCE TAKES DELIVERY OF THE FIRST OF THREE AIRBUS C295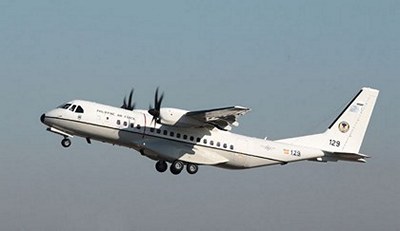 The Philippines Air Force has taken delivery of the first of three Airbus C295 medium transport aircraft ordered from Airbus Defence and Space. The aircraft was formally handed over in Seville, Spain where the final assembly line is located and is now being ferried to the Philippines. In Philippines Air Force service the C295 will play a key role in the modernization of the force´s transport fleet and will undertake a wide variety of military and humanitarian missions.
FOUR BELL 412EPS DELIVERED TO HELISERVICIO CAMPECHE

Bell Helicopter, a Textron Inc. company (NYSE: TXT), announced the final delivery of four Bell 412EPs to Heliservicio Campeche to support their oil and gas operations in the Gulf of Mexico.
"Heliservicio has been an operator of the Bell 412 for nearly 25 years, so we know it has the superior performance capabilities that fit our mission needs," said Alejandro Jasso, managing director for Heliservicio Campeche. "Over the course of our relationship, Bell Helicopter has provided us with the world-class customer support and services needed to fulfill our mission requirements, and we look forward to continuing our relationship into the future."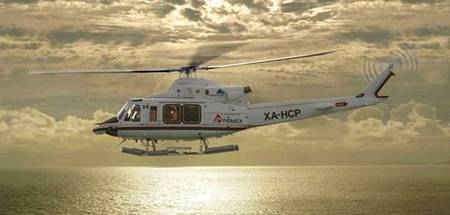 Heliservicio took delivery of their first Bell helicopter in 1991, and has since expanded their fleet to more than 35 Bell helicopters. All of their aircraft are maintained by Servicio Técnico Aéreo de México, Bell Helicopter's platinum-level Certified Service Facility for Mexico. Based at Ciudad Del Carmen, Heliservicio has accumulated over a half-million flight hours since their founding in 1978.
"The Bell 412 has had tremendous success in Mexico. It is well-known for its reliability and multi-mission capabilities," said Jay Ortiz, Bell Helicopter's vice president of Latin American sales. "We look forward to strengthening our partnerships in Mexico and supporting our customer's missions."
Heliservicio Campeche took delivery of the aircraft in December 2014.
The Bell 412EP is the cornerstone of mission critical helicopter operations throughout the world, able to reliably perform in some of the most extreme climates on the planet. The Bell 412EP offers dual digital automatic flight control system with available IFR option and excellent Category A/JAR OPS 3 capability. With a cruise speed of 140 knots (161 mph), range of 358 nautical miles (412 miles) and an expansive cabin able to comfortably accommodate 14 passengers and one crew member, the Bell 412EP easily fits multiple mission criteria.

MASSIVE B-52 TO LAND IN OSHKOSH

First on-the-ground display of massive Boeing bomber at AirVenture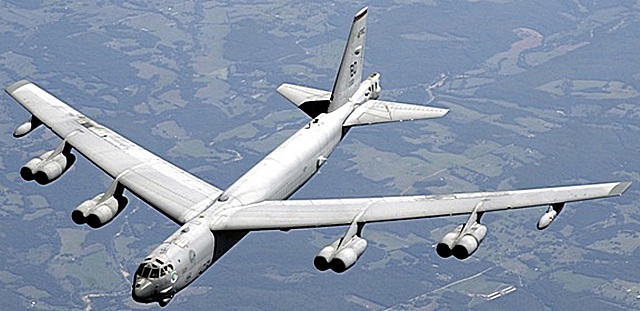 Photo credit: U.S. Air Force 307th Bomb Wing Public Affairs

The Boeing B-52H Stratofortress bomber, which for more than 50 years has been the backbone of the U.S. Air Force bomber fleet, will be a prime attraction at this year's EAA AirVenture Oshkosh fly-in. It marks the first time a B-52 will be on ground display during the event, although similar aircraft have done fly-bys at Oshkosh on several occasions.
The aircraft from the U.S. Air Force Reserve's 93rd Bomb Squadron of the 307th Bomb Wing is based at Barksdale Air Force Base in Louisiana. It's scheduled to be on display at the showcase Boeing Plaza area throughout EAA AirVenture week.
The B-52 is marking its 60th anniversary of active military service this year, as it first flew in 1954 and entered military service in 1955. It has received regular upgrades to modernize its flight equipment and capabilities, with the B-52H models still active through its assignments at Air Force bases in Barksdale as well as Minot, North Dakota.
"EAA AirVenture creates unmatched opportunities for people to see aircraft in one place that you cannot see anywhere else in the world," said Rick Larsen, EAA's vice president of communities and member services, who coordinates AirVenture features and attractions. "It's only fitting that on the B-52's 60th anniversary of active military service that it comes to Oshkosh and, for the first time, will be on ground display for the world's aviation enthusiasts to see up-close."

Aerial refueling allows the B-52 to fly a range limited only by crew endurance. In 1996, the airplane flew a 34-hour, 16,000-mile combat mission from Louisiana to Iraq. Without refueling, the aircraft has a range in excess of 8,800 miles with a five-person crew.
The 307th Bomb Wing flies and maintains 20 B-52H Stratofortress aircraft. The 307th Operations Group oversees three squadrons, including the 93rd Bomb Squadron. The unit has a long and distinguished history, as it was founded as the 307th Bombardment Group with the Army Air Corps in 1942 and saw its first service in the Pacific Theater during World War II. The 307th flew B-17s, B-24s, B-29s, and B-47s prior to flying B-52s.
The 93rd Bomb Group has an even longer history, having been founded in 1917 as the 93rd Aero Squadron that saw service in World War I. In 2009, it became a formal B-52 training unit. The 93rd Bomb group has also received the Air Force's Curtis LeMay Award as the nation's top bomber squadron twice in the past four years.
COLD-WEATHER TESTS CARRIED-OUT ON HAL LCH AT LEH

The cold weather trials of LCH were carried out at Air Force Station, Leh recently. "The trials covered engine starts with internal batteries after overnight cold soak at 3 km altitude and 4.1 km altitude", says Mr. T. Suvarna Raju, Chairman, HAL. The engine starts were satisfactory in the temperature of minus 18 degree C at 4.1 km. The flights were also carried out to assess high altitude performance and low speed handling.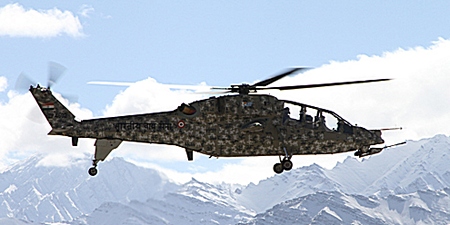 The LCH prototype, TD2 was ferried from Bangalore to Leh and the flight trials were carried out involving customer pilots from Air Force and Army and with the participation of representatives from RCMA (H/c) and DGAQA (H/c).
"Light Combat Helicopter (LCH) Technology Demonstrator TD-3 made its maiden flight in November last year and the TD-4 is likely to fly soon. The IOC is expected in the later part of this year and to achieve this we are concentrating on building more prototypes and increase the number of flights to reduce the lead-time for IOC", adds Mr. Raju.
During recently concluded Aero India 2015, two LCHs - one on static and another on flying display- enthralled lakhs of people who appreciated many features of this helicopter.
About LCH: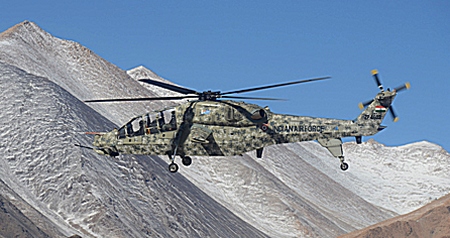 LCH is of 5.5 ton class, powered by two Shakti engines and inherits many technical features of the Advanced Light Helicopter. The features that are unique to LCH are sleek and narrow fuselage, tri-cycle crashworthy landing gear, crashworthy and self-sealing fuel tanks, armour protection, nuclear, and low visibility features which make the LCH lethal, agile and survivable. The helicopter would have day/night targeting systems for the crew including the Helmet pointed sight and Electro-optical pod consisting of CCD camera/FLIR/Laser Range Finder(LRF) / Laser Designator(LD).
The LCH is fitted with Self Protection Suite consisting of Radar/Laser Missile warning systems and Counter measures dispensing system. The first prototype helicopter had its inaugural flight in May 2010. The second and third prototype had their first flight in June 2011 and November 2014. The forth prototype is currently being built to speed up the trials for certification process.