THIS WEEK IN MIDWEEK UPDATE


Plan your weekend
Forthcoming events
Notice Board
This week in aviation history
Worldwide incidents and accidents
Aviation News
Advertising rate card

11 April: Fashkosh (Stellenbosch) Website: www.stelfly.co.za Contact Alewyn Burger Alewyn@burger.org.za Cell: 082 416 1951
11 April: Henley Air Annual Skills Day at Rand Airport.

17 & 18 April: Zebula airshow. Contact: Paul Weich 083 290 6525 e-mail:
pdweich@mweb.co.za
or Chris Potgieter 083 314 1669 e-mail:
ChrisPotgieter@flysaa.com


18 to 29 April: Sun 'n Fun Tour 2015, Lakeland, Florida, USA. Contact Neil Bowden: e-mail:
neil1@telkomsa.net
.
Neil Bowden will once again be organising a tour to the USA's second largest fly-in, the Sun 'n Fun Fly-in and International Expo. In addition to the airshow, we will be arranging an excursion to the Kennedy Space Centre. A great new feature here is the Space Shuttle Atlantis exhibition building housing the original Atlantis Shuttle. Also planned is a visit to the Kermit Weeks Fantasy of Flight Museum which is home to some very rare aircraft and while we are in the area there are planned visits to the theme parks - Disney and Universal. The price is from R14 750 per person plus airport tax (about R7 400).
25 April - 2 May: 8th NAC Fly Away Namibia. Contact Deneys Potgieter 082 891 4354 or
deneys.potgieter@nac.co.za




29 April-3 May: Aero Club Air week at Parys airfield contact Kev Storie 011 082 1100 Website: www.aeroclub.org.za
8 - 9 May: SAAF Museum Swartkop Airshow, Pretoria Contact Lt. Col Mike O'Connor e-mail: oc@saafmuseum.org Tel: 012 351 2290
8 - 10 May: Battlefields fly-in (Dundee) Lourens Roos 082 875 5419
E-mail: stay@battlefieldslodge.co.za E-mail: nan@battlefieldslodge.co.za Website: www.battlefieldslodge.co.za
10 & 11 May: AVIATION AFRICA - Dubai UAE Contact Mark Brown mark.brown@africanaerospace.aero
15 to 17 May: Bethlehem Aero Club / EAA Chapter 1500 fly-in weekend. Contact Izak Venter e-mail: izak@motsu.co.za or Francois Marais e-mail: info@stanfra.co.za
16 May: SAPFA Fun Rally Krugersdorp. Contact Frank Eckard e-mail:
frank.eckard@mweb.co.za


16-17 May: Botswana Airshow. Contact: Guillaume
gknipe@work.co.bw
22-23 May: Lowveld Airshow (Nelspruit) Cell: 079 499 5733 Contact Willemien Hodgkinson e-mail:
willemien.hodgkinson@ffa.co.za
23-24 May: Aerobatics Regionals. Parys. Contact Annie Boon
chunge@mweb.co.za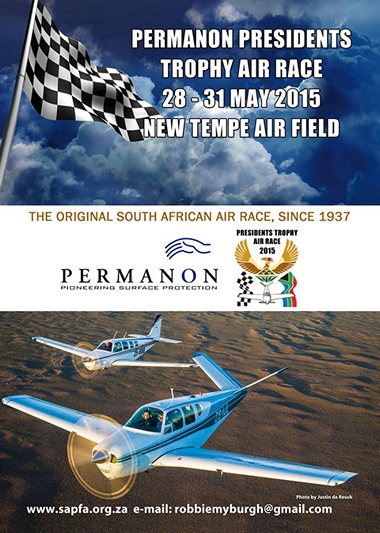 27-31 May: President's Trophy Air Race, Tempe, Bloemfontein. Contact Robbie Myburgh 083 377 0925 roblena@mweb.co.za
6 June: SAAF Museum flying training and open days. Contact Capt. Kobus Kapp 012 351 2342 or E-mail: webmaster@saafmuseum.org
10 to14 June: Kalahari Bundu Bash. Contact Yolande Combrinck e-mail: Yolande@rafsa.co.za
13-16 June: Ok Guys & Girls the 5th Jaunt is set to take place at Carnarvon Airfield and as follows-13 June - Arrival, 14 June- NAV rally & possible Mielie meel exercise, 15 June - Spot landing and 16 June - Public holiday and set for departure. No contact details currently available.
13 June: Zandspruit Airshow - Hoedspruit. Contact Yvonne Fourie e-mail: yf@zandspruit.co.za Tel: 015 793 1192
19 to 21 June: Mafikeng fly-in and airshow. Contact Connie Conradie e-mail: info@mafikeng-flyingclub.co.za Cell: 082 449 1546
20 June: Warbirds over the Vaal fly-in and time trials - Parys Airfield. Contact Scully Levin e-mail: flyboys@global.co.za
4 July: SAAF Museum flying training and open days. Contact Capt. Kobus Kapp 012 351 2342 or E-mail: webmaster@saafmuseum.org
11 & 12 July: Durban (Virginia) airshow. Contact Gerna Fraser e-mail: gerna@kznwintertour.co.za Cell: 084 783 1953
16 to 19 July: Sports Aerobatics Club Nationals - Klerksdorp. Contact Annie Boon chunge@mweb.co.za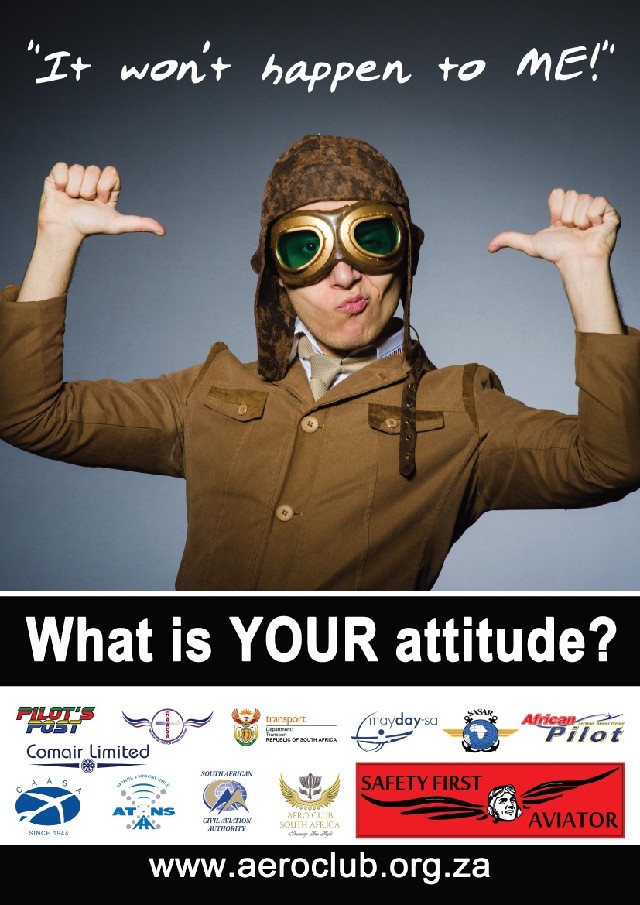 We have updated the "Airfields and Weather" section of Pilot's Post to provide pilots with the ability to view wind speed, wind direction and cloud / rain at different altitudes. Most other weather related sources provide surface related weather only and is not always suitable for proper flight planning. Please note that the altitude setting is related to ground level and not mean sea level.

Ckeck it out at:
www.pilotspost.com

We would like to receive your feedback in this regard.

SUPPORT THE SOUTH AFRICAN UNLIMITED AEROBATIC TEAM AS THEY PREPARE FOR THE WORLD AEROBATIC CHAMPS IN FRANCE, 19-29 AUGUST 2015.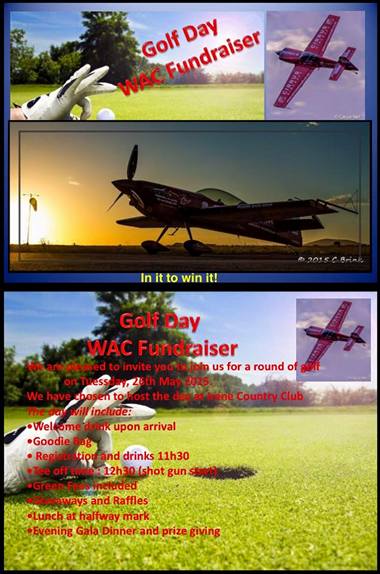 Golf day 19 May 2015 at Irene Country Club in Centurion. Join us for a fun day. Thirty four balls available. Sponsors and prizes needed and very welcome.

Email chunge@mweb.co.za for details and opportunities to support.


April 8 1954 - South African Airways Flight 201, a de Havilland Comet flying from Rome to Cairo bound for Johannesburg, disintegrates in mid-air, killing all 14 passengers and seven crew; as in BOAC Flight 781, the cause is metal fatigue at stress risers at the corners of the square windows in the aluminum skin; subsequently, all pressurized aircraft windows are constructed with wide radius corners.
April 9 1969 - The first United Kingdom assembled supersonic transport, Concorde 002, makes its first successful flight in England.
April 9 1967 - First flight of the Boeing 737.
April 11 1933 - (11-20) Departing England on April 11 in the Avro Mark VIA Avian Southern Cross, William N. "Bill" Lancaster begins an attempt to set a speed record for a flight to South Africa. He crashes in the Sahara Desert on April 12 and dies on April 20 while awaiting rescue. His mummified body and wrecked aircraft will not be discovered until February 1962.
April 12 1996 - Seven year old pilot Jessica Dubroff dies during attempt to set record as the youngest person to fly across the United States.
April 12 1961 - Yuri Gagarin makes the first human spaceflight in Vostok 1, orbiting the Earth once, in 108 min.
April 12 1911 - Pierre Prier makes the first non-stop flight from London to Paris
April 14 1945 - (Overnight) - An Avro Lancaster on a night mission against Potsdam becomes the last British bomber shot down by a German night fighter during World War II.
April 14 1929 - Ed Link introduced a ground-based flight trainer. During World War II, half a million pilots received flight training in Link trainers.

USA: Two U.S. Forest Service workers were killed and a third was seriously injured when their helicopter crashed during a controlled burn in Mississippi. The helicopter, a Bell 206L-1, went down near Saucier, about 25 miles northwest of Biloxi.
Dubai: A Dubai-Mumbai Jet Airways aircraft suffered a bird strike with 280 passengers on board, plunging 5,000 feet over Turkey last week. The Jet Airways aircraft, however, survived without any damage.
San Jose, Calif: San Jose airport police arrested a woman last Tuesday night after a security breach. Authorities believe the woman scaled and jumped the fence near the southwest corner of the airport. The suspect then continued to walk eastbound across the airfield until she was contacted by San Jose Airport Police and taken into custody.
USA Seattle: Passengers aboard two jets arriving at Seattle-Tacoma International Airport on Wednesday evening received an unusual and somewhat frightening welcome when both aircraft were struck by lightning in a scene that was caught on video. While it may look a little scary, experts say the planes were perfectly safe.
Delhi, India: An Air India pilot and co-pilot engaged in a fierce quarrel in the cockpit just before taking off on a flight led to the aircraft being grounded.
AMMAN, Jordan; Jordan's military says a Firefly aircraft has crashed during a routine training flight, killing two pilots on-board.






BOB CARLTON TO DEBUT SUBSONEX PERSONAL JET AEROBATIC SHOW AT SUN FUN 2015

Sonex Aircraft is excited to announce that the SubSonex Air Show, flown by renowned performer Bob Carlton, will make its worldwide debut at the 2015 Sun 'n Fun International Fly-In & Expo! Scheduled to perform on Tuesday April 20th and Sunday April 26th, the SubSonex air show routine will feature maneuvers previously unheard of in a jet aerobatic routine.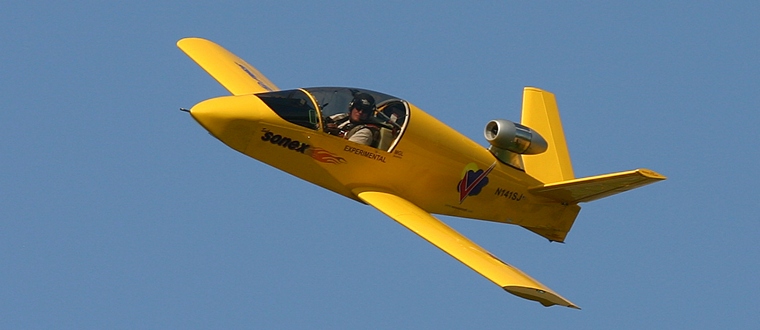 "The SubSonex microjet is capable of speeds of 300 mph," comments Bob Carlton, "and can perform all the classic aerobatics, including manoeuvres like tail slides, normally considered taboo in a jet. But it's not just about high speed. With its incredibly wide speed range, the SubSonex can turn tight and stay close so that air show spectators aren't waiting for a turnaround." Although Carlton has previously demonstrated the SubSonex before crowds at EAA AirVenture Oshkosh with some low passes, this will be the debut of a fully-aerobatic, full-length routine in the aircraft.
Bob Carlton will be performing his routine in a stock SubSonex JSX-2 Personal Jet. The SubSonex is available as a kit aircraft from Sonex Aircraft, LLC and the first seven customer kits were delivered in early 2015, with production slots still open for delivery by year-end! SubSonex
JSX-2 is a highly refined microjet aircraft that is powered by the PBS TJ-100 engine, producing 247 lbs of thrust in an advanced, fully integrated package. The new jet features a larger, more comfortable cockpit, a larger instrument panel, fully retractable landing gear, a BRS full-aircraft recovery parachute, higher fuel capacity in a rotationally molded cross-linked polyethylene fuel cell, easily removable wings, and a more sculpted and aesthetically pleasing nose section vs. the original JSX-1 proof-of-concept SubSonex aircraft. Sold only as a Quick Build Kit, the SubSonex includes almost everything required to fly with the exception of avionics and paint. Available options for the SubSonex Personal Jet include MGL iEFIS touchscreen avionics, a Mountain High oxygen system, Aveo PowerBurst LED position and strobe lighting, heated leather upholstery, cabin heat, and a Triton TC 167 enclosed trailer modified to transport the SubSonex. Transition Training is available via the Desert Aerospace BonusJet program, and the Sonex Aircraft T-Flight Transition Training program.
EUROFIGHTER TYPHOON POWERS FORWARD WITH NEW ENHANCEMENT CONTRACT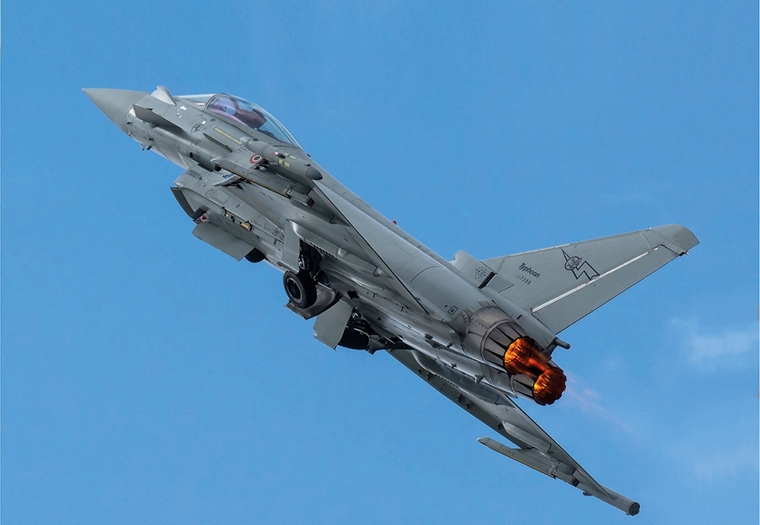 Photo © Eurofighter Photo by mara-angeolosante-1st-winner-1687


Eurofighter has today released details of a new capability contract valued at EUROS 200 million delivering a suite of new enhancements to the Eurofighter Typhoon.
As well as introducing a number of upgrades to the Eurofighter's mission and maintenance systems, the contract, known as Phase 3 Capability Enhancement, will equip the Eurofighter Typhoon to deploy multiple precision-guided air-to-surface weapons at fast-moving targets with low-collateral damage. It further confirms the aircraft's full multi-role, swing-role capability.
Details of the new enhancements were revealed at the IDEX defence exhibition in Abu Dhabi, today, Sunday 22nd February 2015, at a contract signing in the presence of Philip Dunne, UK Minister for Defence Equipment, Support and Technology, accompanied by Alberto Gutierrez, CEO of Eurofighter and Air-Vice Marshal Graham Farnell and representatives from the other Eurofighter customer nations: for Germany, General Erhard B?hler, Director Defence Plans & Policy; representing Italy, Lieutenant General Enzo Stefanini; and for Spain, Ministry of Defence, Secretary of State, Pedro Arguelles, all showing their support for this essential capability.
Alberto Gutierrez, the CEO of Eurofighter, said: "This capability upgrade gives the Eurofighter Typhoon unrivalled full multi-role and swing-role capability. Although the prime focus is the introduction of the Brimstone 2 missile required by the UK RAF, P3E enhances the capabilities of the Storm Shadow long-range strike missile, the Meteor, Paveway IV and ASRAAM weapons, as well as introducing modifications to further improve the aircraft's already impressive availability. Support for the contract will come from all four core nations and the enhancement package will benefit all who use it."
Air Vice-Marshal, Graham Farnell, the General Manager of NETMA (NATO Eurofighter and Tornado Management Agency), who signed the contract on behalf of the core customer nations, said: "Over the last 18 months the Eurofighter Typhoon community has enjoyed a significant acceleration to the weapon system capability enhancement programme and I am pleased to say we have been able to agree a number of major contracts which really drive the weapon system's contribution to air power."
He said: "The agreement of the P3E contract is further evidence that this is a Programme which keeps on delivering. As the hugely successful Panavia Tornado moves towards the last decade of its life cycle, it is highly re-assuring to know that the mantle will be picked up by the Eurofighter Typhoon. Brimstone 2 capability is both a unique and welcome addition to the capability portfolio, and whilst it is just a part of the P3E story, Brimstone represents an extremely important capability to have."
The four nation contract between the UK, Italy, Germany and Spain will form the basis for the next major Eurofighter enhancement, the Phase 4 Capability Enhancement contract, now in its 'definition phase'. This will lay the foundation for the Nations' Combat Air capability requirements into the next decade.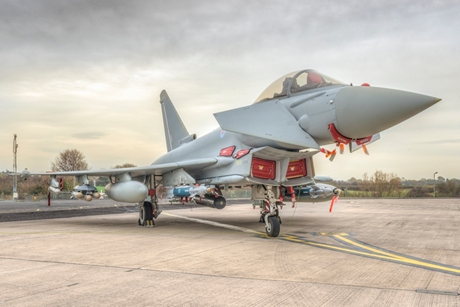 Photo © Eurofighter. The Phase 3 Enhancement contract is scheduled for delivery in 2017. All four core nations will work on flight control and avionics and the contract will centre round a scheduled programme of weapon testing, the development and testing of flight control systems, and finally store clearing and store release testing. The initial fit for the Brimstone 2 missiles on the Eurofighter will see two launchers fitted to the outboard pylons of the Eurofighter each carrying three Brimstone 2 missiles.
The full swing-role, multi-role weapons compliment on the Eurofighter could now include a mix of: six Brimstone 2 missiles; up to six Paveway IV bombs, two long-range Storm Shadow missiles, four Meteor beyond visual range air-to-air missiles and either two IRIS-T or two ASRAAM heat-seeking missiles.
This weapons package, combined with the high-kinetic performance and super cruise capability of the platform and AESA radar now being integrated onto the platform, confirms Eurofighter as the world's most versatile fast-jet fighter.
TEXTRON AIRLAND EXPLORE THE SCORPION'S MULTI-MISSION CAPABILITIES AS IT ENTERS YEAR-TWO OF FLIGHT TESTING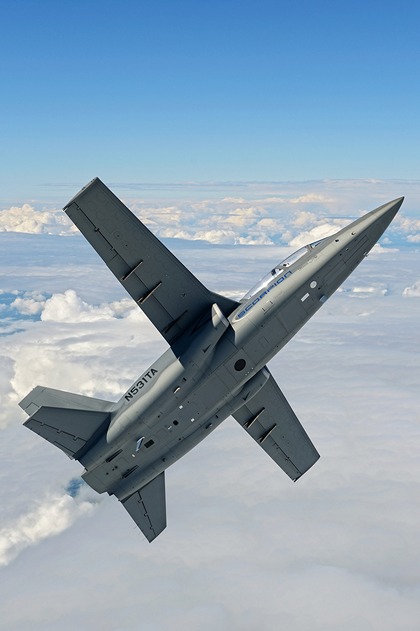 The Textron AirLand Scorpion Jet was introduced in 2013 and this week completed its 300th hour of flight testing as a highly-affordable twin-engine tactical jet aircraft. Scorpion is a multi-mission aircraft designed with diverse capabilities including intelligence, surveillance and reconnaissance, humanitarian assistance, disaster relief, training and precision strike.
Scorpion representatives will be available at stand 03-C07 during all IDEX show hours. A scale model of the aircraft will be displayed, along with video of recent flights, with experts prepared to discuss the performance, versatility and value of the aircraft. The media is welcome to use high-resolution images of Scorpion from ourMedia Gallery, as well as Flight Video and details of the aircraft's Specifications and Mission Capabilities.
Some highlights of flight testing to date:

Total flight hours: 300 from December 12, 2013 to February 15, 2015
Availability: Scorpion's first-year availability rating was greater than 95 percent, an extremely high mission capability score for a prototype tactical jet aircraft
Confirmed efficiency: Demonstrated below $3,000 per flight hour
First trans-Atlantic roundtrip flight: Scorpion crossed the Atlantic for its international debut at the Royal International Air Tattoo and Farnborough International Air Show. The trip was completed one day ahead of schedule, covering over 9,200 nautical miles in a total of 38 hours flight time.
International demo: Flew the first international pilot at the British Empire Test Pilots' School
First military exercise: Participated in Vigilant Guard 2014, a large-scale, multi-state disaster response exercise sponsored by U.S. Northern Command and the National Guard Bureau. Scorpion provided aerial reconnaissance, transmission of full motion video and communications regarding mock threat scenarios, in tight coordination with other aircraft and ground stations
Longest flight: 4.2 hours during Vigilant Guard 2014
Top speed achieved: 455 Knots True Air Speed (KTAS); 0.78 Mach
Low speed achieved: Demonstrated an intercept of a low, slow flying threat aircraft below 100 KTAS
Top altitude achieved: 45,000 feet
BELL HELICOPTER EXHIBITS V-280 TILTROTOR MOCKUP AT ARMY AVIATION SUMMIT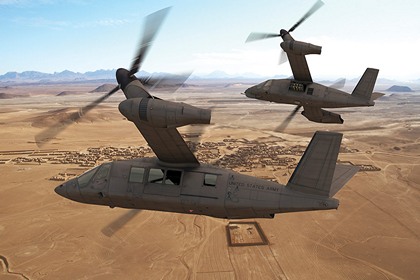 Bell Helicopter, a Textron Inc. company (NYSE: TXT), announced its show plans for the 2015 Army Aviation Mission Solutions Summit in Nashville, Tenn., March 29 - April 1. The company will display its full-size mockup of the Bell V-280 Valor next generation tiltrotor aircraft.
"The Army Aviation Summit provides us with a great opportunity to engage with current and future Army aviation leadership," said Mitch Snyder, executive vice president of Military Business at Bell Helicopter. "This unique event gives us the chance for precise, in-depth discussions on what the next generation of tiltrotor can deliver in support of the U.S. Army's operating concepts and future doctrine." Throughout the show, the V-280 mockup will be shown in both attack and utility configurations, demonstrating the aircraft's versatility and multi-mission capability to attendees. The annual event will be held at the Gaylord Opryland Hotel and convention center and will host representatives from 22 countries.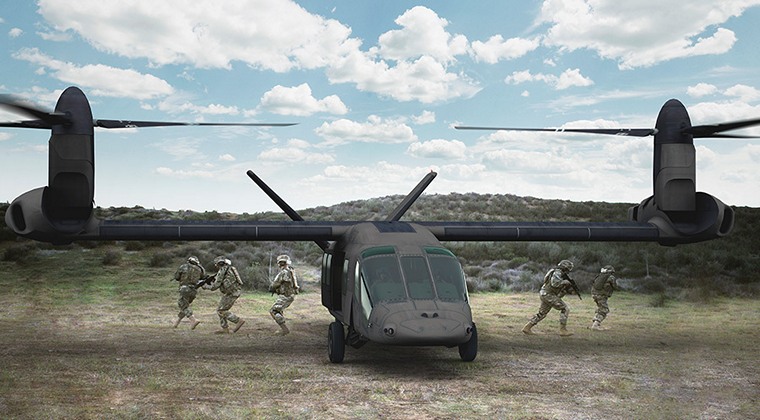 The first flight of the next generation tiltrotor is scheduled for the second half of 2017. The V-280 tiltrotor will provide unmatched speed, range and payload, along with unmatched agility at the objective. The aircraft will provide the best value in operations and maintenance costs, and is being designed with sustainability, affordability, and ease of manufacturing in mind.
The Army Aviation Mission Solutions Summit provides the Army Aviation community with the opportunity for professional development, and brings together Army Aviation, government leaders and industry representatives at the 16 acre exhibit. Attendees will be able to hear leadership messages in general sessions, network with fellow attendees in deep dive sessions on technology and training, and attend presentations from U.S. Army leadership. The annual show also features recognition ceremonies for deserving Aviation soldiers and units.


BOMBARDIER WELCOMES JAMBOJET TO THE FAMILY OF Q400 AIRCRAFT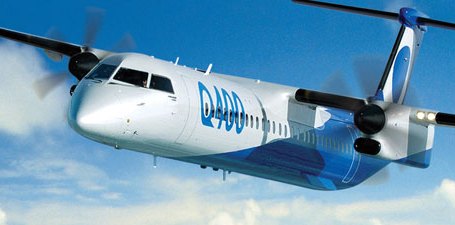 Photo © Bombardier. Bombardier Commercial Aircraft today welcomed Nairobi, Kenya-based, Jambojet Limited ("Jambojet") to the family of Q400 aircraft customers and operators following Jambojet's launch of service with a Q400 turboprop chartered from DAC Aviation. Jambojet is using the aircraft to provide service to three new destinations in Kenya's coastal region -- Lamu, Malindi and Ukunda -- from its base at Jomo Kenyatta International Airport.
Jambojet, a subsidiary of Kenya Airlines, has joined more than 50 owners and operators of Q400 aircraft worldwide. The airline is the second new operator to have adopted the Q400 aircraft in Africa in 2015, and has become the 19th member of the family on the continent.
"We're delighted to be collaborating with DAC Aviation as we expand our network to include Lamu, Malindi and Ukunda, and enhance the service on some of our existing routes with the Q400 aircraft," said Willem Hondius, Chief Executive Officer, Jambojet. "Launching operations with the technologically advanced Q400 aircraft, whose attributes include jet-like speed and a quiet cabin in a 78-seat configuration for best cost per seat in its class, will also allow us to implement our growth strategy as we strive to open new destinations in the East African region to respond to the anticipated increased demand in business and leisure travel."
"We are very familiar with Bombardier's Q-Series turboprops and CRJ regional jets and can attest to their reliability and cost efficiencies since we have owned and successfully deployed several for many years," said Warren Feschuk, Chief Executive Officer, DAC Aviation. "The Q400 aircraft continues this tradition of regional air transport excellence and has proven its operational capability in Africa's hot, topographically diverse landscape. It is an excellent asset in our portfolio and offers the most seats in its class. We are confident that it will meet and even exceed Jambojet's operational requirements."
"As owners and operators of Q400 turboprops worldwide continue to capitalize on the aircraft's outstanding economics and performance, we are confident in its success in Africa, where we continue to be the market leader in the 20- to 99-seat turboprop segment," said John Kassis, Regional Vice President, Middle East and Africa, Bombardier Commercial Aircraft. "We are very happy to welcome Jambojet to our family of operators and wish the airline continued success as it executes its route and network expansion strategy."
Regional aircraft manufactured by Bombardier have made significant advances in Africa where approximately 55 Dash 8-100/200/300 turboprops, 60 Q400 turboprops, along with 50 CRJ regional jets are in service with, or ordered by, more than 40 customers and operators.
Bombardier's customer support network for commercial aircraft in Africa includes a Regional Support Office (RSO) and spare parts depot, co-located in Johannesburg, South Africa as well as Authorized Service Facilities in South Africa and Ethiopia. Operating from the company's regional office located in the United Arab Emirates, Bombardier Commercial Aircraft's sales and marketing team is well positioned to provide industry-leading solutions to its current and prospective customers.
AIRBUS HELICOPTERS SIGNS FIRST HCARE FLEET AVAILABILITY CONTRACT IN ASIA WITH TAIWAN'S NATIONAL AIRBORNE SERVICES CORPS

Airbus Helicopters signs first HCare Fleet Availability contract in Asia with Taiwan's National Airborne Services Corps.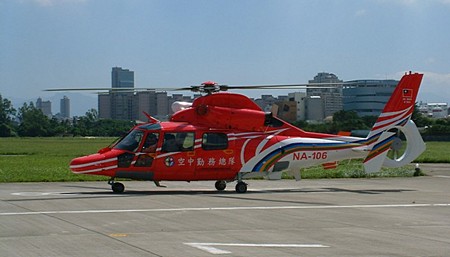 The fleet of 10 AS365 Dauphin rotorcraft operated by Taiwan's National Airborne Services Corps (NASC) will be covered by Airbus Helicopters' HCare Infinite Fleet Availability services under a five-year agreement valued at 54.5million Euros.
Providing an all-inclusive turnkey solution, HCare Infinite will provide NASC with a full fleet management service backed by an availability commitment across three bases in the country. Airbus Helicopters will perform all maintenance operations and manage end-to-end logistic needs, enabling NASC to concentrate on fulfilling critical flight missions in Taiwan. The service will be supported by Airbus Helicopters' connected services products, relying on Rusada ENVISION Maintenance Information Software.
"NASC is the first customer in Asia to take advantage of our newly-redefined services offer, which provides the most comprehensive coverage in the helicopter industry today," explained Derek Sharples, the Managing Director of Airbus Helicopters Southeast Asia in Singapore. "This builds on our long-standing relationship with NASC, during which Airbus Helicopters has delivered on its service commitments over the years - leading to the operator's choice for the new HCare Infinite package."