THIS WEEK IN MIDWEEK UPDATE


Plan your weekend
Forthcoming events
Notice Board
This week in aviation history
Worldwide incidents and accidents
Aviation News
Advertising rate card

17 & 18 April: Zebula airshow. Contact: Paul Weich 083 290 6525 e-mail: pdweich@mweb.co.za or Chris Potgieter 083 314 1669 e-mail:
ChrisPotgieter@flysaa.com


26 April-1 May: SA National Skydiving Championships 2015. The 2015 South African National Skydiving Championships will be held at Skydive Rustenburg. The competition dates are from the 26th April 2015 to 1st May 2015 inclusive and include an official training day on Sunday 25th April 2015 with competition hours between 08h00 and 17h00 each day. Further information on the Championships as well as events leading to the Nationals opening are:available from Skydive Rustenburg's contacts below:
Meet Director - Herman Grobler (082) 448 0784, Administration - Danelle Field (079) 345 7058, Safety Officer - Graham Field (074) 198 0891
www.skydive.rustenburg@gmail.com
skydive.rustenburg@gmail.com
25 April - 2 May: 8th NAC Fly Away Namibia. Contact Deneys Potgieter 082 891 4354 or
deneys.potgieter@nac.co.za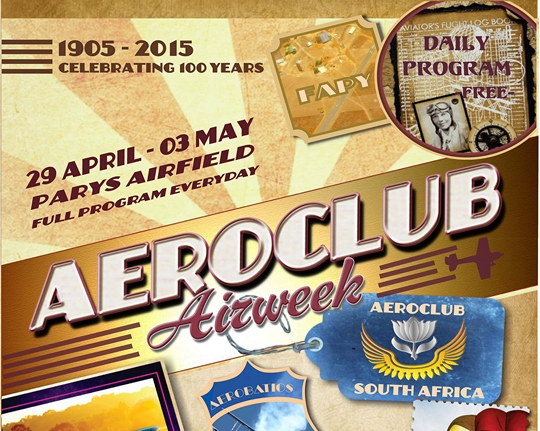 29 April-3 May: Aero Club Air week at Parys airfield contact Kev Storie 011 082 1100 Website: www.aeroclub.org.za
8 - 9 May: SAAF Museum Swartkop Airshow, Pretoria Contact Lt. Col Mike O'Connor e-mail: oc@saafmuseum.org Tel: 012 351 2290
8 - 10 May: Battlefields fly-in (Dundee) Lourens Roos 082 875 5419
E-mail: stay@battlefieldslodge.co.za E-mail: nan@battlefieldslodge.co.za Website: www.battlefieldslodge.co.za
10 & 11 May: AVIATION AFRICA - Dubai UAE Contact Mark Brown mark.brown@africanaerospace.aero
15 to 17 May: Bethlehem Aero Club / EAA Chapter 1500 fly-in weekend. Contact Izak Venter e-mail: izak@motsu.co.za or Francois Marais e-mail: info@stanfra.co.za
16 May: SAPFA Fun Rally Krugersdorp. Contact Frank Eckard e-mail:
frank.eckard@mweb.co.za



16-17 May: Botswana Airshow. Contact: Guillaume
gknipe@work.co.bw
22-23 May: Lowveld Airshow (Nelspruit) Cell: 079 499 5733 Contact Willemien Hodgkinson e-mail:
willemien.hodgkinson@ffa.co.za
23-24 May: Aerobatics Regionals. Parys. Contact Annie Boon
chunge@mweb.co.za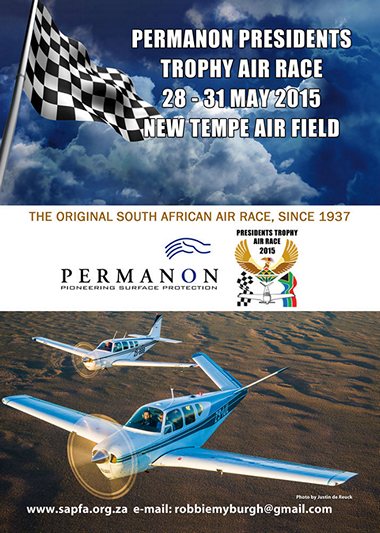 27-31 May: President's Trophy Air Race, Tempe, Bloemfontein. Contact Robbie Myburgh 083 377 0925 roblena@mweb.co.za
6 June: SAAF Museum flying training and open days. Contact Capt. Kobus Kapp 012 351 2342 or E-mail: webmaster@saafmuseum.org
10 to14 June: Kalahari Bundu Bash. Contact Yolande Combrinck e-mail: Yolande@rafsa.co.za
13-16 June: Ok Guys & Girls the 5th Jaunt is set to take place at Carnarvon Airfield and as follows-13 June - Arrival, 14 June- NAV rally & possible Mielie meel exercise, 15 June - Spot landing and 16 June - Public holiday and set for departure. No contact details currently available.
13 June: Zandspruit Airshow - Hoedspruit. Contact Yvonne Fourie e-mail: yf@zandspruit.co.za Tel: 015 793 1192
19 to 21 June: Mafikeng fly-in and airshow. Contact Connie Conradie e-mail: info@mafikeng-flyingclub.co.za Cell: 082 449 1546
20 June: Warbirds over the Vaal fly-in and time trials - Parys Airfield. Contact Scully Levin e-mail: flyboys@global.co.za
4 July: SAAF Museum flying training and open days. Contact Capt. Kobus Kapp 012 351 2342 or E-mail: webmaster@saafmuseum.org
11 & 12 July: Durban (Virginia) airshow. Contact Gerna Fraser e-mail: gerna@kznwintertour.co.za Cell: 084 783 1953
16 to 19 July: Sports Aerobatics Club Nationals - Klerksdorp. Contact Annie Boon chunge@mweb.co.za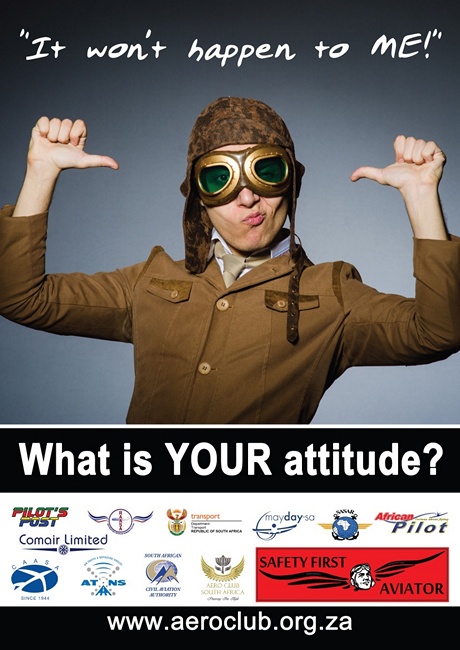 We have updated the "Airfields and Weather" section of Pilot's Post to provide pilots with the ability to view wind speed, wind direction and cloud / rain at different altitudes. Most other weather related sources provide surface related weather only and is not always suitable for proper flight planning. Please note that the altitude setting is related to ground level and not mean sea level.

Ckeck it out at:
www.pilotspost.com

We would like to receive your feedback in this regard.

SUPPORT THE SOUTH AFRICAN UNLIMITED AEROBATIC TEAM AS THEY PREPARE FOR THE WORLD AEROBATIC CHAMPS IN FRANCE, 19-29 AUGUST 2015.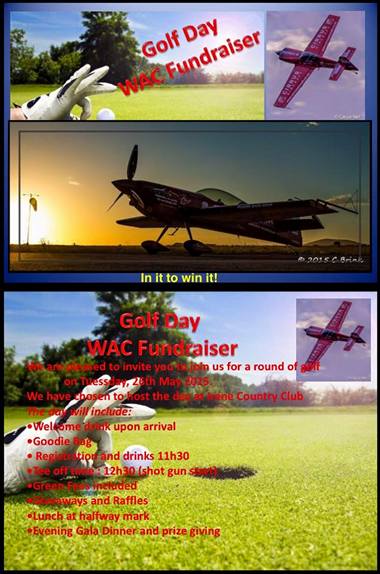 Golf day 19 May 2015 at Irene Country Club in Centurion. Join us for a fun day. 30 four balls available. Sponsors and prizes needed and very welcome.

Email chunge@mweb.co.za for details and opportunities to support.



April 15 1952 - First flight of the Boeing B-52 Stratofortress.
April 16 1912 - Harriet Quimby becomes the first woman to fly the English Channel.
April 17 1964 - Jerrie Mock arrives in Columbus, Ohio in a Cessna 180, completing a solo round-the-world flight and becoming the first woman to make such a journey.
April 19 1949 - Larry Walters, American "lawn chair" pilot was born (d. 1993). Walters took flight to altitudes of 16,000 into controlled airspace near Long Beach airport on July 2, 1982 in a homemade aircraft, dubbed Inspiration I that he had fashioned out of a Sears's patio chair and 42 helium-filled weather balloons
April 20 1968 - South African Airways Flight 228, a Boeing 707, crashes just after takeoff from Strijdom International Airport, Windhoek, South West Africa (now Namibia) due to pilot error; of the 128 on board, only 5 survive.
April 20 1942 - First official demonstration of the helicopter in the United States.
April 21 1918 - Manfred von Richthofen, a living legend called the "Red Baron" and "ace of aces" is shot down and killed. By the time of his death, he had claimed 80 victories. Credit for his kill is given to Canadian Cpt Roy Brown, but this is disputed by others who claim that he was killed by ground fire from Australian troops.
April 21 1914 - The first news movie shot from the air is filmed by cameraman B. C. Hucks, Warwick Bioscope Chronicle Film, England. He flies down to within 400 ft. of the royal yacht with King George aboard, crossing the English Channel from Dover, England to Calais, France.

Scotland, Glen Kinglass : Two people died when Piper Cherokee plane went down in Glen Kinglass. Searchers discovered the wreckage after radar contact with the aircraft was lost earlier in the day. Flying conditions were reportedly difficult at the time of the crash.
Indonesia, Jakarta: An Indonesian man took a free ride in the wheel well of an aircraft surviving a high-altitude flight of nearly two hours in thin air and sub-zero temperatures. He collapsed after the flight and was taken to hospital with a bleeding ear and other light injuries before spending the night in a police cell.
USA, Bloomington: A Cessna 414 twin-engine aircraft returning from a NCAA basketball tournament crashed just short of the Central Illinois Regional Airport in Bloomington killing all seven people on board.
USA, Minnesota: A 2014 Ford Fusion was damaged following an impact with a small airplane which was making an emergency landing on a highway. All those who were involved in the peculiar accident escaped without any injuries.
South Korea, Maun: A F-16 Fighting Falcon made an emergency landing at a South Korean commercial airport after experiencing a sudden engine malfunction.
Turkey, Istanbul: An engine of an Iranian airway's airplane exploded and caught fire while on the runway of Istanbul's Atatürk Airport early April 10. There were no injuries reported in the incident, which saw parts of the airplane's engine scattered on the ramp.

SA NATIONAL SKYDIVING CHAMPIONSHIPS 2015

The 2015 South African National Skydiving Championships will be held at Skydive Rustenburg located at The Rustenburg Municipal Airfield, Bojanala Platinum District Municipality, Northwest Province, South Africa. The Airfield is situated just North of the town on the R510 between Rustenburg and Sun City.
The competition dates are from the 26th April 2015 to 1st May 2015 inclusive and include an official training day on Sunday 25th April 2015 with competition hours between 08h00 and 17h00 each day.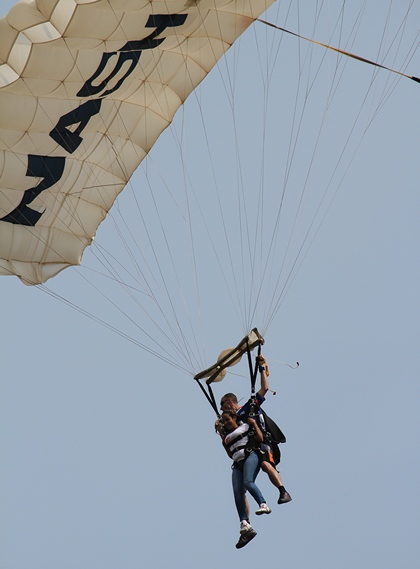 Competitors in the Championships are expected from all Provinces of South Africa and will be competing in 4 separate Skydiving Disciplines during the week of competition namely Formation Skydiving, Artistic Events, Canopy Formation and Wingsuit Skydiving which will be presented for the 1st time on the world stage as an official IPC Skydiving Event at this SA Nationals. Skydiving is also one of the few sports where men and women compete in the same competition on an equal footing with at least 25% of the expected competitors being women skydivers.
The Event is fully supported by the local Rustenburg Bojanala Platinum District Municipality as well as the Northwest Government who will use the opportunity to further their tourism, aviation and awareness programs in the area. The Event is open to the public during the competition hours and all are encouraged to view the proceedings from demarcated areas set aside for the public for the duration of the competition. Tandem jumps for those interested in experiencing skydiving will be available at a discounted rate on the 2 weekends before and after the Championship dates.
This is the first time that the National Skydiving Championships are to be held in The Northwest Province and both Skydive Rustenburg and the Parachute Association of South Africa are excited to bring this unique and spectacular sport to the people of Rustenburg and The Northwest.
Further information on the Championships as well as events leading to the Nationals opening are available from Skydive Rustenburg's contacts below.
Meet Director - Herman Grobler (082) 448 0784
Administration - Danelle Field (079) 345 7058
Safety Officer - Graham Field (074) 198 0891

DENEL GROUP TAKES HIGH-TECH DEFENCE SYSTEM TO SOUTH AMERICAN MARKETS



Opportunities for South African defence and security products in South and Latin America are growing, and Denel is stepping up its marketing efforts in these key markets, says the Group CEO of Denel SOC, Riaz Saloojee, as the Denel Group prepares for its participation at the LAAD 2015 trade and exhibitions show in Rio de Janeiro.
LAAD is South and Latin America's premier defence exhibition and between the 14th and 17th April more than 700 exhibitors from 50 countries will be showcasing their products and systems at this biennial event.
"We have a strong relationship with the Brazilian defence industry through the joint development of the A-Darter air-to-air missile, which has successfully completed advanced in-flight testing and we are confident that it will be a global leader in its class when production starts within the next 12 months," says Mr Saloojee.
At LAAD Denel will also use the opportunity to profile the Rooivalk combat helicopter as a capable system for guerrilla warfare within the context of its successful deployment in the suppression of armed conflict in Africa.
Mr Saloojee says the successful deployment of the Rooivalk in peace-keeping operations in Africa has created a global awareness about the capabilities of the South African defence industry. "We have proven that we can deliver on very complex defence systems from design, through to the industrialisation and manufacturing phases, and into highly-effective deployment."
Denel Land Systems will showcase the MT-105 turret weapon system which is being evaluated by the Brazilian army for its new VBR-MR armoured car. The MT-105 combines Denel's proven experience in turret design and manufacturing with its recent innovations in fire control.
The decision by the SA Army to commission Denel to manufacture the Badger infantry combat vehicle demonstrated that local forces have confidence in the local industry to provide them with frontline equipment. "This is an important factor when we are marketing other landward defence products such as the T5-52 truck-mounted artillery and the small- and medium calibre range of ammunition manufactured by Denel PMP," says Mr Saloojee.
Denel will maximise on the fact that its products are designed for rugged terrains and climate conditions that are similar to conditions in South America. Most of the company's products are battle-proven and have been deployed in operational circumstances.
"The quality of the diplomatic and trade ties between South Africa and countries in Latin and South America is of great importance for the defence industry because many contracts require government-to-government participation," says Mr Saloojee.
South Africa and Brazil are both members of the BRICS alliance and this presents Denel with opportunities to strengthen its ties with the Brazilian defence sector.
FLIGHT DESIGN'S C4 SUCCESSFUL FIRST FLIGHT

"Flight Design's are very excited after the first flight of the proof of concept C4. The plane flew great and the first flight proceeded until all the test points on the EASA approved flight test card were achieved." says Flight Design's Technical Director, Oliver Reinhardt.
The Flight Design C4 is an all carbon composite four-place light aircraft based upon the advanced design of the popular Flight Design CT series of aircraft. Key features are the new Continental IO-360AF Alternate Fuels engine, conceived to "future proof" the C4, an advanced glass panel cockpit and an integrated, full airplane parachute system. Flight Design has always designed its planes for excellent cross country performance and the C4 is planned to have up to a 1200 NM (2200km) Range.

The C4 will first be certified in Europe under ELA (European Light Aircraft Category) by EASA

Continental Motors recently announced FAA Type Certification of its new alternative fuel powerplant, IO-360-AF. This success encouraged Flight Design to move its test article C4 from the fabrication plant to its German headquarters in Kamenz where it has undergone final tests leading to this first flight of the new design.
Flight Design's senior engineering staff is based in Kamenz, Germany lead by Technical Director Oliver Reinhardt and C4 Project Lead Engineer Artem Izokh.
Along with technicians, the engineers have performed final evaluations including a ground vibration test. This method, commonly used by sailplane manufacturers who were early to embrace composite structures, allows verification of characteristics like control surface stability. Following the ground vibration tests and final preparations, Flight Design are now proceeding with initial flight tests.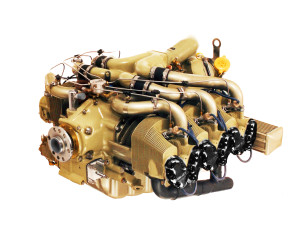 Continental Motors' IO-360-AF is the first in its class to be certified for alternative fuels, which will add flexibility for customers of Flight Design. In addition to widely available 100LL avgas, C4 owners will be able to use 91UL avgas that may offer a lower price.
Continental Motors recently announced FAA Type Certification of its new alternative fuel powerplant, IO-360-AF
Continental Motors recently announced FAA Type Certification of its new alternative fuel powerplant, IO-360-AF
The Mobile, Alabama company's IO-360 series is also the lightest of all Continental's six-cylinder aircraft powerplants, which makes it a perfect solution for Flight Design's C4 that extensively uses carbon fibre to reduce structural weight while increasing useful load and payload.
HONDAJET RECEIVES PROVISIONAL TYPE CERTIFICATION FROM THE FEDERAL AVIATION ADMINISTRATION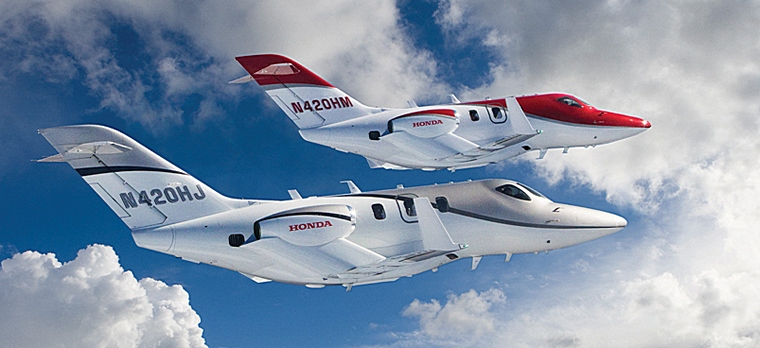 Honda Aircraft Company announced that the HondaJet has received provisional type certification (PTC) from the United States Federal Aviation Administration (FAA). This achievement indicates the FAA's approval of the HondaJet design based on certification testing, design reviews, and analyses completed to date.
"Provisional type certification for the HondaJet is a tremendous milestone for the program, and we are pleased to reach this significant step toward customer deliveries and entry into service," said Honda Aircraft Company President and CEO Michimasa Fujino. "Honda Aircraft has completed nearly all of the testing and reports required by the FAA, and we are very close to achieving final type certification for the world's most advanced light jet."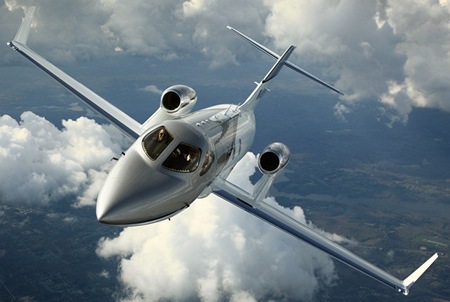 A provisional type certificate is a design approval by the FAA and is common for business jets when final certification is near. Honda Aircraft has demonstrated that the HondaJet is safe for flight and meets the airworthiness standards defined by the PTC.
Melvin Taylor, manager of the FAA's Atlanta Aircraft Certification Office (ACO), said:
"It is a pleasure for the Atlanta ACO to issue Honda Aircraft Company a provisional type certificate for the Model HA-420. It is a milestone event for a first time aircraft manufacturer to receive its first type certificate. This issuance speaks well to the hard work put forward by all the Honda and FAA staff working in a collaborative manner. The Atlanta ACO takes pride in being part of Honda's introduction of such an advanced and uniquely designed aircraft to the aviation market. We look forward to continuing our collaboration with Honda as we move to final completion of their HA-420 approval."
FIRST SABRE DEVELOPMENT MILESTONE REACHED



Reaction Engines Ltd announces company growth and completion of first SABRE development milestone.

This year, the Reaction Engines team are expanding in staff and activities to complete the SABRE demonstrator programme, with delivery on track for 2019. The company has relocated to larger premises on Culham Science Centre; consolidated its two manufacturing subsidiaries to a single new location in Didcot; and is recruiting across the company, ready for the design, manufacture and testing of the full SABRE engine cycle. This growth phase has also included the purchase of new, bespoke equipment which will enable Reaction Engines to manufacture its proprietary SABRE pre- coolers in-house, at full scale.
The key development activities over the first year of this programme have centred on intakes and combustion systems. This activity includes the recently completed Preliminary Requirements Review development milestone, and has been 50% funded by Reaction Engines' private capital. Matching funding has been provided by the UK Space Agency, through the European Space Agency. With the UK Government's commitment of £60m and private capital secured towards the next steps in this development phase, the Reaction Engines team are positive that a full static demonstration of the SABRE engine is achievable before the end of the decade, marking the greatest advance in propulsion since the jet engine.
Alan Bond, Managing Director and Chief Engineer at Reaction Engines Ltd, commented:
"The technology we've proven, and our ability to integrate it with both rockets and gas turbines to create SABRE is not just a means to a better rocket. This is the beginning of a new generation of propulsion, enabling faster, more efficient transportation both on Earth and in Space. We're already seeing humanity gaining huge benefits from space-enabled services, and I believe that our connection with space will grow considerably in the near future; Reaction Engines are breaking down the biggest barrier, which is getting into orbit in the first place. We're opening the gateway to the solar system.
SECOND FALCON 8X JOINS FLIGHT TEST CAMPAIGN


The second aircraft has joined the Falcon 8X flight test campaign as the ultra long range trijet continues to pass key development milestones.
Falcon 8X s/n 02 took to the skies from Dassault Aviation's Bordeaux-Mérignac facility on Monday, March 30 at 3:24 PM local time with test pilots Hervé Laverne and Etienne Faurdessus at the controls. The flight plan was similar to that of the maiden flight on February 6.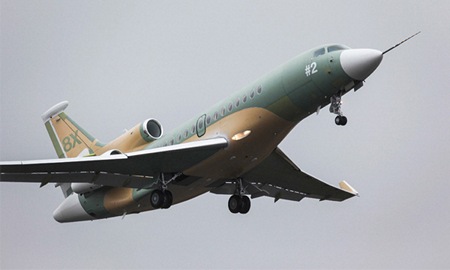 © Dassault Aviation. After initial checks on the digital flight controls and engine system, the pilots took the aircraft to 43,000 feet and Mach 0.8 for performance tests. After the test routine, the aircraft ran a series of additional checks before touching down after 2 hours and 45 minutes in the air.
"We are very pleased with the way the aircraft responded and flew," said Laverne. "It demonstrated the same flawless handling qualities as s/n 01, a very positive development at this early stage of the flight test campaign."
The aircraft will now join s/n 01 at the Dassault flight test centre at Istres, near Marseille, where it will mostly serve for performance testing.
The full program will total about 200 flights and 500 flight hours through final EASA and FAA certification which is anticipated in mid-2016.
Unveiled in May 2014 at European Business Aviation Convention & Exhibition (EBACE), the latest addition to the growing Falcon business jet family rolled out on 17 December. It will offer the greatest range and the longest cabin in the Falcon line, along with the most extensive selection of cabin configurations available on any business jet.