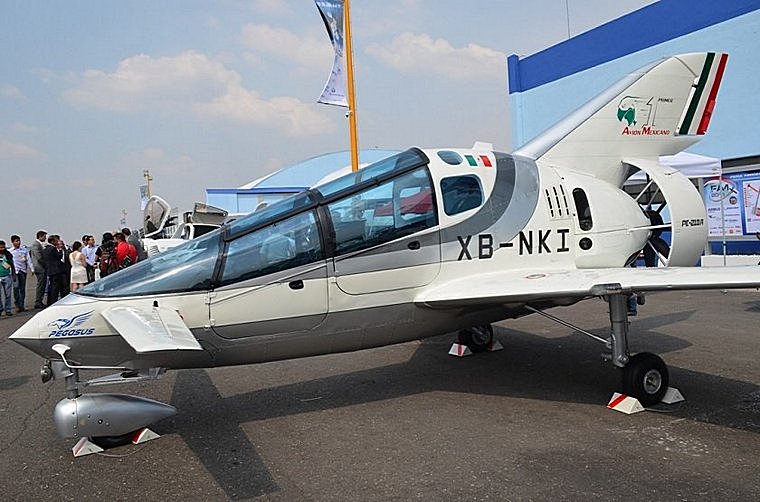 Photos © TechBA

Oaxaca Aerospace, a company from Oaxaca, Mexico revealed its Pegasus PE-210A at the recently held Mexico Air Show. The project is the first modern prototype of a 100% Mexican designed airplane, developed with their own technology.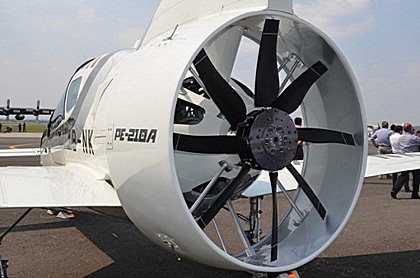 The Company started that the Pegasus PE-210A Project during 2011 with the goal of making an aircraft with two seats, agile, fast and with low operation costs. First taxi runs started in mid-2013 and Oaxaca Aerospace expectations are to reach a production of at least 12 aircrafts by the year 2019.
Rodrigo Fernandez, Oaxaca Aerospace General Manager said the idea was to make an innovative plane, completely different from the existing ones, with modern engineering, using the latest generation software and advanced tools.
"Most of the aircrafts nowadays are designs from the last century, from the 50's with modifications only to avionics and motors but without structural modifications to make them more efficient and aerodynamic. The Pegasus PE-210A is different from other aircraft because of its wing configuration and its cabin with two seats in tandem with controls in both." Mr Fernandez added.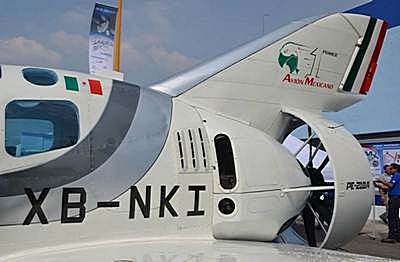 Rodrigo and Raķl FernŠndez, founders of Oaxaca Aerospace, gathered a team of highly qualified engineers and used state of the art software for designing and modelling, along with simulations to establish aerodynamic behaviour. Oaxaca Aerospace also received support from CONACYT (The Mexican National Council for Science and Technology) to develop an airplane wing with a canard that will allow a greater lift at lower speed.
Oaxaca Aerospace used experts TechBA of Montreal Canada for the review of the various subsystems of the aircraft. "It has helped us a lot because we have an outside opinion of people with much experience in the field of aeronautics to review the calculations and simulations done by our team. " Fernandez explained.
The back seat of the Pegasus is set at a slightly higher than the front seat and the Pegasus can be flown from either seat. All round visibility at 300 degrees vertical and 240 degrees horizontal is excellent and the powerplant is fully acrobatic.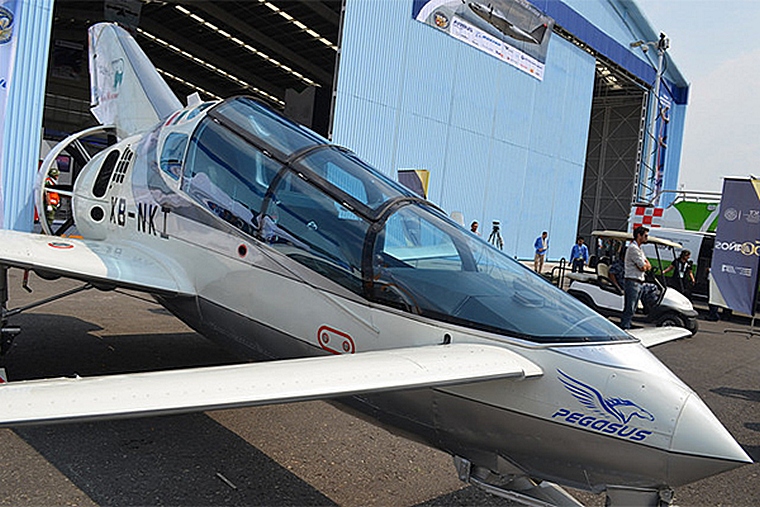 Among the main clients of the Pegasus PE-210A are the armed forces and police, both in Mexico and other Latin American countries, as well as aviation enthusiasts and private pilots.