THIS WEEK IN MIDWEEK UPDATE


Plan your weekend
Forthcoming events
Notice Board
This week in aviation history
Worldwide incidents and accidents
Aviation News
Advertising rate card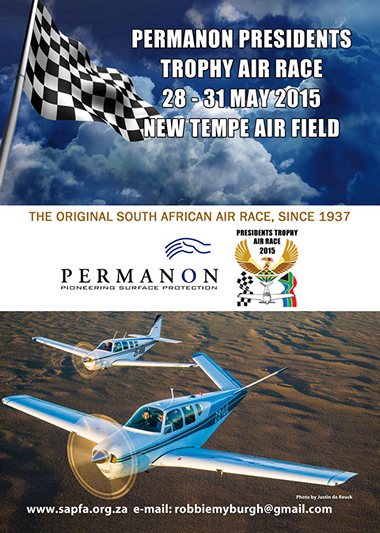 27-31 May: President's Trophy Air Race, Tempe, Bloemfontein. Contact Robbie Myburgh 083 377 0925
roblena@mweb.co.za

30 May: Newcastle Airshow. Contact Johan at
johan@champ.co.za
or on 082 923 0078

6 June: SAAF Museum flying training and open days. Contact Capt. Kobus Kapp 012 351 2342 or E-mail: webmaster@saafmuseum.org
10 to14 June: Kalahari Bundu Bash. Contact Yolande Combrinck e-mail: Yolande@rafsa.co.za
13-16 June: Ok Guys & Girls the 5th Jaunt is set to take place at Carnarvon Airfield and as follows-13 June - Arrival, 14 June- NAV rally & possible Mielie meel exercise, 15 June - Spot landing and 16 June - Public holiday and set for departure. No contact details currently available.
13 June: Zandspruit Airshow - Hoedspruit. Contact Yvonne Fourie e-mail: yf@zandspruit.co.za Tel: 015 793 1192. . Tickets available at Pick n Pay Hoedspruit (managers kiosk) and Hoedspruit Info (Kamogelo) or buy online:
. https://www.facebook.com/ZandspruitAirshow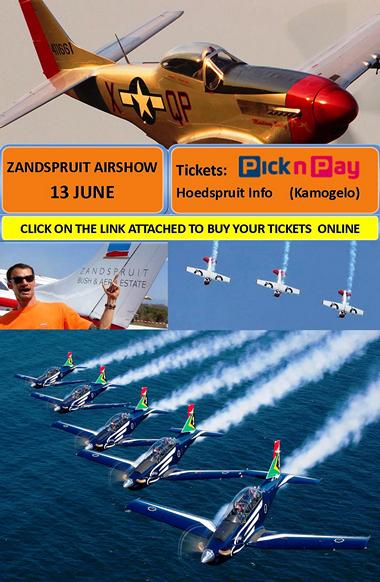 19 to 21 June: Mafikeng fly-in and airshow. Contact Connie Conradie e-mail: info@mafikeng-flyingclub.co.za Cell: 082 449 1546
20 June: Warbirds over the Vaal fly-in and time trials - Parys Airfield. Contact Scully Levin e-mail: flyboys@global.co.za
4 July: SAAF Museum flying training and open days. Contact Capt. Kobus Kapp 012 351 2342 or E-mail: webmaster@saafmuseum.org
11 & 12 July: Durban (Virginia) airshow. Contact Gerna Fraser e-mail: gerna@kznwintertour.co.za Cell: 084 783 1953
16 to 19 July: Sports Aerobatics Club Nationals - Klerksdorp. Contact Annie Boon
chunge@mweb.co.za

17to 19 July: Nylstroom Taildraggers fly-in - Nylstroom Flying Club. Contact Richard Nicholson e-mail rgn@pcwireless.co.za Cell: 082 490 6227
19 July-3 August: EAA's annual AirVenture to be held in Oshkosh USA. Camping on the airfield contact Neil Bowden e-mail: neil1@telkomsa.net
Hotels in Appleton contact Calvin Fabig e-mail: calvin@designer.co.za
1 August: SAAF Museum flying training and open days. Contact Capt. Kobus Kapp 012 351 2342 or E-mail: webmaster@saafmuseum.org
1 - 2 August: Namibian airshow. Contact Reinhard Gartner e-mail: reinhard@fivestar.co.za
7-9 August: SAPFA Fun Rally Brits. Contact Frank Eckard e-mail:
frank.eckard@mweb.co.za
14 - 15 August: Bethlehem airshow. Contact Stephan Fourie e-mail: fouriesj1491@gmail.com Cell: 072 344 9678
20 - 29 August: Sports Aerobatics Club Unlimited World Championships - France Contact Annie Boon chunge@mweb.co.za
23 August: Grand Rand airshow (Sunday) Contact Stuart Coetzee e-mail: manager@randairport.co.za Tel: 011 827 8884
29 August: Bethlehem Aero Club fun navigation rally. Contact Izak Venter e-mail: izak@motsu.co.za or Francois Marais e-mail: info@stanfra.co.za
12 - 13 August: Sports Aerobatics Club Gauteng regionals and Judges Trophy - Vereeniging Contact Annie Boon chunge@mweb.co.za




BE A SAFETY FIRST AVIATOR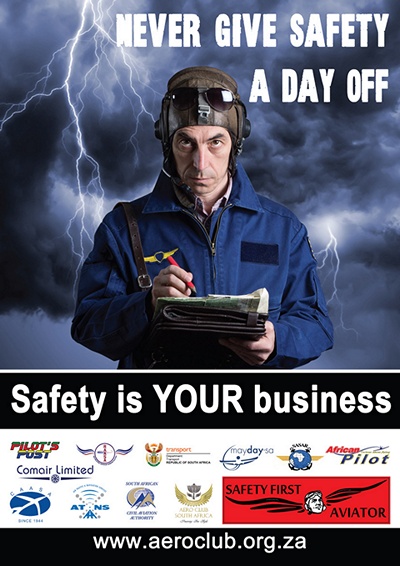 May 27 1924 - Adrienne Bolland wins the women's record for looping from Laura Bromwell, performing the feat 212 times in 1 h, 1 min in her Caudron 127 in Paris.
May 28 1997 - March 17 - May 28 - Linda Finch, pilot, aviation historian, and San Antonio, Texas businesswoman, flying a restored and specially equipped 62-year-old Lockheed Electra 10E, recreates the 1937 Amelia Earhart flight to circumnavigate the globe solo. Her attempt was successful, taking 73 days. She touched down in Oakland, California.
May 29 1952 - Aerial refuelling is used on a combat mission for the first time, with twelve F-84 Thunderjets of the 159th Fighter Bomber Squadron being refuelled by a KB-29 Superfortress on their way to Sariwon
May 30 2003 - The final flight of an Air France Concorde takes place.
May 30 1912 - Wilbur Wright dies of typhoid fever at the early age of 45. His death marks the end of his extraordinary partnership with his brother Orville, which culminated in 1903 with the first true powered flight in history.
May 31 1928 - (May 31 and June 9) The first airplane flight across the Pacific is made by British Capt. Charles Kingsford-Smith and crew in a Fokker F-VIIB/3 m Southern Cross. They fly from Oakland Field, California to Brisbane, Australia, 7,389 miles (11,890 km), in 83 hours, 38 min. On the way, it becomes the first airplane to land in Fiji.
June 1 1925 - A car dealer covers himself in stamps worth $718 in a bid to be sent airmail from San Francisco to New York; the U. S. Post Office refuses to accept him.
June 2 1986 - The greatest distance achieved by a hang-glider is made by American Randy Haney who flies an unpowered hang-glider 199.75 miles (321.47 km) from his takeoff point.
June 2 1910 - Charles Rolls makes the first successful return flight over the English Channel

India, Assam: An Indian Air Force Sukhoi-30 jet crashed in Assam. Preliminary reports said that the aircraft had developed some technical snag. The aircraft was destroyed but the pilots eject safely.
UAE, Sharjah: A senior Air India pilot has been suspended after he allegedly showed up "reeking of liquor" before a flight from Sharjah, UAE to Delhi, India. This is the third time that this particular pilot has failed a Breathalyzer test before one of his scheduled flights.
Lithuania, Klaipeda: The wreckage of a AN2 aircraft that disappeared en route from Sweden to Lithuania has been found at the bottom of the Baltic Sea, authorities have said. A Lithuanian military ship detected the aircraft at a depth of 124 metres (407 feet) and 116 kilometres (63 nautical miles) from shore. The two pilots are still missing.
Equatorial Guinea, Douala: An Air France jet with some three dozen people on board narrowly avoided hitting the highest mountain in central Africa in early May. The Boeing 777 jet was making a short trip from Malabo, the capital of Equatorial Guinea, to Cameroon's largest city of Douala. While cruising at about 9,000 feet, the pilots of Flight 953 diverted northwards to avoid storm clouds, but their route back towards Douala took the passenger jet towards the 13,000-foot Mount Cameroun.

ADMIRED DC-3 TO DEPART FOR GERMANY SOON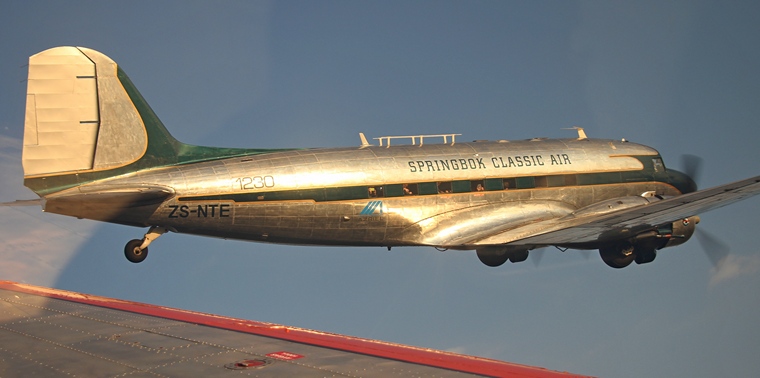 One of South African aviation's loved aircraft, ZS-NTE departed on the first leg of it's ferry flight, Tuesday 26 May 2015. It departed from Rand Airport to Polokwane, where it cleared customs.
This prestine refurbished DC-3 has been one of the show stoppers at South Africa airshows, on her own, or when joining in on the radial formations. Citizens in some parts of JHB got spoilt to the roar of this beauty, mostly the last Saturday of the month when she took passengers over JHB on a 20 minute scenic flight.
The legacy of Captain Flippie Vermeulen, CEO, Springbok Classic Air will continue in Europe as his DC-3 will be leaving SA shores soon. He has sold ZS-NTE to Mr Peter Adrian. He is a German businessman based in Trier. In addition to Mr. Adrian's professional activities, he is a keen aviation enthusiast specializing in vintage aircraft preservation and is an owner of, amongst others, a T28 and Beech 18. After a lengthy search for a DC-3, Peter expressed his delight in finding (as he expressed) "this beautiful example of a well kept classic".
Last week saw the crew undergoing strenuous ground school and flight training with Captain Vermeulen. Peter joined for the training but will not participate on the whole flight. The crew joining Flippie in this 12 day delivery flight, are Captain Ulrich SPIELMANN and Captain Noel FLYNN who both serve as TRE's for Cargolux Airlines based in Luxembourg.
The ferry flight will be done over 12 days. After transiting Africa the aircraft will find its home at one of two bases being Zweibrücken EDRZ and Luxembourg ELLX.
As Peter's company owns Zweibrücken Airport, hangarage and considerable care planning is already in place. After a period of pilot familiarization and consolidation the DC-3 will enter services which are planned to mirror the footprint of what NTE was doing out of Rand.
The route for the delivery flight will be as follows:
Day 2 Ondangwa - Kinshasa - Libreville
Day 3 Rest
Day 4 Libreville - Accra
Day 5 Rest
Day 6 Accra - Bamako - Dakar
Day 7 Rest
Day 8 Dakar - Las Palmas
Day 9 Rest
Day 10 Las Palmas - Cascais
Day 11 Rest
Day 12 Cascais - Avignon - Luxembourg
The crew during the ferry is Captains Flippie Vermeulen, Noel Flynn and Ulrich Spielmann. The new owner Peter Adrian will join the flight later along the way.
TECNAM 'P JET' AIRCRAFT EVALUATION PROGRAMME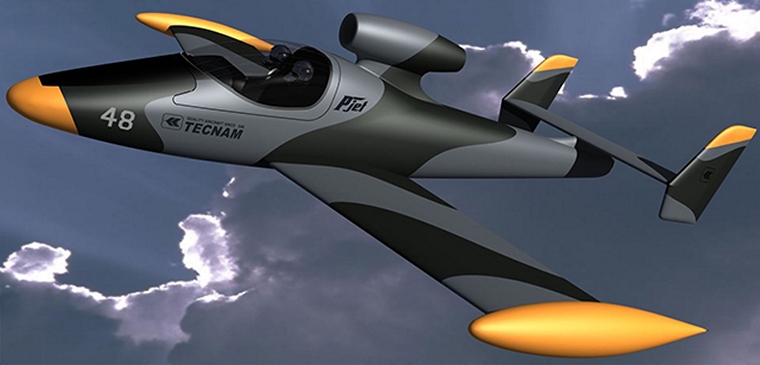 Tecnam announced that it is actively evaluating the potential of developing and producing a two-seater, single turbofan engine powered aircraft.
As always Tecnam's innovative developments are driven by customer demand. Extensive interest has been shown for the introduction of a two seat (side by side), turbofan engine powered aircraft, to be used by military Flight Training Organisations, but also to offer a significantly faster and more efficient aircraft for both the private and business aviation sectors.
The 'P JET' will undoubtedly be a game-changer not only in the world of General Aviation but also as a first level entry military training jet powered aircraft. Tecnam's initial research suggests that manufacturing this visionary aircraft is both technically and economically achievable. The remarkable progress in the development and reliability of thermic and mechanical efficiency now available in high bypass, two-spool turbofan engines, along with major advances in materials ensures that production of the 'P JET' is a feasible proposition.
The anticipated 'P JET' aircraft configuration would see the engine 'podded' thus ensuring the maximum efficiency to achieve the full ram-air intake effect, as this would not interfere with the primary aircraft structure and would also enable easier access for maintenance inspections, complete engine disassembling and other servicing requirements as well as enhanced safety protection such as fire.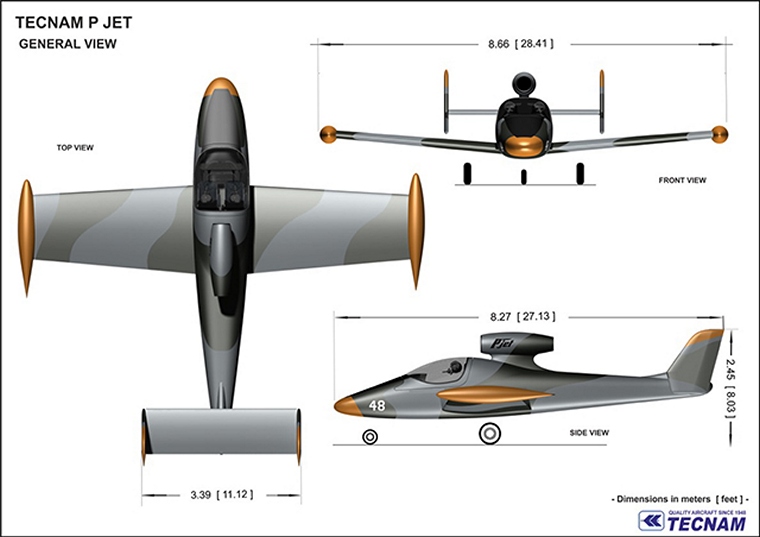 Other key design features will include a twin-tail vertical stabilizer: its shielding effect to the horizontal surface will increase (being equal the exposed surface) the control power and stability.
Tecnam anticipates that the 'P JET' cabin will be available both pressurized and non-pressurized, for use with an airframe integrated oxygen system.
Development will be based on achieving CS-23 and FAR 23 certification.
EMBRAER'S LEGACY 500 SETS FOUR NEW WORLD SPEED RECORDS




Embraer Executive Jets announced that the Legacy 500, its new midsize business jet that just entered the market, has already set four new world speed records for its class, this year.
"These speed records validate the Legacy 500's game-changing performance. Having achieved or exceeded each of its design goals for certification, this revolutionary aircraft is now demonstrating all of its operational capabilities, including oceanic missions," said Marco Túlio Pellegrini, President & CEO, Embraer Executive Jets. "The Legacy 500 is indeed the best-in-class midsize jet, which delivers an impressive combination of comfort, advanced technology, speed and range; all at a low operating cost."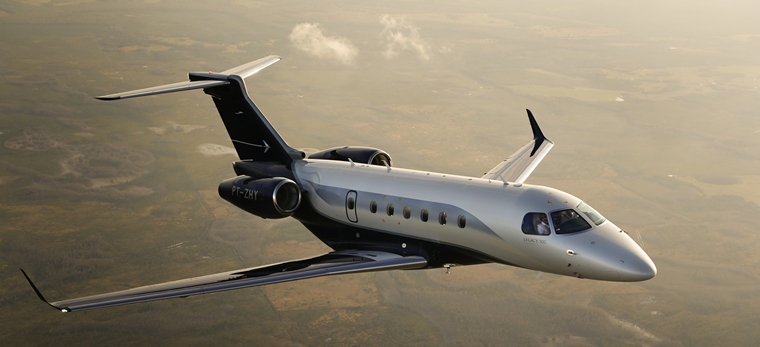 The first two records were set for "Speed over a Recognized Course" on a round-trip flight from Oakland, California to Lihue, Hawaii, with six passengers on board, covering 2,135 nm (3,954 km). The flight from Oakland to Lihue, on March 7, was completed in 5 hours and 49 minutes, achieving an average ground speed of 420 mph (676 km/h). The return flight took only 4 hours and 11 minutes, at an average ground speed of 586 mph (943km/h).
The third speed record set by the Legacy 500 was in route to Friedrichshafen, Germany, from Bangor, Maine, United States. The 3,210 nm (5,945 km) flight was completed in 6 hours and 50 minutes, with three occupants on-board.
The fourth speed record was set from Düsseldorf, Germany to Dubai, United Arab Emirates, spanning a distance of 3,268 nm (6,052 km), the longest Legacy 500 flight to date. The flight duration was 7 hours and 3 minutes. With 1,900 lb of fuel reserves after landing, the average hourly fuel consumption was only 1,590 lb.
Once the National Aeronautic Association (NAA) has confirmed each flight as a U.S. record, the figures will be sent to the Federation Aeronautique Internationale in Switzerland for recognition as world records. In all four speed record flights, the Legacy 500 completed the mission with NBAA IFR fuel reserves.
MITSUBISHI MRJ DEVELOPMENT STATUS


And Progress of Preparations towards Full-fledged Manufacture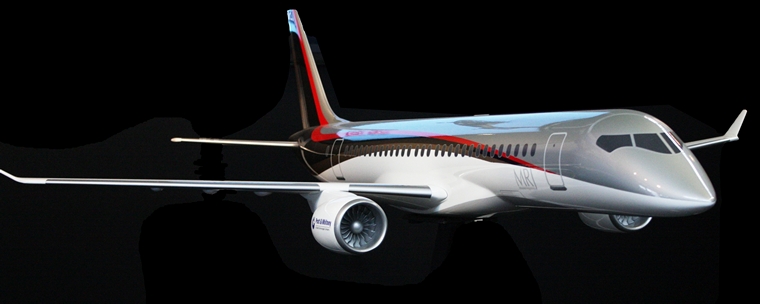 Today Mitsubishi Heavy Industries, Ltd. (MHI) and Mitsubishi Aircraft Corporation jointly released their latest status report concerning progress in developing the MRJ (Mitsubishi Regional Jet), their next-generation regional jet. Simultaneously they also reported on the current state of preparations for expanding production bases towards inauguration of the new aircraft's manufacture. Details are outlined below. Going forward, progress will be periodically disclosed.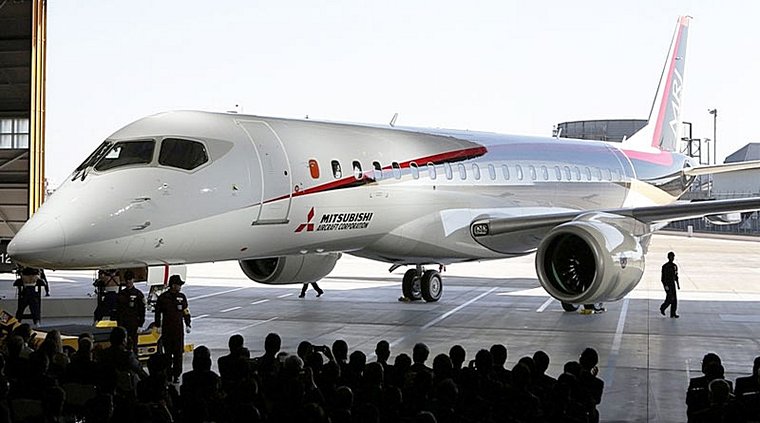 1. Start of business operations under a new structure
Effective April 1 MHI and Mitsubishi Aircraft launched a new management structure to facilitate transition of the MRJ project from the development stage to the manufacturing phase, and under the new framework initiatives are moving forward towards more unified operations. Prior to inauguration of the new structure, in January Mitsubishi Aircraft relocated its complete Head Office functions to the Nagoya Airport Terminal Building (Toyoyama-cho, Aichi Prefecture) next to where the MRJ's final assembly, ground testing and flight test are performed. Relocation to this site has resulted in a highly efficient business operating structure.
2. Progress status of aircraft development
Presently static strength testing and manufacture of the second and subsequent flight test aircraft are all proceeding smoothly. In order to fully incorporate the verification results of the various ground tests and related feedback into the first flight test aircraft, the timing of the first flight has been reviewed and is now scheduled for September or October of this year. Going forward, MHI and Mitsubishi Aircraft will implement intensive flight test after the first flight and accelerate manufacture of the aircraft towards first delivery, as scheduled, during the second quarter of 2017. Along with all other procedures, we will seamlessly proceed with the preparation of a high-level customer support system.
THE PILATUS PC-24 TAKES OFF ON ITS MAIDEN FLIGHT





The first ever PC-24 Super Versatile Jet took off on its maiden flight today at 10.00 local time from Buochs airport. Just under 1800 Pilatus staff, all of whom are directly or indirectly involved in the PC-24 project, were there to applaud the business jet as it taxied for take-off. Prototype P01, call sign HB-VXA, flew across central Switzerland for a total of 55 minutes. The flight went exactly as planned with no problems whatsoever.
The PC-24 is capable of exceptional performance, and this maiden flight was a first opportunity to showcase some impressive credentials: the twin-engine business jet took off from runway 07 in just under 600 m and climbed to 10,000 feet (approx. 3000 m) in around three minutes, where the two pilots completed a series of meticulously planned tests. The maiden flight followed a route across central Switzerland - from Altdorf to Brünig via Engelberg.
Test pilot Paul Mulcahy, who has some 11,000 hours under his belt, flew the PC-24 as pilot in command. He has already test flown countless aircraft types and has acquired a wealth of experience on twin-engine business jets. "Everything looks great so far! Beautiful handling - the PC-24 flies just as expected - a real Pilatus aircraft!" Reported our second experienced test pilot, Reto Aeschlimann, by radio from the cockpit.
Throughout the flight the PC-24 was accompanied and monitored by a PC-21. As is normal on maiden flights, the PC-24 landing gear was not retracted on this occasion. Twelve flight test engineers watched the flight from the ground as they kept an eye on a stream of real-time flight data received from the PC-24. Had the need arisen, these experts could have given the pilots crucial decision-making information: another means of ensuring the safest possible conditions for the entire maiden flight.
In recent months, the PC-24 handling characteristics had been trialled and refined during numerous tests using simulators and models placed in a wind tunnel. As part of the development team, our two pilots were involved in these tests; their role during the maiden flight was to verify the accuracy of the theoretical assumptions.
AIRBUS HELICOPTERS IN POLAND

Born from the vision of a stronger Europe and having become the leader in Aerospace and Defence industry, only Airbus Group can offer Poland a wide variety of cooperation programs involving the Polish companies. Being a world leader, with 60,7 bn euro turnover in 2014, in commercial aviation, helicopters, missiles, fighter and transport aircraft and space technology, we offer Poland complex programs that will lead to the establishment in Poland of a fifth industrial base for the Group in Europe. These programs are comprised of the direct investment in new production facilities, the development of the existing industrial base, the partnership with the Polish industry, the transfer of technology leading to full autonomy of the Polish state in MRO aspects, and the cooperation in R&D with the Polish institutions and universities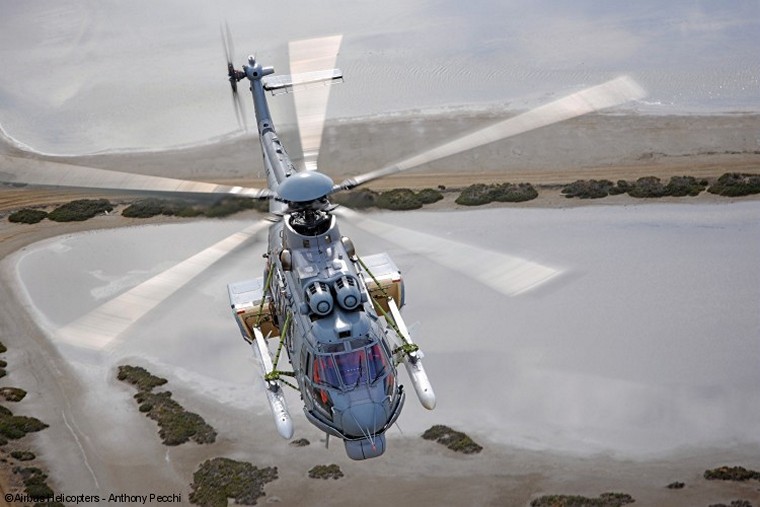 Airbus Group has been present in Poland since 2001 and currently employs over 900 Polish citizens in Warsaw, Mielec and Radom, in production, aviation services and aerospace design areas. The facility of PZL Okecie, which is the oldest Polish aerospace company (est.1928) is our first industrial footprint and a success story of organic growth based on partnership. Over the last four years the turnover of PZL Okecie has tripled and the employment has grown by 60%.
The industrial cooperation in helicopters with Poland started several years ago, and was implemented through several projects with the Polish Technical Universities, thus creating the foundation for effective chain of value from initial conception through production, maintenance, support and services.
Building on the success of the high-speed and record breaking helicopter X3, designed in partnership with the Technical University of Lodz, Airbus Helicopters has decided to strengthen its cooperation with this University, while at the same time launching a new collaboration with the University of Radom. Given the outstanding scientific and technical results of this cooperation, Airbus Helicopters will kick off preparation activities for setting up the industrial-stage cooperation.
The Caracal programme for Poland will be a catalyst for the industrial implementation of several scientific and technical development activities, which will allow the Polish industry to acquire the capabilities to develop and produce several key components, equipment and systems for helicopters.
BOEING-UPGRADED FRENCH AWACS TAKE FLIGHT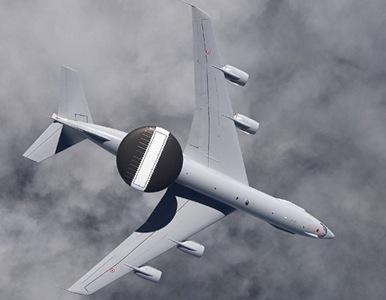 Photo © BoeingInitial operating capability (IOC) of the modernized French Airborne Warning and Control System (AWACS) fleet has been achieved with Boeing's [NYSE: BA] delivery of the second of four upgraded aircraft and completion of the operational tests and evaluations. The upgrade is part of a Foreign Military Sale between the French Defence Procurement and Technology Agency (Direction générale de l'armement - DGA) and the U.S. government.
"With the declaration of IOC, the French Air Force is able to utilize the new capabilities of the Mid-life Upgrade to protect our national and international interests. This improvement will contribute to maintaining high operational performance and reinforce interoperability capability for at least the next twenty years," said Lieutenant-Colonel Olivier Duplessy, French Air Force AWACS Program Officer.
France has four AWACS to monitor national airspace, national interests, and support allied missions. The aircraft are receiving modifications through a Mid-life Upgrade (MLU) to increase the fleet's surveillance, communications and battle management capabilities. AWACS crew members will experience reduced workload, receive more actionable information and have better situational awareness thanks to these enhancements.
"The exemplary teamwork between Boeing and Air France Industries was key in delivering the first two upgraded AWACS on schedule," said Yves Galland, president Boeing France. "We're looking forward to pursue our successful partnership with Air France Industries to deliver the last two aircraft on time and meet the French Air Force requirements on this strategic program."
Boeing, as prime contractor, provides hardware, software, engineering and quality assurance support. Air France Industries KLM Engineering & Maintenance, a Boeing subcontractor on the project, is upgrading the electrical, mechanical and structural systems and mission hardware on the aircraft.
The first MLU AWACS was delivered in July of 2014.