THIS WEEK IN MIDWEEK UPDATE


Plan your weekend
Forthcoming events
Notice Board
This week in aviation history
Worldwide incidents and accidents
Aviation News
Advertising rate card

11 June: EAA Aviation Legends Talk Show. Captain Lorrie Raath is a name that is well-known in aviation circles and a very worthy "Legend" at EAA. Although he started in the SAAF at age 17 in 1966, he was mustered as a Navigator and after one year of itching to fly he left and became a Commercial Pilot and Instructor. At the age of 20 he was accepted by SAA whereafter he proceeded (during the next 42 years until 2011) to fly and instruct on just about everything the airline has ever owned: B707's, HS 748's, B737's, B747's, B767's, A340's, A300's, A200's, A319's.
Entry R50.00 each (R30 for card carrying EAA, members) Booking: eaa.talkshow@icon.co.za
10 to14 June: Kalahari Bundu Bash. Contact Yolande Combrinck e-mail: Yolande@rafsa.co.za
13-16 June: Ok Guys & Girls the 5th Jaunt is set to take place at Carnarvon Airfield and as follows-13 June - Arrival, 14 June- NAV rally & possible Mielie meel exercise, 15 June - Spot landing and 16 June - Public holiday and set for departure. No contact details currently available.
13 June: Zandspruit Airshow - Hoedspruit. Contact Yvonne Fourie e-mail: yf@zandspruit.co.za Tel: 015 793 1192. . Tickets available at Pick n Pay Hoedspruit (managers kiosk) and Hoedspruit Info (Kamogelo) or buy online: https://plankton.mobi/Events/EventBooking/5cf55a74-ceae-4b32-9844-d6f798aea61e. https://www.facebook.com/ZandspruitAirshow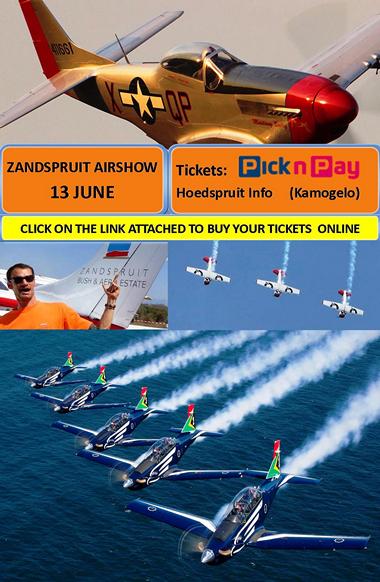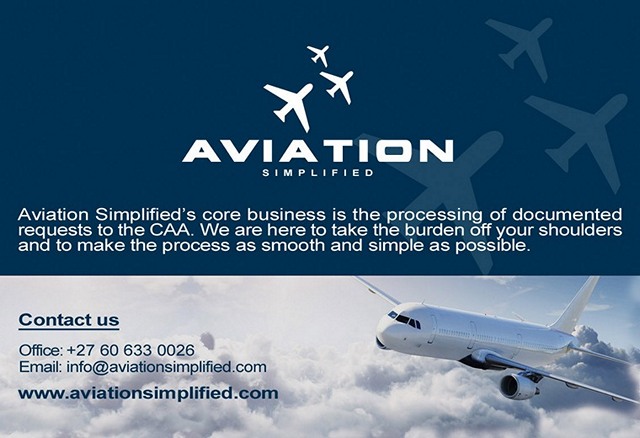 19 to 21 June: Mafikeng fly-in and airshow. Contact Connie Conradie e-mail: info@mafikeng-flyingclub.co.za Cell: 082 449 1546
20 June: Warbirds over the Vaal fly-in and time trials - Parys Airfield. Contact Scully Levin e-mail: flyboys@global.co.za
4 July: SAAF Museum flying training and open days. Contact Capt. Kobus Kapp 012 351 2342 or E-mail:
webmaster@saafmuseum.org
16 to 19 July: Sports Aerobatics Club Nationals - Klerksdorp. Contact Annie Boon
chunge@mweb.co.za
17to 19 July: Nylstroom Taildraggers fly-in - Nylstroom Flying Club. Contact Richard Nicholson e-mail rgn@pcwireless.co.za Cell: 082 490 6227
19 July-3 August: EAA's annual AirVenture to be held in Oshkosh USA. Camping on the airfield contact Neil Bowden e-mail: neil1@telkomsa.net
Hotels in Appleton contact Calvin Fabig e-mail: calvin@designer.co.za
1 August: SAAF Museum flying training and open days. Contact Capt. Kobus Kapp 012 351 2342 or E-mail: webmaster@saafmuseum.org
1 - 2 August: Namibian airshow. Contact Reinhard Gartner e-mail: reinhard@fivestar.co.za
7-9 August: SAPFA Fun Rally Brits. Contact Frank Eckard e-mail:
frank.eckard@mweb.co.za
14 - 15 August: Bethlehem airshow. Contact Stephan Fourie e-mail: fouriesj1491@gmail.com Cell: 072 344 9678
20 - 29 August: Sports Aerobatics Club Unlimited World Championships - France Contact Annie Boon chunge@mweb.co.za
23 August: Grand Rand airshow (Sunday) Contact Stuart Coetzee e-mail: manager@randairport.co.za Tel: 011 827 8884
29 August: Bethlehem Aero Club fun navigation rally. Contact Izak Venter e-mail: izak@motsu.co.za or Francois Marais e-mail: info@stanfra.co.za
12 - 13 August: Sports Aerobatics Club Gauteng regionals and Judges Trophy - Vereeniging Contact Annie Boon
chunge@mweb.co.za
4-6 September: Petit Vintage and Classic Fly-in. Contact Ivan van der Schaar 0823759180
5 September: SAAF Museum flying training and open days. Contact Capt. Kobus Kapp 012 351 2342 or E-mail: webmaster@saafmuseum.org
18-20 September: Pyramid Air Park Aviators Weekend Barberton. Contact Peter Lea peter@irricon.co.za or 0825534908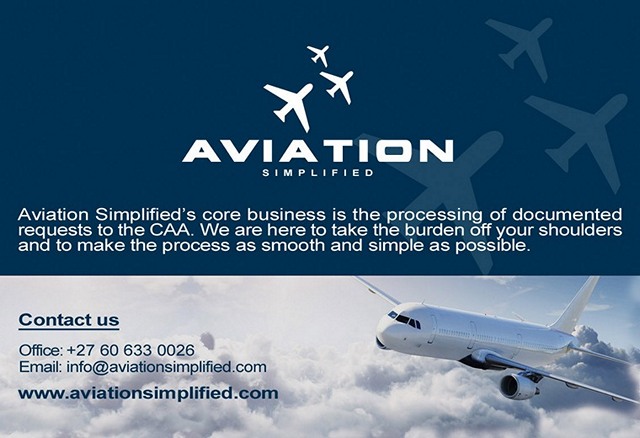 BE A SAFETY FIRST AVIATOR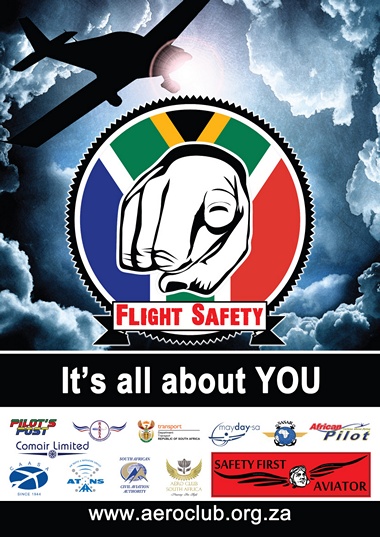 June 10 1990 - British Airways Flight 5390, a BAC One-Eleven, suffers explosive decompression over Didcot, Oxfordshire, England when one of the front windscreen panes blows out. The captain is partially sucked out of the cockpit, but a flight attendant manages to keep his unconscious body from falling from the aircraft. The first officer lands the aircraft safely at Southampton Airport. All on board survive.
June 10 1908 - First flying club and civil airport established. Aeronautical Society chartered at New York City, and Morris Park air field established.
June 11 1971 - British pilot Shelia Scott makes the first flight by a light plane from equator to equator via the North Pole. Flying in a Pipper Aztec D, she covers 34,000 miles (54,718 km).
June 11 1926 - The first flight of the Ford Trimotor, an all-metal monoplane which competes with the three-engine Fokker and becomes a pioneer American airliner. It is known affectionately as the "Tin Goose."
June 12 1994 - First flight of the Boeing 777
June 12 1972 - First man-powered aircraft, using pedal power, to fly across the English Channel. The Kremer Prize for the Channel crossing was won by Bryan Allen, who flew the Gossamer Albatross from Folkestone, England, to Cap Gris-Nez, France, in 2 hr., 55 min.
June 13 1912 - Capt Albert Berry made the first parachute jump from an airplane.
June 14 1919 - Cpt John Alcock and Lt Arthur Whitten Brown set out on the first successful non-stop Atlantic crossing, flying a Vickers Vimy from Newfoundland to Ireland in 16 hours. They win £10,000 from the Daily Mail and are both knighted.
June 15 1916 - First flight of the Boeing Model 1, William Boeing's first aircraft.
June 16 1984 - Frontier Airlines pilot Emily Warner and co-pilot Barbara Cook make history by directing the first all-female commercial airline crew, on a flight from Denver to Lexington, Kentucky.
June 16 1922 - Henry Berliner demonstrates a primitive helicopter to the US Navy.
June 16 1909 - First US airplane sold commercially, by Glenn Curtiss for $5,000.

France, Paris: The pilots of a Boeing 777 pilots were forced to recover in mid-takeoff after entering the wrong data into the computer of the cargo jet. The weight entered into the system of the Mexico-bound jet was drastically lower than the correct value.
Kathmandu, Pokhara Airport: A Let L-410 of Goma Air with18 passengers on board made a successful emergency landing at Pokhara Airport after its nose gear failed to deploy. Goma Air had acquired the plane on October 11, 2014. It has two such aircrafts on its fleet.
India, Mumbai:
The Pilot of flight MH 194 of Malaysia Airlines with 280 passengers and 13 crew on board managed to make a safe landing when three tyres burst on landing. The retraction mechanism was damaged. Aircraft tyre bursts usually happen because of ageing of tyres but can also occur when a high-speed landing causes excessive heat generation in the tyres.
USA, Colorado: A Aero Vodochody L-39C Albatros ex Warsaw Pact Military trainer clipped a power cable loosing part of its wing. The snapped cable flew onto a highway damaging vehicles' windshields and mirrors. The aircraft that was below minimum height landed safely.


AIRBUS A350 XWB, PERLAN MISSION II GLIDER TO APPEAR AT EAA AIRVENTURE OSHKOSH 2015



An Airbus A350 flight test aircraft that will demonstrate its flying capabilities and be open for public tours, plus the newly completed Perlan Project glider that will explore the upper atmosphere and seek to set altitude records, will highlight Airbus Group's participation at EAA AirVenture Oshkosh 2015, scheduled July 20-26 at Wittman Regional Airport in Oshkosh.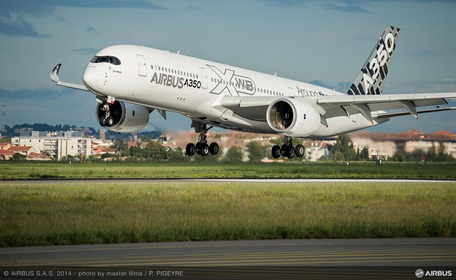 The Airbus A350 XWB (short for "extra wide body") will arrive on EAA AirVenture opening day with an aerial demonstration during the afternoon air show. The two-engine aircraft is designed to transport more than 300 passengers on medium- to long-haul operations that range up to 7,750 nautical miles (8,918 statute miles). After public tours of the aircraft on Tuesday, July 21 at AirVenture's Boeing Plaza, the A350 XWB will perform another aerial demonstration during the air show on Wednesday, July 22, prior to its departure.
"Airbus is pleased to bring the next generation of commercial aircraft technology, performance, and comfort to Oshkosh this year, giving the public its first viewing of the A350 in North America," said Barry Eccleston, president of Airbus Americas. "This builds on our tradition of showcasing aircraft with the aviation community at AirVenture that has included memorable appearances by our Beluga in 2003 and the Airbus A380 in 2009."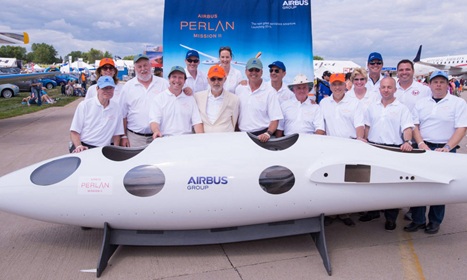 In addition to experiencing the A350, EAA AirVenture visitors will be able to see the new glider just completed by the Perlan Project. Airbus Group announced its partnership with (and title sponsorship of) the Airbus Perlan Mission II at EAA AirVenture 2014, supporting the Project's effort to explore the Earth's upper atmosphere and ozone layer.
The Airbus Perlan Mission II also aims to set new altitude records by flying the purpose-built, high-altitude, pressurized glider to 90,000 feet - higher than any other manned wing-borne aircraft has flown. That flight, which will use stratospheric mountain waves and the polar vortex to sustain flight, is projected to take place in South America in 2016. Perlan Project representatives will update progress on the aircraft's flight-test program and the mission during this year's EAA AirVenture.
"A big part of EAA AirVenture Oshkosh is seeing the latest innovation in flight," said Rick Larsen, EAA's vice president of communities and member programs, who coordinates EAA AirVenture features and attractions. "Airbus Group understands the importance of that at Oshkosh, and we're very eager to see the ideas and technology they will bring here this year."
Additional schedule details and activities will be announced as they are finalized.


DASSAULT AVIATION ROLLS OUT FIRST FALCON 5X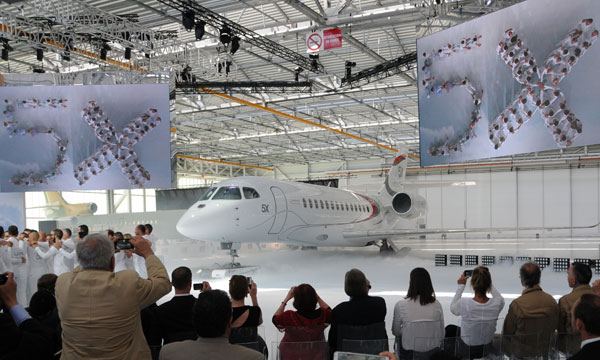 Photo © Le Journal de l'Aviation


Dassault Aviation lifted the veil on the highly anticipated Falcon 5X, which establishes a new benchmark in the large cabin, long range business aviation market.
Presented at Dassault's Bordeaux-Mérignac final assembly facility before an audience of 400 customers, operators, suppliers and certification authority representatives, the 5X will offer the largest cabin cross-section of any purpose built business jet. And its 5,200 nm (9,630 km) range will permit it to connect the majority of the world's most heavily travelled city pairs.
Yet the new twinjet will be more fuel efficient than any other business jet in its category and will feature an approach speed of 105 knots - down in the turboprop range - offering more airport options for business jet operators.
Announced at the National Business Aviation Association Convention in Las Vegas in October 2013, the Falcon 5X will be equipped with a new ultra-efficient wing, an advanced digital flight control system derived from the Rafale fighter jet and a brand new Snecma Silvercrest engine offering 15% better fuel efficiency than any other powerplant in its thrust class.
Other new features include a redesigned cockpit equipped with the third generation of Dassault's award winning EASy flight deck and state of the art aircraft and engine health monitoring systems.
"The Falcon 5X was designed to answer operator demand for an aircraft in the 5,000 nm range that could provide more space and comfort than existing large body jets while combining the handling qualities, the low speed performance and operating economics which are the hallmark of Falcons," said Eric Trappier, Chairman and CEO of Dassault Aviation. "Customers have already responded to the new aircraft with enthusiasm and we expect it to become every bit as popular as the 7X, the fastest selling Falcon we've ever built."
Final assembly and testing of the Falcon 5X is taking place at the Mérignac facility near Bordeaux (France), which has seen the delivery of more than 8,000 Dassault civil and military aircraft, including 2,300 Falcons, since it opened in 1949.
The aircraft's maiden flight is anticipated before the end of the summer.
FIRST LET L 410 UVP-E20 DELIVERED TO DHAKA, BANGLADESH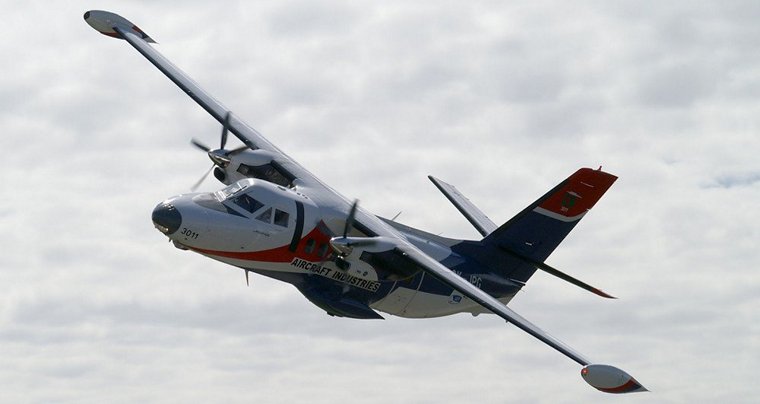 A Let L 410 left Airport Kunovice on its ferry flight to Dhaka the capital city of Bangladesh. The 19 seater transport and training Aircraft L 410 UVP-E20, Serial No. 3011 is equipped with modernized digital avionics, autopilot and sanitary kit and it is ready for installation for sky diving operations.
BOEING TO SHOWCASE TECHNOLOGY, INNOVATION AT PARIS AIR SHOW



787-8 Dreamliner © Boeing


Boeing [NYSE: BA] confirmed that a 787-9 Dreamliner, to be delivered to Vietnam Airlines, will participate in the flying display at the Paris Air Show, which runs June 15-21.
Boeing and China Airlines will display a 777-300ER (Extended Range), showcasing the airline's stylish, innovative interior. Additionally, Boeing customers and partners will bring several aircraft to Le Bourget, the show's long-time venue outside Paris. Qatar Airways plans to present a 787-8 Dreamliner on static display.
The U.S. Department of Defence is scheduled to display the P-8A anti-submarine and anti-surface warfare aircraft, the CH-47F Chinook helicopter, and the F-15E Strike Eagle fighter.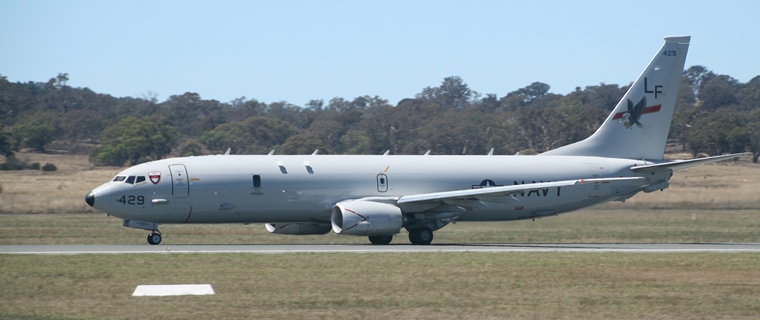 P-8A Poseidon © Boeing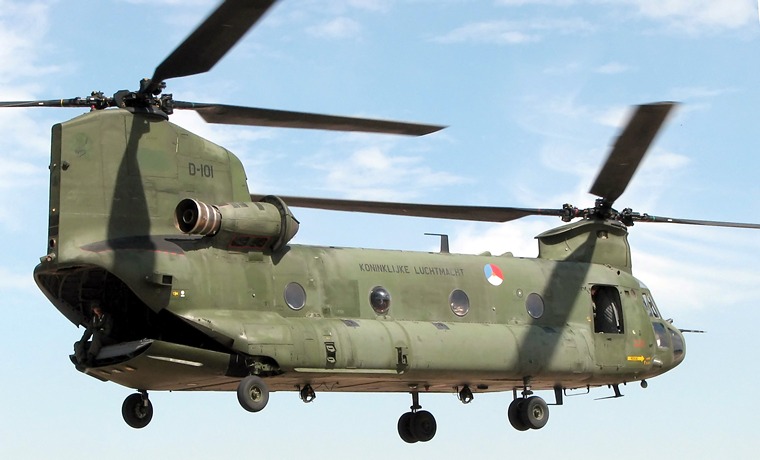 CH-47F Chinook © Boeing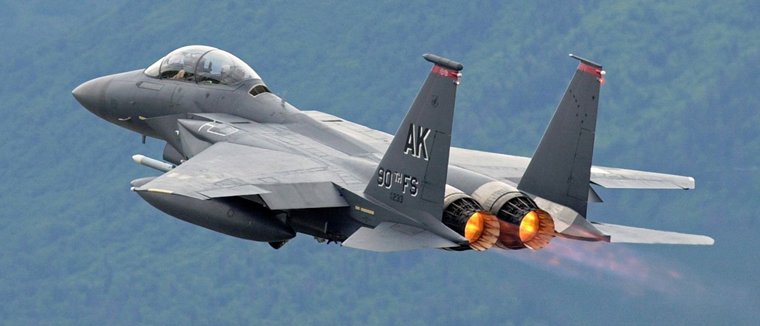 F-15E Strike Eagle © Boeing


PROFESSOR FRANCOIS JORDAAN AT EAA CHAPTER 322 MONTHLY MEETING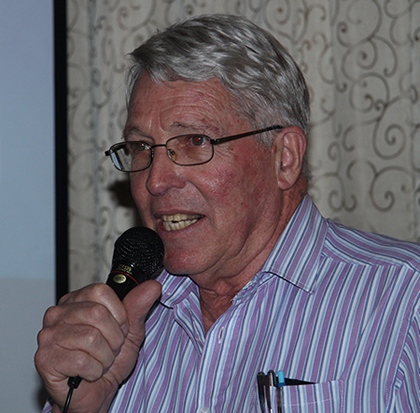 The monthly meetings of Chapter 322 of the EAA of South Africa are held on the first Wednesday of the month at the Dickie Fritz Moth Hall in Edenvale.
Guest speakers are regularly invited and this month Francois Jordaan's talk on the flight envelope was a real eye opener.
Francois is an aeronautical engineer with a lifetime experience in experimental aerodynamics including 23 years of windtunnel work and aerodynamic as well as structural design. In 1987 he started specialising in composite structures and has been responsible for the aerodynamic and structural design of amongst others the Celstar unlimited competition aerobatic glider, the Ravin 500 four seat utility aircraft and the Slick 360 and 540 single seat competition aerobatic aircraft.
Other designs included three experimental autogyros, the Seeker Unmanned Aerial Vehicle for the CSIR and the concept design of the Eagle 6 seat light aircraft. Francois has also been involved in the assembly of two Lancair IVs, two Thunder Mustangs and a Seawind amphibian aircraft.
Chapter 322's Teddy build project currently underway at Kevin Hopper's SkyWorx hangar at Jack Taylor Airfield, Krugersdorp, is coming along nicely.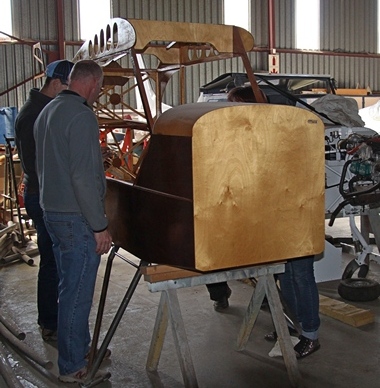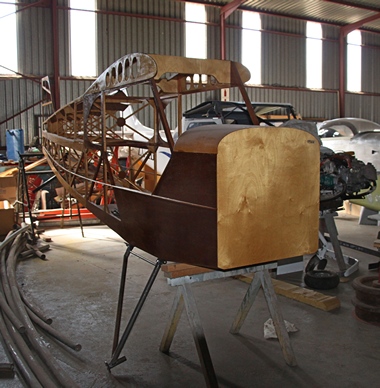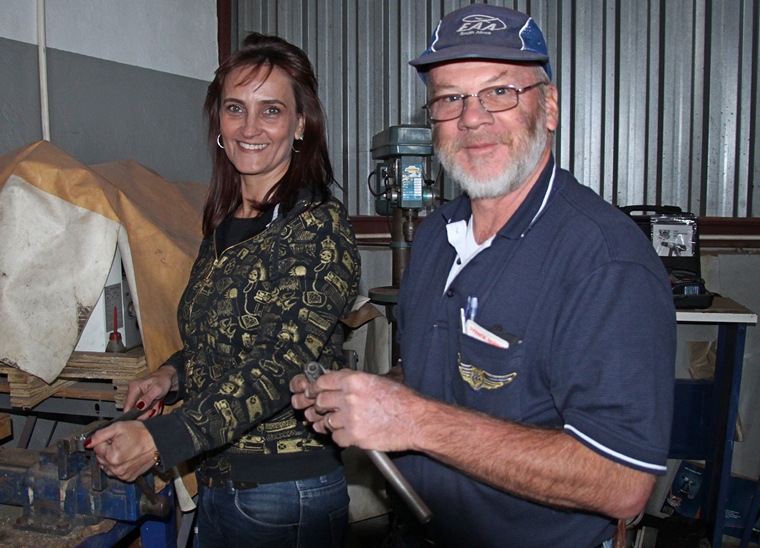 Regular work days are scheduled usually starting at usually starting at 08.30 and depending on workload ending at midday. The day ends with a bring and braai.
For more information on the EAA of SA go to: http://www.eaa.org.za/ or

For more information on the Teddy project contact: eaa322buildproject@gmail.com




COMBAT VET P-51 SIERRA SUE II JOINS AIRVENTURE WARBIRD LINE UP


The P-51D Mustang Sierra Sue II has extensive World War II combat history, and looks to tell its story at Oshkosh this year.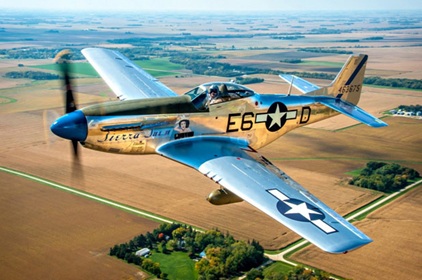 Photo credit: Max Haynes. AirCorps Aviation in Bemidji, Minnesota, confirmed this week that the P-51 Sierra Sue II will be among the slate of warbirds appearing at EAA AirVenture Oshkosh 2015. The airplane, which underwent a three-year restoration completed in 2014, was brought back to factory-fresh condition - "as she would look on the flightline in Belgium just after her nose art was painted," noted AirCorps' Chuck Cravens.
P-51s produced by North American's Inglewood and Dallas factories were not flawless; Production was rapid and mill-finish metal, paint, zinc chromate imperfections, and other blemishes happened to every Mustang that rolled off the line, including BuNo 44-63675. In addition, wartime nose art wasn't always up to museum standards or the airbrushed beauty displayed on many beautiful warbirds today.
Cravens said the AirCorps' craftsmen discovered that efforts to recreate that authentic "imperfection" were at least as challenging as creating a standard showpiece warbird.
Sierra Sue II's interesting history began with its delivery to the United Stated Army Air Forces on November 27, 1944. The Mustang was shipped overseas on January 29, 1945, destined for Y-32 Ophoven, near Zwartburg, Belgium, the first week of April.
She was issued to 1st Lt. Robert Bohna of the Ninth Air Force, 370th Fighter Group, 402nd Squadron, on April 11, 1945. Sierra Sue II was flown in combat for the duration of the war, supporting the crossing of the Rheine and the push further into Germany until the Allied command ordered a halt at the Elbe. After that the plane was used as an escort to medium and heavy bomber missions until the last WWII mission on April 25, 1945.
Later in life, Sierra Sue II served in the Swedish and Nicaraguan air forces before being sold into private hands in 1971. Dave Allender, of Hayward, California, worked on modifications in a quest to break a low altitude closed course speed record, but the attempt was never made. Dr. Roger Christgau, a Minnesota physician, acquired BuNo 44-63675 in 1977 and owned it for 34 years until 2011.
It was sold to Paul Ehlen, who had the restoration done at AirCorps. Sierra Sue II is currently on loan to the Wings of the North Museum, Eden Prairie, Minnesota. Cravens says the airplane is one of the most original Mustangs in existence.
"She's never had a back seat, her World War II tube radios are functional, her restorers took great pains to acquire (or duplicate where necessary) 1940s rivets, bolts, wiring, and countless other details," he said.
Cravens just finished a new book tracing the history of the airplane titled, Combat Vet P-51, the History of Sierra Sue II, World War Two Survivor. Copies will be available at Oshkosh this year.
HOWARDS TO MEET IN OSHKOSH


More than a dozen more Howard DGAs are expected to participate in EAA AirVenture Oshkosh 2015.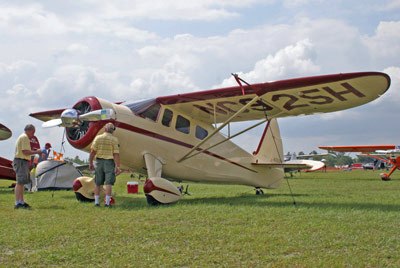 As many as 16 Howard Aircraft DGAs are expected to arrive at EAA AirVenture Oshkosh 2015 as members of the Howard Aircraft Foundation are planning a larger than normal gathering at the World's Greatest Aviation Celebration.
Presley Melton, president of the foundation, says most years anywhere from four to seven - or more - Howard DGAs attend a fly-in at Siren, Wisconsin, the week prior to Oshkosh, then most continue on to AirVenture and park together in the Vintage area. This year 15 or 16 Howard airplanes are planning to be in Oshkosh - weather and mechanical issues permitting - and park together by the Theater in the Woods area.
"This could be the 80th anniversary of something," Melton said, noting that the airplanes were produced from the early 1930s to the late 1940s. "In reality we're just honoring the Howard airplanes."
Some of the airplanes will also be featured in convention programming, including a Vintage in Review presentation, flybys, and special interviews at the announcer stand.
Roughly 50 to 60 Howards were built for civilian and close to 500 were ordered by the U.S. military during World War II - most by the Navy. Ninety percent of the surviving airframes are DGA 15s. About a decade ago the foundation was able to acquire all the Howard type certificates, which makes preserving and maintaining these vintage cabin class beauties easier.
A look at the annual aircraft awards usually has mention of a DGA - including Melton's 1943 Howard DGA-15P N9125H, which won the Reserve Grand Champion award in 2010.