Photos © Jannus vd Molen


The beauty of a world racing event like the Red Bull Air Race lies in its exploration of the world. It brings certain flair to it, like a good James Bond movie should do. Budapest perfectly also delivers that European old world feel that makes for unforgettable racing photography, blending modern racing machines with magnificent architecture.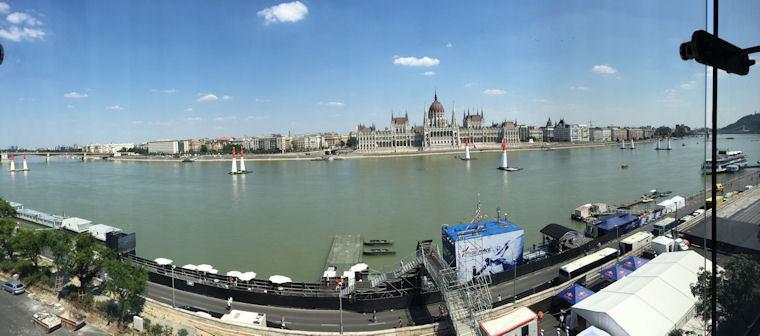 So, when the opportunity to visit friends who recently moved to Hungary came about, the temptation to coincide it with the air race was too great to ignore. The race took place between 3 and 5 July in the centre of Budapest, 20m above the Danube River.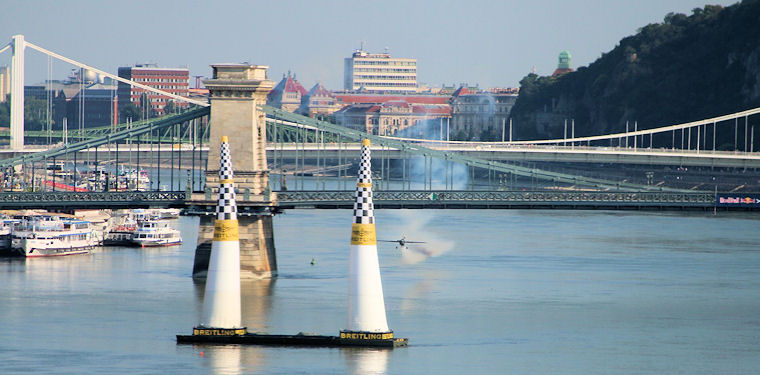 The Red Bull air race is bigger this year than ever before having 14 Master class competitors. There is even a Challenger Cup that allows "rookies" to compete for a place in the following years Master class. The air race is a pylon course race, which takes place 20m above the surface, some courses over water, but some also over land. Mostly the course is completed in around 30 seconds and almost always 2 laps are done, which make for interesting vertical or sharp high G turns. Course times would invariably be around a minute, being about 5km in length. The rules are simple:
1. Don't enter the course above 200knots (disqualification)
2. Be horizontal through the dual pylon air gates. (penalties for hits)
3. Don't pull more than 10G for more than 0.5seconds (disqualification)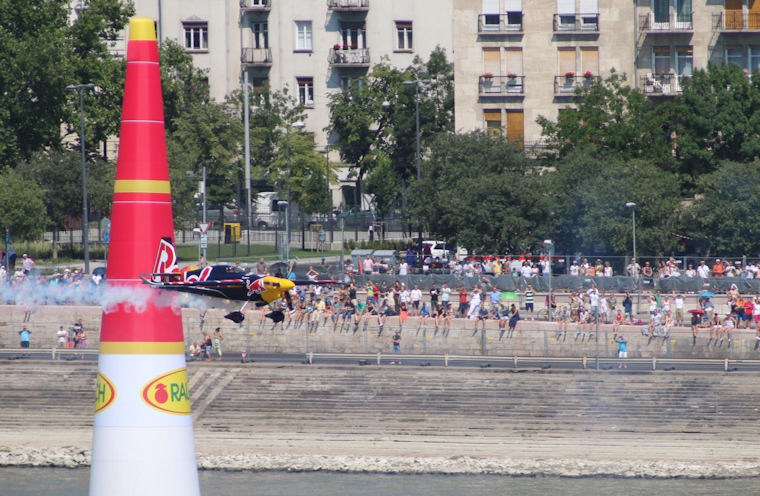 The Budapest air race takes place in the city center over the Danube river, between two bridges. The Chain Bridge to the south and the Margaret's bridge to the north. In fact pilots enter the course by flying below the Chain Bridge, which is a suspension bridge spanning 202 meters across the Danube River. This week provided very high temperatures in a 2nd heatwave to hit central Europe this summer. Temperatures were an unbelievable 37 degrees C for the 3days. Although Budapest is at about 300ft above sea level, with a QNH of 1017 it brought the density altitude up to around 3000ft, so aircraft engineers and pilots had to be very conscience of fuel mixture.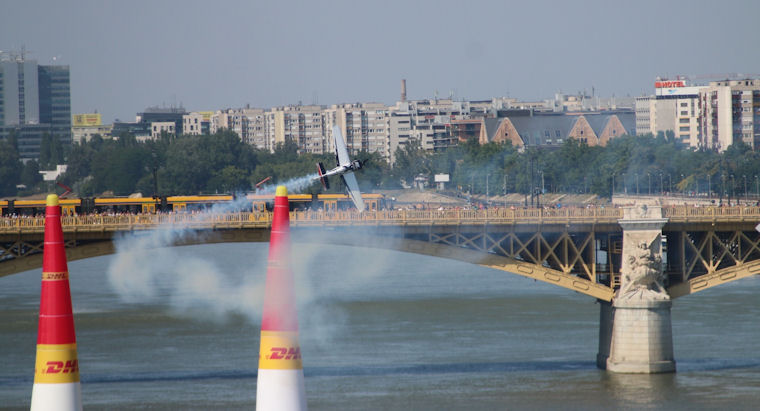 The race procedure starts on the Friday, normally with scheduled training. In this section the pilots get their 1st run through the course, which consist of about 3-4 full runs. Safety is provided overhead by dedicated Redbull air race BO-105 CBS twin engine Eurocopter helicopters, that also provides air-air video footage.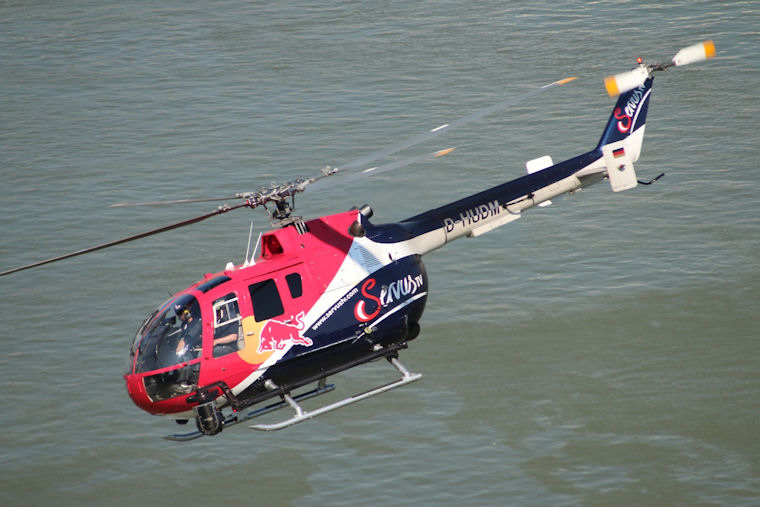 The Saturday is for qualifying. These runs give each pilot 2 chances to do the fastest time they can.
Sunday is race day.
Qualifying results:

1. Matt Hall (AUS) 0m 58.323s
2.Yoshihide Muroya (JPN) 0m 59.011s
3.Hannes Arch (AUT) 0m 59.328s
4.Pete McLeod (CAN) 0m 59.480s
5.Kirby Chambliss(USA) 0m 59.496s
6.Nigel Lamb (GBR) 0m 59.553s
7.Martin Sonka (CZE) 0m 59.756s
8.Paul Bonhomme (GBR) 0m 59.812s
9.Nicolas Ivanoff (FRA) 1m 0.151s
10.Péter Besenyei(HUN) 1m 0.862s
11.François Le Vot (FRA) 1m 2.364s
12. Juan Velarde (ESP) 1m 3.839s
13.Matthias Dolderer(GER) 1m 3.974
14. Michael Goulian (USA) 1m 4.403
Round of 14:


The qualifying times see each pilot going head-to-head in a knockout round called the Round of 14. It is structured so that the fastest pilot races the slowest pilot in qualifying. It starts with the middle qualifiers racing 1st so the times are very close, but the last pairings can produce exciting upsets! This round produces 7winners. The 8th pilot is the fastest looser from the 1st knockout.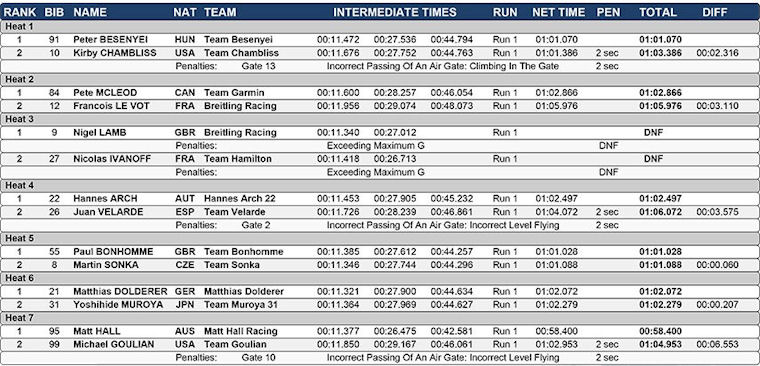 Round of 8:

The round of 8 is again a head-to-head knockout in which the pilots really have to show their BMT in a very competitive round.
Heat 8
Peter Besenyei v Pete McLeod
Heat 9
Nigel Lamb v Hannes Arch
Heat 10
Paul Bonhomme v Matthias Dolderer
Heat 11
Martin Sonka (fastest looser) V Matt Hall
The final four is the result of this knockout round.
1.
Pete McLeod
comfortably beat Peter Besenyei (local Hungarian pilot)

2. Hannes Arch
easily beat Nigel Lamb, after Nigel Lamb again produced too much G for a DNF.

3. Paul Bonhomme
moved on only because Dolderer incurred a 2second penalty for an incorrect level in gate 4, although his time was actually faster than Bonhomme.

4. Martin Sonka
beat the fastest pilot of the week, Matt Hall, with a sub 1minute round.
The Final Four:


These four then raced again on fastest course time each to produce the 1st, 2nd and 3rd on the podium.
1st Hannes Arch
2nd Paul Bonhomme
3rd Martin Sonka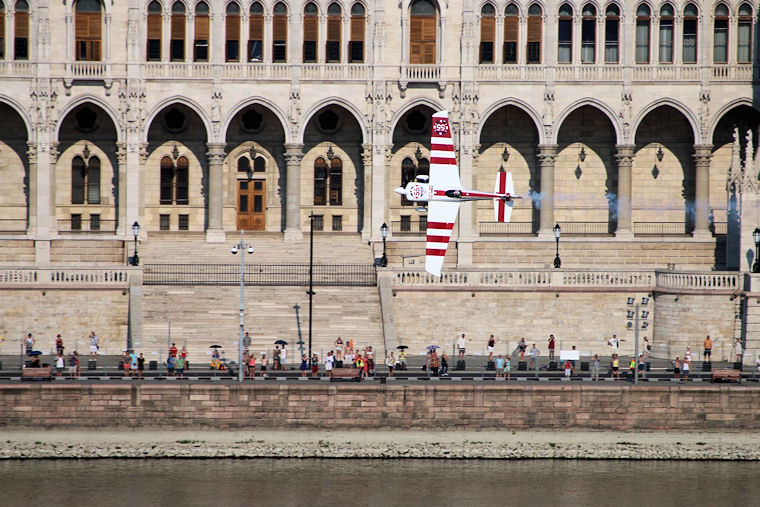 Although Hannes Arch made it a 2 in a row win, the star of Budapest was certainly Sonka, who provided a spectacular surprise run beating the fastest pilot all week, Matt Hall.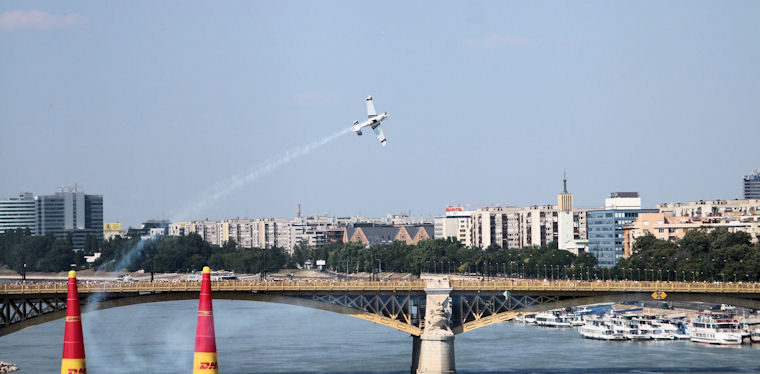 The most unfortunate pilot must have been Nigel Lamb defending champion as he DNF'd because of an over-G on the 2nd vertical turn in both the round of 14 and round of 8. He only progressed to the round of 8 as his faster qualifying time allowed him to move on as Matthias Dolderer also produced a too aggressive turn an exceeding the max of 10G in their knockout heat. His chances of successfully defending his title may perhaps be gone now, only managing a single point this round.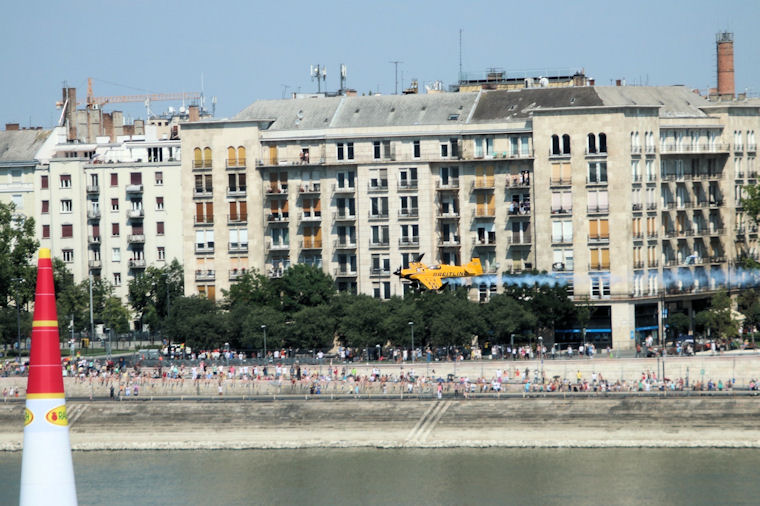 Of course the day has intermittent mini shows, which included part of the famous Red Bull Hangar-7 fleet, a Constellation, B-25J Mitchell and 2 Alpha Jets.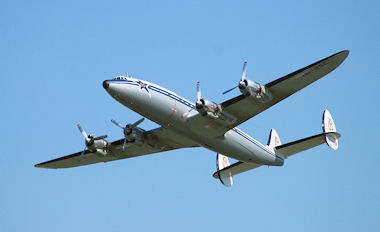 The show ended with a fly-past of two Gripens.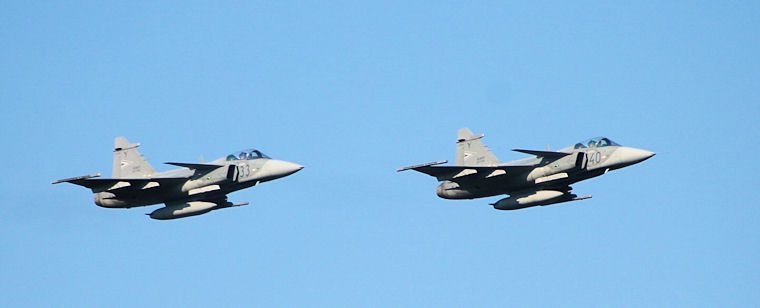 The next stop is in Ascot, England, where the race takes place over ground surface from the 15th to 16th of August.