THIS WEEK IN MIDWEEK UPDATE


Plan your weekend
Forthcoming events
Notice Board
This week in aviation history
Worldwide incidents and accidents
Aviation News
Advertising rate card

14 - 15 August: Bethlehem airshow. Contact Stephan Fourie e-mail: fouriesj1491@gmail.com Cell: 072 344 9678

20 - 29 August: Sports Aerobatics Club Unlimited World Championships - France Contact Annie Boon chunge@mweb.co.za
23 August: Grand Rand airshow (Sunday) Contact Stuart Coetzee e-mail: manager@randairport.co.za Tel: 011 827 8884
29 August: Bethlehem Aero Club fun navigation rally. Contact Izak Venter e-mail: izak@motsu.co.za or Francois Marais e-mail: info@stanfra.co.za
5-6 September: Fly & Braai @ FAGL (Groblersdal). If you want to stay over bring your tent or stay at a B&B in Town. Bring along: Your own Dop & Tjops. Contact: Fanie: 0834498638, Oom Piet: 0741601429, Dries: 0829077817, Christo: 0824162159 or Dawie: 0823884401
12 September: Kitty Hawk are pleased to once again host the RV lotus day. Free caps and an American breakfast for participating RV pilots. All aircraft are welcome! More detail closer to the time! Contact our airport manager Dawie for more detail: 0767980235
12 - 13 August: Sports Aerobatics Club Gauteng regionals and Judges Trophy - Vereeniging Contact Annie Boon
chunge@mweb.co.za

4-6 September: Petit Vintage and Classic Fly-in. Contact Ivan van der Schaar 0823759180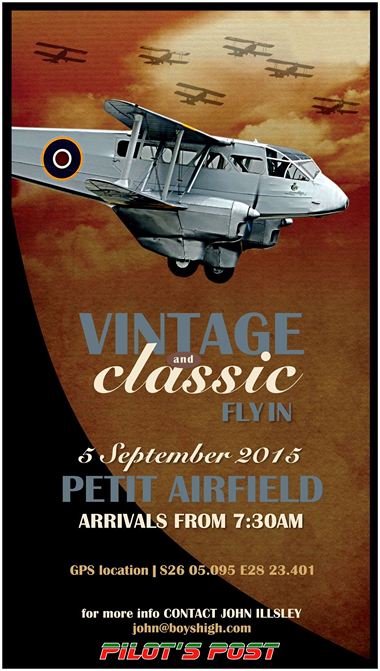 5 September: SAAF Museum flying training and open days. Contact Capt. Kobus Kapp 012 351 2342 or E-mail: webmaster@saafmuseum.org
18-20 September: Pyramid Air Park Aviators Weekend Barberton. Contact Peter Lea peter@irricon.co.za or 0825534908
17-20 September: Botswana Air Race at Matsieng, It is going to be the best ever race with sponsored fuel, tents and lots more. Contact
admin@airrace.co.bw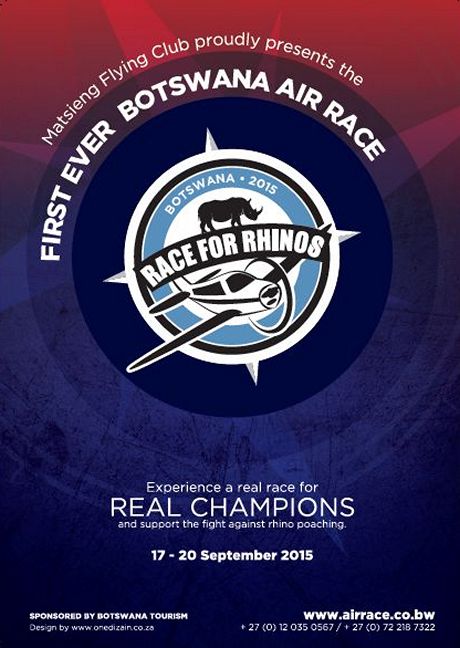 3 October: SAAF Museum flying training and open days. Contact Capt. Kobus Kapp 012 351 2342 or E-mail: webmaster@saafmuseum.org
3 October: SAPFA Fun Rally Grand Central. Contact Jonty Esser e-mail: jontye@x7online.co.za Cell: 076 302 0451
10 October: Spring 2015 TMG Fly in at Bundu Inn Flying Estate. Contact Marietjie van Niekerk on 0827656670 or marietjievn@gmail.com
24 - 25 October: Sports Aerobatic Club KZN regionals - Ladysmith. Contact Annie Boon chunge@mweb.co.za
31 October: Bethlehem Aero Club fly-in and hangar dance. Contact Izak Venter e-mail: izak@motsu.co.za or Francois Marais e-mail: info@stanfra.co.za




BE A SAFETY FIRST AVIATOR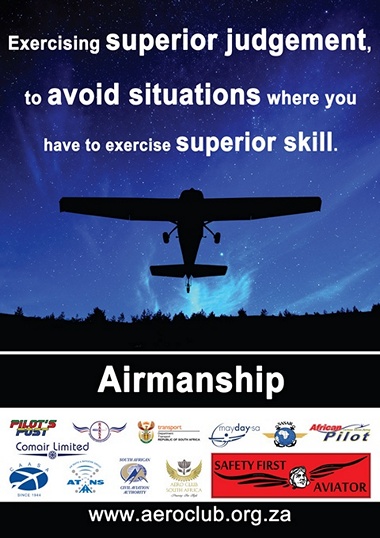 August 12 1985 - Japan Airlines Flight 123, a Boeing 747, crashes into Mount Osutaka after catastrophic failure of the tailplane severs all hydraulic lines and renders the aircraft uncontrollable. 520 of 524 people on board are killed. To date, it is the worst single-aircraft disaster in history.
August 12 1979 12-17 - Ben Abruzzo and crew make the first transatlantic crossing by balloon, taking 5 days 17 hours to travel from Presque Island, Maine USA to …vreux, France in the Double Eagle II
August 13 1976 - The Bell Model 222, the first twin-engined light commercial helicopter, developed in the United States, makes its first flight, powered by the 650 SHP Avco Lycoming LTS 101-650 C.
August 13 1914 - A Royal Aircraft Factory BE.2 becomes the first British aircraft to arrive in France for the war.
August 14 1979 - Steve Hinton sets a new piston-engined airspeed record in a specially-modified P-51 Mustang named the Red Baron. He reaches 499 mph (803 km/h) over Nevada.
August 14 1914 - The first true bomber, the French Voisin III, is used in combat for the first time in an attack on German airship hangars at Metz-Frascaty, Germany.
August 15 1949 - A de Havilland Tiger Moth makes the first service flight by an aircraft of the Democratic Republic of Vietnam.
August 15 1944 - The first air-to-air victory by a jet is scored by Feldwebel Helmut Lennartz, shooting down a B-17 Flying Fortress in a Messerschmitt Me 262
August 16 1995 - Concorde sets a new speed record for a round-the-world flight. It returns to JFK International Airport in New York after a journey lasting 31 hours 27 min, passing through Toulouse, Dubai, Bangkok, Guam, Honolulu and Acapulco.
August 16 1960 - Captain (later Colonel) Joseph Kittinger (USAF) sets a world record for highest parachute jump (102,800 ft or 31,333 m) and longest parachute freefall (85,300 ft or 25,999 m) while testing high altitude parachute escape systems in Project Excelsior.
August 17 1946 - The first person in the U. S. to be ejected from an airplane by means of its emergency escape equipment is Sergeant Lambert at Wright Field in Ohio.
August 18 1989 - A Qantas Boeing 747, (747-438), VH-OJA, City of Canberra, flies non-stop from London to Sydney, setting a world record for a four engine jet, after having flown 17,039.00 kilometers (10,587.54 miles) in 20 hours, 9 minutes, 5 seconds at an average speed of 845.58 kilometers per hour (525.42 miles per hour). FAI Record File Numbers 2201, 2202.

USA, Kenner: A Louisiana man was arrested after he drove his Dodge Challenger through two fences and onto an active runway at Louis Armstrong International Airport. Police were called and the driver was arrested after having abandoned his car on the runway.
USA, Cahokia: A 38-year-old woman whose name was not released was arrested after she allegedly tried to steal a 20-seat Global Express from St. Louis Downtown Airport. The plane, which was being renovated, was disabled and the woman was unable to start the jet. Airport security called for help after spotting the woman on security cameras.
Norway: Four of five crewmember of an AirBaltic flight failed an alcohol test leading to the grounding of the flight carrying 109 holidaymakers. The crew that were suspected of being under the influence were checked by police and found to be over the limit and were taken into custody. The flight only took off five hours later until sober crew members had been located.
USA Nebraska: Large hailstones slammed into the windshield of a Delta flight heading from Boston to Salt Lake City. Lightning also struck the plane before it made an emergency landing in Denver Friday night. It is the third time this summer an airliner has been damaged in a hailstorm, and now there are questions about why the pilots couldn't see the storms coming.

MITSUBISHI AIRCRAFT OPENS SEATTLE ENGINEERING CENTER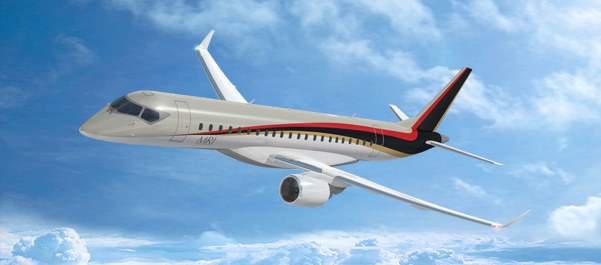 Photos © Mitsubishi

Mitsubishi Aircraft Corporation opened and started full operations of the Seattle Engineering Center (SEC) in Seattle, Washington, an engineering arm of its subsidiary, Mitsubishi Aircraft Corporation America, Inc. The opening of a development center in Seattle, the global hub of the aviation industry, enables Mitsubishi Aircraft to tap professional expertise on aircraft development and to accelerate the development of the MRJ (Mitsubishi Regional Jet).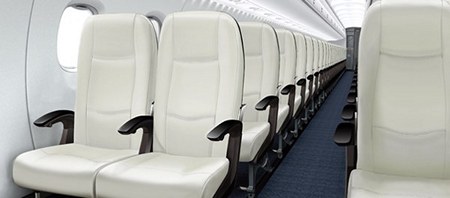 Mitsubishi Aircraft held an opening ceremony today to celebrate the opening of the Center. The ceremony was attended by numerous distinguished guests, including Jay Inslee, Washington State Governor; Masahiro Omura, Consul General of Japan in Seattle and Lee Human, President, Aerospace Testing Engineering & Certification L.L.C. (AeroTEC), one of the partner companies of Mitsubishi Aircraft. Present from Mitsubishi Aircraft were Hiromichi Morimoto, President and Kenichiro Honda, Vice President, SEC, Mitsubishi Aircraft Corporation America.
SEC will work with AeroTEC, which has extensive experience and expertise, to accelerate the MRJ's conformity activities and provide prompt support for flight tests in the U.S. that are scheduled to start in the second quarter of 2016 based at the Grant County International Airport at Moses Lake in Washington. SEC will be operated with approximately 150 members, including about 100 engineers recruited mainly in Seattle and about 50 engineers from Japan.
Mitsubishi Aircraft is proud of taking part in the history of the aviation industry in Washington. Going forward, the company will continue devoting its collective resources towards the successful completion of the MRJ project while contributing significantly to the development of the aviation industry.
FIRST FLIGHT OF THE PROTOTYPE L 410 NG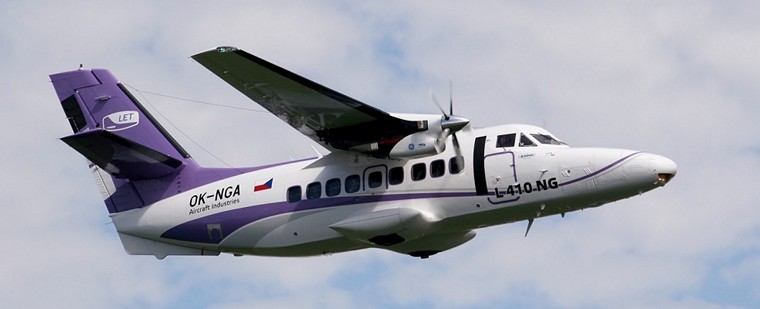 Photos © Let

Following the ROLL OUT ceremony of prototype L 410 NG, which took place in Kunovice, the Czech Republic, the Aircraft Industries Company successfully completed the maiden flight of this prototype on Wednesday the 29th July at the company airport. This flight initiated series of certification flight tests in accordance with corresponding regulations. During the first flight were tested basic flight characteristics and performance of the aircraft, control system functions, power plant functions, fuel system functions, navigation system functions etc. The crew included pilots Petr Jarocky and Stanislav Sklenar together with the company specialists from the production quality department.
The L 410 NG aircraft is substantially upgraded model of the current serially produced L 410 UVP-E20 turboprop commuter. Thanks to the new wing structure, with integral fuel tank and increased fuel capacity, the L 410 NG enables significantly longer maximum range (2500 km) and endurance (10 hours). The all-metal, high-wing twin turboprop can transport 19 passengers and thanks to its increased maximum payload (2154 kg/4749 lb) and larger front luggage compartment increasing the total luggage compartments volume to 2,98 m3/105,24 cu.ft, the aircraft can carry up to 400 kg more luggage/cargo. The L 410 NG aircraft is powered by new more powerful GE H85 engines with maximum take-off power 850 HP and AV-725 propellers. The new engine gearbox enables significant external and internal noise reduction due to lower maximum propeller speed reduced from 2080 to 1950 RPM.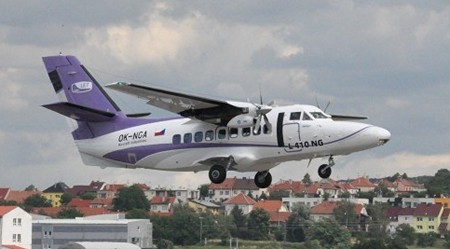 Thanks to engine power increase maximal cruise speed will rise to 417 km/hr TAS. The state of art Glass Cockpit Technology with the latest avionics from Garmin (G3000) provides the highest level of flight safety and comfort for the crew. L 410 NG with the most spacious fuselage in its category (passenger cabin volume 17,9m3/632 cu.ft) will also offer completely modernized passenger cabin interior and passenger seats with the highest standard of comfort and providing, similarly as the L 410 UVP-E20 model, maximum versatility and opportunity to use the aircraft in number of versions for a number of various types of operation. Service life of the aircraft will be also significantly increased (30 000 FH and/or cycles as minimum).
The start of the L 410 NG serial production is planned in 2017 after the aircraft certification will be completed. The future goal of the L 410 NG manufacturer, the Aircraft Industries Company, is to produce up to thirty L 410 NG aircraft per year.
SWIFT TECHNOLOGY GROUP SECURES PRIVATE INVESTMENT IN EUROPA AIRCRAFT


Photos © Europa Aircraft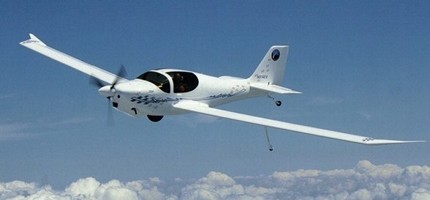 Swift announces multi million pound investment which will see it launch new products to the market. The deal, which follows months of planning, has come to fruition from a European private investor with expertise in the renewable energy and technology sectors.
The investment capital will be used to take the Swift Aircraft and Swift TG Energy product portfolio to the next level of development. Both companies are in the late stages of designing ground-breaking new products for the light aircraft and renewables industry - a certified training aircraft and a vertical axis wind turbine respectively.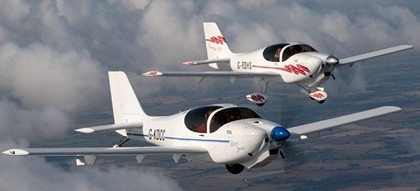 The funding will also help to aid continued growth and advancement in other Group companies, including Swift TG Solutions, Swift TG Maintenance, Europa Aircraft, Aviation and Marine Engineering and TWF Solutions.
David Stanbridge, Managing Director of the Group enthuses: "this investment sends a strong signal about our company's progress and potential. We have worked hard to secure the right investor; someone who believes that we can achieve market leadership in all of our respective markets. It is an endorsement of our plans for future growth and our ground breaking technology. The company is already attracting widespread interest from around the World and this investment will enable us to take forward ambitious product development plans."
SUKHOI REVEALS PAK FA T-50 STEALTH SUPERSONIC AIRCRAFT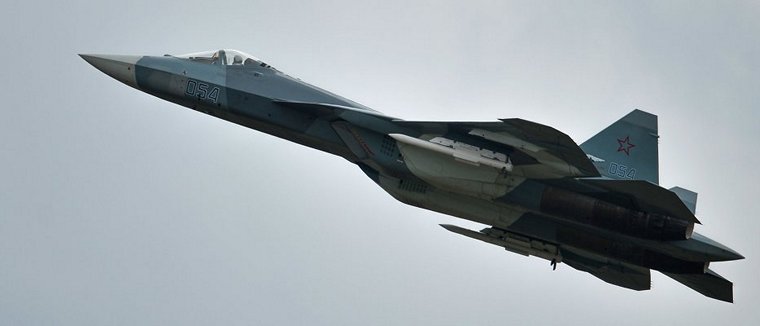 Sukhoi revealed its PAK FA stealth technology single-seat, twin-engine jet fighter, air superiority and ground attack aircraft that is able to fly well above Mach 2.
The aircraft meets all the requirements of the fifth generation fighter. It is invisibility to radar, has a supersonic cruise speed, is capable of performing all known aerobatic manoeuvres, equipped with advanced electronics and is multifunctional and is equipped with powerful weapons which will be unveiled later.
This PAK FA T-50 is able to "stop" in mid-flight bringing down speed to zero performing a free fall and then re-gaining altitude and speed. Engine nozzle deflects in such a way that the plane stabilizes its position.
A special suit has been designed for supersonic-speed flights. It is equipped with an anti-G system which presses against the pilot's body to maintain blood flow to the head as well as oxygen supply.
Five T-50's are currently under evaluation and according to Sergey Bogdan the pilot who test flew the aircraft it is far superior than any of the other more than fifty prototypes he had test flown.
AIRBUS HELICOPTERS DELIVERS FIRST H135 FOR OFFSHORE WIND OPERATIONS TO HTM IN GERMANY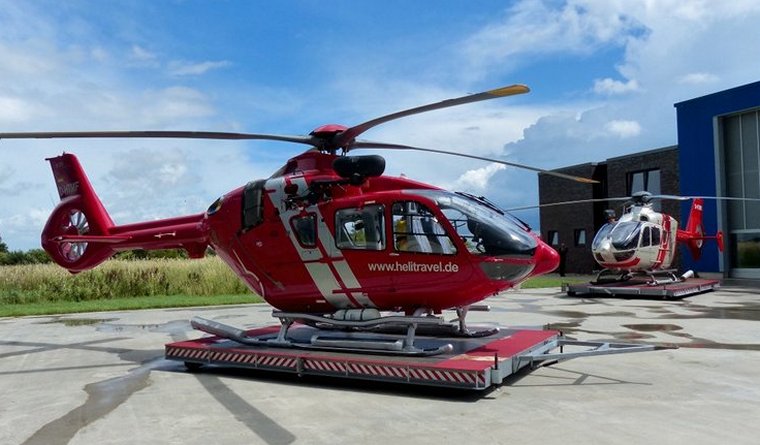 Photo © Airbus

The first H135 configured for offshore hoisting duties has been delivered to HTM Helicopter Travel Munich GmbH, marking a new milestone for the enhanced version of Airbus Helicopters' lightweight rotorcraft previously known as the EC135 T3.
The H135 is well adapted to the full range of offshore operations, benefitting from the helicopter's excellent performance, especially in OEI (one engine inoperative) conditions. It fulfills all requirements for offshore missions, with equipment that includes a rescue hoist, an external life raft system, Helicopter Emergency Egress Lighting, Automatically Deployable ELT (Emergency Locator Transmitter), 3-Axis-Autopilot, Weather Radar, Underwater Locator Beacon and Emergency Floatation System certified for Sea State 6. In addition, its outstanding handling qualities, compact airframe size and small rotor diameter makes it the first choice in offshore wind business.
HTM will operate the H135 from its bases at Emden, Norden, Borkum and Helgoland, serving offshore windfarms in the German Bight. HTM has meanwhile contracted ten windfarms and customers like DONG, EWE, EON, Siemens, DOTI, ADWEN and Senvion. The H135 joins HTM's already-extensive inventory of Airbus Helicopters-built rotorcraft that includes five EC135 P2+ versions already based along the North Sea coastline, with the company's fleet growing to as many as eleven H135-family aircraft by early 2016.
The EC135 fleet has proven its reliability and safety with a perfect availability static in offshore operation since 2009 having flown more than 6.000 hours with more than 25.000 hoist cycles" said Bernd Brucherseifer, Managing Director at HTM.
"As wind turbines gain an increasingly important role in renewable energy, the new H135 is ready to support highly cost-effective and efficient implementation, development and maintenance of offshore wind farms," said Axel Humpert, Head of the H135 program at Airbus Helicopters.
Airbus Helicopters already is the market leader in the offshore heli-lift segment, building on more than 40 years' experience in supplying rotorcraft for missions such as transportation to oil and gas platforms at increasingly long distances out to sea, in overwater search and rescue missions, for the transfer of sea pilots, and, more recently, the installation and maintenance of wind farms.
LAST CH-46 SQUADRON HONOURS PHROG, PREPARES FOR V-22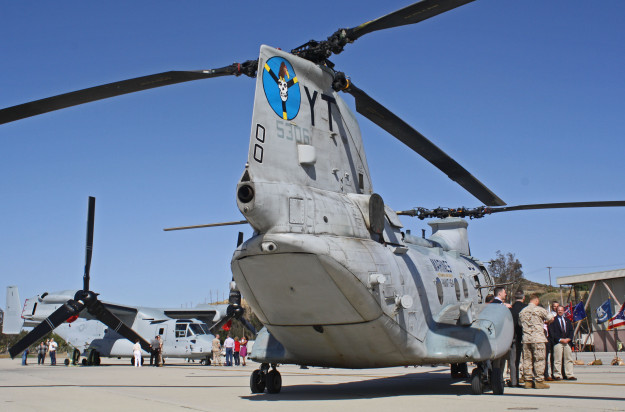 Photo © Naval Institute

It's perhaps a most fitting tribute: The first active-duty Marine Corps operational squadron to get the CH-46 Sea Knight helicopter became the last one to fly it and officially transition to its replacement, the MV-22B Osprey tiltrotor.
That shift happened during a dual-hatted ceremony at Camp Pendleton, where Marine Medium Helicopter Training Squadron 164 held a change-of-command and redesignation as a tiltrotor, or VMM, squadron. It marked the end of an era, coming 50 years after the first Sea Knight model, the CH-46A, replaced the UH-34 flying combat missions in Vietnam in 1966.

"It's bittersweet," said retired Col. Daniel C. Hahne, who commanded the training squadron from 2002 to 2004. Hanhe was one of 10 former squadron commanders who joined Lt. Col. Gabriel Valdez for the pass-in-review before Valdez handed the squadron's reins to Lt. Col. Eric Aschenbrenner. Aschenbrenner, a former F/A-18 Hornet jet pilot who transitioned to the MV-22 in 2009, will oversee the squadron of Ospreys as a deploying operational unit.
"How do you capture 50 years of clear awesomeness in 10 minutes? I can't," Valdez told the crowd, which included Vietnam veterans, active-duty Marines and veterans of the Iraq and Afghanistan wars. He noted the shiny olive green-painted Phrog - aircrews long have affectionately called them Phrogs, or Battle Phrogs - parked in the hangar. "That's going to be the last Marine Corps CH-46, ever," he said.
That helicopter, designated by Bureau Number 153369, is one of the squadron's last two CH-46E Sea Knights that will take their final flights from the flight line in a few days. It will see a new chapter when it becomes a static display at the National Museum of the Marine Corps in Quantico, Va. The Phrog saw combat for the first time in the jungles of Vietnam in 1965 and again a decade later, when it picked up the last Marines off the U.S. embassy rooftop in Saigon on April 30, 1975.